This hostel is my favorite one. Why? First, it's in my area, close to where I live… But this reason may not be a good one for you. Well, it's in Montmartre, close to the Sacré-Coeur but behind it, on the "not touristic side", less noisy and busy than the Anvers Metro station!
Just next to the entrance of the hostel, typical Montmartre stairs going down the famous hill give you a postcard view, and a nice corner cafe-restaurant (where you can have drinks, but also good food) stands right on …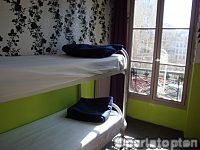 This hostel is located in front of the Canal Saint Martin, next to the Place de la République, in a quite young and trendy area, thanks to the numerous restaurants, bars and cafés with terraces. It could be just a bit noisy in the summer, when you have to keep your windows opened.
39 rooms,, with shower and toilets. 95 beds. 5 floors, elevator. Internet access. Luggage room. Front desk open 24/24.
From 30 euros/pers. (dormitory) to 100 euros (Triple room).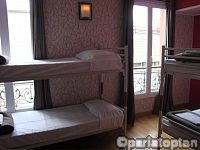 The Oops Budget Hostel is one of the most recent, opened in 2007. It's therefore one of the cleanest and most modern. The entrance wall is luminous and flashy pink, and after the front desk, there's a common room (decorated in a colorful and even "design" style) that people can use to eat, have a drink, or use internet.
Each floor's got a different decoration. One of them is wallpapered with fake cow fur! And the bathrooms I saw are worthy of a Three stars hotel!The area is central (near Rue …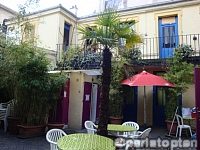 All redesigned and refurbished, reopening on the 18th of April 2014. The place is an old royal stable, with a very nice courtyard, built under the king Louis the XIVth. The rooms are on the ground floor and on the first one, where a balcony runs.
This place -the courtyard- is quite, because set back from the street, and very nice for the summer, having a drink after a long day walking and visiting! The entrance is made through the pub, which is the front desk as well. As soon as you come in, …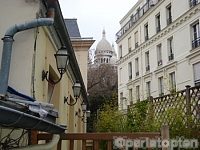 The place is charming, with a little indoor terrace looking at the Sacré-Coeur! in the reception, a wall's been decorated wth newspapers by an American artist, Mary Blake, and the breakfast and lunch room painted with Parisian scenes.
The building's got four floors, approximatly 100 beds, an elevator. The front desk is open 24/24. Air conditioning and the cute terrace.The manager, Olivier, is taking good care of his hostel and has lots of projects.Prices: from 25 euros/pers.for a bed in a …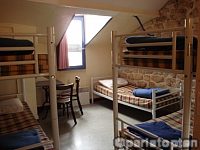 The hostel, opened over 25 years ago (one of the firt ones), offers rooms with two, three or four bunkbeds. It's a very old house with visible beams and a narrow staircase, in a student and central area, in a typical walking market street, the rue Mouffetard.
Being so old, the place needs a lot of constant renewing, step by step.A lot of charm, and a great location.You can rent the sheets and the towels.Prices from 30 euros/pers. to 85 euros for a twin room with shared bathroom. Breakfast …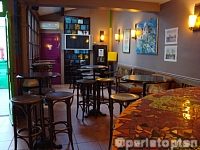 Aloha's founders were once backpackers themselves! The place is in a really quite and small street, but not far from all the needed shops. It's very clean, with a clear computer room, a friendly bar with TV, and a breakfast room in an arched stone walls cave.
Prices go from 30 (dormitory).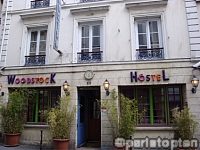 Member of C.H.E.A.P., this hostel is located 5 minutes away from the Sacré-Coeur, Montmartre, in a lively and popular area. A bar is open until 2.00 a.m. Half a VW Beetle is up on a stone wall of the pub/reception!
The atmosphere seems really laid back. A real"woodstocky" place!
Capacity:6 rooms and 11 dormitories. A bed from 30/pers. (dormitory) to 64 euros (Twin bedroom). Breakfast included.
Age minimum:18 years old.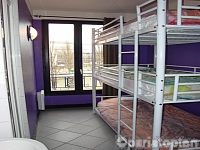 Open in 1996, this hostel's entrance is a modern style pub, welcoming you until 2 a.m. every night. You can use the small kitchen downstairs to cook your meals, or heat your pizzas!
You're near the Bassin de la Villette and the Canal Saint Martin, where you can walk along and find some terraces in the warm season. You're also close to an old covered food market, 33 rue Secrétan, now declared protected site. But appart from those places, that's not the best location. Dormitory mainly. Some double …
See Related: Village Hostel Montmartre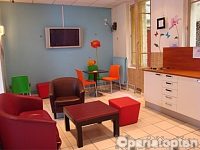 It's located by the 18th area's Town Hall, within a walking distance of Montmartre, in a lively area, with a lot of daytime shops. The building is quite old and the "hotel" sign outside hasn't been replaced by a "hostel" one.There is a friendly welcoming, the ground floor is light, large, composed by the front desk, the computer room, the bar/lounge and the kitchen! Half of the bedrooms have already been renewed.Prices exemples: from 30 euros for a dormitory bed, to 130 euros for a 4 bed …
Related Resources