Paris, the City of Lights and one of the most romantic cities in the world, is a must-see destination for any traveler. With its iconic monuments, world-class museums, lively cafes, and unique neighborhoods to explore, it can be hard to decide what to do when visiting Paris. To help make your trip easier and more enjoyable, here are some of the best things to do in Paris that will give you a true taste of what this amazing city has to offer.
Table of Contents
🗼 Paris Insider's Top Picks! ✨
Dive into the heart of Paris with our handpicked partners. Trusted by thousands, they ensure you experience the best of Paris.
Things to do in Paris, France
Let's get into the ultimate guide of the best things to do in Paris, which includes our personal favorites and from travel bloggers around the world.
1. Opera Garnier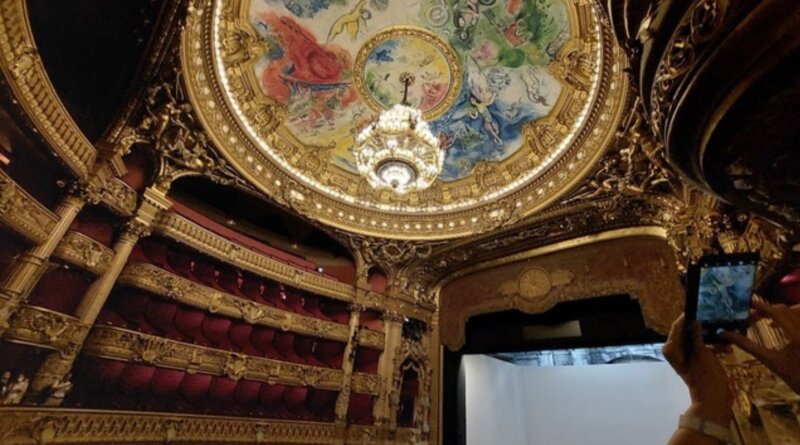 Visiting the Paris Opera Garnier is a must-do for anyone who loves performing arts and architecture. The iconic building, located in the heart of Paris, is a sight to behold. The building was designed by Charles Garnier in the late 19th century and is one of the most impressive examples of French Beaux-Arts architecture.
The beauty of the Opera Garnier lies in its grandeur. Every detail is breathtaking, from the sweeping marble staircase to the intricate stonework and gilded accents. The auditorium is particularly impressive, with its capacity for 2,200 people and its grandiose chandelier – in addition to the beautiful painted ceiling, which will take anyone's breath away.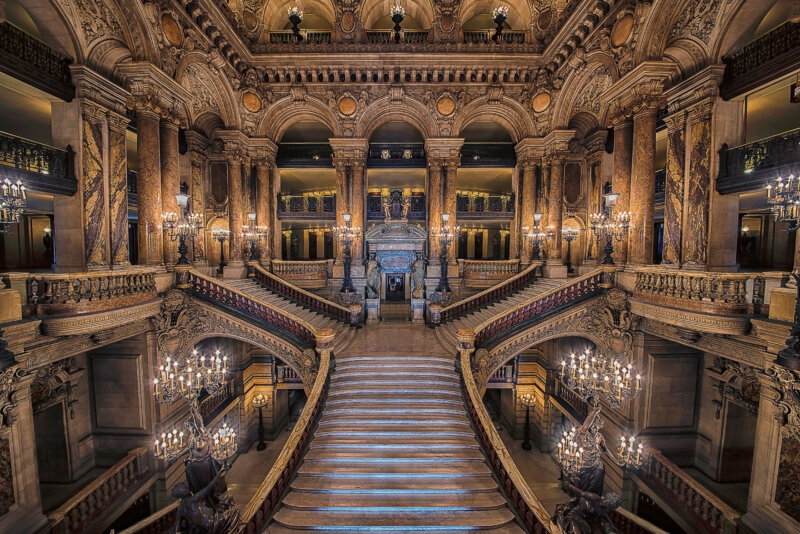 The Opera Garnier is not just about admiring the architecture. It's also an opportunity to experience some of the finest performances in Paris.
From classic operas to modern ballets, Opera Garnier has something for everyone. Guests can also explore the museum, which contains gorgeous and interesting artifacts from the building's long history.
A trip to the Paris Opera Garnier is an unforgettable experience for all who visit. It's a chance to marvel at the beauty of the building, appreciates the finer points of its architecture and history, and enjoy a show or two.
Contributed by Aisling, Plane Beauty
See Related: Best Normandy Tours from Paris, France
2. Luxembourg Gardens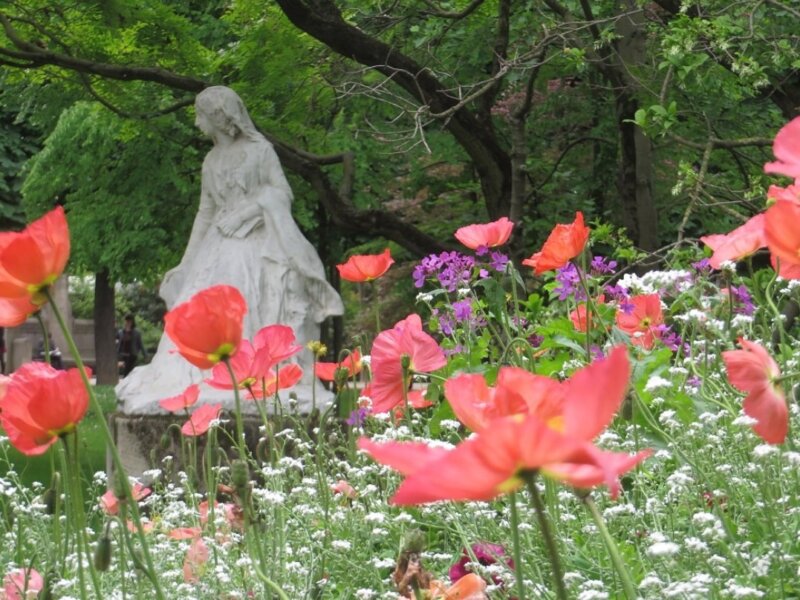 From the spring to the fall, the Luxembourg Gardens are one of the best places in Paris to escape city chaos and relax. The gardens were built in the early 1600s for the Queen of France, Marie de Médici, and modeled after the Pitti Palace and Boboli Gardens in Florence. Today, the gardens surround the Luxembourg Palace, home to the French Senate.
Aside from grabbing a book and relaxing under a shady tree or casually strolling through the chic gardens, there are other unique things you should also check out. A favorite Parisian pastime is to gather around the Grand Bassin (the large pond behind the Palace), sip rosé, and watch as children race sailboats across the pond. If you want to take part in the fun, you can! Wooden and fabric sailboats are available to rent. The cost is €3.50 for 30 minutes.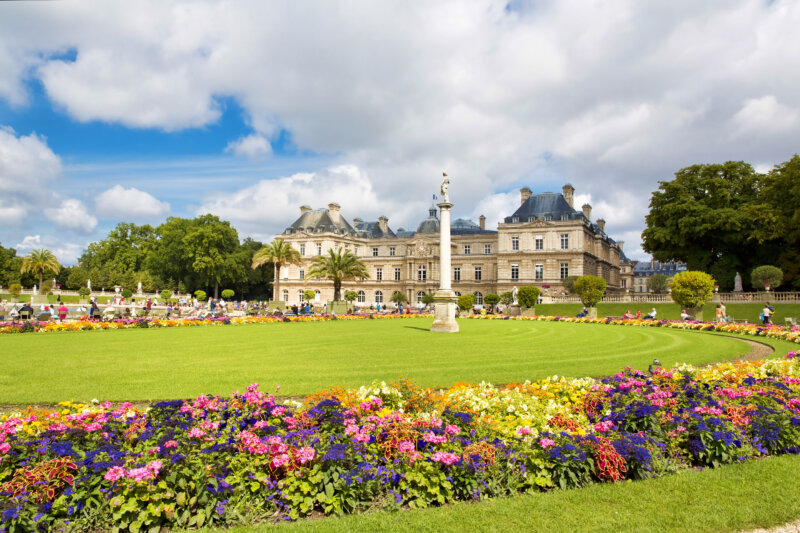 You'll also find chess competitions, pétanque games, puppet shows, and much more. Pack a picnic lunch or snack and sprawl out in the green space to make the most of your visit. Nearby you'll find gorgeous veggie-packed bowls and raw cakes at sweet Rawmance, one of the best restaurants for vegan food in Paris.
See Related: Best Places for Falafels in Paris
3. Champagne Day Trip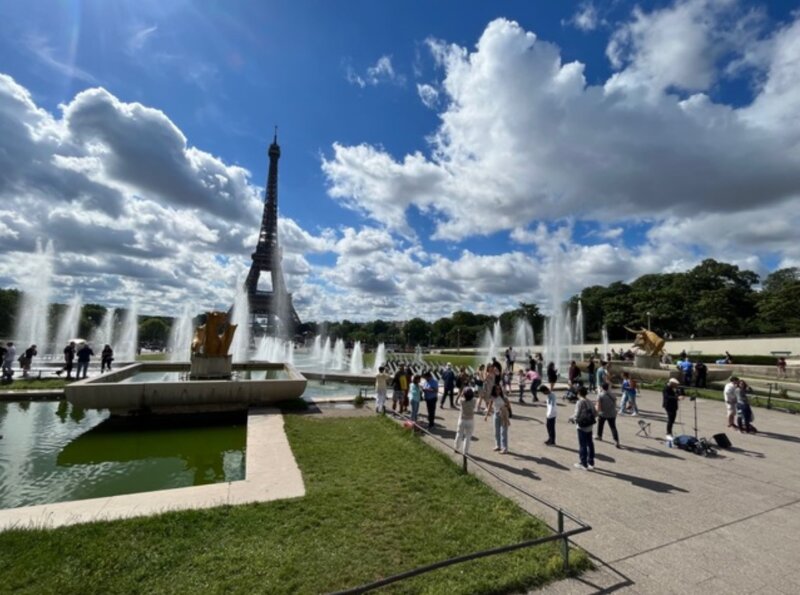 One of the best things to do in Paris, France is actually stepping slightly outside of Paris for the day and into the nearby Champagne region. After all, the very birthplace of champagne is less than an hour's ride away from Paris and visiting is a once-in-a-lifetime experience that should not be missed. Luckily, there are several champagne tours from Paris to join for a delightful day trip.
A visit to the Champagne region of France means a day spent out in the French countryside, being escorted from one Champagne house to another. You'll learn about the history of bubbly as well as how it is produced. Most importantly, you'll have the opportunity to sample several glasses of chilled, sparkling Champagne under the French sun.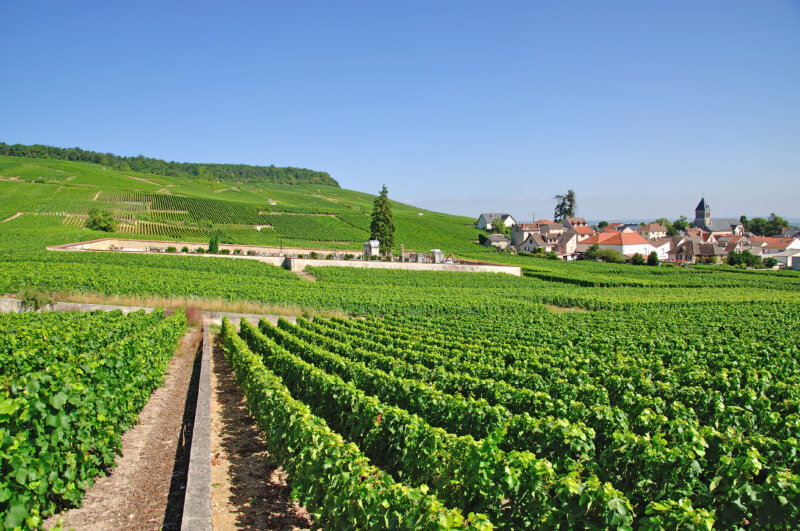 It's a luxurious way to spend a day while visiting Paris. Additionally, the region offers delectable culinary delights for lunch and as snacks. Be sure to try the Reims ham and stock up on the rose biscuits famous in the area as well. Pro tip — dip the biscuits in Champagne for a truffle-like treat.
Take in the vineyards, eat well, walk along Avenue de Champagne and visit the home of Dom Pérignon himself.
See Related: Best Wine Tours in Paris, France
4. Boat Tour in Bois de Vincennes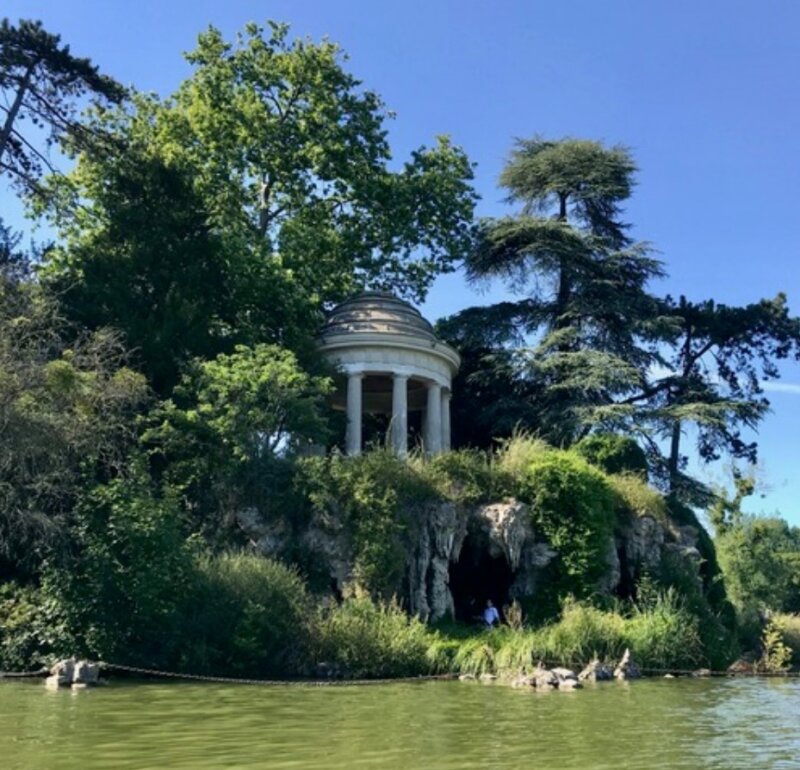 The Bois de Vincennes, located in the south east of Paris, is one of the best parks in Paris. With its 995 hectares of vegetation, it is one of the two big green lungs of the French capital, along with the Bois de Boulogne on the other side of the city.
You can walk through the forest, walk your dog, go for a run, have a picnic with friends, but also rent a small boat to explore the Lac Daumesnil directly from the water! This lake is wonderful to explore as the trees reflect on the calm water and birds are singing everywhere.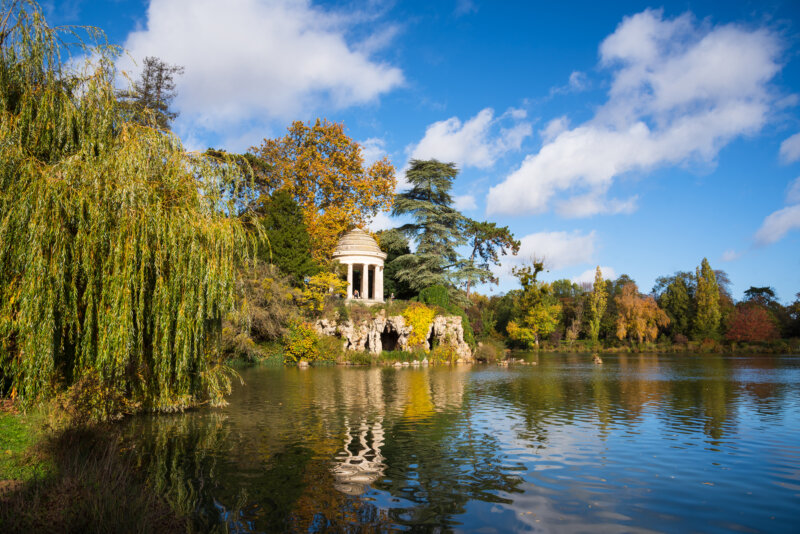 With your two oars and a little elbow grease, you can cruise the lake for hours, pass under charming bridges and enjoy the scenery.
To rent a boat, you will need to take the metro to Porte Dorée, and walk around 5 minutes into the park. The boat rental is 13€ per hour and you can only pay by cash.
See Related: Best Steak Frites in Paris, France
5. The Louis Vuitton Foundation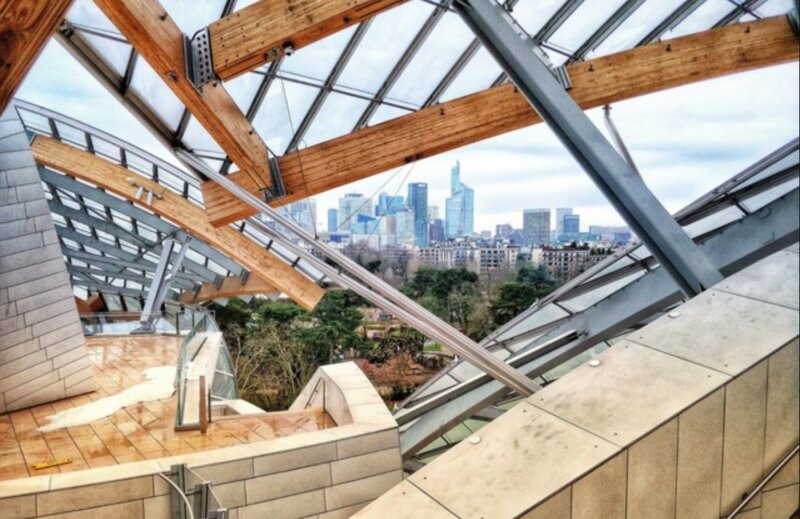 The Louis Vuitton Foundation in Paris is a must-visit destination for anyone looking to experience the best of the city of light. Located in Bois de Boulogne (16th arrondissement), this foundation offers unique experiences that are sure to impress even the most discerning admirer of art and architecture.
From its impressive art collection, to its breathtaking architecture and design, the Louis Vuitton Foundation is one of the most visually astonishing places to visit in Paris. It is a perfect place to explore culture or to take in some beautiful Parisian scenery.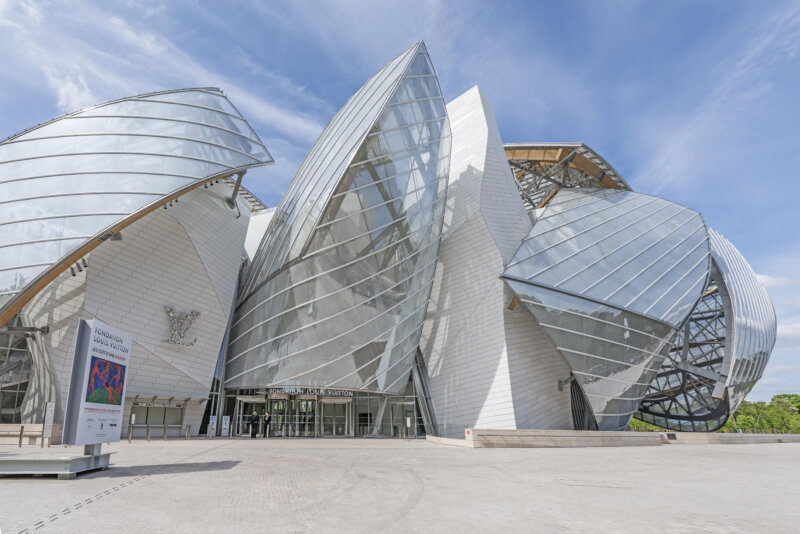 The Louis Vuitton Foundation in Paris is an iconic building that has a rich history and cultural significance. Designed by the Canadian-American architect Frank Gehry, the museum opened its doors in 2014. It is home to numerous exhibitions and events, as well as a variety of educational programs.
From its inception, the Louis Vuitton Foundation has been dedicated to promoting innovation and creativity in all forms of art. Its commitment to preserving the history of fashion and design makes it an essential part of French culture.
Visitors can also enjoy some culinary art at Le Frank, a restaurant inside the Foundation. The Michelin-star decorated chef heading this establishment is none other than Jean-Louis Nomicos.
The museum is open daily (except on Tuesdays). Secure your tickets ahead of time. Ticket holders get access to a €2-euro shuttle from the centre of Paris and back.
Contributed by Bea from PackYourBags
See Related: Most Famous Historical Landmarks in Paris
6. Mur des Je T'aime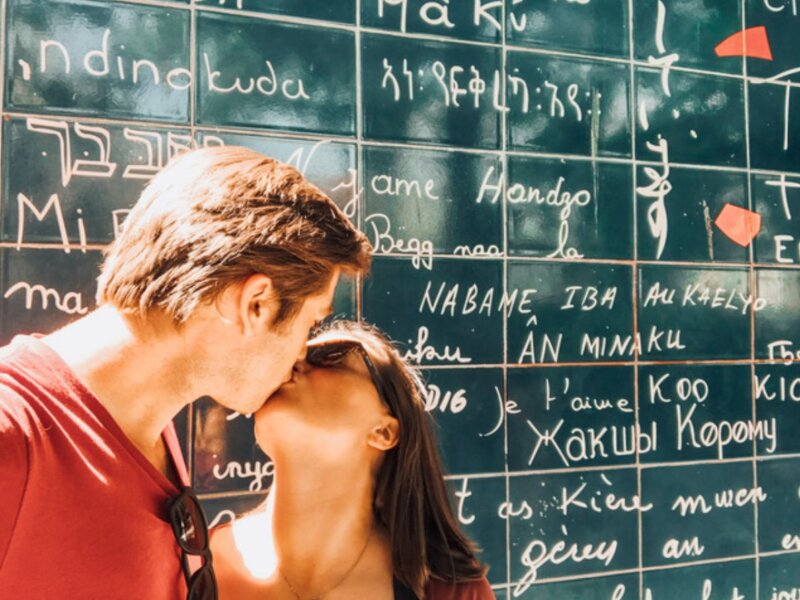 If you're searching for one of the best things to do in Paris as a couple, definitely go to Montmartre to see the Mur des Je T'aime, or the Wall of Love. This blue wall features "I love you" written 311 times in 250 languages, including rarer languages such as Inuit, Esperanto, Navajo, etc.
This hidden gem in Paris was created in 2000 by Frederic Baron and Claire Kito, and it is located at Square Jehan Rictus along Place des Abbesses. The red splashes across the enamel-tiled mural are pieces of a broken heart, representing the human race that has been torn apart and the wall attempts to bring it back together.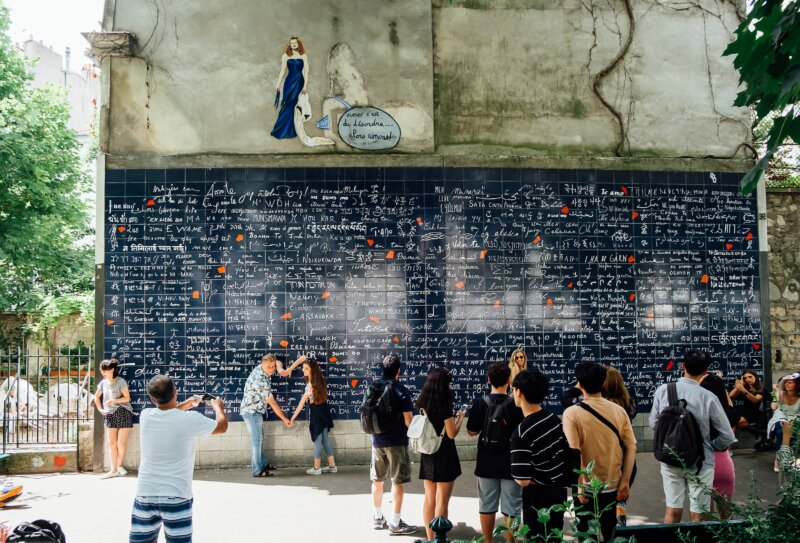 In a world full of hate, it is nice to watch people come together to celebrate love in such a romantic square in Paris. Tucked inside a garden, this is a fun place to sit and spot "I love you" written in your native tongue. It is also a place for couples to get engaged, take a kissing selfie, or just hang out under a shade tree on a sunny day.
This a great spot to reflect upon something all of us humans have in common: a need for love, whether that be romantic or platonic.
See Related: Best Burgers in Paris, France
7. The Grand Mosque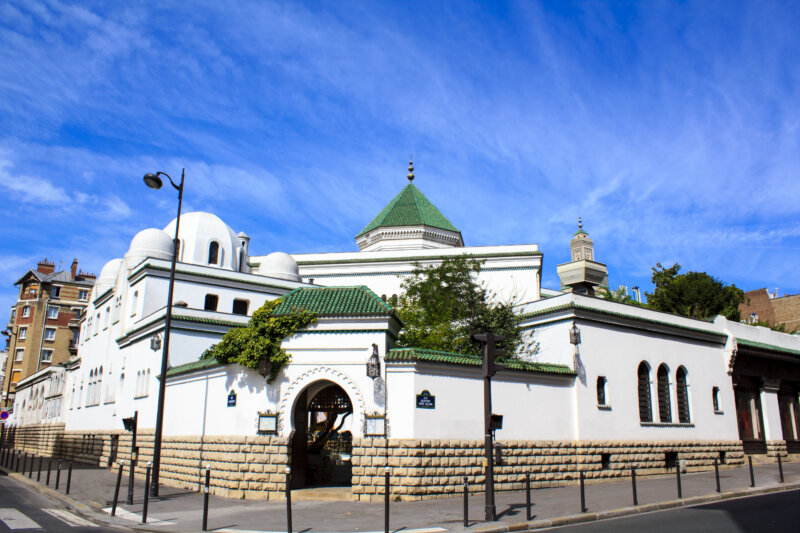 There's so much to see and do in Paris but one must-see spot is the Grande Mosque. Not just any ordinary mosque, it's a piece of history and a symbol of tolerance in the heart of Paris.
Inaugurated in 1926, the Grand Mosque was built to pay tribute to the more than 100,000 Muslims who died battling for France during WWI. It was the first mosque in mainland France and remains today its largest.
Inspired by the el-Qaraouiyyîn mosque in Fez, the mosque is dominated by an impressive 33m high minaret and surrounded by a beautiful garden, a patio with finely carved arcades, large palm trees, and walls covered in wisteria.
During your visit to the Grand Mosque, explore the beautiful gardens and the library, and admire the prayer room, with its traditional decoration and stunning carpets. The Paris Grand Mosque also offers many relaxations space, such as the ladies-only hamman, a souvenir shop, the traditional restaurant Aux Portes de l'Orient, and an amazing tearoom, serving mint tea and oriental sweets. The Grande Mosque is a peaceful oasis amid the hustle and bustle of the city and a must-see while in Paris.
The Paris Grand Mosque is open to visitors from 09 am to 6 pm, every day except Fridays and during Muslim celebrations. The entrance fee is 03 EUR for adults, 2 EUR for children, students, and a group of 10 or more. Guided tours are available.
See Related: Best Hotels in Paris St. Germain
8. Pere Lachaise Cemetery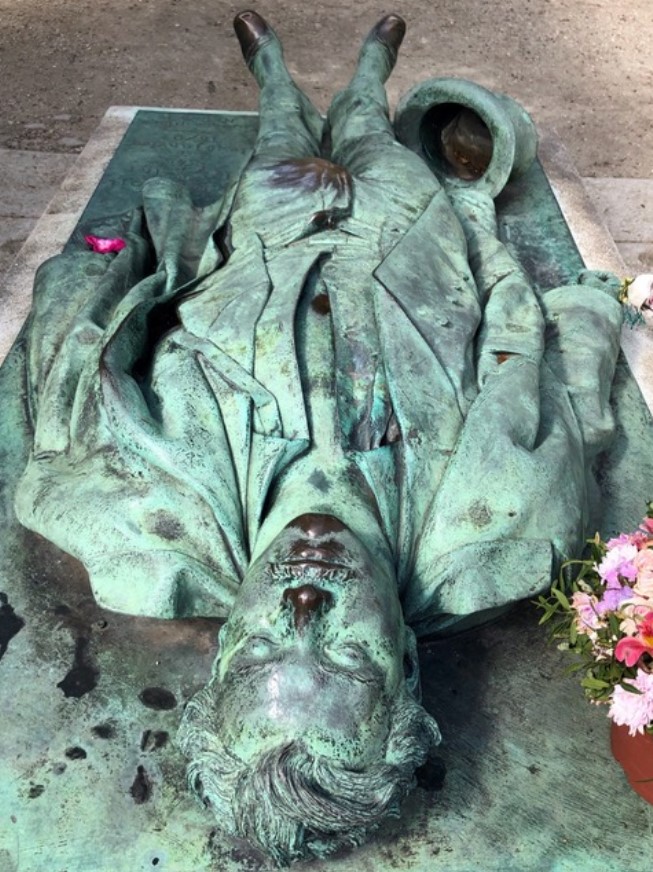 The hauntingly beautiful Pere Lachaise Cemetery is a must-see on your visit to Paris. Admittedly, visiting a cemetery might not be the first thing on your mind when planning a trip to Paris. However, in this crazy busy city, the Pere Lachaise Cemetery offers an oasis of calm, a break in nature, magnificent statues and some cool celebrity gravesites.
Many famous people are buried here, for example, Jim Morrison from The Doors. His gravesite is easy-to-find; just look for a group of people congregating around a site.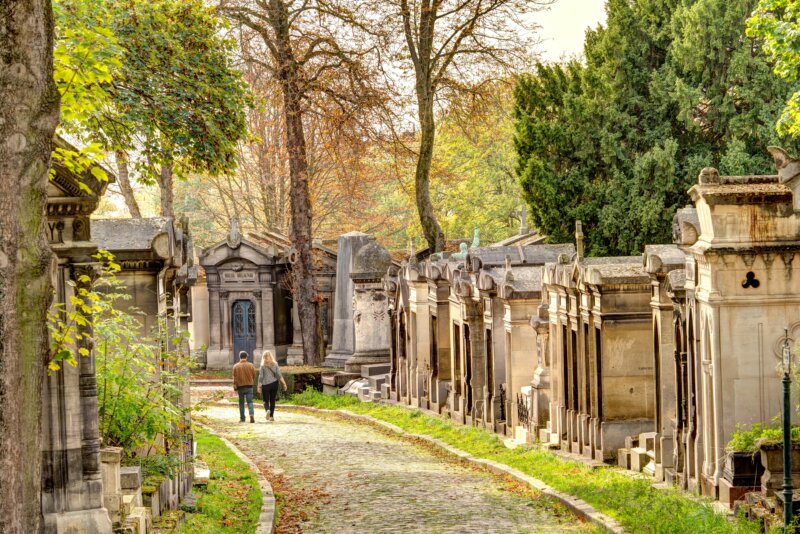 And there's Edith Piaf, the singer of La Vie en Rose, a song you will hear from every street singer in Paris.
Oscar Wilde is also buried here in an Egyptian-themed tomb inspired by his poem The Sphinx.
Look out for the life-size bronze sculpture of Victor Noir, a journalist killed by Napoleon's nephew. According to legend, rubbing the slight bulge in Noir's trousers will help with fertility problems.
Getting to Pere Lachaise Cemetery is easy; take metro Line 3. But exit the metro, one stop after Pere Lachaise at Gambetta. The cemetery is on a hill and by entering from the upper end means a gentle downhill walk through the grounds rather than climbing uphill.
See Related: Best Things to Do in Paris With Kids in 2023
9. Canal Saint Martin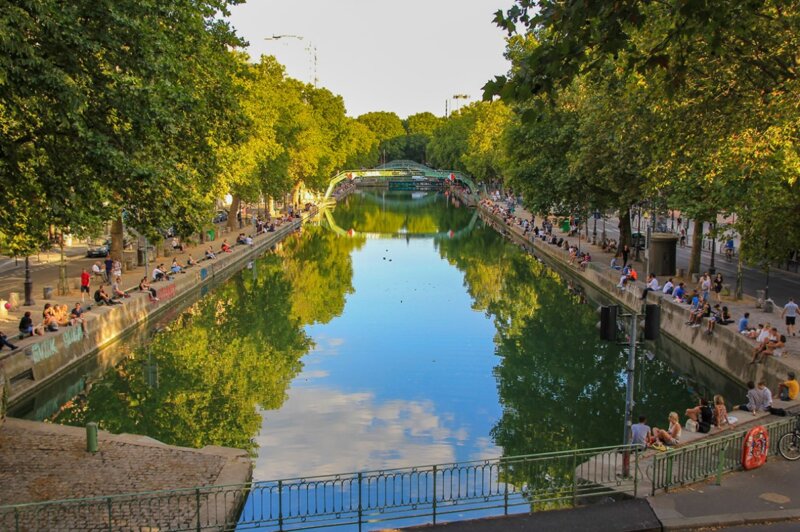 A stroll down Canal Saint Martin is one of the most romantic things to do in Paris. This magnificent canal, located in the east of Paris, was built in 1825 and is today a true treasure in the City of Love.
It is in a beautiful former working-class neighborhood that is now a chic Paris neighborhood. If you choose to stay in this area, there are several charming boutique hotels and eateries for a dinner. Only a few travelers have found its peaceful attraction. It is largely Parisians who stroll here and have brunch or a picnic.
Between Rue Dieu and Rue des Récollets is the most picturesque portion of the 4.5-kilometer Canal Saint Martin. The atmosphere is quite charming here. The canal captivates with several gorgeous locks, Venetian footbridges, lush green gardens with flowers and chestnut trees, and, of course, the canal itself.
The best thing you can do in Paris is walk down the stunning Canal Saint Martin with your love or your friends and take in the scenery. Bring a bottle of red wine and a delicious lunch to enjoy the unique atmosphere of hidden Paris right on the sea or join a canal cruise. But remember to bring your camera! The Canal Saint Martin offers various romantic photo opportunities.
See Related: Arc de Triomphe: Exploring the Iconic Paris Arch
10. Hunt for Markers to the Camino de Santiago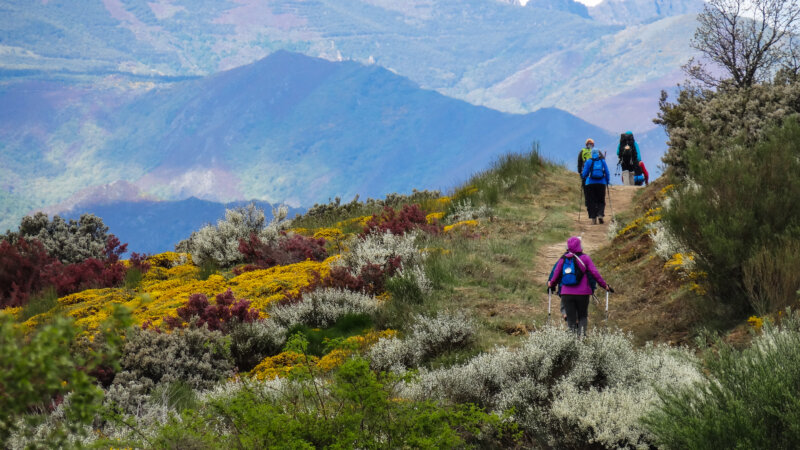 A pilgrimage to Santiago de Compostela in Spain, or a "Camino de Santiago" can begin in many places, including Paris. Whether you're planning to walk the distance or not, finding and following the yellow shells and yellow arrows (the famous markers of the Camino) is a wonderful way to go on a "walking tour" of Paris, without having to fuss with maps or directions.
Start at the Saint James Tower (Tour Saint Jacques) in central Paris, near to the Chatelet Metro. This famous tower used to be a full church, and while it's been closed for most of the last 500 years, it's both the historic and present starting point for Camino pilgrims starting their journey in Paris.
By following in these footsteps, you're joining a tradition that is nearly a thousand years old. Follow the markers south through the city, winding through some of Paris's most scenic neighbourhoods.
Should you choose to spontaneously continue walking to Santiago, it's over 1,400 kilometres of walking from the Saint James Tower to the Cathedral in Santiago de Compostela, in western Spain. The second half of that route, starting in a village on the border called Saint-Jean-Pied-de-Port, is known as the "Camino Frances," and is dotted with hostels specifically for pilgrims walking the Camino, no reservations needed. So, enjoy your walk around Paris, and if you feel the itch, you've got the entire Camino waiting for you.
See Related: One-Day in Paris Itinerary: How to Spend a Day
11. Galeries Lafayette Rooftop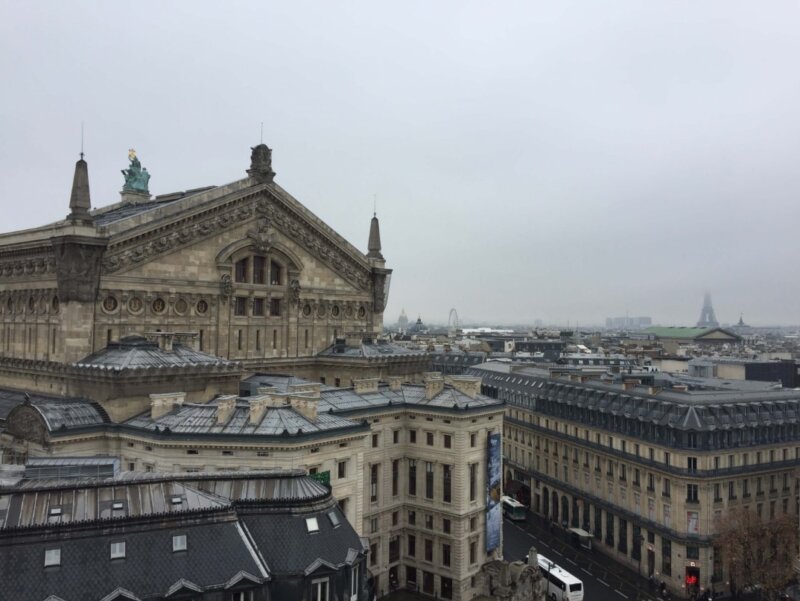 One of the best things to do in Paris is visit the rooftop at Galeries Lafayette for amazing views of Paris from above. Galeries Lafayette is a luxury department store located right in the heart of the city on Boulevard Haussmann. It's pretty famous for its grand architecture and beautiful Art-Nouveau style glass dome which dates back to the early 1900s.
You can browse a wide range of products in the store including beauty, fashion, home decor and even gourmet food. One thing that not many people know about is that there's actually a roof terrace on the 8th floor that's open to the public that offers one of the best views in Paris.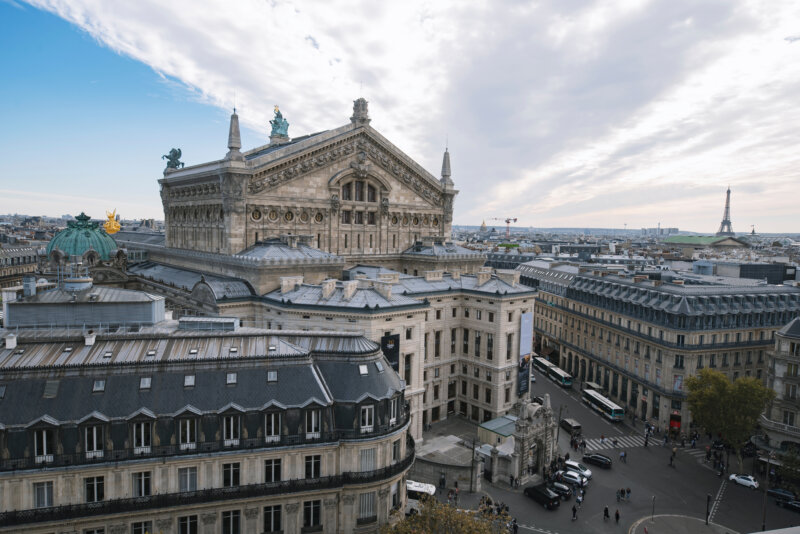 From up here you can see the whole of Paris including several of the city's most iconic landmarks including the Eiffel Tower, the Montparnasse Tower, Les Invalides, Notre Dame Cathedral and the Palais Garnier. It's one of the city's best spots for taking photos so make sure you have your best Paris Instagram captions on hand.
The Galeries Lafayette rooftop is one of the best spots in Paris to take in the beauty of the city. Sunset, in particular, is the best time of day to visit.
You'll also find that there's a café situated on the terrace so you can grab yourself a drink whilst you take in the mesmerizing views. In the summer, popup restaurants also appear. The rooftop is open from 10am to 8pm and there really is no bad time to visit.
See Related: Best Rooftop Bars in Paris, France
12. Boulevard Paris 13 Open-air Street Museum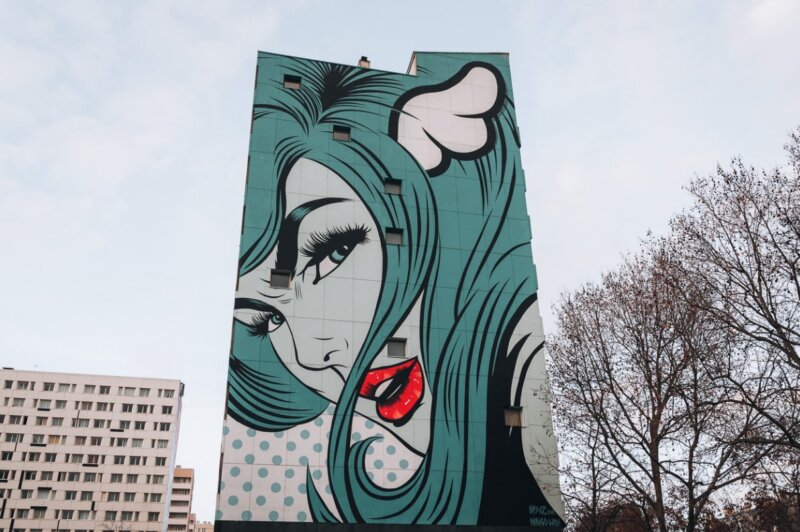 Since 2009, the 13th arrondissement in Paris has become a beacon for urban art. It was made possible through an incredible partnership between Galerie Itinerrance and the district's City Hall.
Their goal was to transform this otherwise non-touristic area into an open-air museum. And they did just that! Thanks to their collaboration, the streets have come alive with beautiful frescoes created by French and international artists.
This initiative put the 13th arrondissement on the map. And it has gained recognition both locally and around the world. Not only that but it has become a cultural hub for street art and creativity.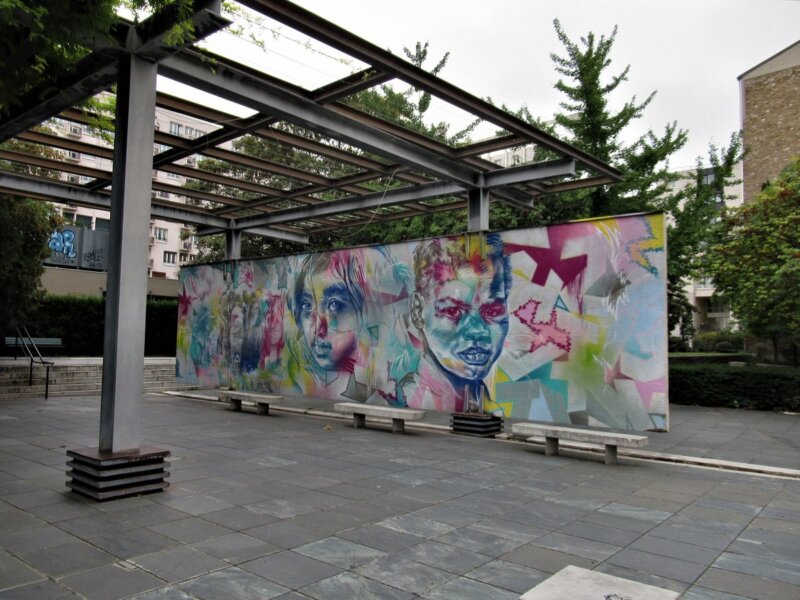 A stroll along these streets is like taking a journey through an ever-evolving gallery of work. There's a range of diverse styles and perspectives. Each one more beautiful than the last. For the largest collection of work, head to the intersection of Boulevard Vincent Auriol and Rue Jeanne d'Arc.
You'll find about 18 murals in this area alone. Some notable artists include Shepard Fairey, Conor Harrington, and Triston Eaton.
The 13th arrondissement has taken immense strides within its urban art scene. And it has solidified itself as an artistic neighborhood that inspires anyone who visits. In fact, it's a reason why artists love Paris so much. So, if you're looking for something unique to do, Boulevard 13 Paris should be at the top of your list.
See Related: The Magic of Rainy Paris: Things to Do in the City of Love in the Rain
13. Visit Monet's Gardens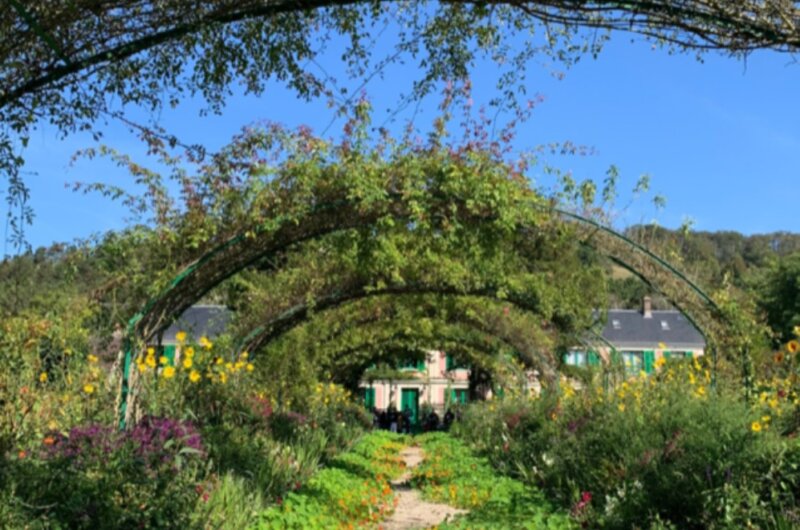 If you're visiting Paris and ready for a break from all the commotion or simply feeling overwhelmed, consider visiting the French countryside for a day. More specifically, make your way to Giverny, a charming village located about an hour outside of Paris.
Within the small town, you'll discover that there are lots of cobblestone streets lined withelegant cottages and small stone buildings, essentially making you feellike you've just stepped into a fairytale setting.
And while exploring the city as a whole is recommended, the main reason that most visitors make the journey out to the countryside is to visit the home and gardens of Claude Monet. For those who don't know, Monet was one of the most renowned Impressionist painters in history.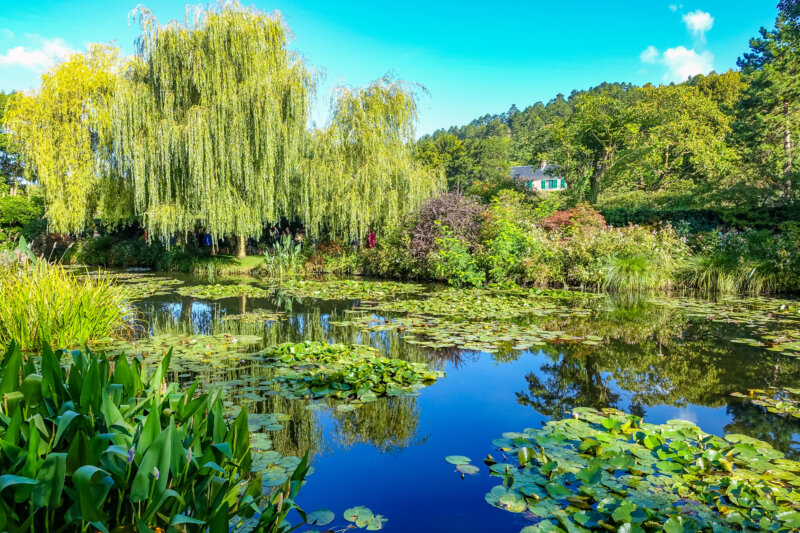 He spent the last 40 years of his life in Giverny and produced several works of art. Thus, if you visit his estate, you'll be able to walk through his meticulously restored home, stroll around the beautiful gardens, and walk along the iconic water lily pond that inspired so many of his most famous works.
Thus, if you're looking for a lovely way to spend your time in Paris, make sure to include Giverny in your itinerary.
Contributed by Kristin of Global Travel Escapades
See Related: Top 10 Free Museums in Paris
14. Montmartre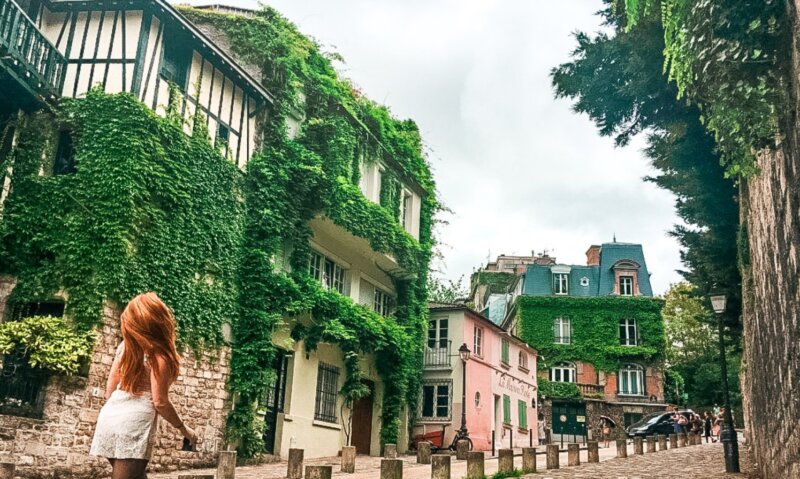 Contributed by Catrina of 24 Hours Layover
Located in Paris' 18th Arrondissement, a visit to the picturesque hilltop neighborhood of Montmartre is one of the best things to do in Paris! There's a cute romantic charm in this artsy district that you just can't find anywhere else in Paris – or Europe for that matter! It wasn't always that way though – around 200 years ago most Parisians would avoid Montmartre as it was home to many brothels!
Montmartre has long been the bohemian and artistic district of Paris, and there's a lot of history in this unique neighborhood. You'll find many things to do in Montmartre very close to one another, making Montmartre a great place to explore on foot.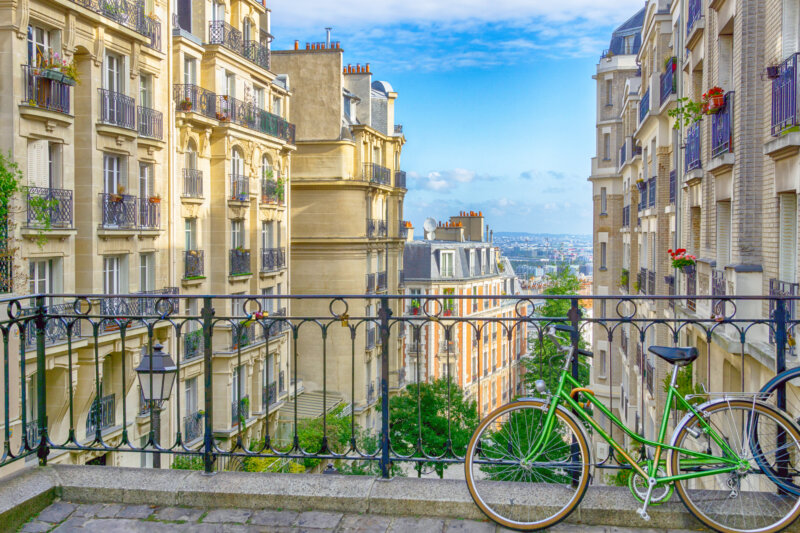 A visit to Montmartre is so special as it gives you a chance to escape the crowds and it makes you feel like you've stepped back in time. Experience the exquisitely French cafes of Le Consulat and La Maison Rose, check out the vintage stores, stroll along the quaint cobblestone streets, see the old moulins (windmills), and visit the iconic Sacre Coeur Cathedral. You can also visit the Vigne Du Clos vineyard (yes there's even a vineyard in Montmartre!) and spend time in Place Dalida – the prettiest square in Paris, where the likes of Renoir, Van Gogh, Monet, and Picasso would often frequent.
For an exotic evening head to the Moulin Rouge to watch the world's most famous cabaret! Every night the colorful can-can dancers hit the stage for a memorable eye-popping performance!
See Related: Best Free Walking Tours in Paris, France
15. Catacombs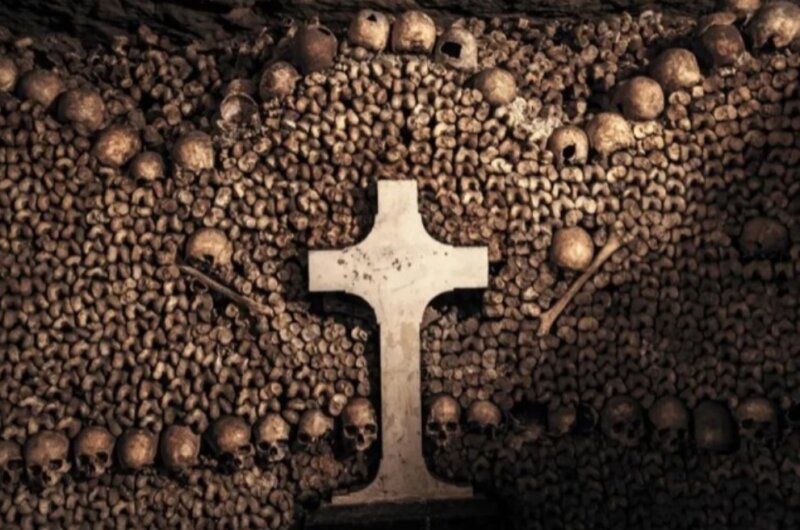 When we planned to visit Paris, one of the top things on our list was to visit the Catacombs. This underground maze houses the remains of thousands of people. You can find their bones arranged in nooks all through the maze.
One of the coolest facts about Paris is that the underground network extends across the whole city. It was once a limestone quarry of the city which was abandoned.
The entire network does not house bones though. That is restricted to a small area.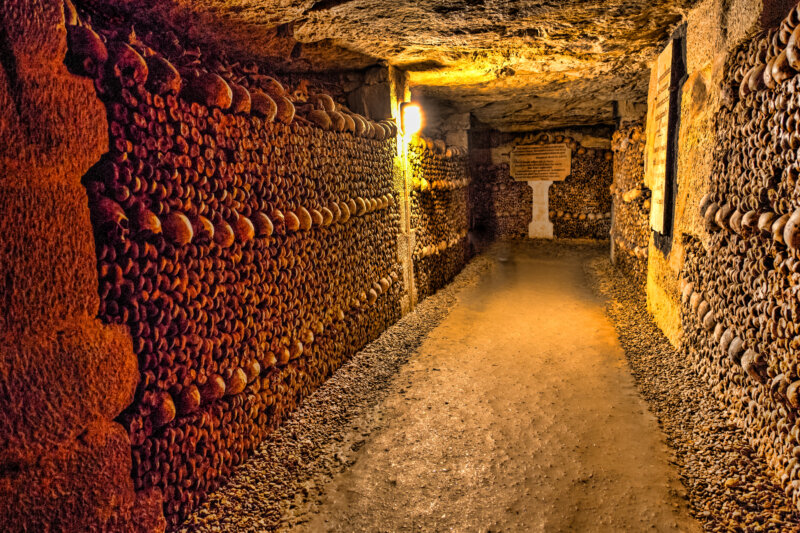 I highly recommend visiting. It can get kinda moist and cold down there, especially on a rainy day so make sure that you carry a jacket or a shawl to keep yourself warm.
One of the mistakes that we made was not booking our tickets online. The queues can be long and you waste a lot of time just waiting for your ticket. So save yourself some grief and get your ticket in advance.
I would also recommend taking the audio guide if you are interested in the history behind the catacombs. Otherwise, there are markers along the way but they don't tell you that much.
Check out what it's like visiting the Paris Catacombs with a full tour of them on YouTube:
See Related: Best Tours in Paris by Bus
16. Get To Know The Art Deco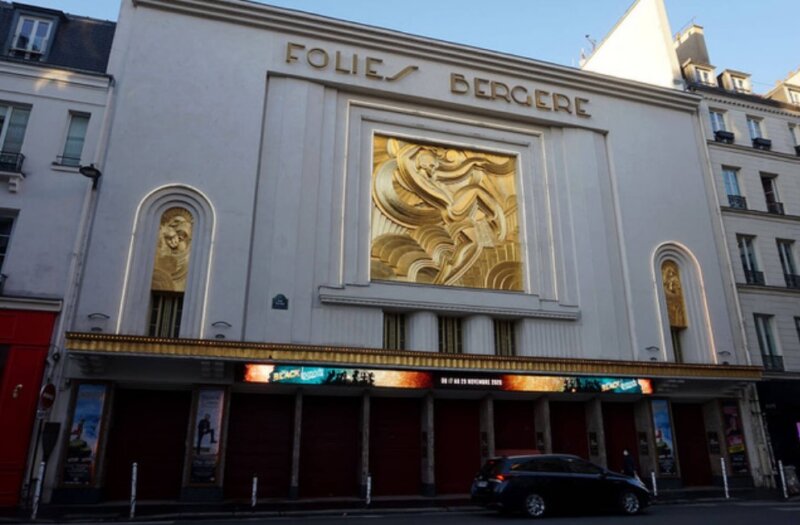 Everybody knows the Eifel Tower, Triumphal Arch or the Louvre. Millions of tourists come to Paris every year to visit these architecture marvels. But Paris is much more than that.
In fact, one particular architecture style was born here. We are talking about the beautiful Art Deco.
The Art Deco style is cool, daring, and uniquely French. Apart from being the birthplace of the style, Paris is also home to the largest number of Art Deco buildings in Europe. You can find them everywhere, from avenues, to small streets and hidden squares.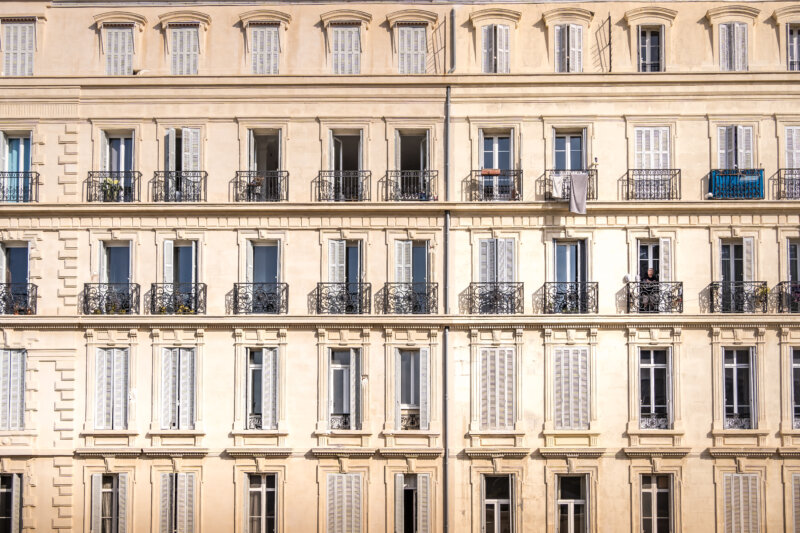 You'll recognize Art Deco by bold geometric patterns, vivid colors, and modern materials. It drew inspiration from Cubism, Constructivism, and Futurism, but also from African and Asian colorful art. When it was born, in 1925, it was considered advanced since it incorporated technological innovations.
The most interesting Art Deco buildings are usually large public institutions. Théâtre des Champs-Élysées is the first major Art Deco building in Paris. Le Louxor Palais du Cinema, Folies Bergère, and the Grand Rex Cinema are three other entertainment venues.
Visiting different Art Deco buildings will give you an insight into the rich architectural history of Paris. The French capital is all about elegance and class, and these buildings represent exactly that.
You can visit some of them from the inside and even stay in an Art deco hotel. Lutetia is the best one.
See Related: Is Paris in France or Italy?
17. Sacre Coeur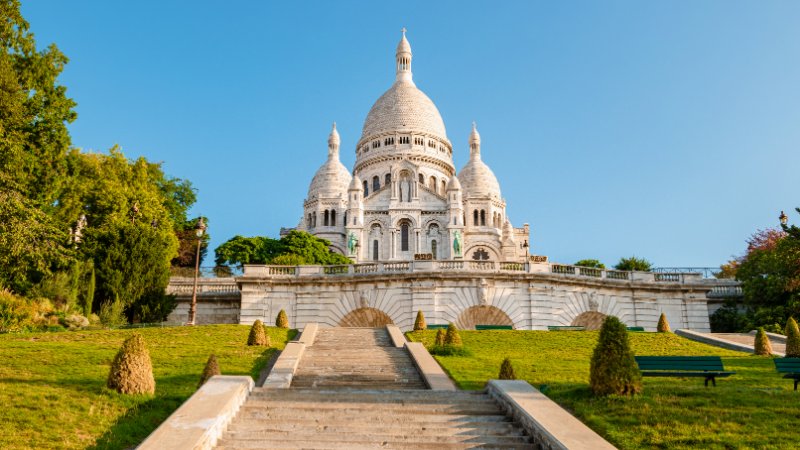 The Basilica of Sacre Coeur de Montmartre or simply the Sacre Coeur is one of the most visited sites in Paris which is located in Montmartre – one of the most charming neighborhoods in Paris. In fact, this area has a rich history due to the many famous artists such as Picasso, Monet and Vincent van Gogh who used to live and work here.
The Sacre Coeur is located on the highest point in Montmartre in the 18th arrondissement and offers the most spectacular view of Paris city. Furthermore, the inside of the basilica is also free to visit from 0600 to 2230 everyday and the Grand Organ, stained glass and mosaic are something to admire.
The exterior of the Sacre Coeur is constructed in the Romano-Byzantine style of architecture using travertine limestone. This special type of limestone excretes calcite when it comes in contact with rain water, making it always look exceptionally white.
This second-most visited structure in Paris is absolutely unmissable. Some of the other things to do in Montmartre include paying a visit to the Moulin Rouge – an iconic cabaret, Place du Tertre – a square dotted with artists and cafes, Place Dalida, Carrousel de Saint-Pierre and Square Marcel Bleustein Blanchet – a secret square and garden behind the Sacre Coeur.
See Related: Top 10 Churches in Paris to Visit
18. Musée de l'Orangerie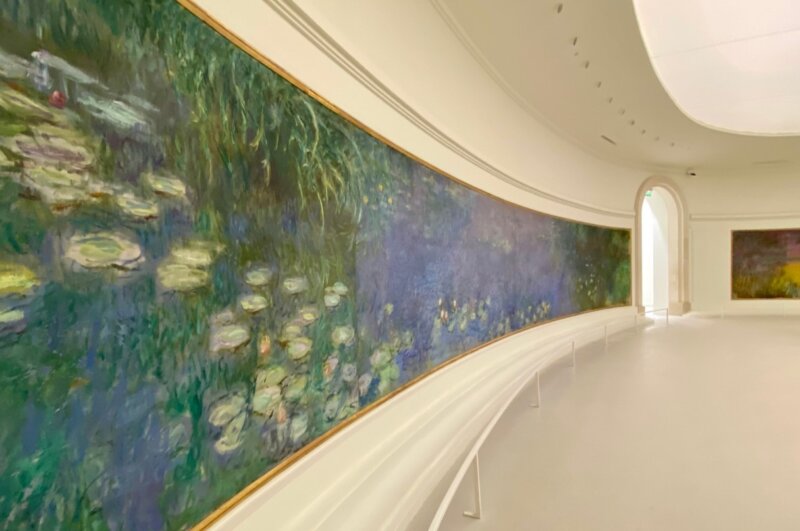 Paris is known for its art galleries. The Louvre and Musée d'Orsay are world famous – but don't let the much smaller Musée de l'Orangerie go under your radar.
If you would prefer something simpler but also more immersive, this might be right up your street. Musée de l'Orangerie's primary exhibition is a series of eight of Monet's large water lily murals. These panoramic oil on canvas murals each have their own vibe, but work together as a series.
Monet himself helped guide the design of the exhibition space, which is comprised of two large oval-shaped rooms, with four paintings circling the walls in each one. Light floods in from the skylights and there is seating in the middle of each room, so you can sit, immersed in the waterlily world.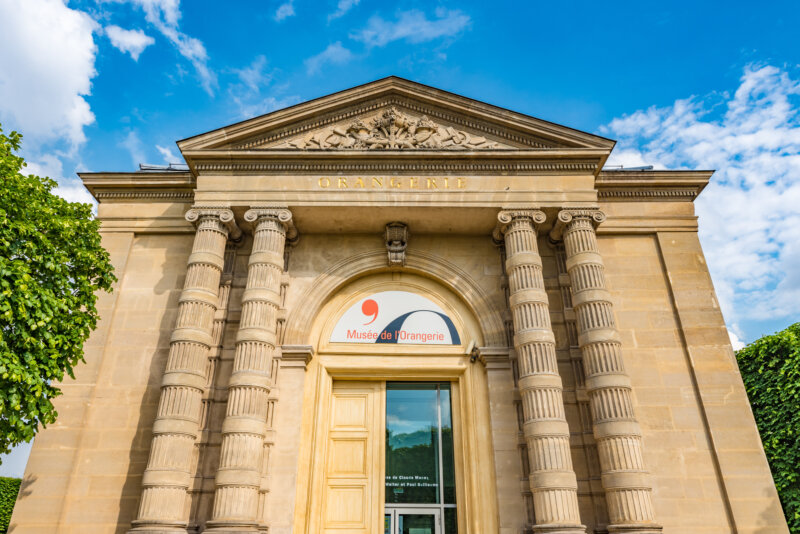 It's a sensory, contemplative place, which is why it is one of the best romantic things to do in Paris for couples. It could also be a lovely thing to do if you're traveling solo in Paris.
Musée de l'Orangerie is located in the south-west corner of the Tuileries Garden, next to the Place de la Concorde. It won't be as busy as the bigger galleries in Paris, but it still works to book your tickets in advance, especially in peak season.
See Related: Winters in France: A Comprehensive Guide to the Season
19. Louvre Museum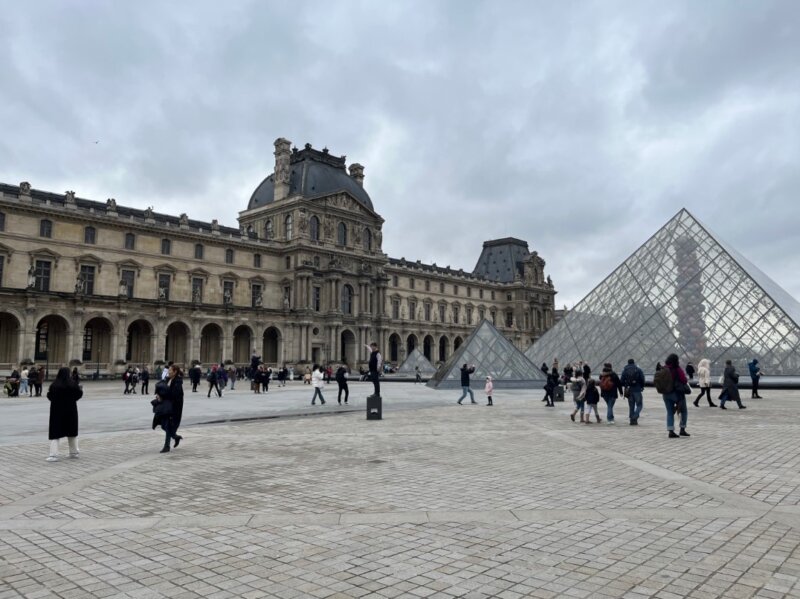 Located in the heart of Paris and adjacent to the Tuileries Garden is the Louvre Museum, one of the largest and most popular art museums in the world. The building was first constructed as the Louvre Palace in the late 12th and early 13th centuries and it was eventually opened as a museum in 1793.
Today, this behemoth of a museum is home to some of the most famous works of art in the western world, including both the Mona Lisa and the Venus de Milo. At any given time there are approximately 38,000 objects on display; tour guides in Paris often tell guests that it would take four full days to see all of the objects if you spent only 10 seconds admiring each one.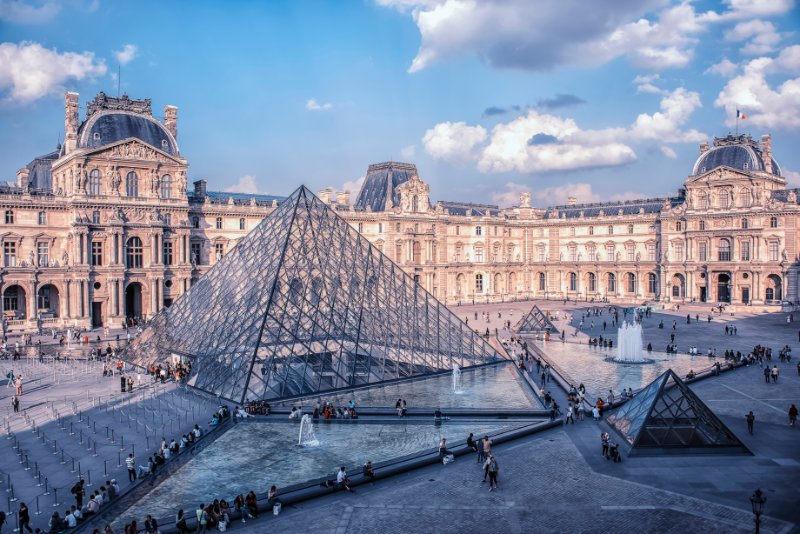 A visit to the Louvre Museum should be on your list whether you're only visiting Paris for a weekend or for two full weeks. Before visiting the Louvre, be sure to do a bit of research so that you know which exhibits you'd most like to see.
This way, you'll be less overwhelmed while trying to navigate the crowds and busy gallery spaces. If you're visiting the Louvre during Paris' peak tourist season (May to September), consider pre-booking your tickets to avoid the long lines.
See Related: Top 10 Art Museums in Paris
20. Famous Cafés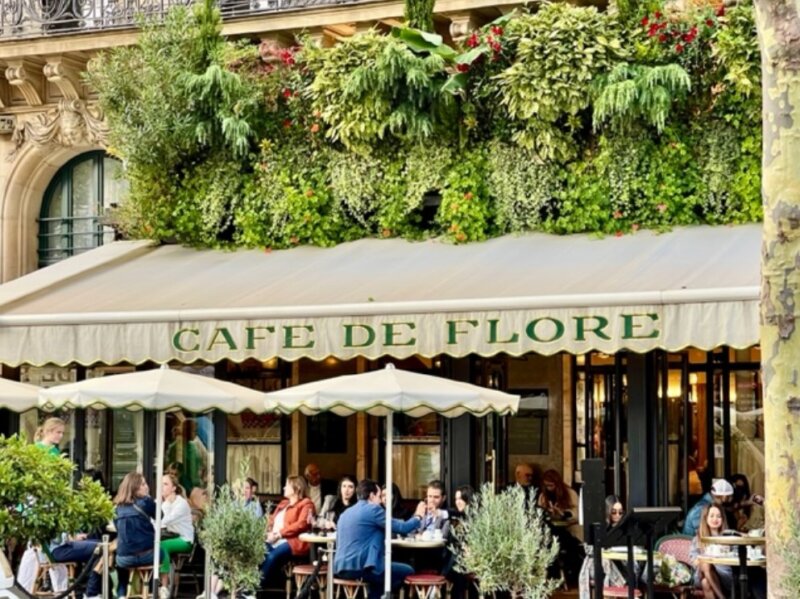 Visiting at least a couple of the famous cafés of Paris should be high on your sightseeing list! From the oldest café (Le Procope) to the literary and artsy ones, they all have a place in history.
A great place to start, especially if you don't have a lot of time, is in the 6th arrondissement. Here, in Saint Germain des Prés, you'll find the two most renowned cafés separated by a tiny side street: Les Deux Magots and Café de Flore.
These two Paris icons have been rivalries since the late 1800s, each claiming to be the most famous café in Paris. They even shared many of the same celebrity clients.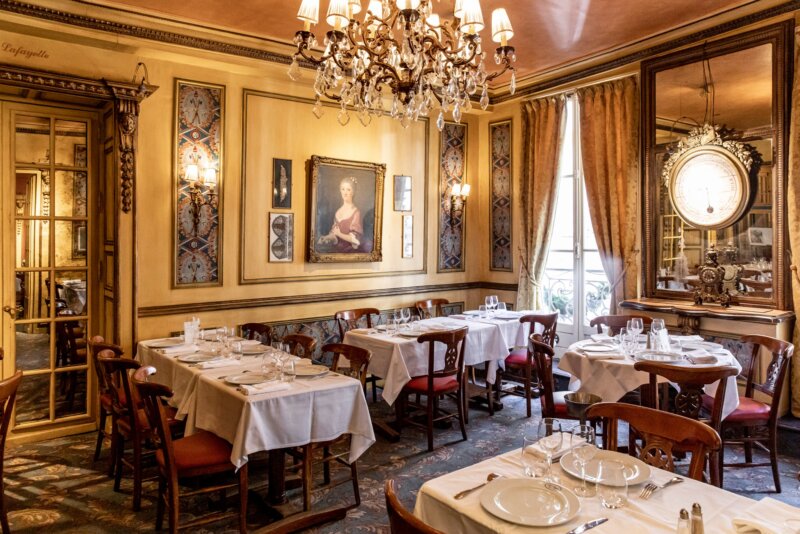 The creme de la creme of the literary, art and intellectual scene discussed the latest ideas and movements at these establishments. Picasso, Hemingway, Jean-Paul Sartre, and Simone de Beauvoir have all lingered for hours over a single coffee purchase.
Today, these cafés almost have museum status and bustle with both locals and tourists. They both have beautiful grand facades and offer similar menus full of traditional French fare.
Dining outdoors at either is a fun way to spend a couple of hours. You can't go wrong ordering Paris's favorite snack, the gooey ham and cheese sandwich, Croque Monsieur. The food prices are typical for the city, but the beverages are a bit pricey.
See Related: When Does the Eiffel Tower Sparkle? A Guide to its Stunning Light Display
21. Day Trip to Palace of Versailles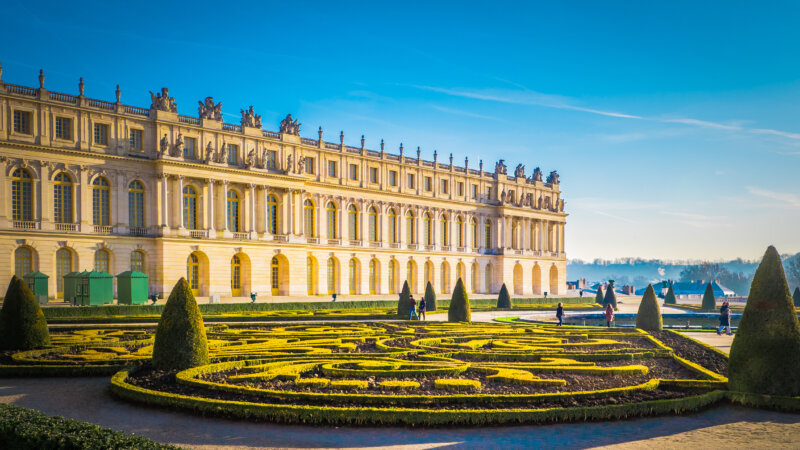 The seat of the aristocracy for many centuries, a day trip to visit Versailles Palace, is a must when it comes to things to do in Paris. Built-in 1624 and commissioned by Louis XIV, the Palace of Versailles is one of the most opulent buildings in the world. In fact, it took almost a quarter of France's national income every year to maintain its glory.
With well-groomed gardens expanding an incredible 30,000 acres, you most definitely will want to dedicate an entire day to this Paris attraction. Take a 45-minute train from Paris city center to Versailles, and enjoy the gilded interiors of the palace. As one of France's most popular tourist attractions, it's always a good idea to purchase your tickets in advance.
Make sure to check out the Hall of Mirrors, adorned with 357 mirrors handmade by French artisans, a technique adopted from Venice, Italy. This is where both the Treaty of Versailles and the treaty to end WWI were signed. Peruse the gardens, stopping to appreciate the grand fountains and Apollo Fountain, in particular.
If you have time and energy, walk out to the home of Marie Antoinette and The Grand Trianon to see how the French royalty really lived. Make a stop at the Temple of Love for some time on the grass by the pond before heading back to the Palace.
22. Arc de Triomphe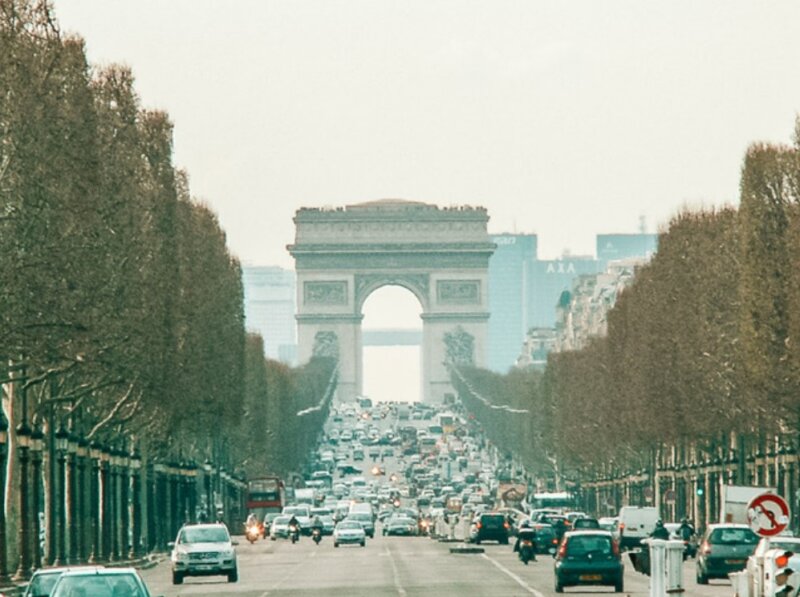 One of the can't-miss attractions in Paris is the Arc de Triomphe, the large, imposing, and gorgeous arch that dominates the Parisian skyline. This triumphal arch has a lot of history behind it: it was commissioned by Napoleon in 1806 to celebrate his victory at the Battle of Austerlitz and to celebrate his "Grand Army." The reliefs on the front and back faces of the arch represent different French military victories, and underneath the arch lies the Tomb of the Unknown Soldier, which specifically remembers soldiers that fell in the World Wars.
The Arc de Triomphe sits in a massive roundabout in Paris, with 12 streets converging at the arch to create a "star-like" effect. The Champs Elysees Avenue also ends at the Arc de Triomphe. You can get to the base of the Arc via an underground tunnel – look for the stairs descending on the Champs Elysees near the Arc de Triomphe. Definitely do not try to cross the street on the roundabout to get to the arch!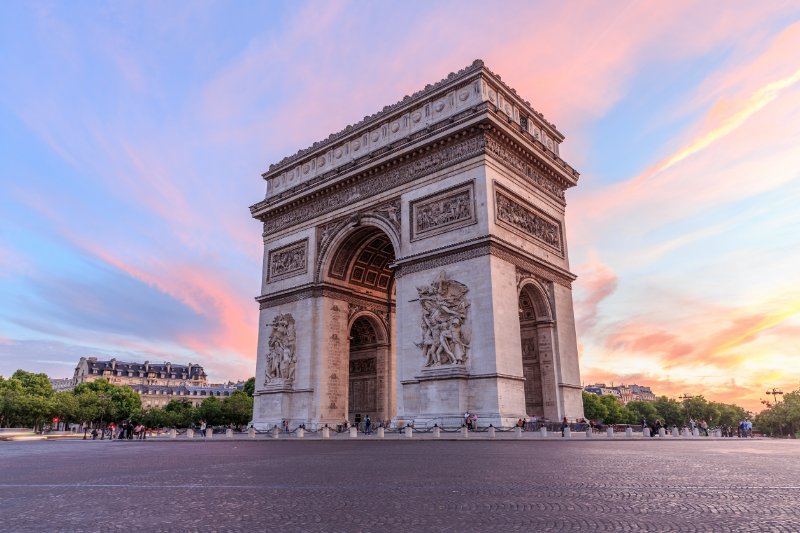 When you arrive at the base of the arch, you can buy your ticket, and then start climbing the spiral staircase inside the arch to reach the top. The staircase feels like it goes on forever, but eventually you'll make it! At the top, find the open air rooftop, where you are met with absolutely insane views of Paris – including all the streets radiating out from the arch like a star, and a great look at the Eiffel Tower!
See Related: Avenue des Champs Elysées
23. Moulin Rouge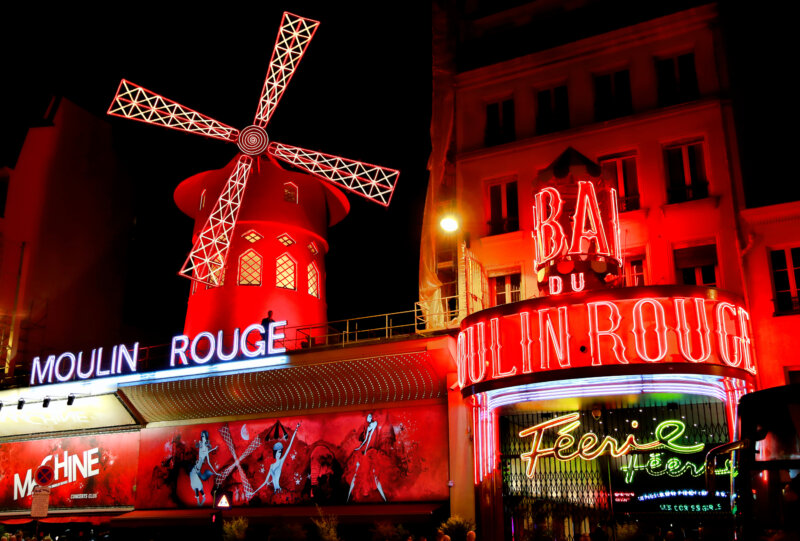 Located in the historic neighbourhood of Montmartre, Moulin Rouge is one of the most iconic landmarks of Paris and visiting it – is one of the best things to do in the city.
Moulin Rouge means "red windmill", but the reasons why the founder of the cabaret decided on the windmill as a logo for its venue are unknown. One of the hypotheses suggests that it was an inspiration taken from the local windmills that were plenty in this area in the 1800s.
Moulin Rouge was the birthplace of the modern form of cancan, which today is one of the most famous things France is known for. In the past, courtesans danced the cancan to seduce the men visiting the establishment that was founded in the 19th century.
The dance became so famous that it got popularised across Europe and became an entertainment show in its own right. Today, Moulin Rouge employs top dancers that rehearse the dance routines weeks before the show and wear hand-made costumes made of feathers, sequins and embroidery that are true works of art.
Most tourists just stop at the Moulin Rouge, with its famous red facade and large windmill, to only take a photo. But, if you really want to appreciate and enjoy Moulin Rouge, come in the evening for a dance performance. You can book different packages that even include a three-course dinner and a bottle of wine.
24. Catch Sunset at Montparnasse Tower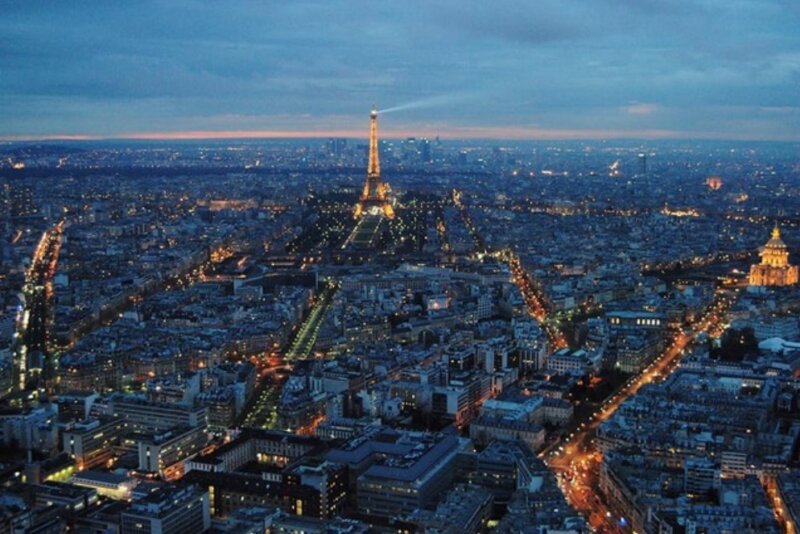 Climbing up Montparnasse Tower (Tour Montparnasse) at sunset is definitely one of the best things to do in Paris, especially for those looking to escape massive tourist crowds. Located in the Montparnasse neighborhood, this tower is the tallest building in Paris and the only skyscraper in the city center.
From its spectacular observation deck, you can see the Eiffel Tower, Arc de Triomphe, Champs-Élysées, and all the other famous landmarks of Paris. In fact, the view from this tower is actually even better than the one from the Eiffel Tower, because you actually get to see Eiffel itself!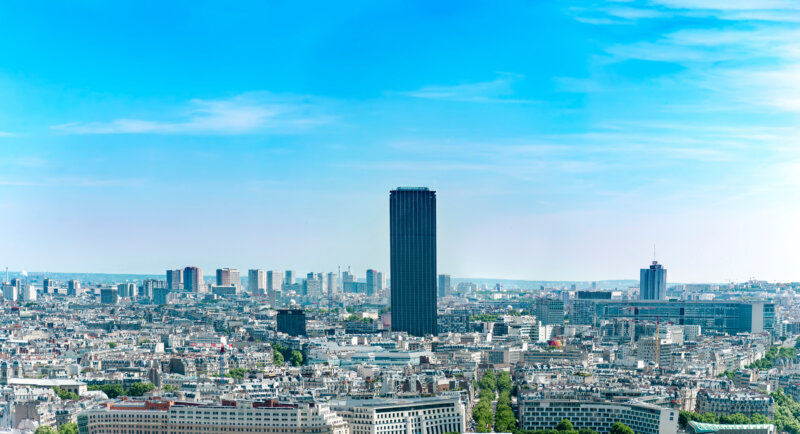 Montparnasse Tower used to be the tallest skyscraper in France until 2011. It was built by architect Campenon Bernard between 1969 and 1973. The building has 59 floors and the Observation Deck is on its terrace. You can also dine on the 56th floor, at the "Le Ciel de Paris" restaurant.
The best time to visit Montparnasse Tower is definitely right before sunset, at golden hour. That way, you'll get to see a stunning bird's-eye view of Paris at daylight, sunset, and dawn, when the city starts to magically light up. It's truly a breathtaking sight.
Be sure to bring adequate photography gear, such as some great low-light lenses for the Sony a6400, to capture the jaw-dropping sunset and evening transformation. To make your visit even more special, there's also a rooftop bar on the terrace, where you can get some champagne!
See Related: Best Walking Tours in Paris
25. Place Des Vosges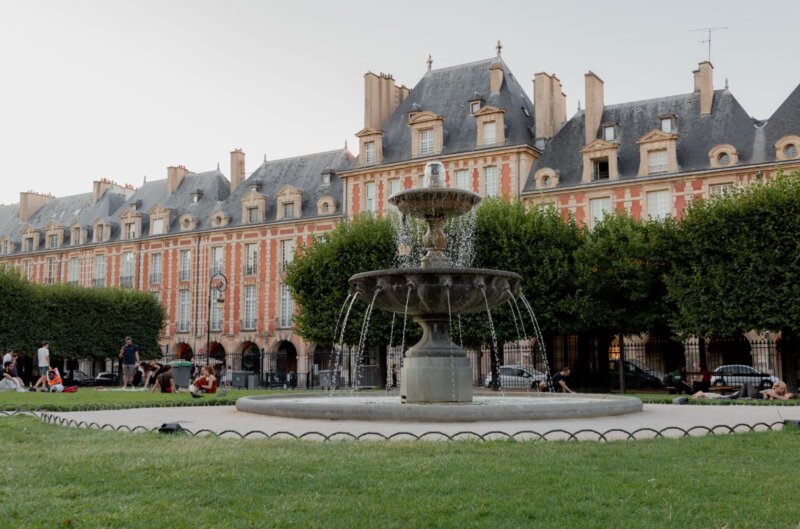 Located in the heart of Marais district, the Place des Vosges is the perfect spot to experience the culture and charm of Paris. Originally commissioned by Henry IV as a leisurely place for royals to walk around, the square was inaugurated in 1612 for the engagement of Louis XII and Anne of Austria. The original name of the square was Place Royal, but it changed to the Place des Vosges after the revolutionary war in the mid-18th century.
The Place des Vosges is now a common gathering spot for Parisians to meet up with friends or to enjoy a break from the busyness of the city. The best way to experience all that this fantastic square has to offer is to simply wander around and take it all in.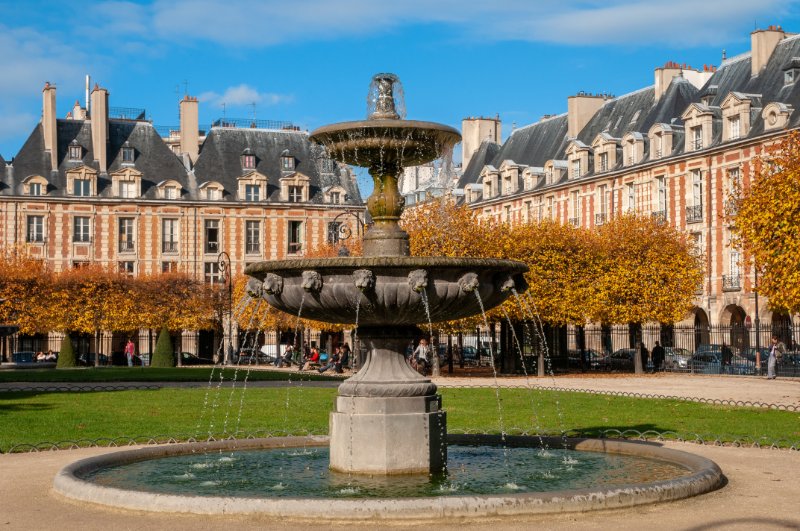 One of the best things to do in Paris is to have a picnic at the Place des Vosges in the summer. With plenty of shops surrounding the square, buy yourself a pastry or a baguette sandwich and enjoy it on the well-groomed lawn in the center garden.
You'll also find many art galleries and cafes in the red-stoned buildings around the square. Most notably, you can visit Victor Hugo's house, the famed author of many French classics like Les Miserables and The Hunchback of Notre Dame.
The Victor Hugo museum is arguably one of the best small museums in Paris and is free to visit. Whether you need a small break from sightseeing or want to enjoy the beauty of the Marais, the Place des Vosges is a must-see during your trip to Paris.
26. Angelina Hot Chocolate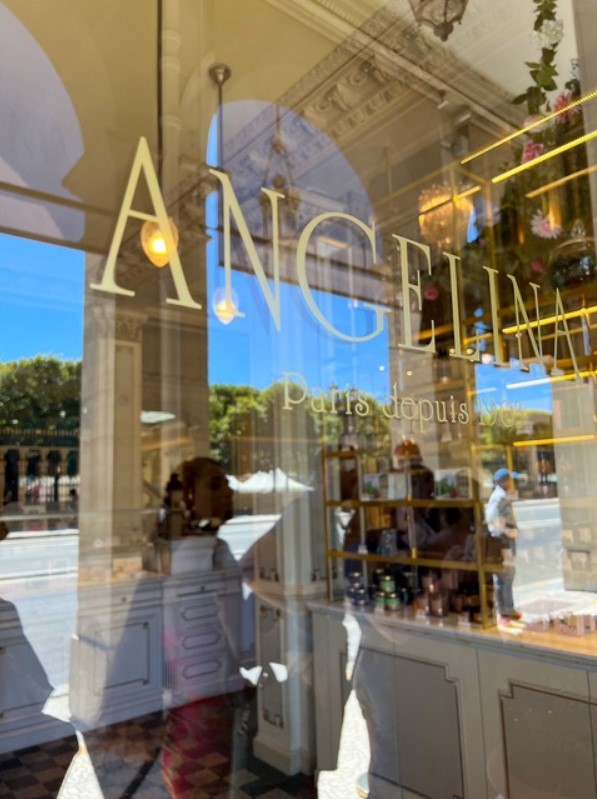 Angelina Paris is a revered legendary tea room serving up delectable pastries, and creamy hot chocolate in a unique belle epoque setting. While in Paris, you'll want to stomach the relatively quick line-up (even on a hot summer day) to be seated and served in this flourishing, brightly lit space.
Angelina has been around since 1903 and is well-known for her incredibly wholesome hot chocolate (sourced from African Cocoa) and the Mont Blanc cream cake. While dining in the pristine tea room, with a casual appearance – you can't help but feel welcome.
The servers are friendly, the atmosphere buzzing and the hot chocolate is the cherry on top. So naturally, I was inclined to try their hot chocolate and the Mont Blanc pastry – both of which dazzled in their own right.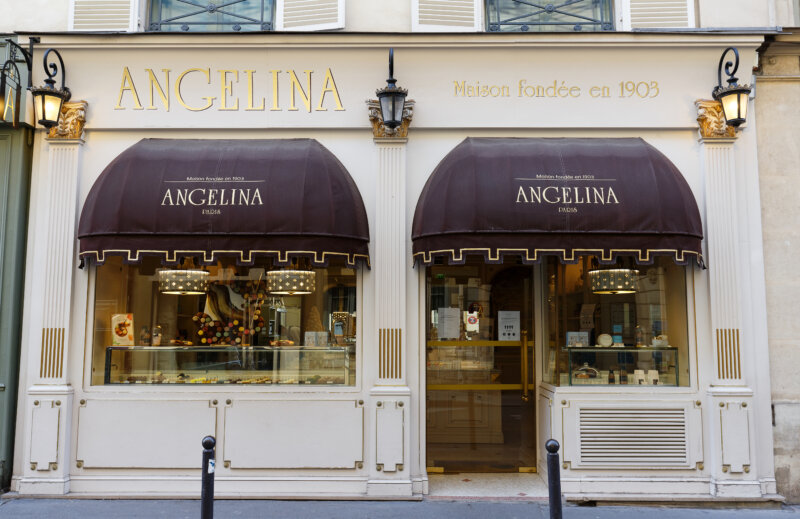 Anglelina's hot chocolate is absolutely worth the gourmet consumption and chances are you've probably never tasted something quite as decadent in liquid form. As for their signature pastry, Mont Blanc, covered in a sweet chestnut puree in the form of vermicelli, and filled with light whipped cream was an otherworldly experience. The French sure know how to maneuver pastries.
Some call it chocolate, I call it self-care – but if you don't have time to sit and sip, they offer take-out. So, don't be afraid to grab and go, as you explore the beautiful Parisian city with all of its charm and splendor.
See Related: Best Crepes in Paris, France
27. Macaron Walking Tour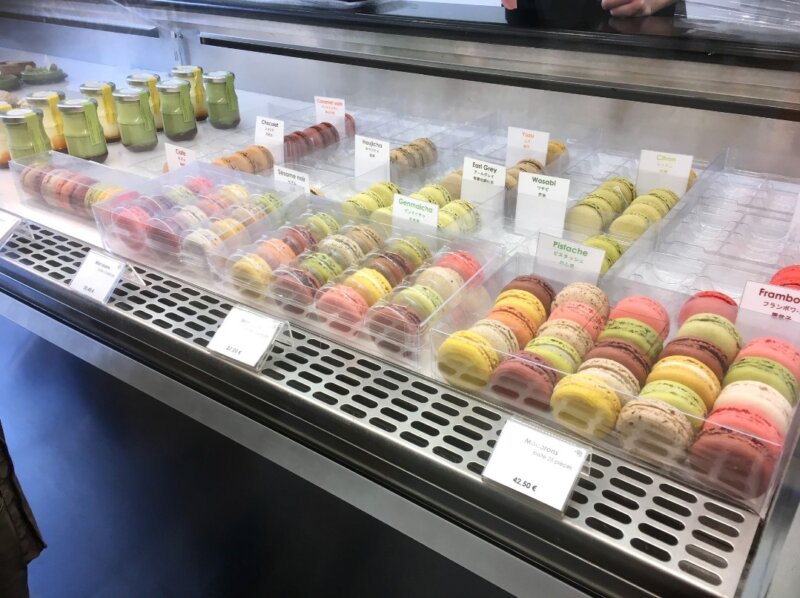 There's so much to see and do in Paris, you can spend weeks there and do something new every day. One of the most fun things to do and delicious is a self-guided macaron walking tour. It's not on top of everyone's list, but it should be!
In the last decade macarons have become really popular. In Paris, you can try out different ones from all the famous confectioner houses in France.
The macaron walking tour starts at Rue du Bac with Dalloyau and ends on the Champs-Elysées with Pierre Hermé. Other famous confectioner houses that are included in the tour are Ladurée, Angeline Paris, Fauchon, Jean-Paul Hévin, Maison du Chocolat, À la Mère de Famille, Maison Pariès and Sadaharu AOKI.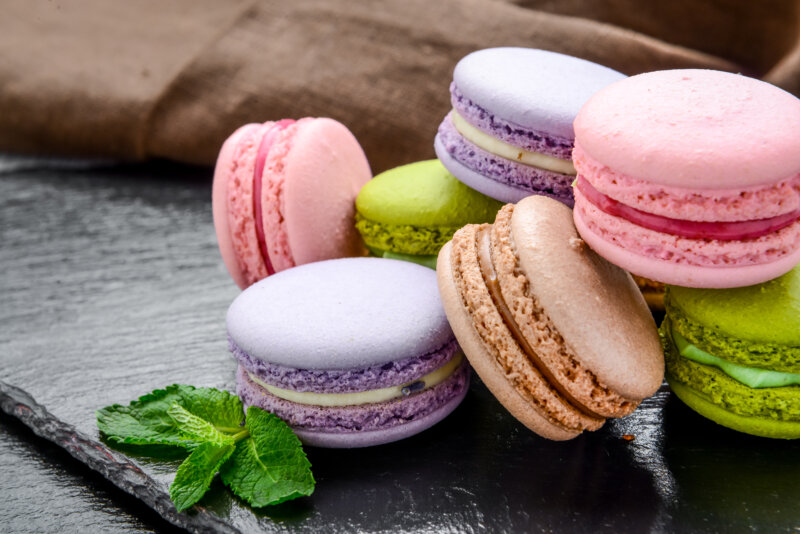 À la Mère de Famille is the oldest candy store in Paris. Depending on your pace and how much you taste test, the tour takes 2 to 5.5 hours in total.
You can also take a guided macaron tour when you're less than the self-guided tours. There are several excellent guided tours being offered in Paris. This way you get to see something other than the iconic sites and get to discover Paris in a different way.
28. Tuileries Garden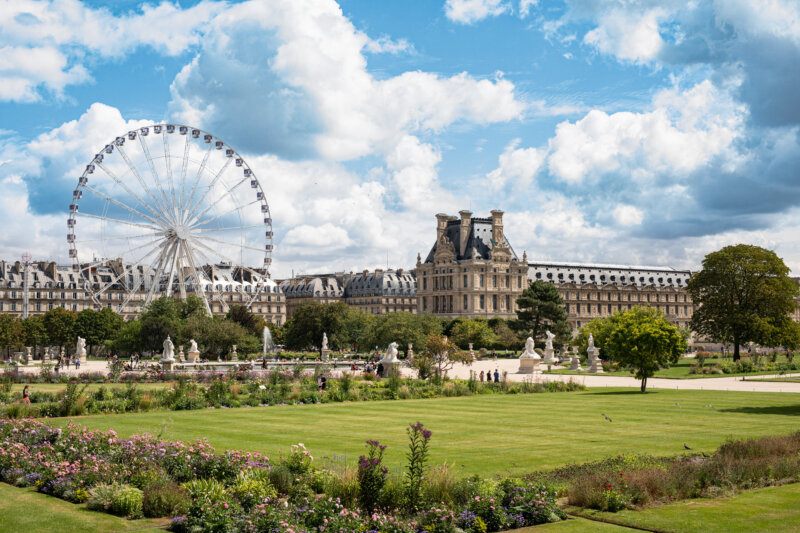 Placed perfectly between the Louvre palace and the Seine is the Tuileries Garden, one of the oldest parks in France and a must on any Paris Itinerary.
The park dates way back to the 17th century, when the large open field was home to multiple tile factories, until 1664 when Louis XIV asked the André Le Nôtre designer to entirely reconstruct the park. One of the beloved features of the park is the stunning marble stairs that are still visible today after centuries of events.
The park has been present in so much of Paris' history and to this day is still well respected. The popular park is now used as a meeting spot for both locals and tourists to enjoy lunch or watch the sunset.
The old-fashioned vibe of this park also allows children to rent small sailing boats to play with on the pond that are remotely controlled whilst parents relax and enjoy the warmer weather.
Whilst here, you can also see the famous sculptures, including Aristide Maillol's statues, sit by the fountain, and depending on the time of year that you visit, you may see other contemporary art exhibits.
Across from the Tuileries Garden, you can even treat yourself to a peaceful dinner cruise aboard the Marina de Paris!
See Related: Best Bike Tours in Paris, France
29. Food Tour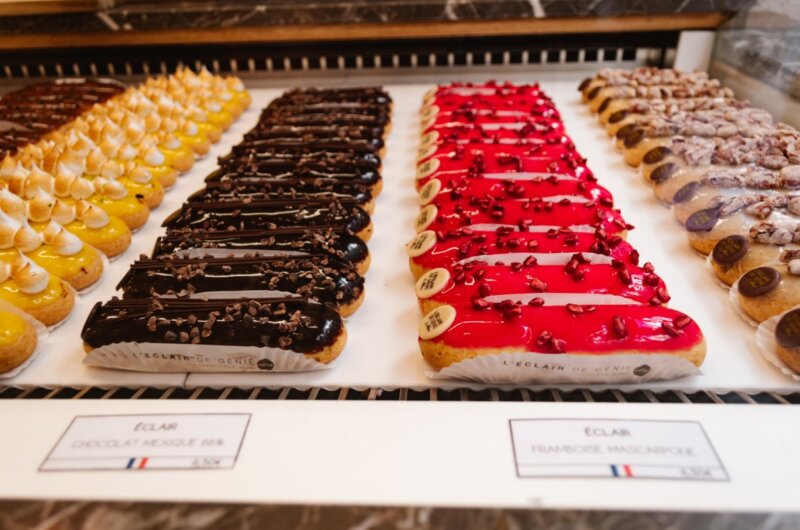 One of the best things to do in Paris is to take a guided food tour with a local. You'll get to taste your way through Paris with iconic foods like croissants, macrons, and cheeses, but also get to discover local favorites such as choux, a cream filled pastry, tartes, and even falafel!
While there are many hot food spots in Paris, le Marais is one of the best for a food tour because not only is the food incredible, but the area has a rich history and vibrant cultural diversity that lends itself to fabulous eats!
Home to Paris's Jewish and gay communities, le Marais feels like a local gem. Plus, the street art is the perfect view to accompany your tastes. You may even see an authentic Banksy!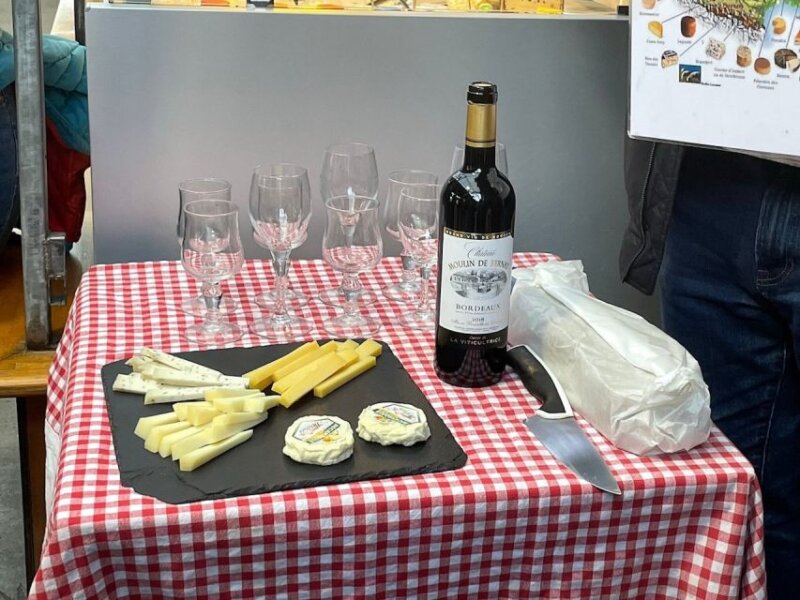 A food tour is best done during the first day or two of your time in Paris. This is to allow yourself time to experience and discover your favorite foods early on. That way, as you continue your Paris trip, you will know what you want to have more of!
Whether you're traveling solo in Paris, in a couple, or even a larger group, a food tour is a must! Some booking options include Airbnb Experiences or Get Your Guide, which both host many food tours hosted by locals.
30. Musee D-Orsay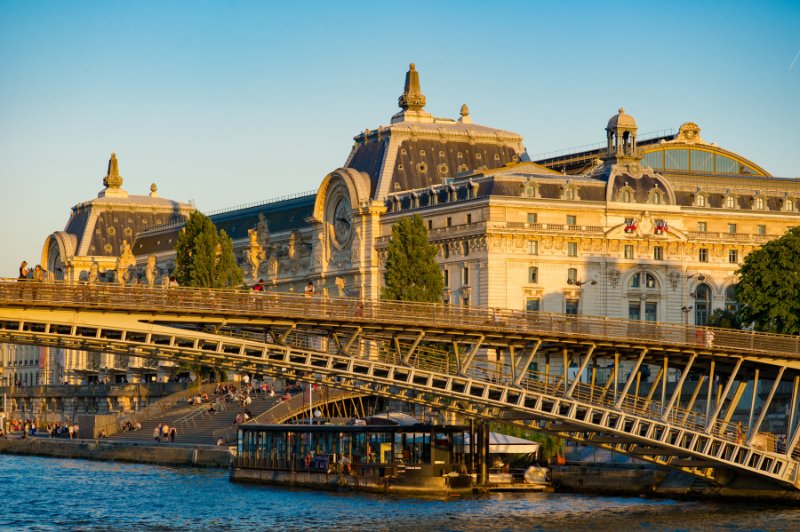 The Musée d'Orsay is an absolute must-see destination for art lovers and history enthusiasts. The museum boasts an impressive collection of artwork from around the world, spanning thousands of years of human history.
Musée d'Orsay has an extensive collection of paintings from European masters, including Rembrandt, Vermeer, and Delacroix. It has the world's largest collection of impressionist art. There is such a vast collection of paintings from so many famous artists, you really can get the whole range in just one place, which makes this such a great place to visit when in Paris
The museum is in a building that is also an architectural marvel. Originally, it was originally a train station that later turned to a depot, and finally, a museum in the late 1970's. Before becoming a museum,, it also served as a parcel holding place and even a reception centre for prisoners.
An interesting fact is that the museum contains more metal than the Eiffel Tower itself, truly making it quite an extraordinary piece of architecture. The museum's location along the Seine River also makes it a great spot for photographers, to take pictures of the building but also to take pictures from the second floor.
Musée d'Orsay really is quite remarkable, as there are few museums in the world where the interior architecture is just as spectacular as the works inside. The museum's windows and open light give it a very unique feel.
Whether you're a history buff, an art lover, or simply looking for a unique and inspiring experience, the Musée d'Orsay is not to be missed. Book a tour of the museum now.
31. Champs Elysees and Seine Cruise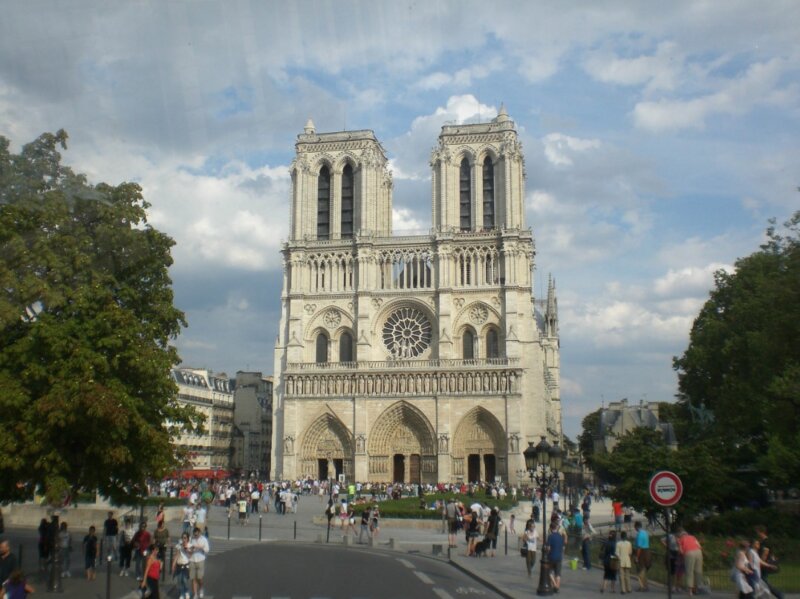 The Champs-Élysées is often referred to as the world's most beautiful avenue, and for good reason. This iconic Parisian street stretches for 2 km from Place de la Concorde to the majestic Arc de Triomphe, lined with elegant trees and magnificent buildings. The avenue is home to a number of luxury brands such as Louis Vuitton, Chanel, and Dior, but also offers affordable shopping options like Zara and H&M.
The Champs-Élysées is the perfect destination for those who love shopping and spending time outdoors. The wide sidewalks are perfect for a leisurely stroll, while the numerous cafes provide the perfect opportunity to sit and people-watch. It is a must-visit attraction when in Paris, especially on a sunny day.
Apart from shopping and eating, there are several other attractions to visit on the Champs-Élysées, including the Grand Palais and the Petit Palais, both of which are stunning museums that offer a range of exhibitions throughout the year. The Théâtre Marigny, located at the end of the avenue, is another must-see attraction that showcases a range of shows and performances throughout the year.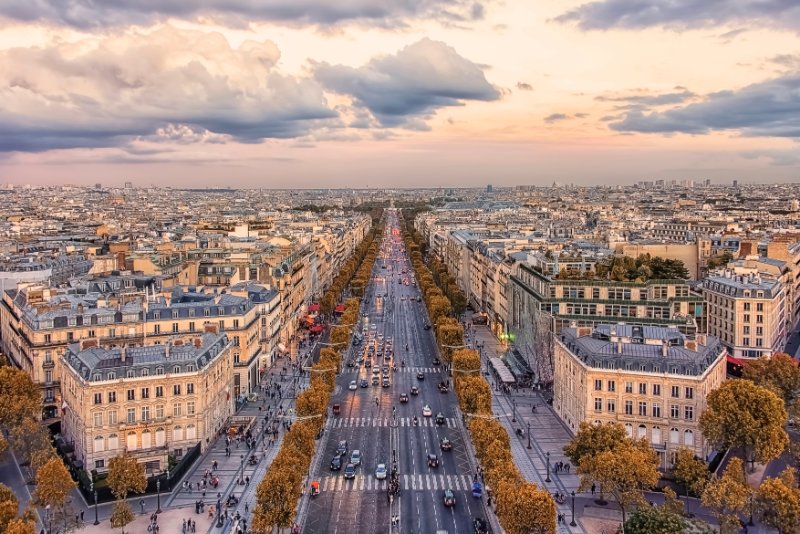 While the Champs-Élysées is known for its luxurious offerings, it also offers affordable brands that cater to a wide range of budgets. So whether you're looking to splurge or just enjoy the atmosphere, the Champs-Élysées is an unmissable destination for any traveler visiting Paris.
A river cruise on the Seine is a must-do experience for anyone visiting Paris. With several different types of cruises available, you can choose one that suits your budget and preferences. From affordable daytime cruises to more expensive romantic dinner cruises, there is something for everyone.
While daytime cruises offer great sightseeing opportunities, a dinner cruise is highly recommended for a more romantic experience. Many dinner cruises offer a three-course meal that includes French cuisine and local wines, making it a perfect opportunity to enjoy a delicious meal while taking in the sights of the city.
During the cruise, you will see several of Paris's famous landmarks, including Notre Dame Cathedral, the Louvre, the Eiffel Tower, the National Assembly, and many more. The city looks different from the river, and the views are simply breathtaking. A cruise on the Seine is a perfect way to see the best of Paris while enjoying a relaxing and scenic ride.
It's important to book your river cruise in advance online to avoid scams and ensure you get the best possible experience. With so many options available, it's important to do your research and choose a reputable operator that offers quality service.
See Related: Best Weekend Trips from Paris, France
32. Concert at Sainte-Chapelle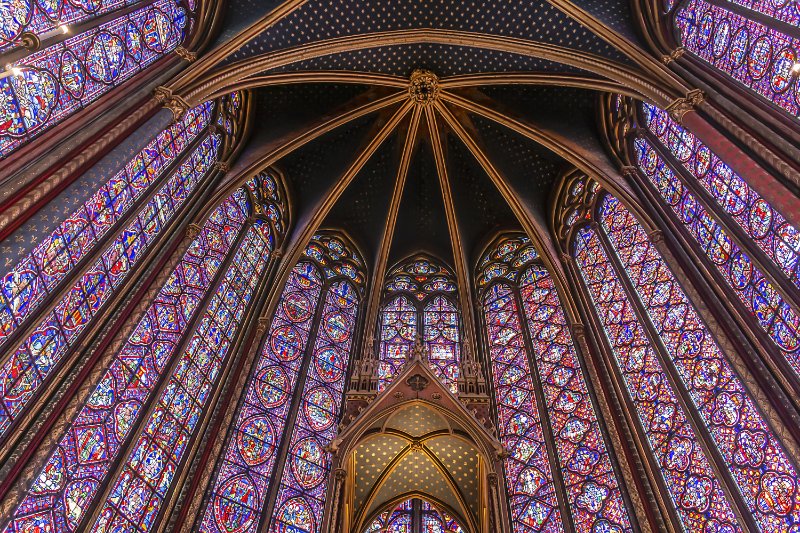 Sainte-Chapelle is one of the most visited cathedrals in Paris, and for good reason. The walls are covered in 15 floor-to-ceiling stained glass windows dating to the 13th century.
This is one Paris tourist destination that absolutely lives up to the hype. Sainte-Chapelle may not be much to look at from the exterior, but stepping inside is certain to take your breath away.
One unique way to take in the beauty of Sainte-Chapelle is to attend a concert inside this beautiful cathedral. From March to September and again in December, Saint-Chapelle offers a weekly classical music concert.
It's a really unique opportunity to spend more time in Saint-Chapelle after the crowds have gone for the day. You'll be able to sit in the midst of these iconic stained glass windows and appreciate them while listening to world-class musicians and singers.
Saint-Chapelle is located inside the Palace of Justice perimeter, so make sure you come early to go through security before the concert begins. Also, keep in mind the chapel is not temperature controlled, so dress appropriately for hot or cold weather depending on the season.
On your way to begin your memorable evening of classical music, take time to stroll the left bank of the Seine or on the Île de la Cité, giving yourself time to browse the Paris bouquinistes, Shakespeare and Company, and other iconic Paris bookstores. It's an evening that will allow you to leave Paris feeling thoroughly cultured.
Get a tour of Sainte-Chappelle here in this YouTube video tour:
33. Seine River Cruise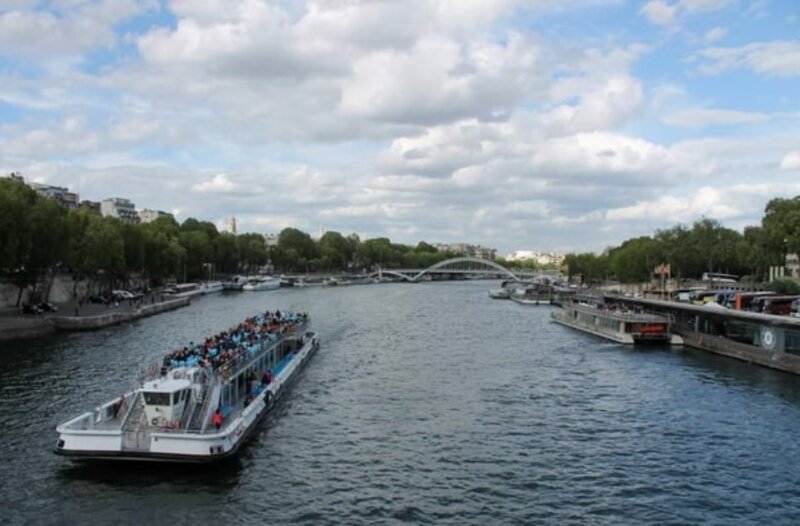 When looking for the best things to do in Paris, make sure you go on a Seine River cruise. As Portugal has its memorable Douro River cruises, France is known for their cruises down the Seine. There aren't many opportunities to see Paris from this unique perspective.
A number of Paris's most famous buildings, bridges, and attractions can be seen from the water. Nothing beats seeing the iconic Eiffel Tower and Notre Dame as you float by. What started in 1949 with a single steamboat touring down the Seine, has grown to be enjoyed by millions of locals and tourists yearly.
This famous river has inspired artists for centuries, being featured in the works of great artists including Van Gogh and Monet. You can find the river in Van Gogh's The Seine with the Pont de Clichy and Monet's Morning on the Seine series.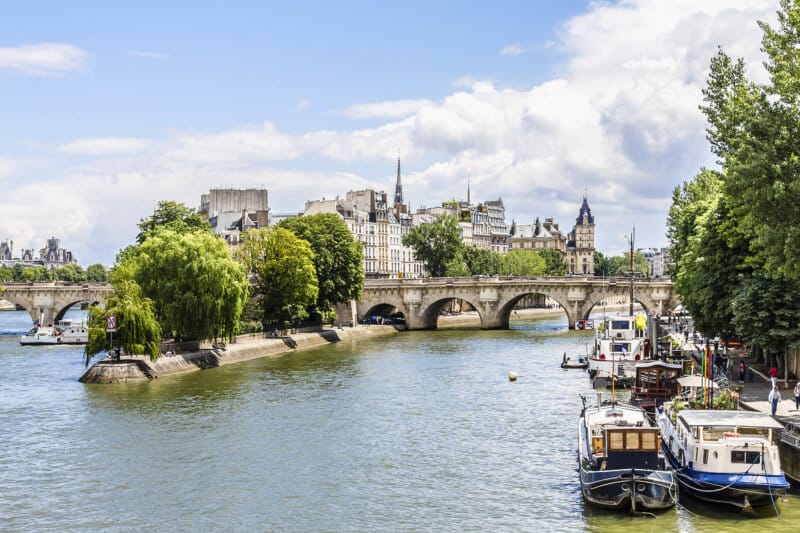 Some companies offer 1-hour or 2-hour cruises and more romantic lunch and dinner river cruises. You can even book a hop-on hop-off Seine River tour, so you can stop at iconic landmarks and use the river to transport you around the city for the day. You will want to book your boat ride in advance and find the one that works best for you.
And when you are done on a river cruise, don't forget to see the Eiffel Tower at nighttime. Seeing Paris lit up after dark is unforgettable.
34. Les Invalides (Military museum and Napoleon's tomb)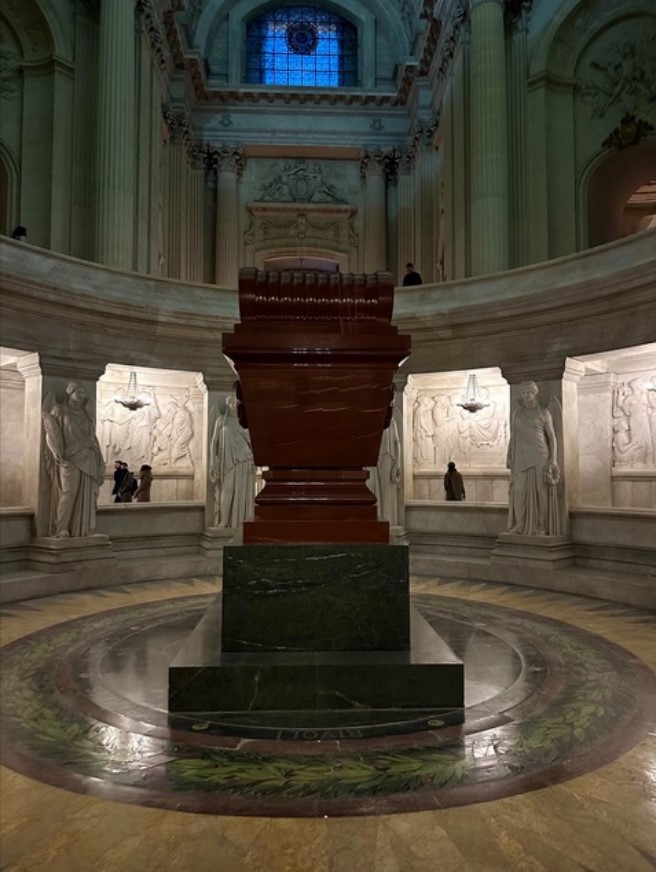 Les Invalides, or Hôtel National des Invalides, is a complex of buildings located in Paris's 7th arrondissement and was built in the 17th century as a hospital and church for disabled veterans of the French Revolutionary and Napoleonic Wars. It houses museums and monuments related to France's military history.
It is regarded as the country's most important military complex. There are other interesting and fascinating buildings added to the complex, which include the Musée de l'Armée, the Musée des Plans-Reliefs, the Musée d'Histoire Contemporaine, and the Musée des Plans-Reliefs.
And In the Invalides, the Tomb of Napoleon stands out as the most impressive and spectacular monument. It was completed in 1861, and the tomb was designed by Napoleon's nephew, Charles de Morny. The red granite tomb is located at the heart of the Dome des Invalides.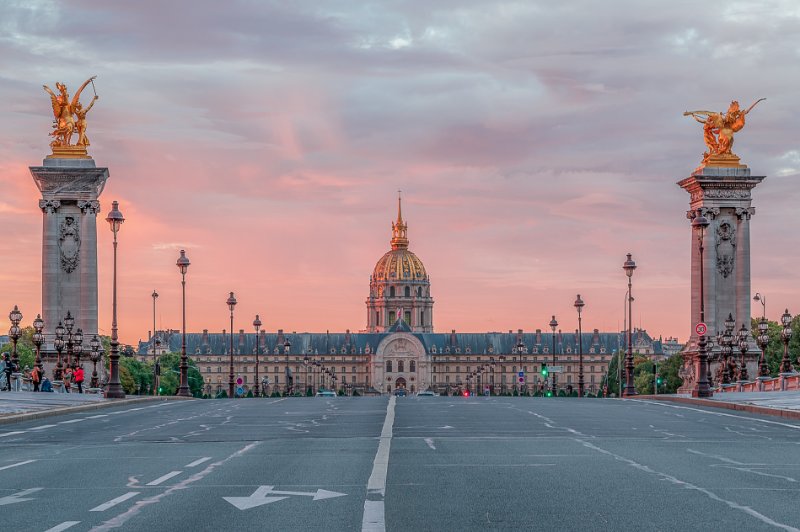 It is surrounded by six marble statues, each representing one of Napoleon's major victories. The bronze coffin that holds the Emperor's body rests inside the tomb.
The Invalides is a well-known landmark that draws hundreds of thousands of visitors annually. It is a tribute to Napoleon's legacy and a reminder of his significance in French history.
If you're considering a trip to Paris and are interested in military history, Les Invalides is an underrated destination for history buffs. And must be included on your itinerary.
See Related: A Guide to Les Invalides
35. Dive into the surreal at the Dali Paris Museum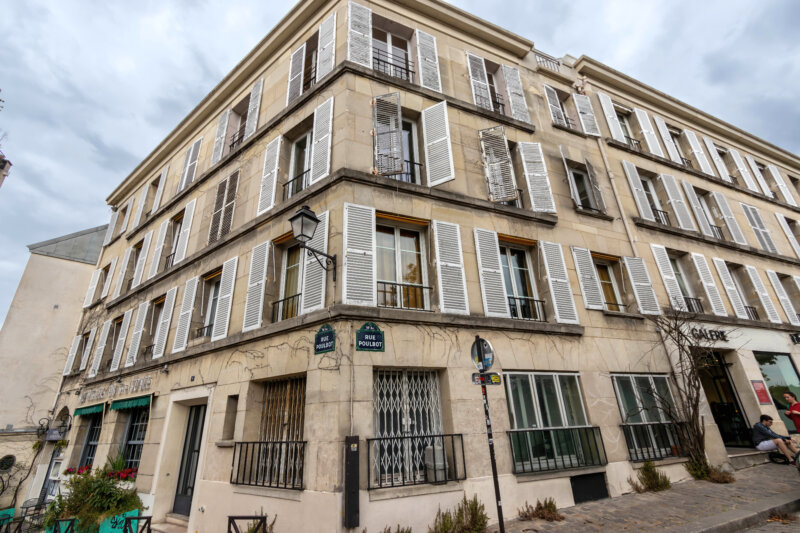 The Dali Paris Museum, located in the heart of France, houses over 300 pieces of extraordinary art, sculptures and original furniture. From Wonderland to the Bible, Dali certainly has left. his mark here – featuring some of his most notable works such as Perseverance of Memory with its iconic iced time clocks.
There are also lesser-known collaborative efforts like Destino – a unique Disney-Dali production that hasn't been seen before, created side-by-side with another animation genius. This museum is an absolute must visit and would make a great addition to your vacation itinerary when you explore Paris.
36. Spend a day at Le Jardin Des Tuileries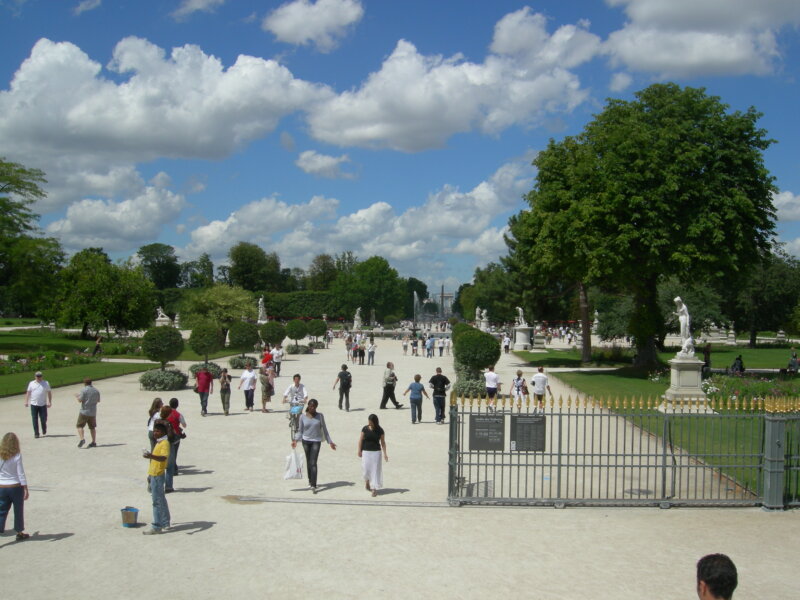 Les Jardin des Tuileries is a hidden gem near Les Louvre in the heart of Paris, offering travelers the perfect escape from the noisy crowds and bustling city life. Les Tuileries Garden boasts many charming features, including a relaxing pool area and seasonal festivals or Christmas markets.
Moreover, Les Tuileries features a stunning 160-meter Ferris wheel, giving visitors magnificent views of Les Louvre and Place de la Concorde. Indulge in Les Jardin des Tuileries to get an alluring dose of fresh air and panoramic views right in the center of Paris.
37. See classic films at the Parc de la Villette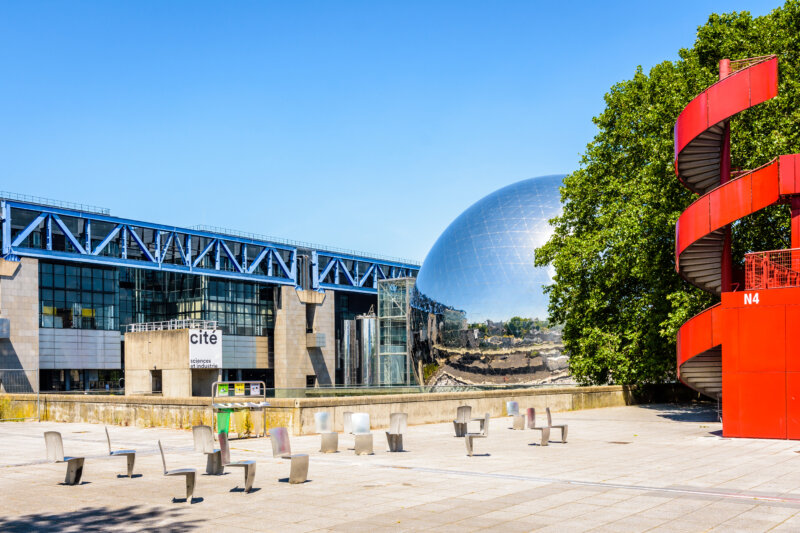 A hidden gem and a great family thing to do in Paris is Parc de la Villette. Located in the 19th arrondissement, it is the largest public park in Paris and hosts various events such as outdoor film screenings.
The classic films screened at the park are free or very inexpensive, and they're perfect for a special night out with your family. Pack some snacks and drinks to make a night of it! Plus, you can explore the nearby science museum or visit one of the other attractions within Parc de la Villette – like an outdoor concert hall or playgrounds for kids.
38. Shop for books along the Seine River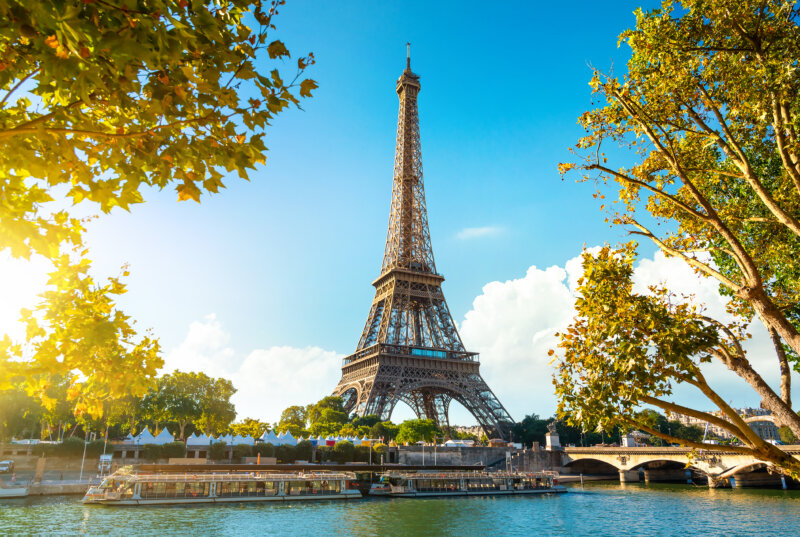 The history of bookshops and newspaper stands is an incredible tradition in Paris that you need to experience. It's even a UNESCO World Heritage Site in itself which is incredibly impressive.
Stroll along the Seine River and explore bookstores with titles covering a wide range of topics- from philosophy and French literature to travel guides. Stop off at Shakespeare & Co. for a dose of literary inspiration.
Plus, you can grab some souvenirs while you're there like prints, postcards or mugs. It's a great way to support local businesses and pick up some unique gifts for your friends and family back home.
See Related: Secondhand and Vintage clothes shops
39. Climb to the top of the Eiffel Tower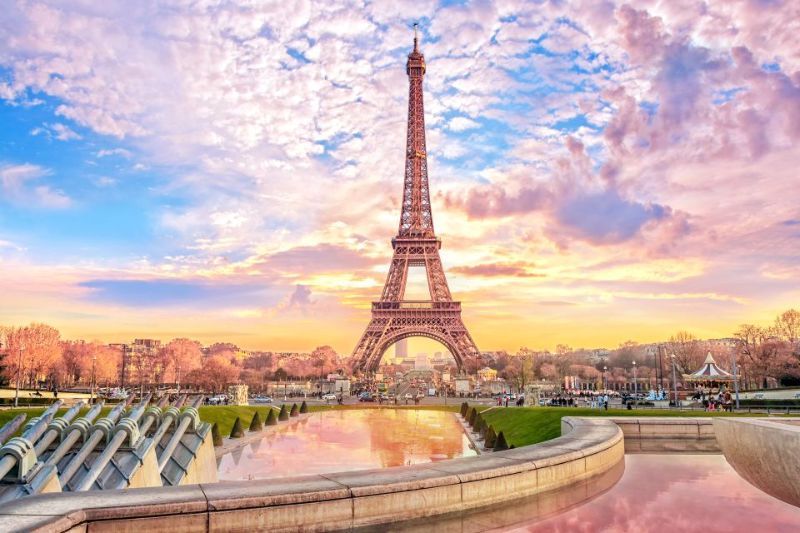 The experience of climbing to the top of the iconic Eiffel Tower is extraordinary. From the tower's summit, you can take in breathtaking views of one of the world's most romantic cities and get a first-hand glimpse into how expansive Paris truly is. It is an unforgettable experience that surely won't disappoint even the most adventurous traveler.
Not only do you get to soak in amazing views of Paris, but also gain invaluable insight about French history and culture. You can even pick up some interesting tidbits about Gustave Eiffel himself! Climbing to the top of the Eiffel Tower should be at the top of everyone's list when they come to Paris; it is an experience like no other and will be remembered for years to come.
40. Walk over the Pont Alexandre III bridge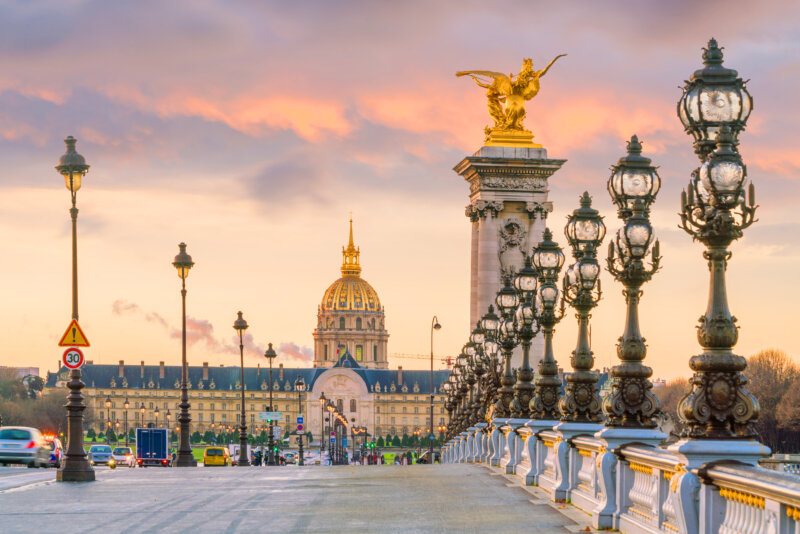 The Pont Alexandre III bridge is a must-see for anyone visiting Paris. Spanning the Seine River, this iconic landmark features stunning gilded sculptures and grand arches covered in intricate designs.
Its central arch offers sweeping views of the city's skyline from either side, making it one of the best spots to take photos or simply admire the view. From its unique decor to its impressive structure, the Pont Alexandre III bridge is a reminder of why Paris is known as one of the most romantic cities in the world. Experiencing this beautiful bridge should be high on every traveler's list when you explore the city center of Paris.
FAQs
Is 3 days enough to visit Paris?
No, 3 days is not enough to visit Paris, especially if you want to see a majority of city. With the vast amount of museums, monuments, historical sites, and attractions, it would be difficult to experience everything Paris has to offer in such a short amount of time. To truly appreciate all that the city has to offer first time visitors should plan for at least 5-7 days.
Is Paris worth visiting with kids?
Visiting Paris with kids is an amazing and memorable experience! From the amazing sights to explore, delicious food to discover, and plenty of kid-friendly activities, parents will have no trouble making the most of their time here.
There are special parks specifically designed for young children and many attractions like visiting the Arc de Triomphe or snapping a picture of your little ones in front of the Eiffel Tower.
Paris' streets also offer great entertainment, with street performers often featuring musicians, painters and mimes you can take your pick from. No matter what adventure you choose for your family during your visit in Paris, it's sure to be one you'll never forget.
What are the most popular tourist attractions in Paris?
The most popular tourist attractions in Paris are the Eiffel Tower, the Notre Dame Cathedral, the Louvre Museum, and the Palace of Versailles. All four offer something unique for travelers to explore. The Eiffel Tower is a must-see for its iconic look and breathtaking views of the city.
The Notre Dame Cathedral is a beautiful Gothic masterpiece that exudes both grandeur and history. The Louvre Museum holds some of the world's most famous artwork, including the Mona Lisa and Venus de Milo. And lastly, visitors can take a day trip to the Palace of Versailles, one of Europe's grandest residences with beautiful gardens and fountains.
Related Resources