Paris is arguably the most fantastic city in the world. Vibrant and cosmopolitan, it has a dazzling array of attractions, from the labyrinthine to the romantic and the iconic. Tourists love Paris for its history, culture, art, fashion, and numerous sites to visit all year round. But don't forget Paris is also renowned for its nightlife scene.
If you are looking to have fun, Paris has everything booked for you – wine bars, jazz clubs, comical events, red-light district night clubs, and classical cabaret performances for visitors looking for a more cultured night out. This city has long been associated with romance and pleasure in the pursuit of "La Vie en Rose."
What are the best cabarets in Paris? Everyone knows about the Moulin Rouge, but plenty of other cabarets in Paris also need to be experienced.
This article is a brief guide for visitors planning to visit the French capital, whether traveling for a short trip or on vacation. In this post, I have listed the ten best and most popular Paris cabarets you should consider visiting if you're looking to enjoy the nightlife.
Le Moulin Rouge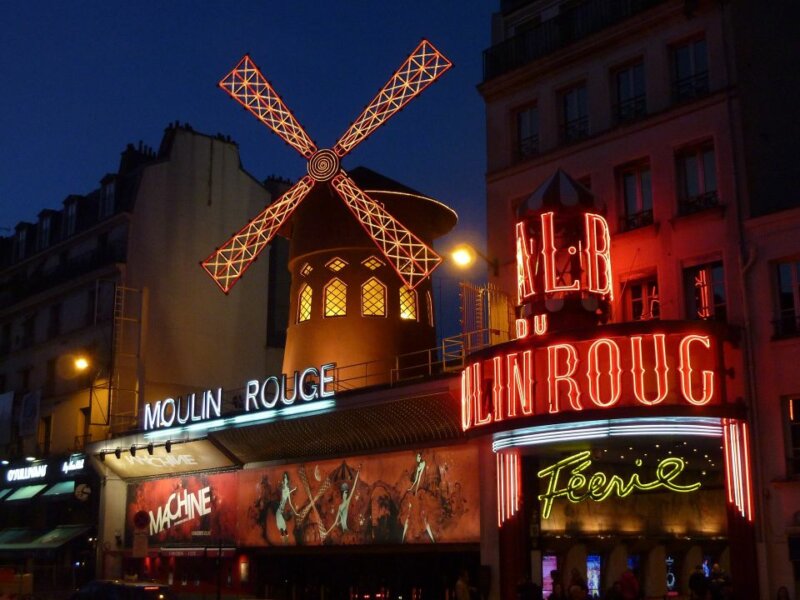 The Moulin Rouge Cabaret has been dazzling Parisians with its glitz and glamor since 1889. The best cabaret in Paris (and in the world), it is the perfect place to spend a night out with friends.
Its décor is based on the Parisian Belle Epoque style and its shows include dancers, singers, acrobatic acts, and extravagant costumes. The famed cabaret was the inspiration for the famous musical, plus it's been entertaining audiences for almost 120 years.
The stars come out to shine at the Moulin Rouge – plus you can dine under the sparkling chandeliers on authentic French cuisine. Converge with French cabaret culture in this intimate venue known for its world-class performances, dynamic cocktails, and wild parties.
See Related: Things To in Paris on Bastille Day: A Comprehensive Guide
The Féerie Show
At the Moulin Rouge, you can experience the Féerie Show, the most famous cabaret in the world. You will have an evening of magic and music that will take you back in time and experience the show's exciting mix of dancing and acrobatics, set to some of the most beautiful music ever written.
The Moulin Rouge artists perform the Féerie revue for more or less two hours.
The cabaret revue has four main scenes, each with a different setting and depicting a different story. The first scene was set in the Moulin Rouge's sleepy garden, the second scene is on a pirate ship in Indonesia, the third scene is in a circus, and the final scene is a tribute to the women of Paris in history. The tribute features the world's most famous French Cancan, danced by the magnificent Doriss Girls.
Location
82 Bd de Clichy, 75018 Paris, France
Days and hours of operation
The shows are 9 pm and 11 pm (only on Fridays and Saturdays at 11 pm until the end of March).
Book a show at the Moulin Rouge
Le Crazy Horse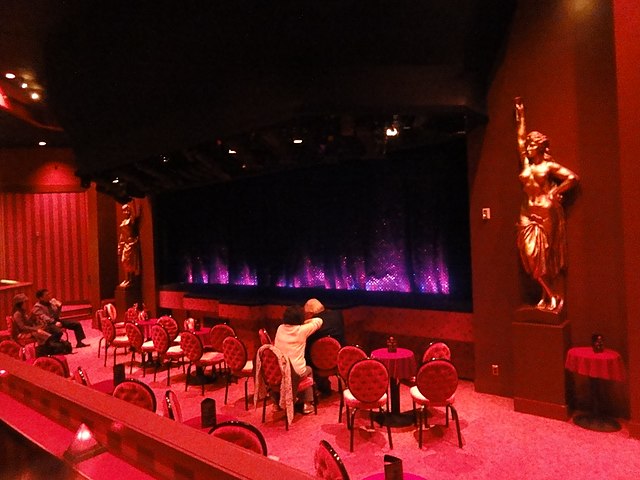 The sexiest and boldest of all Paris cabarets offers a tribute to femininity, combining sensuality and elegance. It was founded in 1951 by Alain Bernardin. The club is famous for its burlesque dancers and sexy ambiance.
Les Crazy Horse cabaret in Paris is one of the oldest, most famous cabarets in France. From the time it opened its doors, it has been a celebrated attraction of Paris' Golden Triangle. It offers a range of shows but is renowned for its stunning showgirls.
Showgirls and singers dance and perform live seven days a week. These women who work there say it is unlike anything you could imagine because of the fantastic atmosphere and unique ambiance of Les Crazy Horse. Today, the showgirls are joined by two or three internationally renowned guest performers.
Totally Crazy Cabaret Show
This burlesque show is a tribute to femininity, combining sensuality and elegance. Totally Crazy is a sexy and sophisticated cabaret show in which the Crazy Girls perform superb dance numbers and make incredible use of music, choreography, and special effects.
Location
12 Avenue George V, 75008 Paris
Days of operation
Open every day.
Book a ticket to Le Crazy Horse
See Related: When Does the Eiffel Tower Sparkle? A Guide to its Stunning Light Display
Le Paradis Latin
Of all the Parisian cabarets, none can claim to be as historically significant as Le Paradis Latin.
The origins of Paradis Latin can be traced back to the early nineteenth century. Napoleon built the building 500 meters from Notre Dame de Paris as a theater where bourgeois and intellectuals mingled with traders, laborers, and students.
However, Paradis Latin has only been a source of wonder and entertainment since 1889, when Gustave Eiffel rebuilt it. At the moment, it's impossible to imagine Paris without Paradis Latin, a legendary Parisian cabaret whose amusing and burlesque essence has withstood through the ages.
See Related: Best Bike Tours in Paris, France
L'Oiseau Paradis Cabaret Show
An enchanting experience is yours to discover at Paradis Latin. This Parisian cabaret offers a unique show, combining the best of traditions and modernity.
The show "L'Oiseau Paradis" at Paradis Latin transports the audience to a fantastical realm. The show begins the moment you walk through our cabaret's doors, where the staff and artists will welcome you in a dreamy, mesmerizing atmosphere.
The performance lasts more than 90 minutes and features a variety of dancers, actors and actresses, singers, and acrobats in a series of extraordinary stage sets adorned with special effects.
Location
28 Rue du Cardinal Lemoine, 75005 Paris
Days and hours of operation
Open every day except on Tuesdays. The show starts at 9:30 pm.
Book a ticket to L'Oiseau Paradis
See Related: Best Hotel Bars in Paris, France
Au Lapin Agile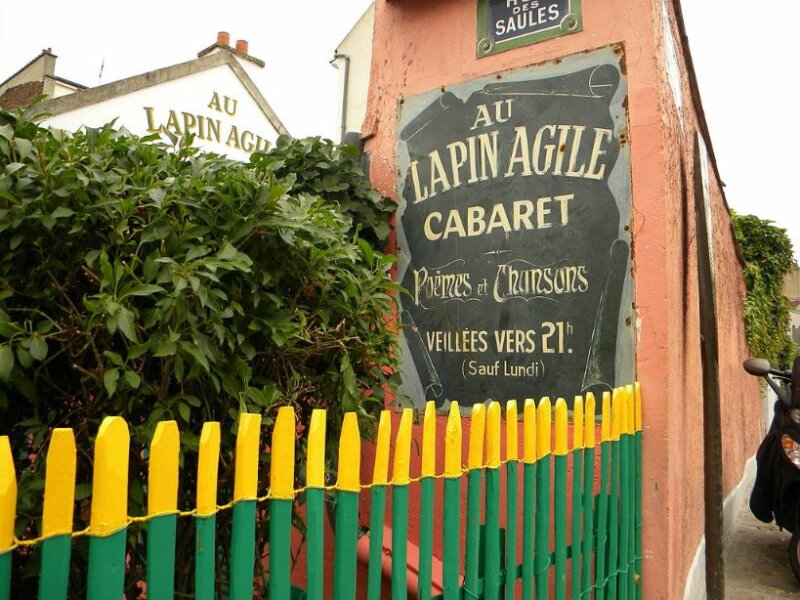 This traditional cabaret in Paris, formally known as Cabaret Au Lapin Agile, has been operating since 1860 and is a great place to take your family because there aren't any half-naked dancers here like at the Moulin Rouge, the Lido, or the Crazy Horse.
This cabaret in Montmartre, formerly known as the "Cabaret of the Assassins," hasn't changed at all. This is where comedians, actors, musicians, poets, and singers used to and still come to launch their careers.
The Lapin Agile cabaret has been in operation for nearly 150 years in the Montmartre neighborhood of Paris. This little pastel-colored residence situated on the corner of Rue Saint Vincent and Rue des Saules has a very rich and famous history but continues to go strong today for future generations to enjoy.
While you won't be able to eat here, you can still enjoy a drink while watching the show, which will feature a variety of debuting artists one after the other in a warm and welcoming environment.
Location
22 Rue des Saules, 75018 Paris
Days and hours of operation
Open every night from Tuesday to Sunday, from 9pm to 1am.
See Related: Best Bus Tours in Paris, France
La Nouvelle Eve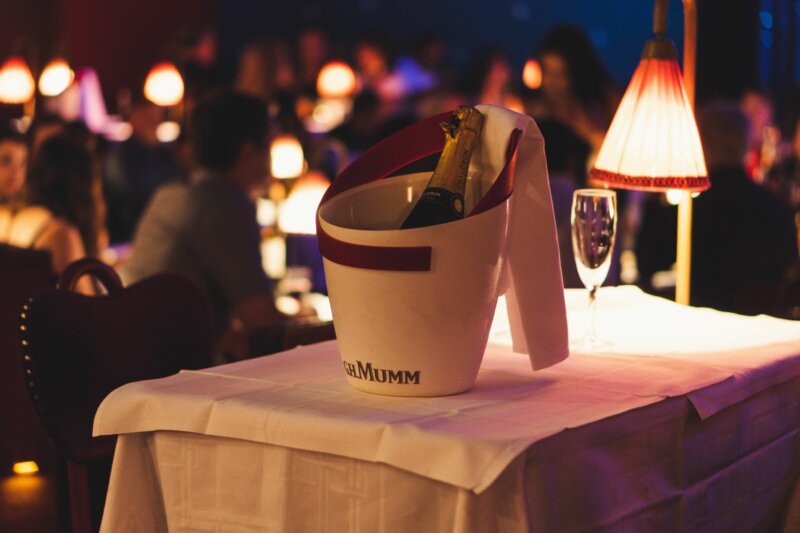 The Nouvelle Eve has gone by a variety of names and styles since it opened its doors in 1898. Although it has always changed throughout the ages, its current aesthetic is still very reminiscent of vintage Parisian revues. One of Paris's oldest cabarets, the Nouvelle Eve is located at the base of Montmartre Hill and will amaze and entertain you.
Watch a dinner show under a sky filled with stars in a quiet setting. You will witness an extraordinary spectacle led by male and female dancers dressed beautifully and performing from a fluorescent and colorful scene.
The space is modest but comfortable. It's the ideal way to spend a vibrant night in Paris city! If you take a seat in the front row, perhaps the performers who will make you participate in their performance will include you in their spectacle! This intergenerational performance is typical of Parisian revues. Among the various interpretations are juggling and dances and the famous French Cancan.
Location
25 Rue Pierre Fontaine, 75009 Paris
Days and hours of operation
Open every day from 6.30pm to midnight.
Book a show at La Nouvelle Eve
See Related: Best Normandy Tours from Paris, France
Artishow Cabaret
Artishow has been operating for over ten years. Still, this Parisian cabaret is very different from others that you might first associate with half-naked young women and the French Cancan, like the Moulin Rouge.
The Artishow combines a spectacular show with a dinner featuring high-quality French cuisine and carefully chosen French wines. The artists also hang out with the guests for the remainder of the evening to chat and have fun.
Though it may seem strange, the men in costume and makeup who perform the entire show include former doctors, and mechanics, many with training in theater and dance, as well as others who had other occupations before stepping into the cabaret world.
Nevertheless, you could witness the flawless performance of acts as well as some unique performances from the artists that you could never see elsewhere. And each of these is expertly choreographed to create a fun-loving evening of entertainment in Paris, culminating in a finale that will make you laugh yourself to tears.
Location
3 Cité Souzy, 75011 Paris
Hours of operation
Doors at 8:00 pm for dinner-and-show attendees.
See Related: Best Spas in Paris, France
Chez Michou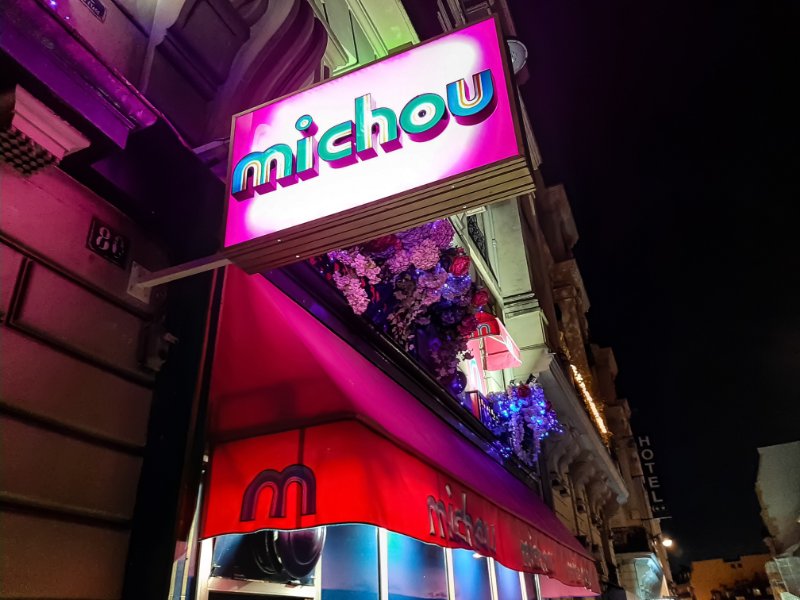 This is the right place if you enjoy both drag and a good time. This location is flawless.
Since the start of the 1960s, the Chez Michou cabaret has welcomed visitors from all over the world to come and see a performance that lasts for more than an hour and a half. It is situated on the side of the Montmartre hill, just a few feet from the Sacré Coeur.
In this blue-toned cabaret, with its muted, friendly, and warm atmosphere, you will witness a transformist show that combines dreams and illusions. You can expect to see lively, colorful performances as well as impersonations of famous people like Stromae, Patricia Kaas, Vanessa Paradis, Michael Jackson, and Mylène Farmer. There is no doubt that this cabaret will only remain in your good memories.
Location
80 Rue des Martyrs, 75018 Paris
Days and hours of operation
Open every day from 8.15pm.
See Related: Best Places for Hot Chocolate in Paris, France
Don Camilo
Jean Vergnes founded the Don Camilo cabaret in Paris in 1954, and this cabaret has hosted some of the greatest French performers, including Thierry le Luron, Michel Leeb, Serge Reggiani, and even Laurent Gerra.
Numerous artists who frequently offered their services to this show venue provide entertainment. Singers, impersonators, comedians, chansonniers, and ventriloquists are common examples of these performers. With the exception of the star performer, who gives a longer performance after the meal, they alternately appear on stage at a rapid pace of roughly every twenty minutes.
A dinner show is scheduled for every night of the week. Dine in a stylish setting with mirror pieces all around. In this well-known cabaret, humor and cuisine are combined. Indeed, aspiring and renowned singers, impersonators, humorists, sketchers, ventriloquists, and other entertainers will perform while you dine on delectable cuisine.
Location
10 Rue des Saints-Pères, 75007 Paris
Days and hours of operation
Open everyday.
Lunch at 12pm – 4pm.
Dinner at 8pm.
See Related: Best Steak Frites in Paris, France
Cabaret Sauvage
Le Cabaret Sauvage is a theater established in 1997 and situated in Paris' Parc de la Villette. The place, which was decorated with red velvet and mirrors, transports visitors to the world of the circus and cabaret of the Belle Époque.
The structure resembles a giant top, and it can accommodate up to 1200 standing people. In the summer, it opens its terrace, providing the public with a second outdoor stage.
The owner, Meziane Azaiche, describes the Cabaret Sauvage as the "beating heart" of the city because of its diverse programming, which welcomes artists from all over the world for a wide range of performances such as cabaret shows, circuses, concerts, and so on, with around 150 dates throughout the year.
Location
Parc de la Villette, 211 Avenue Jean Jaurès, 75019 Paris
Days and hours of operation
Its hours of operation vary depending on the shows or evenings that are scheduled.
See Related: Best Burgers in Paris, France
Brasil Tropical
The Brasil Tropical brings a magnificent celebration of traditional Brazilian culture to the heart of Paris. One of the biggest Brazilian venues in Paris and one of the biggest Brazilian clubs in France, The Brasil Tropical offers a full evening of fun and entertainment in a marvelous and exotic setting, making it the perfect place to spend a night out.
This sensual, exotic cabaret offers a unique opportunity to experience some of Brazil's most popular culinary specialties while listening to the enchanting rhythms of the salsa, samba, and the mellow lambada. Sambamour, a sensational dance production, ignites the stage after dinner to kick off the real show.
The meal
The evening begins with a welcome reception and a cocktail, followed by a meal based on traditional Brazilian cuisine and accompanied by salsa and samba music in the background.
There is also a wide variety of meats, such as chicken legs, sausages, lamb, and pork, cooked on a large rotisserie. They are accompanied by Feijoada, a Brazilian national dish based on black beans, or salads and rice. Desserts vary according to what is available at the time. Wine is served at the discretion of the management, and coffee is done at the end of your meal.
Location
36 Rue du Départ, 75015 Paris
Days and hours of operation
Open from Tuesday to Saturday from 7.30pm to 1am.
FAQs
Can I take children with me to a cabaret show?
Cabarets, in general, are no place for children. Remember that most cabarets feature nudity, sensuality, and humor not suitable for kids.
Can I buy on-site cabaret tickets in Paris?
Yes, you can. However, cabarets tend too go full house in a short time because of advanced online bookings. So while walk-in tickets might be available, it is advisable that you book in advance.
How should I dress for a cabaret in Paris?
We recommend that you dress elegantly or in a smart casual outfit. Athletic wear, sneakers, and flip flops are not permitted on the premises. Although they are not required, ties and jackets are welcome if you want to fully immerse yourself in the ambiance of the evening.
Related Resources