Normandy is a magical place. It's full of history and breathtaking scenery, with a coastline that can't be beaten. If planning a trip to Normandy, your best bet is to book a tour from the City of Light. I'll show you some fantastic Normandy tours from Paris.
Normandy is home to some of the most iconic battlefields in history. Its charm comes from its rolling hills, beaches, farms, and rich history. Exploring Normandy is a great way to get away from the hustle and bustle of Paris and experience a different side of France. Many options are available: day trips, overnight stays, or longer journeys to take you along the full length of the Normandy coast.
🗼 Paris Insider's Top Picks! ✨
Dive into the heart of Paris with our handpicked partners. Trusted by thousands, they ensure you experience the best of Paris.
The Normandy countryside is lush, green, and dotted with steeples and farmhouses. The food is amazing, the scenery is breathtaking, and something about Normandy pulls you in and never lets you go. It's hard not to feel like you're traveling through time. That's why it's a must for me to go to Normandy several times!
I'm excited to share these Normandy tours from Paris. Prepare yourself for these amazing trips and packages. Let's go!
Best Normandy Tours from Paris
I am a big fan of world history, so I took this D-Day beaches tour to learn about what happened to the D-Day landing beaches of Normandy during World War II. We customized the itinerary and went to Omaha Beach, Arromanches, and the American Cemetery, among other places.
First, I love that the tour mini-van picked me up from my hotel. It was very convenient and helpful. There was also air-conditioning in the mini-van, so we had a comfortable trip to the D-Day beaches.
This guided tour took me back to 1994. Our tour guide took us on an entire day trip of World War II history. He emphasized the American soldiers who fought alongside the Allied troops to protect Normandy. The commentary was so good, and it was like watching it happen in real life!
Our small group tour started in Pointe du Hoc. This site is located between Omaha Beach and Utah Beach. Did you know that the Americans landed there on D-Day? It is one of the most important World War II sites, and the fact that it is mostly untouched gives more value to this place. Pointe du Hoc was a very good place to start. Our guide narrated the historical D-Day landing on June 6, 1944. Here, American troops climbed the cliffs to retake control from German troops during that time. Many American soldiers lose their lives protecting their allied troops from the Germans.
We went to Omaha Beach next, which is also a place where one of the most significant events of World War II took place. 2,400 American soldiers sacrificed their lives in Omaha Beach. They secured a beachhead 5 miles between Port en Vessin and Vire River. This connects the British landings at Gold Beach and the American landings at Utah Beach. The guide took us through the history of Omaha Beach and gave us free time to pay our respects and pray for those who sacrificed their lives. After that, the guide gave us lunch!
Our next stop after lunch was Cimitierre Americain de Colleville-sur-Mer (American Military Cemetery of Colleville). 9,387 military lay in their eternal rest in this place, most killed during D-Day. We visited the graves, the Wall of the Missing, the Memorial, and the chapel.
We also went to the American Interpretive Center. We watched historical short films and documentaries about D-Day and the Battle of Normandy there, and it was so worth the visit.
Next, we went to the Arromanches, which looked as if it was frozen in time! We saw the Mulberry bridge, the Longues-sur-Mer, and the German artillery battery. It was impressive to see what an Atlantic wall gun emplacement looked like. We were given free time to explore the Caen Peace Memorial. It was beautiful, historical, and moving.
Book this D-Day beaches tour for an experience of a lifetime! The tour guide was jolly and helpful, and the tour itself was a unique experience. This is the best of the Normandy beach tours from Paris.
See Related: Best Tours in Paris, France
This is one of the best of the day tours to Normandy from Paris. I've always wanted to visit Mont Saint Michel, so I booked this trip. The island that rises out of the sea and connects to the mainland by a narrow causeway is one of the unique places in the world.
This day trip is a must. We visited the island of Mont Saint-Michel aboard a private coach, and we had a tour guide! This roundtrip tour took more or less 14 hours, and every hour was worth it. The live tour guide gave entertaining and informative commentary about the history of Mont Saint-Michel Abbey.
I met the guide and the other tourists at the Architecture Museum at Palais de Chaillot. He was easy to find because he had a sign with the tour's name. He made the trip so enjoyable!
When we arrived at the island, we had an orientation tour where we saw the most significant attractions of Mont Saint-Michel. The tour guide was very kind and gave us incredible commentary. I got the chance to explore by myself, too!
I went to visit the abbey with an audio guide. It's important to note that everybody who wishes to enter the abbey needs to follow a strict dress code. All must wear clothes that cover the knees and shoulders. You can't have the honor of viewing the abbey's fantastic interior if you're not wearing proper clothes!
I took a stroll on the beautiful streets of Mont Saint-Michel after exploring the abbey. It's nice to get a chance to see the place by myself. Just looking at the picturesque views made the long trip worth it.
There are many restaurants and dining places in Mont Saint-Michel, so it was difficult to choose! My favorite was the local Normandy cider and the galettes. We boarded the coach to return to Paris late afternoon. I wish I had bought more Normandy cider!
I read when I booked that this tour would involve a lot of walking (and it did), so I wore a hat, comfortable shoes, and sunscreen. I suggest you do the same!
See Related: Best Burgers in Paris, France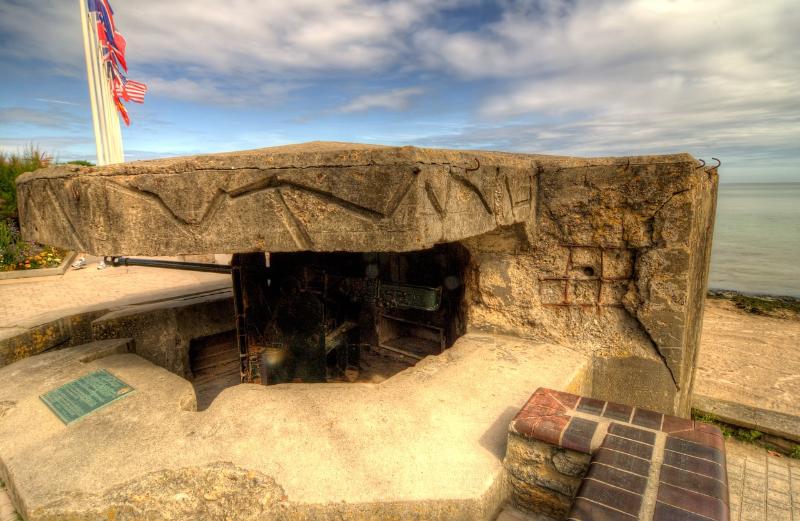 If you're looking for tours to Normandy beaches from Paris, this is a good recommendation. The sand is a warm, golden color, and the water is a clear, sparkling blue—the place where you could spend hours swimming and gazing at the horizon. You can walk along miles of open beach at low tide without ever getting your feet wet; at high tide, you get an up-close view of the ocean as it crashes against the rocks just offshore.
But Juno Beach isn't just about its beauty—it's also about how much history has happened here over the years. In 1944, during World War II, Allied forces landed on this beach in an attempt to push back German forces and liberate France from Nazi control. The battle was long and bloody but ultimately successful.
This tour took us on a journey through the historical landmarks that ate vital to the D-Day landing. We traced the footsteps the Canadian troops took in 1944 in Juno Beach on the sand they walked on. The tour departs at 7:00 AM daily and returns to Paris at around 8:00 PM. There was a maximum of only 8 participants in this private tour, so it felt more personal and more immersive.
Our guide took us to the Juno Beach Center, the complete museum of Canadian landings. We also visited the Canadian Cemetery in Beny-sur-Mer. It was beautiful yet sad at the place where the Canadian soldiers who sacrificed their lives lay forever. It is nice to take some time to pay respects at the Canadian Memorial.
The tour guide let us see the "Hell's Corner" and Abbey d'Ardennem. This tour helped me understand the extraordinary acts of bravery that occurred on Juno Beach. I'm sure it will help you, too, whether you're a huge fan of military history or just interested in how the events played out on D-Day!
See Related: Best Bike Tours in Paris, France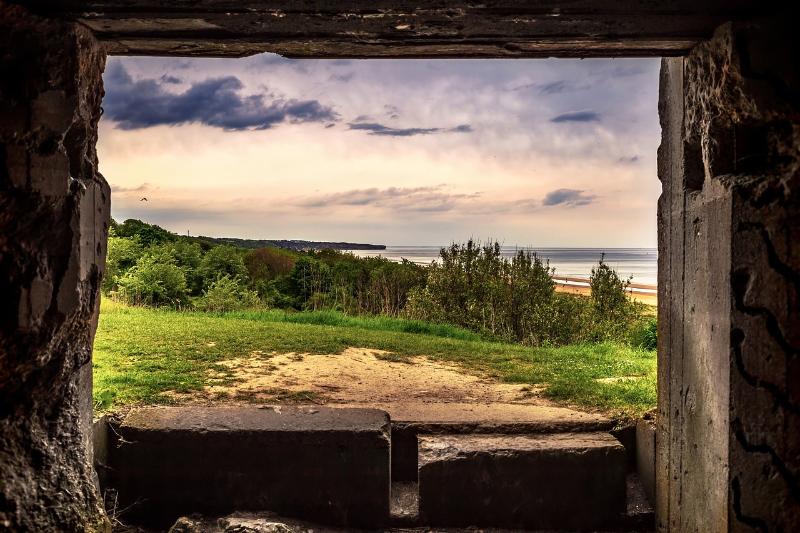 Looking for D-Day tours from Paris? I learned more about the war history of France on this D-Day trip from Paris. I had an incredible day trip, and the tour guide set off the vibe! They picked me up and dropped me off at my accommodation. It was worthwhile and moving to see the historical places, learn about the sacrifices, and pay respects to the fallen soldiers.
Omaha Beach was our first stop on our tour of the Normandy coast. It's a beautiful stretch of beach that was the site of some of the most brutal fighting and sacrifice during World War II. Our tour vehicle drove through "Bloody Omaha," and we stopped at the "Dog Green/Charlie" sectors (you might have seen it in the movie Saving Private Ryan).
We also stopped at Pointe du Hoc, which is full of German bunkers and bomb craters—it's an impressive sight! We next went to the Normandy American Cemetery of Colleville-sur-Mer, where we paid our respects to those who had fallen in battle.
We had lunch at Port-en-Bessin Huppain, a stunning fisherman village. Port-en-Bessin is one of the most popular tourist destinations in Normandy. It has an amazing natural landscape with beautiful beaches, rocky cliffs, and forested areas. There are also many historical sites from World War II which can be visited while you're here. After our fill, we moved on to Batterie Allemande de Longues-Sure-Mer, the German coastal battery with four cannons in the original German bunkers.
We also went to the Ranville War Cemetery, a Commonwealth war cemetery. Soldiers of different nationalities lay to eternal rest here. Then, we went to the Pegasus Bridge, where the first operation of the Normandy invasion took place.
See Related: Free Museums in Paris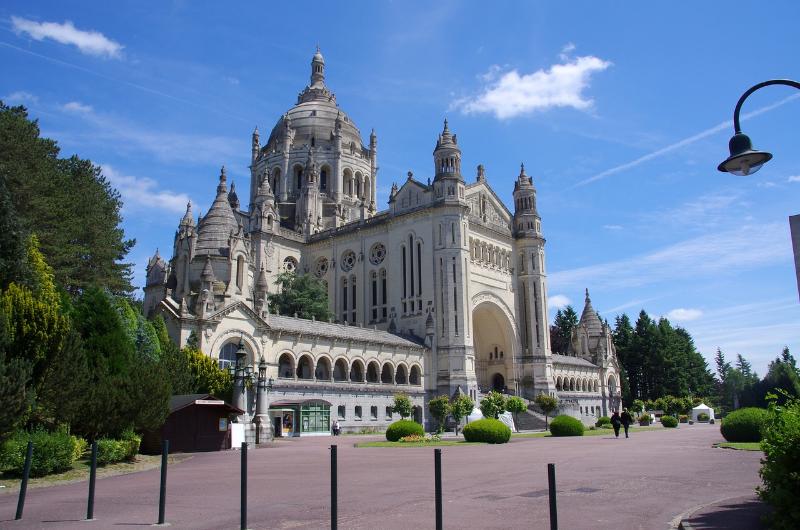 Is a tour list complete without food? On this small-group day tour to Normandy from Paris, we explored the cuisine and culture of Normandy. This immersion excursion is ideal for those who wish to visit France's most well-known region but don't have time for a lengthy journey. Even better, they picked me up from my hotel!
The leisurely-paced schedule includes stops at Camembert, the Calvados Museum at Pont l'Eveque, and, upon request, the Therese of Lisieux Sanctuary. The culinary highlights include the local cheese factory, a rural cider house, and lunch in Beuvron-en-Auge.
First off, we visited the Calvados museum and Pere Magloire L'Experience. We tasted the Calvados "aperitif," and it was delicious! We next visited the popular cheese factory of Graindorge in the village of Livarot. Do you want to know what the famous cheese of Normandy tastes like? Well, book this tour and find out. We tasted cheeses like Camembert, Neufchatel, and Livarot while there.
Next up: Domaine Dupont. This is a cider factory of the Dupont family, and we did some cider tasting here. But the fun doesn't stop there. We ate lunch in a restaurant and went shopping in the traditional village of Beuvron-en-Auge.
To cap off this private gastronomic tour, we visited Sanctuaire Sainte Therese de Lisieux. The basilica is a work of art, both from the outside and inside. It is well worth the visit!
See Related: Best Places for Hot Chocolate in Paris, France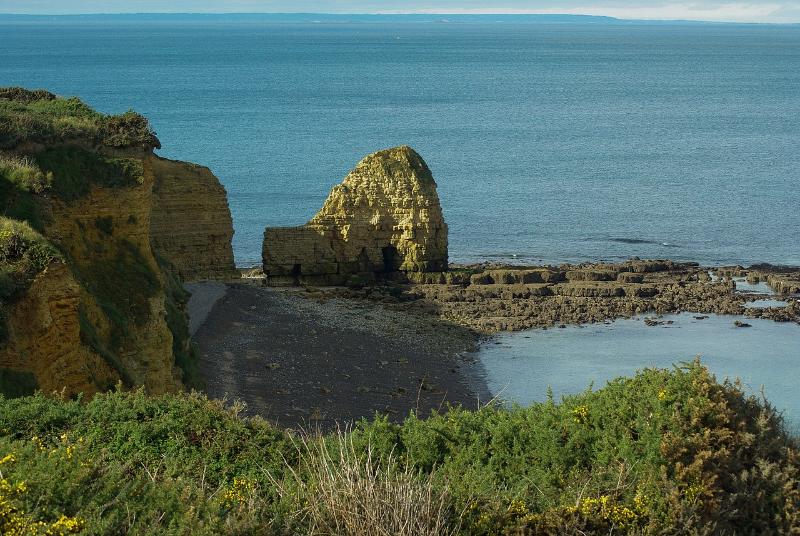 I guarantee you a great Normandy D-Day tour! You may explore this lovely region with a licensed driver-guide while also honoring others who made the same sacrifice nearly 80 years ago. Since it is a private trip, you may take your time and take in the sights, just like I did.
We traveled for about 1 hour and 30 minutes to Normandy. We stopped for 30 minutes here. You can eat breakfast here, but it's not included in the payment, so you must buy your food.
After the break, we traveled for another hour and arrived at the first site: Pointe du Hoc. The licensed guide recounted D-Day events and how the US Rangers gave their own lives to save the people in this place. The assault on Pointe du Hoc involved scaling the cliffs with ropes and ladders under heavy fire from German machine guns and artillery.
Our next stop was Omaha Beach. Our guide told us the tragic story of why this landing beach is called "Bloody Omaha." We went to the American Cemetery next, and then we had lunch at Port-en-Bessin Huppain. Our last stop was Arromanches-les Bains, where we saw the remains of an artificial port. We went back to Paris just in time for dinner!
See Related: Best Steak Frites in Paris, France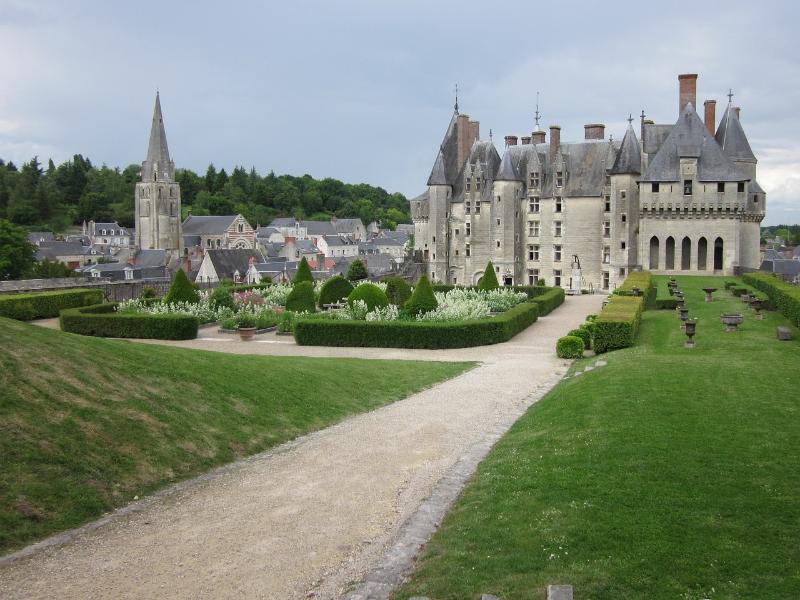 Remembering this trip fills me with glee. I explored the history of France (with other people, of course) on a 3-day excursion to Normandy and Loire Valley! We went to Mont Saint-Michel, Château de Langeais, Rouen City, and Normandy, landing beaches, among others!
I'll start by saying that the coach is one of the nicest I've been in. It was a luxury coach with air conditioning. The meeting point is Hotel Pullman Tour Eiffel, which has a stunning view of the Eiffel Tower.
We started our Normandy tour at Mont Saint Michel. We arrived at midday, ate lunch, and explored the charming island. We went to the abbey, and I explored on my own (again, wearing appropriate clothes). Then, we went to Angers, ate dinner, and stayed at Hotel Mercure Lac de Maine.
Day 2 started with a delicious breakfast. Château de Langeais is a gorgeous place. It is one of, if not the best, examples of Medieval architecture. After exploring the Château de Langeais, we visited Clos-Lucé, the last dwelling place of Leonardo da Vinci. We explored the gardens of Villandry and visited the district of Tours in Loire Valley.
On day 3 of our trip, we went on a guided tour to the Château de Chenonceau, Château de Cheverny, and the Château de Chambord. I admit I want to go back to these castles. They are some of my favorite places in France! Truly, the French countryside offers more than you think.
See Related: Best Bus Tours in Paris, France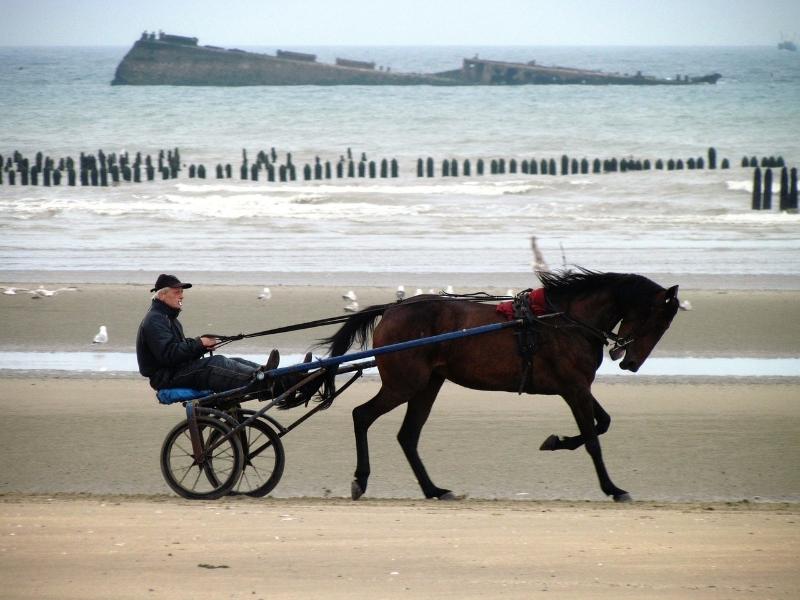 A day excursion from Paris allowed me to explore Normandy's natural beauty and extensive history. First, we went to Omaha Beach Normandy American Cemetery & Memorial. You can pay your respects to the Battle of Normandy heroes at the tourist center. There, we had the opportunity to see a wreath-laying ceremony at the American cemetery, a place of calm remembrance, a permanent display, and a movie commemorating the role played by American forces in World War II.
We went to Utah Beach after a stop for lunch. The D-Day invasion used this westernmost beach as a vital location, given the codename "Utah" for the particular mission. There is the Utah Beach Museum, where we found out how the American military assaulted the beach and gained control with comparatively few losses. Before returning to Paris, we explored the beach and the Utah beach landing museum.
See Related: Best Gothic Cathedrals in Paris, France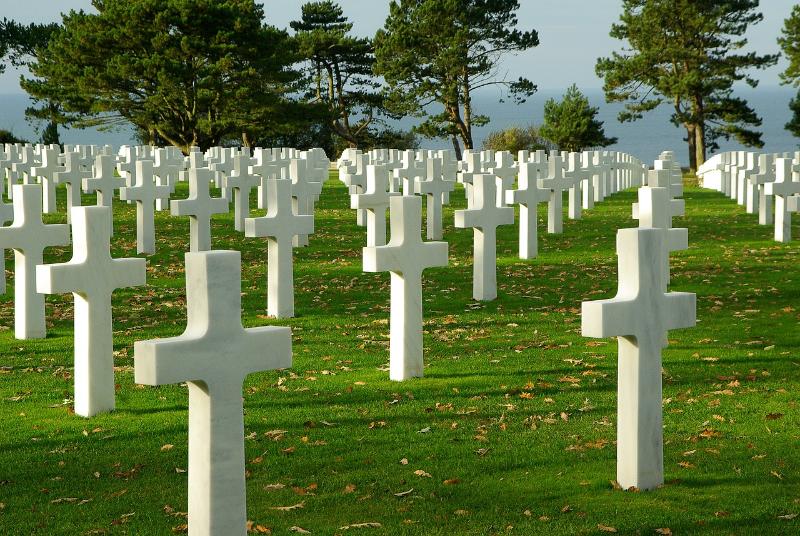 Are you in search of Paris tours to Normandy beach? This is an incredible private tour you can take with your family! The driver and tour guide picked us up at our hotel in an SUV. It was like traveling with family, specifically a dad and a very knowledgeable brother. It was unique and "off-the-road."
We went to Normandy's beaches: Utah beach, Pointe du Hoc, Omaha beach, and the American Cemetery. Unlike the other tours, this one is very thorough and personal because we can decide where to go and what to do. The tour guide's knowledge is attention-capturing and imagination-starting.
They gave us lunch (with a vegetarian option). They drove us back to Paris after the flag ceremony in the Normandy American Cemetery. We arrived at our hotel at about 9:00 PM. I can say this is the definition of a perfect trip. If you have a huge budget, I recommend this to you.
See Related: Best Ghost Tours in Paris, France
Paris and Normandy tours are popular among many tourists. This tour is perfect if you want to hit two birds with one stone. We discovered the beauty and history of Normandy and Brittany in this 2-day trip. We stopped in Rouen, Honfleur, Caen, Arromanches, Mont Saint-Michel, and Saint-Malo.
The first stop was Rouen, where we had a walking tour before moving on to Honfleur. The old town is amazingly beautiful, and taking in the view is like therapy. We had lunch at Honfleur; then we went to the beaches of Normandy. You will also pass the landing beach of Omaha if you go! We visited the American Cemetery Arromanches, then had dinner and stayed at Novotel Caen.
Saint-Malo in Brittany is the destination for Day 2. There is a guided tour of the town, and it includes walking along the cathedral and ramparts. We had lunch and then went to Mont Saint-Michel to explore the abbey, stroll, and shop.
Related Resources