Are you visiting or planning a tour of Paris? What are the best hotels in Bastille Paris you can consider? Here's a list of the top twelve hotels near the Bastille in Paris.
You're right in the heart of Bastille, and you don't know what to do. Should you have fun or do casual? Where should you start exploring, Place de la Bastille or shop at Merci? Where will you stay during your trip?
🗼 Paris Insider's Top Picks! ✨
Dive into the heart of Paris with our handpicked partners. Trusted by thousands, they ensure you experience the best of Paris.
Don't worry. Bastille is the center of Paris with so much history and attractions, making it a tourist favorite. You'll not be short of choices between Paris Bastille Hotels, fashion stores, and historical sites such as the Place de la Bastille, the museum, and the Bastille Opera House. It is also near the historical district of le Marais, so you'll definitely have a marvelous time on your trip here.
Place de la Bastille commemorates the spot where the Bastille prison stood before being destroyed during the French Revolution. Today, it's the most visited attraction with various places to stay, shop and explore.
Interestingly, Place de la Bastille remains a down-to-earth cultural and historical center despite the upgrading. Most hotels in Bastille embody the culture and history. Read on to find out the different Paris Bastille hotels ideal for your stay.
Top Paris Bastille Hotels to Check Out
Paris hotels are some of the most revered in the world. And the list below will show you just why. Let's find out some of the Paris Bastille's finest.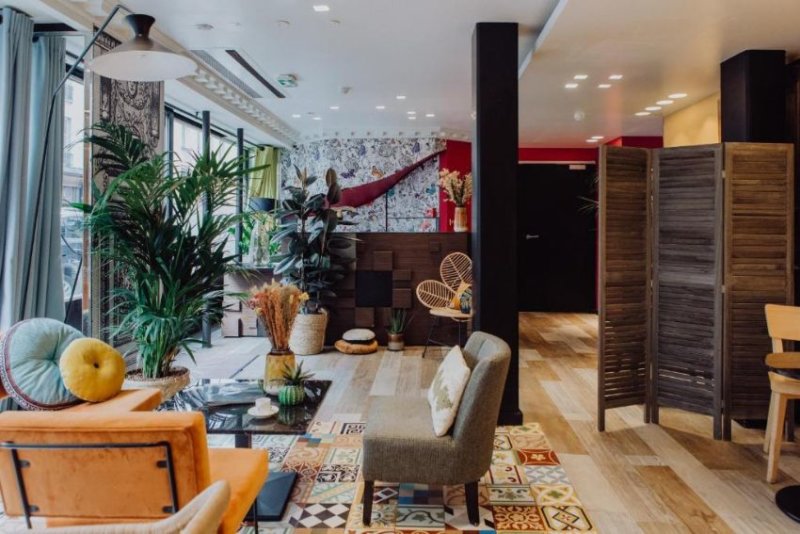 Imagine a mix of comfort, convenience, and value for your hard-earned money. Only six minutes away from the Place de la Bastille and the center of Bastille attractions, Hôtel L'Antoine is one of the best Paris Bastille hotels.
Hôtel L'Antoine is nonsensical and quirky but it works. Designed by Christian Lacroix, a famous French designer, the hotel features wallpaper, antique furniture, and golden murals decorating the walls and the elegant winding stairs. You won't miss noticing the sparkling mosaic tiles and the vintage fabrics that draw you when you walk in.
Home away from home, the Hôtel L'Antoine offers you a range of amenities. You'll enjoy a delicious buffet of Parisian breakfast each morning or visit the nearby restaurants for a sumptuous meal.
The decorated rooms are soundproof and have a flat-screen TV, free WiFi, an on-site bar, and air conditioning. Moreover, the bathroom comes with a bath or shower and is fitted with a hairdryer.
And the best part in this Paris hotel is that you have a concierge and can order room service. Not forgetting, the front desk is available 24/7. In addition, you can make your stay more gratifying by visiting the sauna.
Because Hôtel L'Antoine is located at the heart of Bastille, you can stroll as you explore the nearby destinations such as:
The Opera Bastille;
Marais District;
Place de la Bastille; and
Paris Gare de Lyon
See Related: Hôtel Résidence du Vert Galant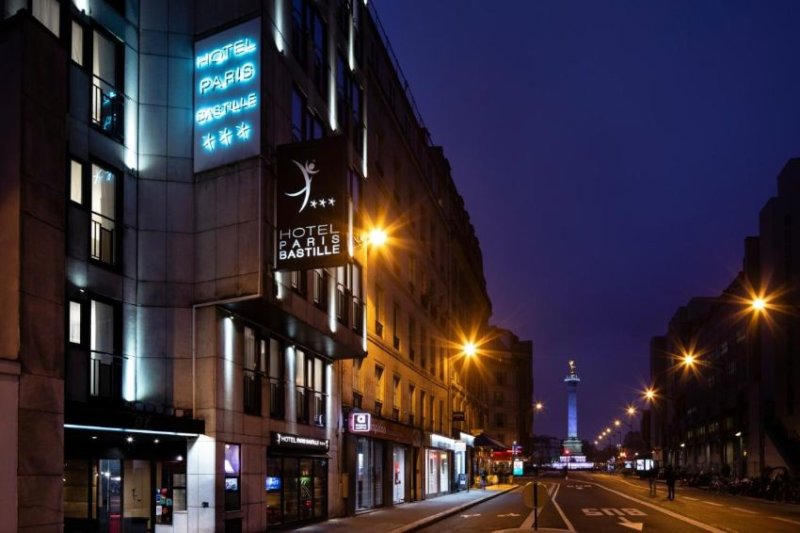 Are you searching for the perfect family-friendly Paris Bastille hotel? Hotel Paris Bastille offers an excellent option and direct access to Place de la Bastille. The hotel has a great location, exclusive suites and guestrooms with leafy terraces and captivating views, giving it a unique vibe.
The most exciting thing about Hôtel Paris Bastille is it's exceptional location. It's just a few steps away from Place de la Bastille and Opera Bastille. You will have a fun time exploring the famous Catacombs of Paris, hop on a train from the Bastille metro station, and visit the Louvre Museum.
Take advantage of the services offered by Hotel Paris Bastille during your stay. The stylish rooms have a concierge, free access to WiFi, a mini-bar, flat-screen TV, baggage storage, and air conditioning.
You should, however, note that you can't smoke in the rooms – the hotel provides a separate smoking lounge. You can also bring your pets with you to this hotel!
And it gets better. Get pampered in the spa, sauna, swimming pool, or take a steam bath. You can also break a sweat in the fitness room.
The hotel serves a buffet breakfast every morning, and the bar provides chocolate treats and light meals. Check out the nearby steakhouses if you're down for a mouth-watering steak.
See Related: Hôtel Beaumarchais
Also known as the La Finca Hotel & Spa, this is an electrifying space that relaxes your mind the moment you step in. For starters, the space offers a refreshing break from the chaos of touring the Bastille streets. It's an ideal place if you're looking to unwind or even work.
Hotel Auberge Flora has three different sections; bohemian, nature, and vegetable garden, creating an exquisite space. And that's not all.
The 21 rooms are grand, luxe with a bohemian charm, and have a flat-screen TV. This hotel offers free WiFi access to its visitors. The private bathrooms have a hairdryer, shower, and complimentary toiletries.
Most importantly, breakfast is usually French Style, and you can choose between a full or express breakfast. And, you can enjoy the selection of drinks and tapas from the bar or reserve a gourmet dinner. Even better, the hotel serves brunch during weekends so that you can sleep late after a night out.
Don't forget that this Paris Bastille hotel is close to famed landmarks such as the Louvre, Place de la Bastille, and Notre Dame. You can get free guided tours around the area, and the tourist bus is just in front of Hotel Auberge Flora.
Alternatively, you can have a night out at the Bastille theatre.
See Related: Hôtel du Nord-Le Pari-Vélo
Welcome to one of the most trendy hotels in Paris. The Hotel Original Paris ushers you into a fun, colorful, and fantastic world. Each space and room is a journey of glam and extravagance.
This Paris Bastille hotel is whimsical, chic, and edgy, and you feel like you're in a fantasy when you step in. The hotel is in a historic location and has amazingly brought history to life through its luxurious designs and facilities. But here's the deal! The hotel offers you luxury without breaking the bank.
This hotel features free Wi-Fi access, flat-screen TV, an iPhone docking station, and air conditioning. And as if that's not enough, enjoy your breakfast in the charming breakfast room.
If you love tea, the lounge area serves it in the afternoon. And, you have different restaurants close by for a variety of dining options. They also have a spa if you want to kick back and a fitness centre for you to keep up with your workout!
Culture and fashion surround the Hotel Original Paris. It is within a three-minute walking distance of Place de la Bastille and Place des Vosges. Also, you can easily visit Île Saint-Louis and the Seine River from here.
Even better, the Bastille metro station is close by, and you can check out the Notre Dame de Paris Cathedral during your stay.
See Related: Oops Budget Hostel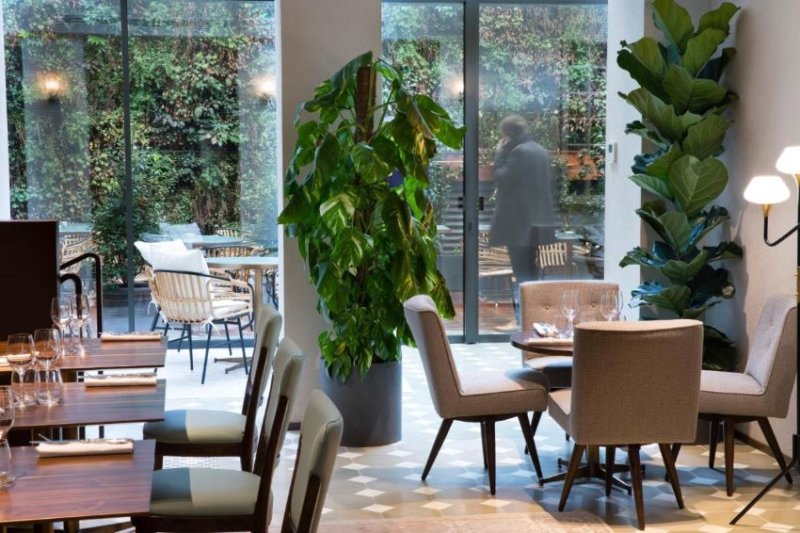 Maison Breguet is one of the best boutique hotels in Paris that are super chic and just a walking distance from Place de la Bastille and Marias. Designer boutiques, art galleries, and exclusive restaurants are in the neighborhood of the classy Maison Breguet. Thus, this is the ultimate place to stay if you love shopping, fashion, and culture.
You will be spoilt for choice with the incredible 53 accommodation options. Choose from;
The comfy rooftop cabins with breathtaking views of the Bastille
A room with a dated patio perfect for basking in the summer
An individual house with a garden, three rooms, and a separate entrance for privacy
But, regardless of the room you choose, each room has air conditioning, flat-screen TV, a garden, a concierge, and it's soundproof. The hotel has laundry services, a full-time front desk, and a business center. Also, the bathrooms have either a bathtub or a shower, with complimentary slippers and toiletries.
Maison Breguet serves a continental breakfast, and you'll also enjoy the French cuisine from the restaurant. And if you want to sweat it out, their state-of-the-art gym allows you to do just that. Or, you can just enjoy a signature massage at the spa.
See related: Marché Saxe-Breteuil, Paris – What to See & Do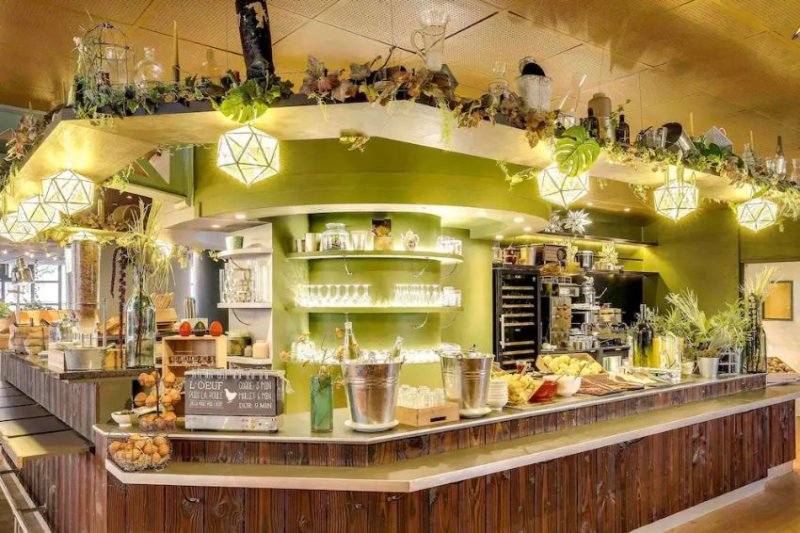 The Ibis Bastille Opera is another incredible place to stay. This eco-friendly hotel is located in the Paris city center and offers accommodations at reasonable rates, making it ideal for eco-conscious travelers. And it's just a short walk to the Place de la Bastille, Oberkampf metro station, chic restaurants, bars, and boutiques.
The hotel's prime location gives you easy access to Notre Dame Cathedral, Place des Vosges, and the Louvre Museum. The Gare du Nord, Bastille Metro Station, and Gare de Lyon stations are also 10 minutes away and offer you access to other attractions in Paris.
This ecofriendly hotel offers accommodations with a flat-screen TV, heated and airconditioned rooms, parquet flooring, as well a hairdryer, and complimentary toiletries. Additionally, the hotel features free WiFi, concierge and laundry services, newspapers, luggage storage, and a safety deposit box.
In terms of food, prepare a buffet breakfast with tasty dishes and pastries such as the French Madeleine cake served with fruits and a hot drink. You can also enjoy light meals in the hotel or enjoy tasty meals from the cafes and restaurants within walking distance.
See Related: By Flowers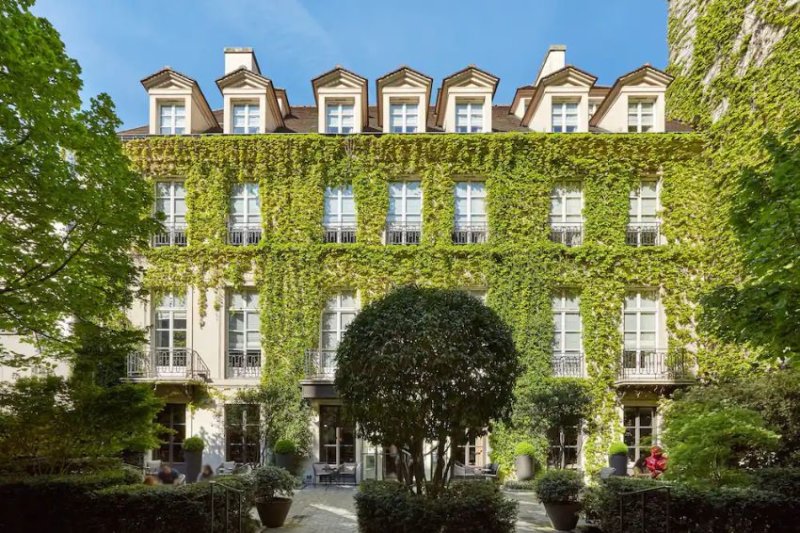 The Pavillon de la Reine & Spa offers you value for your money with a feel of the French countryside and a discreet and extravagant address. The hotel is located on the well-known Place des Vosges and near Place de la Bastille, which is quiet and central, thus ideal for those seeking privacy.
The mansion housing the Pavillon de la Reine & Spa is among the oldest building in Bastille. The building was built during the 17th century and was commissioned by King Henry IV. Shady gardens adorn the hotel giving it a unique facade.
The Paris Bastille hotel has 56 suites and rooms distinctively and lavishly decorated using different blends of colors and furniture. Their accommodations feature a mini-bar, flat-screen TV with satellite channels, air conditioning, and iPod docks. Not to mention complimentary Wi-Fi, tea kettles, and an espresso machine available upon request.
The hotel's spa offers spectacular treatments, and you will have a good time soaking in the steam bath or jacuzzi. You can sample the French skincare line for the perfect skin.
Other services are laundry, concierge, free car parking, and complimentary bikes. The plentiful buffet breakfast offers you hot and cold options, and you can order room service for a continental breakfast or snacks and drinks.
The afternoon tea is also available, or you can enjoy drinks from the bar when relaxing in the fireplace or the library.
See Related: 3 Ducks Hostel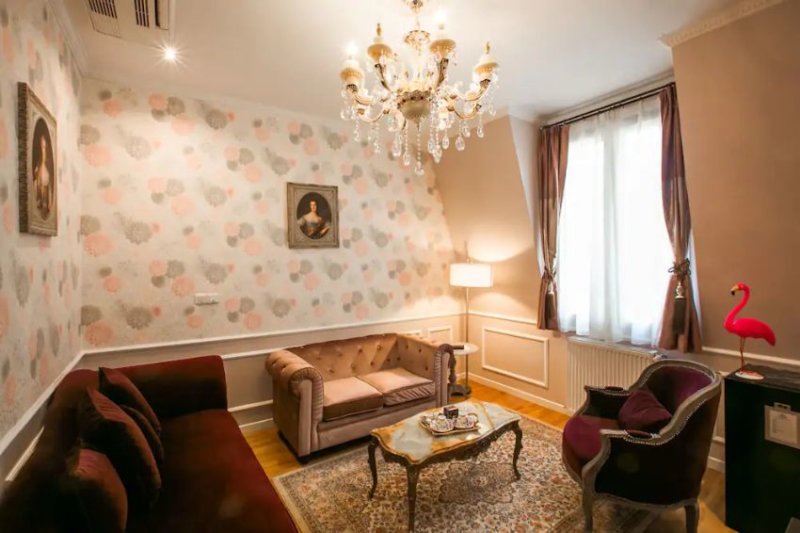 This is one of the few great Paris Bastille hotels that offer only bed and breakfast accommodation. But the hotel gives you a stunning glimpse of Parisian class and finesse in the bustling district of Canal Saint-Martin. The Place de la Bastille is only 10 minutes walk from the La Maison Gobert.
The hotel's interior features mellow colors with breathtaking floral patterns and velvet sofas. Additionally, the furnishings display luxury with grand fireplaces, opulent chandeliers, classy antique furniture, and marble tops.
The majestic Queen Room is a notably fantastic treat with a view of the garden and ornamental relics. And, the wallpaper draws inspiration from nature.
Each room has a flat-screen TV, seating area, coffee station, free Wi-Fi, and a safe. Also, these rooms are soundproof.
The most outstanding feature of La Maison Gobert is the express check-in and access to your room with a key card. Plus, a concierge and a help desk go out of their way to assist you in booking a room, museum, show, or tour. The parking is free, and there's a rental car service.
See Related: Hôtel Eldorado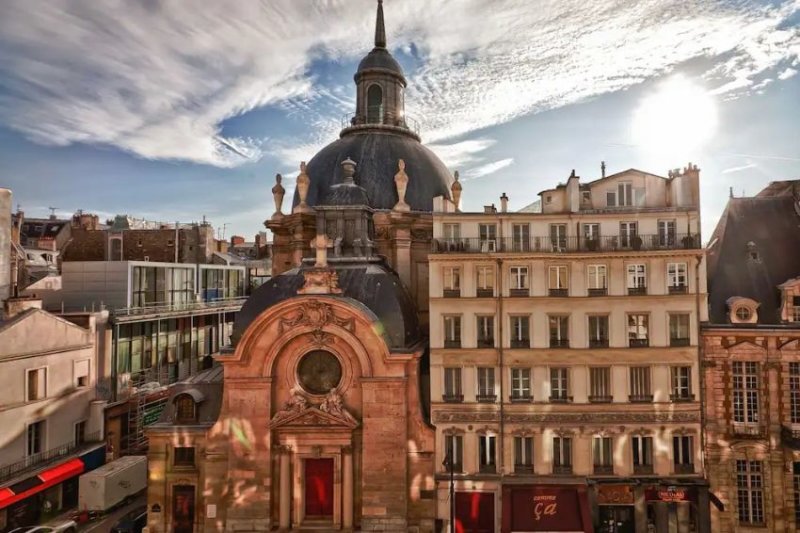 Hotel De La Herse d'Or offers you convenience, a minute away from Places des Vosges, Paris Opera, and Place de la Bastille. The Bastille Metro Station is also just a few meters away, and it connects you to the Louvre and Champs Elysées. Moreover, bars and restaurants are a walk away.
The hotel is a mix of both affordable and extravagant boutique rooms. The expensive rooms feature contemporary furniture, new glassy bathrooms, and Paris murals. Nevertheless, all rooms have Wi-Fi, a private bath, air conditioning, and a telephone.
See Related: Best Hotels in Paris St. Germain
The Hôtel de Joséphine Bonaparte is an charming residence, seven minutes away from the Place de la Bastille and five minutes walk to the renowned Place des Vosges.
Interestingly, the hotel's carpet essentially borrows from Le Manach, and prints of black swans, roses, and birds cover the walls and the ceilings. The guestrooms have maintained the original design, such as the wooden beams, since the 17th century.
Free Wi-Fi, TV, coffee, and tea-making stations are some of the hotel's amenities. And, the bathrooms have baths and mosaic tiles. On top of that, the hotel serves a buffet breakfast every morning in the shared lounge. However, you can enjoy room service at an extra feed.
Relax on the patio as you enjoy selected drinks from the champagne bar, which remains open all day inn case you want an evening drink.
See Related: Things To in Paris on Bastille Day: A Comprehensive Guide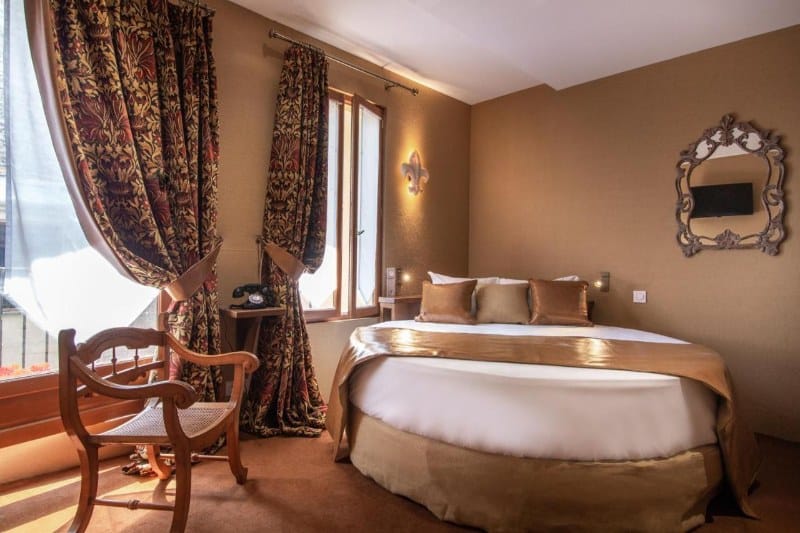 The stylish Le Temple de Jeanne hotel can be found in the middle of the City of Lights. This design hotel has rooms and suites equipped with free WiFi access. This hotel is quite exciting because it has individually-decorated rooms
Le Temple De Jeanne offers air-conditioned accommodations with private bathrooms and flat-screen TVs in each room.
The breakfast room serves a daily organic breakfast buffet. There is also a front desk available at all hours at this motel.
You can reach Le Louver and the Champs-Elysees quickly and easily from the Saint-Paul Metro station, which is less than two minutes' walk from Le Temple De Jeanne. It is only a 300-meter walk to the Seine. You may walk to Notre Dame Cathedral in ten minutes.
See Related: Best Places for Hot Chocolate in Paris, France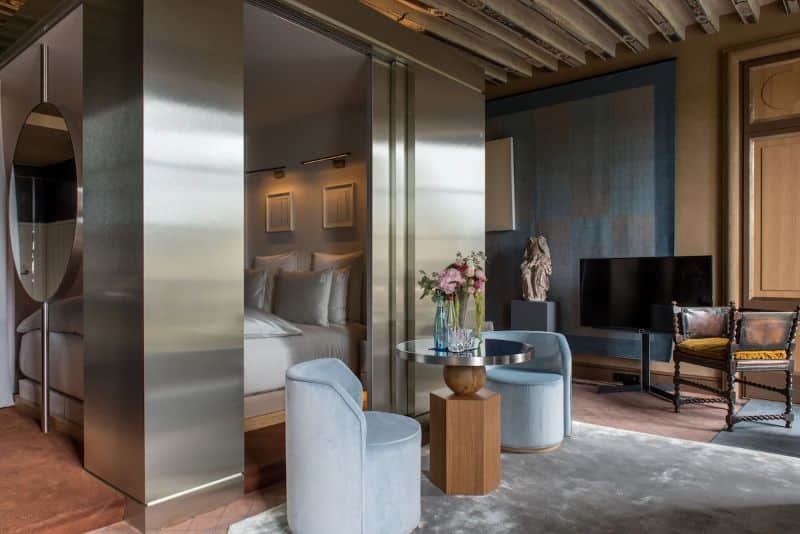 The Cour des Vosges is a luxury hotel in the Marais neighborhood of Paris. It is just a short walk from the famous Place de la Bastille and overlooks the city's oldest planned plaza, the Place des Vosges. There is a hot tub, massage services, and a fitness center at this hotel.
The private bathrooms at this hotel come stocked with Guerlain amenities, bathrobes, and slippers. In addition, a minibar, streaming service, and flat-screen TV are provided. A kitchenette is available in certain accommodations.
Each morning, guests can choose from a selection of breakfast items to enjoy in the hotel or have it delivered to their room. There is a restaurant on-site for guests, and the front desk is open around the clock.
Located about 1.2 kilometers from the hotel lies the Pompidou Center, and guests will be just as close to the Sainte-Chapelle. Paris – Orly Airport is the closest airport, and it's only 15.6 km (9.9 mi) away from Cour des Vosges.
Related Resources