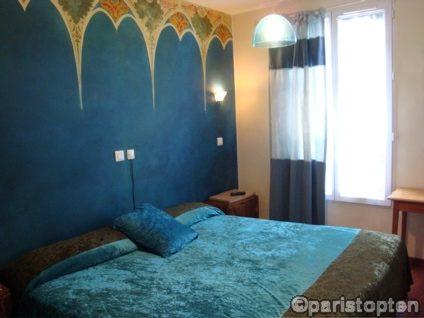 M. Farid Adjoud (owner with M. Laurent Lopez), who gave me a tour of the rooms, was not exactly the most welcoming and smiley chap I ever seen, but the place was cozy and interestingly decorated, in a mix of flea market's old objects (like a telephone or a letterbox) and oriental traveling.
The hotel was totally renewed in 2003.
Each room has a different atmosphere, painting, and various colors. A great concept of lending bicycles to the customers. Very reasonable prices: 24 rooms, from 73 (single) to 125 euros (family room). Elevator. Breakfast: 8 euros. Open all year long. Pets are not accepted. Reservation is possible on the web, but "No special price, for anybody!", I've been warned, and you too now!
See Related: Nouvel Hôtel