Paris is one of the most iconic cities in the world and an unforgettable encounter for any traveler. With its twenty arrondissements, Paris offers travelers many possibilities to explore – from some of the world's best museums and galleries to delicious restaurants and unique boutiques.
In this guide, we offer an overview of Paris' arrondissements, from the unique atmosphere of Montmartre to the lively Latin Quarter. Explore the beautiful avenues of the Marais, or find inspiration at the diverse squares of the Bastille. No matter what kind of adventure you desire, diverse desires are accommodated in the magical city of Paris.
Map of Paris by Arrondissement
If you'd like to get oriented of the various districts and arrondissements of Paris, here's a map to break it down: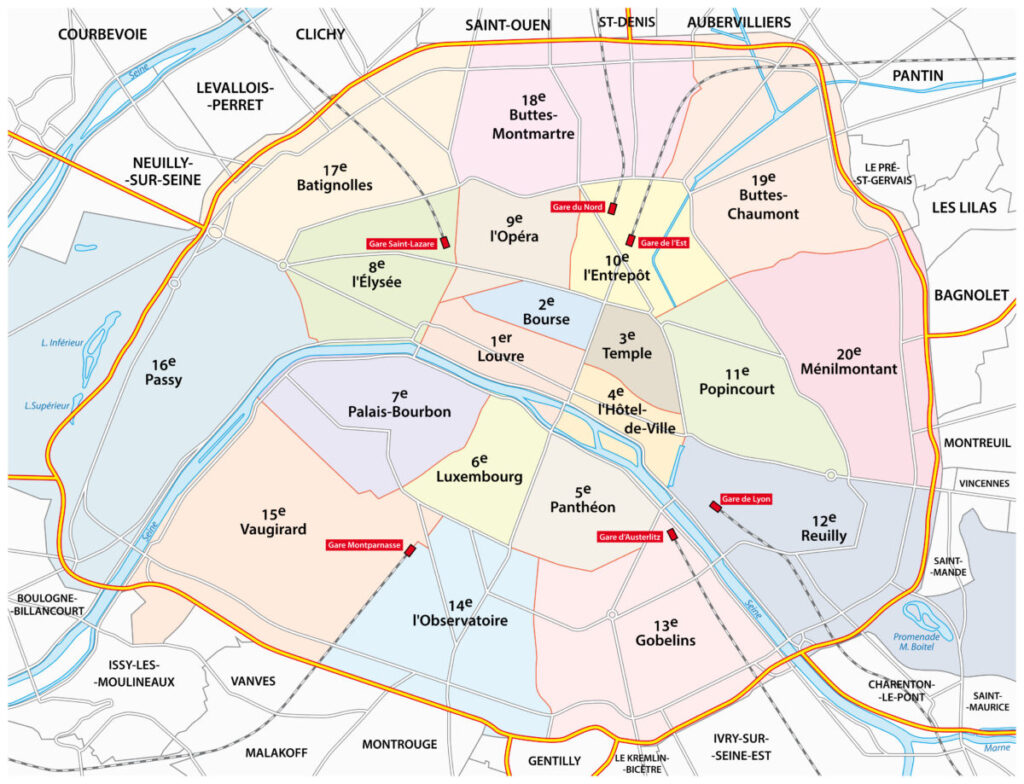 What Are the Best Paris Arrondissements for Your Visit?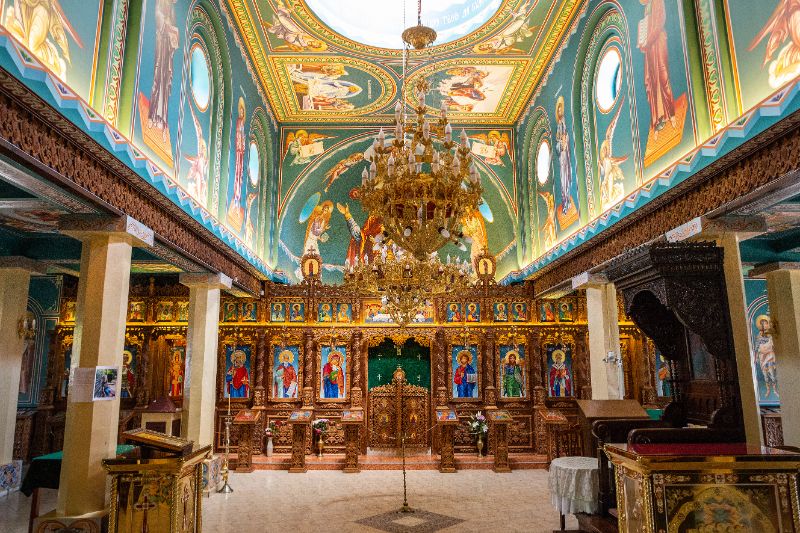 Paris has 20 different arrondissements, each with its unique atmosphere and attractions. Exploring the city by Arrondissement is a great way to taste Paris' culture, history, and lifestyle. From the grandiose 8th Arrondissement to the quaint 20th Arrondissement, there accommodate diverse desires in this beautiful city.
See Related: Best Travel Books About Paris: Must-Read Guides
1st Arrondissement
The 1st Arrondissement – often called "Roman Numeral I" – is home to some of Paris' most iconic landmarks: The Louvre Museum and Mona Lisa painting are just two examples! You'll also find designer boutiques along Rue Saint Honoré, Tuileries Garden, and Palais Royal Garden here. Similarly, the 8th Arrondissement boasts the Arc de Triomphe, Champs-Elysées Avenue, Place de la Concorde & Place de la Madeleine.
4th Arrondissement
In the 4th arrondissement you can visit Notre Dame Cathedral or Pompidou Center before heading over to Place des Vosges! Meanwhile, in the Paris arrondissement in the 7th arrondissement you'll find the Eiffel Tower plus Les Invalides & Army Museum – perfect for strolling along the Seine River! 16th arrondissement has plenty of green spaces such as Bois de Boulogne Park Jardin de Ranelagh Serres d'Auteil Parc de Bagatelle etc.
5th Arrondissement (Latin Quarter)
The 5th Arrondissement (Latin Quarter) allows visitors to explore Paris' rich history, from Sorbonne University's grand architecture to independent bookstores & charming squares! The 3rd Arrondissement features medieval Parisian buildings alongside 17th-century mansions & famous museums like Passages Couverts, filled with stamp/coin/antique dealers.
18th arrondissement
18h Aarronsdiment is known for its cafes & boutiques while offering fantastic cityscape views! Last, we have the 20th Arrondissement located in the northeast corner, showcasing cultures from North Africa, Subsaharan Africa Indian subcontinent, etc. Here you can shop at Asian markets, admire art-filled streets enjoy trendy low-cost restaurants or experience vibrant nightlife!
What Does "1re" Mean? What About "1ère"?
When exploring Paris, it is crucial to comprehend the abbreviations used to signify the 20 arrondissements of the city. "1re" and "1ère" are two main acronyms used interchangeably, both representing "premier" or "first" in French. The masculine singular nouns use the abbreviation "1re", while the feminine singular nouns take the form of "1ère".
These abbreviations can be used in older street signs throughout Paris, written in Roman numerals. For instance, the first Arrondissement is denoted as "Ier" using Roman numerals. This traditional way of writing still exists in some places within Paris today.
It's crucial to understand the abbreviations used for arrondissements and other divisions within Paris, such as quartiers (similar to neighborhoods). Each quarter has unique characteristics and attractions; thus, familiarizing yourself with different areas will help you make the most of your visit and not miss any remarkable sights Paris offers.
Understanding all abbreviations and divisions is vital to getting a whole experience from your trip to Paris! Knowing them will assist you in planning your journey better so that you don't miss out on any extraordinary attractions this beautiful city has prepared for you!
See Related: Best Streets in Paris: A Guide to Iconic Avenues
Is a Quartier (Quarter) the Same as a Neighborhood in Paris?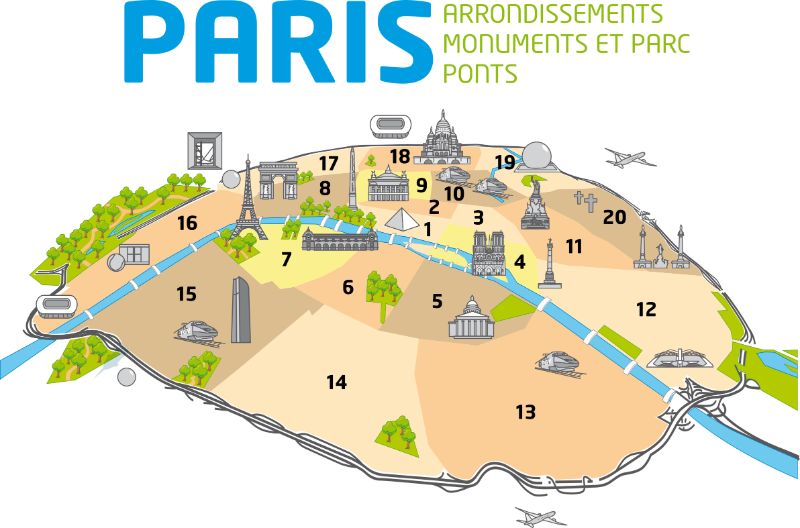 Paris arrondissements and neighborhoods are two distinct city divisions, and grasping their differences is crucial for a successful visit. In the 18th century, Paris was divided into 20 arrondissements, each with unique characters and attractions. Neighborhoods are historical divisions used for centuries; usually, an arrondissement includes many neighborhoods within its boundaries.
The 1st Arrondissement is the city's oldest and most central district – it's renowned for street art, tourist attractions, and luxury boutiques. It houses Paris City Hall, Louvre Museum, Tuileries Garden, Palais Royal, and the Latin Quarter – one of the oldest areas in Paris known for its bohemian atmosphere, plus art galleries, bookstores, and cafes. The 6th Arrondissement is also famous among tourists due to its chic shopping spots, art galleries, and exclusive restaurants.
Marais neighborhood, located in the 4th Arrondissement, features narrow streets lined with private mansions & gardens, plus Centre Pompidou Hôtel de Ville & Notre Dame Cathedral nearby. The 11th district stands out with inventive restaurants & hip cafés alongside creative shops & night activities, giving it lively character. At the same time, some quartier names still serve as neighborhood names, like Les Halles (1st), Sentier (2nd), or Saint-Germain-des-Prés (6th).
Chinese community resides in the 3rd area while the 12th boasts Passage Brady, famous for Indian eateries & Porte Saint-Denis 17th century decorated archway; Place d'Aligre can be found there, too, along with Île de la Cité historic heart of Paris + peaceful residential area Île Saint-Louis both located in 4th district; lastly 20th holds Père Lachaise Cemetery where Notre Dame Cathedral stands on Ile de la Cité island.
The 20th Arrondissement of Paris comprises the neighborhoods of Belleville, Père-Lachaise, Gambetta, Ménilmontant, and Porte de Bagnolet. Classifying Paris into administrative districts began in 1795 when 12 original districts were created.
See Related: Top Things to do in Paris in May
Six arrondissements border the Seine on the Left Bank. They are the 5th, 6th, 7th, 13th, 14th and 15th. The 12th Arrondissement borders the Bastille area to the west, the Seine at various points, and the Bois de Vincennes (Vincennes Park) to the east. Postcodes indicate the Arrondissement by the last number of the 5-number code. Parisians prefer to use the term "arrondissement" rather than "area" or "district" due to the unique nature of their administration and layout.
The First Arrondissement of Paris is home to such attractions as the Tuileries Gardens, the Royal Palace Gardens, and the Square du Vert Galant. Meanwhile, the 10th Arrondissement of Paris is located near the Gare du Nord. Visitors can find detailed articles for each Arrondissement, a downloadable cheatsheet with arrondissement numbers, a map of the arrondissements, and more.
From the 12 original districts of 1795 to the modern-day arrondissements, this guide has provided an overview of the 20 districts of Paris and the best places to visit in each one. In search of street art, tourist attractions, art galleries, or other sights, Paris," arrondissements offer to accommodate diverse desires.
See Related: Solo in Paris: Top Attractions for the Independent Explorer
16 and 17th Arrondissement: Batignolles Square, Martin Luther King Pin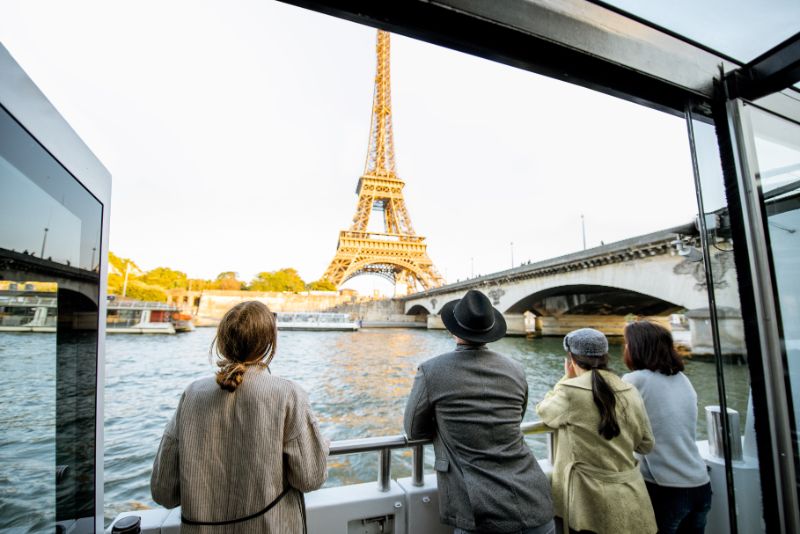 The 16th and 17th arrondissements of Paris offer a range of attractions and activities for visitors to explore. The 17th Arrondissement is known for its residential district with good cafés, restaurants, and bars. Batignolles Square is a popular destination with artificial ponds, a cave, waterfalls, flower-lined paths, and trees. Martin Luther King Park is also located in the 17th Arrondissement and features a playground and sports facilities.
The 16th Arrondissement is the city's wealthiest and home to luxury boutiques, art galleries, and 19th-century Haussmannian architecture. Notable attractions in the 16th Arrondissement include the Place de la Concorde, the Champs-Elysées, and the Arc de Triomphe. The Île Saint Louis is also located in the 16th Arrondissement and offers visitors a glimpse into Paris' past with its medieval cobblestone streets.
The 14th Arrondissement is a dynamic and eclectic area of the city. It is home to legendary cafés, quirky theaters, hidden gardens, cobbled streets, and excellent restaurants and bakeries. Visitors to the 14th Arrondissement can also find the National Library district, Chinatown, Butte aux Cailles, and the headquarters of the Communist Party.
From the iconic Eiffel Tower to the quaint cobbled streets of the 14th Arrondissement, Paris is a city that offers accommodates diverse desires. Whether you're looking to explore historical attractions, sample delicious cuisine, or shop in luxury boutiques, Paris has it all. With its 20 arrondissements, each with its unique character interactions, Paris is a city that can be explored and enjoyed repeatedly.
The 1st Arrondissement, or "I," is a great spot to start your Paris tour. Here you'll find the iconic Louvre Museum, home to da Vinci's Mona Lisa, Sainte Chapelle, La Conciergerie, Musée de l'Orangerie, Forum des Halles shopping center, designer boutiques along Rue Saint Honoré, Tuileries Garden, Palais Royal Garden, Tuileries Christmas Market, and Hotel de Ville Christmas Market.
The 7th Arrondissement is the perfect place to visit if you want classical, splendid, and touristy areas. Here you'll find the Eiffel Tower-Trocadero area, Les Invalides, Army Museum, Musée des Égouts, and beautiful strolls along the Seine.
The 6th Arrondissement is the wealthiest part of Paris and is a haven for the city's most elegant hotels, particuliers (mansions), and narrow streets lined with shops and cafés. This district is known for its upwardly mobile atmosphere and large residential properties.
Paris has a thing to offer everyone, from the grandiose 8th Arrondissement to the quaint 20th Arrondissement. With its diverse cultural influences, hidden places to explore, and attractions, it's' no wonder why Paris is one of the most visited cities in the world.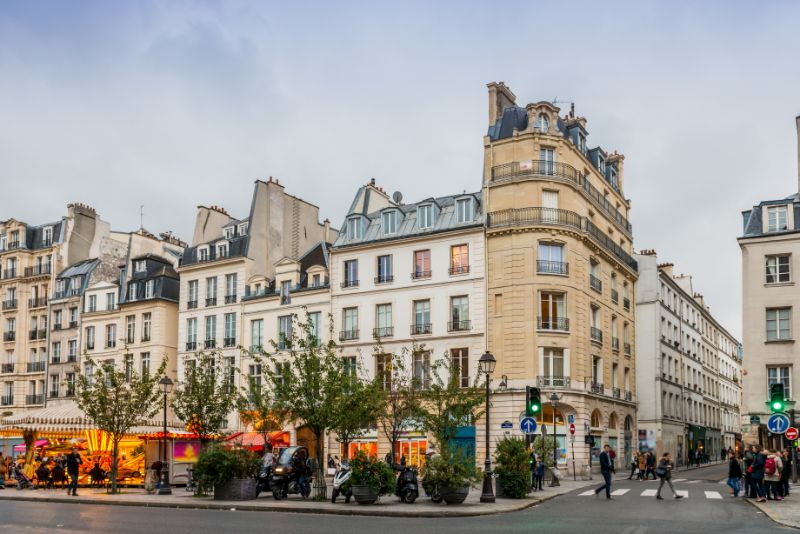 Paris arrondissements and neighborhoods are two distinct city divisions, and understanding their differences is critical to making the most of your visit. Arrondissements are the 18th-century divisions of Paris, while neighborhoods are the historical divisions of the city. Each of the 20 arrondissements of Paris is officially divided into four quartiers. The quartiers are used for administrative purposes and divide the city into smaller areas.
The most famous Arrondissement is the 1st, known for its narrow streets lined with historic private mansions and pretty gardens. The city of Paris boasts some of the world's most iconic monuments. These include Centre Pompidou, Hôtel de Ville, and Notre Dame. The 5th Arrondissement, known as the Latin Quarter, is the home of the Sorbonne University and is famous for its street art, art galleries, and luxury boutiques. The 11th Arrondissement is known for its inventive restaurants, hip cafés, and creative shops, making it an excellent place for night activities.
Along with the quartiers, historic neighborhoods are within each Arrondissement. As an illustration, the Marais is located in the 4th Arrondissement and is known for its lively character. The quartier names are still used as neighborhood names for all the Paris arrondissements, such as Les Halles (1st Arrondissement), Sentier (2nd), and, Saint-Germain-des-Prés (6th). The first Chinese community in Paris is located in the 3rd arrondissement. The Strasbourg Saint-Denis area is known for its architectural details, like Passage Brady (covered passageway famous for its Indian restaurants) and Porte Saint-Denis (17th century decorated arch).
Irrespective of your status as looking to explore the historic streets of the Latin Quarter, or shop in the luxury boutiques of the 6th Arrondissement, understanding the differences between arrondissements and neighborhoods in Paris is crucial for a successful visit.
See Related: Best Private Tours of Paris, France
Summary
The 20 arrondissements of Paris offer individual characters and unique attractions that cater to all kinds of interests, from the dynamic entertainment and business district in the 2nd Arrondissement to the picturesque Batignolles Square and Martin Luther King Park in the 17th.
Whether visitors travel to the French capital to explore historical monuments, dazzling nightlife, captivating museums, or lively neighborhoods, each Arrondissement provides a different thing to enjoy.
As the city of lights continues to draw more and more travelers, understanding the abbreviations and divisions associated with the arrondissements is key to uncovering the heart of Paris.
Frequently Asked Questions
FAQs
This section will answer frequently asked questions about the arrondissements of Paris, such as the difference between an arrondissement and a quarter, the distinct neighborhoods in the 20th Arrondissement, and the practice of classifying Paris into administrative districts. An arrondissement is an administrative district in Paris, while a quarter is an informal neighborhood within these districts.
What are Parisian districts called?
Paris is divided into twenty administrative districts known as arrondissements. Parisians refer to Paris districts as arrondissements, pronounced [adism] ( listen).
How many districts of Paris are there?
There are 20 districts in Paris, each with a mayor, town hall, and particular features. These twenty arrondissements municipaux, or administrative districts, are more called arrondissements.
The numbering begins at the core of Paris and spirals out in a snail shell shape, ending in the far east.
What is the most popular district in Paris?
The 1st Arrondissement of Paris is the most famous district, with its iconic tourist attractions, lush parks, and dynamic cultural institutions. It is the heart of the city and an unforgettable destination for visitors of all ages.
What is the most famous Paris Arrondissements?
Paris has iconic sights and landmarks, making it the most famous Arrondissement. The 1st Arrondissement stands out as a crucial experience destination due to its famous Louvre Museum, Jardin des Tuileries, and Jardin du Palais Royal, drawing in visitors from Acworldwide attractions are perfect for exploring the city and tasting its culture and history. Paris has accommodated diverse desires from the iconic Eiffel Tower to the stunning Notre Dame Cathedral. Whether you're a smoker or not, regardless of you.
Related Resources: