Paris – the city of lights, love, and the famous across the globe Eiffel Tower – is a destination no traveler should miss. This ultimate tourist destination is known for its captivating beauty and enchanting atmosphere that draws you back repeatedly. It's the cultural capital of the world, after all, and with so much to see and do, 24 hours in Paris may never be enough. Here is our one-day in Paris itinerary to make the most of your visit.
Whether you're a first-timer or returning for your umpteenth visit, there's always more to explore and discover in Paris if you plan a quick day trip. Some people live there their whole lives and feel they still haven't seen it all! So, if circumstances let you sneak away for a short trip, rest assured there are plenty of things to see in Paris in one day- there's too much.
So, be it your first day in Paris – or your only day- here's a guide to making the most of your time in the City of Lights. From seeing the Mona Lisa, so a Seine River Cruise to visiting Notre Dame, keep reading as we walk you through our one-day Paris itinerary.
How to Get to Paris
First things first, you'll have to get here. As we walk you through our one-day Paris itinerary, it's crucial to note that efficiency is critical here. You don't have a lot of time, and we know that! So that's why we want everything to run as smoothly as possible for your one day in Paris.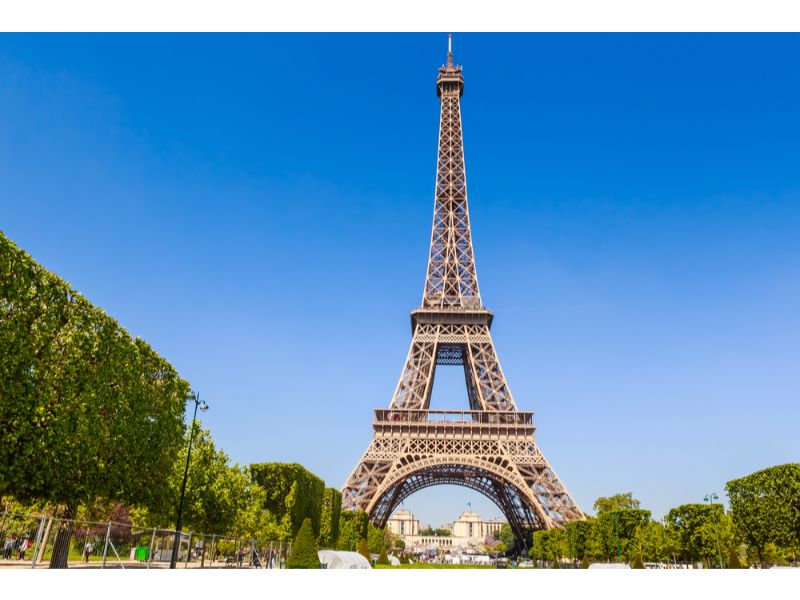 Getting to Paris by plane
Above all, we recommend flying into one of the main airports, like Charles de Gaulle or Orly, rather than Paris Beauvais. The latter airport is exceptionally far from the city, and it could take you well over an hour and a half from the time you land to the time you get it.
Charles de Gaulle Airport
If you're coming from the CDG airport, there are a few public transportation options. You can either take the RER B train or the Roissy bus. The Roissy bus takes you from Charles de Gaulle and drops you off directly at the Opera House.
Orly Airport
Like CDG, you can arrive in the city center from Orly on the RER B or with the Orly Bus. The bus option drops you off at the Denfert-Rochereau station, with many metro line connections to continue further.
Beauvais Airport
Again, this airport isn't ideal for flying into, but it's the main airport that operates Ryanair and Wizzair flights. It's one of the more economical options and connects to many other European cities. To get from Beauvais Airport into the city, you'll want to take a shuttle bus from the airport. The shuttles run exceptionally frequently, so there are no worries if you're worried about not getting on the first one you see. But, the rides can take up to 2 hours depending on traffic. Just a thing to keep in mind!
If public transportation isn't your thing, city taxis are always available. When you come from the airports, these usually offer fixed rates, depending if you're arriving on the left or right bank. Paris also has a range of ride-hailing apps, though Uber and Bolt are the most popular.
See Related: Top Things to Do in Paris in April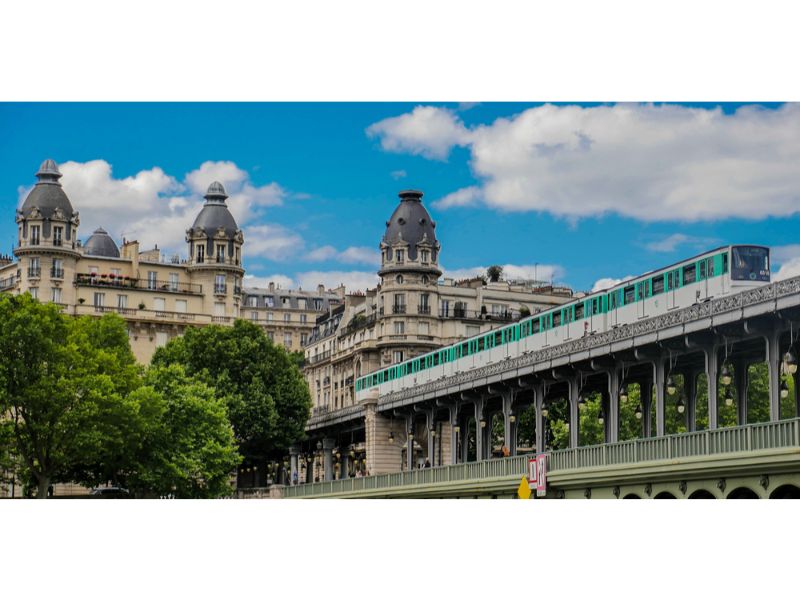 Getting to Paris by Train
A time-efficient option to travel to Paris is by train. With so many connections in continental Europe, it's easy to get here. The main train stations in Paris are the Gare du Nord, Gare de l'Est, St Lazare, Montparnasse and Austerlitz. From all of these stations, you can access excellent relationships with other parts of France and international destinations like London via Eurostar.
The train is the best option if you plan a day trip.
See Related: Arc de Triomphe: Exploring the Iconic Paris Arch
Getting to Paris by bus
An economical, though less popular, way of getting to Paris is by bus. A few different bus stops are scattered around the city, so it depends on which company you choose. Popular ones to ride with include Flixbus and Blablabus.
How to get around Paris
Paris isn't too large geographically, but it's still considered a big city. That's why it's crucial to get around quickly and with ease.
The most popular way of getting around Paris is by metro. The metro consists of 14 lines, all taking you in different directions, so this is an excellent choice wherever you need to go citywide. You can buy single tickets or a carnet composed of 10 tickets at a discounted price.
The second popular way of getting around is by taxi. Plenty of city taxis are spread throughout the city, where you can either take a car from street to street or have it pick you up from your current location. Plus, ride-hailing apps like Uber and Bolt mentioned earlier have made this option even easier for visitors.
Lastly, the most healthy and economical way to get around Paris is by foot or bike. You can rent bicycles from many companies for a day or two. This is fantastic if you want to discover more of the hidden gems in Paris – as walking allows you to explore areas that don't show up on the regular tourist routes, and you can take your sweet time.
Vélib is the popular hop-on, hop-off bike system that allows you to pay by card and rent a bike for up to 30 minutes at a time. Now that we've covered the best ways to get into and around the city, let's carry on to the crucial stuff- what to do in Paris in one day! So, how do you spend a perfect day in Paris without further ado? While this can be entirely subjective, here we have our one-day Paris itinerary that includes some of the popular attractions in the city.
See Related: Best Walking Tours in Paris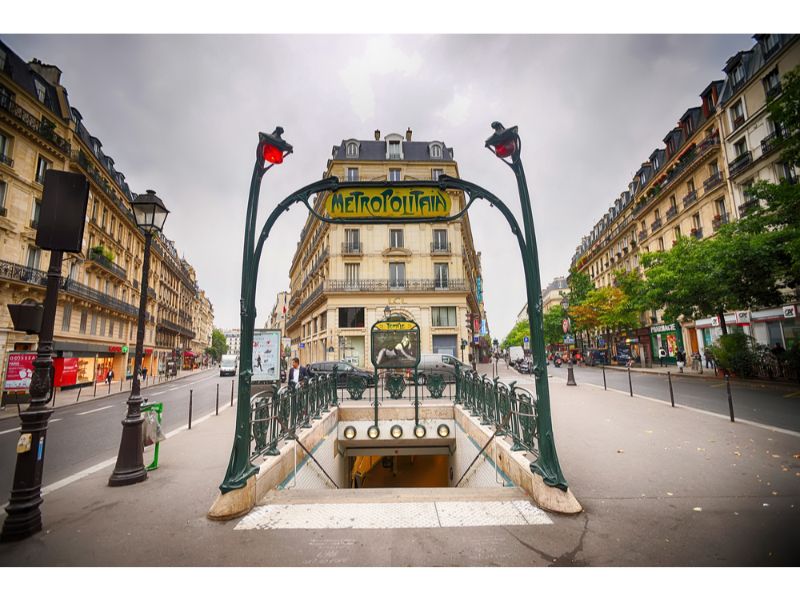 A Day in Paris Itinerary
Breakfast
Nothing is any more French than starting your morning at the local boulangerie. Swing by the local bakery and pick up a croissant, plus some coffee for the road! This is one of our favorite things to do in the morning, not just for one day in Paris but every day!
Most bakeries will offer a miniature set menu in the morning, including a pastry (like pain au chocolat), a glass of orange juice, and a coffee. The perfect thing you need to fuel your day.
Morning and Afternoon- Sightseeing
Once you're sufficiently caffeinated and have eaten your petit-dejeuner, it's time to get ready for sightseeing. Visiting Paris is a hectic task, and with so much to see, you can't possibly do it in one day. A walking tour of the city should be on the top of your one-day in Paris list- there are plenty of guided tours, or if you prefer to go at your own pace, you can pick up a map from the tourist office and go from there.
You can even pick up a Day Paris Pass to save money and time while exploring significant sites. As discussed before, a walking tour is an excellent possibility for those visiting Paris and is short on time. This way, in only a few hours, you can get a brief overview of the city, its main sights, and a few thrilling stories about them. But no worries if you want to experience the places at your own pace!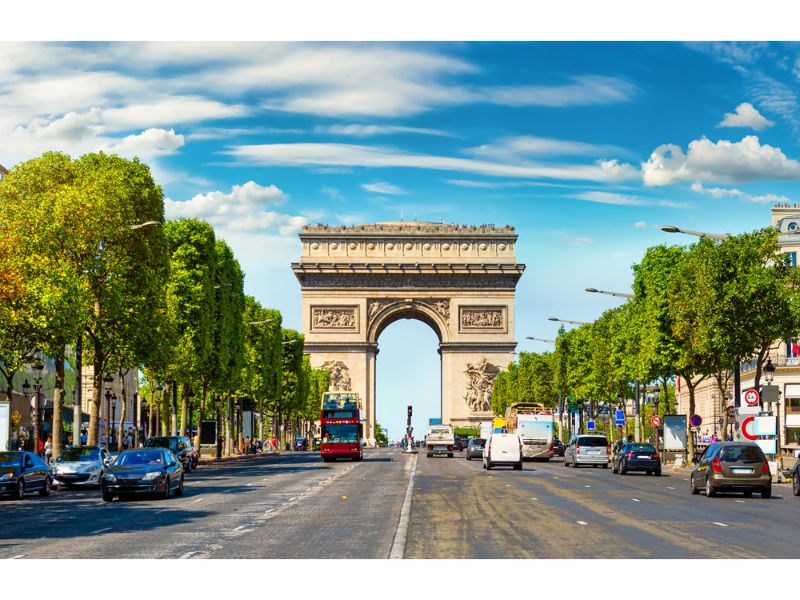 Arc de Triomphe and Champs Elysées
Start your day at Arc de Triomphe- an iconic monument at the center of Place Charles de Gaulle in the 8th arrondissement. Marvel at the endless crossings of the cars in this insane roundabout- it's genuinely a sight to behold. If time allows, you can climb up the Arc de Triomphe for a panoramic view of Paris. Purchase your ticket for skip-the-line access to cut through the crowds.
After your climb, say au revoir to the Arc de Triomphe and continue down the infamous Champs Elysées. Here, you can shop at the high-end boutiques or amble down the avenue, taking in all its grandeur. The Champs Elysées stretches far back and takes you past some of Paris's most luxurious neighborhoods, home to the French president.
See Related: Best Boat Tours in Paris, France
Place de la Concorde
At the end of the Champs Elysées, you'll find yourself staring at Place de la Concorde. This is one of the most famous squares in Paris, with a unique history. The square has witnessed some of the most pivotal moments in French history from its beginning in the era of Louis XIV. Place de la Concorde remains a famous landmark in Paris for its ancient Egyptian obelisk and two grand fountains.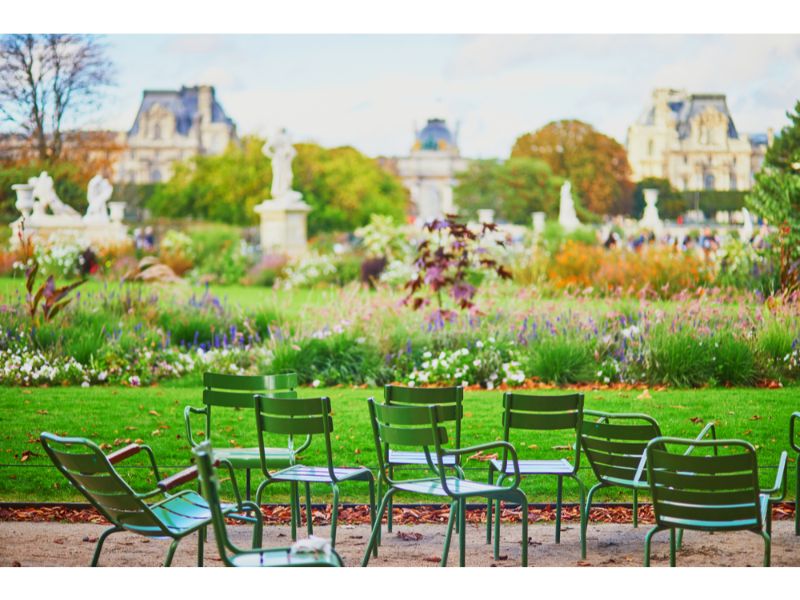 Tuileries Gardens
You'll find the Tuileries Gardens of Paris on the eastern end of Place de la Concorde. These were the former gardens of King Louis XIV, and they are gorgeous. Here, you'll find the Orangerie Museum, famous for the masterpiece Waterlilies by Monet. This museum is relatively small compared to the other Parisian museums, so if you have an hour to kill, it's the perfect place to be.
As you walk through the gardens, you'll come out to the ponds and magnificent fountain of Jeu de Paume. You'll be surrounded by beautiful sculptures and Parisians out enjoying a sunny afternoon, the perfect spot to sit down and relax with friends in the infamous green chairs. From here, you'll have a direct view of the Louvre.
See Related: Paris in 3 Days Itinerary: Your Guide to the City of Lights
Louvre Museum
Again, you could easily spend one day at Paris's finest museum, but when we only have one day in total, you might have to consider if the Louvre is something you want to spend time in. Of course, we recommend viewing the infamous Mona Lisa and Venus de Milo, but this comes with time constraints.
If you choose to enter the museum, there are many options for guided tours with skip-the-line tickets that take you to the exhibition center's highlights to ensure you don't miss out on anything, like the infamous Mona Lisa. Nonetheless, if you'd prefer to wander the exhibition center alone, a couple of hours is enough to get an overview of what it holds. If you don't choose to enter the museum- that's okay too! You'll see the iconic glass pyramids surrounding the complex from the outside.
See Related: Top Art Museums in Paris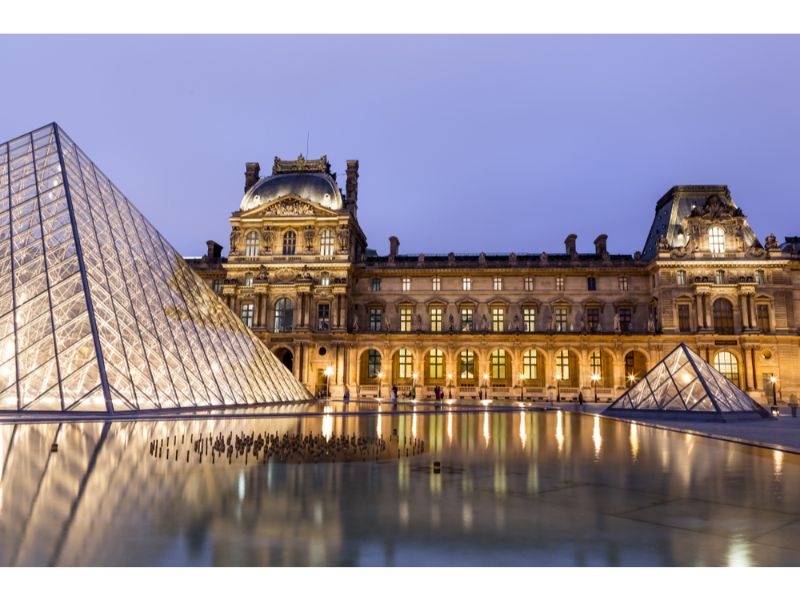 Lunch
After all this walking, now's the perfect time to stop for lunch. This area can be pretty touristy regarding restaurants, so I recommend going a few blocks away for a more authentic experience. Plenty of brasseries and restaurants close by serve classic and delicious French cuisine. Remember- eating a meal in France is an art.
The French prefer to take their time, and it isn't unusual for lunch to last 2 hours. But we know you're pressed for time, so don't worry if you must skip eating like a local!
See Related: Best Catholic Churches in Paris, France
Quais of the Seine River
After your lunch, let the food digest as you walk down the Seine river quays- after all, the Louvre is right beside it. These quays offer a unique perspective to your Paris visit and are the perfect place for people-watching as you amble along. Walk past the famous Pont Neuf as you make your way towards the iconic green bouquinistes of the city.
These small stalls are a staple of Parisian life and offer a unique insight into the city. From vintage books to individual prints, these stalls cater to multiple tastes and can be fun to browse. I guarantee you won't leave empty-handed. With one day in Paris, you want to live as the locals do!
Want to spend more time on the Seine River on your one day in Paris? Why not book a river cruise? With so many options for river cruises, you can find one that takes you to some of the most critical stops in Paris, like the Notre Dame or Eiffel Tour.
You can cater to where you want to start and what monuments interest you the most on a hop-on, hop-off tour.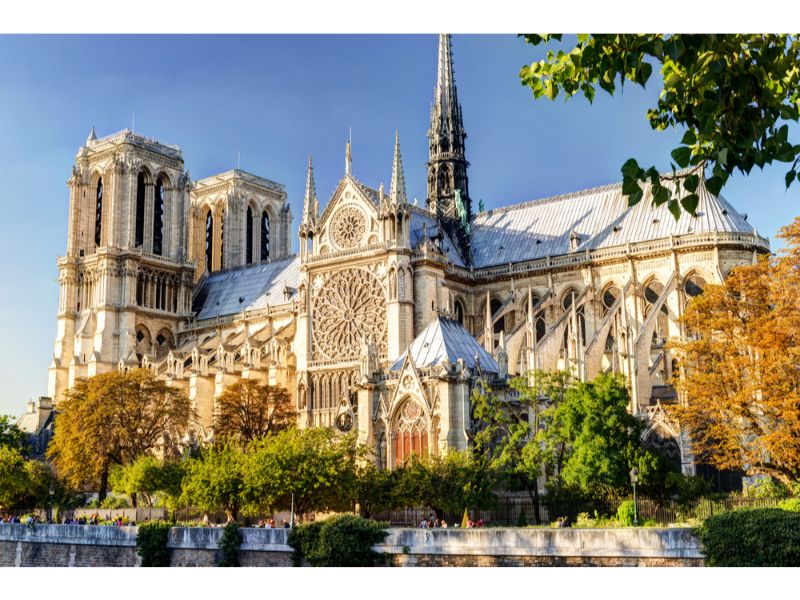 Notre Dame
As you wander past the bouquinistes, you'll find yourself at Ile de la Cité. This small island lies in the middle of the 4th and 5th arrondissements of Paris and is home to the iconic Notre Dame Cathedral. Visit this famous cathedral, still standing tall and proud despite the recent fire of 2019. From here, you can walk around the island and explore its tiny streets.
Although Notre Dame is still not open, you can admire the architecture outside the building.
See Related: Best Normandy Tours from Paris, France
Saint Chapelle
Head to the other side of the island to Sainte Chapelle for stunning gothic architecture and some of the best-stained glasswork ever created. The Sainte Chapelle line fills up quickly, so save time by booking in advance your skip-the-line ticket if this is something you genuinely want to see on your one day in Paris.
Latin Quarter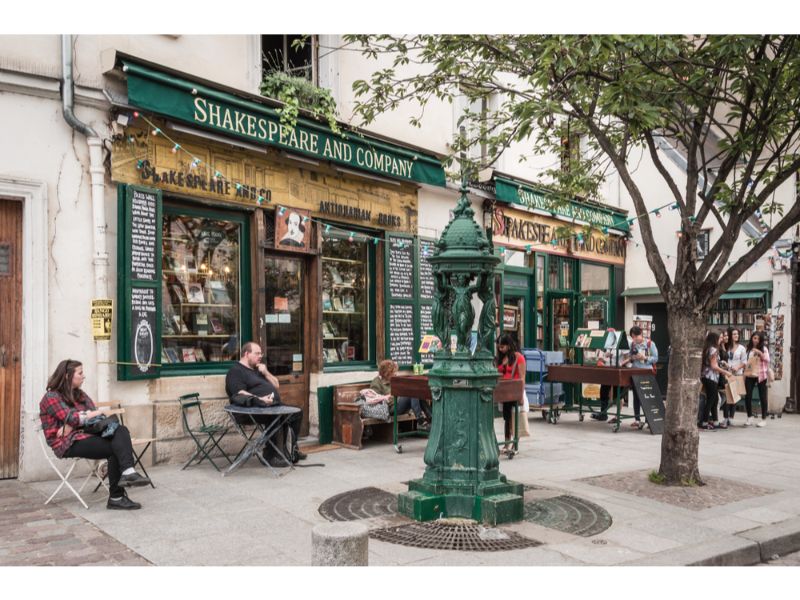 As soon as you cross the bridge from Ile de la Cité, you'll come across the most famous bookshop in the entire world- Shakespeare and Company. This is a special place frequented by English literature lovers, so you'll have to be ready for the queue outside. After browsing some of literature's finest pieces, explore more of this historic quarter.
The Latin Quarter is known for its academic history and student nightlife. After a day exploring Paris, the Latin Quarter is a perfect place to stop and sit for a glass of wine or two.
Evening
By now, it's likely to assume you're exhausted after traversing the city! Head back to your accommodation for a quick reset before heading to dinner for the evening. Again, Paris is plentiful for great restaurants, so no worries if you can't decide on somewhere to eat. There's bound to be a delicious place wherever you stay. After dinner, go to the most magical place on our Paris itinerary… the Eiffel
See Related: How to Eat a Croissant in ParisTower.
Eiffel Tower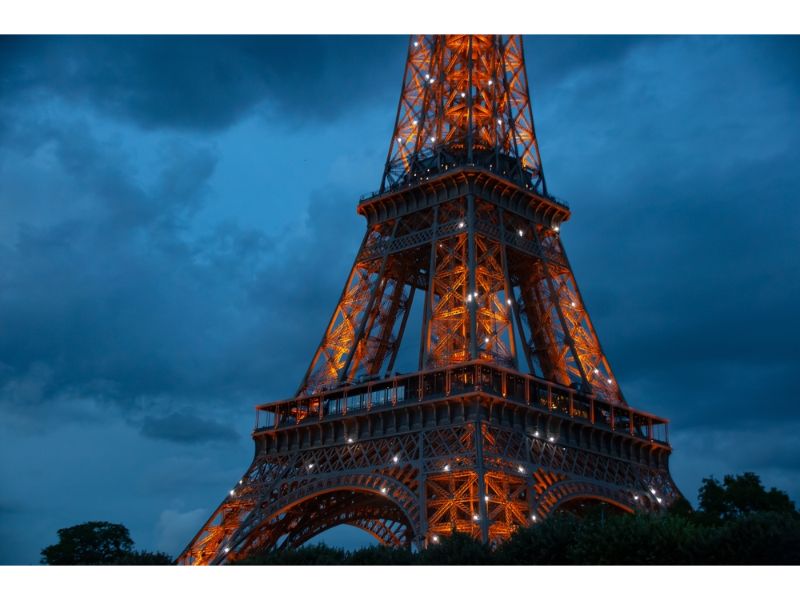 No trip to Paris is complete without spending time at the Champ de Mars. Here, you'll find the massive monument that connects everyone to Paris- the Eiffel Tower. Although you can see this at any time of the day, many people prefer to view the Eiffel Tower at night.
There is a thing incredibly magical about being there when night has fallen and the tower is illuminated. The Eiffel Tower sparkles every evening for the hour for five minutes after nightfall, and it's an indeed sight to behold.
See Related: Top Paris Restaurants with a View of the Eiffel Tower
Jazz and cocktails
Finally, end your day with some jazz music. Paris, after all, is a haven of Jazz, and plenty of jazz bars in the city. Some favorites are located near Chatelet and the Marais. Sit back, relax with a few drinks, and end your day in Paris with soulful jazz music.
Popular spots include 38 Riv, Caveau de la Huchette, Duc des Lombards, and Le Baiser Salé. As the day ends, you can take in the beauty of Paris and feel content with your day spent in this beautiful city. Admire the lights one last time before returning to your accommodation and dreaming of the next time you'll return. Paris is a city you could never fully explore in one day, but having a wonderful time while visiting the city is possible.
Optional – Montmartre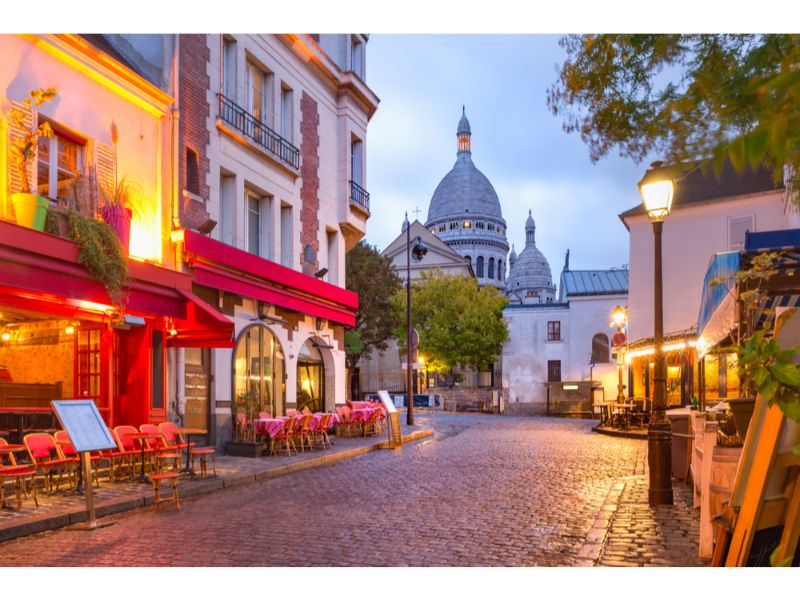 We can't complete listing our one day in Paris activities without a mention of Montmartre. Though it's far from the other spots on this list, you can easily change out some of the sites to spend a couple of hours in Montmartre. Here, you'll visit the city's most romantic district and figure out why it's so easy to love Paris.
The famous Basilica of Sacre Coeur is located here, and there are plenty of quaint cafes and romantic restaurants to explore. Watch artists create in the Place du Tertre as you wander to Abbesses.
Where to stay in Paris
Since you only have one day in Paris, you'll most likely want to stay in the center of the action. Although there are a few different neighborhoods for this, I highly recommend staying in the 1st, 4th, or 5th arrondissements. These are incredibly close to the monuments above on our Paris itinerary. Although they are farther from the Eiffel Tower, they still have easy access to other sites like Notre Dame or the Louvre.
Hotel Select is a beautiful hotel located in Paris's Latin Quarter (5th arr.). The Notre Dame Cathedral is within walking distance, and you'll be at the core of the action. Hotel Select is a 3-minute walk from the Jardin de Luxembourg, where you can explore if time allows.
Hôtel Londres Saint Honoré is a luxury 5-star hotel in the 1st arr for those wanting to treat themselves. This central location means that the Louvre Museum and Tuileries Garden are both within walking distance, and the luxurious décor of the hotel is equally as impressive. This is a great spot to choose for a stay in Paris that you won't forget.
Do you want to be near the Eiffel Tower? Consider booking a room at Hotel Eiffel Seine. Located in the 15th arr., this hotel offers beautiful views of the Eiffel Tower and the Champ de Mars. It's only a 10-minute walk from the tower, and you'll be able to enjoy this iconic monument's beauty within a short time.
For the budget-friendly traveler, Paris is home to a good number of hostels. Although they're far from the monuments on this Paris itinerary, they're still close to numerous other great sites. Generator Hostel is an excellent choice for those wanting to experience Paris a bit off the beaten path.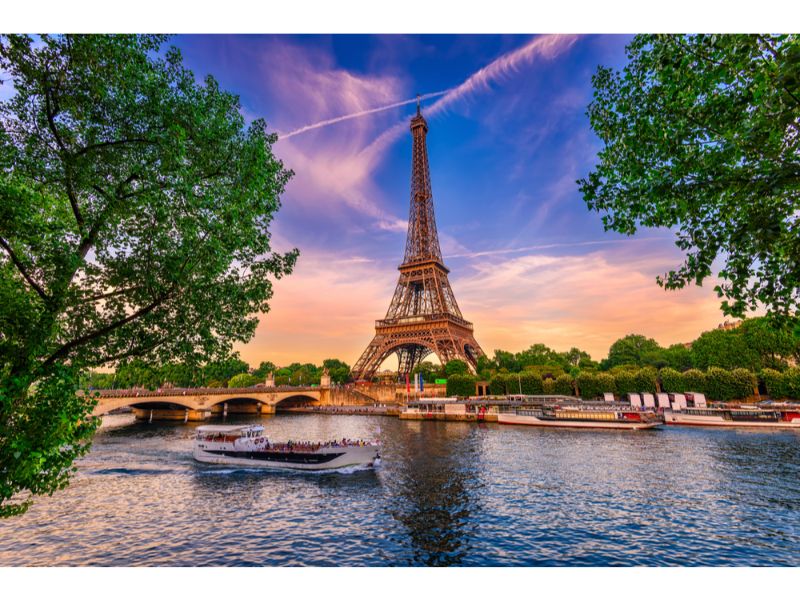 FAQs
Can you go to Paris for the day?
You absolutely can! Though one day in Paris isn't ideal, it's still entirely possible. You can make the most of it by focusing on one or two areas, like the Montmartre or the Latin Quarter. If you're eager to see more, however, we recommend staying at least a couple of days to get a feel for the city.
Can you walk around Paris in a day?
Yes, you can walk around Paris in a day. But remember that the city is highly dense, and you won't have time to see everything in one go. Planning your route and activities is best so you don't get lost or overwhelmed by everything you can see. We recommend planning for 3-4 days to get a feel for Paris.
What should you not miss while visiting Paris?
First thing first, the Eiffel Tower! Make sure you spend some time here and explore the grounds. Other must-sees in Paris are Notre Dame, Sacre Coeur Cathedral, the Louvre, and the Arc de Triomphe.
Related Resources: