Unfortunately, nothing remains of the Bastille itself. Today, the "Colonne de Juillet" is standing in the middle of the square. The famous prison was destroyed, but today the busy square is the center of a lively area, during daytime as well as nighttime, with shops of all sorts, art galleries, bars and restaurants, and of course the modern Bastille Opera.
In this guide, we'll tell you everything there is to know about the historical Place de la Bastille and the surrounding area. If you're looking for an overview of this famous Parisian neighborhood, this is your guide!
The History of Place de la Bastille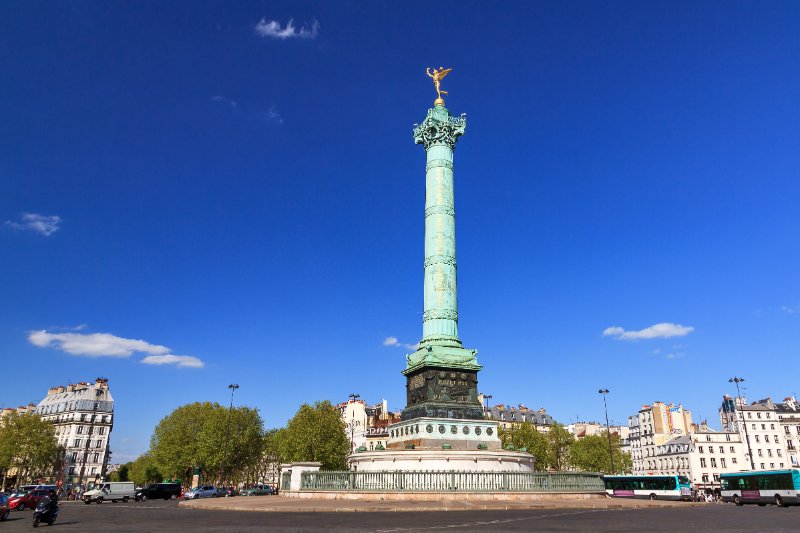 For centuries, Place de la Bastille was actually a fortress and prison. The Bastille was originally built by King Charles V in the 14th century but fell into disrepair during the French Revolution. In 1789, violent mobs stormed the fortress—which had become a symbol of royal oppression—and demolished it completely.
After that, Place de la Bastille became a public square for executions and other forms of state violence. The guillotine moved to Place de la Concorde in 1793 after an unsuccessful attempt at building an execution machine on top of La Madeleine church (yes, really).
Nowadays you can enjoy one of these great spots with your friends or loved ones while sipping coffee on sunny days or exploring at night!
What to Do & See at Place de La Bastille and Nearby
Place de la Bastille.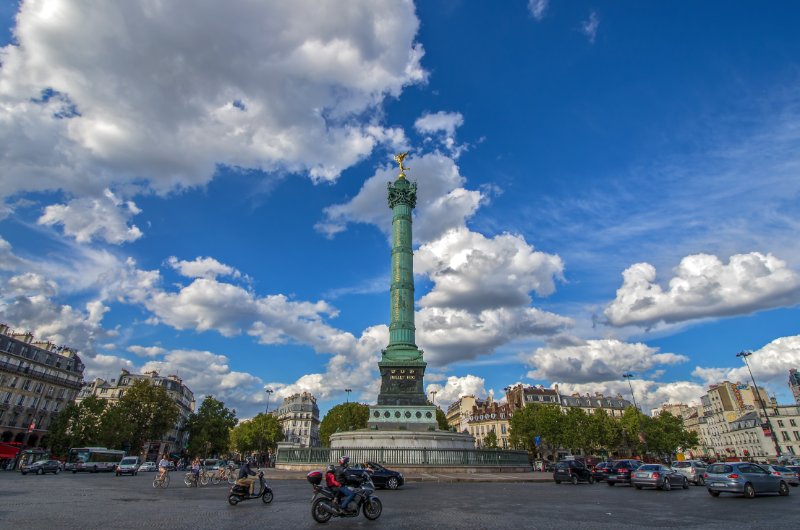 This is one of the most famous places in Paris and was built on the former site of a prison that was used to hold prisoners in extreme conditions and even torture them. The area around the place has remained a major landmark since its construction, since it's located near other important sites such as Chatelet-Les Halles RER station, Les Halles shopping mall, Palais Royal Gardens and Place Dauphine.
Place de la Nation.
Located between Bastille and Etoile, this large public square was designed by Napoleon III for military parades but has since been used for political demonstrations and celebrations (such as Bastille Day).
Place du Trone.
Also called "Place Charles de Gaulle", this square is located just south of Champs Elysees Avenue near Arc De Triomphe Square at one end where there are many high-end shops including Christian Lacroix boutiques which sell womenswear fashions as well as men's clothing brands such as Hugo Boss suits or Zara shirts/trousers if you're looking for something more affordable but still stylishly chic!
Place du Trocadero. This square is situated between Champs Elysees Avenue and the River Seine, close to Eiffel Tower. The Place du Trocadero has a large fountain and is often used for public performances and celebrations such as Bastille Day or other national holidays in France.
Place de La Bastille Restaurants & Cafes
Le Comptoir du Relais
Le Comptoir du Relais is a charming restaurant that perfectly captures the romance of Paris. Located in the historic Palais Royal garden, it has been serving up traditional French fare since 1880. The restaurant's interior is beautifully decorated with gilded mirrors and marble floors, lending a rustic feel to what would otherwise be an upscale dining experience.
Breakfast and lunch are served daily until 2 pm, after which time they begin dinner service at 7 pm. Appetizers range from escargots (snails) to foie gras terrine, while main courses include steak frites or roasted duck breast with boudin noir sauce.
Dining here isn't cheap but neither is fine dining anywhere else in Paris – expect to pay about 100 euros per person for two courses plus wine.
See Related: When is the Best Time to Visit Paris?
L'Observatoire de Paris
L'Observatoire de Paris serves up fresh sushi in one of the most unique settings imaginable: inside a 17th-century observatory! Located on top of Montparnasse Tower, this contemporary Japanese eatery offers stunning views through large windows as you enjoy your meal – though bringing friends along might be challenging since most tables seat only two people apiece! Prices here can fluctuate depending on what types of foods you order but don't expect cheap eats; even basics like edamame cost around 8 euros each while sashimi platters go for upwards of 40 euros per person (you could probably feed yourself twice over at McDonald's instead).
Place de La Bastille Shopping & Retail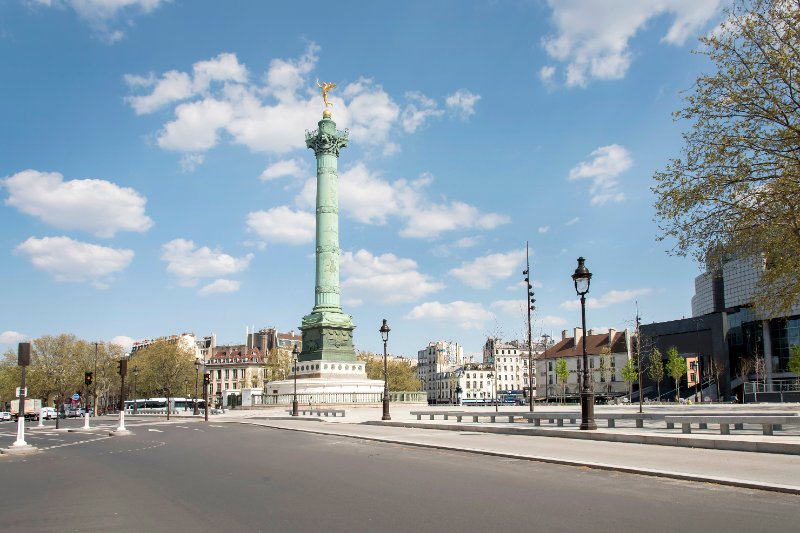 Shopping at Place de La Bastille is a little different than shopping elsewhere in Paris. The square itself doesn't offer as many options as some of the other neighborhoods, but it's easy to reach from Bastille and has some great stores.
The first thing you'll want to do is pop into Monsieur Tricotin, a shop that sells handmade scarves and hats (as well as other items) made by French artisans using wool from sheep raised on farms in South West France.
These are not cheap—especially compared with what you can find at the more touristy end of town—but they're high quality and you'll be supporting local businesses by purchasing them here instead of buying cheaper knockoffs elsewhere in Paris.
Once you've got your new accessory for fall/winter/spring/summer (depending on when you're visiting), check out the rest of Place de La Bastille's retail offerings too: especially if they include any sort of food or drink!
Where to Stay Near La Bastille
Paris is one of the world's most popular tourist destinations, and as such, there are many options when it comes to where to stay.
The Bastille area is a great place to stay if you're looking for something in between downtown Paris and the more residential areas of the city. Here are some good choices:
The Bastille area has a lot of hotels, including budget hotels like Hôtel du Nord (77 rue de la Roquette).
There are also many bed and breakfasts in the area. These can range from small apartments with shared kitchens to larger houses or manor houses with rooms you share with other guests. One example is La Maison Blanche (22 rue des Barres).
Conclusion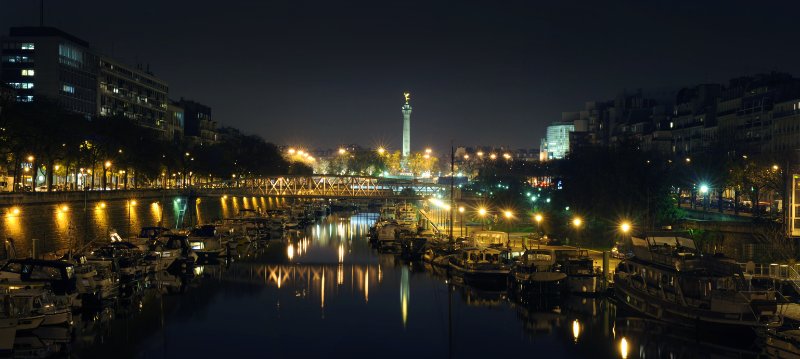 There is a lot to see and do at Place de la Bastille. The city has many attractions that are worth visiting, including the famous Parisian markets in Les Halles (which we will discuss in another article). You can also go shopping on rue Saint-Denis or enjoy some of the best restaurants in Paris, such as Le Comptoir du Relais or Le Restaurant du Troquet.
Whatever you decide to do during your stay, we hope this article has helped give you an idea of what it's like when visiting this beautiful place!