The famous macarons in Paris are one of the city's most cherished delicacies! Because of its chic design, delightful taste, and fruity flavors, locals and tourists consider this their favorite. Crispy outside, creamy inside, and flavorful. Nothing compares to the first lovely bite of a tasty macaron.
It's impossible to resist the enticing aroma of the quaint bakeries as you walk through the cobblestoned streets of Paris in the crisp mornings. The boxes of colorful macarons stand out among the vast array of tasty treats that line the window frames.
🗼 Paris Insider's Top Picks! ✨
Dive into the heart of Paris with our handpicked partners. Trusted by thousands, they ensure you experience the best of Paris.
A macaron, distinct from the grated coconut dessert known as a macaroon, is a sandwich muffin made with light meringue shells stuffed with a creamy center. And a perfect snack any time of the day!
Best Macarons in Paris
Do you want to know where to get the best macarons in Paris? Here are the must-see macaron shops in Paris, from the famous Pierre Hermé to the inventive Sadaharu Aoki!
1. Pierre Hermé
Pierre Hermé, known for making the best macarons in Paris, is a must-see while exploring the world of French desserts.
Pierre Hermé is famous for its classic macarons' phenomenal taste and quality. They also have signature unique flavor combinations, such as Mogador (milk chocolate and passion fruit), Kinako Ispahan, Pralinè Noisette, and Salted-Butter Caramel.
Pierre Herme is the master of delicious macarons. His macarons are perfectly baked and overflowing with special flavors.
Pierre Herme is known for consistently raising the bar of new flavors. He combines different ingredients to create extraordinary creations. There are classic flavors available, but each season he introduces new flavors that are only available for a limited time.
Pierre Hermé has some of the only savory macarons in Paris. Pierre Hermé has some of the only savory macarons in Paris. The first shop opened in 1996 and has become a phenomenon throughout the city (and the world) ever since. You'll find multiple locations of their store in almost every Parisian neighborhood.
Location: 39 Avenue de l'Opéra, 75002 Paris, France
See Related: Best Croissants in Paris
2. Ladurée
Ladurée is well-known for having some of the best macarons in Paris. Salted caramel and pistachio remain to be popular flavors.
For the best experience, visit the Ladurée flagship store on the iconic Champs-Élysées. It stands out from the crowd thanks to its signature pastel green decoration and elegant gold retail shop.
The company is known for its popular flavors and plays a significant role in popularizing macarons worldwide. Must-try macaron flavors are lemon, lavender, orange flower, vanilla, chocolate, rose, and iced mint.
Maybe you have seen Ladurée on Instagram, as it's one of Paris' most instagrammable macaron shops. It is an ideal destination for a chic tea time, sitting and relaxing while enjoying the view of the city of love.
Location: 21 Rue Bonaparte, 75006 Paris, France
See Related: Top 1o Vintage Shops in Paris
3. Dalloyau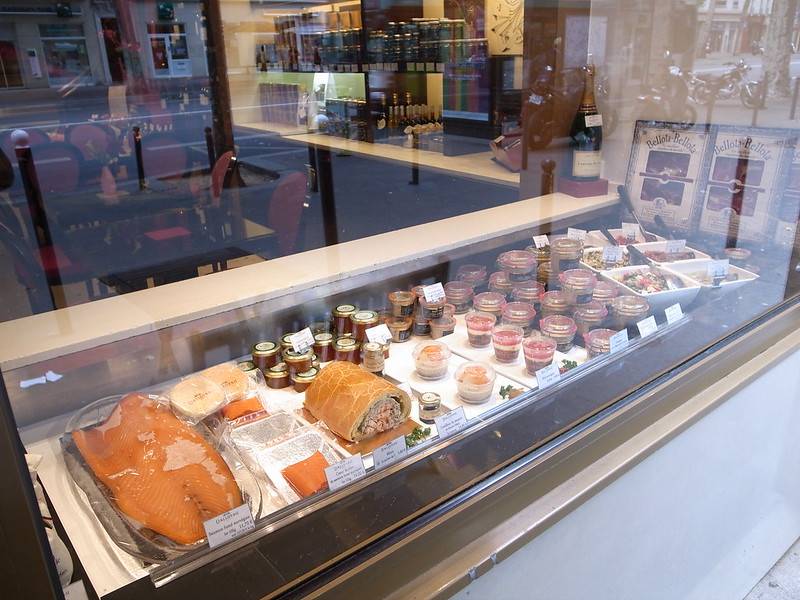 Dalloyau is well-known among locals for possessing a macaron recipe for over 300 years. It has multiple stores in Paris and several scattered throughout France.
The house of Dalloyau, first 'discovered' by King Louis XIV in the 1600s, created concoctions for the French Royal Family in Versailles until the French Revolution.
When the French Revolution ended and the need for royal pastry chefs, Jean-Baptiste Dalloyau opened a bakery that would become a long-running family business. They were welcomed by the public with their first 'Maison de Gastronomie' and have been relishing their sweet patisseries ever since.
Their macarons are a must-try, especially for anyone who desires to claim they've eaten the same recipe as French royalty. Their caramel macaron is divine!
Location: 101 Rue du Faubourg Saint-Honoré, 75008 Paris, France
See Related: Best Croque Monsieur and Madame in Paris
4. Fauchon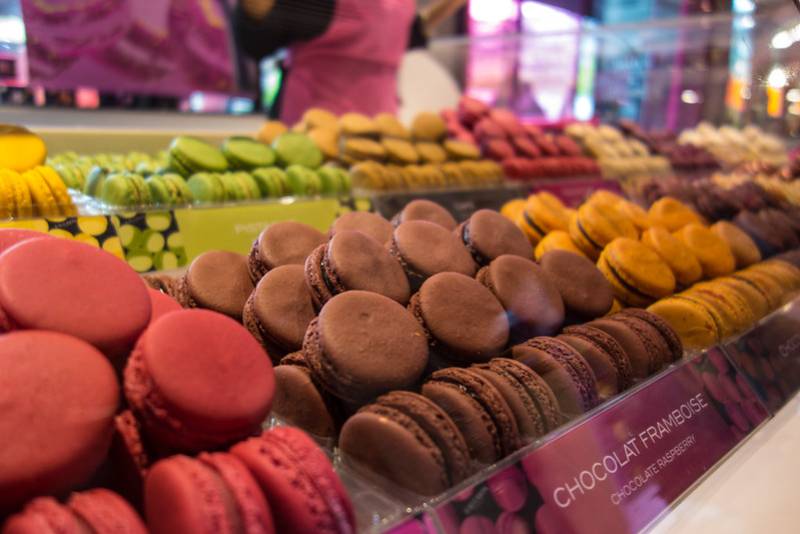 If you're wondering where to buy macarons in Paris, there's no better place than Fauchon!
Fouchon's first location opened in 1886 at Place de la Madeleine, and they've been delighting Parisians ever since. It is a luxurious café with extravagant seating, well-set menus curated by world-famous chefs, and an authentic epitome of the Parisian dining experience.
This gourmet food store is known for its delicious macarons, which have a subtle crunch when you bite into them. They make traditional macarons that are full of flavor. These tasty macarons make an excellent dessert.
Vanilla, caramel, raspberry, pistachio, fruity dark chocolate, white chocolate with milk chocolate center, vanilla raspberry, and rose are their most popular flavors.
Aside from its macarons, you'll find other delicacies perfect for those with a sweet tooth. And the best part about visiting Fauchon is you can pick up champagne with your macarons, making for the ideal picnic anywhere in the city.
Location: 11 Place de la Madeleine, 75008 Paris, France
See Related: Place de la Madeleine, Paris: Things to See & Do
5. Angelina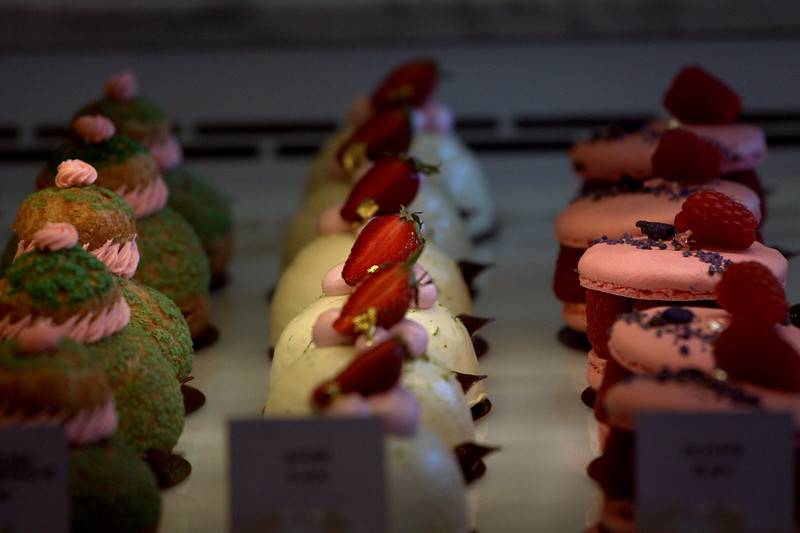 Angelina is best known for its creamy hot chocolates and delicate pastries, but it also has a delicious selection of macarons. Angelina is a tea room-style bakery known for its many sweet treats.
It first became famous for its L'African hot chocolate, which pairs well with the delicately prepared macarons as you catch up with a friend. And the interior of this lovely tea house is almost as sweet as the treats they offer.
The tea room style will transport you back to the vintage era of Paris and is the location for some of the most famous macarons in Paris. It's no surprise that it was a favorite destination of Coco Chanel!
Location: 226 Rue de Rivoli, 75001 Paris, France
See Related: Best Places for Hot Chocolate in Paris, France
6. Carette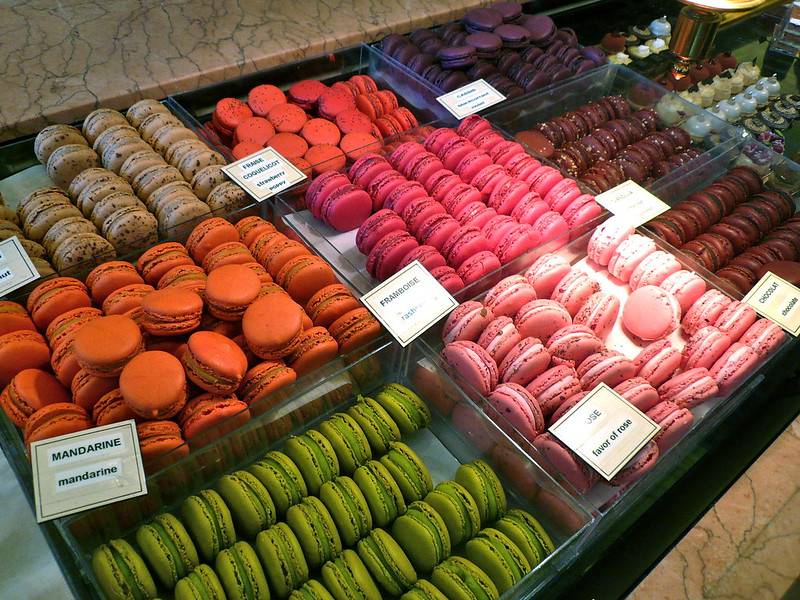 Carette is a tea room founded in the 1920s. It will amaze you if you're looking to purchase macarons with a sweet filling. Although Carette is notable for their famous hot chocolate, they also have delicious macarons.
You'll find the best macaron flavors baked to perfection at multiple locations throughout the city. But the most well-known is near the Trocadero Gardens (nearby the famous Eiffel Tower).
You can dine in for brunch or hit up the bakery for a to-go order. But Carette's chic interior makes you want to stay and relax for a while.
Carette's macarons are firm enough to hold their shape but soft enough to melt in your mouth. Salted butter caramel, dark chocolate, and a few fruity flavors are among the popular favorites of the locals.
Carette also has some of the best pastries and Viennese hot chocolate. If you're in town, make sure to try other Parisian desserts.
Location: 4 Place du Trocadéro et du 11 Novembre, 75016 Paris, France
See Related: Things to Do Near Rue de Rivoli-Le Marais
7. Jean-Paul Hévin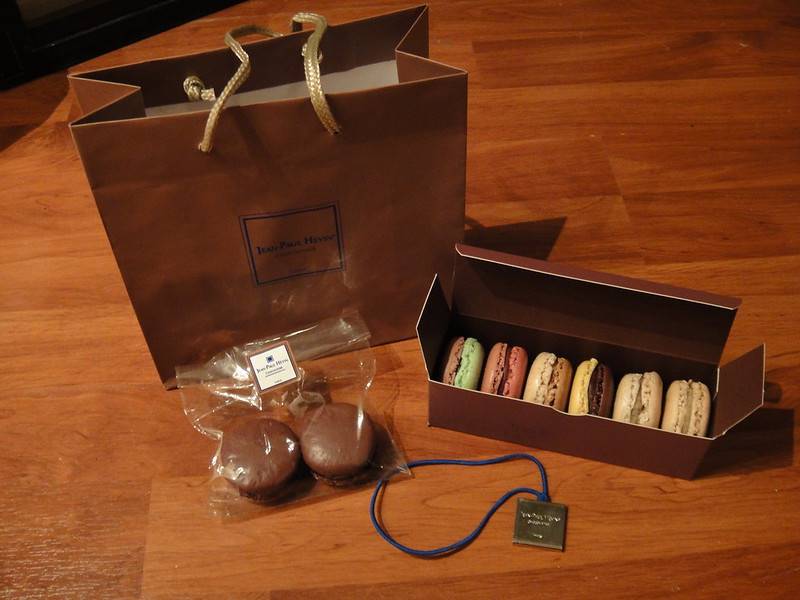 Though best known as a chocolatier, Jean-Paul Hévin is also famous in Paris as one of the best places to get chocolate macarons.
Aside from being an award-winning patisserie for its classic chocolate macaron, this shop also offers other traditional flavors such as caramel, pistachio, vanilla, and more.
Jean-Paul Hevin's macarons are homemade, fresh, and available in various sizes. They come in different selectors such as 'Tutti Frutti' (for the fruit lover) or 'total coco' (for the chocoholic).
You'll be able to select from boxes of delectable fresh macarons, each with a unique theme and set of flavors. And it is ideal for taking home as a souvenir of your visit to the city.
Because Jean-Paul Hévin is a well-known chocolatier, buying some chocolate bars will be a perfect idea!
Location: 41, rue de Bretagne – 75003 Paris, France
8. Sadaharu Aoki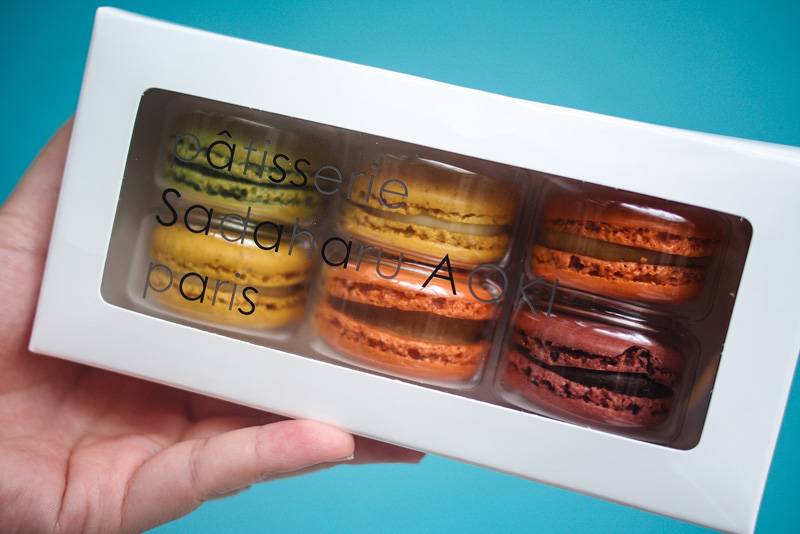 If you're looking for French macarons in Paris that are transforming the pastry world, Sadaharu Aoki is the place to go!
Aside from traditional macaron flavors like chocolate, strawberry, and vanilla, you'll find a fusion of Japanese flavors with the iconic French dessert. These unique flavors are wasabi-horseradish, umeboshi, matcha, and more. These are all delicious and precise, with just enough flavor to balance the treat.
There are several stores throughout the city where you can indulge in a beautiful union of Japanese minimalism and Parisian elegance!
Location: 35 Rue de Vaugirard, 75006 Paris, France
See Related: Croque Monsieur vs Madame: What's the Difference?
9. Carl Marletti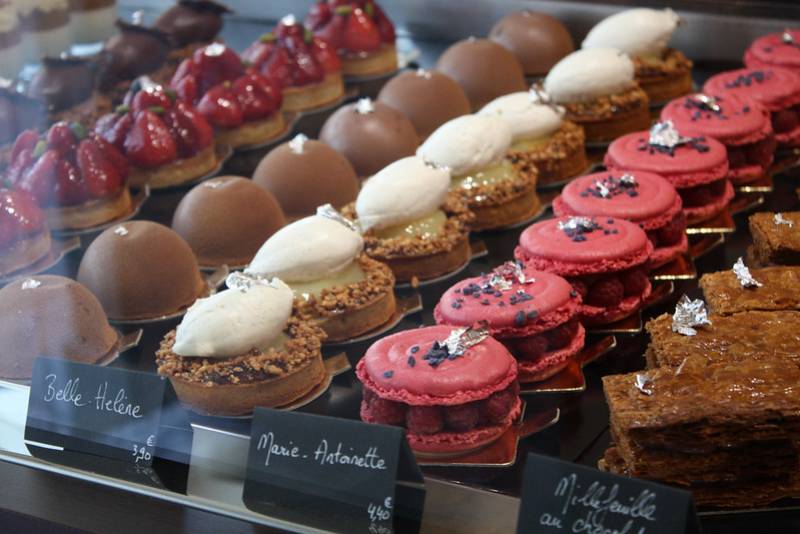 Carl Marletti is a quaint chic bakery named after its founder and located in the city's Latin Quarter.
Carl Marletti's experts are trained in the field, and their delicacies are outstanding. Aside from the top-notch and delightful macarons, this well-known café offers unique desserts such as Carioca, coffee crémeux, the Plume, and much more.
Be prepared to be charmed and enjoy sweet treats like no other. If you visit, don't miss out on trying the Marie-Antoinette – raspberry macaron with rose cream and fresh raspberries.
Location: 51 Rue Censier, 75005 Paris, France
10. Maison Mulot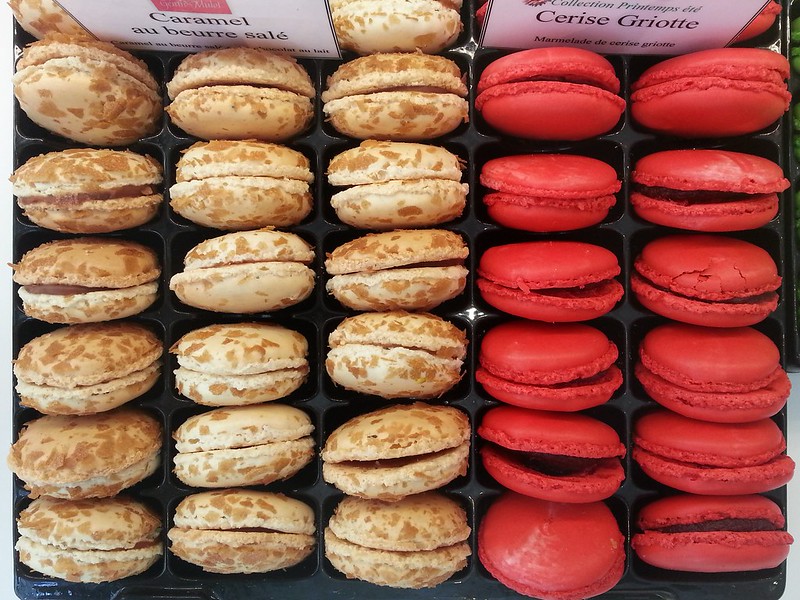 Maison Mulot, with its bright-colored sweets and cakes, is located on a side street near the Seine. The shop is brimming with delectable treats and eye-catching macarons.
You'll find creative sweets and classic macaron varieties prepared to perfection. The store includes a few spots to sit and eat, but it is more of a to-go bakery for your sweet tooth needs!
Their coffee, pistachio, and chocolate macarons are sweet and flavorful. But they are also famous for its fruit tarts, so grab a pear almond, and lemon tart before heading out for a stroll in the neighboring Luxembourg Gardens!
Location: 76 Rue de Seine, 75006 Paris, France
11. Café Pouchkine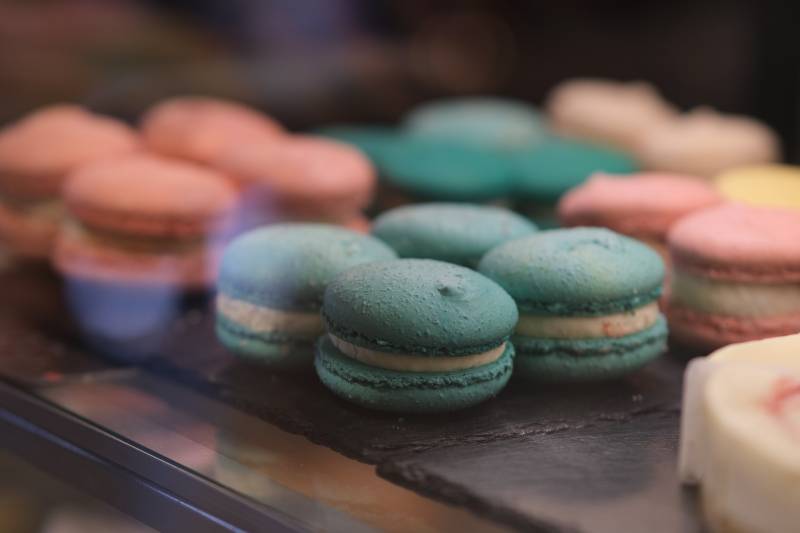 Café Pouchkine combines Russian specialties with famous French cuisine and desserts, providing diners with a totally unique experience.
It is another lovely spot for afternoon tea with a Belle Époque-inspired décor. This place creates a distinct taste experience that will pique your curiosity and leave you wanting more.
They have several interesting macaron flavors, such as Russian tea blend, cranberry, and cheesecake. Other well-crafted patisseries are also available at the café.
Location: 6 Place de la Madeleine, 75008 Paris, France
See Related: How to Eat a Croissant in Paris
12. Lenôtre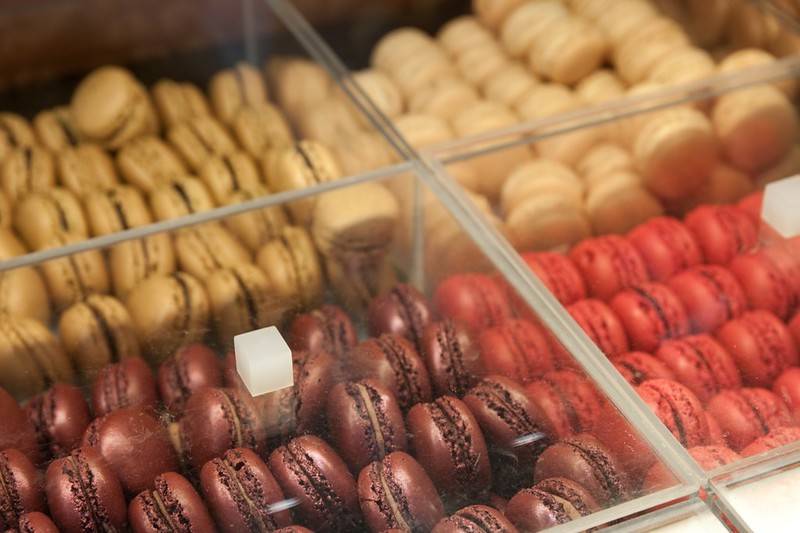 Maison Lenôtre has produced some of the best macarons in Paris for almost 50 years. The famed pastry chef Gaston Lenôtre founded this shop, and Pierre Hermes was one of his students.
They don't just manufacture macarons. They also have delicious chocolates and desserts you can take home.
Some of the best tastes you should try are pistachio and coffee and more traditional flavors like lemon. They are light and fluffy, with less crunchiness compared to other macarons in Paris.
Location: 10 Rue Saint-Antoine, 75004 Paris, France
See Related: Best Tattoo Shops in Paris
Frequently Asked Questions (FAQs)
Are Macarons In Paris Expensive?
Macarons are one of the more expensive delicacies, but they are worth the splurge in Paris. Each macaron costs about $2.5 on average, depending on where you buy them.
Are Macarons In Paris Worth The Price?
For a small cookie, macarons may be quite expensive. Nonetheless, even with this price tag, macarons are something you should splurge on while in Paris. I usually treat myself to macarons once or twice a month. If you are confused about which tastes you prefer, purchase a selection of flavors. If you want to save money, skip the elegant boxes and go for the bag instead.
What Are The Best Macaron Flavors?
There are so many macaron flavors to taste, both traditional and modern, that you'll never run out of something new to try for your next visit. But the go-to macaron flavors are chocolate, salted caramel, strawberry, pistachio, and lavender, among others. 
Can I Bring Macarons On A Plane?
Yes, macarons, like any other pastries, can be taken on an aircraft. Make sure they're well-packaged in your carry-on luggage, and you'll be fine.
How Long Do Macarons Last?
Because it has a short shelf life, these cookies will only last 48 hours.  You might get another 48 hours out of them if you put them in the refrigerator. But, most macarons have a shelf life of 4 to 5 days.
Related Resources: