If you're looking for the best Versailles guided tours from Paris, France, you've come to the right place.
The Palace of Versailles is one of Europe's most important historical monuments. Its walls have been witness to many of the most important moments in French history. Its gardens are the former playgrounds of the aristocracy.
🗼 Paris Insider's Top Picks! ✨
Dive into the heart of Paris with our handpicked partners. Trusted by thousands, they ensure you experience the best of Paris.
While it's a popular tourist destination, visiting Versailles on your own sometimes becomes difficult. Therefore, we've compiled a list of some of the best Versailles tours from Paris, France, as a resource for first-time visitors.
Best Versailles Tours from Paris, France
Versailles Palace is a stunning French royal palace that's situated just outside the city of Paris. It was the home of French royalty (aka the Sun King) Louis XIV, who lived most of his life there.
Not only is it a beautiful royal palace, but the Palace of Versailles also has an impressive collection of artwork and historical artifacts to enjoy. Here are the best Versailles guided tours from Paris:
Whether you're an avid history buff or just want to see some of the world's most famous French art, this Versailles tour from Paris is a great way to explore the palace and gardens at your own pace.
With this tour, you get easy roundtrip transportation and access to the Palace of Versailles and its stunning gardens for one low price. You'll be able to see the rooms that were occupied by Marie Antoinette (the last queen of France before its revolution) and Louis XVI (king of France). There are many other places to see in the Palace of Versailles, like Queen Marie-Therese's bedroom, the king's private apartments, Queen's Hamlet, and even the Hall of Mirrors!
The audio guide is available in 10 different languages so that worldwide visitors can enjoy this tour. Plus, this Versailles tour also gets you access to over 250 acres of pristine gardens—the perfect place to fully appreciate all the work that went into making Versailles Palace what it is today!
See Related: The Ultimate Travel Guide to the Eiffel Tower
The Palace of Versailles is one of the most iconic buildings in the world. But, it can also be one of the most frustrating to visit. If you're not careful, you'll end up standing in line for hours as you wait to get into the palace itself—and that's if you're lucky enough to score a ticket at all.
But with this guided tour from Central Paris, you won't have to worry about any of that! You'll make your way past long lines and into the palace's State Grand Apartments with your priority-access pass. You'll see grand chambers like the Hall of Mirrors and absorb the botanical beauty of Versailles Gardens at your own leisure.
What's more, with this guided tour option, you'll also get an expert guide from a local art historian on your full day tour from Central Paris to Versailles. And if you upgrade for lunch at an esteemed restaurant near Grand Canal, you can enjoy a gourmet meal with your traveling companions before heading back home.
See Related: Is It Illegal to Work on Weekends in Paris, France?
If you're looking for a more intimate and personal visit to Versailles, this small-group guided tour is a great option. With a maximum of 15 people, you'll enjoy personalized service, being able to get the most out of your visit.
The Versailles tour includes roundtrip transportation, admission to Versailles, and a pre-purchased lunch option at a restaurant in the domain. You can even choose between an English, Japanese, and French-speaking guide for your group, making it easy to communicate with all kinds of travelers.
What's more, weekend visitors from April to October can enjoy the fountains in action. All in all, you'll get to enjoy all the beauty, opulence, and history that Versailles Palace has to offer with this guided tour.
But keep in mind that, as with any visit to Versailles, you should be sure to book tickets in advance. They are often sold out on weekends and holidays.
See Related: Glass Pyramid at The Louvre: History & About
If you're interested in experiencing the extravagance of Versailles, we've got a guided tour for you!
This guided tour gives you all the royal treatment, including skip-the-line access to beat the queues at the start of your tour. You'll be guided through Louis XIV's and Marie Antoinette's estate and explore the glittering Hall of Mirrors to get all the insight into royal life in 17th- and 18th-century France that you could ever want.
Plus, this guided tour isn't just about seeing the palace. After the Palace of Versailles tour, you can also enjoy a stroll through its gardens on your own.
And if you're willing to splurge a little bit more, add on a Versailles Musical Fountains show and Musical Garden show (during the operating season only) for an even more extravagant experience!
See Related: Best Skip-the-Line Tours in Paris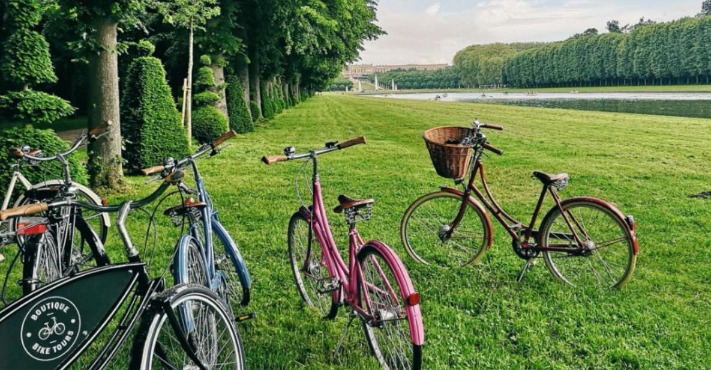 Want to see the French countryside on a bike? Or want to skip the long lines at Versailles Palace without having to get there early? Then this is a perfect Versailles tour from Paris.
This full day trip will give you access to all the famous sights and attractions of Versailles without having to wait in line. It includes stylish bikes which are comfortable for riders of all skill levels, and helmets are optional (but strongly recommended).
You'll ride through the French countryside, lush forested areas, and the grand canal. You'll also get to experience the vibrant history of Versailles Palace with a licensed English-speaking guide who knows all the gossip about Marie Antoinette and her family. You'll also enjoy exclusive wine tastings at local vineyards.
And best of all? You'll also enjoy a visit to a French market where you can shop for souvenirs or picnic like a royal with your group. Then relax along the Grand Canal while drinking in some stunning views of Paris! This guided tour is perfect for history buffs, foodies, and anyone who wants to explore in style.
See Related: Most Famous Historical Landmarks in Paris
If you want to avoid the crowds and get a taste of what life was like for royalty, consider booking this guided tour.
You'll be transported back to the days when the Sun King ruled France and explore rooms that only he and his family were allowed to enter. You'll even see Marie Antoinette's "Queen's Hamlet," which was created just for her enjoyment!
This guided tour covers all these points, plus much more! The tour includes roundtrip transportation from Central Paris to Versailles Palace by air-conditioned minibus. So there's no need to worry about parking or public transportation!
And if you choose the private tour option, the guide can even arrange hotel pickup and drop-off along with the rest of it! You'll also have to skip the line entry to all the major sites at Versailles, including State Grand Apartments, Hall of Mirrors, Grand Trianon, and many more.
But wait—there's more! You'll also sit down for a delicious lunch in a setting meant only for royalty—and all this is included in your price!
See Related: Best Travel Books About Paris: Must-Read Guides
If you're short on time and don't have the full day to visit Versailles, this is the tour for you. Skip the lines, skip the crowds, and skip the stress of waiting in line by taking this 3-hour guided tour of the royal residence with your guide.
This guided tour begins in Paris, where your English-speaking guide will meet you and escort you to the train station. The train will take you through France's beautiful countryside to Versailles—and then you'll be ready to begin your journey!
Your guide will also show you around the palace itself, including its Hall of Mirrors and State Apartments. You'll also get a chance to see some of the palace's most famous artwork and learn more about French culture during this time.
After touring the Palace of Versailles, you can choose whether to enjoy one of two options: Musical Gardens or Musical Fountains Show. Both shows are available every other day throughout the summer but only on selected dates in April, May, September, and October.
See Related: Avenue des Champs Elysées
If you're looking for a quick Versailles experience, this is another great tour for you. This short guided tour will take you to all the main highlights of the Palace of Versailles and its gardens.
This 4-hour small-group tour from Paris includes skip-the-line access to the Versailles Palace and gardens. Plus, an expert guide for sharing interesting stories about Versailles.
Your expert tour guide will lead you through the 700-room complex, with its luxuries fit for the French monarchy. You'll also get to stroll through beautiful palace grounds and learn about the history behind this famous Palace.
What's more, you'll also get to see the Musical Fountains show or Musical Gardens show—depending on which day you go and what time of year you visit. And if you'd prefer to skip either activity altogether, no problem! Your tour guide will tailor your tour based on your interests.
See Related: Best Religious Tours in France
If you want to explore Versailles Gardens and the Palace of Versailles without the hassle of long lines, this tour is for you.
This tour will help you save time with exclusive access to the palace and its gardens, skip-the-line tickets, and transport by a luxury air-conditioned coach. You'll also get an expert local guide who will explain all the historical details as you explore the site.
Your skip-the-line tickets mean that you won't have to wait in line for hours upon hours just to see this UNESCO World Heritage-listed wonder!
You'll start off with an introduction to your local guide at the meeting point in Paris. Then it's off toward Versailles, where you can enjoy a priority entrance with your priority-access pass.
Once inside, your guide will lead you through all aspects of this incredible palace—from its State Apartments and Hall of Mirrors to its botanical beauty in the gardens. If you want to delve deeper into history rather than sightseeing, there's no better way than listening to someone who knows what they're talking about!
See Related: Passerelle Simone de Beauvoir: History & Location
Versailles is, by all measures, the largest palace in the world, with 700 rooms, a maze of corridors, and 67 staircases. It would be overwhelming to try to see it all on your own. If you want a true VIP experience and skip the lines at Versailles, take this guided tour.
On this guided tour of Versailles Palace, you'll go beyond the walls of this world-famous palace. You'll explore the Royal Apartments and Queen's Apartments, gaze in wonder at the Hall of Mirrors and Salon de la Paix, and stroll through the gardens on your own after your palace tour.
But why stop there? Upgrade to include a Versailles Musical Gardens or Fountains Show (summer only) for an even more memorable experience.
This Paris trip is perfect for those who want to experience all that this historic site has to offer without missing any key elements along the way!
See Related: Pont Mirabeau in Paris, France
Versailles Palace is a must-see on any trip to France, and it's one of the most popular destinations in Europe. Hundreds of thousands of visitors flock to Versailles Palace every year. So you can expect to wait in long lines to get into the palace and grounds.
The easiest way to skip those lines is with a Versailles bike tour. This tour lets you get around quickly with skip-the-line entry and bike rides without the hassle of fighting crowds.
You'll see famous sights like the Petit and Grand Trianon, the Hall of Mirrors, and much more. Your guide will also take you to spots that are known by only the most knowledgeable historians—places like Marie-Antoinette's private farmhouse.
You'll also enjoy a visit to a traditional French market where you can shop for souvenirs or something to eat. The best part? You can go at your own pace without holding back for anyone else as you pedal through woods and pristine gardens.
Related Resource: