Are you looking for a romantic spot in Paris? It doesn't get any better than dining with a breathtaking panorama of the Eiffel Tower. Check out this list of the top 10 Paris Restaurants in with a view of the Eiffel Tower and indulge your senses!
Paris, the City of Light. It's a place in the world that is synonymous with romance and fine cuisine. It's also a city whose defining structure seems to keep it grounded despite the clouds scurrying by above. The Eiffel Tower is a symbol of Paris, and it's hard to imagine the city without it.
🗼 Paris Insider's Top Picks! ✨
Dive into the heart of Paris with our handpicked partners. Trusted by thousands, they ensure you experience the best of Paris.
What's more romantic than dining in a restaurant in Paris with a spectacular view of the Eiffel Tower? Nothing. Check out these restaurants for your next trip!
Top 10 Restaurants with a view of the Eiffel Tower
1. Monsieur Bleu
The Location and Decor
20 Av. de New York, 75116, Paris, France
The best among the restaurants with a view of the Eiffel Tower, Monsieur Bleu is located in the west wing of Palais de Tokyo Museum. It is an amazing restaurant with a breathtaking view of that most famous Tower.
French architect Joseph Dirand designed Monsieur Bleu's chic interiors. Art Deco and minimalism can be seen in the design. Monsieur Bleu is a high-ceilinged venue with a spacious terrace overlooking the Seine River and Eiffel Tower. Inside is furnished with gray and green velvet banquettes and Eero Saarinen chairs. It has marble and wood floors and walls covered in ancient Lalique glass panels.
If you want to sit directly across from the Tower, you should book a table by the window. You can enjoy your delicious gourmet food in Monsieur Bleu Eiffel Tower Restaurant on its terrace or in its sophisticated indoor dining area.
Food, Service, and Prices
The upscale and delicious fare lives up to the high standards set by this Paris restaurant with a view of the Iron Lady. The brasserie-style cuisine will surprise you in a few ways.
This restaurant near the Eiffel Tower serves French and international dishes for lunch and dinner, as well as excellent cocktails. There are a variety of appetizers to choose from, including langoustines and ravioli. You can have a bacon cheeseburger, a wonderful steak, or distinctive rice dishes and shellfish for the main course.
Monsieur Bleu serves a 100% homemade brunch every weekend. You can choose from a selection of brunch options, including fresh pastries, eggs made to order, burgers, salads, homemade granola, pancakes, and French toast. The bartender makes delicious and nutritious concoctions using a combination of freshly squeezed fruit juices and specialty cocktails.
Even if this is your first trip to Paris, the staff will make you feel at home with their kind hospitality. Then you may relax and truly savor your meal. The restaurant's artistic vibe and refined furnishings are reflected in Chef Benjamin Masson's inventive takes on classic French cuisine with modern twists from around the world.
All of this Parisian delight is decently priced! Check the menu of Monsieur Bleu to see the prices of their amazing food.
See Related: Best Places for Hot Chocolate in Paris, France
2. Girafe Restaurant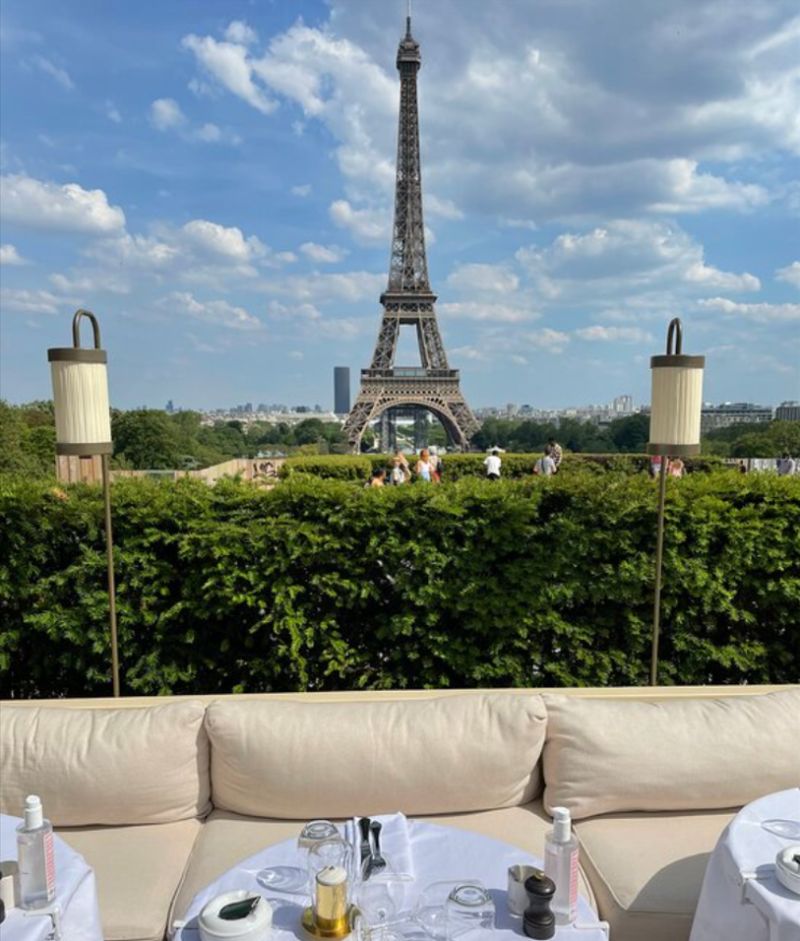 The Location and Decor
1 Pl. du Trocadéro et du 11 Novembre, 75016 Paris, France
You may get spectacular views of the Eiffel Tower from Girafe Paris, which is in the 16th arrondissement and is close to Place du Trocadéro. One of the best ways to take in the sights of Paris is in its lofty perch with a magnificent panoramic view of the Place du Trocadéro.
The Paris restaurant with a view of the Iron Lady is accessible by vehicle and public transit. You can't get much more picturesque than this restaurant's setting for your next special occasion or romantic dinner in Paris.
Girafe Restaurant is a contemporary luxury restaurant created in the 1930s design, where you may experience the true splendor of Paris. This restaurant's interior was designed by famous French architect Joseph Dirand and is housed in the Museum of the City of Architecture and Heritage on the Trocadero plaza in Paris.
Like many of Dirand's other interior design projects, there is an obvious conversation between the present and the classic Parisian cafes of the 1930s. This careful equilibrium permeates the entire thing. Girafe fuses class and sensuality, closeness, and distance.
The lavish dining room design was created as a huge jewelry room supported by the original columns. Smoked tones of gentle colors like beige, oak, and cream keep the color scheme consistent with the overall aesthetic.
The enormous outdoor terrace, which looks out over Paris's most recognizable landmark, the Eiffel Tower, is decorated in a way that seems both personal and unique.
See Related: Best Places for Falafels in Paris
Food, Service, and Prices
The menu is open to global cuisine trends yet maintains the comforting classicism of a seafood restaurant. The cuisine offered at Girafe reflects the setting, blending traditional and modern cuisine with seafood that has just come off the auction block.
A meal at Girafe's table can range from simple to extravagant, from gourmet to stunningly urban. Seafood is prepared in the various styles of seahouse Paris.
One of the best restaurants in Paris with a view of the famous tower, Girafe provides superior service and has friendly and very knowledgeable employees. You can ask them anything about the menu and the restaurant, and maybe even Paris itself!
Girafe is an expensive restaurant, and the rates vary depending on the day and time. The cost of each item on the menu changes with the type of food ordered and its preparation.
If you're trying to save money, you probably shouldn't go for Girafe, but it's worth it if you can. They serve delicious food, the décor is stunning, the service is amazing, and it offers a magnificent view of the Eiffel Tower.
It's common for this restaurant to reach capacity days or weeks in advance, making last-minute reservations extremely challenging. Book in advance if you want to sample one of the best restaurants in Paris with a view of the Eiffel Tower!
See Related: Best Croque Monsieur and Madame in Paris
3. Les Ombres
The Location and Decor
27 Quai Branly – Jacques Chirac, 75007 Paris, France
Guests of Les Ombres Restaurant Quai Branly, located on the roof terrace of the Musée du Quai Branly – Jacques Chirac, may take in a breathtaking view of the City of Lights. The majestic Eiffel Tower casts long shadows onto the patio of this restaurant, inspiring the name "Les Ombres (literally, The Shadows)."
By day, the Eiffel Tower's metallic lace pattern is projected onto the tablecloths, and by night, the dining area is illuminated by the tower's spotlights. Jean Nouvel created a very remarkable environment at Les Ombres.
The glass walls of Les Ombres let in plenty of natural light throughout the day, and at night, the restaurant's towering neighbor and the night sky provide additional illumination. The expansive patio was designed to look like a hanging garden, and it features plants appropriate for all four seasons.
Food, Service, and Prices
The modern dishes at this elegant Paris restaurant are creative reimaginings of the great classics of traditional French cuisine. This renowned rooftop restaurant is known for its Golden scallops with Maltese fennel in a tangy juice and Beef tenderloin with bone marrow. Check their menu to see what they have to offer.
Les Ombres is open for lunch and dinner every day. The contemporary French cuisine and excellent wine and beverage list at this beautiful restaurant are also noteworthy.
The staff at this restaurant is kind and helpful, and they speak English. As a result, visitors whose native tongue is not French will feel at ease here – if they too speak English.
You'll need to plan to dine at this Parisian restaurant and get a table with a view of the Eiffel Tower. A romantic dinner under the twinkling lights of the Iron Lady at night is a must. This establishment is expensive, but it does have stunning views and amazing cuisine!
See Related: Affordable Restaurants in Paris with a View
4. Le Ciel de Paris Restaurant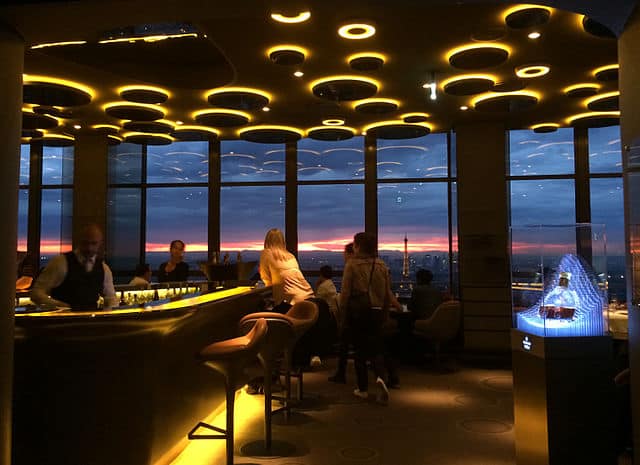 The Location and Decor
Tour Maine Montparnasse, 56ème, Av. du Maine, 75015, Paris, France
The views from Le Ciel de Paris are unparalleled. After all, its name means "the Paris sky." One of the best restaurants in Paris, you won't find a better dining experience in Paris than at this restaurant with a view of the Eiffel Tower. Le Ciel de Paris may be located on the 56th level of the Tour Montparnasse. You can see all of Paris from an astounding height at any time, as it is open for breakfast, lunch, and dinner.
This restaurant with a view of the Eiffel Tower features floor-to-ceiling windows that frame the cityscape, adding a sense of drama to the meal. Noé Duchaufour-Lawrence, who designed the new interior for Ciel de Paris, aimed for an unsettling and timeless look: Paris Big Screen.
A sophisticated ambiance is achieved with soft lighting and mirrors arranged in circles on the ceiling. This ultra-modern and luxurious establishment offers a stunning view of the Eiffel Tower.
The closest Metro station to Le Ciel de Paris is Gare Montparnasse, making it quite convenient for anyone taking public transportation to get there. Metro lines 4, 6, 12, and 13 and other trains stop here, giving it an ideal hub from which to explore the city.
See Related: Paris Metro Stations: What You Need to Know
Food, Service, and Prices
Award-winning gourmet French food is served at Le Ciel de Paris, a restaurant with a view of the Eiffel Tower. The sophisticated French dishes on the menu of La Ciel de Paris, from foie gras to vanilla rhubarb crème brûlée, will leave your tastebuds and tummy sufficiently titillated.
Pricing varies per table selection. A decent table with a view of the Eiffel Tower can only be guaranteed if you reserve it before your visit.
While the dinners here are pricier, you won't find better views of Paris elsewhere.
See Related: Best Boat Tours in Paris, France
5. Café De L'homme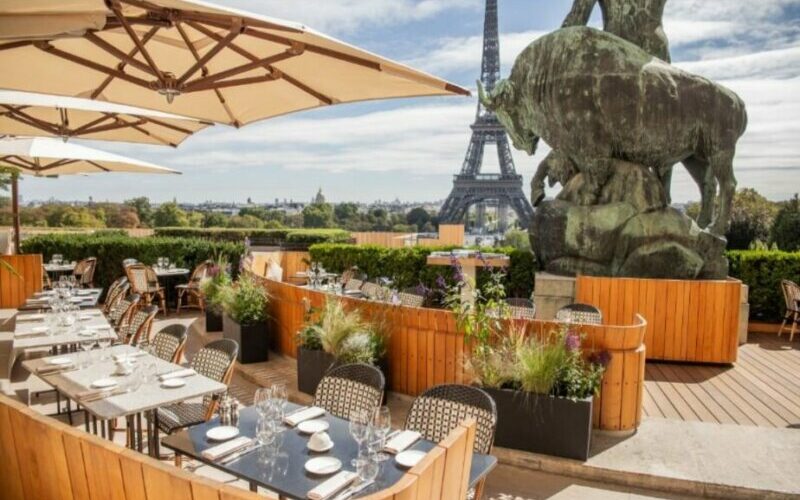 The Location and Decor
17 Pl. du Trocadéro et du 11 Novembre, 75016 Paris, France
One of the special Paris restaurants near the Eiffel Tower is Café de l'Homme, which serves a variety of French and international foods. This restaurant opened in 2004 within the Musée de l'Homme. It features a patio open during the warmer months where visitors can take in breathtaking views of the Eiffel Tower.
This restaurant located in a very ideal location is owned by the great-granddaughter of Gustave Eiffel, who constructed the Eiffel Tower in 1889, and is a popular spot for travelers without being a typical tacky tourist trap.
Café de l'Homme is a must-visit if you're searching for a classic Parisian restaurant, with its Art Deco interior dating back to the 1930s, excellent drinks, and excellent French wine. Great views of both the Eiffel Tower and the lower Jardins du Trocadéro are available from here, making it an excellent place for a romantic date.
Taxis and private drivers can be arranged in a matter of minutes from this cafe near the Eiffel Tower. A taxi stand serves the area just across from this Parisian cafe on Avenue d'Eylau from the Place du Trocadéro.
See Related: Art Museums in Paris
Food, Service, and Prices
Chef Julien Thibault is adamant about only using the freshest, highest-quality products from local suppliers. Cafe de l'Homme uses only the finest ingredients, including foie gras from Maison Paris, sorbet and ice cream from Philippe Farr, bread from Thierry Breton, and butter from Maison Bordier.
Classic French fare is given a modern twist at Cafe de l'Homme. Try the miso-glazed cod or the macaroni with truffle parmesan cream. For dessert, try the Mandarin tiramisu or the Papuan vanilla crème brulee.
It is highly recommended that you make a reservation in advance due to the high volume of diners. This place is recommended for foodies with a huge budget.
See Related: Croque Monsieur vs Madame: What's the Difference?
6. 6 New York
The Location and Decor
6 Av. de New York, 75016 Paris, France
Among the best Paris restaurants with a view of the Iron Lady, 6 New York ranks high – well, at least number 6 in our top ten, which seems appropriate. Guests go there for the breathtaking panorama of the Eiffel Tower, as well as the excellent wine list and delicious dishes.
Among its own interior eye-candy and insta-worthy dishes, the 6 New York has a stunning view of the Eiffel Tower and a cozy, ultra-modern, and elegant décor enclosed by large windows.
Food, Service, and Prices
Visitors can enjoy a gorgeous and thoughtfully curated menu of French cuisine at 6 New York Eiffel Tower Restaurant, along with a great choice of French wines.
Every seat in the restaurant has a fantastic view of the Eiffel Tower, which is the perfect complement to the restaurant's excellent cuisine. When it comes to his cooking, Jérôme Gangneux strikes the ideal balance between paying homage to his French heritage and infusing his dishes with a dash of originality and innovation.
The restaurant changes its menu with the seasons, using high-quality suppliers to guarantee consistently high standards. You may get a good price on lunch here. Lunch at this fine dining establishment is expensive, but reasonably so. If you want to have lunch at the Eiffel Tower, 6 New York is the place to go!
See Related: When Does the Eiffel Tower Sparkle? A Guide to its Stunning Light Display
7. La Maison Blanche Restaurant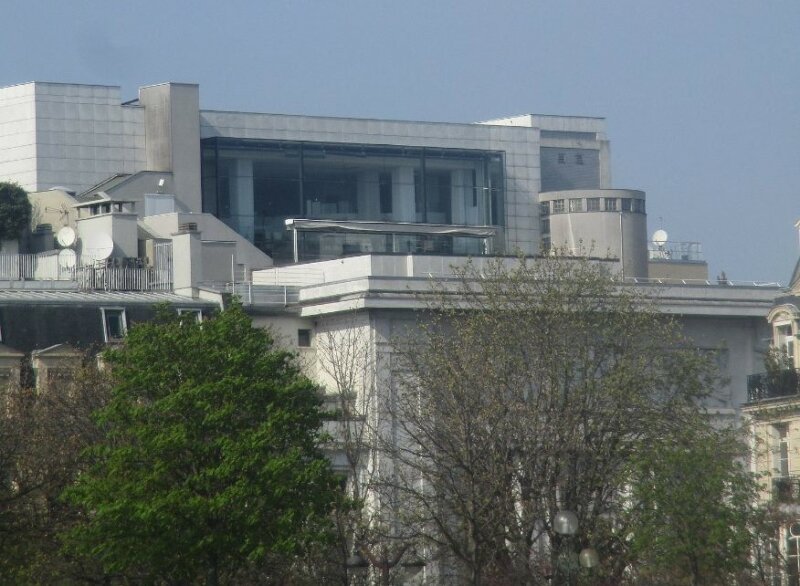 The Location and Decor
15 Avenue Montaigne, Théâtre des Champs-Elysées, Paris, France, 75008
On top of the Théâtre des Champs-Elysées you'll find La Maison Blanche. The vantage point here is superb, offering panoramic views of the Seine and the city beyond.
The lower level of Maison Blanche serves as the primary dining area. Maison Blanche lives up to its name with posh furnishings and an all-white atmosphere.
Relax with a bottle of French wine on one of two terraces, or stay inside and take in the view from the tall windows. This restaurant with a view of the Eiffel Tower has a large outside patio with seating for a large party and a bar that changes color in the evening.
Food, Service, and Prices
Modern French and Mediterranean dishes are the mainstays of the eclectic and frequently-updated menu. Seasonal, locally sourced ingredients guarantee unmatched freshness and flavor.
This rooftop restaurant atop the Théâtre des Champs Elysées is widely regarded as one of the finest Paris restaurants. You can savor exquisite French cuisine prepared by Alsatian chef Sylvain Ruffenach and take in breathtaking views of the Eiffel Tower from the restaurant's outdoor patio.
La Maison Blanche is the place to go for a stylish and sophisticated business dinner or a romantic evening out. This fantastic restaurant is on the pricier side, but the staff and everything about the restaurant will make the hefty bill worth it!
8. L'Oiseau Blanc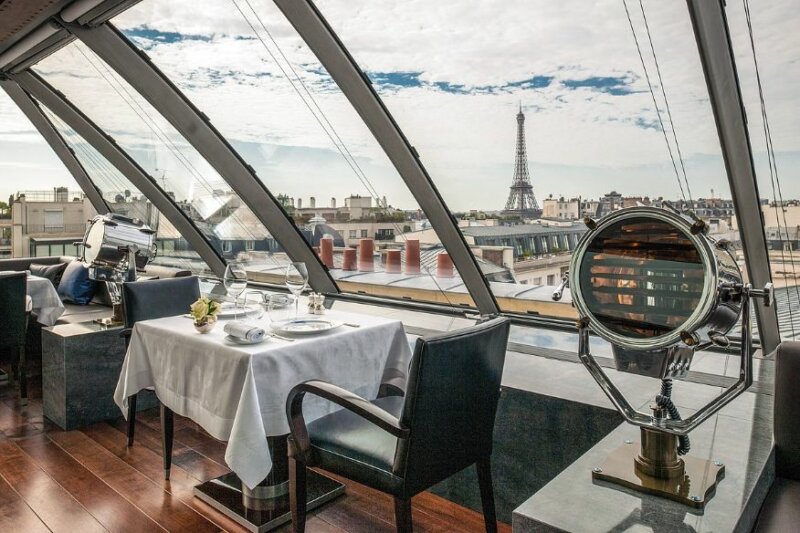 The Location and Decor
19 Av. Kléber, 75116 Paris, France
One of the best restaurants near the Eiffel Tower, L'Oiseau Blanc was named after Charles Nungesser and François Coli, two French aviators who made history by attempting the first nonstop flight over the Atlantic Ocean. Peer out of the window and you'll see, an exact replica of the original plane appears to be in mid-flight toward the Eiffel Tower, with its 11-meter-long wingspan.
L'Oiseau Blanc is one of the best rooftop restaurants with a view of the Eiffel Tower. Located on the 6th floor of The Peninsula Paris, this restaurant offers a breathtaking view of the Eiffel Tower. The indoor dining hall's retractable canopy and sleek, wide glass windows will make you feel like you're dining al fresco.
Sipping wine while taking in views of the Eiffel Tower and Sacré Coeur from the restaurant's outdoor patio is an experience not to be missed while in Paris.
Food, Service, and Prices
The two-star L'Oiseau Blanc, featured in the 2022 Michelin Guide, is ready to take you on a gourmet adventure of the highest caliber.
The L'Oiseau Blanc presents a new menu for you to sample the culinary mastery of Chef David Bizet in the one-of-a-kind backdrop of Paris' rooftops. The Chef uses fresh ingredients to prepare dishes that are both bold and balanced in flavor, using a combination of high-end and simple ingredients.
This restaurant is luxurious and expensive, but it is one of the best restaurants in Paris, and with the Eiffel Tower in the background, the experience promises to be unforgettable.
9. Chez Francis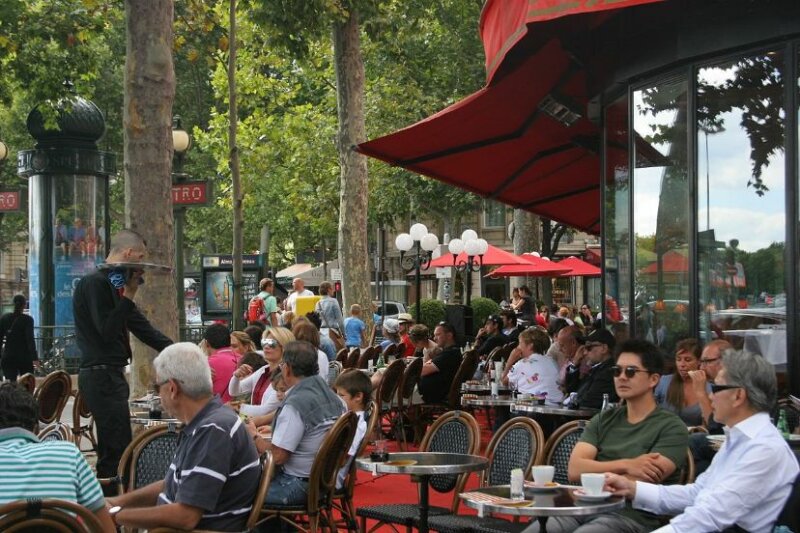 The Location and Decor
7 Pl. de l'Alma, 75008 Paris, France
The friendly, low-key ambiance at Chez Francis makes it the ideal location for celebrating important milestones. This quintessentially French restaurant also features work by Picasso and Matisse.
Sit on the hip terrace and peruse the extensive wine selection while indulging in a seafood dish from the shellfish menu. If you're strolling along the Champs Elysees and want to stop for a coffee while taking in the sights of the Eiffel Tower, this is the place to go.
Food, Service, and Prices
Enjoy exquisite and fresh foods from a menu that is 100% homemade at this restaurant, which also features a range of oysters and seafood that arrive fresh every day. The helpful staff works quickly to serve the many customers.
You should reserve a table at this Eiffel Tower-facing eatery in advance if you want a decent view. This brasserie has very budget-friendly prices, so I recommend dining here if you don't want to spend a fortune.
10. Perruche
The Location and Decor
Printemps De L'Homme, 2 Rue du Havre 9th floor, 75008, Paris, France
When it comes to restaurants in Paris, Perruche is among the top picks for those looking to take in breathtaking views of the Eiffel Tower. It is located on the roof of the Printemps shopping center.
Perruche, which translates to "parakeet," is a reference to the space's cheery yellow cushions and ornate metal chairs, which evoke birdcages. In the summer, this place is simply stunning.
Food, Service, and Prices
Perruche celebrates bright colors and zesty flavors. This restaurant offers a menu centered on contemporary bistro fare.
Pissaladière, little packed meals, Niçoise salad, or lamb chops cooked with thyme are some Provençal cuisine classics. For dessert, give in to the irresistible allure of the Tarte tropézienne, the improvised lemon tart from Menton, and the gorgeous dish of red fruits.
You may enjoy a drink while gazing at the Eiffel Tower from this pub, and bartender Nico de Sato is one of the best in the business. We recommend the superb fish part of the trendy bistro menu. This Paris restaurant is available for both lunch and dinner.
Restaurants in the Eiffel Tower
Now that we've explored the 10 best restaurants around the Eiffel Tower, I have a surprise for you. There are restaurants INSIDE the Eiffel Tower, too! Perfect if you want to see all of Paris, without the tower spoiling your view!
The Tower is an icon that's synonymous with Paris, so when you're in Paris, why wouldn't you want to eat there? The view from inside is pretty amazing—you'll get to see all of Paris spread out before you. But it's not just about getting a great view: these restaurants are also famous for their food. So if you're looking for someplace special to go while you're visiting this beautiful city, here are the 3 Eiffel Tower restaurants to check out.
Le Jules Verne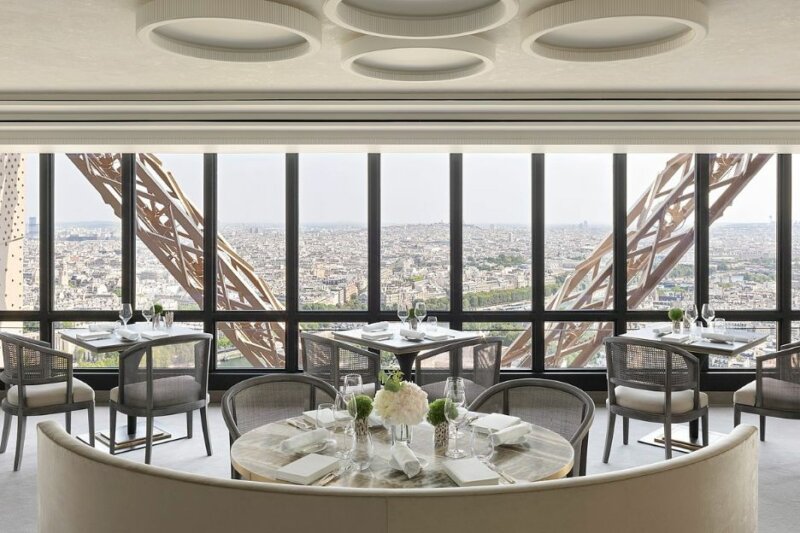 Chef Frédéric Anton has taken the helm at the reopened, gourmet restaurant Le Jules Verne, which is located on the second floor of the Eiffel Tower. Le Jules Verne lives up to the monument's reputation thanks to its lofty perch at an elevation of 410 feet (125 meters) and its breathtaking panorama over Paris.
The new restaurant space, created by Aline Asmar d'Amman, offers diners an increased sensory experience. She hoped to work alongside Frédéric Anton to bring the restaurant into a golden age in which the restaurant's cuisine and aesthetics work in perfect harmony to forge enduring ties to Paris.
At Le Jules Verne, you may choose from three unique dining rooms with breathtaking views of Le Champ-de-Mars, le Quai Branly, and Trocadéro. The restaurant is perched at an impressive 125 meters (410 feet) above ground. Silvery gray, bluish-gray, and green-gray make up the base color scheme, with accents of black, gold, and mirrors creating a more fluid shape and providing additional seclusion for guests.
In addition to the three dining rooms, there are two other areas to choose from: "Le Comptoir," which looks out into the Tower's mechanical engineering from the level of the yellow pulleys, and "L'alcôve," which is placed directly opposite the red pulleys.
The Chef designed a menu at Le Jules Verne that emphasizes fresh, high-quality, locally sourced products from all over France, including everything from crab and prawns to free-range chicken and even chocolate.
The restaurant's dishes highlight scents and flavors while bringing out the best in each ingredient. The chef pays homage to the architecture of the Eiffel Tower by finely chopping materials for each dish. Frédéric Anton made his delicious dishes by combining flavors, colors, and materials while using only the freshest, in-season ingredients.
Madame Brasserie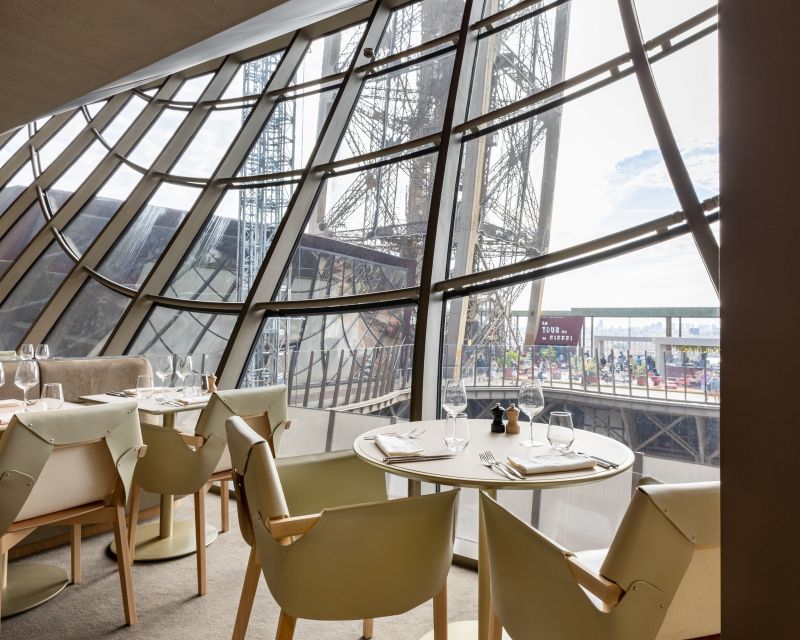 Indulge your senses at Madame Brasserie, a Parisian icon that will amaze you with its delectable cuisine and elegant décor. This restaurant, located on the first floor of the Eiffel Tower, serves delicious food and drinks from lunch until late at night.
This new Parisian place with a view welcomes you to relax in a setting designed by Ramy Fischler and architect Nicola Delon. They imagined a modern, inspiring interior, using natural, eco-friendly elements that reflect their beliefs and those represented by Thierry Marx's cuisine.
In this trendy Parisian restaurant, you'll find modern, responsible, inventive cuisine as part of a sustainability-oriented approach, prepared with local, seasonal goods highlighted by Chef Thierry Marx. The Chef's dishes showcase his expertise and vision of a new kind of brasserie-style cuisine to surprise your tastebuds.
Madame Brasserie promises a true adventure for your tastebuds in a setting and environment developed entirely to provide an extraordinary experience at the height of 187 feet!
The Champagne Bar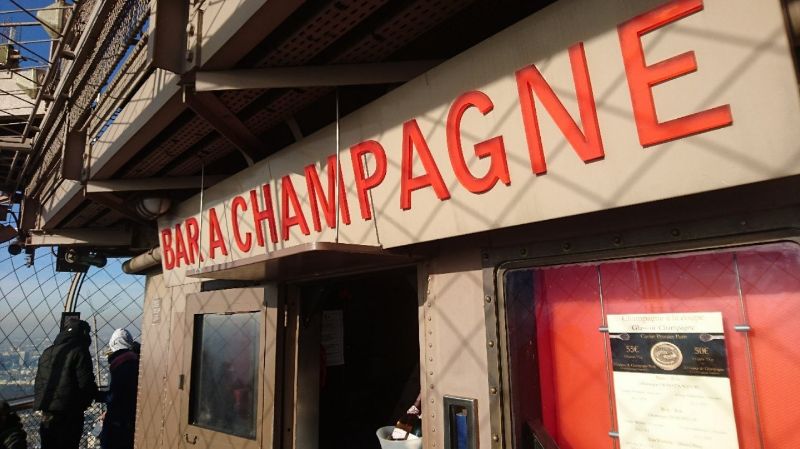 If you're more in the mood for some nibbles complemented with a splash of the good stuff while exploring the Eiffel tower, check out The Champagne Bar. It is nestled right on top of one of the Iron Lady.
The Champagne Bar is located on level 4 of the tower, so you can enjoy the most panoramic views of Paris. Though it is not a restaurant per se, it is a special section of the Eiffel Tower to enjoy sipping a glass of fine champagne that does serve some light bites.
The Jules Verne restaurant's Michelin-starred chef Alain Ducasse is behind the selection of champagnes in the Champagne bar. It offers a selection of white and pink champagnes served chilled to perfection, so they are perfect for those who want to savor their drinks while taking in the incredible views. Alcohol-free beverages are also available, so there's something for everyone!
Whether you want to enjoy the sights from the top of the Eiffel Tower or bask on a romantic night with your partner in Paris, the Champagne Bar is about the most romantic bar on Earth.
Food tours around the Eiffel Tower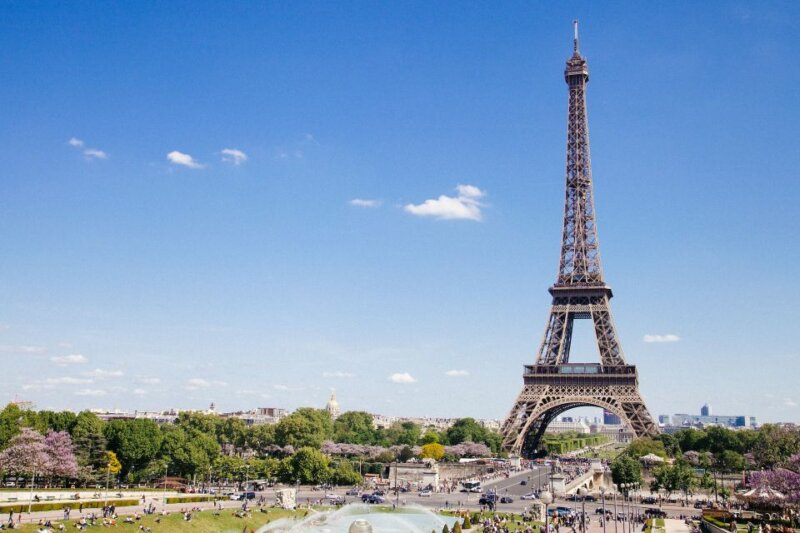 The Eiffel Tower is one of the most famous landmarks in the world. It's a huge tourist attraction, but it also has a lot of history and culture to offer. If you want to get the most out of your experience in Paris, you should consider taking a food tour around the Eiffel Tower.
Food tours are a great way to learn about the history and culture of a place while getting some exercise and enjoying delicious food at the same time. Food tours are especially popular with tourists who don't like staying stationary, but still want to see all the sights while eating delicious food!
Here are the best food tours around the Eiffel Tower.
Eiffel Tower District: Food Tasting, Invalides, and Rodin's Gardens
Along with the Eiffel Tower and Les Invalides, this three-hour walking tour of Paris will take you to several lesser-known but no less impressive sites. The gardens of the Musée Rodin feature Rodin's "The Thinker," which you can view as you stroll around the 7th arrondissement with your guide. Visit Napoleon's tomb at Les Invalides and indulge in some French cheese and pastries at one of the many little cafes lining the city's famous boulevards. This small-group tour, limited to just eight individuals, will take you across the Champ de Mars to see the Eiffel Tower up and personal.
If you book this tour, you will be exploring the 7th arrondissement of Paris on foot for three hours. You'll discover the neighborhood that houses several of Paris's most renowned museums, galleries, and attractions. You will visit the Musée Rodin and snap a picture with Rodin's The Thinker sculpture.
You can also take advantage of your tour guide's extensive knowledge of Paris's history, culture, and architecture to learn about the city's many decades. Not only that, you may enjoy some of the local baked goods and cheeses while you stroll and behold the Eiffel Tower and the majestic Louvre from the Champ de Mars!
Paris: Private Tour to Montmartre with Eiffel Tower & Lunch
Do you want to learn more about Paris's history, culture, and cuisine on a personalized, all-day city tour? Let your local host take you there to see the city's top attractions without the hassle of crowds by booking this tour!
This tour will allow you to explore the beautiful Montmartre district, Paris' most bohemian area, and a hub for artists, cafes, and people. You'll get to stop by the most famous cafeteria in Paris, made famous by the cult favorite movie Amelie, and wander its colorful streets, intriguing cemetery, and iconic Basilica of Sacre Coeur.
You will also stroll through the lovely and historic Tuileries Gardens to the Place de la Concorde, learn about the city's must-see attractions, and admire the sights of Napoleon's Les Invalides, a palace for retired French soldiers and military personnel.
Before the end of this amazing day, your host will show you where to get tickets to see the Eiffel Tower, the most recognizable landmark in the world. Book this tour and learn everything you need to know to make the most of your time in the City of Lights!
Paris: Crêpes and Eiffel Tower Private Highlights Tour
Are you dreaming of delving deeper into the city that embodies romance and cultural diversity? This private guided walking tour of Paris to see the city's highlights and hear about its lesser-known quirks.
On this tour, you will learn the city's romantic past while exploring its most recognizable landmarks and enjoying delicious crepes while people-watching in Saint-Germain-des-Pres. Visit the top of the Eiffel Tower and see all of Paris.
You will also get the opportunity to visit the Louvre Museum and the tranquil Tuileries Gardens and read about the tragic events that transpired at Place de la Concorde.
On this tour, you will try some crepes in a classic Parisian bar with round tables, pay a visit to the lovely Place des Vosges in the Marais neighborhood, and take a trip to the picturesque "Ile de la Cité" and the world-famous Notre Dame Cathedral beside the Seine River.
Get away from the crowds of tourists and see the unique and vibrant neighborhoods only a local guide can reveal to you. Before the end of this amazing day, your host will show you where to get tickets to see the Eiffel Tower. Secure your place on this private tour for your eyes and tastebuds to enjoy!
Bateaux Parisiens Seine River Gourmet Lunch & Sightseeing Cruise
Have you ever fantasized about taking a Bateaux Parisiens river trip down the Seine while dining on a three-course gourmet meal? Signing up for this trip will make your wildest dreams a reality.
On this cruise, you may enjoy a seasonal à la carte menu with wine while taking in the sights of the Seine, including the Louvre, the Eiffel Tower, Notre Dame Cathedral, and the Musée d'Orsay. A drink of Champagne will be waiting for you when you arrive, and the event will kick off with live music.
When you board your Bateaux Parisiens boat, the crew will serve you a drink of champagne as a toast to your visit to the city. With this tour, you can have a three-course à la carte meal paired with wine while you take in the sights of Paris along the Seine, which is classified as a UNESCO World Heritage Site. Reserve ahead of time and pick your wine and table location!
Related Resources: