One of the best things about Paris is undoubtedly the views. And one of the best ways to indulge in all the stunning views Paris has to offer is, obviously, while eating French food! Maybe it's just me, but there's something about the combination of good food and a beautiful view that makes the experience even more magical.
And contrary to popular belief, there's no need to break the bank in order to enjoy a good restaurant with a view of Paris. In fact, there are plenty of restaurants in Paris with a view that won't blow your budget.
🗼 Paris Insider's Top Picks! ✨
Dive into the heart of Paris with our handpicked partners. Trusted by thousands, they ensure you experience the best of Paris.
So fear not, here is our top 10 list of affordable restaurants in Paris with a view that you can enjoy without emptying your wallet.
Affordable Restaurants in Paris with a View
1. Le Café Marly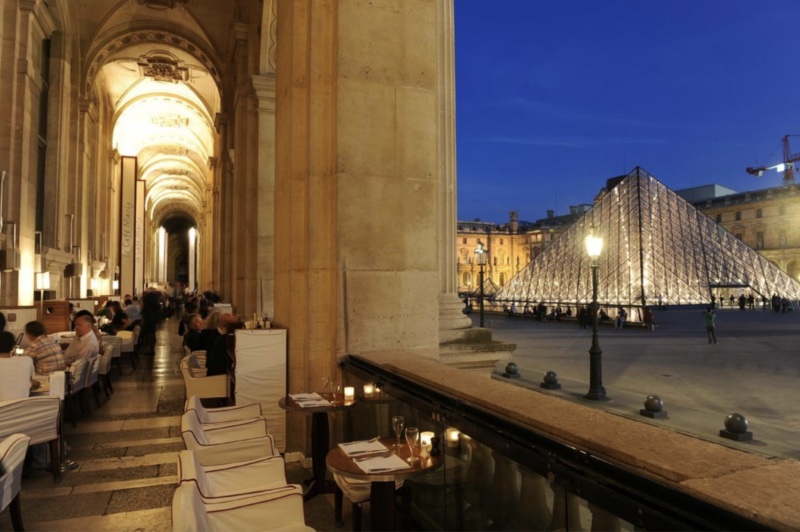 Address: 93 Rue de Rivoli, 75001 Paris
When it comes to affordable restaurants in Paris with a view, Le Café Marly is at the top of that list. While everyone scrambles for a seat at an overpriced restaurant with a view of the Eiffel Tower, Le Café Marly offers an even better experience for a fraction of the cost.
Le Café Marly is located in the 1st arrondissement, one of Paris' most beautiful neighborhoods. Here you can expect to enjoy classic French cuisine with views of the famous Louvre museum and its striking glass pyramid. It also offers an amazing view over the Cour Napoléon. Take in all that Paris has to offer from this restaurant's outdoor terrace or cozy up inside, where you will find warm interiors with comfortable furniture and cheerful staff.
The menu at Le Café Marly offers a variety of French classics and more modern dishes as well. They have a selection of sandwiches, pastas, appetizers, and even cheese platters to share. The cocktail list at Le Café Marly is also pretty impressive, which makes this place a great choice for an apéro with friends.
But of course, there are plenty of coffee and non-alcoholic options to choose from as well!
Le Café Marly is one of my favorite choices of restaurants with a view that's affordable, and not as cliché as most other restaurants that face the Eiffel Tower.
See Related: How to Eat a Croissant in Paris
2. Girafe Paris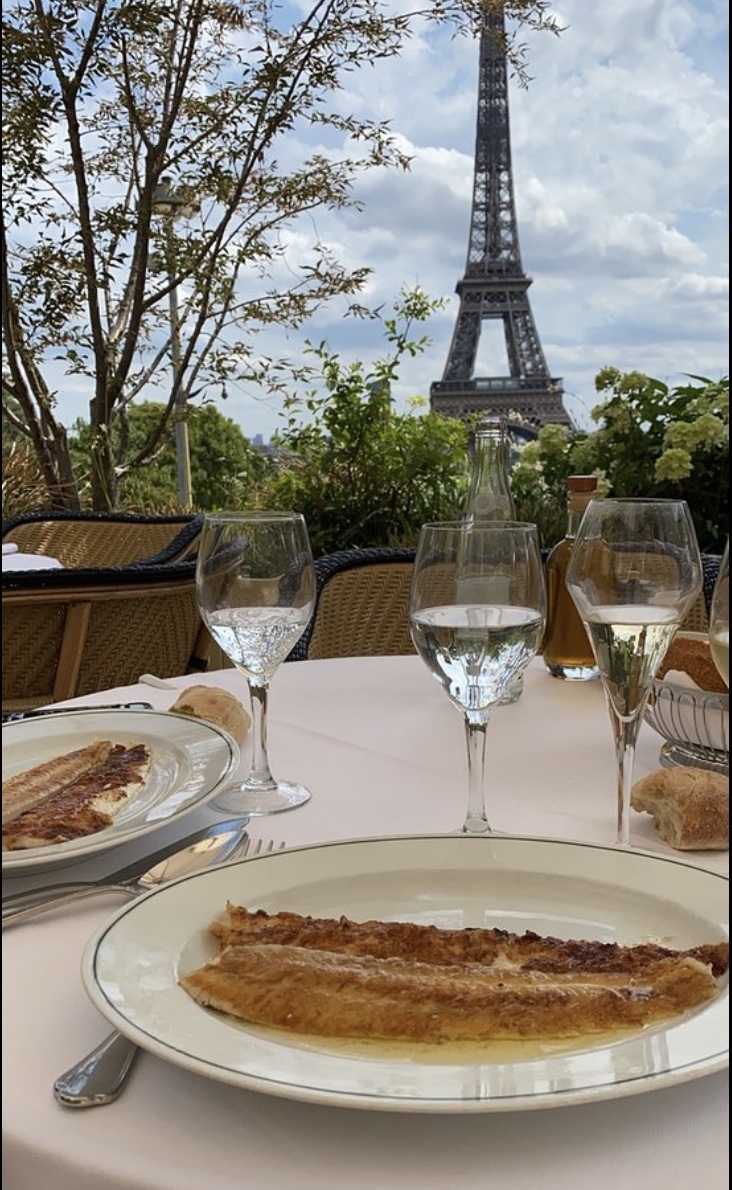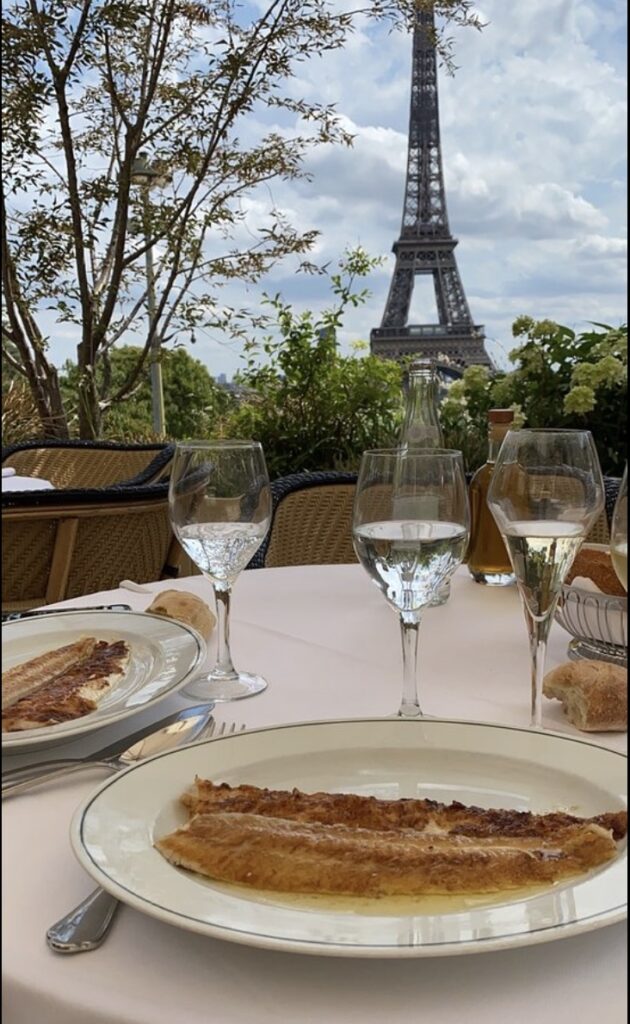 Address: 1 Pl. du Trocadéro et du 11 Novembre, 75016 Paris
If you're looking for a nice restaurant with a stunning view of the Eiffel Tower, Girafe Paris is where you want to be. This restaurant is located right next to the Trocadéro and offers a beautiful view of Paris' most iconic structure. The decor is elegant, the staff is attentive, and the food is divine.
The menu at Girafe Paris has something for everyone and it's all reasonably priced. There are plenty of traditional French dishes like steak frites, mussels, and tartare. Or opt for some more exotic options like spicy tuna tartare and Thai-style beef skewers. They even offer a selection of fresh seafood that pairs well with one of their local white wines. I recommend trying their oysters with a glass of Rosé – so good!
For dessert, you can indulge in something sweet like crepes or a classic French pastry. But if you're feeling adventurous, the restaurant also offers some innovative dishes such as the orange blossom souffle with rosemary ice cream. Girafe Paris is one of the best places to go for an unparalleled view of the French capital.
Not only is the restaurant itself photo-worthy, but the dishes are just as visually stunning. The dishes are plated well and make for an aesthetic Paris photo op.
This place is unsurprisingly very popular, so it can be very difficult to get a reservation here. I'd recommend booking at least 3 weeks in advance if you want to guarantee a spot here!
See Related: Best Places for Falafels in Paris
3. MUN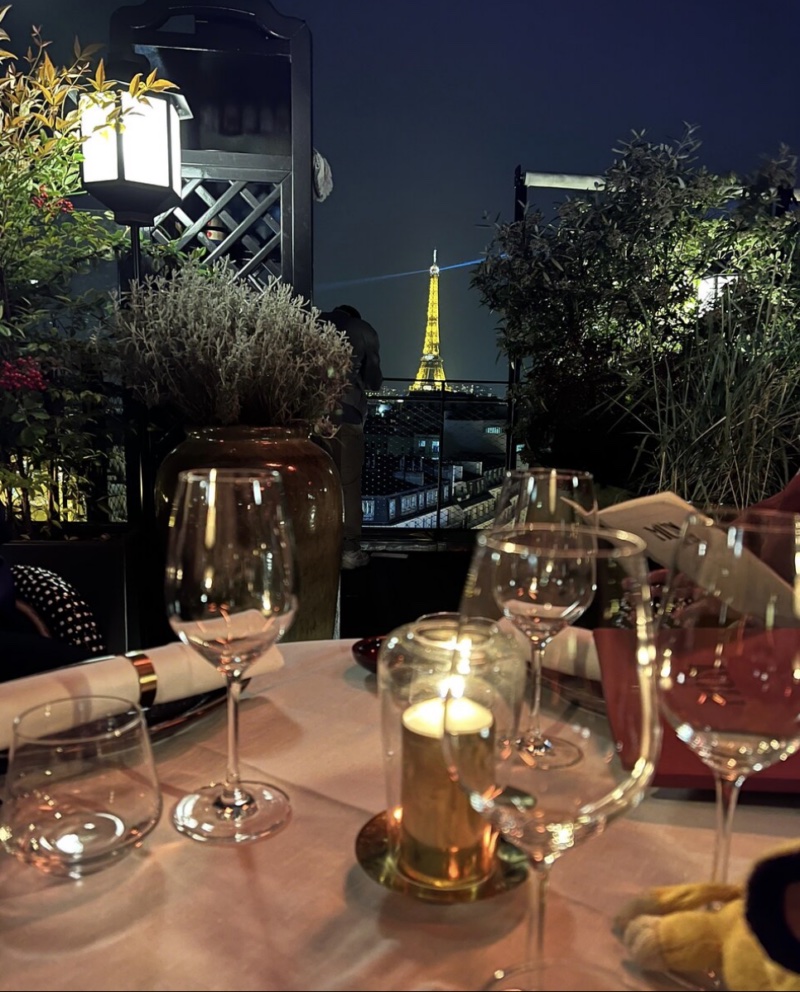 Address: 52 Av. des Champs-Élysées, 75008 Paris
Next up on the list of best affordable restaurants in Paris with a view: MUN. MUN is an upscale Asian-Fusion restaurant located on the famous Avenue des Champs-Élysées in Paris. MUN is actually owned by the same restaurant group as Girafe Paris, so you can expect the same level of quality and attention to detail here.
The menu at MUN is an eclectic mix of French, Asian, and Mediterranean flavors. Sushi is their main specialty and they have an extensive selection, which is my personal favorite part about their menu. There is also a range of small plates like crispy duck confit spring rolls or beef tartare with gochujang mayonnaise. And the main plates here include everything from Korean-style crispy chicken to miso Black Cod.
The cocktail list at MUN includes a mix of creative and classic alcoholic drinks. I recommend the Kaori cocktail – it's a creative mix of earl grey tea, vodka, chartreuse, and saké. And the dessert here is just as good as the main dishes! Whether you're looking for something fruity or chocolatey, you can find the perfect dessert to end your meal.
What really sets MUN apart from other restaurants in Paris is its spectacular view of the Eiffel Tower and the Champs-Elysées. It's a great choice for a drink on a terrace on a warm summer afternoon in Paris or a memorable dinner with friends.
See Related: Best Desserts in Paris to Try
4. Comme Chai Toi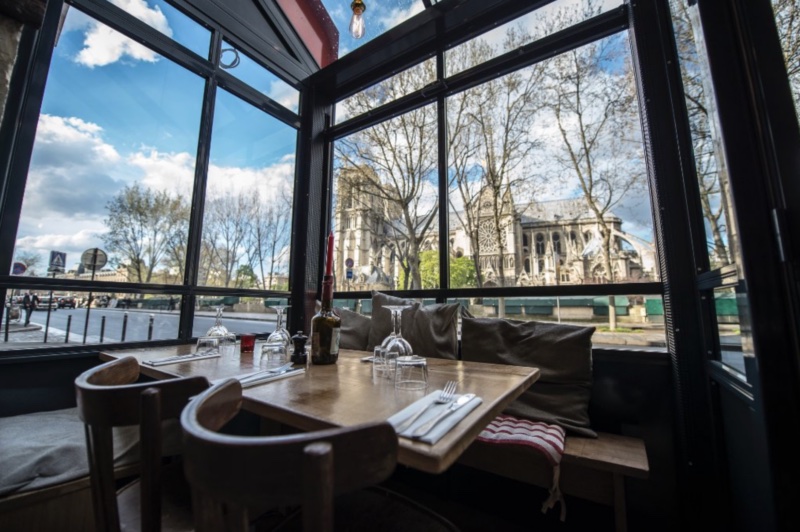 Address: 13 Quai de Montebello, 75005 Paris
Comme Chai Toi is a classic French restaurant located in the 5th arrondissement. It's located near the famous Notre Dame Church and the popular English bookstore Shakespeare and Company, which makes it a perfect pit stop on a day of sightseeing. This restaurant features music-themed decor and provides unique views of Notre Dame and its surroundings.
The menu here offers classic French dishes like steak frites, beef carpaccio, and a selection of seafood plates. The wine list is extensive and includes a range of French wines from the different regions. And for dessert, Comme Chai Toi offers classic favorites like crème brûlée and house-made sorbets. I recommend their "exotic macaron" – trust me when I say, your taste buds will thank you!
The atmosphere at Comme Chai Toi is very casual and relaxed. The restaurant overlooks the Seine River and on a sunny day, you can enjoy your meal while taking in a stunning view of the river. It's a very chill and inviting atmosphere and not as crowded as some of the other restaurants in Paris. I like coming here to get some work done during the day while enjoying a coffee and cool views of the city.
If you're looking for an affordable yet authentic French experience with a view, Comme Chai Toi is definitely worth checking out. Their food is affordable and accessible to travelers with any budget, and the staff is friendly and inviting.
See Related: When Does the Eiffel Tower Sparkle? A Guide to its Stunning Light Display
5. Créatures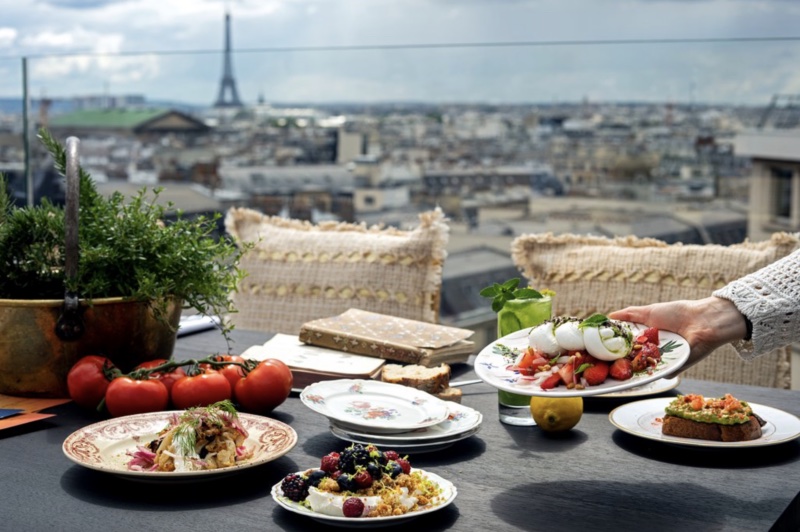 Address: 25 Rue de la Chau. d'Antin, 75009 Paris
Creatures is a rooftop restaurant in Paris and one of my personal favorites. It's located on the top floor of the famous Galeries Lafayette department store in the 9th arrondissement. The rooftop terrace here provides stunning views of the Eiffel Tower and Sacré-Coeur, making it one of the best restaurants in Paris with a view. It's the perfect choice for those who want to enjoy a meal with a view of all of the city, not just one of the landmarks.
The food at Creatures is 100% vegetarian and made with fresh ingredients. They offer a variety of light dishes like salads, rice bowls, and more. Their "Summertime Sadness" dish features a fluffy piece of focaccia bread topped with grilled squash, red onion, and stracciatella. Creatures even has its own bakery that offers housemade desserts like cookies, cakes, croissants, and brownies. And their drink list offers fresh juices and a selection of soft drinks.
Creatures is a great choice for those looking for an affordable restaurant with a view in Paris that won't break the bank. It offers a unique perspective of the city and a view of all the major landmarks of Paris. And best of all, the ambiance here is cozy and inviting and it's a great place to spend a sunny day in the City of Love. It's definitely a refreshing change from some of the other overcrowded Paris restaurants.
Note: This rooftop restaurant is only open for spring and summer, so if you're lucky enough to be in Paris during that time you should definitely make a stop here.
6. Victoria Paris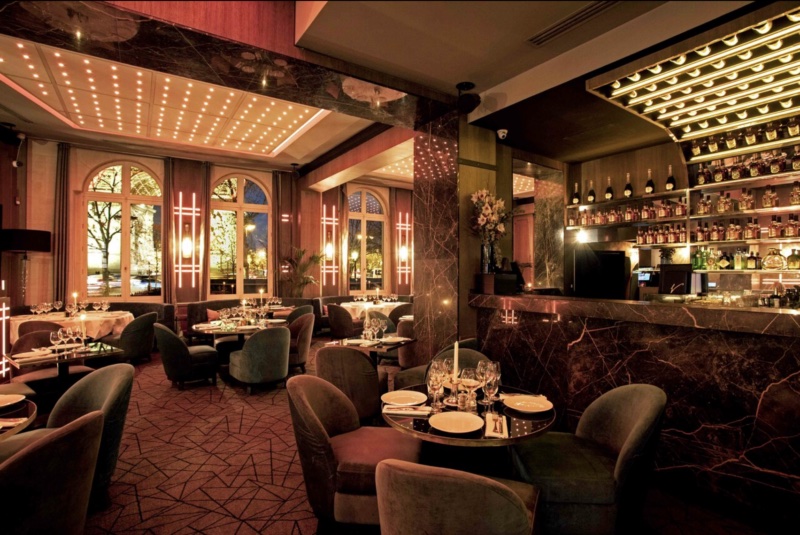 Address: 12 Rue de Presbourg, 75116 Paris
Victoria Paris is one of the most beautiful restaurants in Paris, without a doubt. It's elegant and sophisticated and has some of the most stunning views in all of Paris. Located in the 16th arrondissement near the Arc de Triomphe and the Champs-Elysees, this restaurant offers a unique view of these iconic landmarks.
The menu at Victoria Paris features dishes like Tomahawk prime rib, grilled salmon, shrimp linguine, truffle pasta, and more. Their appetizers are perfect to share with friends or family, and the desserts are absolutely delicious. Try the burrata melon and arugula salad – it's crisp and refreshing! The salmon carpaccio is also a stellar choice for seafood lovers like myself.
The interior of the restaurant is just as luxurious as you'd imagine an upscale Paris restaurant to be. The staff is attentive and super knowledgeable about the menu and can give you recommendations on what to order. The atmosphere is inviting and provides for a great dining experience.
Victoria Paris is one of the more expensive restaurants on this list, but definitely worth the splurge if you're looking to treat yourself. It provides a really cool view of the Arc de Triomphe, and there aren't a lot of other restaurants with a view like this.
7. Ciel de Paris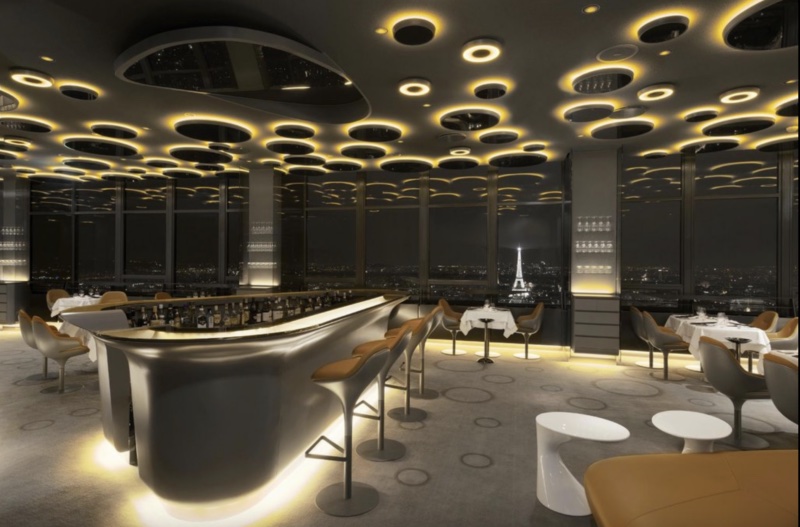 Address: Tour Maine Montparnasse, 56ème étage Tour Maine Montparnasse, Av. du Maine, 75015 Paris
For a truly unique dining experience, let's head up 690 feet above the city of Paris, to the 56th floor of Tour Maine Montparnasse. This is where you'll find Ciel de Paris, one of the restaurants with a view in Paris that will make your jaw drop. From this high up, you can see incredible views of the French capital and its famous landmarks. The observation tower located at the top of the building makes it even more special.
At Ciel de Paris, you can experience fine French cuisine with a twist. They focus on traditional flavors and modern ingredients to create a truly unique dining experience. The menu features dishes like smoked duck breast, caviar, veal tartare, poached lobster, and other delicious options. They even have some vegetarian options for those who don't want meat or fish.
For early risers, Ciel de Paris offers a breakfast menu as well. What better place to enjoy your morning coffee and croissant than 700 feet above the city, am I right?
The interior of the Ciel de Paris is minimalist yet classy. The large theater-style dining room can hold over 145 diners and the floor-to-ceiling windows provide panoramic views no matter where you're sitting. The views here are truly exceptional! On a clear day, you can see as far as 25 miles out across the city. Eating here will have you feeling like you're living in a charming film in a French cinema.
It's no wonder why Ciel de Paris is a popular choice when it comes to affordable restaurants with a view in Paris.
8. Le Calife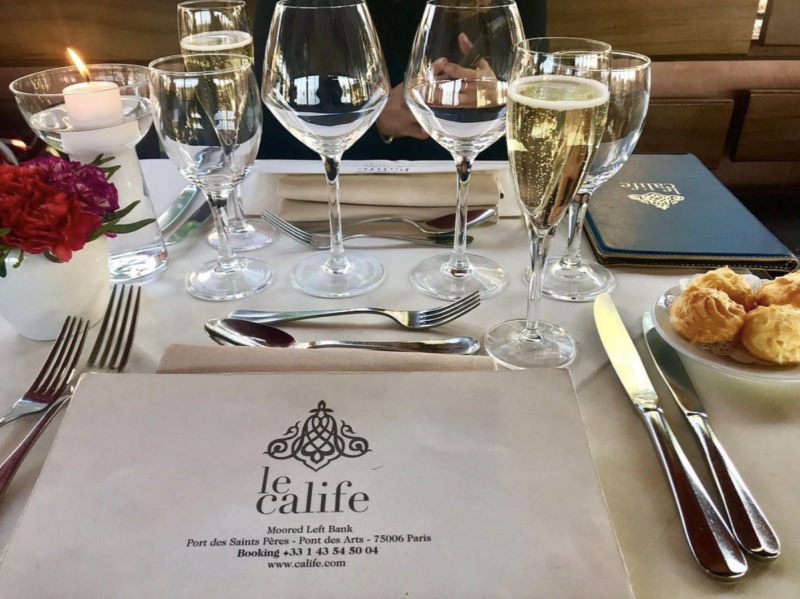 Address: Port des Saints-Pères, 75006 Paris
Le Calife is one of the most unique dining experiences that Paris has to offer. Located in the 6th arrondissement of Paris, this restaurant is on a boat that crosses the Seine river during your meal. This dinner cruise experience is one of the best ways to see all of Paris! No need to choose from a restaurant near the Eiffel Tower, Palais Royal, or Notre Dame when you can see them all on a dinner cruise at Le Calife.
At Le Calife, you'll board the boat at 8:15 pm to start your dinner under the stars experience. You can choose from one of their six pre-planned menus, each at a different price point. Over the next two hours, you'll cruise down the Seine while enjoying dishes like steak filets, roasted chicken, foie gras, and more. Enjoy the Parisian sunset as you pass famous landmarks and cross underneath the many bridges of Paris. Afterward, you'll head back to your starting point where you can debark and continue your evening.
Le Calife is a really unique dinner experience that you won't find anywhere else in Paris. The views, the food, and the intimate atmosphere make this an unforgettable dining experience that you must try while visiting France. Their variety of menus is also great because it caters to every budget. You can easily have an affordable dinner here or splurge on a five-course meal if you prefer. Le Calife is also open for lunch cruises, and can even be rented out for private parties.
9. Georges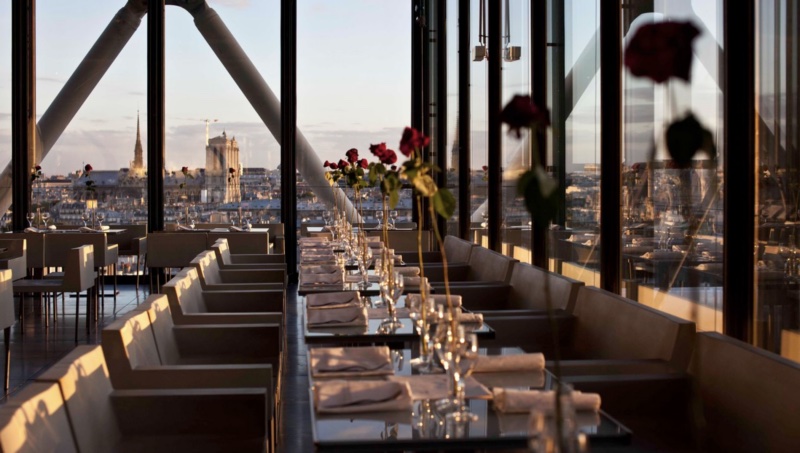 Address: 6e étage du Centre Georges Pompidou Place Georges Pompidou, 75004 Paris
Georges is another great choice for a nice meal with a stunning view of Paris. This upscale restaurant is located on the rooftop of the Centre George Pompidou museum. The rooftop terrace is open year-round so you can enjoy the view in the summer or during a winter evening. And on a sunny day, you can see the entire city from this high up. The restaurant often has live music so you can enjoy some tunes while experiencing a delicious meal.
At Georges, the menu is inspired by traditional French cuisine and features dishes like tuna tartare, grilled salmon, steaks, and a variety of salads. There are also some great signature cocktails to try here and of course, lots of wine. Prices are higher than other restaurants in Paris, but it's still very affordable. And the price is definitely worth it for the excellent food and unique views.
You'll be living la vie en rose eating at this place!
The interior of Georges is luxurious but still very modern and simple. The atmosphere is inviting and the waitstaff is actually very friendly. This rooftop restaurant boasts views of the city, and you'll be able to spot some of Paris' best landmarks. It's a great choice for group dinners or just an intimate dinner for two.
10. Kong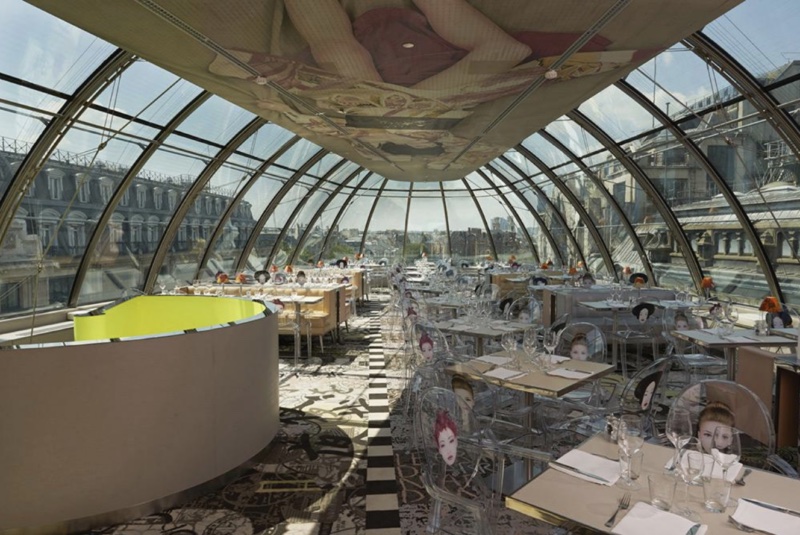 Address: 1 Rue du Pont Neuf, 75001 Paris
Kong is a modern and unique restaurant in Paris that is bold and full of character. Open since 2003, this restaurant offers Asian-fusion cuisine from its 5th-floor Hausmann-style building. The modern design of the restaurant is truly stunning and the views from here are amazing. From Kong, you can see all the way to La Defense and even as far as Montmartre on a clear day.
Kong's menu features traditional Asian flavors with French influences. It offers dishes like sushi, tempura, dumplings, and more. From the looks of this restaurant, you'd think that you'd need to take out a loan to eat here. But it's actually quite affordable, especially by Paris standards. Your wallet and stomach can both be happy here.
Kong also has a unique rooftop terrace where you can enjoy Paris' skyline while sipping on one of their signature cocktails. If you want to combine great food, interesting design, and beautiful views all at once then Kong is the place for you. It's open for both lunch and dinner, but I recommend going at night and seeing the city underneath the stars.
This place is always busy (and rightfully so), so you'll want to make a reservation to guarantee a spot here.
Related Resources: