When it comes to food, the French know what they're doing. And one of the dishes they're best known for is steak frites. Steak frites is essentially a steak and fries plate, which sounds easy enough to make, but when done the French way, it's anything but.
The French have mastered the art of the steak frites, with countless gastronomic restaurants across Paris serving up some of the best in the world.
🗼 Paris Insider's Top Picks! ✨
Dive into the heart of Paris with our handpicked partners. Trusted by thousands, they ensure you experience the best of Paris.
The best steak frites in Paris will bring out the best flavors and textures of a rump, skirt, flank, or sirloin steak. They are usually accompanied by a variety of different sauces, like Bearnaise sauce, garlic butter, mustard sauce, and more.
And of course, a side of crispy fries! It's no easy task cooking up a perfect steak, but luckily there are a few restaurants in Paris that have got it down. Keep reading our list of the best restaurants to find the best steak frites in Paris!
Best Steak Frites in Paris
1. Bouillon Chartier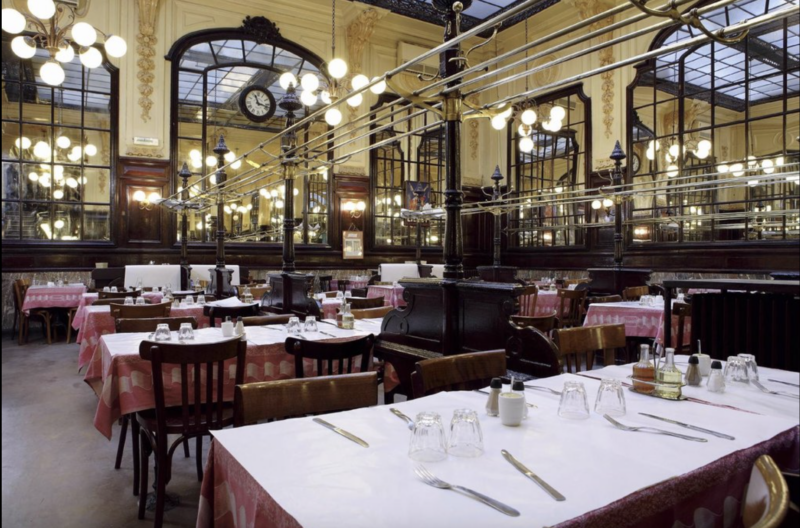 Address: 7 Rue du Faubourg Montmartre, 75009 Paris
Bouillon is one of the best places to eat in Paris, hands down. It's a popular casual bistro where you can try all the classic French favorites at a super affordable price. The concept of "bouillon" restaurants was started back in 1860 when an ex-butcher wanted to create a chain of restaurants in Paris where only broth was sold. In 1896, two friends joined the concept and opened the first Bouillon Chartier in the Grands Boulevards district.
Today, the interior of the restaurant still holds true to its original style, and the menu is filled with delicious French classics. Bouillon offers a steak frites plate that comes with a juicy, tender steak cooked to your liking and served with delicious house pepper sauce. The french fries are crispy golden perfection and the best part of all—it's only €12! Bouillon also offers plenty of starters to enjoy before your meal and of course tons of dessert options.
I recommend trying their hot French onion soup appetizer and the choux pastry filled with vanilla cream for dessert. Simply delicious!
Bouillon Chartier is the best place to go when you want to try a variety of French dishes for a cheap price. Whether you order the steak frites at Bouillon or not, you'll be sure to have a pleasant surprise. The food is quality without being super expensive, and the restaurant's interior is absolutely stunning.
Note: There are two other Bouillon locations in Paris – Bouillon Republique and Bouillon Pigalle. I've tried them all, but I still think Bouillon Chartier is my favorite! It is the original, after all.
See Related: Best Farmers Markets in Paris: A Comprehensive Guide
2. Le Relais de l'Entrecôte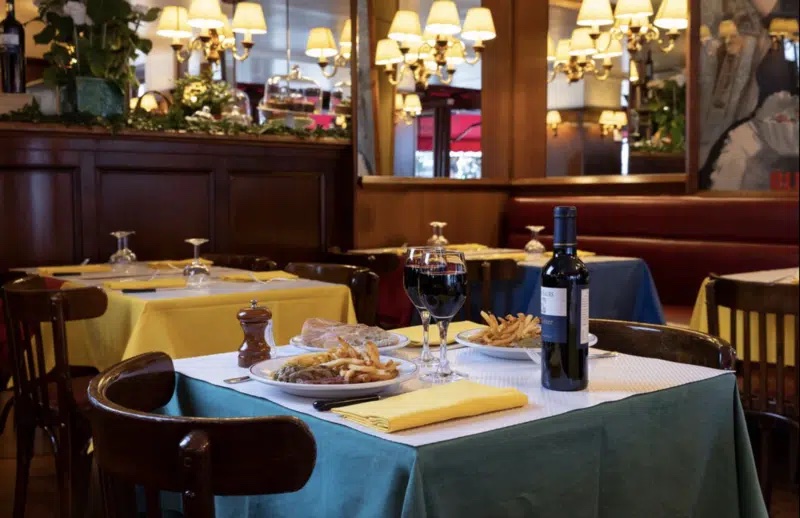 Address: 20 Rue Saint-Benoît, 75006 Paris
The steak frites served at Le Relais de l'Entrecôte is a staple on best-of lists of Paris restaurants. Don't let the size of this tiny restaurant deceive you, because it serves up some of the best steak frites in all of Paris! In fact, this place is known for its steaks, so it will definitely satisfy any meat-lover's cravings.
The steak frites plate at Le Relais de l'Entrecôte comes with delicious cut of beef (usually a filet de boeuf cut). The steak comes covered in a green famous secret sauce and is served with a generous portion of crispy golden fries. It even comes with a small green salad, so you can eat healthily too. Balance is key here!
Le Relais de l'Entrecôte's steak is best enjoyed medium rare, and it will definitely make your taste buds sing. The meat is tender and juicy and almost melts in your mouth with every bite. And the best part? It only costs €26.5 for a meal, which is pretty good considering the quality and quantity of food that you get.
Le Relais de l'Entrecôte is located in the 6th arrondissement of Paris. It's best to go early if you want to get a good seat as it can fill up quickly due to its popularity. The atmosphere is warm and inviting and it's definitely a place to check out if you want an authentic French steak frites experience.
See Related: Affordable Restaurants in Paris with a View
3. Au Pied du Cochon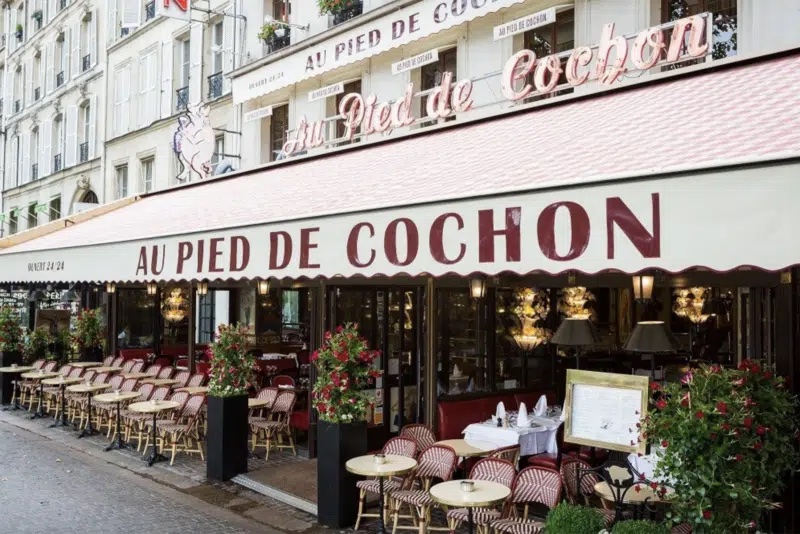 Address: 6 Rue Coquillière, 75001 Paris
This Paris restaurant is famously known for having never closed its doors in over 75 years!
It was originally opened before World War II, and had a varied clientele who would come to enjoy the restaurant's famous dishes. The restaurant had some rocky years during the war, but eventually recovered and quickly regained its popularity. In 1947, the restaurant's owner decided he wanted to open the first 24-hour restaurant in Paris – and since then Au Pied du Cochon has operated 24/7, 365 days per year.
Today, Au Pied du Cochon is still a popular destination for locals and tourists alike. It has been featured in magazines like Food & Wine and Time Out, and has had a handful of famous celebrities dine here over the years. Alfred Hitchcock, Josephine Baker, Salvador Dali, and Brigitte Bardot are just some of the many popular stars that have visited and signed the restaurant's guest book. Pretty cool if you ask me.
The steak frites plate served at Au Pied du Cochon comes with an incredibly juicy rib-eye steak cooked to perfection, topped with classic French butter sauce, and a side of crispy french fries. If you're looking for an indulgent meal, this is it. Pair your meal with a rich glass of red wine for the full experience. Trust me, you'll be in steak heaven.
Au Pied du Cochon is located in the 1st arrondissement of Paris near the Forum des Halles area. This is also a great choice for those looking for late-night eats in Paris, since there aren't too many places that stay open late. But it's best to book ahead if you want to guarantee a spot here!
4. Bistrot Paul Bert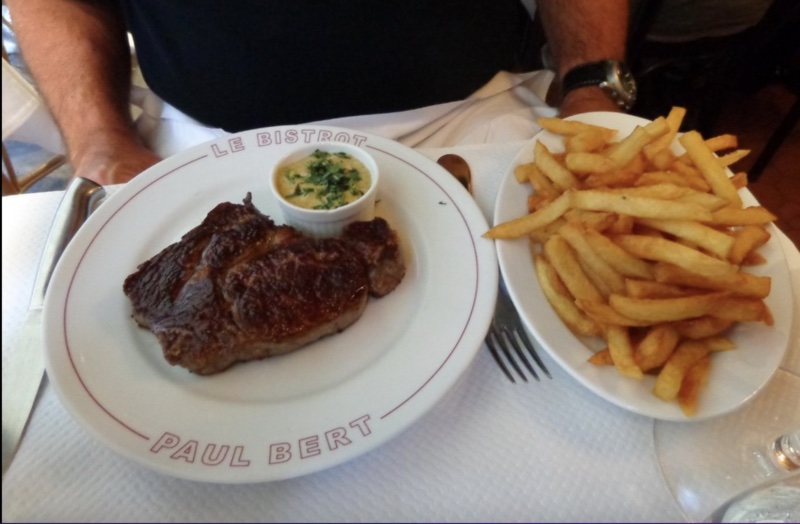 Address: 18 Rue Paul Bert, 75011 Paris
Another famous addition to the list of the best steak frites restaurants in Paris – Bistrot Paul Bert. Opened in 1997 by Bertrand Auboyneau and his wife Gwenaëlle Cadoret, this Parisian bistro has become a much-loved institution for guests for years to come. It was one of the first restaurants to open amidst the "bistronomy" movement in Paris, a mix of traditional "bistros" and high-end "gastronomy". This wave brought a new type of dining to the city that elevated the classic French bistro experience while serving quality meals at affordable prices.
The steak frites dish served at Bistrot Paul Bert is made with succulent rib-eye steak, cooked to your preferred temperature, and topped with an herb butter sauce. The fries come crispy and golden brown, making them the perfect accompaniment to a well-cooked steak. I think their steak tastes best cooked medium rare, but you can also order it medium (à point), or well-done (bien cuit). In any case, this dish is best enjoyed with a glass of red wine no matter how it's cooked!
The atmosphere at Bistrot Paul Bert is lively and vibrant, and it's one of the best places to go for an authentic Parisian dining experience. The restaurant has gained acknowledgment from several prestigious awards, including Michelin stars and the best bistro in Paris award. It's located on Rue Paul Bert near Place de la Bastille in the 11th arrondissement.
Make sure to book ahead if you want a spot here – it can get busy quickly!
5. Au Bœuf Couronné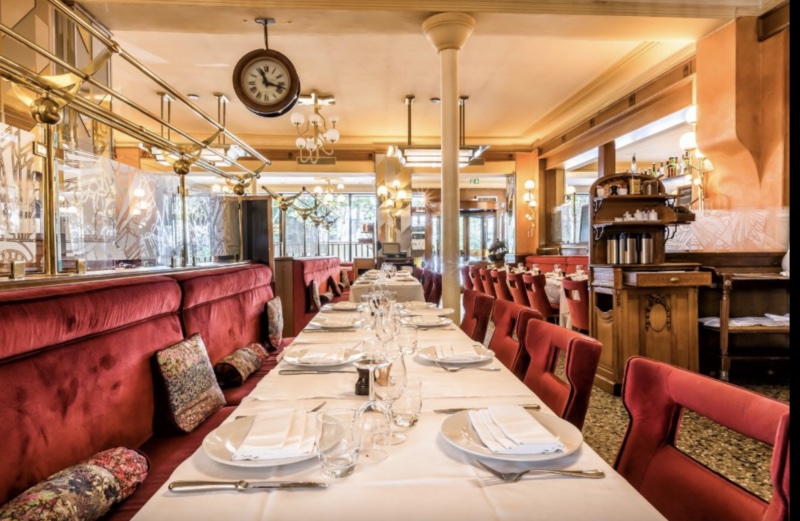 Address: 188 Avenue Jean Jaures, 75019 Paris
Next up, we'll head to the 19th arrondissement for some of the best steak frites in Paris – Au Bœuf Couronné. This traditional French bistro has been around since 1932 and specializes in all cuts of steaks. The belle-epoque decor inside the restaurant will transport you straight back in time, while the sound of music from the Cité de la Musique at the nearby La Villette makes for a great dining ambiance. This is the go-to place in Paris for meat lovers who want to experience fine dining, great service, and some of the best meat in the city.
Steak amateurs here will be in good hands: they have a wide variety of cuts to choose from and a knowledgeable staff to help you learn about each one. You can choose between some of the most common French cuts: an entrecôte, Angus "T-bone" steak, rump steak, or faux filet. Your steak, prepared to your preferred temperature, is then served and paired with classic housemade Bernaise sauce.
And the fries that come with this dish are not your average french fry! This steak dish comes with pommes soufflées or "puffed potatoes", which are fluffy, coin-shaped, deep-fried potatoes. They're light and crispy and are a unique alternative to the traditional French fry. Au Bœuf Couronné also has an extensive list of red and white wines to pair with your meal.
And if you get hit with a wave of post-meal fatigue and want to stay a night in La Villette, you can always stay at the hotel that is located on the same grounds as the restaurant!
6. Le Café du Commerce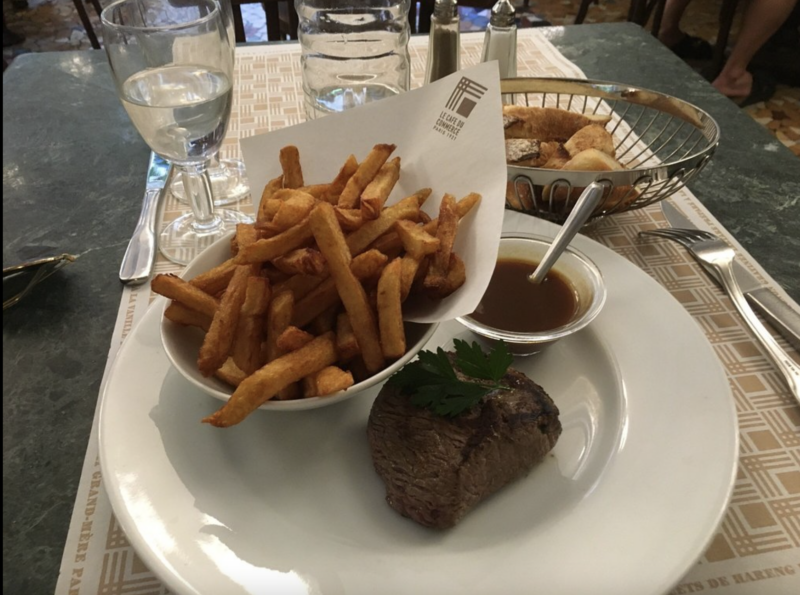 Address: 51 Rue du Commerce, 75015 Paris
Le Café du Commerce is a large Parisian brasserie serving French classics and local wines. Unlike most restaurants in Paris, Le Café de Commerce is spread out across three floors in a 1920s-style building. Its large size allows for a unique dining experience in a family-style setting.
The creators of Le Café du Commerce wanted to create a space where people could come together and enjoy a fresh, hearty meal with local ingredients at an affordable price. This iconic building has lived many lives and changed hands over time, but since 2003 has been the bistro we know and love today – serving up excellent steak frites with a variety of delicious sauces.
There is a selection of different beef cuts on the menu here, but the cote de boeuf is probably their most popular. It's tender and juicy, with just the right amount of crisp on the outside. Their rib steak and rump steak are great choices as well! The french fries here are made fresh in-house, and are accompanied by your choice of bearnaise sauce or brown sauce.
If you're looking for a place to taste some delicious steaks without breaking the bank, you're going to want to make a stop here. The elegant decor and large setting makes you feel like you're enjoying a luxury dining experience and the prices are actually affordable.
7. L'Aller Retour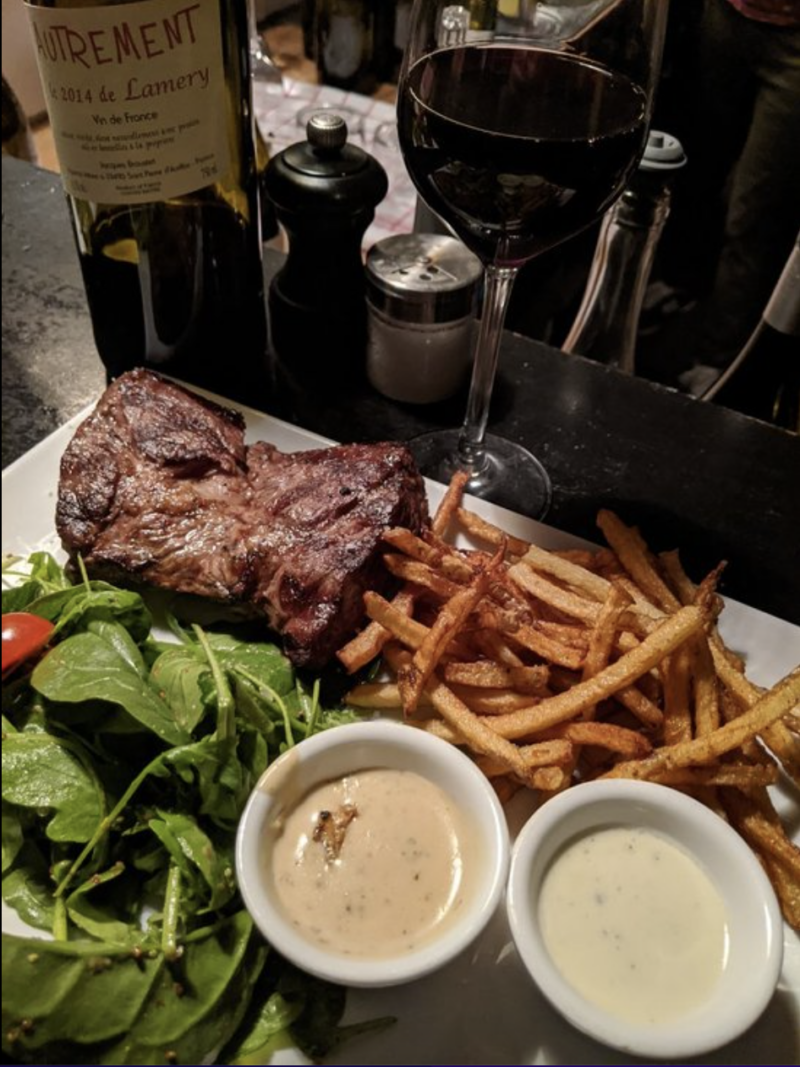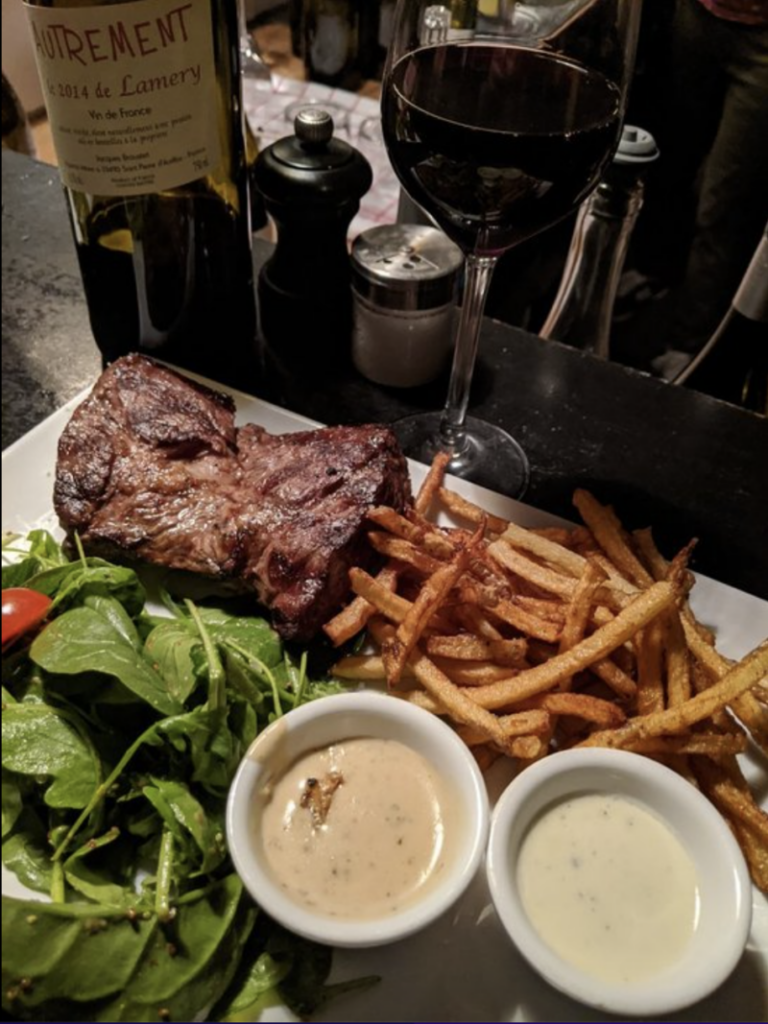 Address: 5 Rue Charles-François Dupuis, 75003 Paris
Located in the famous Le Marais neighborhood of Paris, L'Aller Retour is a hidden gem serving up some great food and drinks.
In fact, if you didn't already know about this place, you might not even know it existed from the outside! This restaurant is located inside an elegant apartment-style building, which makes for a very cozy and familiar dining experience. L'Aller Retour boasts a simple and efficient restaurant concept that focuses only on two things: meat and wine. Because of their focus on making exceptional steaks, they've rightfully earned their spot on our list of the best steak frites in Paris.
On the menu at L'Aller Retour, you'll find a wide selection of different steak cuts to choose from. Sirloin steak, faux filet, and flank steak are some of the most popular here. The carpaccio de boeuf is a great choice for those who like their meat ultra rare, while the coté de boeuf is a better choice for those who prefer their steak bien cuit. Each cut of steak comes with a side of crispy French fries and your choice of a side salad or grilled veggies.
I definitely recommend saving room for dessert and trying their cheesecake or fondant au chocolat. It's the cherry on top of a delicious steak frites meal!
8. La Bourse et La Vie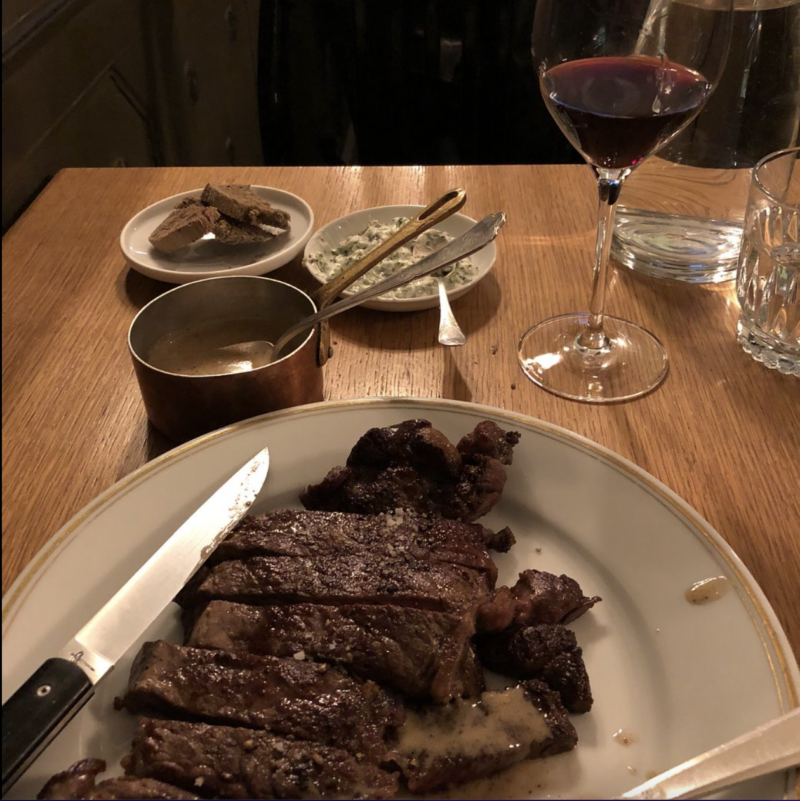 Address: 12 Rue Vivienne, 75002 Paris
La Bourse et La Vie is an upscale Parisian bistro serving up classics like French onion soup, escargot, duck confit, and of course: steak frites. This bourgeois French bistro is located in a compact but stylish space in Paris' 2nd arrondissement. The atmosphere inside La Bourse et La Vie is homey and family-friendly. This is the place to go for authentic France cuisine and a memorable dining experience.
The steaks at La Bourse et La Vie are definitely one of their best dishes. All of the meat is sourced from local farmers, so you can be sure that it's fresh and of the highest quality. The steak frites here come with your choice of either ribeye or sirloin steak and a side of crispy French fries. The best part is that you can finish off your meal with a glass of wine from their extensive selection – or a classic French dessert like crème brûlée or profiteroles! They've even earned a spot in the Michelin guide, so you can be sure the food here is worth it.
Overall, La Bourse et La Vie offers an amazing steak frites experience for those looking for something special. The ambiance, the food, and the service are all top notch – making it one of the best steak frites restaurants in Paris.
9. Le Voltaire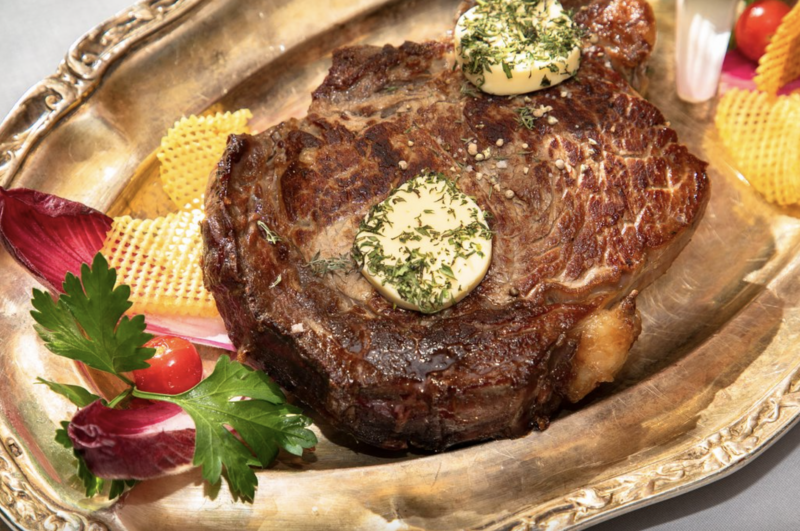 Address: 27 Quai Voltaire, 75007 Paris
Le Voltaire is a chic, upscale restaurant that has been around since the 18th century. This classic Parisian bistro is known for its traditional French fare and delicious steak frites. The atmosphere here is relaxed and cozy, with a beautiful view of the Seine River. Le Voltaire is more than just a restaurant, but a historical landmark. The restaurant is located on the ground floor of the building where the famous French writer Voltaire once lived in the 1800s.
The menu at Le Voltaire changes daily according to seasonality and availability, as they only use the freshest ingredients for their dishes. The handwritten menu located outside the restaurant is a unique touch and gives a nice glimpse of what's available.
The steaks here are all made to order, so you can be sure that you're getting a quality cut of meat. Each steak is served with crispy French fries and your choice of sauce – from classic béarnaise to more savory options like garlic butter, pepper sauce, or mustard sauce. They also come with a side of grilled veggies or a side salad. For dessert, I highly recommend trying their signature tarte tatin for something truly special. They even offer a homemade sorbet or a cheese platter for those looking for something a little lighter.
Le Voltaire is the perfect place to go if you're looking for an elegant yet unpretentious steak frites experience. The steaks here are cooked perfectly every time, and the atmosphere is warm and inviting. The dishes here are a little bit on the more pricey side, which isn't a shock considering the neighborhood where this restaurant is located. That being said, the dining experience here is worth the extra cost.
10. La Maison de l'Aubrac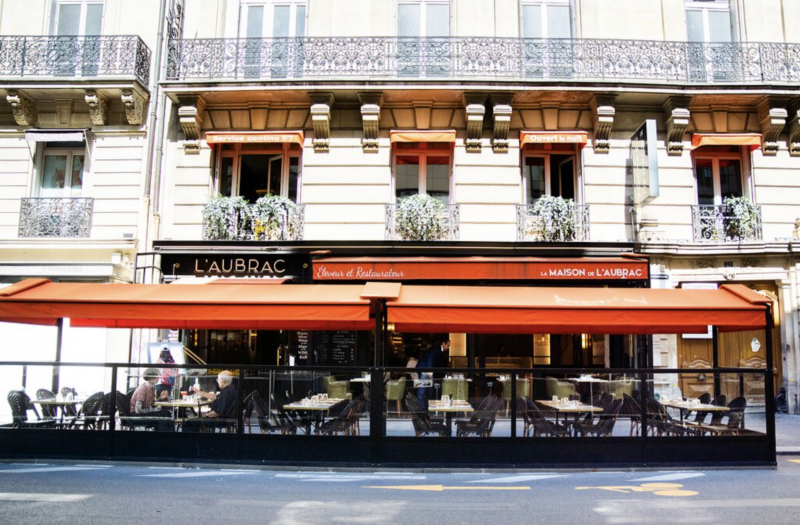 Address: 37 Rue de Marbeuf, 75008 Paris
La Maison de l'Aubrac is another French restaurant that has a history as extensive as its menu. Acquired in 1977 by two restaurant owners in the area, La Maison de l'Aubrac has been visited by the likes of Jean-Paul Belmondo and Picasso over the years. It has been named on the list of the World's 101 Best Steak Restaurants and boasts an eclectic menu full of classic French dishes.
The steak frites at La Maison de l'Aubrac are notably one of the most popular choices. The beef is cooked to perfection each and every time. The steaks come with a side of perfectly crispy fries, as well as your choice of sauce – from béarnaise to choron or pepper sauce. You can choose between a skirt steak, ribeye, flank steak and more here. They even have barbecue ribs here, which is not something commonly found in Paris. Desserts are simple yet delicious – try the classic crème brûlée or their house-made sorbet.
La Maison de l'Aubrac is best known for its steak frites, but they also offer a variety of other dishes that you can choose from such as roasted duck, foie gras, French onion soup, and even veggie burgers. They also offer both cocktails and wines so you can find the perfect pairing to go with your meal. The interior of the restaurant is modern and clean, providing a cozy yet sophisticated atmosphere. The prices here are also more affordable than most other steak restaurants in Paris, without sacrificing food quality or service.
Related Resources: