Ah, Paris – the city of love, lights, and unapologetically decadent pastries. But what happens when you toss in the wild card of tiny, curious humans graciously referred to as "family"? The longing for romantic rendezvous might give way to the practical necessities of nap time and diaper duty, but fear not, intrepid explorer. In a city where the cobblestones echo stories of kings and the corner bistros could reignite even the foulest of parental moods, it should be no surprise that offers a diverse range of experiences – including the perfect places to rest your weary heads.
Enter the realm of "best hotels in Paris for families," where the comfort of a home-away-from-home intersects with the soul of this enchanting metropolis. Venture forth with me in this labyrinth of architectural marvels, local characters, and moments of culture shock, where each hotel offers a unique opportunity to savor life's rich tapestry – viewed, of course, through the lens of those charming little imps we call our offspring.
🗼 Paris Insider's Top Picks! ✨
Dive into the heart of Paris with our handpicked partners. Trusted by thousands, they ensure you experience the best of Paris.
So stand eager, mes amis, and join me as we embark on this odyssey, relishing every treasure-laden crevice as we navigate the City of Light, searching for the sanctuary that will entrance and enchant both young and old alike.
Best Hotels In Paris For Families
The Originals Boutique, Hôtel Maison Montmartre, Paris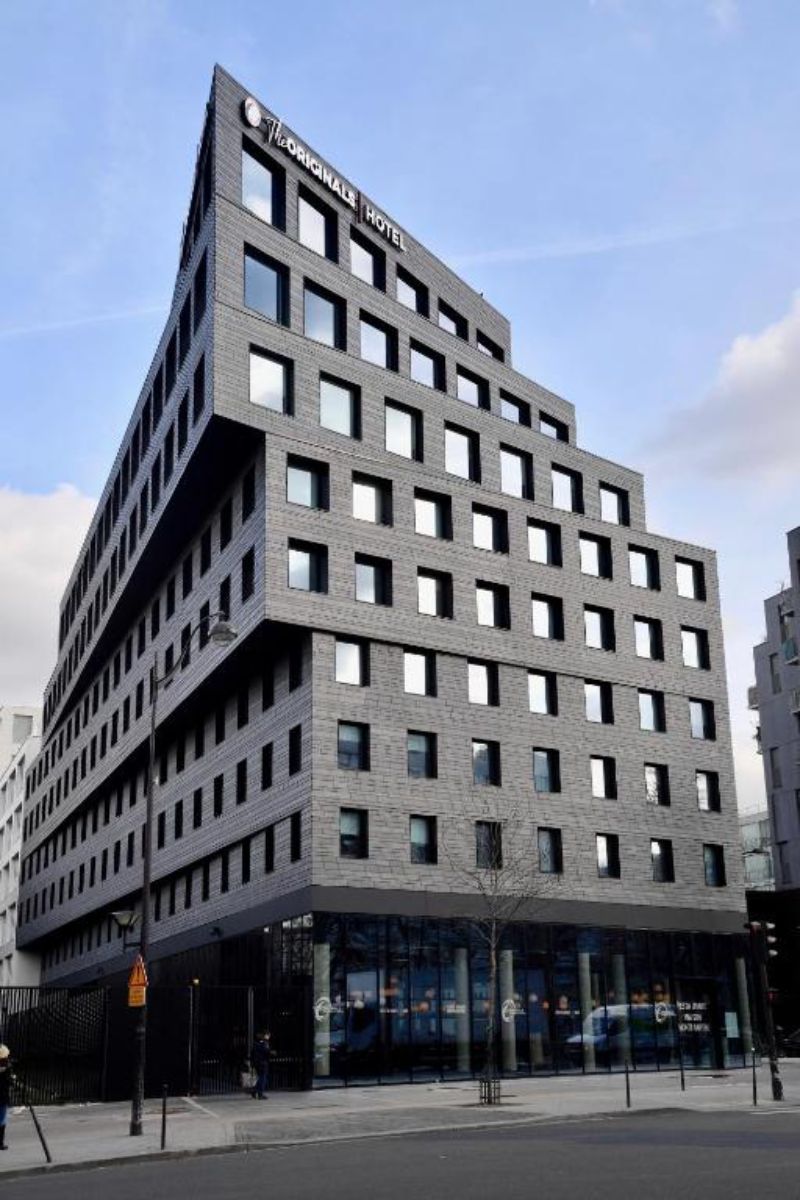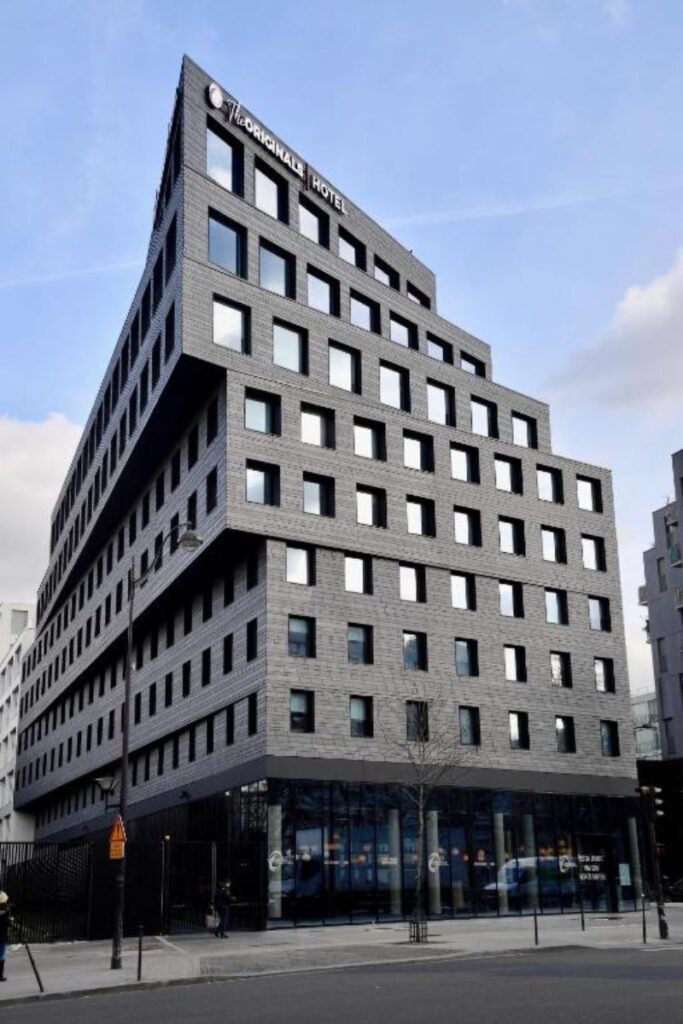 Address: 32 Av. de la Prte de Montmartre, 75018 Paris
Picture the idyllic Parisian retreat, artfully blending quintessential French elegance with chic modernity. That image embodies the essence of The Originals Boutique, Hôtel Maison Montmartre. Situated in the iconic 18th arrondissement, it offers a serene haven amidst the energy of Paris and the romantic allure of Montmartre.
As you step inside, the welcoming ambiance radiates from stunning artwork and custom furnishings, conjuring visions of family-filled joyful moments. The impeccably designed rooms, decorated with exquisite attention to detail, are adorned with sumptuous fabrics and contemporary fixtures. Comfort beckons at every turn.
The hotel's delightful courtyard and rooftop terrace reveal enchanting views of the Sacré-Cœur Basilica and the Eiffel Tower, setting the stage for picture-perfect memories. Proximity to nearby parks and attractions creates a perfect hub for family adventures, satisfying the cravings of both young minds and seasoned explorers. At Hôtel Maison Montmartre, immerse your family in the harmony of heritage and modernity as you meander through the kaleidoscope of Parisian life.
See Related: How to Eat a Croissant in Paris
Royal Regency Paris Vincennes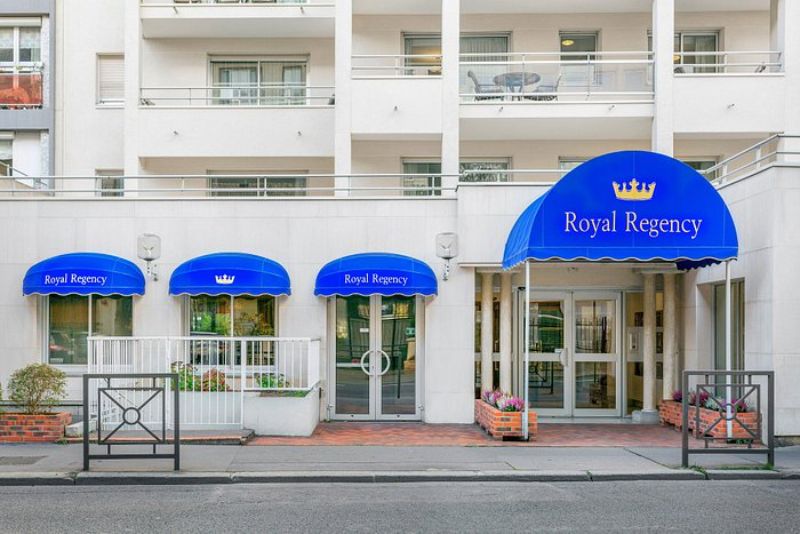 Address: 69-71 Rue Defrance, 94300 Vincennes, France
Wrapped in the intoxicating charm of the historic Vincennes district, the Royal Regency Paris Vincennes serves as a sumptuous oasis for families seeking solace from the bustling City of Lights. This palatial sanctuary offers a lavish experience nestled amidst lush greenery, a stone's throw away from the timeless Chateau de Vincennes and its enchanting medieval allure. Here, luxury meets comfort, and the spacious apartments accommodate with élan the laughter of little ones and intimate conversations of adults alike.
As day turns twilight, recline on the spectacular rooftop terrace, where tales of adventure float beneath a cinematic skyline. With the splendid Bois de Vincennes nearby, opportunities abound for strolling through its sprawling greens or rowing gently on its serene lakes. Royal Regency Paris Vincennes truly captures the essence of Parisian grandeur, creating an impeccable haven for families to immerse in the multifaceted splendor of the French capital.
See Related: Best Weekend Trips from Paris, France
Novotel Paris Centre Tour Eiffel: A Family Haven in the Heart of the City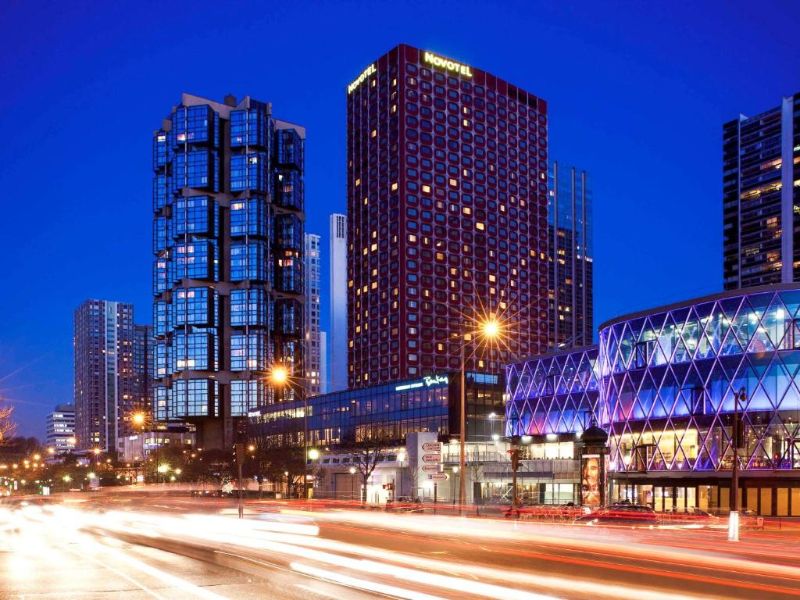 Address: 61 Quai de Grenelle, 75015 Paris
Envision a hotel that blends urban sophistication with a welcoming ambiance, specially tailored for families seeking respite from the bustling Parisian streets. The Novotel Paris Centre Tour Eiffel, nestled along the serene banks of the Seine, is your haven. As you enter the lobby, modern design meets Parisian elegance, with warm tones, contemporary furnishings, and a tease of the iconic Eiffel Tower, majestically punctuating the skyline in the distance.
Within the hotel's spacious and well-appointed rooms, comfort reigns supreme, allowing you to sink into plush bedding for a blissful rest after a day of exploration. However, the crowning glory is the children's play area: a sanctuary for young adventurers to revel in their imaginations. Cuisine offerings in the hotel blend French tradition with international flair, catering to every morsel of your gastronomic desires. The Novotel Paris Centre Tour Eiffel – providing an unforgettable family experience in a neighborhood that encapsulates the very essence of city of lights.
Hôtel La Maison Champs Elysées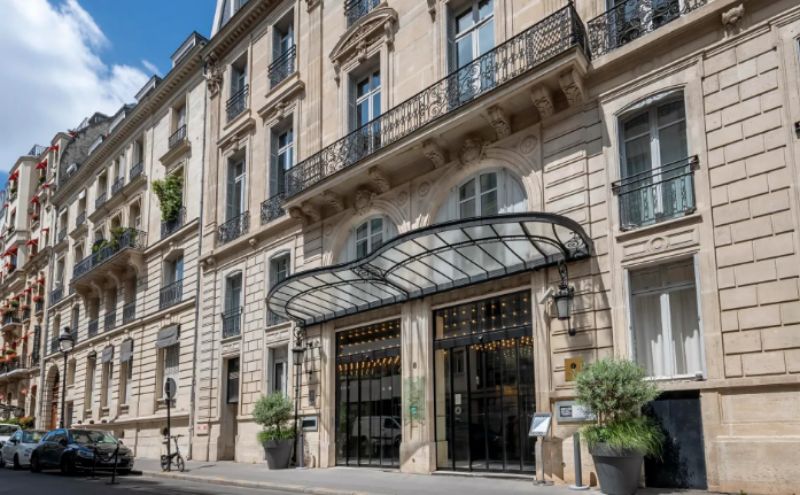 Address: Au sein de La Maison des Centraliens, 8 Rue Jean Goujon, 75008 Paris, France
Imagine wandering through the sophisticated streets of Paris and uncovering a hidden gem, a sanctuary for the senses and the perfect destination for the whole family. The Hôtel La Maison Champs Elysées invites you to enter a world where contemporary design collides harmoniously with the elegance of the 19th-century Haussmann-style building. This coveted four-star establishment lies within the picturesque Golden Triangle, a mere stone's throw away from the bustling Avenue Montaigne and the iconic Champs-Élysées.
Once inside, experience the whispered elegance of the hotel's interior as you tread upon plush, monochromatic carpeting contrasting against the intricately sculpted cornices like a monochromatic palace. Venture through the uniquely designed rooms and suites, each an artistic masterpiece curated by Maison Martin Margiela, encapsulating the perfect blend of modernity and heritage. Delight in the tastefully avant-garde surroundings as you create unforgettable memories with your little explorers in your Parisian home away from home.
See Related: Best Hotels in Paris with Pools
Novotel Paris Porte de Versailles: A Family Haven in the City of Lights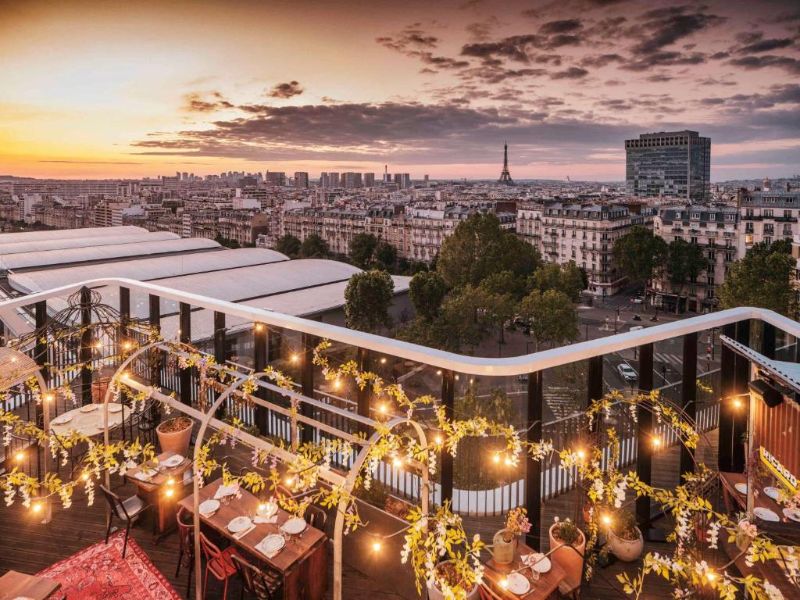 Address: 4 Av. de la Prte de la Plaine, 75015 Paris, França
As you walk through the entrance of the Novotel Paris Porte de Versailles, exhale deeply and feast your senses upon a striking blend of contemporary design and French elegance. Here, the sophisticated lobby invites you and your loved ones in, with cozy, cushioned seating areas creating an atmosphere ripe for treasured family moments.
This 4.5-star hotel caters to a family's every whim without compromising style or comfort. Spacious guest rooms adorned with modern décor offer plush bedding that invites the most dream-filled slumber after an exhausting day of Parisian adventure. The young will feel at home with dedicated play areas as parents unwind and sip sparkling libations from the swanky in-house bar.
Nestled in the lively 15th Arrondissement, this mesmerizing retreat presents the perfect base for your family escapade. Imagine strolling through the charming neighborhood streets, just a stone's throw away from the bustling shopping district and numerous enchanting parks, making Paris the ideal destination for family holidays. Let the Novotel Paris Porte de Versailles be the backdrop to your most unforgettable Parisian memories.
Hôtel Marais Grands Boulevards: An Exquisite Parisian Retreat for Families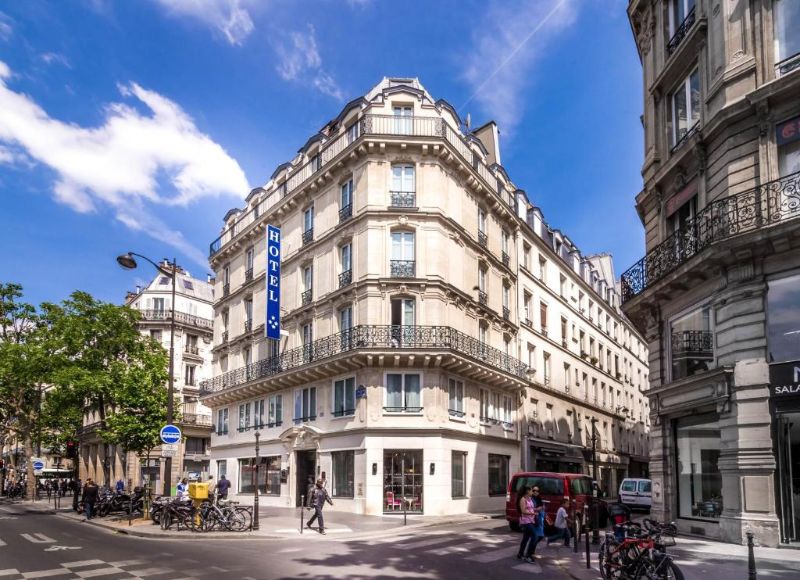 Address: 112 Bd de Sébastopol, 75003 Paris, France
Behind the veil of an 18th century façade, tucked between cobbled streets, lies the Hôtel Marais Grands Boulevards; an enigmatic gem in the heart of one of Paris' most cherished districts. One foot in the door of this historic establishment and you're transported to a world of unapologetic sophistication. Iconic velvet furnishings flirt with polished wood accents, creating a contemporary yet timeless aesthetic.
Every detail is painstakingly tailored to provide a haven for families seeking a uniquely Parisian experience without sacrificing luxury or comfort. Flawlessly-delivered services, including swift connecting doors and babysitting offerings, ensure that families of every size and age feel right at home. The attentive staff, ever-ready to reveal the city's secrets, usher in collective urban adventures peppered with wonder and laughter.
Immergez-vous amid Paris' inimitable charm – grace, beauty, and warm embraces await at the Hôtel Marais Grands Boulevards. The raw heartbeat of the city beckons and this bastion of elegance is the perfect pied-à-terre from which to answer the call.
Holiday Inn Express Paris – Canal de la Villette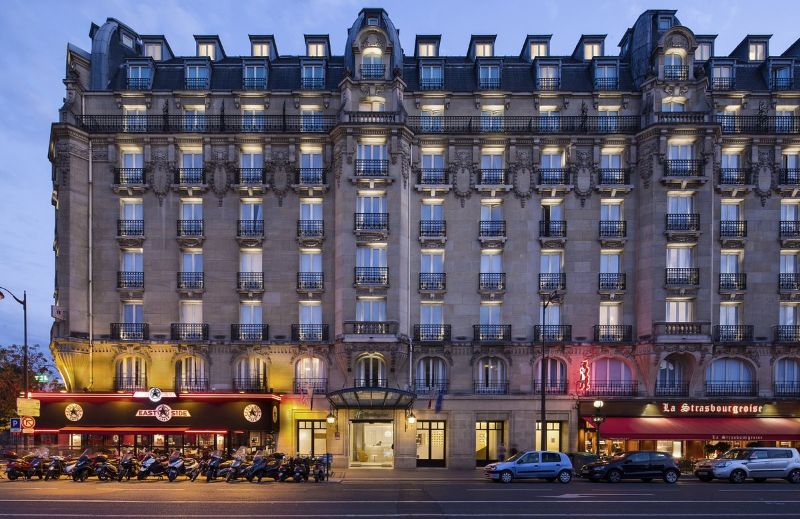 Address: 68 Quai de la Seine, 75019 Paris, France
Nestled alongside the serene Canal de la Villette, the Holiday Inn Express Paris provides the perfect respite for families seeking solace from the bustling Parisian streets. As you enter the aromatic courtyard, mingling scents of lavender and fresh-baked croissants waft through the air. Savor a robust cup of coffee while appreciating the delicate interplay of water, and sunlight and strolls on the canal banks.
The charm of the 19th arrondissement is palpable, and the hotel's exceptional location entices visitors to wander through the nearby Parc de la Villette or get lost in the enchanting alleys of this idyllic neighborhood. Contemporary, well-appointed rooms with uncompromised functionality ensure a comfortable retreat after a day of Parisian escapades.
Young minds will revel in the nearby Cité des Sciences et de l'Industrie, while you ponder the romantic allure of an evening cruise along the canal. At the Holiday Inn Express Paris – Canal de la Villette, families are treated to the artful fusion of Parisian sophistication and warm, convivial hospitality.
Hôtel Tourisme Avenue: A Family Haven in the Heart of Paris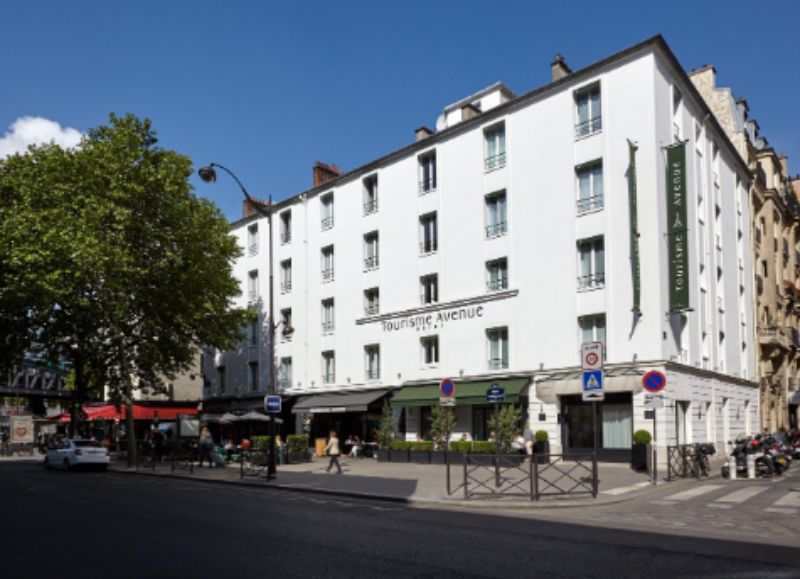 Address: 66 Av. de la Motte-Picquet, 75015 Paris, França
Picture this: you and your family, ensconced in a charming boutique hotel, nestled comfortably between the legendary Eiffel Tower and the bustling commerce of the Champs-Elysées. Hôtel Tourisme Avenue offers a luxurious, sophisticated sanctuary amid the city's most sought-after family-friendly neighborhood.
When you enter the hotel's warm and inviting Parisian façade, expect to be enticed by evocative aesthetics blending vintage charm with modern elegance. Fine linens, plush beds, and heavenly-scented amenities envelope you with serenity while the hushed tones of Parisian life provide a soothing soundtrack.
For exploratory families seeking more excitement, Les Invalides and the Trocadéro Gardens lie temptingly close, inviting young and old alike to uncover the rich tapestry of Parisian culture. No need to sacrifice taste for childcare, as the hotel offers its own immersive Kids' Corner, packed with engaging games and activities. Surrender to the allure of Paris while your children revel in the hotel's thoughtfully designed sanctuary—creating unforgettable memories for the whole family.
Paris Marriott Champs Elysees Hotel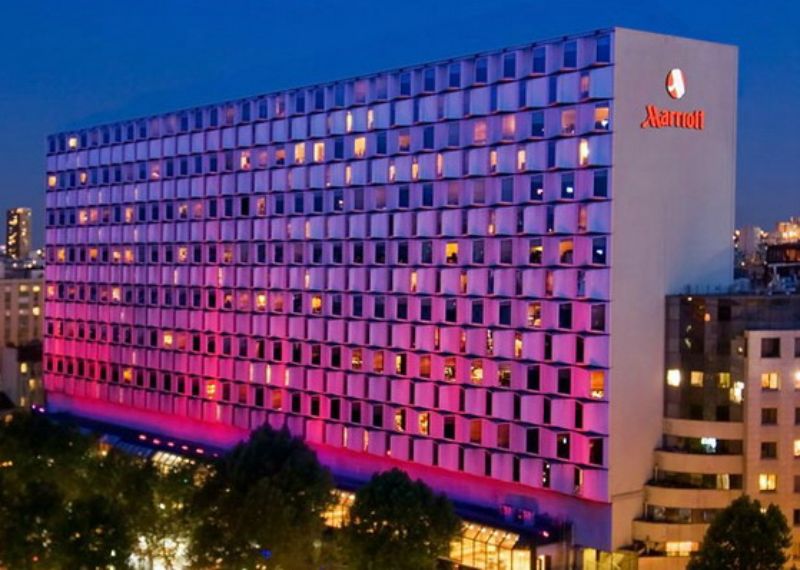 Address: 70 Av. des Champs-Élysées, 75008 Paris, France
Envision yourself stepping into a luxurious oasis nestled amidst the heart of the City of Lights. The Paris Marriott Champs Elysees Hotel grandly welcomes you with its striking Haussmann-style façade, inviting you into a realm that blends history with modern elegance. As you stroll through the spacious lobby, glimmers of Parisian life beckon from the oversized windows, transporting you to a world of art, culture, and culinary delights.
Settle in with your family, embraced by the warmth and comfort of stylish, well-appointed rooms, each designed to serve as a sanctuary after an action-filled day. A stay here places you right on the iconic Avenue des Champs-Elysees, mere footsteps from many attractions that enthrall the young and the young at heart.
From the seamless fusion of historic elegance to the ultimate location, the Paris Marriott Champs Elysees Hotel offers a sublime retreat for adventurous families exploring the soul of Paris together. Lounging in the tranquility of this urban hideaway shall forever mark a memory etched upon your hearts.
Maison Albar Hotels Le Diamond: A Parisian Jewel for Families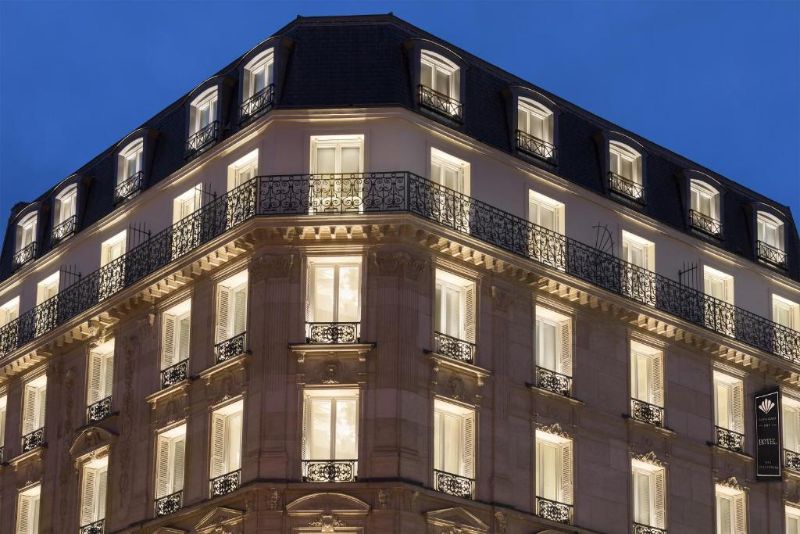 Address: 4 Rue de la Pépinière, 75008 Paris
Stepping into the resplendent lobby of Maison Albar Hotels Le Diamond, one is immediately enveloped by an atmosphere of elegance and charm. With a design reminiscent of a glitzy treasure chest, the hotel weaves contemporary art deco with the classic sophistication synonymous with the City of Light. Coral accents meld with soft velvet textures as if embodying the spirit of a modern Parisian palace – a hidden gem that caters to families in equal measure.
Here, the bustling Glass Diamond Bar awaits, offering intricate concoctions for adults while delighting children with playful mocktails. The sumptuous family suites, adorned in soothing neutral tones and plush bedding, provide a refuge for weary travelers to rejuvenate after a long day of exploration. Nestled in the heart of the 8th arrondissement, Maison Albar Hotels Le Diamond offers the perfect vantage point for majestic strolls along the Champs-Elysées or a leisurely family picnic in the lush Parc Monceau. This hotel is indisputably a match made in heaven for those seeking a retreat rich in Parisian opulence and family-centered experiences.
See Related: Best Hotel Bars in Paris
Hotel Aramis Saint Germain: A Parisian Family Haven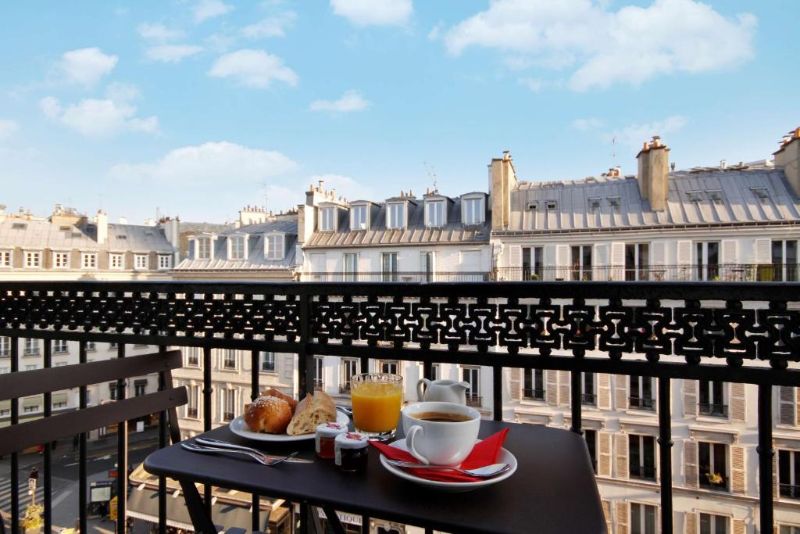 Address: 124 Rue de Rennes, 75006 Paris, France
Nestled in the enchanting Saint-Germain-des-Prés neighborhood, the Aramis Saint Germain is a cozy nook where families can savor the soul of Paris. Stepping into this charming sanctuary, the refined blend of modern amenities and traditional French decor transport guests to a realm of comfort and sophistication.
While the little ones marvel at the playful murals adorning the walls, parents take a well-deserved breather at the petite garden patio, hidden amidst the bustling cityscape. Ample space in the tastefully styled suites promises restful slumber after family adventures exploring nearby Luxembourg Gardens and Montparnasse Tower.
With personalized attention from the warm and friendly staff, every detail is meticulously attended to, offering families a blissful respite at the heart of the City of Lights. A cherished, idyllic retreat awaits families at the Aramis Saint Germain – the perfect home base from which to explore the magnificent wonders of Paris.
Hôtel Villa Glamour: a Parisian Paradise for Families
Address: 85 Rue de la Pompe, 75116 Paris, France
Tucked away in an exclusive corner of the City of Light, the enchanting Hôtel Villa Glamour invites families to embrace an authentic Parisian experience with its undeniable charm. Every room of this striking 19th-century mansion has been painstakingly restored, creating a harmonious blend of elegant heritage and modern allure. The whimsical curved staircases and decorative ironwork create an intimate, fairy-tale atmosphere that captivates children and adults.
Nestled in the idyllic 16th arrondissement, this hotel offers families a serene retreat without sacrificing proximity to the city's most iconic attractions. The nearby Trocadéro Gardens beckon with their lush greenery and awe-inspiring views of the Eiffel Tower, perfect for stirring the souls and imaginations of dreamers of all ages. In this captivating enclave, unforgettable memories and genuine French connections await, making it absolutely essential in the pursuit of Parisian family getaways.
Hôtel du Cadran: A Charming Haven for Families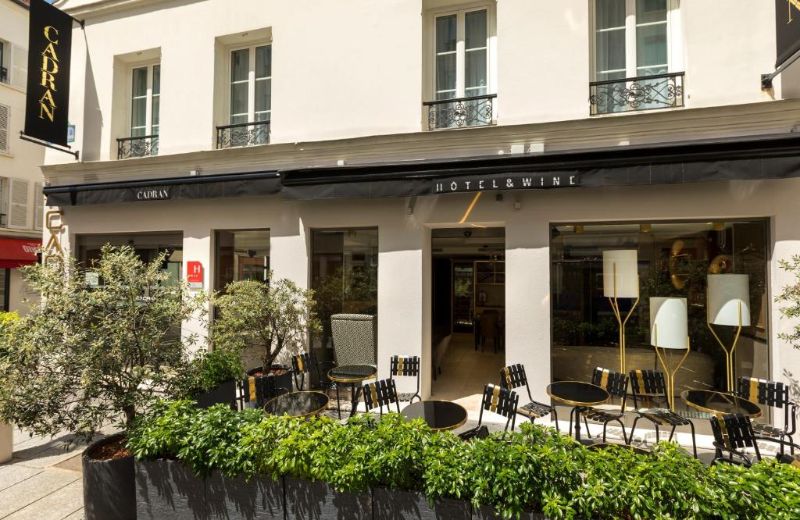 Address: 10 Rue du Champ de Mars, 75007 Paris
Imagine, if you will, a sanctuary nestled in the heart of the delightful Rue Cler neighborhood, Hotel du Cadran is the embodiment of French charm and sophistication, all while providing family-oriented accommodations. With quaint, boutique-lined streets framing the hotel, it epitomizes serenity, a world removed from Paris's dizzying pace.
Upon stepping inside, the elegant, contemporary décor of the Hotel du Cadran greets you, melding seamlessly with its exquisite heritage. Unwind in the intimate, plush lobby as children enjoy the dedicated play area – a rare gem in Parisian accommodations. Retire to your comfortable, tastefully outfitted room with modern amenities to ensure a luxurious stay. And as the sun sets, sip a soothing drink from the hotel's charming honesty bar and feel the heartbeat of Paris as it gently lulls you into a night of enchanting dreams.
In the cadence of this city's magic, Hotel du Cadran emerges as an irresistible refuge for families seeking the Parisian experience of a lifetime.
Hôtel Europe Saint-Séverin: A Parisian Enclave for Families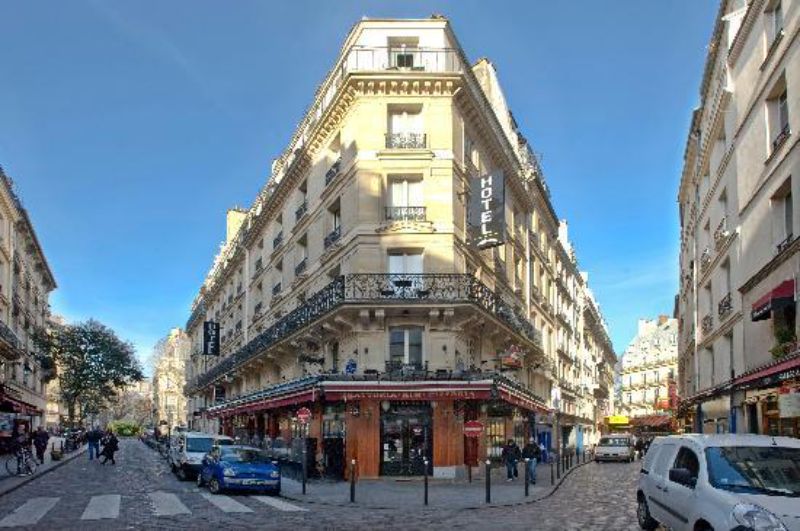 Address: 38-40 Rue Saint-Séverin, 75005 Paris, France
Nestled in the enchanting Quartier Latin, the Hôtel Europe Saint-Séverin beckons, an exquisite illustration of refined Parisian hospitality. From the moment your family steps through the doors, the warmth of rich wooden accents and nostalgic abode allure gives way to an intimate eminence. Each room, impeccably adorned with tasteful decor, emanates a sense of comfort only captured in a home-like setting, where the bustling metropolis outside remains but a distant murmur.
For those yearning to explore, the labyrinthine streets beyond the hotel's realm provide serendipitous encounters with charming shops, opulent eateries, and Paris's profound history exuding from landmarks like the Notre-Dame Cathedral. Glimpse the essence of Parisian family life, where cobblestone pathways weave a tapestry of memories you'll cherish long after your stay. At the Hôtel Europe Saint-Séverin, you and your family won't merely experience a vacation – you'll be privy to a remarkable adventure that transcends conventional tourism.
Ibis Styles Paris Meteor Avenue Porte d'Italie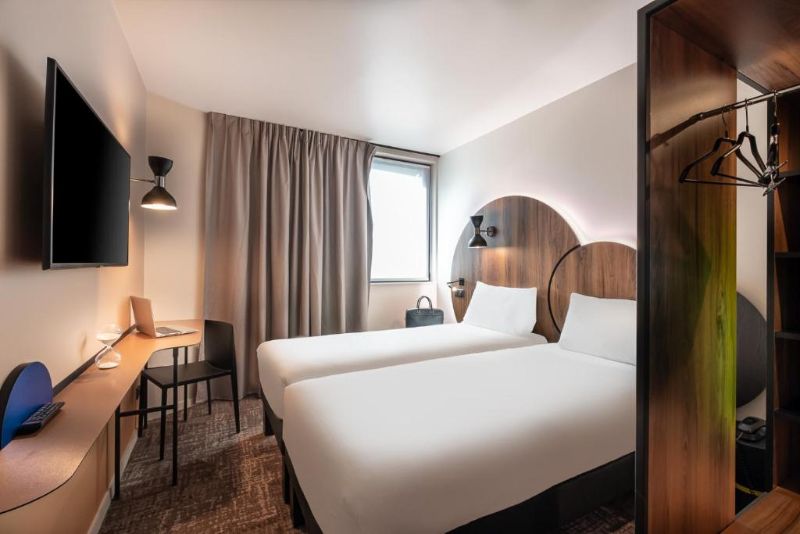 Address: 12 Ave. Porte D'Italia, 75013 Paris, France
Nestled in a corner of the 13th arrondissement, the Ibis Styles Paris Meteor Avenue Porte d'Italie unveils a quirky yet modern charm, perfect for families seeking the authentic essence of Parisian life. Step into a realm sparked by contemporary design, where warm hues mingle with industrial accents, giving off an unmistakable atmosphere of urban sophistication.
Revel in the vibrant energy of the surrounding neighborhood, a canvas replete with boulangeries, parks, and art galleries that provide endless entertainment for family members of all ages. Recharge within the hotel's cozy rooms—the promise of ultimate comfort as you recount your daily exploits amidst plush linens and soothing rainfall showers.
Find respite in the haven of the terrace—an exclusive, tranquil refuge to savor a cup of coffee or glass of wine alongside intimate conversation. At Ibis Styles, the seamless fusion of cozy ambiance and modern aesthetics make for an unforgettable runaway that answers the question, "Where should a family stay in Paris?"
See Related: Best Paris Bastille Hotels
The Timeless Allure of Pullman Paris Tour Eiffel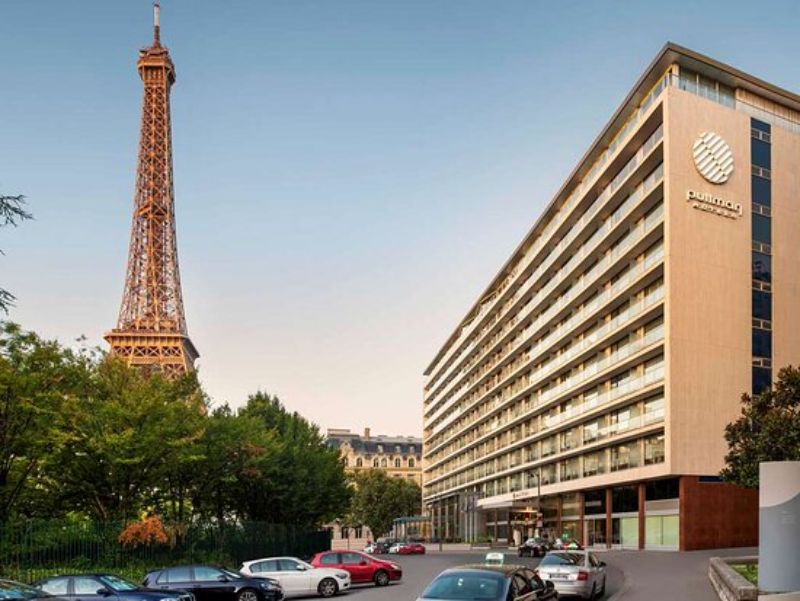 Address: 18 Avenue De Suffren, 22 Rue Jean Rey Entrée Au, 75015 Paris, France
Imagine a destination where children's eyes widen with wonder, where the iconic symbol of romance towers above, casting a magical glow on a moonlit evening. Welcome to the Pullman Paris Tour Eiffel, a family-friendly abode nestled in the city's heart. With a mere stone's throw distance from the Eiffel Tower, this luxurious haven marries the classic charm of Parisian architecture with modern sophistication.
As you enter the lobby, enchantment takes hold as you gaze upon the contemporary interior design, artwork, and an ever-present sense of refinement. Upstairs, the spacious rooms and suites offer breathtak_insights into the City of Lights through floor-to-ceiling windows revealing unobstructed views. When not sampling the hotel's culinary delights or reveling in the fitness center, families venture out to explore the vibrant and storied streets of Paris, as the Pullman Paris Tour Eiffel unapologetically stands as a beacon of French savoir-faire, setting the stage for an unforgettable family escapade.
Hôtel Libertel Montmartre Opéra: A Family Sanctuary in the City of Lights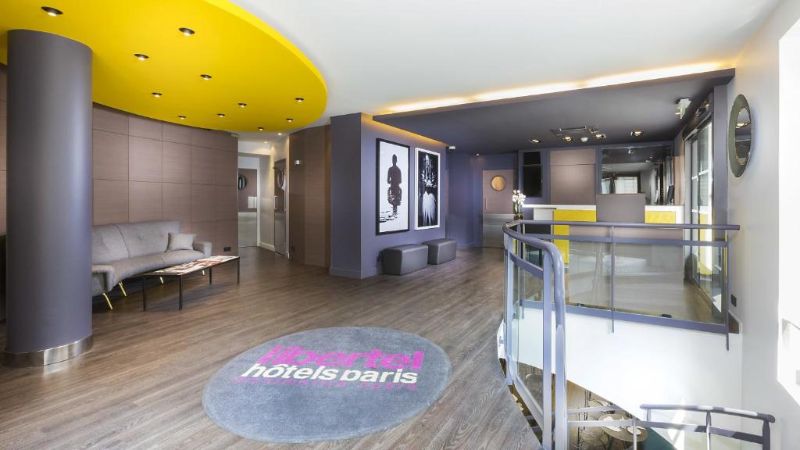 Address: 32 Rue Duperré, 75009 Paris, Prancis
Picture this: you and your family, deep in the heart of Paris, wandering through bohemian Montmartre. Proximity to the iconic Moulin Rouge, a stone's throw away from bustling cafés and street-side artists, culminates in an experience drenched in Parisian authenticity. Hôtel Libertel Montmartre Opéra welcomes families into its warm embrace, like a loving hug from a long-lost Parisienne grandmother.
The hotel's Art Deco interior echoes nostalgia, while modern amenities ensure each guest is cocooned in contemporary comfort. Family rooms promise privacy, with connecting doors allowing for shared laughter, whispers, and dreams. As sunlit morning seeps through the curtains, you embark on another day of exploration, starting with scrumptious croissants and steaming coffee, fueling your souls for wandering toward the serene Sacré-Cœur Basilica or the bustling Place de la République.
At Hôtel Libertel Montmartre Opéra, families don't merely dream of Paris, they taste, touch, and feel the heartbeats of this shimmering city.
Hotel Dauphine Saint-Germain: A Parisian Family Hideaway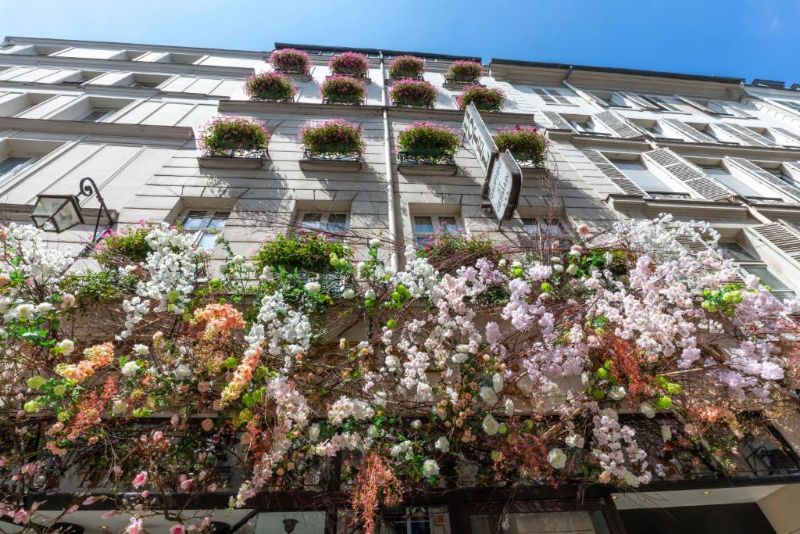 Address: 36 Rue Dauphine, 75006 Paris
Imagine a quaint, charming retreat nestled in the heart of Saint-Germain-des-Prés, one of the city's most revered and enchanting neighborhoods – that's the Hotel Dauphine Saint-Germain for you. As you set foot inside this elegant abode, the staff's warmth and the decor's refined elegance envelop you like a cashmere shawl on a crisp Parisian night.
Drawing inspiration from classic French styles, this charming hotel's 30 rooms and suites promise an oasis of calm and tranquility amidst the city's hustle and bustle. Each spacious room creates a cocoon of comfort for families, offering plush beds, well-appointed amenities, and intimate balconies.
The enchanting streets of Saint-Germain-des-Prés woo you step away from your temporary home, beckoning with their cavalcade of cafes, markets, and boutiques – the essence of Parisian life. The Hotel Dauphine Saint-Germain is not only a luxurious abode for families seeking solace, but an invitation to immerse yourselves in the epicenter of Paris' rich culture and history.
Hôtel De La Porte Dorée: A Parisian Gem for Family Sojourns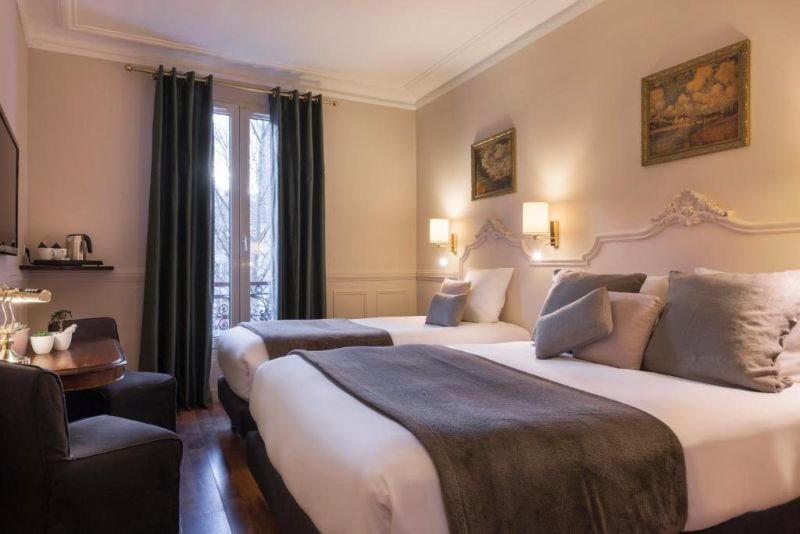 Address: 273 Av. Daumesnil, 75012 Paris, France
Nestled in the heart of the 12th arrondissement lies Hôtel De La Porte Dorée, an intimate sanctuary of classic Parisian elegance. The rich wooden paneling seamlessly combines with the enchanting antique furniture, conjuring an ambiance of bygone eras while promising modern comforts. As you saunter through the corridors adorned with original artworks, the scent of polished parquet lingers, encapsulating the charm of the Golden Age.
Being a stone's throw from the famed Bois de Vincennes, this family-friendly haven affords you strolls with serenading bird songs for the company as your children explore nature's playground. Wrap your day with a visit to the abundant local patisseries, savoring buttery croissants as you stroll back to the welcoming embrace of Hôtel De La Porte Dorée – where, undoubtedly, memories are forged and cherished for generations to come.
Timhotel Opéra Blanche Fontaine: A Gem Tailored for Familial Adventures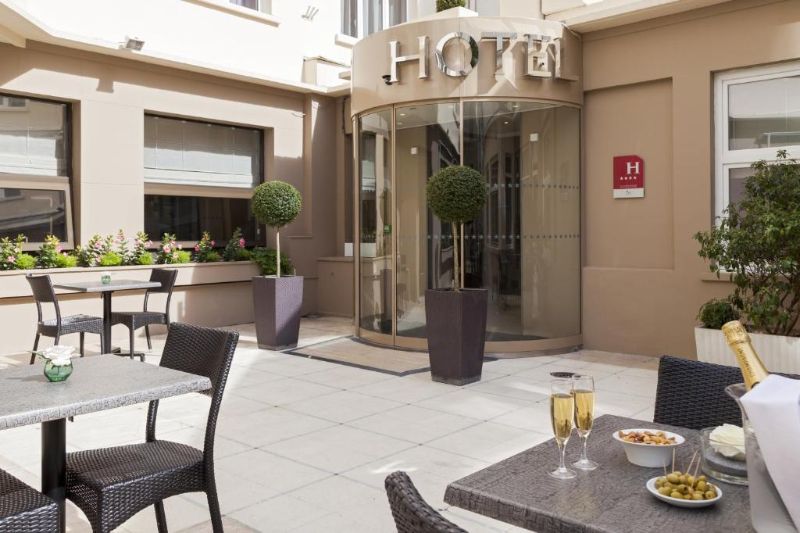 Address: 34 Rue Pierre Fontaine, 75009 Paris
Nestled in the bustling 9th arrondissement, a stone's throw away from Montmartre, Timhotel Opéra Blanche Fontaine is a sanctuary designed to charm families seeking the Parisian experience. This boutique hotel, an artful blend of modernity and Parisian allure, greets its guests with tasteful décor, warm lighting, and welcoming spaces. Here, every room is an exquisite hideaway, reflecting the rich history of the City of Lights while ensuring the utmost comfort for a memorable stay.
Step outside, and find yourself in the heart of an enchanting neighborhood brimming with cafes, boutiques, and landmarks. The hotel's prime location allows families to effortlessly embrace the local joie de vivre, strolling down cobbled streets and discovering the charms tucked away in this vibrant corner of Paris. Timhotel Opéra Blanche Fontaine is not simply a place to rest your head; it is the beginning of an unforgettable journey for families seeking to unravel the true essence of the French capital.
Related Resources: