Paris is a shopper's paradise, with vintage shops around every corner. Whether you're looking for a unique piece of clothing to add to your wardrobe or something special for your home, Paris vintage shops have something to suit your needs.
It's not enough to visit Paris; you must also explore the city. This is especially true if you want a vintage experience. Knowing where to go will help you find those hidden gems and shops worth searching for. Here are the top 12 Paris vintage shops, you're in the right place. – I hope they inspire your adventures!
Cheap vs Luxury Paris Vintage Stores
There is a big difference between cheap and luxury vintage stores. Cheap vintage stores are great if you're on a budget and want a good deal on clothing or accessories. However, the items at these stores can be a bit hit or miss – you might find something you love or not.
Luxury vintage stores, meanwhile, are more expensive but offer a much better selection of clothes and accessories. A luxury vintage shop is your best bet if you want to find something high-quality and unique.
Top 12 Paris Vintage Shops
If you're looking for vintage shopping in Paris, you've come to the right place! Here are our top picks for the best vintage shops in the city.
1. Hippy Market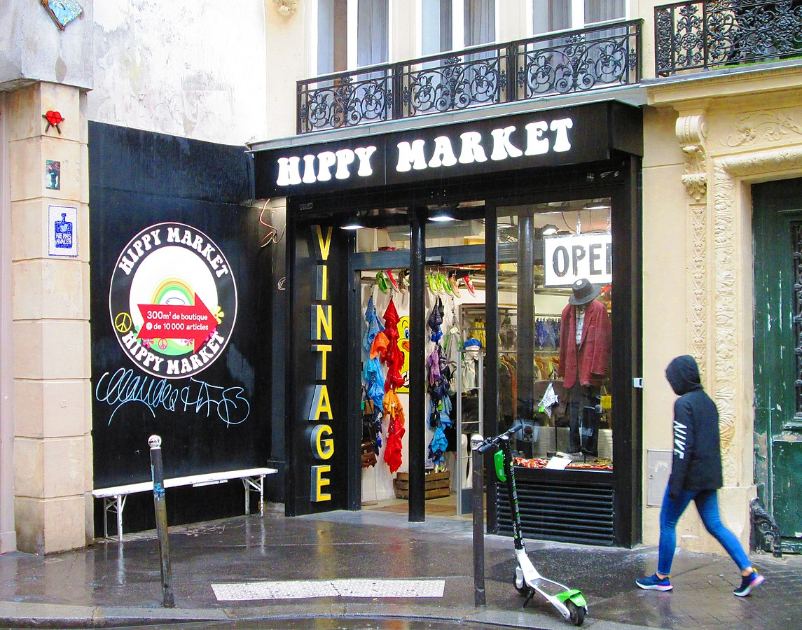 41 Rue du Temple, 75004 Paris
The aesthetic of Hippy Market is unmistakably 'hippie'. All the clothing is well arranged and priced slightly higher than at mid-range thrift stores, although this may be justified by the abundance of options and sanitary conditions. This store caters to those with less patience and high expectations, making it one of the best vintage shops in Paris.
Seasonality and current trends are taken into account when selecting their articles. Several times a week, the store gets brand-new stock. Their products are arranged so that you won't need to spend hours rummaging.
2. Rose Market Boutique Vintage Paris
Rose Market Vintage is a charming vintage boutique in the 9th arrondissement. This shop is close to rue des Martyrs. Female and classic styles dominate the local scene. Everything from the featured products on display to the retro furnishings from the '50s is well displayed and placed.
The shop's owner, Florence, has had a soft spot for antiques and second-hand clothes and items ever since she was young. She is a wise shopper, so the vintage goods she purchases at flea markets and auctions are pristine. The items are on the pricier side, but most of the vintage clothing is designer pieces. But despite their vintage cuts and styles, they fit in a modern wardrobe. Stock in Rose Market Village is always replenished, so take advantage of it!
3. Opulence Luxury and Vintage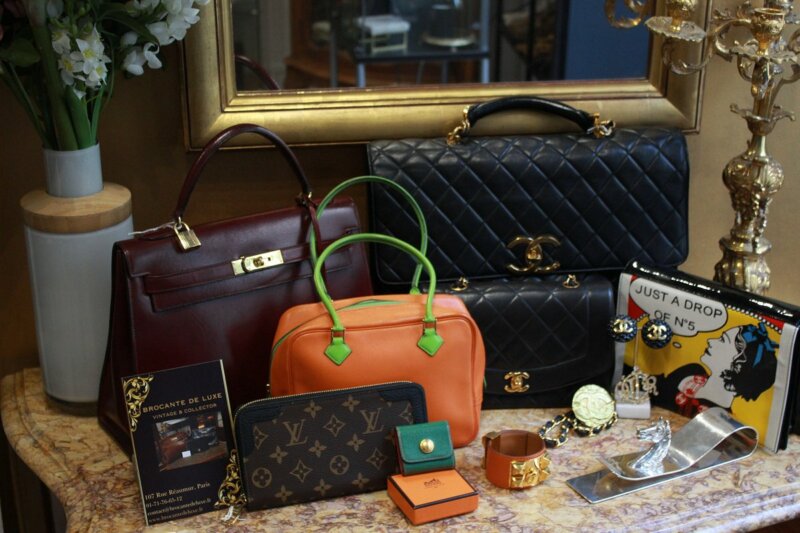 107 Rue Réaumur, 75002, Paris, France
Opulence Luxury, a boutique launched in 2016, is known for its extensive inventory of high-end vintage clothing and accessories, such as purses and jewelry. There is a 100% authenticity guarantee on all Hermes, Louis Vuitton, and Chanel items sold here.
The shop's proprietor is well-versed in all things related to selling goods in the heart of Paris. Their online store also displays the items, with detailed measurements included, so that customers are fully informed before making a purchase.
4. Kilo Shop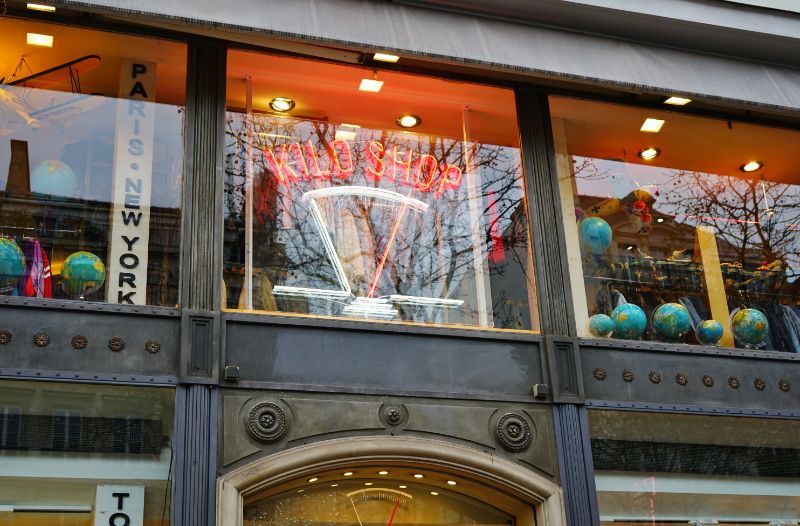 69-71 Rue de la Verrerie, 75004 Paris, France
Kilo Shop is a thrift store in Paris that is worth visiting. It has a huge selection of vintage clothes and accessories, and you can find great deals here. The staff is friendly and helpful and will help you find what you're looking for. Shopping at Kilo Shop is a great experience, and you can easily know how much what you want costs. The clothes are color-coded for you to know the price per kilo.
Kilo Shop encourages customers to "Select, Weigh, and Take it!" The vintage and second-hand store has two stories and is near Hotel de Ville in the heart of Paris. You will find other vintage stores within walking distance from this boutique. It also has several locations in the city. Despite the unexpected nature of the idea, the prices and the quality of the items are quite favorable.
5. Vintage Paris Luxe
171 Boulevard Saint-Germain, 75006 Paris
If you go vintage shopping in Paris, Vintage Paris Luxe is a second–hand clothes shop worth visiting if you want high-quality items. The store has a large selection of designer clothing and accessories. If you are looking for something special, Vintage de Luxe is the place to go.
At Vintage Paris Luxe, shoppers can find various clothing and accessories from designer brands like Dior and Chanel. The store is stocked with items from all different periods, making it the perfect destination for vintage lovers of all styles. Whether looking for a 1920s flapper dress or a 1950s poodle skirt, you're sure to find what you're looking for at Vintage de Luxe.
See Related: Saint Germain des Prés: Things to See & Do
6. Casablanca
17 rue Moret, 75011 Paris
Casablanca is a store that fans of pre-war fashion won't want to miss. It is tucked away on a quiet street in the 11th arrondissement. The store first opened its doors in 1996.
Items for women, men, and children from the '30s to '70s are available in this shop. Their products include clothing, accessories, and footwear. Everything you need to achieve an authentic retro look is right here in the heart of the French capital.
Casablanca is not a vintage shop that sells second-hand clothes. Instead of authentic vintage pieces, this shop sells replicas of suits and clothing from the 1930s-1970s. This is not a thrift shop as they sell new clothes. They have supplied goods for performances at the Opéra Bastille, the Opéra Garnier, the Opéra du Rhin in Lausanne, and the Théâtre du Châtelet in Paris.
The vintage store also offers the services of a stylist. If you want a retro cut or beard, make an appointment.
7. Free'P'Star
61 rue de la Verrerie. Paris 4è. and other locations
Check out these spots if you're looking for amazing vintage shopping and second-hand shops to explore in Paris! Free'P'Star has multiple locations in le Marais neighborhood in the 4th arrondissement, and each one is a goldmine of hidden gems. You can find everything here, from clothes to accessories to shoes for men and women, all for a very cheap price.
Just be prepared to dig to find what you're looking for. There is a bin of euros where everything costs just €1 each! They may throw out some real steals, though.
Free'P'Star is located in the Marais neighborhood in the 4th arrondissement of Paris.
8. Célia Darling
5 rue Henry Monnier, 75005 Paris
There are a few good-quality second-hand shops in Paris that you should check out if you're looking for unique clothes. Celia Darling is one of my favorites; it's situated on 9th Street between some bars and modern shops. It has a really elegant façade that looks like an elegant fashion house and is full of vintage products from around the world.
You can find French and international clothing styles from the 50s to 80s here, and everything is affordable. You may be able to hunt down some haute couture pieces here!
The shop has a wide variety of clothes to choose from, including dresses, skirts, blouses, and suits. If you're looking for something unique and stylish, then Célia Darling is the shop for you.
9. Noir Kennedy
22 rue du Roi de Sicile, 75004 Paris
Noir Kennedy is a great place to check out if you're looking for a rock and roll vibe in your vintage shopping. They have a store in the Marais district of Paris, and you'll find everything from leather jackets to studded shoes.
At Noir Kennedy, you'll find a wide array of second-hand items for both men and women. Items from the 1980s punk fashion era, including leather jackets, studded boots, and punk clothing are on display, so you can find pieces that will add an edge to your look. It's a great place for fashion lovers who want to experiment with different styles.
Noir Kennedy is located in the Marais district of Paris. Le Marais district is known for its trendy shops and restaurants, so you'll be able to find plenty of other places to explore while you're in the area.
10. Retro Chic
57 rue Condorcet, 75005 Paris
Retro Chic is perfectly named. This paradise of high-end vintage clothing is conveniently located just off the main drag and within walking distance of Célia Darling. They have a wide selection of designer items like Dior, Chanel, Gucci, Yves Saint-Laurent, and more labels here. The garments are handpicked with great care, not just in terms of style but also quality.
This establishment not only sells vintage items, such as those from the 1950s and 1980s but also "recycled" items, which are brand new yet are produced from the fabric and leather of previously owned vintage items. The shop's kind owner, Yann, has a thing for elegant vintage garments. Truly, he is responsible for the ongoing success of the Oberkampf Retro Market.
11. Thanx God I'm A V.I.P
12 Rue de Lancry, 75010 Paris, France
Thanx God I'm a V.I.P., located in the 10th arrondissement not far from Canal Saint Martin, is another upscale vintage store in Paris. Offering both men's and women's apparel, the store's wares are as varied as they are gorgeous.
In addition, everything in the shop is well categorized and labeled. There are always new styles to try, from chic cocktail dresses to cozy winter outerwear!
See Related: Shopping Streets in Paris, France
12. La Mode Vintage
12 rue Rochebrune – 75011
Shoppers in the 11th arrondissement of Paris will be pleased to find the charming La Mode Vintage on the corner of the square named for Maurice Gardette.
The store's owner, Carole Bigielman, is a genuine enthusiast. In the 1990s, she launched her own fashion label and designed her own lines. Currently, she is able to shop for high-end vintage clothing and accessories that cater to her refined tastes.
You can count on the quality and originality of everything here. The things are 20, 30, or even 40 years old but they all look brand new.
La Mode Vintage is a curated collection of vintage clothing from a wide range of designers and eras, with one unifying theme: a preponderance of color (which Carole Bigielman draws attention to in particular) and the emergence of clothing in a very modern, fashionable style.
It goes without saying that the higher the quality, the higher the price tag. However, keep in mind that everything in this shop is priced competitively with the market; in fact, the owners of other vintage stores frequent this store to stock their own shelves.
Final Thoughts
Paris is a city known for fashion and style. The French are known for their unique sense of style, and the city of Paris itself has become a kind of fashion mecca. Parisians are known for their love of fine fabrics and quality clothing, which they often wear with an air of sophistication.
With so many thrift stores in Paris, you're sure to find the perfect piece of clothing or accessory to take your style up a notch. We've provided a list of our favorite vintage shops in Paris, so be sure to check them out on your next visit and let us know which ones you are most excited to visit.
Related Resources:
FAQs
What are thrift stores called in Paris?
In Paris, thrift stores are called " friperie ." A "friperie" is a store where you can find good, inexpensive clothing. The word "friperie" comes from the French words "frêne" (ash tree) and "Pierre" (stone) because these stores used to be located near ash trees and stone walls.
What should I wear to a vintage shop?
Thrift stores are usually very informal, so you can wear whatever you feel comfortable in. However, it's always a good idea to dress nicely and try to avoid wearing too much makeup or jewelry. That way, you'll be able to find the perfect vintage piece that you can wear and enjoy for years to come.
What should I do if I find a piece of clothing that I love?
If you find a piece of clothing that you love, it's important to act fast. Vintage pieces tend to go quickly, so you don't want to miss your chance. Try to negotiate a good price and be prepared to walk away if the store owner doesn't agree. Remember, you can always find other vintage shops in Paris if you don't find what you're looking for at the first one.
What is the best shopping street in Paris?
The best shopping street in Paris is the Rue de la Verrerie, which is full of vintage shops. This crowded little street is said to be one of the oldest streets in Paris and is filled with a variety of vintage stores. Seen as the perfect place to find an affordable but not so unique souvenir, this little gem feels like stepping back in time. With quirky little alleyways and interesting characters, it's easy to spend a few hours here browsing the racks.