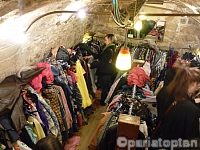 A classic! Located in a touristic area but still, not too expensive like some others, it's already known by foreigners. This small boutique with a basement is packed with all style of second-hand clothes. You'd better go at a quite time, like a weekday morning, if you want to seach through everything without being bumped into.
There is only one small changing room, but the staff is nice.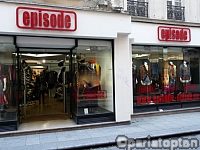 This shop is big and well organised. Most of the items have been cleand too. You'll spend time in this place. Even if you came without any precise idea, you'll find something you lke for sure.
So I think that's the excuse I found to explain why the prices are a bit high for secondhand clothes and accessories.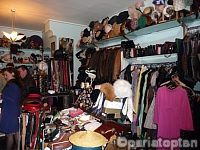 This is a vintage boutique, with a clear tendancy 50's 60's. When you enter, you plunge into that atmosphere, with the decoration of the shop and the look of its owner, Brigitte. She will help you to find what you're looking for.
An other shop, a few steps away, up or down the road (depending where you're coming from!), is called Mamie, and used to be Brigitte' shop. But it's still a 50's and 60's vintage shop and the twin of Mamie Blue. It looks smaller because it's very narrow, but it's got …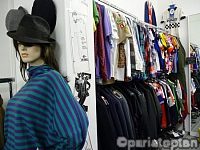 Since 2010, this second-hand-vintage shop moved from the 10th area (Gare de l'Est) to the 11th, in this great and lively quarter called Oberkamps, full of bars, restaurants, and shops of all sorts.
Very friendly owner who likes the Unites-States and its rock music! Tendancy 70's 80's, and a particularity of a quite large choice of cycling jerseys! But also furs, army jackets, belts, bags, etc.
Open Monday to Saturday from 10.00 a.m. to 7.30 p.m.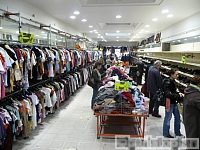 This is a real parisian second-hand shop, with really cheap prices. It's not a fashion address, even though it's starting to be trendy… Let's hope they won't put the prices up too much with this growing popularity!
A very large choice is offered, and some patience you'll need to find "the" article of your dreams!
Open everyday from 10.00 a.m. to 8.00 p.m.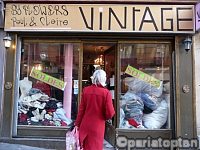 If you like second-hand shops for the pleasure to rummage in clothes, you'll love this one! When I went, half the goods were still into opened plastic bags, and the nices owners seemed a bit snowed under with work!
Even if the place is really small, you don't feel any pressure, and you can take all your time. And don't hesitate to ask questions.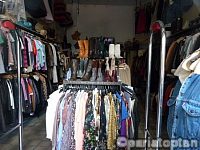 In this trendy boutique, you can watch the MTV video clips while you shop! I noticed some vintage swimming outfits which is quite rare. The prices are quite high because the articles are already selected, and well arranged.
Closed on Monday. Open Tuesday to Saturday from 1.00 to 9.00 p.m. (Sunday from 2.00 p.m.)
 The last shop opened by the group which's already got the famous Kiliwatch (64 rue de Tiquetonne, Paris 2d area), and the other Hippy Market (3 rue de Turbigo, Paris 1st).
A huge place dedicated mostly to the 70's, and very well organised. It's so colofull and attractive (except the prices!) that i felt like a kid in an cakes and icecream shop!
Open Monday to Saturday from 10.30 a.m. to 7.30 p.m. and Sunday from 1.00 to 7.30 p.m.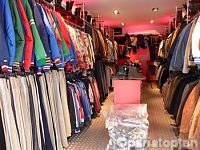 Clothes for men and women, 60's and 70's, very rock'n roll. Two shops nearly facing each other, full of jeans, boots, bags and jackets. One opened in 2007 and the other in 2009.
Related Resources