If you're in the mood for a restaurant that embodies elegance, sophistication, and exquisite cuisine, then Restaurant du Palais Royal is the place for you. Situated at the core of Paris, this French restaurant has gained a reputation for its luxurious ambiance, impeccable service, and mouth-watering dishes that will leave you wanting more. Join us as we dive into the Restaurant du Palais Royal review to finally discover why this is one dining destination not to be missed.
From the moment you step through the door, you'll be transported to a world of refined dining, where every detail has been carefully thought out to offer you an unforgettable encounter.
Restaurant du Palais Royal (Palais Royal Restaurant) is a gem and one of the best restaurants in Paris, offering an exceptional dining experience with incredible panoramas of the Palais Royal and its gardens. This restaurant is highly rated and renowned for its French cuisine, which is contemporary, delicious, and beautifully presented by its young and talented chef, Philip Chronopoulos. The restaurant has two Michelin stars for its consistently high-quality food and outstanding service.
Location and Setting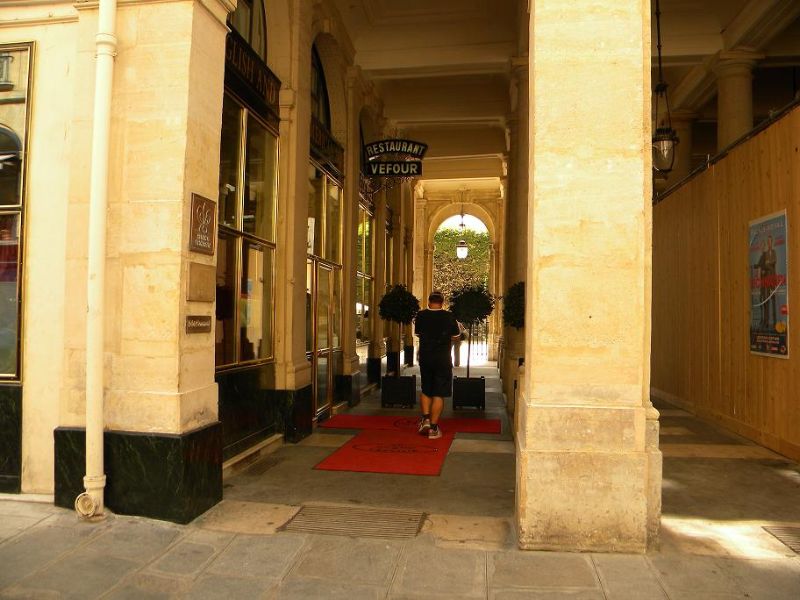 Located in the city center of Paris, the Restaurant du Palais Royal is in a beautiful setting – the Jardin du Palais-Royal. Perfect for history, art, and nature lovers alike, the restaurant is surrounded by galleries that border the garden. This restaurant has a charming terrace in the Palais Royal Gardens, away from the city's noise.
Whether staying nearby or exploring Paris for the day, the Restaurant du Palais Royal is an excellent spot for a lovely meal. The beautiful setting complements the restaurant's atmosphere and cuisine, creating a memorable dining experience.
Besides, the restaurant is easily accessible by public transport, making it a convenient location for visitors and locals. The garden also adds to the restaurant's charm, especially when the weather is nice, and guests can enjoy a meal on the terrace surrounded by the lush greenery.
See Related: Restaurant Les Ambassadeurs
Interior and Ambiance
Restaurant du Palais Royal in Paris boasts a chic and contemporary dining room with an unusual design terrace at the garden's heart. The restaurant features elegant Christofle utensils, and the waiting staff is friendly and attentive without being snobbish.
The atmosphere inside is not rushed, providing a fine dining experience perfect for a special occasion. The restaurant's interior and ambiance match the exquisite cuisine, providing guests with a memorable dining experience they will never forget.
The Palais Royal Restaurant offers a breathtakingly beautiful setting reserved only for 30 privileged guests, providing a unique experience for those who want to make their dining experience even more special. The restaurant's interior design and overall ambiance are one of the main reasons it is becoming increasingly popular among travelers and inhabitants.
Cuisine & Menu
Restaurant du Palais Royal offers a perfect balance of excellence and attentive service, tallying with the French know-how and Mediterranean origins of young Chef Philip Chronopoulos.
The menu boasts a selection of dishes with an interplay of textures and colors that never sacrifice taste or the element of indulgence. Chef Chronopoulos conveys emotions through flavors, textures, and aromas that bring all of nature's beauty to his plates.
Restaurant du Palais Royal offers a lunch menu that takes diners from Athens to Paris with a range of starters, main courses, and desserts. The autumn menu presents a varied selection of dishes that use fresh ingredients of French origin.
The restaurant also offers a tasting menu, which includes caviar Dublin Bay prawns, milk-fed lamb, and fig elderflower vanilla for dessert. Their wine pairing menu comprises the finest selection of wines that perfectly complement the food's flavors.
Chef Philip Chronopoulos
Chef Philip Chronopoulos is a dynamic and passionate professional of Greek origin. He is the mastermind behind the menu at the Restaurant du Palais Royal, which has been awarded two Michelin stars. He trained at the prestigious Paul Bocuse Institute before joining the team of Joël Robuchon, where he honed his skills under the mentorship of the legendary chef.
Chef Chronopoulos conveys emotions through flavors, textures, and aromas combined with his authentic cuisine to bring all of nature's beauty to his plates. He creates an amazing interplay of texture and colors without sacrificing taste or indulgence, following the cycle of the seasons. Through his cuisine, he leads his entire team towards pursuing his vision, giving meaning to each dish.
Michelin Stars and Awards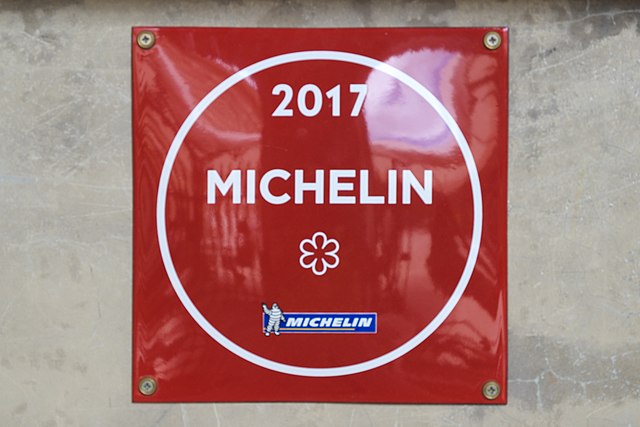 Restaurant du Palais Royal has been awarded two Michelin stars recognizing its exceptional cuisine and service. This elegant restaurant has become a destination for food enthusiasts who appreciate innovative dishes prepared with precision and care.
Chef Philip Chronopoulos creates seasonal menus that showcase nature's bounty and pay tribute to France's and the Mediterranean's culinary traditions with high-quality cooking to the exact Michelin star quality standards.
The menu features exquisite dishes with a perfect balance of flavors, textures, and aromas that awaken the senses and nourish the body. The Michelin star recognition affirms the dedication and hard work of the Restaurant du Palais Royal team, who bring their passion and expertise to every guest's dining experience.
The accolade also demonstrates the restaurant's commitment to maintaining high standards of quality and excellence. Customers can expect an exceptional meal and a memorable culinary adventure in a beautiful setting.
Restaurant Du Palais Royal Reviews
Customers who have dined at Restaurant du Palais Royal in Paris have nothing but glowing reviews for the establishment. Many reviewers describe the dining experience as one of the best they have ever had. The quality of the food is praised, with particular attention paid to the clever construction of each dish and the use of fresh, locally sourced ingredients.
The waiting staff is highly coordinated, friendly, and attentive, while the chef is said to be humble and personable. A few customers note that this Michelin-star restaurant's outdoor seating offers a rare opportunity to relax and enjoy the beauty of Paris while dining.
Overall, reviewers highly recommend the Restaurant du Palais Royal to anyone who appreciates fine dining and a genuinely exceptional experience.
Reservation Information
Like most popular restaurants in Paris, making a reservation well in advance is recommended to ensure a memorable dining experience at Restaurant du Palais Royal (Palais Royal Restaurant). But please note that the restaurant does not offer reservations for its terrace, and seating arrangements may be subject to availability upon arrival.
The restaurant's opening hours are not provided, so it's advisable to check their website or call ahead before planning your visit. Restaurant du Palais Royal offers a range of well-crafted European dishes by its chef, Philip Cronopoulos, who emphasizes using high-quality ingredients.
Guests can enjoy a fine dining atmosphere and smooth services while relishing Robuchon's finest selection of wines. It's crucial to note that the establishment has been awarded two Michelin stars due to its outstanding service, culinary excellence, and high standards. Restaurant du Palais Royal is an excellent choice for an intimate romantic dinner date or a special occasion.
Contact Information
For those interested in visiting the Restaurant du Palais Royal in Paris, it is crucial to note the contact details. The restaurant is open for dinner from Monday to Tuesday and lunch and dinner from Wednesday to Friday. Lunch starts at noon and ends at 2:30 pm, while dinner is from 6:30 pm to 10:00 pm.
The salon-de-thé is available from 12 a.m. to 5.30 p.m. for coffee, a cup of tea, or other refreshments, and the restaurant prices are appetizers from 12 euros; main meat or fish dish around 30 euros; and dessert around 10 euros.
Reservations can be made by emailing [email protected] or by calling +33 (0)1 40 20 00 27.
Related Resources