One of the best things to eat in Paris is the croissant. There is something special about croissants in Paris. Buttery, flaky, and soft, Parisian croissants cannot be beaten! We've ranked the best types of croissants to try on your visit to Paris.
All About the Croissant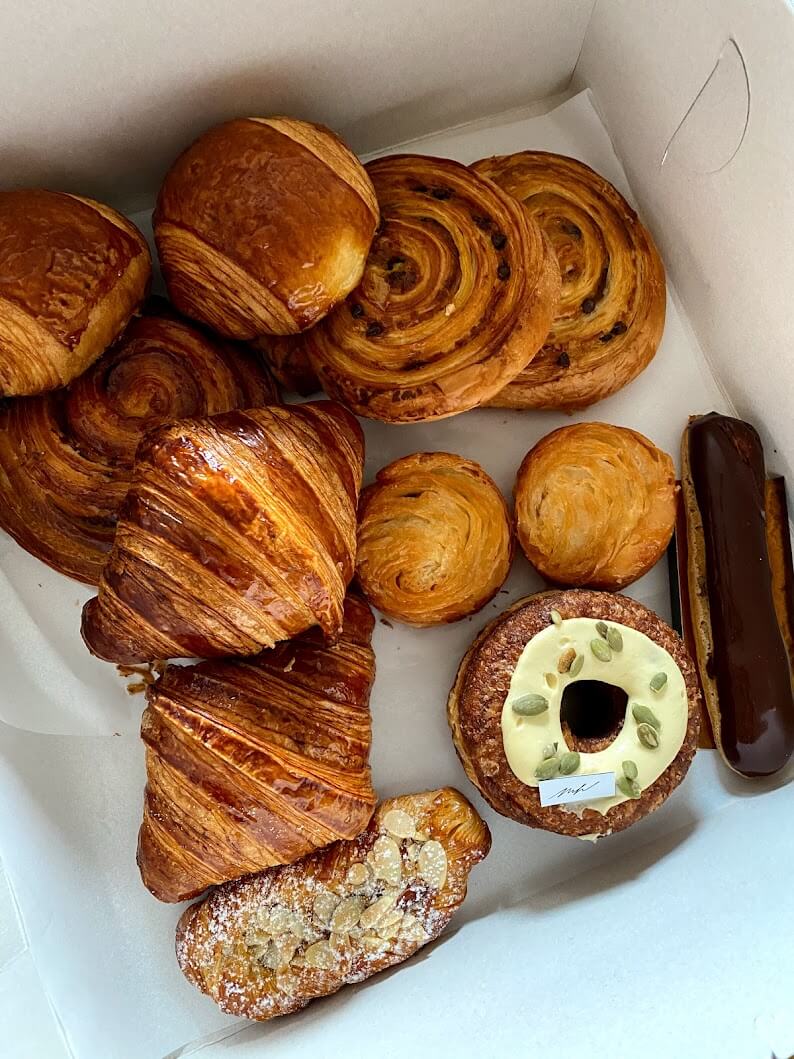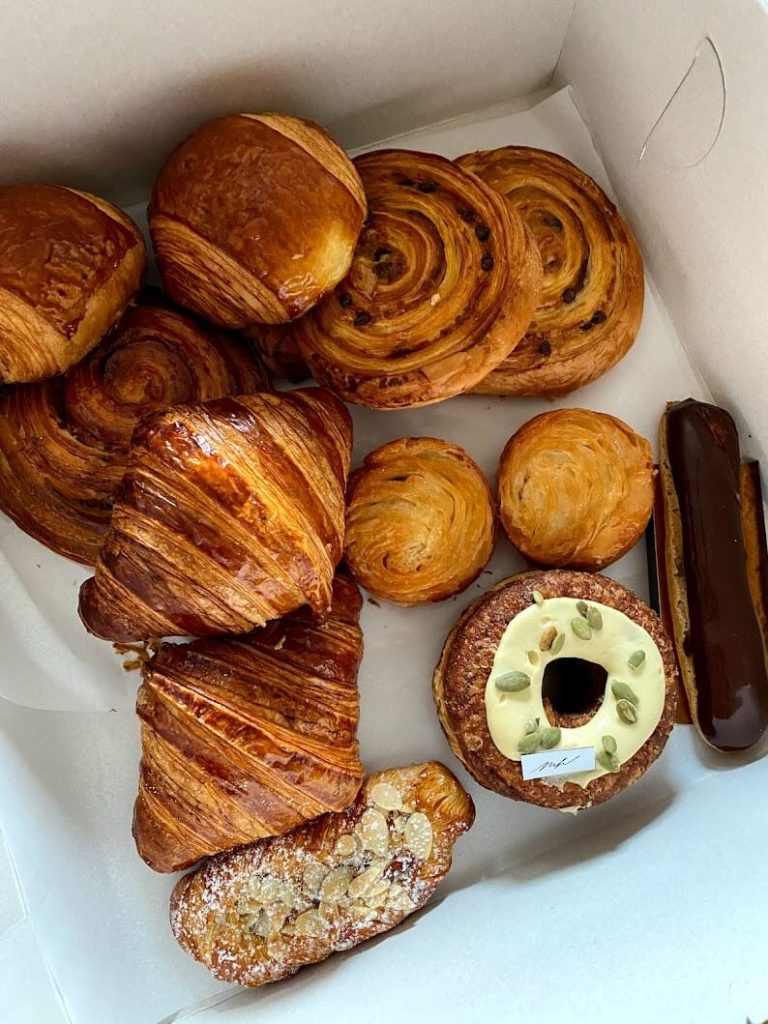 Croissants are more than a wonderful thing to eat — they are a cultural experience. Traditionally, croissants are served and enjoyed at breakfast with butter and jam.
Most French people enjoy their croissants plain without extra butter or jam. This is probably because the croissants in France are the best in the world!
You can find croissants at restaurants, cafes, and most commonly in pâtisseries. A pâtisserie will have baked goods (baguettes, rolls, bread, etc) and desserts. You will likely find a pâtisserie every couple of blocks in Paris, and you really can't go wrong trying them all out.
People love croissants so much that they created National Croissant Day on the 30th of January. Now that's a holiday I can get behind!
Without further ado, here is our list of the top 10 croissants to eat in Paris.
10. Almond Croissant
The Croissant aux Amandes – a croissant stuffed with almond paste, is one of the top croissants to try in Paris. Almond croissants are typically filled with a creamy almond paste and topped with freshly sliced almonds to give the croissant a little crunch.
Almond croissants are rumored to be the first type of croissant to come to France. Based on the Austrian kipfel, which was made in the shape of a moon and coated with almonds, this croissant helped pave the way for many types of croissants that people enjoy today.
Pair one of these amazing almond croissants with an espresso and your day will be off to a great start!
9. Dulce de Leche Croissants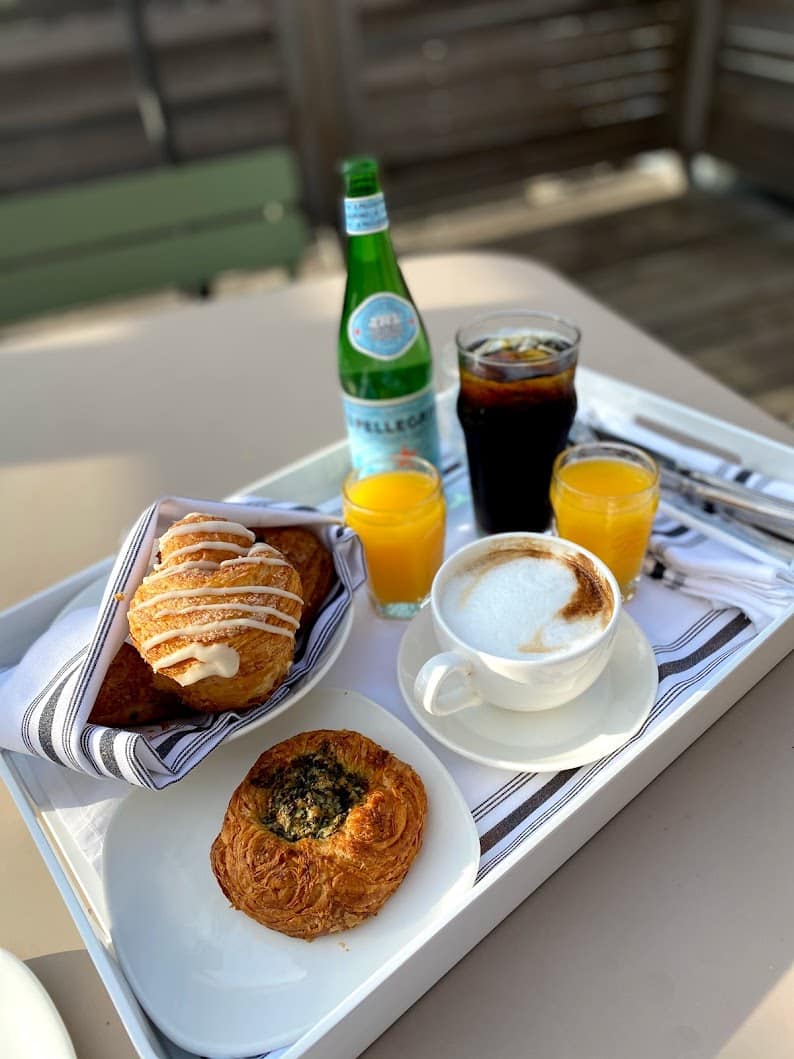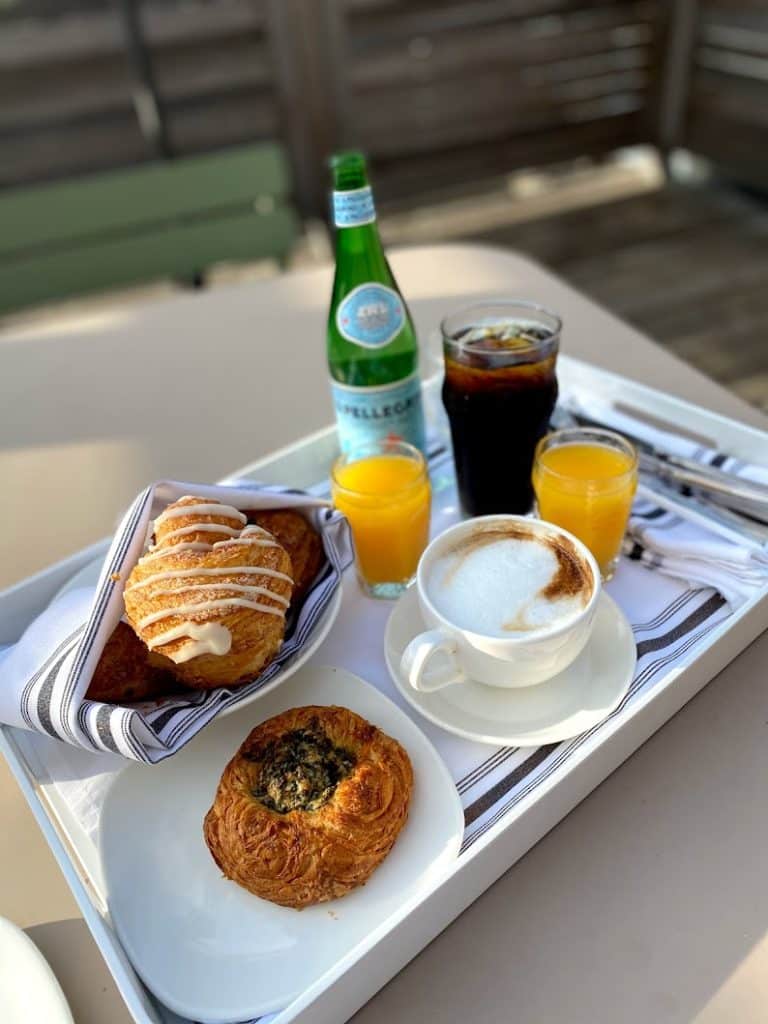 In French, the dulce de leche croissant is called Croissant à la Confiture de Lait. A popular croissant for children and adults alike, this particular croissant is made with condensed milk.
The dulce de leche croissant is typically smaller than other croissants–almond or butter croissants can sometimes need two hands to enjoy. These croissants are quicker to make and have a less-flaky crust. You will commonly see them dusted with powdered sugar.
8. Apricot Croissant
Next on the list of top ten croissants to eat in Paris are Croissant aux Abricots – a fluffy croissant stuffed with fresh apricots. Apricot croissants also originate from Austria and are quite common in Czechia.
Looking at an apricot croissant in a pâtisserie may confuse you, these croissants look like there are sunny-side-up eggs on a pastry, but these are actually fresh apricots that are indulgently sweet.
Apricot croissants are popular for breakfast and lunch. The sweetness of the apricot blends perfectly with the butter-flake crust, making this croissant melt in your mouth.
Sometimes apricot croissants will be coated in fresh-cut almonds, which makes for an extra special treat!
7. Ham Croissant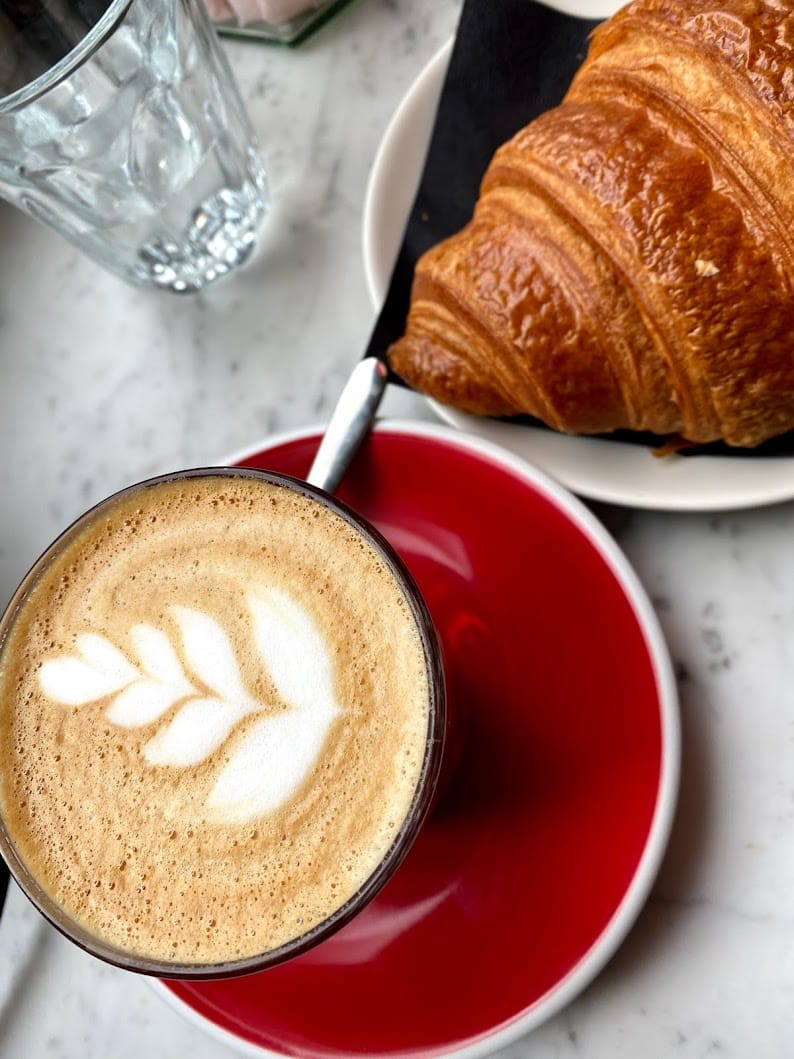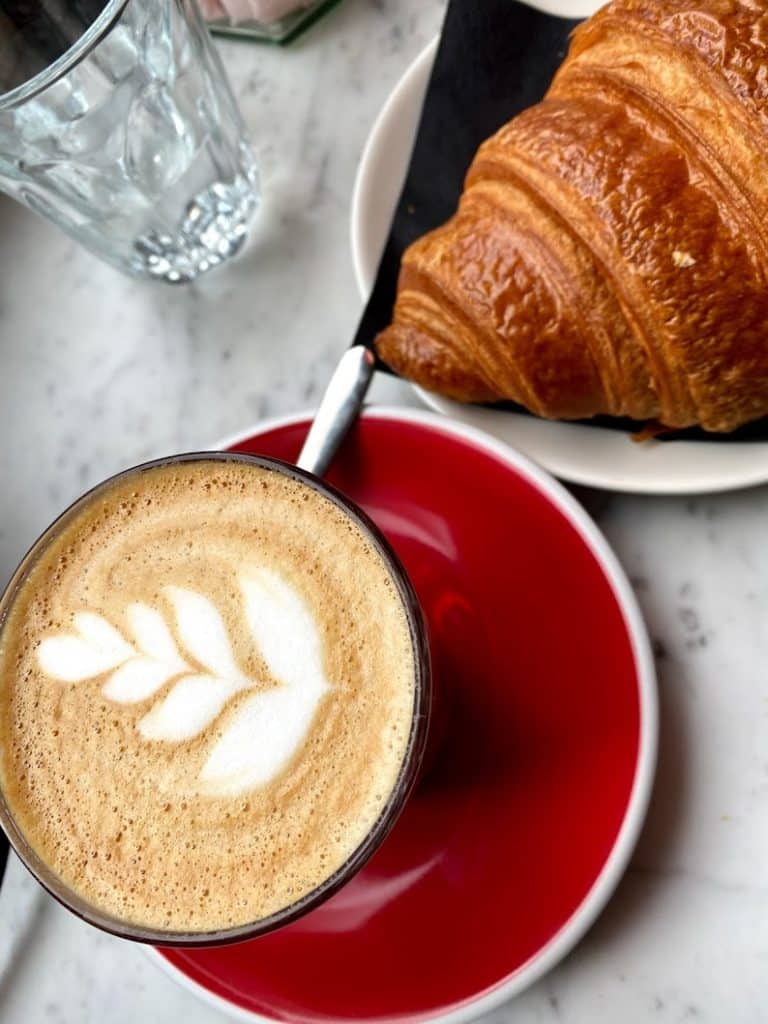 Another popular croissant in Paris is the Croissant au Jambon. These croissants are baked with ham inside, and sometimes cheese, making for a perfectly balanced meal.
Unlike croissants typically found in Italy, French ham croissants are filled with cooked ham, not salt cured ham.
These rich croissants are perfect for lunch or an afternoon treat. Of course, you can enjoy them at breakfast with some eggs, too.
6. Sugar Croissant
Sugar croissants are less common in Paris, but still a fan favorite. Pastry chefs typically use a traditional butter croissant as their base, and coat it with sugar for a sweet crunch. Some pastry chefs choose a dulce de leche base for smaller, doughy croissants as their base.
Sugar croissants are typically softer than other croissants. They are best paired with black coffee or espresso. When paired with a latte, this croissant may be too sweet (at least it is for me)
5. Pistachio Croissant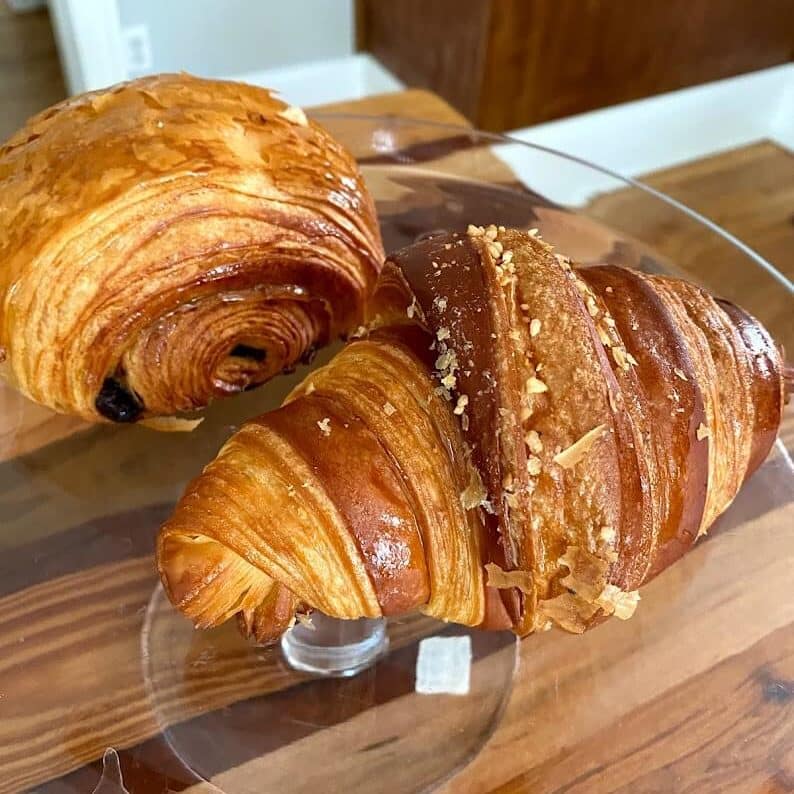 Pistachio macarons are incredibly popular in Paris. Naturally, their cousin, the pistachio croissant, is popular too.
Pistachio croissants are filled with a soft, salty pistachio paste that just ooze goodness. The pistachio interior is traditionally made by roasting pistachios then blending them with butter, sugar, and eggs.
The best pistachio croissants are covered with a light vanilla cream-type frosting and chunks of roasted pistachios.
4. Salmon Croissant
Also known as croissant aux saumon, this savory croissant is filled with fresh salmon. This salty, savory croissant is truly a delicacy.
There are two ways to enjoy a salmon croissant. One popular way to make salmon croissants is by baking the salmon inside a butter croissant, sometimes with cheese as well which rises to a perfectly flaky crust. This method creates a flavorful mix of butter and salt with cooked salmon melting in your mouth in every bite.
Another common way to enjoy a salmon croissant is more similar to a sandwich. Chefs will use a butter croissant and cut into it to make space for smoked salmon. Then they add dill, cheese cream, cucumber, fresh herbs, and a dash of lemon. A perfect lunch that is both refreshing and savory.
3. Chocolate Croissant
We are down to the top three croissants to eat in Paris. At the top of the list is one of the most popular croissants, the Pain au Chocolat.
The pain au chocolat is a croissant stuffed with chocolate. Depending on the pâtisserie, the chocolate inside with either be a harder long stick of chocolate, or smaller melted pieces that ooze out.
Sometimes chocolate croissants will have sugar sprinkled on top or a chocolate drizzle. These croissants are very popular with children, and are the perfect afternoon snack for a walk in the park.
2. Cheese Croissant
A personal favorite of mine is the perfect Croissant au Fromage. Fromage is French for cheese, and when you mix French cheese with a French pastry you really can't go wrong.
This croissant is filled with cheese. And not just any cheese! Common cheese croissants are made with Brie, Camembert, Roquefort and Comte. The most popular, however, are filled with Gruyere.
Cheese croissants are a popular option for croissants to eat in Paris because they are warm, buttery, and savory. If sweets aren't your thing, cheese croissants are the way to go.
See Related: Top Markets in Paris
1. Butter Croissant
Finally, the number one spot for the croissants to eat in Paris is the infamous Croissant au Beurre . These butter croissants are by-far the most popular croissants in France, and the world! And there is no better place to enjoy a butter croissant than in Paris.
My absolute favorite butter croissant is at Le Royal Opera, a cafe nearby the opera. For breakfast they serve the croissants fresh and warm, perfectly cooked with a buttery, flaky crust and warm soft center.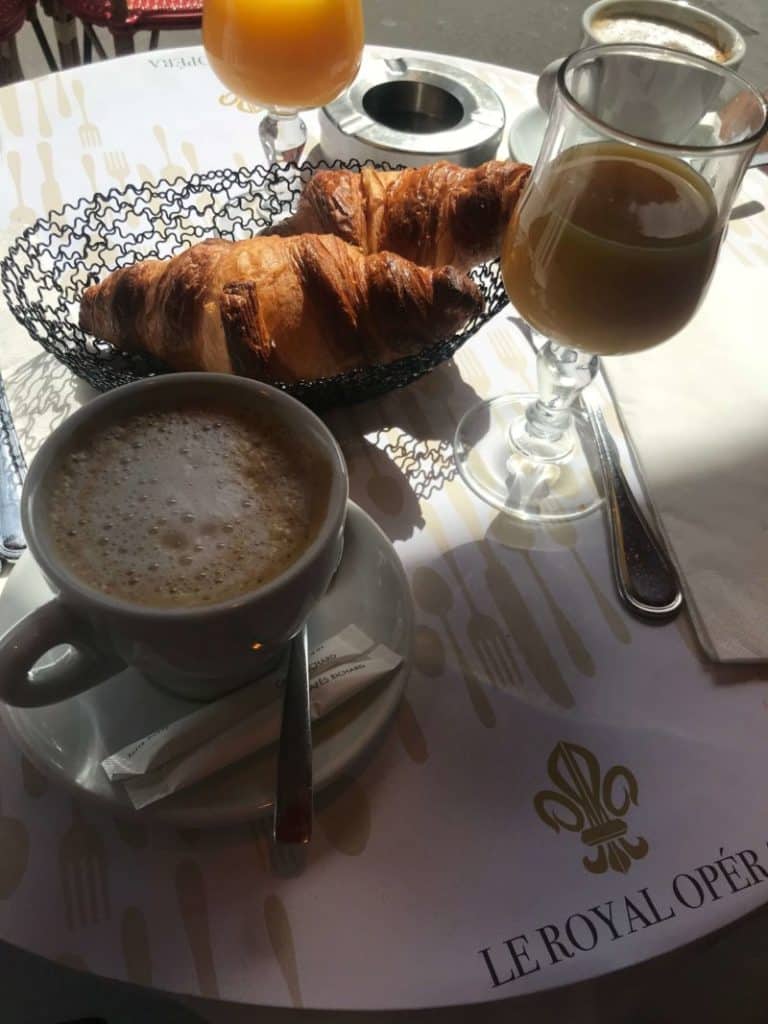 Every time I visit Paris I make sure to stop here. I usually avoid touristy areas, but this croissant has stood the test of time – I have been coming here for nearly 10 years to have their croissants!