One of the best things to eat in Paris is the ubiquitous and delicious croissant. There is something special about croissants in Paris. Buttery, flaky, and soft, Parisian croissants cannot be beaten! We've ranked the top 10 best croissants in Paris, so you know where to begin!
All About the Croissant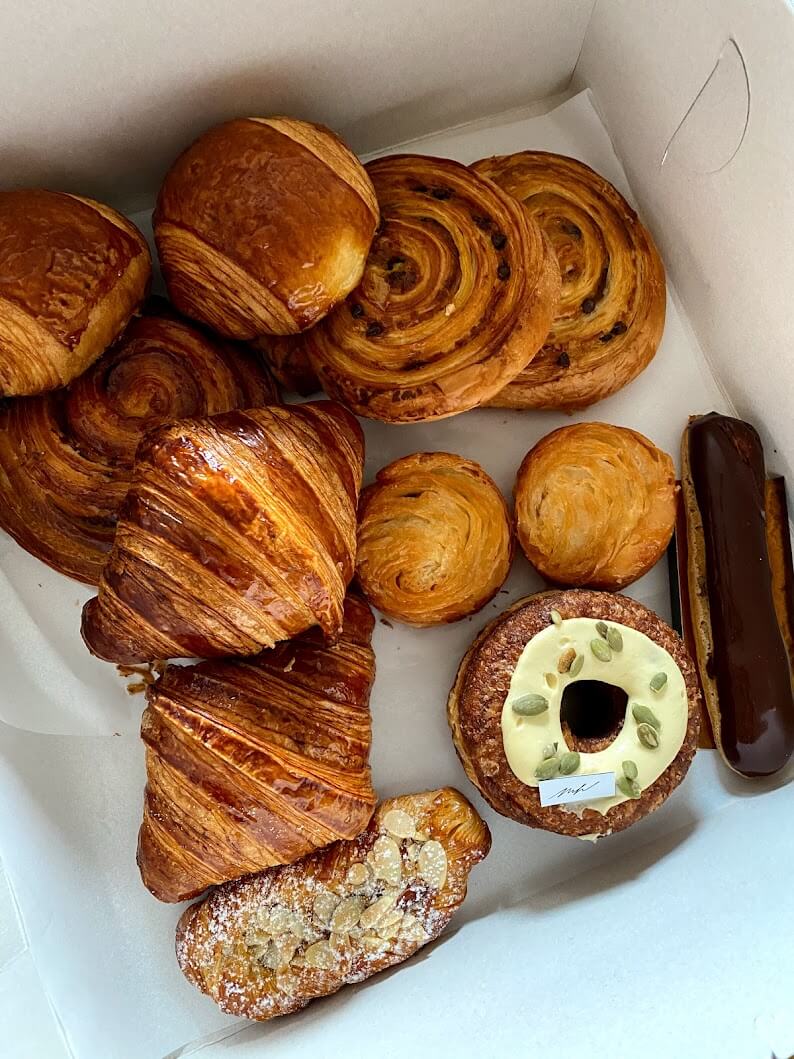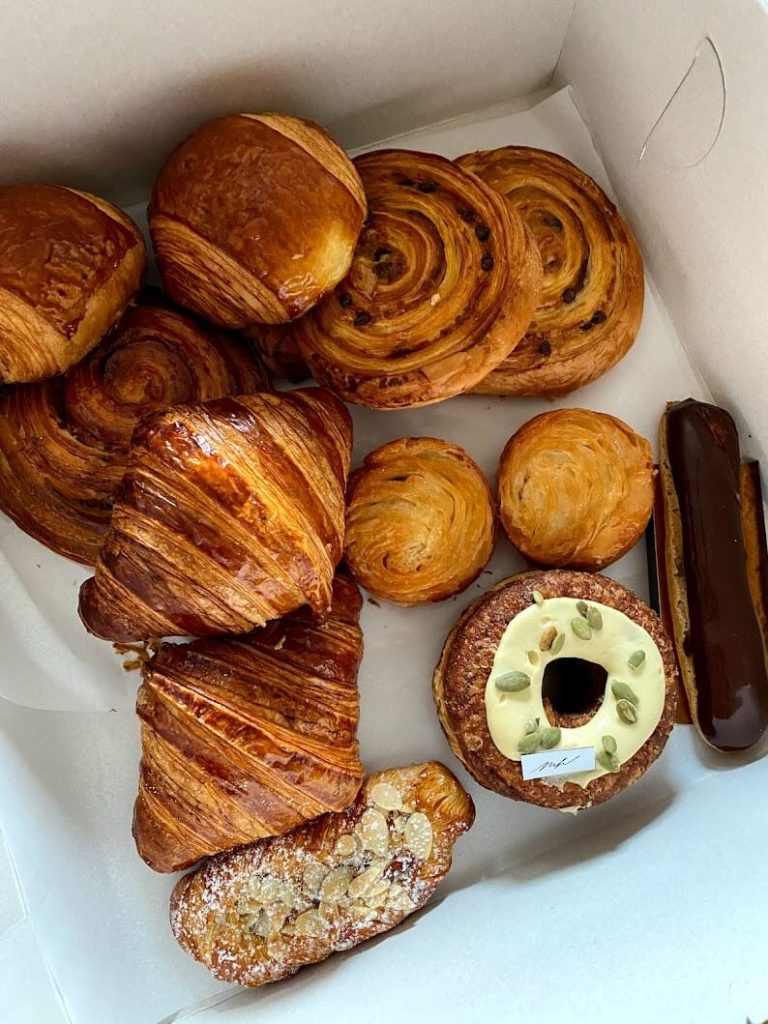 We know that there is nothing better than enjoying a tasty, buttery pastry straight out of the oven. If you're looking for some guidance on where to get your next fix, be sure to check out our list of the best croissants in Paris!
Croissants are more than a wonderful thing to eat — they are a cultural experience. Traditionally, croissants are served and enjoyed at breakfast with butter and jam.
There are two kinds of croissants in Parisian café culture — croissant au beurre and croissants ordinaries. Both are the typical curly roll, but croissants ordinaries are usually crescent-shaped and may contain margarine.
The croissant au beurre however it the straight-laced cousin of the ordinaires, and is the classic croissant you often see in ads and videos, made only with butter, NEVER margarine.
Most French people enjoy their croissants plain without extra butter or jam. This is probably because the croissants in France are the best in the world! That said, they are incredibly versatile vessels for other yummy ingredients, and everyone has their own favorite variation on one of these classics.
You can find croissants at restaurants, cafes, and most commonly in pâtisseries. A pâtisserie will have baked goods (baguettes, rolls, bread, etc) and desserts. You will likely find a pâtisserie every couple of blocks in Paris, and you really can't go wrong trying them all out.
People love croissants so much that they created National Croissant Day on the 30th of January. Now that's a holiday I can get behind!
Without further ado, here is our list of the top 10 croissants to eat in Paris.
10. Almond Croissant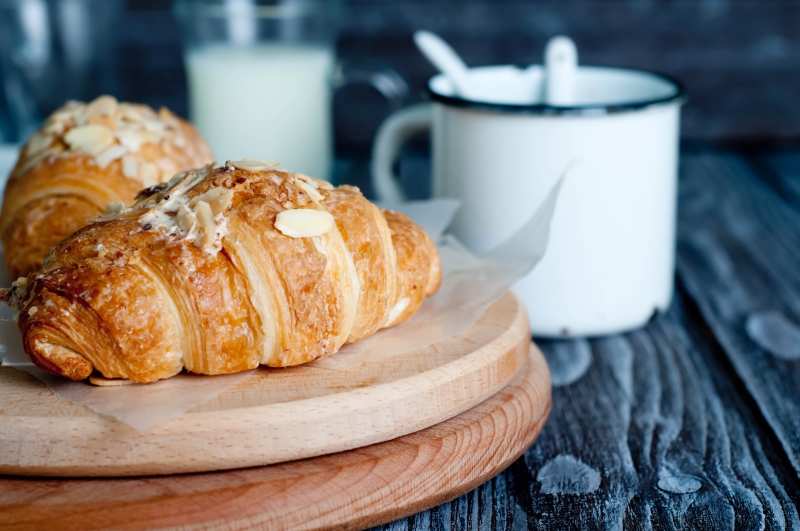 The Croissant aux Amandes – a croissant stuffed with almond paste, is one of the top croissants to try in Paris. These croissants are typically filled with a creamy almond paste and topped with freshly sliced almonds to give the croissant a little crunch.
Almond croissants are rumored to be the first type of croissant to come to France. Based on the Austrian kipfel, which was made in the shape of a moon and coated with almonds, this croissant helped pave the way for many types of croissants that people enjoy today.
The oldest pâtisserie in Paris, Stohrer, is famous for making the best almond croissant in Paris. Don't hesitate any longer; join the regulars in line for this delectable pastry stuffed to the brim with flavorful almond cream and dusted with icing sugar. It's dense and cake-like, so it's great as a sweet treat when you're out and about in Paris.
Remember that this is one of the largest and more indulgent options, even among croissants, so most people will probably only need one. Pair these amazing almond croissants with an espresso or hot chocolate and your day will be off to a great start!
See Related: Best Desserts in Paris to Try
9. Dulce de Leche Croissants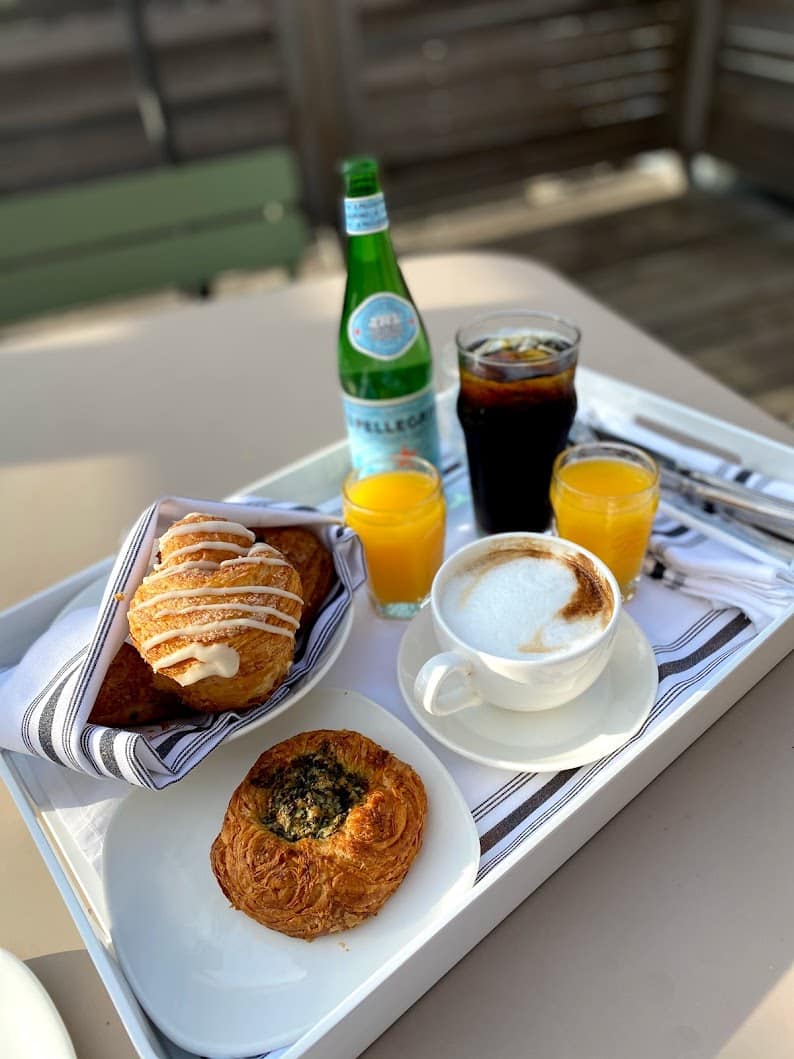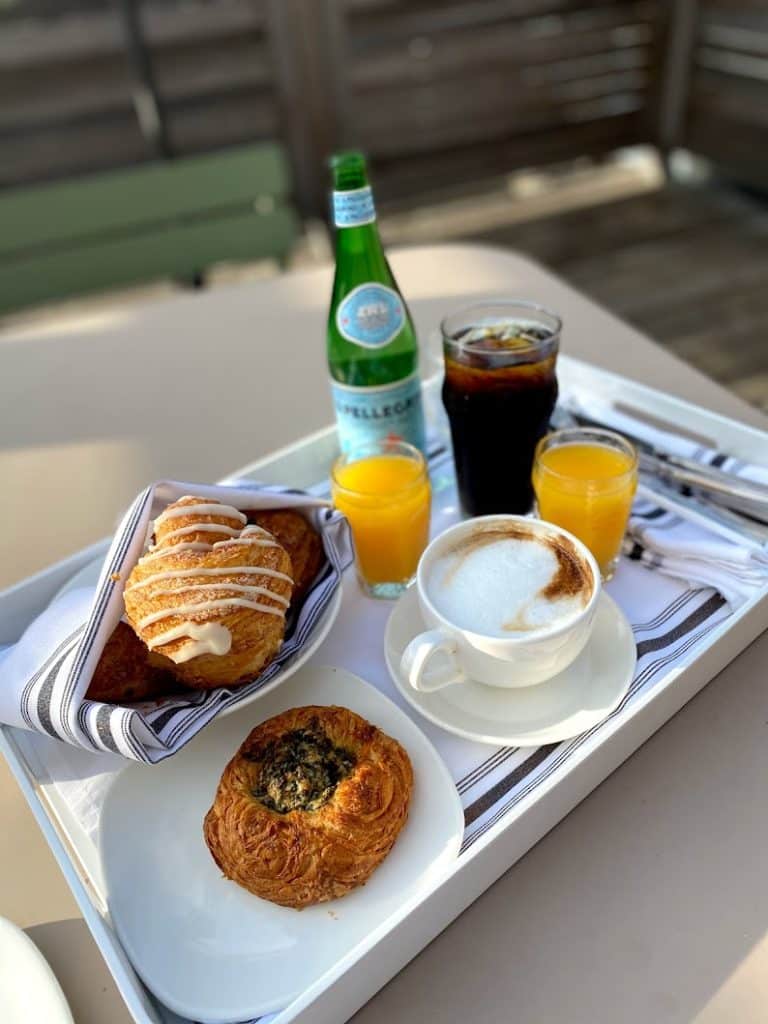 In French, the dulce de leche croissant is called Croissant à la Confiture de Lait. A popular croissant for children and adults alike, this particular croissant is made with condensed milk.
The dulce de leche croissant is typically smaller than other croissants–almond or butter croissants can sometimes need two hands to enjoy. These croissants are quicker to make and have a less-flaky crust. You will commonly see them dusted with powdered sugar.
See Related: How to Eat a Croissant
8. Apricot Croissant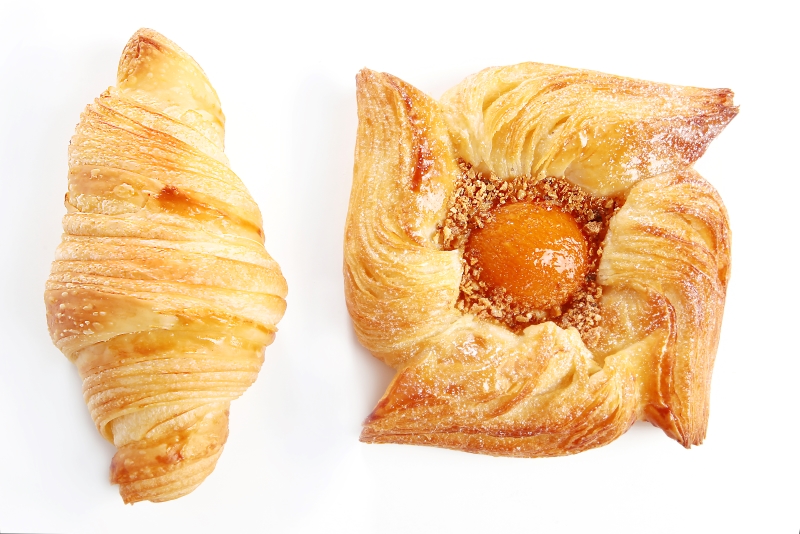 Next on the list of top ten croissants to eat in Paris are Croissant aux Abricots – a fluffy croissant stuffed with fresh apricots. Apricot croissants also originate from Austria and are quite common in Czechia.
Looking at an apricot croissant in a pâtisserie may confuse you, these croissants look like there are sunny-side-up eggs on a pastry, but these are actually fresh apricots that are indulgently sweet.
Apricot croissants are popular for breakfast and lunch. The sweetness of the apricot blends perfectly with the butter-flake crust, making this croissant melt in your mouth. You can buy apricot croissants in Boulangerie-Pâtisserie Jeannot.
Sometimes apricot croissants will be coated in fresh-cut almonds, which makes for an extra special treat!
See Related: Best Hotels in Paris St. Germain
7. Ham Croissant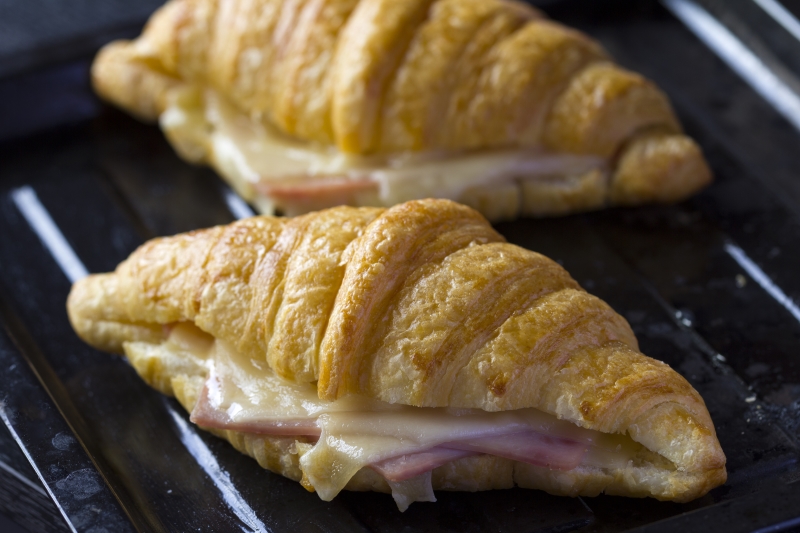 Another popular croissant in Paris is the Croissant au Jambon. These croissants are baked with ham inside, normally with some cheese, making for a perfectly balanced meal. Unlike croissants typically found in Italy, French ham croissants are filled with cooked ham, rather than salt-cured ham.
These rich croissants are perfect for lunch or an afternoon treat. Of course, you can enjoy them at breakfast with some eggs, too!
See Related: Best Croque Monsieur and Madame in Paris
6. Vanilla Croissant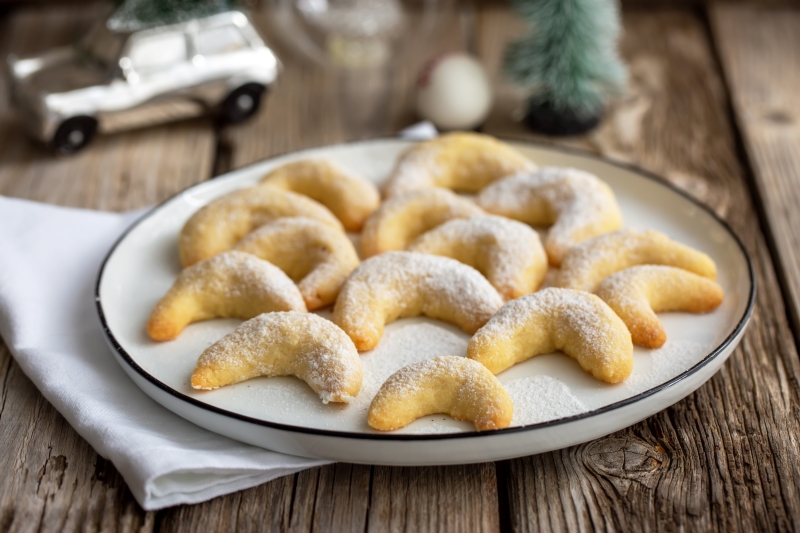 The croissant a la vanille is flavored with Bourbon vanilla from Madagascar (which right now, pound for pound is more valuable than silver). These treats are pretty commonly found in the mini-croissant format, but their small size is made up by their extreme yumminess.
A hot chocolate beverage is a perfect complement to the vanilla croissant! We recommend Café Pouchkine if you want to enjoy the croissant a la vanille – it is their signature croissant! Café Pouchkine is located on Place de la Madeleine. Maybe you should give yourself a gentle squeeze to be sure you haven't been transported back to the golden age of Parisian café culture.
See Related: Fun & Interesting Facts About Paris
5. Pistachio Croissant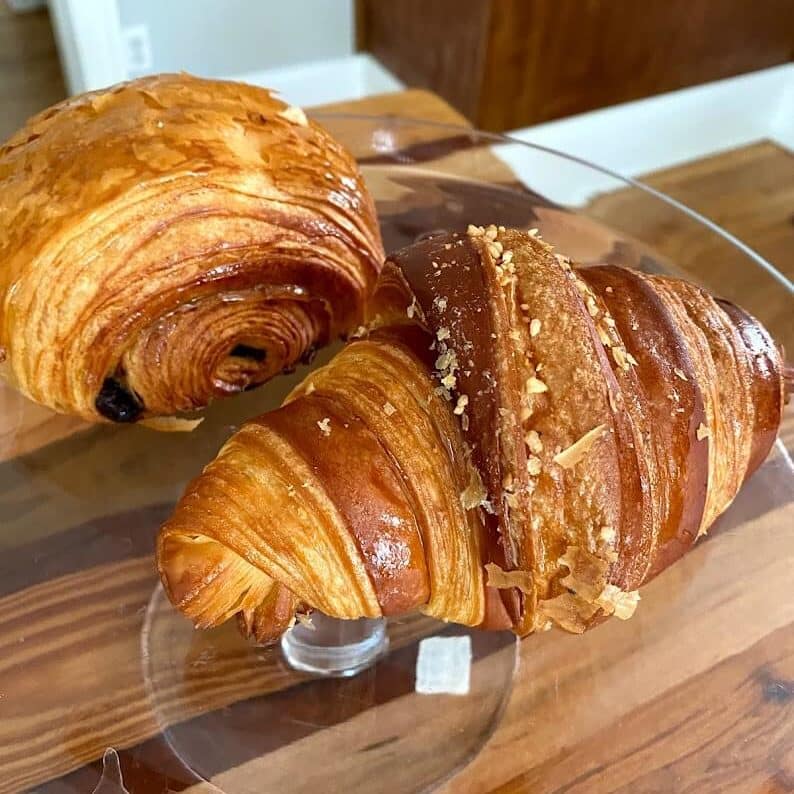 Pistachio macarons are incredibly popular in Paris. Naturally, their cousin, the pistachio croissant, is popular too!
Pistachio croissants are filled with a soft, salty pistachio paste that just oozes goodness. The pistachio interior is traditionally made by roasting pistachios and then blending them with butter, sugar, and eggs.
The best pistachio croissants are covered with a light vanilla cream-type frosting or glaze, and chunks of roasted pistachios.
See Related: Best Macarons in Paris
4. Salmon Croissant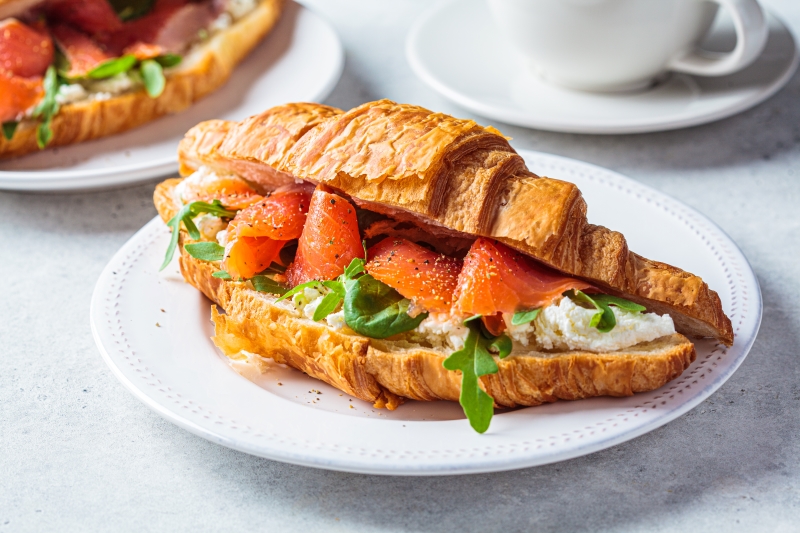 Also known as croissant aux saumon, this savory croissant is filled with smoked or fresh salmon, lettuce, and soft cheese. This salty, savory croissant is truly a delicacy. Consider it to be the more sophisticated and adult sibling of the lox bagel.
There are two ways to enjoy a salmon croissant. One popular way to make salmon croissants is by baking the salmon inside a butter croissant, sometimes with cheese as well which rises to a perfectly flaky crust. This method creates a flavorful mix of butter and salt with cooked salmon melting in your mouth in every bite.
Another common way to enjoy a salmon croissant is more similar to a sandwich. Chefs will use a butter croissant and cut into it to make space for smoked salmon. Then they add dill, cheese cream, cucumber, fresh herbs, and a dash of lemon. A perfect lunch that is both refreshing and savory.
See Related: Best Cabarets in Paris, France
3. Chocolate Croissant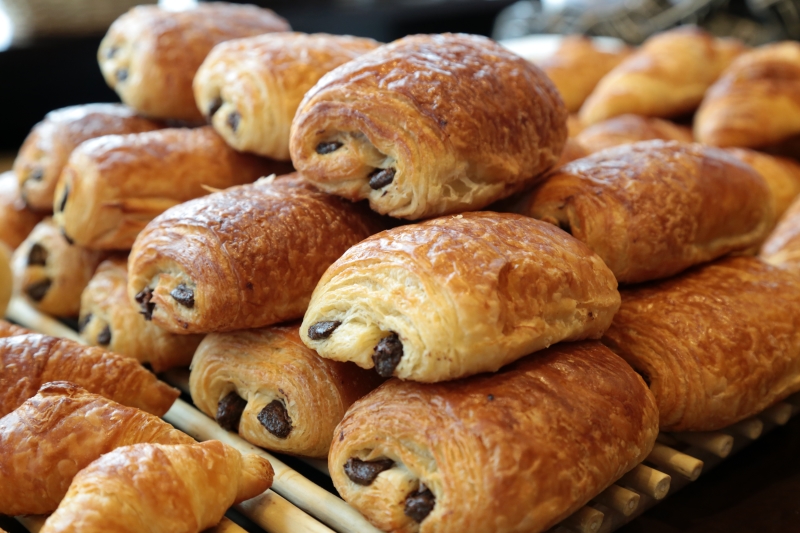 We are down to the top three croissants to eat in Paris. At the top of the list is one of the most popular croissants, the Pain au Chocolat.
The pain au chocolat is a croissant stuffed with chocolate. Depending on the pâtisserie, the chocolate inside with either be a harder long stick of chocolate or smaller melted pieces that ooze out. For me, the Maison Pichard had the best Pain au Chocolat in Paris, but it has closed down permanently.
Sometimes chocolate croissants will have sugar sprinkled on top or a chocolate drizzle. These croissants are very popular with children and are the perfect afternoon snack for a walk in the park.
See Related: Best Places for Hot Chocolate in Paris, France
2. Cheese Croissant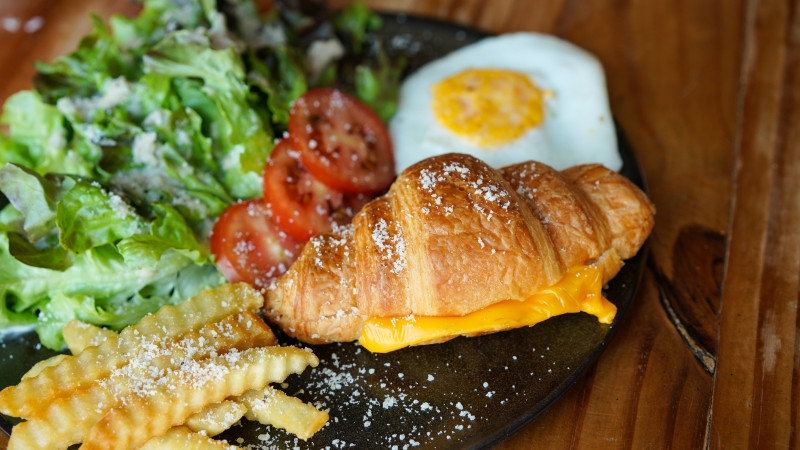 A personal favorite of mine is the perfect Croissant au Fromage. "Fromage" is French for cheese, and when you mix cheese with pastry you really can't go wrong.
This croissant is filled with cheese. And not just any cheese! French cheese, yo! Common cheese croissants are made with Brie, Camembert, Roquefort, and Comte. The most popular, however, are filled with Gruyere.
Cheese croissants are a popular option for croissants to eat in Paris because they are warm, buttery, and savory. If sweets aren't your thing, cheese croissants are the way to go.
See Related: Top Markets in Paris
1. Butter Croissant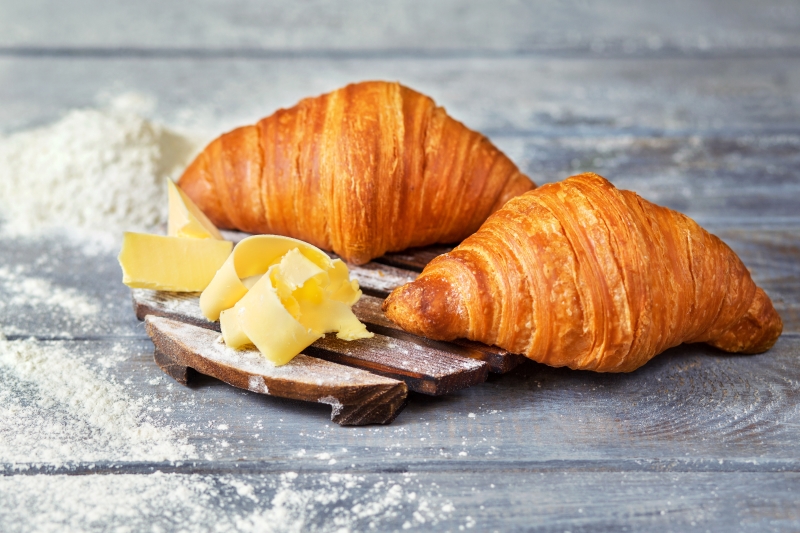 Finally, the number one spot for the tastiest croissants to eat in Paris is the infamous Croissant au Beurre. These butter croissants are by far the most popular croissants in France and the world! And there is no better place to enjoy a butter croissant than in Paris.
You can find the best croissant in Paris at La Maison d'Isabelle, a bakery, and patisserie in the Latin Quarter. La Maison d'Isabelle serves award-winning croissants, they were given the top prize for the best croissants in Paris and the surrounding region in 2018. They serve the croissants fresh and warm, perfectly cooked with a buttery, flaky crust and warm soft center.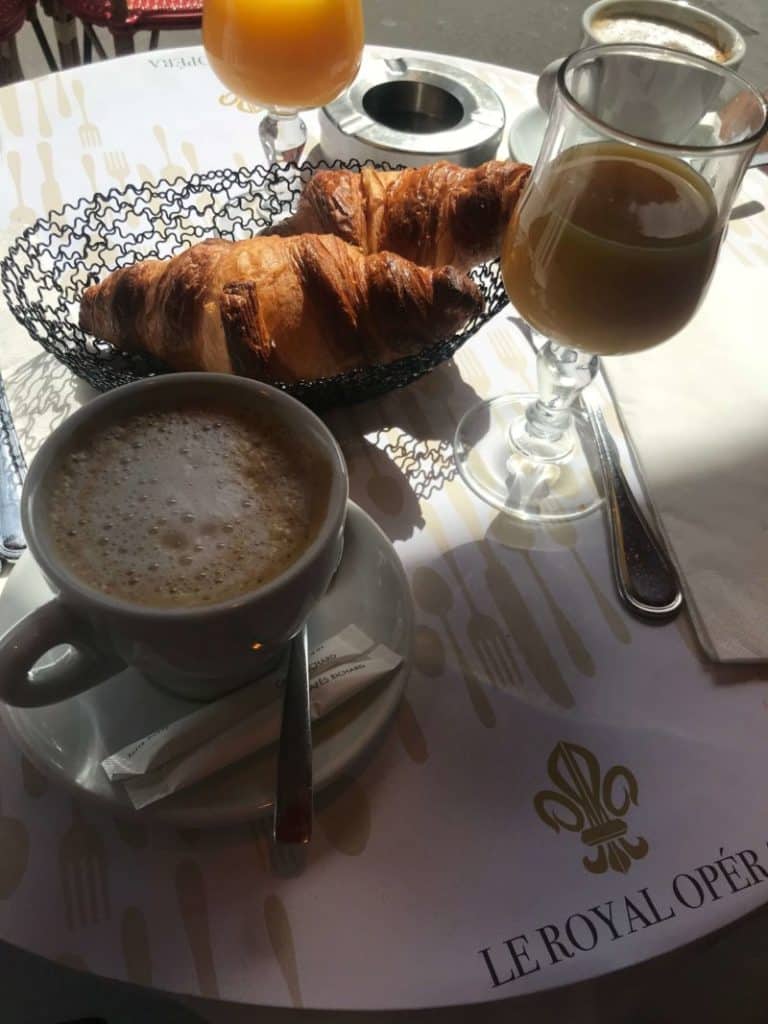 Every time I visit Paris I make sure to stop here. I usually avoid touristy areas, but this croissant has stood the test of time – I have been coming here for nearly 10 years to have their croissants!
Final Thoughts
We know what you're thinking; how can one choose between so many delicious options? Well, maybe try all of them? Your tastebuds will thank you! Anyway, we hope that this guide has been helpful in helping you find the best croissants on your trip to Paris!
Related Resources: