A good percentage of sandwiches feel less fancy and tastier than the Croque Monsieur and its egg topped "female" version, the Croque Madame. They make the perfect breakfast, lunch, and dinner because of their flexibility and ease to make.
However, the problem comes when you have to decide which sandwich to have. The Croque Monsieur or Croque Madame?
Let us find out the difference and why they are the best snacks in Paris!
What are the Similarities between Croque Monsieur and Croque Madame?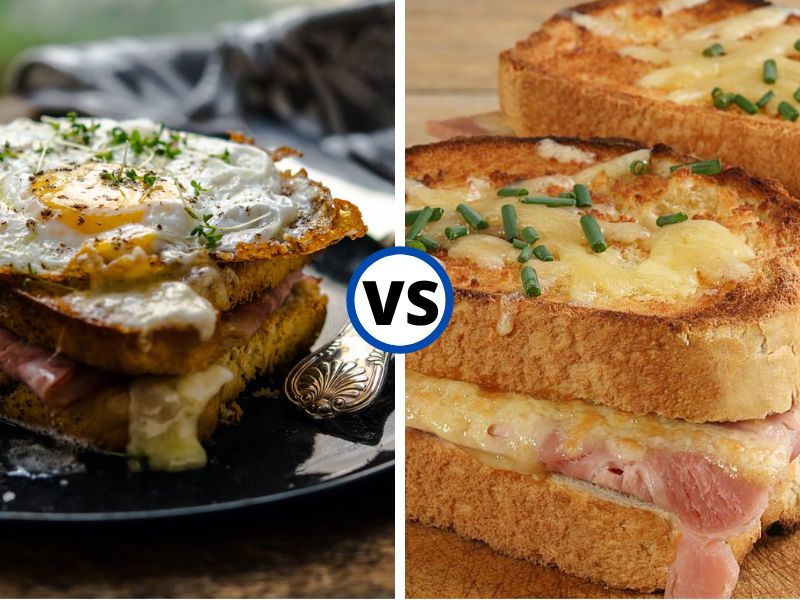 Being in the Croque family, the two have some common similarities, they include:
They are both French dishes. They both originated in France some one hundred years ago and remained the favorite snacks in Paris.
They are both grilled ham and cheese sandwiches with a white sauce (the bechamel sauce)
Both Monsieur and Madame use the Gruyere or Swiss cheese in the sandwich.
What is the Difference between Croque Monsieur and Croque Madame?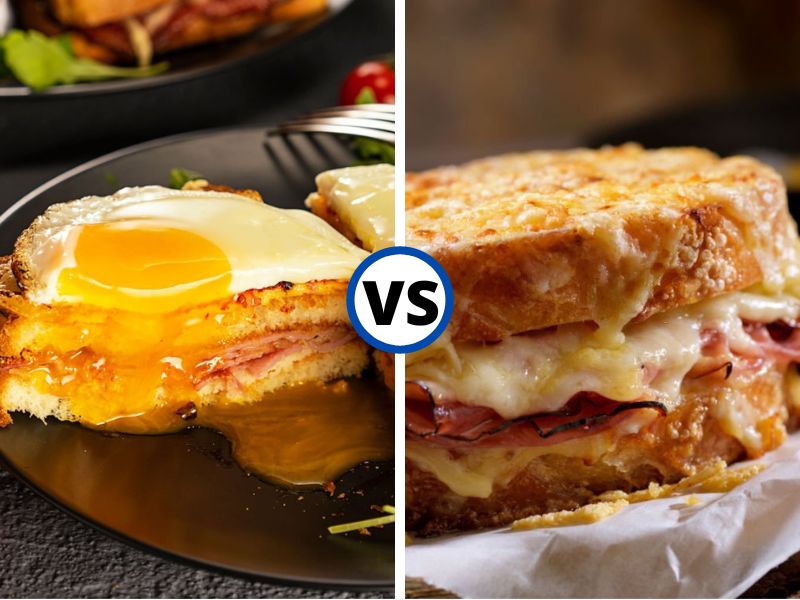 The eggsecution, er- execution of the use of egg in each sandwich.
In Croque Madame, you ad a fried or poached egg, ensuring the white part is solid and the yolk is runny. You then place it on top of the ready sandwich, as a sort of fetching, protein-heavy hat.
See Related: Best Croque Monsieur and Madame in Paris
How do you Pronouce Croque Monsieur and Croque Madame?
Can we learn how to pronounce the names of these yummy sandwiches? How will you order something you don't know how to pronounce its name?!
Both Croque Monsieur and Croque Madame are names made from French words. You're welcome for that little riddle.
The Croque is pronounced somewhere in-between "croak" or "crock." The "o" is slightly elongated but not extreme.
The pronunciation of "Monsieur" is "Muh-seyur" and "Madame" is "Ma-daam." Yes, knowledge is power, and it's vital to know their pronunciation to make your sandwich ordering easier at the cafe.
Croque Monsieur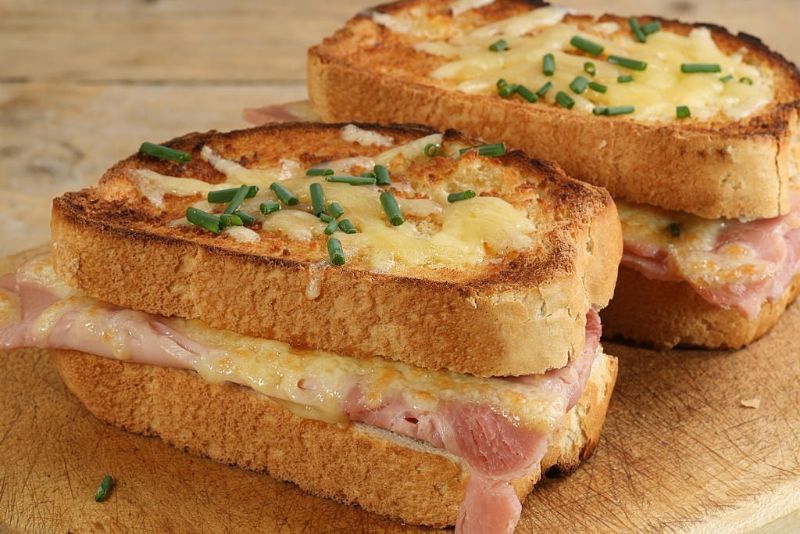 Croque Monsieur is a mouth-watering ham and cheese sandwich made from Gruyere, parmesan, ham, and a simple bechamel sauce toasted in the oven.
The dish if found in most French eateries, cafes and bars. It's one of the quickest and most popular snacks in the country. The name originates from the French words "Croque" meaning "bite," while Monsieur means "mister."
No, the sandwich isn't called "Mister Bite", rather the name is from the purpose of the snack; a crunchy bite to eat for a working gentleman.
Croque Monsieur is traditionally baked with boiled ham and sliced Gruyere or Swiss cheese and topped with grilled parmesan cheese to add some flavor.
Willing to learn how to make a delicious sandwich?
Let's jump into it.
See Related: Restaurant du Palais Royal
Croque Monsieur Recipe
The essential ingredients for Croque Monsieur are:
For the béchamel sauce:
Béchamel sauce forms the basis of many French sauces. Its ingredients include:
¼ cup unsalted butter (½ stick)
¼ cup all-purpose flour
1½ cups whole hot milk
Salt and freshly ground black pepper
1/4 teaspoon dijon mustard
Dash of ground nutmeg
For the sandwich:
Eight thin slices of crusty sourdough bread
Five ounces of good-quality ham (around eight slices)
Either 6 ounces Gruyere cheese or Emmental cheese, grated (about 2½ cups)
1/4 cup freshly grated parmesan cheese
Instructions
Preparing the béchamel sauce:
Melt butter in a frying pan on a medium heat.
Mix in flour, and cook, stirring continuously for about 3 minutes.
Slowly add milk, and go well until the mixture is smooth. Keep stirring using the same process until the paste is thick.
Season to taste with some salt and pepper.
Remove from the medium heat and mix in mustard and nutmeg.
Assemble the sandwiches:
Preheat the oven to 425 degrees F as you prepare your sandwiches.
Generously spread a thick layer of béchamel sauce on each side of the slices of bread.
Add ham and cheese. Top each layer with ham and a sprinkle of grated cheese to half the sliced bread.
Top with bread. Add the ham and cheese with another slice of bread, bearing in mind the béchamel sauce should face upwards.
Sprinkle the top layer of the bread with more Parmesan and Gruyere to counter the richness of the bechamel sauce.
Bake until bread is toasted, appearing lightly golden and cheese is melted and bubbly.
As simple as that, you have your Croque Monsieur sandwiches already.
Serve with some greens, Dijon mustard, and a cup of French onion soup for a satisfying and comforting meal.
See Related: Restaurant Les Ambassadeurs
Croque Madame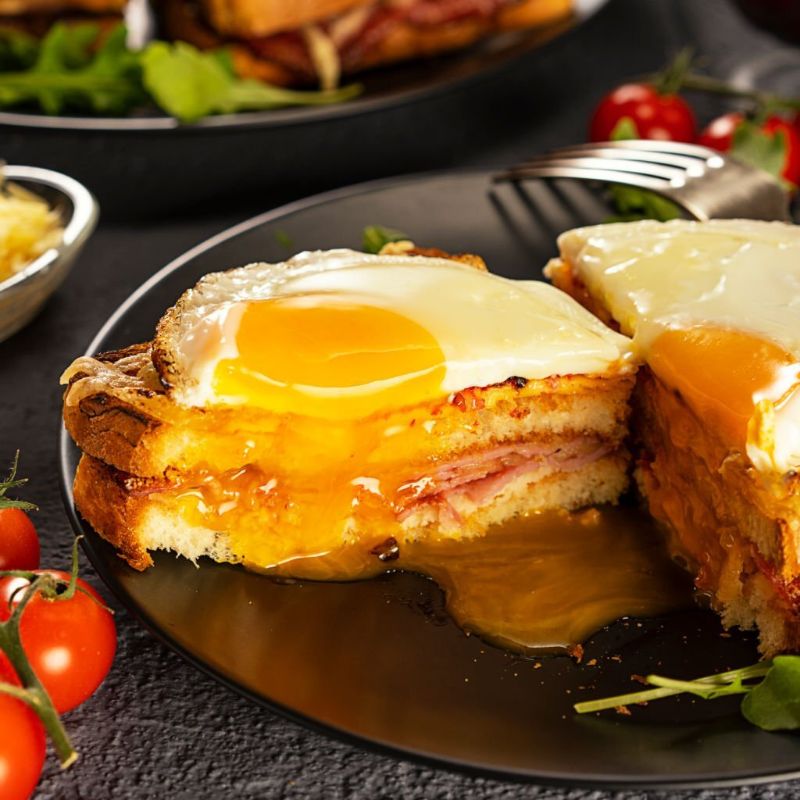 Croque Madame is the female version of Croque Monsieur. It gets its name from the egg on top oif the sandwich that resembles a woman's hat.
Croque Madame is literally the same sandwich as Croque Monsieur, but topped with a fried egg or poached egg.
With the egg, you have a more filling meal, and the runny yolk makes a superb sauce to soak up!
Croque Madame Recipe
As established, the only difference between the two recipes is the sunny side egg. For this recipe, we're going fried, purely because (in my humble opinion) it's tastier!
Instructions for a fried egg for a Croque Madame:
Before frying the egg, preheat the oven to 425 degrees F and place the assembled sandwiches on a baking sheet.
Place the sandwiches in the oven.
Meanwhile, with a small frying pan, add a tablespoon of butter until it's melted.
Crack the eggs into the pan. One egg per sandwich.
Fry the eggs evenly until the edges of the white start to crisp and change to golden brown around the edges.
Finally, sprinkle some pepper over the egg and then gently slide it out of the pan and place it on top of your sandwich once it's out of the oven.
Is there a healthy Croque Monsieur Grilled Cheese Sandwich?
People keep asking if Croque Monsieur and Croque Madame are healthy, and the answer is…why are you worrying about something like that when it comes to flavor?
Well, don't worry. I am here to give you a hack on how to make slightly healthier versions of these sandwiches.
This light Croque Monsieur grilled cheese is creamy but has 60% fewer calories than the traditional Croque Madame and Croque Monsieur sandwiches!
Some of the interesting tips to make this Croque Monsieur recipe as healthy as you can include:
Substitute the traditional white sauce (bechamel sauce) with cauliflower sauce. To top it all, it also has a nutritious added advantage from the cauliflower sauce.
To add to that, serve your Croque Monsieur as an open-face sandwich with just one slice of bread. It's also much fancier this way!
Light Croque Monsieur Grilled Cheese Recipe
As you are trying to bring a healthier version of Paris closer to you, this is also a must-have recipe at your place.
For the cauliflower sauce:
2 1/2 cups cauliflower boiled or steamed until it is soft
1/2 cup low-fat milk
A few sprinkles of fresh ground nutmeg
Salt to taste
1 cup shredded raw milk rBST-free Gruyere cheese
For the diet-friendly Croque Monsieur
5 slices Ezekiel whole grain bread or gluten-free whole grain bread
Five slices of uncured organic ham
1/2 cup shredded Parmesan cheese
Instructions
Blend the cauliflower and milk until the paste is smooth. Spice it with nutmeg and salt. Pour into saucepan and heat; mix in Gruyere cheese and cook until melted.
Toast the bread slightly and place a slice of ham on each piece of toast.
Add cauliflower sauce on top, then sprinkle with Parmesan cheese.
Bake at 425 degrees F until browned on top.
And that's how you have your healthy Croque Monsieur!
If you're making the Madame, the exact process still applies for the sandwich, but it's healthier if you poach the egg.
Instructions for a poached egg for a healthy Croque Madame:
Crack however many eggs you are using into their own small bowls – 1 egg per bowl.
In a small saucepan, bring about 3 inches of water to a boil.
Add 2 tablespoons of white vinegar to help bind the whites (and add flavor!). Reduce to a simmer.
Gently, but confidently, pour the eggs into the pan, one by one.
Turn off the heat and cover the pan for 4 minutes.
After 4 minutes, gently scoop out the eggs with a spoon and sit them on a plate for a minute to dry.
Slide from the plate onto the top of your sandwich – et voila!
See Related: Best Croissants in Paris
How do you Eat Croque Monsieur and Croque Madame?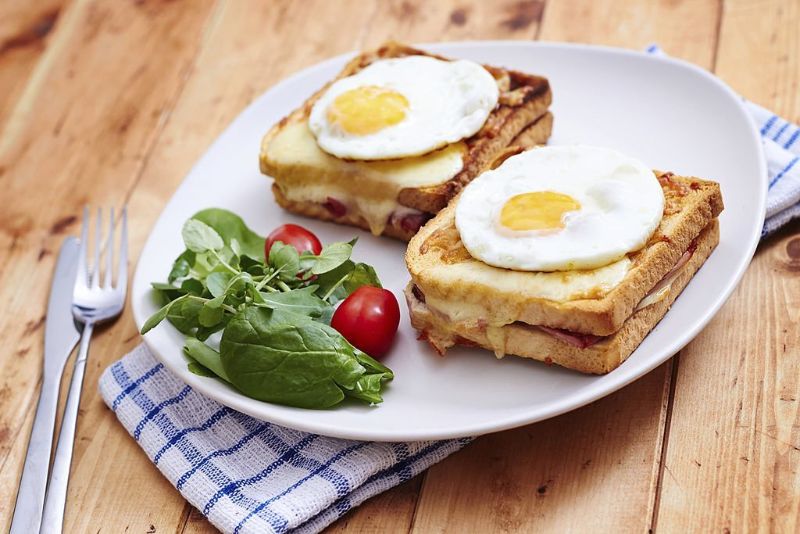 Don't spoil that romantic date by making a mess, or get stranded on how to eat your Croque Monsieur or Madame!
They can both be messy with all those crunchy crumbs, melted cheese, sauce, and fried butter. The Madame tends to be even messier because of the runny sunny side egg, but don't worry; I got you covered!
Despite being categorized under sandwiches, the best way to eat your Croque Monsieur is to use your fork and knife. It's the continental European thing to do. They even eat pizza like this.
It makes extra sense to use cutlery if you're eating an open-faced version of these sarnies or the Madame. Otherwise, you'll be clutching the egg on top with your fingers. That's just silly.
Either way, there is no clean way to eat either sandwich; believe me, I've tried a BUNCH. The messy part commences when you slice your sandwich because of the bechamel sauce and the optional runny egg. A good tip is to make sure you're saving some of the bread component of the sandwich till the end. Then you can use your fork to push it around the plate like a little sauce/egg mop!
It's pretty common to complement these sandwiches with dijon mustard and a chutney or jelly on the side. Black pepper is also encouraged. This all goes down a treat with a drop of red or white wine – although purists will argue a red (like a Bordeaux) is best.
Which One is Better? Croque Monsieur or Croque Madame?
Your taste is your preference when it comes to choosing between the two. However, the Croque Madame offers a heartier, more fortifying meal, with the sunny top egg bringing in some good vibes.
At the same time, if you are not a fan of the runny egg, then Croque Monsieur fits you best.
FAQ
How do you make the perfect Croque Monsieur or Croque Madame sandwich?
1. Use quality ingredients to make the best Croque sandwich. Use fresh cheese and good-quality ham. A substitute for Gruyere or Swiss cheese is a medium English cheddar.
2. Prepare the bechamel sauce prior. You can make the sauce one day before making the sandwich. Follow the procedure keenly, allow it to cool, then place a plastic wrap directly onto the surface and chill. As with all sauces, it's better on the second day!
Who Should Eat Croque Monsieur and Croque Madame?
Everyone! Anyone! The fact that the sandwiches are from Paris, or they are the staple snack of the French people, doesn't mean they're off-limits for everyone else!
They make the best dinner or brunch meal that you simply cannot afford to miss. To add to that, Monsieur and  Madame have straightforward, quick recipes that anyone can master.
Don't miss this delicious snack; it suits both males and females, young and old. Therefore bring Paris next to you and enjoy these sandwiches without any excuse. 
Related Resources