When you're in Paris, it's hard not to shop. After all, the city is full of trendy boutiques and markets that sell everything from fine chocolates to silk scarves. The shopping scene in Paris is like a dream come true for people who love to spend money. The city has it all: from high-end boutiques on Avenue Montaigne and the Champs-Élysées to vintage stores in Le Marais, and everything in between.
But with so many options, it can be hard to know where to start. That's why we've put together this list of our top ten favorite shopping streets in Paris. We hope it helps you decide where you want to go next time you're there!
Best Shopping Streets in Paris
Avenue des Champs Élysées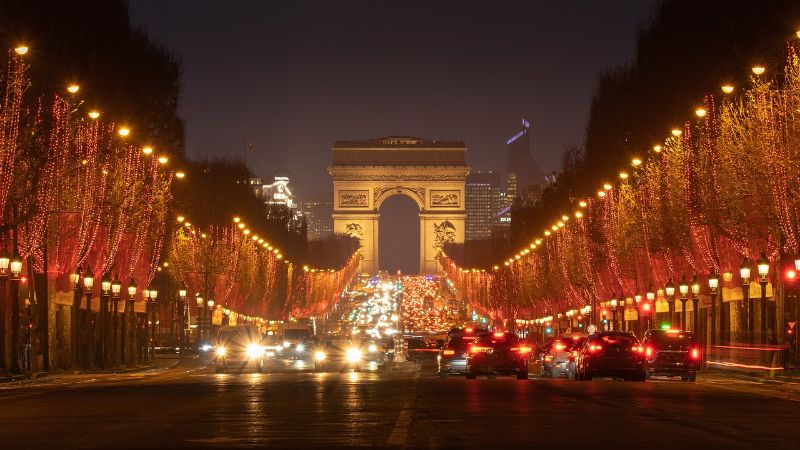 The Champs-Élysées is one the most famous avenue in all of France—and for good reason! Approximately 300,000 people a day use it as a pedestrian walkway. It is a fabulous shopping neighborhood because of the high-end cosmetics, clothes, sportswear, jewelry, and watches available from Place de la Concorde to the Arc de Triomphe.
It's full of high-end boutiques of designer brands like Louis Vuitton and Dior, as well as several other luxury brands that offer designer clothing at an affordable price point if you're willing to shop around a bit first (which we highly recommend). Plus there are plenty of cafés along this gorgeous avenue that makes it easy to stop by for lunch or even stay all day long if you've got time (and money) on your hands!
The avenue has two parts. Near the Place de la Concorde, the lower section passes through a park including several impressive structures, including the Palais de la Découverte (Discovery Palace), the Petit Palais, and the Grand Palais.
Beginning at place Charles de Gaulle, where the famous Arc de Triomphe is located, the upper section of the Champs-Élysées features a variety of high-end fashion boutiques, restaurants, theaters, and big department stores.
The Champs-Élysées terminates on the other side of the Arc de Triomphe. From here, you may access the La Défense business sector and the iconic Grande Arche de la Défense through avenue de la Grande Armée.
Brief History of Avenue des Champs-Élysées
In 1640, the area that is now known as the Champs-Élysées was cleared so that a row of trees could be planted there. The word originates in Greek mythology "Elysium". It refers to the afterlife destination of the gods and heroes of Greek mythology, which is analogous to the Christian concept of paradise.
The avenue was widened in 1724 to its present size, and the city refurbished the walkways in 1994. Now, the area is home to upscale shops, cafes, and offices. It's a great place to go window shopping or take a stroll down!
The final stage of the Tour de France takes place on the Champs-Élysées, adding to the street's notoriety on a global scale, particularly among sports fans.
Shops in Champs-Élysées Avenue
Stores typically remain open 7 days a week from 10 a.m. until 9 or 10 p.m. (can be midnight). Many businesses open at midnight on Sundays. The commercial district on the Champs-Elysées is supplemented with medium-sized malls. Pay a visit to the Arcades des Champs-Elysées, Galeries du Claridge, and the 26th arrondissement's Elysées.
If you want to go luxury shopping, Celio, Dior, Footlocker, Galeries Lafayette, Hugo Boss, Lacoste, Levi's, Longchamp, Louis Vuitton's flagship megastore, Maje, Nike House of innovation, Petit Bateau, Tara Jarmon, Zara, and Weston are just a few of the flagship stores on Champs Elysees. Guerlain, Sephora's several brands, and Yves Rocher are just a few of the perfumeries available.
Mauboussin, Rolex, Tiffany & Co., and Tudor are all reputable jewelers and watchmakers in this avenue. FNAC is an establishment selling books and music. There is also an Apple Store in Champs Elysees.
See Related:
How to get there
Several Paris Metro stops can get you to Avenue Champs Elysees: Champs-Elysées Clemenceau (lines 1 and 13), Franklin Roosevelt (lines 1 and 9), George V (line 1), and Etoile (lines
Rue Saint Honoré
The Rue Saint-Honoré in Paris, France is a place where classical beauty and cutting-edge luxury coexist. This 2-kilometer stretch has a lot of beautiful buildings and stylish shops. Designer boutiques and museums abound in this prime location, which is also close to the Jardin des Tuileries and the Saint-Honoré market,
The historic district of Rue Saint-Honoré is in central Paris, between the Opera Garnier and the Tuileries Gardens. It is lined with high-end shops, great places to eat, and some of the best five-star hotels in the city. Several of the most popular places in Paris can be reached on foot from Rue Saint-Honoré.
Luxury stores like Givenchy, Azzaro, Prada, Chanel, and Hermès are located on Paris's Rue Saint-Honoré. The Rue St. Honoré is not only a prominent shopping district in Paris but also a historic site that was originally planned in the Middle Ages. The magnificent Jeanne d'Arc monument, the Eglise-St. Roch church and Robespierre's House are just a few of the other famous landmarks that line the avenue in the 1st arrondissement.
Brief History of Rue Saint Honore
One of the streets in Paris's posh 1st arrondissement is called the rue Saint-Honoré. It was given its current name in honor of the historic Saint-Honoré chapel that stood within the cloisters of the same name.
This street is conveniently positioned next to the Saint-Honoré market and the beautiful Tuileries Garden. The current rue Saint-Honoré, like many other prominent Parisian avenues, dates back to the Middle Ages or much earlier.
The roadway, at one time, continued outside the old city walls into what was the faubourg. This continuation was later named the street du Faubourg Saint-Honoré.
Shops in Rue St. Honore
In the area of the Rue St. Honoré, you'll find luxury brand boutiques like those of Longchamp, Chanel, and Saint Laurent. Art lovers can view the works of local artists, and foodies can choose from a wide variety of outstanding eateries while they watch the world go by.
Many high-end jewelry boutiques can be found along the Rue St. Honoré, which is close to the elegant Place Vendôme. Here you may shop for luxury goods from recognized names like Rolex, Hublot, and Hublot. The area around Rue de la Paix also features one of the largest Cartier stores in the world.
How to get there
The easiest way to reach Rue St. Honore is by taking a bus (52, 66, 68, 73, or 95) to Pyramides – Saint-Honoré bus stop bus or to Palais Royal – Comédie Française bus stop. You can also take the Metro line 1 or 7 to get there.
Boulevard Saint Germain-des-Prés
One of the most picturesque and historically interesting avenues in all of Paris is Boulevard Saint-Germain. Parisians and tourists alike from all over the world take strolls down this well-known boulevard to take in the city's historic buildings, relax at a cute sidewalk cafe, and shop for a new scarf at the city's many specialized shops. It's tempting to stop every few feet and take a picture. You may find yourself wanting to stop in every one of them.
The boulevard exemplifies the spirit of Paris from a functional and aesthetic perspective. The French National Assembly, which was constructed in the late 1800s and features 12 columns in the Greek style and flags of France's three official colors blowing in the wind, is one such example.
A Brief History of Boulevard Saint Germain
Boulevard Saint-Germain was the most important part of Haussmann's renovation of Paris on the Left Bank of the Seine River. The Boulevard replaced many small streets which approximated its path. This continued throughout the 19th century when the old aristocracy of the Saint-Germain quarter is frequently compared with the new upper bourgeoisie of the Right Bank. From the 1930s, Saint-Germain became popular with its nightlife, cafés, and students.
Shops in Boulevard Saint Germain
Boulevard Saint-Germain is home to a BOSS outlet, a Burberry store, a Louis Vuitton outlet, a Ralph Lauren store, and Etro. You can also find stores there by designers Sonia Rykiel, Karl Lagerfeld, Fragonard, Zadig & Voltaire, and Alexandra Sojfer. You may also fin many home décor shops in Boulevard St. Germain!
How to get there
You can go to Boulevard Saint Germain in any way you like. If you want to ride the Metro, take line 10 or line 12. It is also accessible to buses 47, 63, 68, 84, 87, 95, and 96. You can also ride the RER or train to get there. You may even just walk if you're staying nearby!
Avenue Montaigne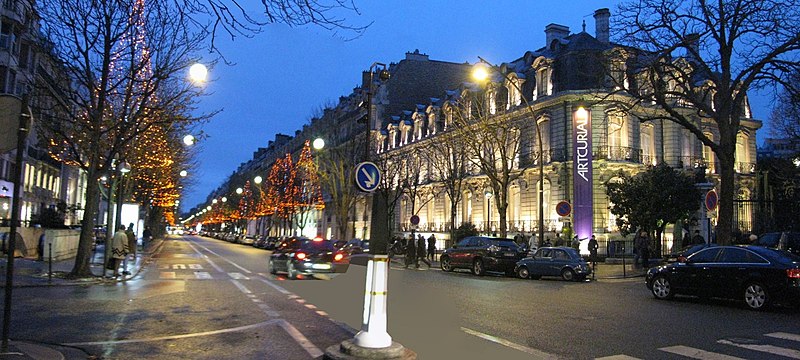 The Avenue Montaigne, which runs from the Champs-Elysées to the Alma Bridge, is widely recognized as one of the city's most prestigious roadways. The famed boulevard is the most upscale retail district in all of Paris, and it runs between the Champs-Elysées and the banks of the Seine.
While the stores along the Champs-Elysées cater to a wider audience with more mainstream fashion brands, this avenue remains committed to high-end shopping. Avenue Montaigne is the home of the flagship boutiques of many luxury fashion labels. This is perfect of you're looking for haute couture. Famous French fashion designer Christian Dior opened his first Dior boutique at number 30 on December 16, 1946.
A Brief History of Avenue Montaigne
Avenue Montaigne was once known as the Allée des Veuves due to the large number of ladies in sorrow who congregated there in the early 18th century. It has seen significant transformations since then. French Renaissance author Michel de Montaigne inspired its current name. The avenue gained some fame in the 19th century for its glittering and colorful Saturday night Mabille Gardens.
Avenue Montaigne was the most famous French street for high fashion and accessories in the 1980s. Mot Hennessey Louis Vuitton (LVMH) and other popular fashion houses have set up shops in the area. LVMH brought international attention and investment to the area with its list of great designers and businesses.
See Related: Famous Historical Landmarks in Paris
Shops in Avenue Montaigne
You will enjoy shopping in many high-end stores, like Dior, Louis Vuitton, Chanel, Yves Saint Laurent, Fendi, Ralph Lauren, Ralph Lauren, Gucci, Prada, Giorgio Armani, Chloe, Versace, Valentino, and Dolce & Gabbana. It also has jewelers like Bulgari and other high-end places, like the Plaza Athénée hotel. This is the ideal street if you love luxury shopping!
How to get there
You can go to Avenue Montaigne via car, bus, train, Metro, or on walking! If you want to use the Metro, take lines 1, 13, or 9 to the Alma-Marceau metro station. Or you might want to take a bus (42, 72, 80, 92, 93) to the Rond-Point des Champs-Élysées bus stop to reach this avenue.
Rue de Rivoli
Rue de Rivoli runs along the Seine from Place de la Concorde, through the Jardin des Tuileries, and past the Louvre. Beautiful arcades line it. You will see big and small brands, making this a shopping mecca for foreigners and natives. You can shop at any of your favorite stores, from Levi's and Sephora to Bershka and Urban Outfitters.
Rivoli Boulevard is one of the best shopping areas in Paris, and it runs parallel to the beautiful Tuileries Gardens and the famous Louvre Museum. There are so many shops and designer boutiques that it will be tricky for you to explore them all. 
A Brief History of Rue De Rivoli
The Rue de Rivoli is a main thoroughfare in the French capital of Paris. Stores are selling popular fashion labels along this commercial strip. It was named after Napoleon's first major victory, over the Austrians at the Battle of Rivoli. This street is a good illustration of a middle ground between modernity and classic French design.
Shops in Rue de Rivoli
The Body Shop, Stradivari, Mango, Bocage, H&M, Heyraud, Minelli, Celio Club, ZARA, GAP, Roberto Durville, Sephora, TiltVintage, San Marina, Eva Tralala, Free'P'Star, To Run, Vivaldi, and House of the Press are just a few of the shops you can buy from in Rue de Rivoli.
How to get there
Take the Metro to Chatelet-Les Halles, and then walk to Rue de Rivoli. Dropping off bags at your hotel before exploring a new shopping zone in this fashion mecca is made easier by the city's enormous Metro system.
Rue du Commerce
Undoubtedly one of the greatest treasures in Paris is the shopping district of Rue du Commerce. This is a street in the 15th arrondissement of Paris, filled with shops selling everything from lingerie and perfume to home goods and gifts, as well as numerous cafes and restaurants. In addition to modern businesses, there are some old buildings dotted around Rue du commerce. If you want to buy on a tighter budget while in Paris, this is for you. There are some little shops in this area that you have to check out.
You can also take a break from wandering and satisfy your hunger at one of the many cafes or bakeries. Don't miss Rue du Commerce if you want to bring back some of the city's hottest fashions. The 15e is a great place to go if you want to get away from the tourist traps and see some of the real Paris. Compared to neighboring areas like the 7th arrondissement, it's much more peaceful and less touristy, yet it still has all the hallmarks of classic Haussmannian Parisian design.
The Parisian street is only 18 meters wide and 650 meters long, so traffic can only flow in one direction. Because of new zoning regulations, there is no longer a park right on the street. Semi-pedestrian use of the route is planned as well. Boulevard de Grenelle and Rue des Entrepreneurs are the new road's endpoints.
A Brief History of Rue du Commerce
The name "rue du Commerce" comes from the time when this was Grenelle's primary commercial thoroughfare. Grenelle was once a separate village, but it is now completely integrated into the city of Paris. The majority of the buildings in the 15th arrondissement were built in the 19th century, and the avenue that runs through it is lined with terrace cafés where you can sip a coffee and people-watch in the warm weather.
Formerly known as "venue Saint-Guillaume," 1837 saw the birth of the rue du Commerce, the principal shopping thoroughfare of the ancient municipality of Grenelle.
After being included in the Parisian road network by decree on May 23, 1863, the street initially went by the name "rue de la Montagne-Noire" until an order on March 16, 1877, changed it to its current moniker.
Shops in Rue du Commerce
More than a hundred shops now line the historic street known as "rue du Commerce." There are numerous well-known labels to choose from, including those from the French market like Des Petits Hauts and Zapa. A fruit and vegetable market and some Parisian bakeries are among the many independent retailers in the region.
How to get there
You can rake Metro 10, 6, or 8 to reach Rue du Commerce! You can also ride public buses 62, 80, 82, and 88 to go there.
See Related: Metro Stations in Paris
Rue des Francs Bourgeois
Once home to skilled weavers, today's Rue des Francs-Bourgeois is one of Paris' most popular shopping streets for all things stylish and hip. You may buy a wide variety of high-end French fashion labels, jewelry, and fragrances at the many boutiques that dot the area. Many of these are located in restored historic homes with private courtyards. You can find anything you want within walking distance.
You can indulge in many great eateries and historic landmarks on and around this street. Brunch, strolls, and people-watching on Sundays are especially popular on Rue des Francs-Bourgeois. This street is one of the few streets in France that mainly disregards the country's traditional tradition of Sunday closure.
A Brief History of Francs Bourgeois Street
Before its current name, this area was known as Rue des Policies. In 1415, a nobleman named le Mazurier offered the Chief Prior of France his enormous private mansion with 24 apartments to house 48 needy people. These residents were so financially strapped that they were dubbed "francs-bourgeois" because they refused to pay city taxes. The intersection between Rue du Paradis au Marais and Rue Neuve Saint Catherine occurred in 1868.
Shops ON Rue des Francs Bourgeois
Muji, Sessùn Francs Bourgeois, Uniqlo, EKYOG, Claudie Pierlot, Sud Express, PopUpStore Marais, LDB, Boutique Fursac, Majestic Filatures, Aubade, Guerlain, Boutique Pandora, La Piscine, Penhaligon's, Camper, Swatch, and Bon Parfumeur are just some of the places you can enjoy shopping in. There are lots of other shops along this street so you should bring a lot of money!
How to get there
Well, it's up to you! You can ride a bus, a train, the RER, the metro, or your vehicle to go there. You can also travel on foot if it's more convenient for you! You can take buses 20, 38, 72, 74, or 76 to Archives – Rambuteau bus stop or Place des Vosges bus stop. If you prefer the Metro, ride line 1 or 11 to the stop most convenient for you.
Rue de Rennes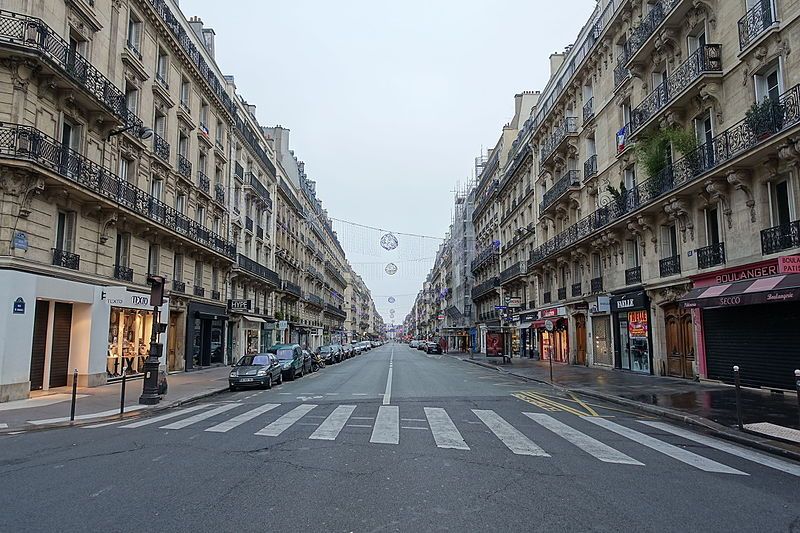 Rue de Rennes is the primary shopping street of the Left Bank. It connects the affluent neighborhoods of chic Saint-Germain and lively Montparnasse. It might be a real test of stamina to visit all the shops down the length of the street, which are all specialized boutiques. The area has mainstream retailers and unique boutiques. If you're looking for bright and reasonably priced dishware, check out La Vaissellerie.
This part of Paris is an excellent place to begin a day of classic shopping and sightseeing. You may find trendy local labels on the side streets, as well as pâtisseries like Poilâne and Pierre Hermé. The Ateliers Gaité shopping center modernizes the neighborhood without destroying its historic charm.
The shops, restaurants, and cafes of the lively Rue de Rennes district sell everything. You can find things from clothing and accessories to home furnishings and antiques. Everything you and your loved ones require for a perfect day of retail therapy.
A Brief History OF Rue de Rennes
The street is called after the city of Rennes since it led to the "Rennes train station" in 1853, now the Paris-Montparnasse train station, from which lines serving Brittany depart.
The intersection of rue de Rennes and Boulevard du Montparnasse was dubbed "place de Rennes" in 1880. The section adjacent to Place Saint-Germain-des-Prés was included in the latter in 1977. During World War I, a shell thrown by the Big Bertha burst at the intersection of rue de Rennes. The following day, another shell burst at 106.
Shops on Rennes Street
H&M, Zara, Céline, Gap, and many more are just some of the well-known fashion labels that have a presence in the neighborhood. Luxury shoppers can indulge in some retail therapy at stores like Cartier, Lancel, and Rolex or window shop at boutiques like Devernois, Kenzo, and Arcus.
How to get there
If you want to go to this shopping street, you have two options. You may take the Metro line 12 if it serves your area. If not, you may ride buses 39, 68, 83, 84, 95, or 96 to reach Rennes Street.
Boulevard Haussmann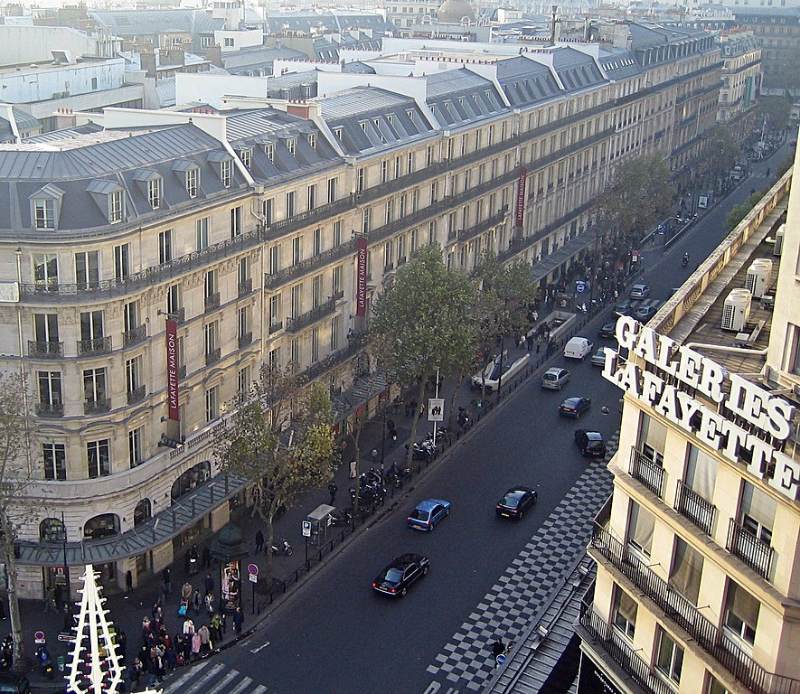 Did you know that the first department store was in Paris? That's why you must visit this boulevard of department stores. The boutiques on Boulevard Haussmann are some of the most stylish in Paris. Haussmann built this boulevard in the 8th and 9th arrondissements. 
It is now home to the finest department stores in Paris, whose holiday window displays are works of art. Shopaholics like Galeries Lafayette in particular!.
Shops in Boulevard Haussmann
You can shop at the popular Parisian department store Galeries Lafayette here. It is a magnificent department store that has been open for more than a century! Hamilton montres Printemps, Azzaro, Urban Outfitters, ZARA, and Veja are just some of the stores where you can enjoy spending. You can also spend on designer shops like Burberry and Givenchy here!
How to get there
Take the Metro to the Chaussée d'Antin — La Fayette stop, or the bus to the Chaussée d'Antin bus stop to reach Boulevard Haussmann.
Place Vendome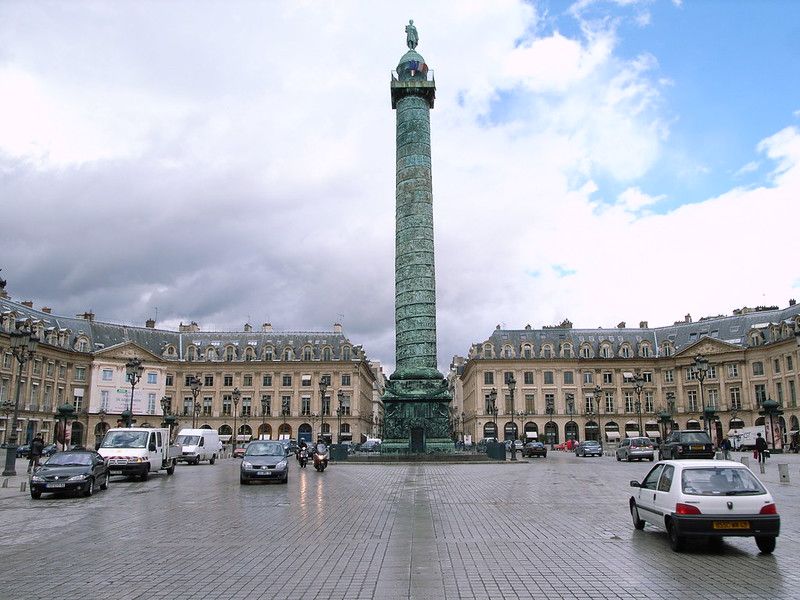 One of the most recognizable and picturesque neoclassical squares in Paris is the Place Vendôme. Surrounded by somber buildings, it today houses several of the most famous high-end boutiques, such as Dior, Chanel, and Cartier.
The square, which has gone by several names throughout the years like Place Louis le Grand, Place des Conquêtes, Place des Piques, and Place International, is a prime representation of the splendor and wealth of the city today.
A Brief History of Place Vendome
Place Vendôme is a beautiful square in the center of Paris that has long been associated with high society. At the beginning of the 18th century, the architect who designed the Palace of Versailles bought the land where Place Vendôme is now. This set the stage for the area to become famous as a great place to shop, which it has been ever since. But these plans never happened, and King Louis XIV ended up with the land.
The Place Vendôme is a square next to the Jardin des Tuileries in the northern part of the 1st arrondissement. It was made to compete with the more famous Place des Vosges in the Marais. The square has stayed the same through all of France's monarchies and wars of independence. It is surrounded by large townhouses called hôtel particuliers.
See Related: Most Beautiful Squares in Paris
Shops on Place Vendome
You may enjoy several luxury stores in Place Vendome! This square has the designer shops Christian Louboutin, Celine, Saint Laurent, Gucci, Bvlgari, Michael Kors, Ralph Lauren, Fendi, Tiffany&Co, Bottega Veneta, and Dunhill stores that shopaholics will love! Place Vendome also has Marks and Spencer, ZARA, Moynat DOHA, and Audemars Piguet Boutique.
How to get there
You can reach Place Vendome via train, RER, Metro, or bus. The easiest way of going there is by taking one of the Metro lines 12, 3, 7, and 8. If you prefer the bus, you can take buses 20, 45, 52, 66, 68, or 73.
Bonus : Place de la Madeleine
One of the best Parisian commercial districts, Place de la Madeleine was built around the cathedral that gave the square its name. There is a concentration of trendy boutiques and eateries, all competing for the best window display. When most people think of this square, they think of "those short, fat little cakes" that Marcel Proust immortalized decades after he and his parents moved out of number 9. The whole focus of the square now appears to be on food. These stores sell gourmet food from well-known brands.
A Brief History of Place de la Madeleine
Almost a century after its establishment, the Place de la Madeleine in Paris was dedicated as a church, earning it the name of the beautiful structure it was named after, La Madeleine.
This square in the 8th Arrondissement is near Place de la Concorde and the Luxor Obelisk, Paris's oldest landmark, through the Rue Royale to the south, and then the Champs-Elysees Avenue to the north. The famed Palais Garnier opera house is located to the northeast, and the majestic Place Vendome with its July Column monument is located to the east.
How to get there
The Place de la Madeleine is conveniently accessible by numerous Parisian public transportation options, including the metro (lines 8, 12, and 14); alighting at the Madeleine stop; and the bus (routes 24, 42, 52, 84, and 94).
Shopping in Paris is amazing, and there are so many great places where you can spend your time and money on. If you're looking for a small boutique, an antique store, or a large chain store, Paris has it all. If you can't choose from this list of the best shopping streets in Paris, just go to all of them!
Related Resources