Place de la Concorde in Paris is essential for understanding the city's past and present, having long been a gathering place for the most significant events in French history. From the Fall of the Bastille to the Terror of the French Revolution, from Napoleon's coronation to the backdrop for the Treaty of Versailles, this square bears witness to over 250 years of tumultuous political upheavals and social struggles.
This article will explore the evolution of Place de la Concorde as it has been moved, renamed, and repurposed since its original construction began in 1755. It will examine how religion, politics, and public works affected this iconic site and how its stately architecture has become iconic in its own right, symbolizing both luxury and revolution. Get ready to explore the historical significance of this grand square.
Great places surround the most impressive Place de la Concorde (Avenue des Champs-Elysées, Jardins des Tuileries, Hôtel Crillon, etc…); it's located in the axis "Arc de Triomphe, Louvre, and Arche de la Defense." In its center is erected the Obelisque, offered by the Egyptians to Napoleon.
There are also lovely fountains filling that ample space, which is nice to see very early morning (when the traffic is low) or at night, with all the monuments, streets, and car lights.
Are you looking for a magnificent sightseeing spot to visit in Paris? Then the Place de La Concorde is the perfect place for you! Located at the eastern end of the Champs Elysees, this enormous square is one of the most iconic and well-known sites in Paris.
It's surrounded by luxurious hotels, pavement cafés, and boutiques, making it a great spot to relax and enjoy the city's beauty.
Visiting Place de la Concorde
Place de la Concorde is one of Paris' most iconic landmarks in the 8th arrondissement. Spanning 8.64 hectares, it's the largest square in the French capital and borders the Seine, Champs-Elysées to the west, Tuileries Garden to the east, Rue Royale and La Madeleine church to its north, and River Seine to its south. Royal architect Ange-Jacques Gabriel designed it between 1755 and 1775 on the former grounds of Tuileries Palace.
At its center stands an equestrian statue of Louis XV built by Jacques-Ange Gabriel in 1748 – a significant landmark for this site. Two fountains added in 1776 by architect Jacques-Ignace Hittorff flank either side of this statue, while four sculptures at each corner depict Kings Louis XVI, Louis XV & Philippe plus Queen Marie Antoinette from French history.
Place de la Concorde saw many historical events, such as executions during the French Revolution at Place de la Révolution or the coronation of Napoleon I in 1804. Today, it's a popular tourist attraction, with military parades & political protests taking place here often. Nearby attractions include La Grande Roue Ferris Wheel plus two unique hotels – Hôtel de Crillon & Hôtel de Marine – making it a must-visit destination for any traveler looking to stroll through gardens or explore its rich history!
History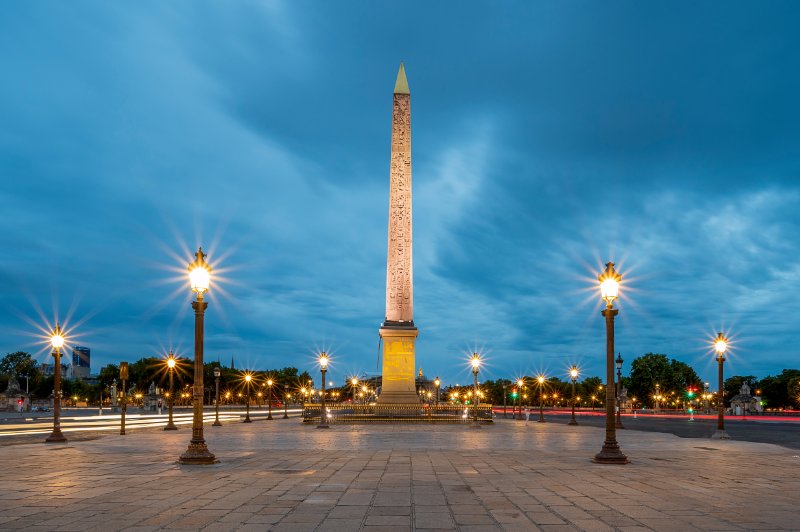 Place de la Concorde, the largest square in Paris, has a long and vital history. King Louis XV commissioned its construction between 1757 and 1779 as a public space on the right bank of the Seine near Tuileries Garden. At its center stood an equestrian statue of Louis XV sculpted by Edmé Bouchardon and four statues by Jean-Baptiste Pigalle representing Force, Justice, Prudence, and Peace. The square also featured two monumental fountains with six seated allegorical figures spouting water into large stone basins.
The French Revolution brought about drastic changes to Place de la Concorde – it was renamed "Place de la Révolution," and the equestrian statue of Louis XV was removed and melted down. It became infamous for being where more than 1,200 people were guillotined during this period.
In 1795 it was changed to "Place de la Concorde" as a sign of reconciliation among French citizens after the political upheaval had ended. Charles X later honored Louis XVI by renaming it 'Place Louis XVI' in 1823. Then, finally returned to 'Place de la Concorde' in 1829 when Egypt gifted France with an obelisk from Luxor Temple, which Jacques-Ignace Hittorff installed along with eight corners featuring eight statues plus two monumental fountains topped off with an equestrian statue of Louis XV sculpted by François-Frédéric Lemot.
The Square Today
Today, Place de la Concorde stands as a reminder of French history, having been renamed three times throughout its lifetime, hosting events such as the Bastille Day military parade each year; home to iconic monuments like the Luxor Obelisk, Eiffel Tower & Arc de Triomphe – making it one of Paris' major public squares.
The Luxor Obelisk—a 3000-year-old Egyptian obelisk that stands tall at over 23 meters. On either side of it are two bronze statues: "La Révolution Française" on one side and "La Liberté Guidant le Peuple" on the other. You can also find two beautiful fountains here – designed by Jacques Ignace Hittorf – adding elegance to this historical site.
Places to Visit Nearby Place de La Concorde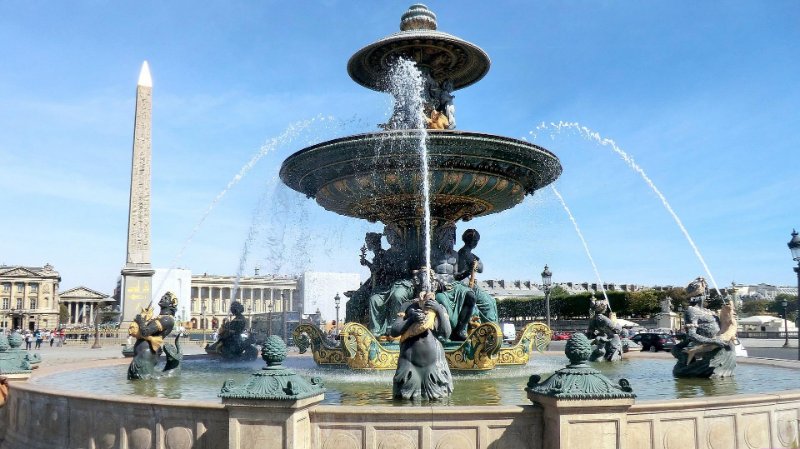 Place de la Concorde is a popular tourist destination in Paris, boasting several attractions nearby.
One popular destination is Galeries Lafayette Haussmann, a luxurious shopping mall with designer boutiques and restaurants across seven floors.
Or, if you're looking for something more cultural, visit Musée Marmottan Monet, which houses some of Claude Monet's best works, or even explore Palais Garnier – an opera house just around the corner from Place de la Concorde.
At the center of the public square stands the Luxor Obelisk – an ancient granite monument gifted to France by Egypt's government in 1833.
The 3,000-year-old obelisk measures 23 meters (75 feet) high and is decorated with hieroglyphics honoring Pharaoh Ramesses II. Flanking it are two monumental fountains, each featuring six seated allegorical figures on its north side and four statues holding fish spouting water into a large stone basin on its south side.
The square was initially intended for an equestrian statue of Louis XV. Still, this plan changed due to the French Revolution, and it became a site for public executions until the 18th century. Nowadays, visitors can still admire eight corners containing beautiful statues symbolizing river commerce, navigation, agriculture, commerce, and industry – all designed by royal architect Ange-Jacques Gabriel with Peace, War, Justice, Concord Strength, and Prudence as their main themes.
Adding to Place de la Concorde's charm is its iconic Big Wheel – a 65-meter observation wheel from which tourists can enjoy stunning views of Tuileries Garden with the Louvre Museum in the background. Champs-Élysées and the Arc de Triomphe too!
Today's visitors continue to be captivated by Place de la Concorde's attractions while gaining insight into its rich history through tours such as the French Revolution Walking Tour or Versailles half-day tour offering skip line access plus three-course traditional lunch by Grand Canal along with a hotel pick-up service!
See Related: Arc de Triomphe: Exploring the Iconic Paris Arch
Contemporary Use of Place de la Concorde
In recent years, Place de la Concorde has regained its central role in Parisian life. The Hôtel de la Marine and its courtyard restaurants have breathed new life into the area, making it a popular gathering spot for locals and tourists.
Visitors can enjoy sports competitions, public debates, job fairs, and more throughout the year! It's also the starting point of the Champs Élysées – the most famous street in Paris.
The iconic obelisk and neoclassical architecture make this square a must-see destination for tourists worldwide. Plus, they can take advantage of Pont de la Concorde, which connects them to Place de la Revolution and the Eiffel Tower. Meanwhile, locals often meet up at Place Louis XV, located at the center of the square, with the Arc de Triomphe visible from there as well.
Place de la Concorde is an integral part of the Parisian culture that continues to draw people from around the globe due to its history, beauty, and culture that genuinely represent the French capital city.
See Related: Place Georges Pompidou
Summary
Place de la Concorde is a stunning historical public square in the heart of Paris that has captivated the public's attention for centuries. Established in 1757, the place was significantly renamed and continues to be adored by millions of visitors yearly. The magnificent monuments scattered throughout the area, such as the Luxor Obelisk, fountains, and statues designed by royal architect Ange-Jacques Gabriel, are powerful vestiges of the place's long-lived legacy.
Today. Place de la Concorde remains a vibrant cultural center hosting a unique range of events and attractions, including the world-famous La Grande Roue Ferris wheel. Its charm continues to make it one of the most popular spots in France, and it is worth visiting for anyone desiring to experience sublime beauty and the charms of French history.
If you want an experience steeped in history yet still has plenty to offer today, look no further than Place de La Concorde! This area has so much going on that you'll never be short on things to see and do – whether its admiring world-famous monuments or shopping designer labels. So why not visit it next time you're in Paris?
Frequently Asked Questions
What is the Place de la Concorde famous for?
Serving as the finishing touch of the iconic Champs-Elysees, Place de la Concorde has a long and illustrious history. Founded in 1772, it is world-famous for featuring the Luxor Obelisk, two monumental fountains, and numerous prestigious hotels surrounding it. The obelisk, initially located in Luxor, Egypt, was gifted to France by the ruler of Egypt in 1829. It stands 23 meters tall and is inscribed with hieroglyphs.
Why is it called Place de la Concorde?
Place de la Concorde was named to represent the hopes of peace and harmony following the reign of terror. It serves as a reminder of the importance of reconciliation in times of disagreement and disunity.
The square symbolizes the French Revolution, and its history is a reminder of the power of unity and the importance of coming together in times of conflict. It is a reminder that peace and harmony exist.
Who died at Place de la Concorde?
Many notable figures were executed at the Place de la Concorde, including King Louis XVI, Marie-Antoinette, Charlotte Corday, Madame du Barry, Danton, and Robespierre. On January 21st, 1793, King Louis XVI was famously beheaded there, marking a defining moment in the French Revolution.
Why is the La Place de la Concorde important?
La Place de la Concorde is an important symbol of the French Revolution, representing a period of immense historical significance. It stands as the location of several iconic events, from the storming of the Bastille to King Louis XVI's execution. As an enduring reminder of France's revolutionary past, La Place de la Concorde has become a cherished site for all citizens.