Paris is often referred to as the 'City of Light', and while this generally refers to the twinkling streetlights and bedazzled Iron Lady at night, might it not also relate to some other sort of light? The light of God perhaps? Unlikely – given Parisian history. That said, Paris has many beautiful Catholic churches that you can visit when in the city. Read in to learn more about the best Catholic churches in Paris.
The history of churches in Paris is long and storied, dating back to the early centuries of the city's founding. These places of worship have been significant not only as places of religious devotion and community but also as architectural marvels that have shaped the very landscape of the city.
One of the most famous churches in Paris is Notre Dame Cathedral. This Gothic masterpiece was established in 1163 AD and has served as a model for countless other cathedrals around France, not to mention its role in some of the most pivotal moments in French history. Today, it draws millions of visitors each year who come to admire its beauty and experience a piece of this storied history firsthand.
Another important church in Paris is Saint-Sulpice. Located on one of the main streets that leads to the iconic Sacré-Cœur Basilica, Saint-Sulpice has had a close connection with several key moments throughout French history, including both revolutions and wars. It is also known for its stunning spiral columns and beautiful baroque architecture, which continue to draw massive crowds every year.
Despite their importance to Parisian history, these churches are not relics from ancient times; they continue to serve an important function today as places where people can come together in faith and fellowship. From grand Gothic cathedrals to baroque chapels, or whether you're a tourist exploring their fascinating histories or a local looking for somewhere peaceful and quiet to pray or reflect, there's truly no better place than one of these grand old churches in the heart of Paris.
Best Catholic Churches in Paris, France
1. Notre Dame de Paris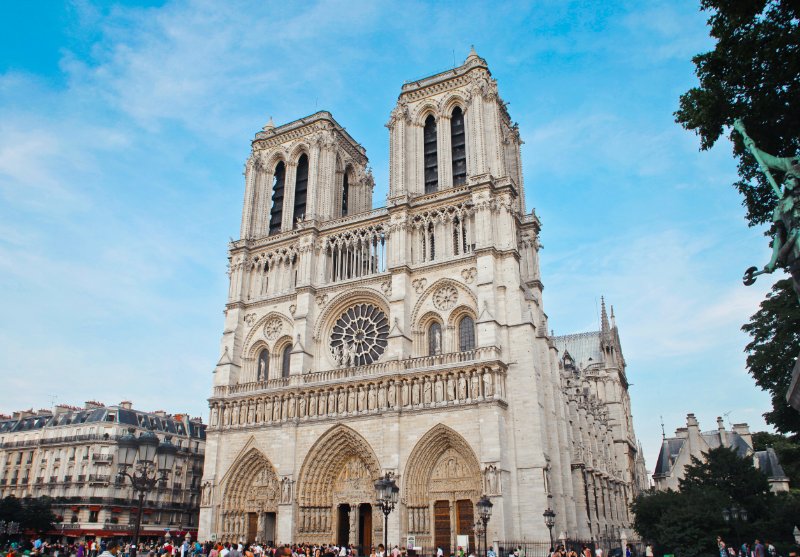 If you're planning a trip to Paris and are looking for the city's most famous church, look no further than Cathedrale Notre-Dame de Paris. This spectacular Gothic cathedral sits proudly on the "Ile de la Cité", the heart of Paris and one of the oldest inhabited areas in the entire city.
The site on which Notre Dame now stands has deep historical significance; in fact, it is believed to be built on top of an ancient Roman temple dedicated to Jupiter. Construction began in 1163 under the reign of Louis VII, though numerous architects worked on the site over the course of its construction.
This is evident by the varying styles seen throughout Notre Dame's impressive architecture. Towering high above the busy streets of Paris, this iconic landmark draws hundreds of thousands of visitors from all over the world each year – and with good reason.
Whether you're interested in learning more about Paris' fascinating history or simply want to admire its beautiful Gothic design, there's something for everyone at Cathedrale Notre-Dame de Paris.
Do note that this most famous of Catholic cathedrals is still closed for repairs. A devastating fire wrecked the church in 2019, with repairs slated to be completed in 2024. Most of the cathedral survived, and you can at least still snap some pictures of it while it's under repair.
See Related: Rue de Rivoli-Le Marais
2. Sacré-Cœur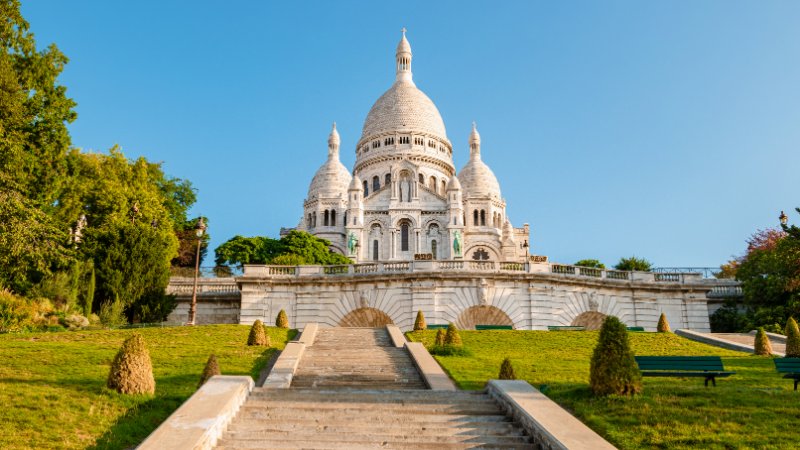 Located at the top of the Montmartre hill, the Basilique du Sacré-Cœur is a beautiful and iconic landmark in Paris. With its distinctive round structure and stunning views of the city, it is a popular destination for both tourists and locals alike.
The basilica was originally built as a tribute to the 58,000 French soldiers who lost their lives during the Franco-German War of 1870-1871 under Napoleon III, as well as to commemorate those who died during the brutal "Bloody Week" that followed the Paris Commune in 1871.
To reach this historic site, you can either climb the stairs or take the convenient funicular. Regardless of how you choose to get there, be sure to take some time to appreciate this stunning monument and enjoy panoramic views of this great city. Whether you are a first-time traveler or an experienced wanderer, you won't want to miss visiting this remarkable Basilica du Sacré-Cœur on your next trip to Paris.
See Related: Best Gothic Cathedrals in Paris, France
3. Saint Germain des Prés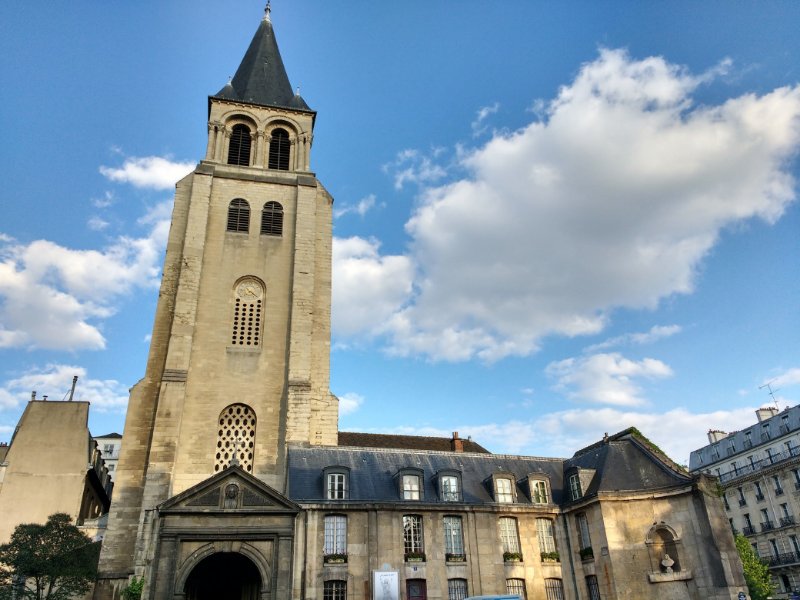 Saint-Germain's Abbey has a long and varied history, having been through numerous rebuilds and renovations over the centuries. It started out as an early Christian holy site in the 5th Century, but it was very quickly destroyed by Viking raiders around 860 AD.
It was not until the 11th or 12th Century that Saint-Germain's Abbey began its current incarnation, reflecting the architectural styles of the Romanesque and Gothic periods. Saint-Germain's Abbey became home to Benedictine monks for several hundred years until The French Revolution (1789), when it was again destroyed by the flames of war.
Today, Saint-Germain's Abbey stands as a proud monument to its storied past, serving as an important destination for travelers from all over the world. With so much change and beauty over time, Saint-Germain's Abbey embodies a deep sense of history– capturing both the resilience and spirit of its people.
Though no one can know what the future holds for this historic site, it continues to endure with enduring vitality. And we are sure to continue to be mesmerized by Saint-Germain's glowing spires for generations yet to come.
4. Église du Dôme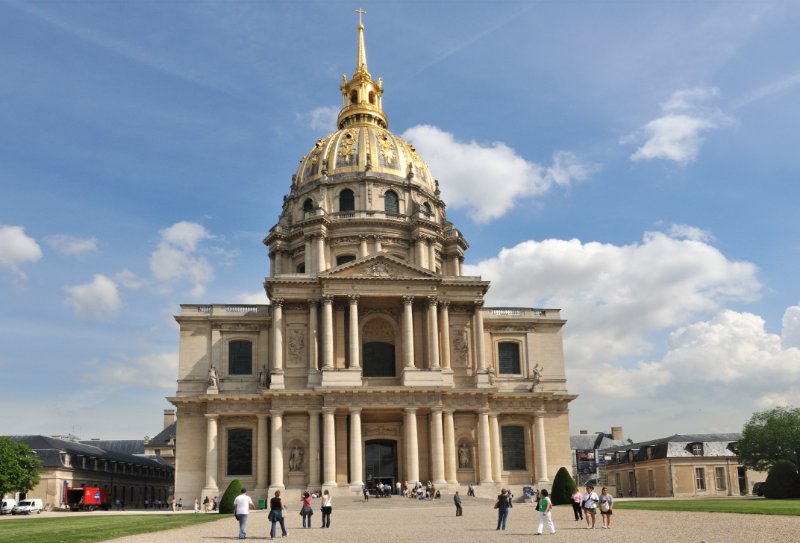 The Église du Dôme or Church of the Dome is located in the Les Invalides complex not far from central Paris. This grand church features a high dome as well as impressive gold decorations reminiscent of Versailles palace's Hall Of Mirrors.
The interior décor is breathtakingly beautiful, with painted ceilings featuring Biblical scenes and detailed murals covering all four walls depicting important moments in Christian history – check it out if you get a chance!
5. Église de la Madeleine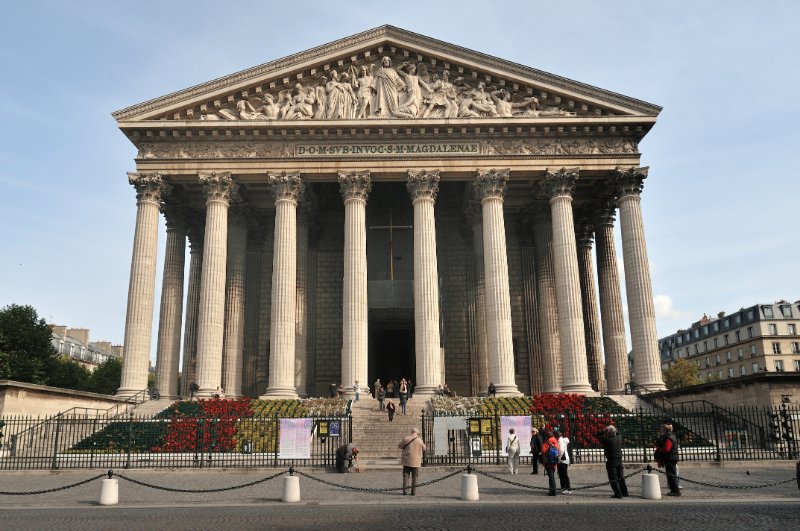 La Madeleine is a stunning church located in the heart of Paris, France. With its impressive 52 Corinthian columns and classic Greek temple-like design, La Madeleine looks like something straight out of ancient Greece.
Despite being built in the 18th and 19th Centuries, La Madeleine has an air of eternal grandeur and antiquity about it. This can be attributed to the fact that it underwent several construction phases during this time period before finally being completed in 1843.
Now, La Madeleine is a popular tourist attraction and one of the most iconic landmarks in all of Paris. Whether you are admiring it from afar or exploring its majestic interior, La Madeleine is a must-see for anyone visiting the City of Lights. While you are there, be sure to stop by one of the great restaurants or shops at Place de la Madeleine.
6. St.-Sulpice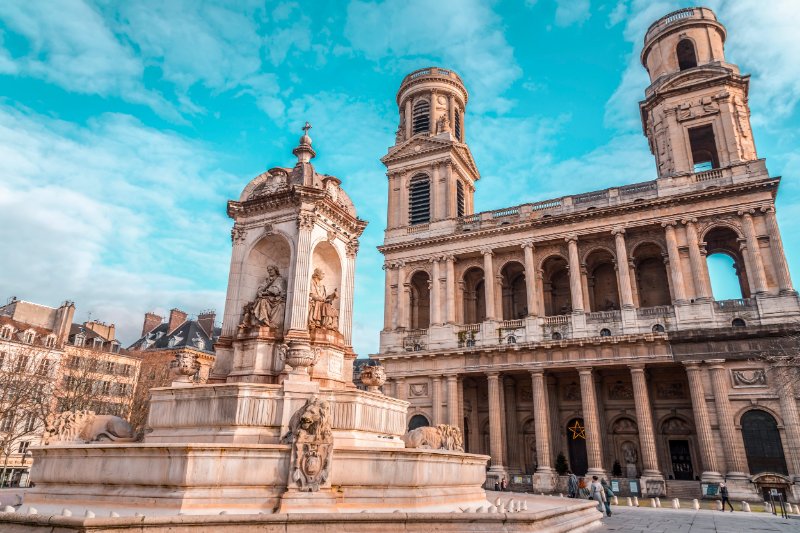 Built between 1646 and 1745 (with the last major work finishing in 1870) this Baroque-style church offers visitors an impressive sight inside with giant frescoes lining all four walls depicting vignettes from biblical stories such as The Creation Of Adam or The Last Supper among others.
Partly inspired by St. Paul's Cathedral in London, Saint-Sulpice is actually the second-largest church in the city of Paris and is a must-see destination for history buffs.
See Related: Top 10 Churches in Paris to Visit
7. Sainte Chapelle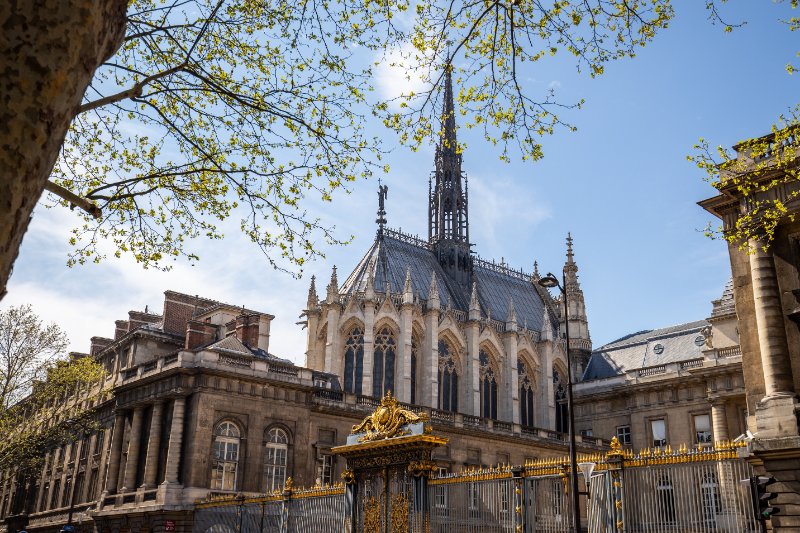 Sainte-Chapelle is one of the most iconic sights on the Ile de la Cité, located within the historic Royal Palace courtyard. Originally built in 1241 by King Saint Louis as a home for two of the most important Christian relics – Jesus' Crown of Thorns and a fragment of the True Cross – Sainte-Chapelle has since become a must-see destination for travelers from around the world.
Thanks to its stunning architecture and intricate stained glass windows, Sainte-Chapelle offers visitors a truly unique glimpse into medieval life in Paris. Whether you're interested in religious history or simply looking for some beautiful photos to share on social media, Sainte-Chapelle is an essential stop on any trip to Paris and is just a short hop from Église de la Madeleine.
8. Église de Saint-Étienne-du-Mont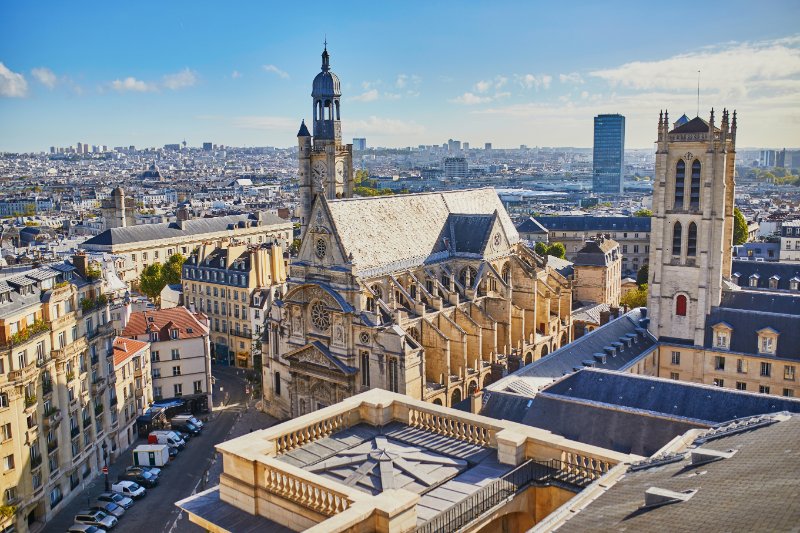 Saint Etienne du Mont is a historic church located in the heart of Paris. Founded in 1220, this beautiful structure has stood the test of time and has been witness to countless important historical events throughout the centuries. Its façade is a perfect example of Renaissance architecture, with a steeple dating back to the 15th Century.
But what really makes Saint Etienne du Mont stand out among other churches is its unique Gothic interior design. With two spiral staircases on each side of the nave, Saint Etienne du Mont offers visitors an unforgettable experience both inside and out.
And if that's not enough, Saint Etienne du Mont is also just a few steps away from another iconic landmark: the Pantheon, originally built as a church itself. Whether you're a history buff or simply looking to explore your cultural heritage while traveling through France, Saint Etienne du Mont shouldn't be missed.
9. St. Eustache Church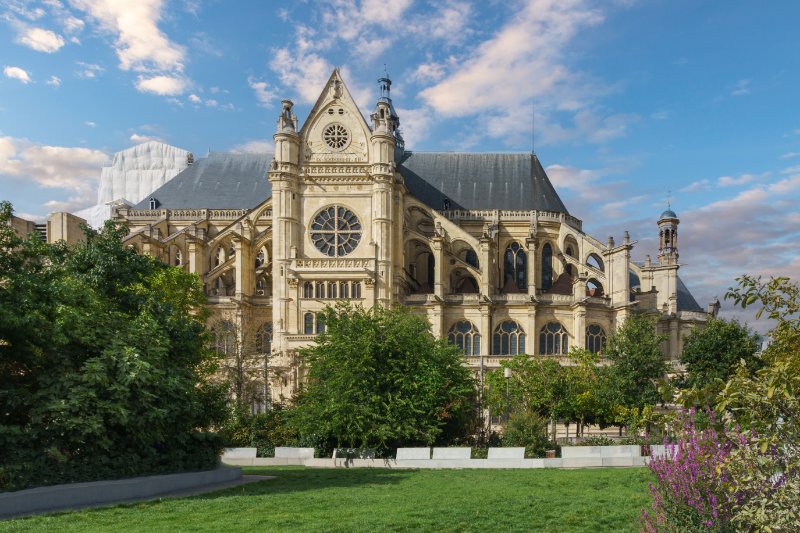 Saint-Eustache, one of the most iconic churches in Paris, was modeled after Notre Dame, with its distinctive flying buttresses and richly decorated interior. Although Saint-Eustache is Gothic in its architectural style, it boasts a wealth of Renaissance artwork, including ornate carvings and fine paintings.
Many famous historical figures are associated with Saint-Eustache, such as Cardinal Richelieu and Marquise de Pompadour, the official mistress of Louis XV. Some even received their baptism here at Saint-Eustache – truly a must-see for any visitor to Paris.
10. Chapel Of Our Lady Of The Miraculous Medal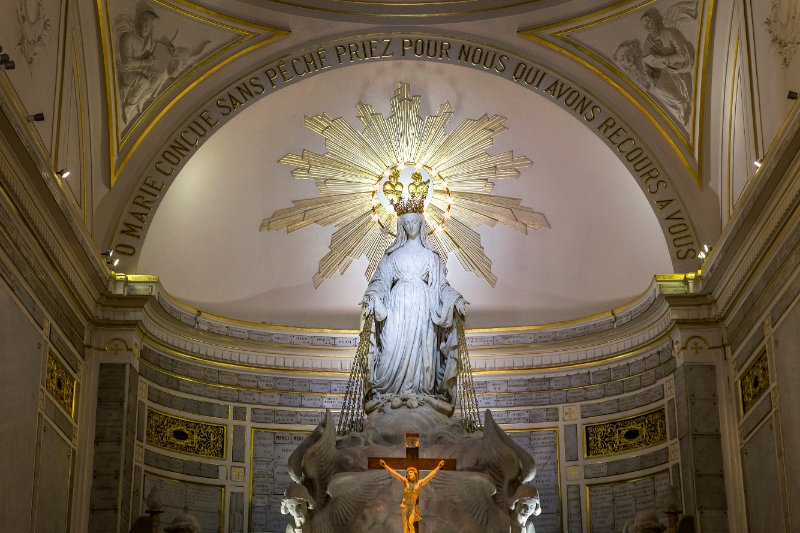 Also known as "Chapel Of Our Lady Of Victory" this small, gilded chapel located near Rue de Rivoli commemorates miraculous healings attributed to Our Lady's intercession after prayers here were supposedly miraculously answered – more than once too!
Come here for meditation or prayer, either way, this place holds tremendous spiritual significance for many pilgrims around the world so don't miss out on visiting here if possible during your stay here in Paris!
11. Saint Germain l'Auxerrois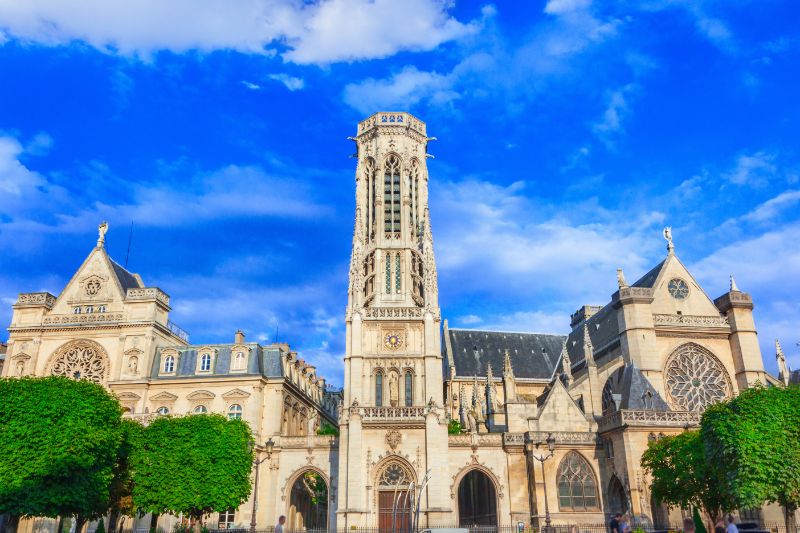 Saint Germain l'Auxerrois is a historic church located in Paris that was originally built as a royal palace for use by members of the French monarchy. With its location at the Louvre and its Gothic architectural style, Saint Germain l'Auxerrois has always attracted an eclectic mix of artists, courtesans, nobility, and local artisans alike. Inside the church, you can marvel at some of its beautiful stained glass windows, along with its impressive organ and a few other works of art.
Additionally, you can also check out the iconic bell that was originally put up in 1529 as a way to signal the start of the brutal Saint-Barthélémy massacre in 1572. Whether you're visiting Paris as a tourist or simply getting to know this amazing city from afar, Saint Germain l'Auxerrois is definitely worth exploring if you want to experience a piece of French history and culture. So why not plan your next visit today? You won't be disappointed!
12. Église Saint-Séverin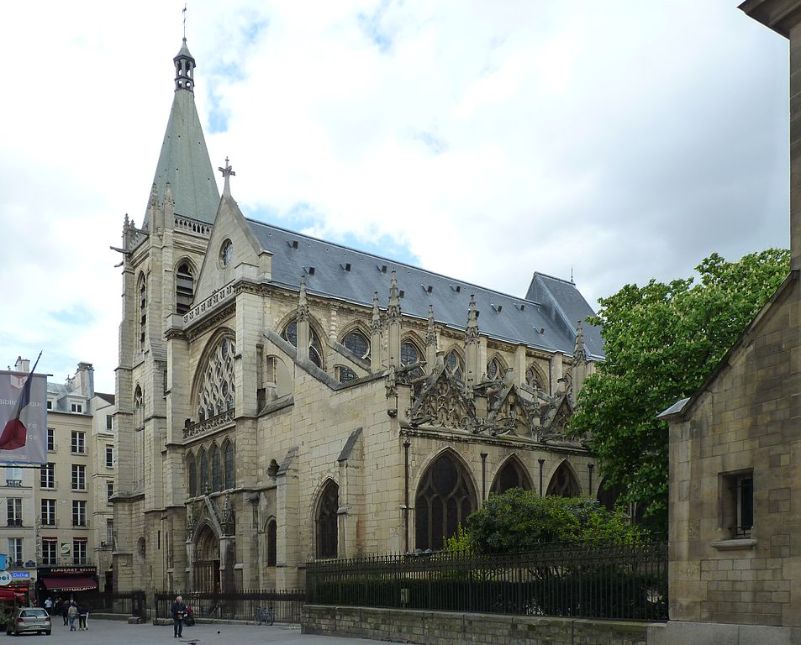 If you're looking for an intriguing piece of medieval architecture in Paris, look no further than Église Saint-Séverin. This beautiful church was originally built in the 13th Century, but was damaged by a fire and had to be rebuilt in the 15th Century.
The name of this historic church comes from a Swiss abbot who lived in the 5th Century; there is actually a statue of him on the outside! What's more, Église Saint-Séverin also holds a permit from the 6th Century; it was granted by Séverin the Solitary himself.
Make sure to check out the neo-gothic columns and the old and modern stained-glass windows, both of which are magnificent works of art. So if you're visiting Paris, be sure to stop by Église Saint-Séverin and enjoy its beauty and history.
13. Sainte Clotilde-and-Saint-Valère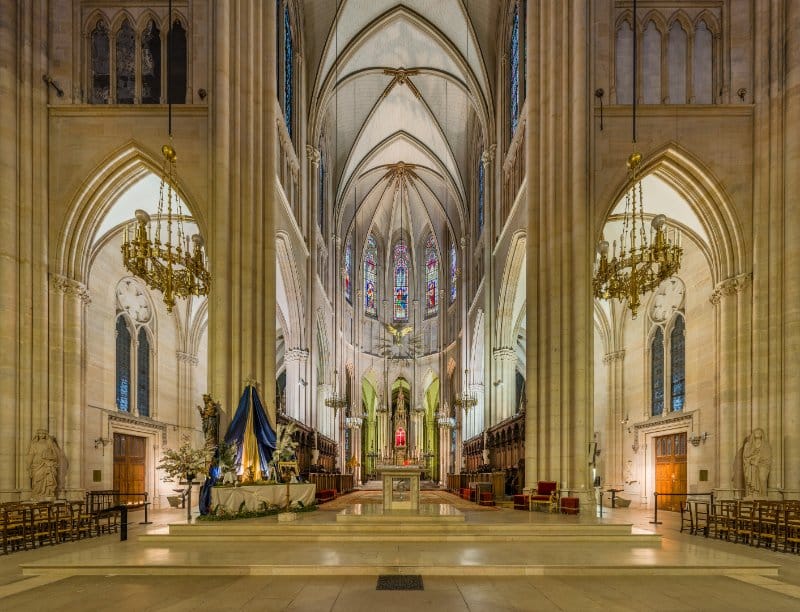 Sainte Clotilde-and-Saint-Valère, located between Invalides and Musée d'Orsay in Paris, is a beautiful neo-gothic church that was built in the mid-19th Century. With its iconic twin spires reaching nearly 70 meters tall, this striking structure is a must-see for any traveler visiting the city.
Inside, you'll find an impressive altar created by the artist Goudji, as well as stunning stained glass windows by the leading artists of their time. Whether you're interested in history or architecture, Sainte Clotilde-and-Saint-Valère offers something for everyone.
So if you're looking for a place to immerse yourself in the beauty of this amazing city, be sure to visit Sainte Clotilde-and-Saint-Valère on your next trip to Paris!
FAQs
How many Catholic churches are in Paris?
The Catholic Church carries 50,000 churches across France and it is believed that Paris alone contains around 200.
What is the name of the most famous Catholic church in Paris?
Notre Dame de Paris (Notre Dame Cathedral), which is located on the île de la Cité is located in Paris. It was built between 1160 and 1345. It is the most famous Catholic church in Paris.
What is the most beautiful church in Paris?
Notre Dame de Paris (Notre Dame Cathedral) is arguably the most beautiful church in Paris and is known as the most stunning Gothic cathedral in the world. It was started in 1163. It was completed in 1345. It took more than a year to build just one column.
What is the oldest church in Paris?
The oldest church in Paris is the Basilica of Saint-Denis, which was founded in the 5th Century. The church was built on the site of a cemetery where Saint Denis, the first Bishop of Paris, was buried. The church has been rebuilt several times over the centuries, and its current Gothic facade dates from the 13th Century.
Related Resources: