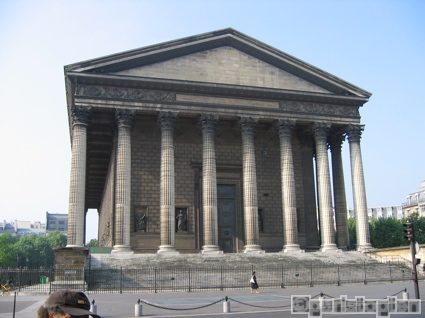 Today, with its 52 Corinthian columns, it looks like a massive Greek temple! At the end of the XVIIIth and the beginning of the XIXth centuries, the plans for the construction of the Madeleine were constantly modified. It's mainly for this reason that the building of the Church lasted some 85 years ! Six distinct periods of the construction can be identified from the laying of the foundation stone by King Louis XV in 1763 until the consecration of the church in 1843 :
-Under the"Ancien Regime", Pierre Constant d'Ivry's architectural project envisaged a latin cross dominated by a dome, a parallel of the Pantheon's dome in the 5th arrondissement.
-After July 14th 1789 (the taking of the Bastille): work continued under the French Revolution, although at a much slower pace until it was abandonned by a decree of the National Assembly on december 30th, 1791.
-Under the Consulate (1799-1804) : the work on the building remained suspended.
-The First Empire (1804-1815) : in 1806, Napoleon wanted to built a temple to the glory of the French armies on the site of the unfinished Madeleine Church. Some 80 architects competed for the designing of the new plans including Pierre-Alexandre Vignon whose project was a return to Antiquity (his plan is to built a temple in Greco-Roman style). However, after the defeat of the Napoleonic armies during the Russian campaign of 1812, Napoleon reverted to the initial decision to built a church.
-During the Restauration†(1815-1830): King Louis XVIII thought that an expiatory Chapel might be built on the site, in memory of King Louis XVI and Queen Marie-Antoinette.
-The reign of Louis-Philippe (1830-1848): i twas finally decided that the construction that has been started at the time of Vignon should be terminated. His successor, Huvé, accomplished this and the building of the Church was completed in 1842. The Church was consecrated on october 9th, 1845, by Mgr Affre, Archbishop of Paris. The funeral of Frederic Chopin was celebrated in this church on oct. 30th, 1849. On this occasion, and in presence of 3000 people, the Mozart Requiem was performed by the Paris Music Academy (Conservatoire de Paris) choir and orchestra for the first time in a church in Paris. The inside of the chuch is quite dark and austere because there is no window or stained glasses.