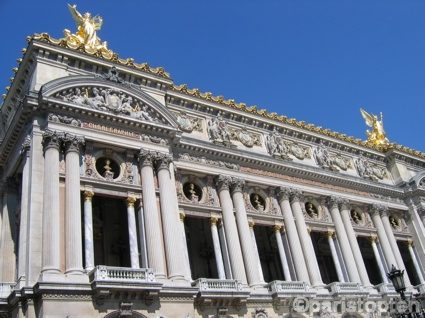 Ordered by Napoléon III, and designed by Charles Garnier, who won the examination amongst 170 candidates, the Palais Garnier was inaugurated in 1875. The architect wasn't even invited to the opening night and had to pay his ticket!
It's one of the biggest theatre in the world. The stage can have 450 artists and the room 2200 persons. The roof was painted by Marc Chagall in 1964.
You can have a guided visit in English on saturday or sunday at 11.30 a.m., but you have to book in advance.
In French, the guided visits are taking place on wednesday at 2.00 and 3.30 p.m., and sunday at 11.30 a.m., 2.00 and 3.30 p.m.
Admission prices without guided visit:Adult 7 euros, Children bteween 10 and 19 years old 4 euros, under 10, free.
Prices with guided visit: Adult 11 euros, children 6 euros.
Open mid-July to mid-September between 10.00 a.m. and 6.00 p.m. The rest of the year between 10.00 a.m. and 5.00 p.m.
See Related: Place de l'Opera