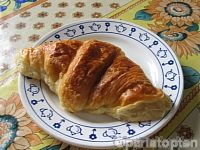 Appart from the fresh baguette with butter and jam spread on it, the king of the french breakfast in the croissant, which can be found plain, or cooked with butter (croissant au beurre). You can dip it in your coffee, your hot chocolate, or cut it in half and put butter and jam on it. Delicious!
The pain au chocolat is the favorite of the kids after school, and of all the gourmets!
But it's also eaten for breakfast (sunday treat!), or any time in the day!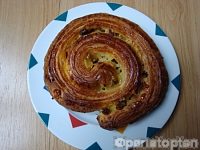 This large flat pastry contains cream and raisins. You won't be hungry any more after this delight!
This one is more an more popular. It's got the same pastry and cream as the pain aux raisins, but with chocolate nuggets instead of raisins, and a different shape.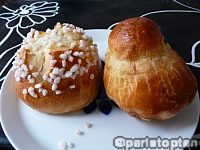 The brioche is a classic! With its typical shape, like a little character, it has a specific taste as well, and is one of the less calorific one. You can choose between the plain one and the one with chunks of crunchy sugar on top!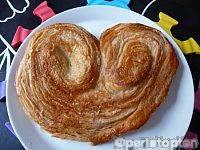 The palmier ("palm tree") is large, flat and crunchy. You can also buy it from the supermarkets, in boxes of 12, but smaller and industrially made of course.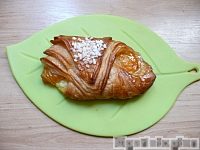 Sweet, fruty, melting with a few crunchy sugar bits on top, hum, delicious!
In most of french bakeries, you'll find those little and aerian chouquettes, made from a "pâte à chou" just sweetened with sugar crunchy bits. Delicious at tea time too!