France is home to some of the best cuisine in the world- and with good reason. Their food is renowned for its natural ingredients and decadent flavors. Sometimes, though, you need a little comfort. For a French take on a savory classic sandwich, look no further than a croque monsieur. This French favorite, though simple, is the ultimate choice when you're craving a bit more than a baguette.
A croque monsieur comprises sliced (or sometimes boiled) ham inside two slices of buttered pain de mie bread. It's then topped with cheese and fried in the pan or baked in the oven until crispy.
You can think of it as a reverse grilled cheese- the melted gruyère goes on the outside, while the inside is lined with ham and sometimes a layer of béchamel sauce. A croque madame is almost identical to its masculine counterpart, except for adding a fried egg.
With so many dining options in Paris, there are endless options for finding this famous French dish. Luckily, we've tried some of the more traditional croques in the city and some with their flare. Here are our picks for the top croque monsieur and madames in Paris, from Belleville's streets to the Rive Gauche's hidden corners.
Best Croque Monsieur and Madame in Paris
Fric Frac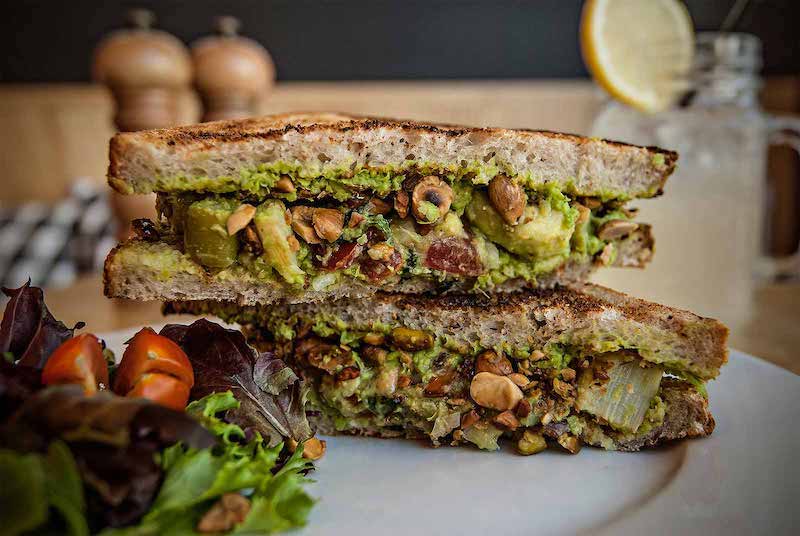 Fric Frac easily has become a cult favorite in the French capital. This is one of the only places in Paris with a menu devoted to croque monsieurs. You can try the classic, or if looking for a change, you can opt for one of their ever-changing twists on the sandwich. 
Vegetarians, rejoice! There are two completely veg options: "Winnie" and "Le mise en vert". For the daring, Fric Frac has introduced a Thai take on the classic, with shitake mushrooms and shrimp, as well as a Viking-inspired croque made with smoked salmon. 
The restaurant offers take-out or dine-in at both of their locations. For the Canal Saint-Martin spot, we recommend getting a croque monsieur (or croque madame!) to go and find a spot along the canal to sit and eat your sandwich while soaking up the cool neighborhood vibes. In Montmartre, find a seat along the steps of the Sacré Coeur while you indulge in both the food and the views.
Address: 79 quai de Valmy, 75010, and 4 rue des 3 frères, 75018, Paris, France
See related: 13 Best Catholic Churches in Paris, France
Le Petit Cler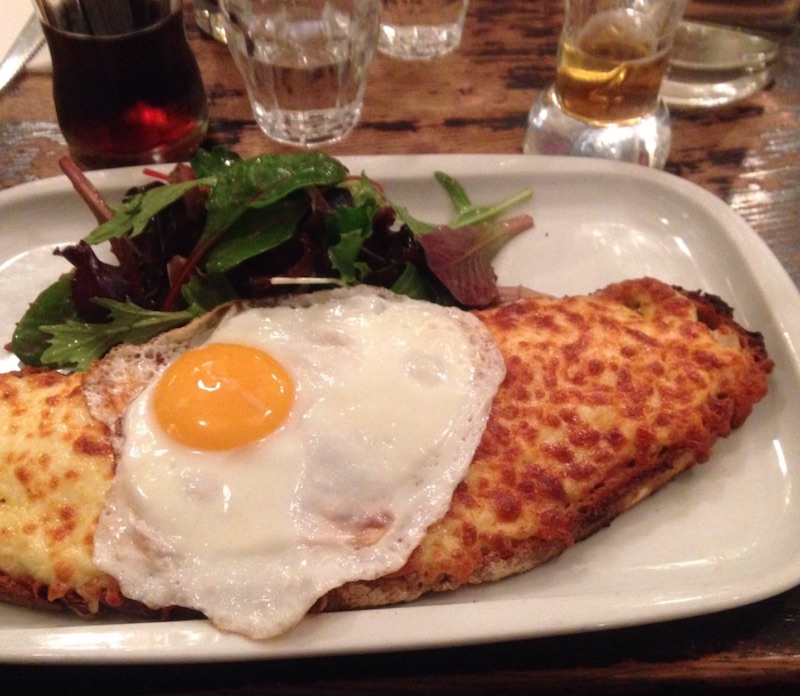 Le Petit Cler has without a doubt one of the best croque monsieurs in the city. Nestled on a bustling street just walking distance from the Eiffel Tower, this French bistro has been keeping tourists and locals alike fed for years. Rue Cler is known for its daily markets and endless food options, so you know it's good food when this is one of the top spots among all options.
Their croque monsieur is quite simple- Prince de Paris ham, gruyere, butter, and bread, served with a side salad. However, it's the quality of the fresh ingredients that keep people coming back for more. That, and the fact that the bread they use is from world famous Poîlane- a bakery known for its sourdough. Some would say that this is, hands down, the best croque monsieur in Paris.
Le Petit Cler lives up to its name in the sense that it is very petit- this cozy restaurant is quite small, so make sure to call in advance to get a table.
Address: 29 Rue Cler, 75007 Paris, France
See Related: Marché Rue Cler
La Fontaine de Belleville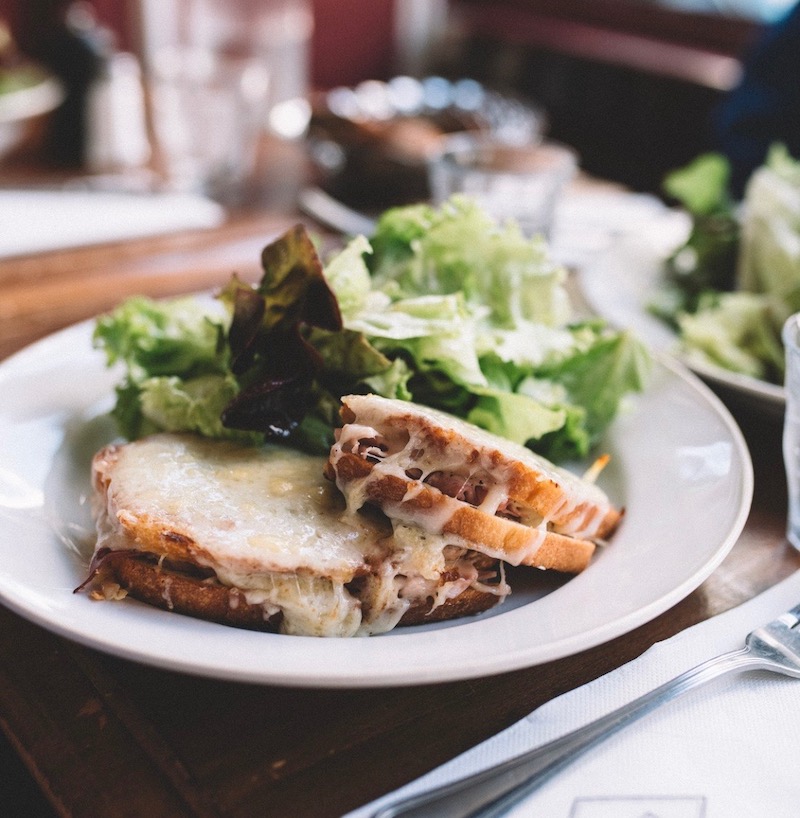 La Fontaine de Belleville is an unassuming cafe in the 10th arrondissement of Paris. Typically known for its great coffee and weekend jazz sessions, this cozy cafe draws people in for their lovely ambiance.
La Fontaine de Belleville is most known for their pain perdu (french toast), but those without a sweet toast can opt for their most coveted item- the croque monsieur. With many unanimous that this is the best in the city, they're still quite humble in their approach to creating the fan favorite.
Although their proud croque monsieur is made with typical Prince De Paris ham, what sets them apart from the others is their cheese. Gooey Comté that has been aged 18-24 months is the real star. That, and their homemade Béchamel sauce.
Address:31-33 Rue Juliette Dodu, 75010 Paris, France
See related:12 Best Macarons in Paris
Faste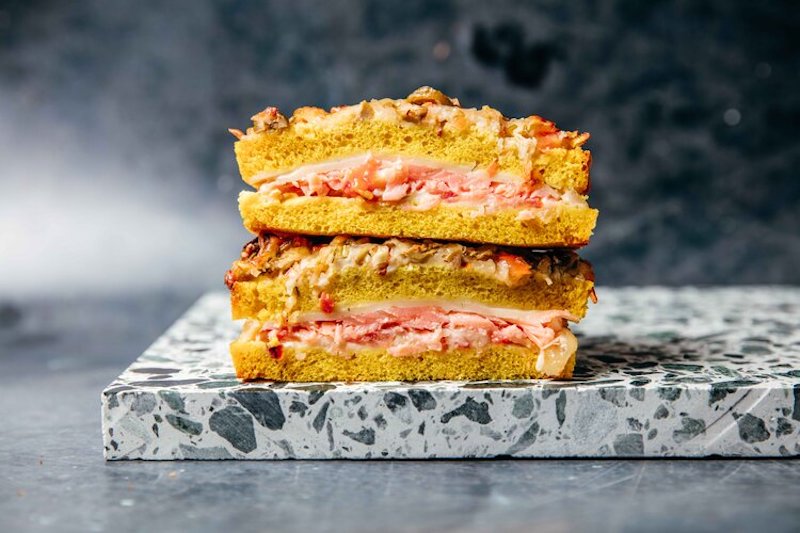 Another restaurant focusing solely on the art of the croque, Faste is guaranteed to make you and your belly happy. The word "faste" in French means decadence and luxe- the exact adjectives to describe their famed sandwich. The man behind Faste is Nicholas Duquenoy, a critically acclaimed chef known throughout Paris for his culinary expertise.
Faste has over 10 different croque monsieurs offered. Sandwiches here range from the classic ham and cheese to deli-style pastrami, to delicious goat cheese. A favorite is the rich truffle croque monsieur, complemented with a layer of their creamy Béchamel sauce. No matter your choice, the flavors are guaranteed to melt in your mouth and leave you craving more.
Address: 52 Rue du Faubourg Saint-Martin, 75010, Paris
See Related: Top 10 Affordable Restaurants in Paris with a View
Carré Pain de Mie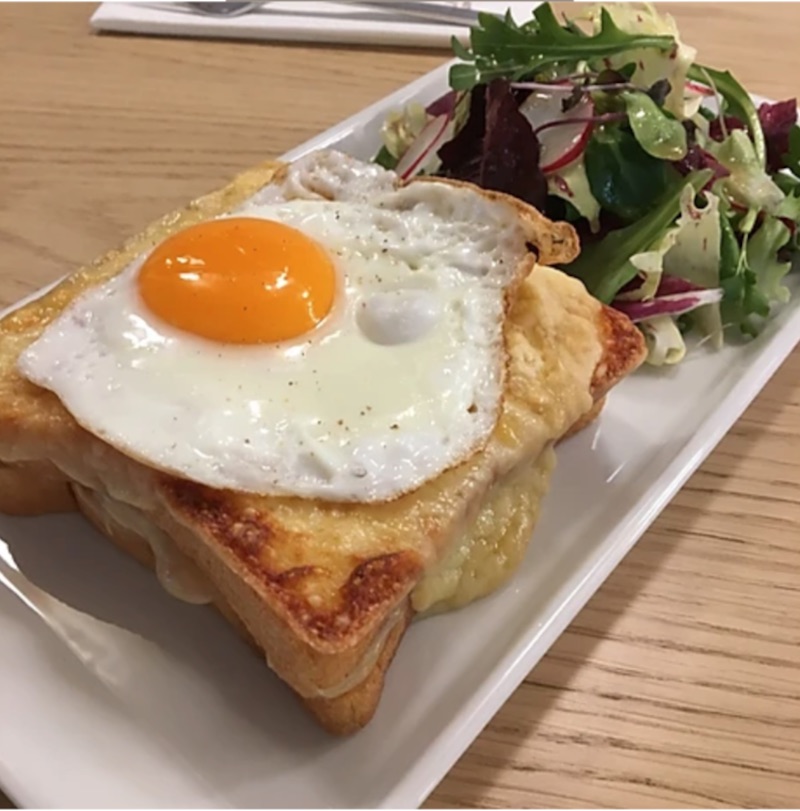 What makes Carré Pain de Mie home to (subjectively) the best croque madame in Paris? Their bread! France takes pride in their bakeries, but this is place is top-notch. All of their loaves are baked in-house daily, made of Japanese flour. This Beaubourg bakery is a true hidden gem.
When you take a bite from one of their ham and cheese sandwiches, you'll be amazed at the flavor of their bread. The croque madame is truly exceptional, with the gooey egg oozing down the grilled comté cheese being the best part. This bakery-turned-cafe welcomes customers to take away their hot sandwich, or enjoy it there.
Address: 5 Rue Rambuteau, 75004 Paris, France
See related:Les Halles et quartier Beaubourg
Bistrot Marloe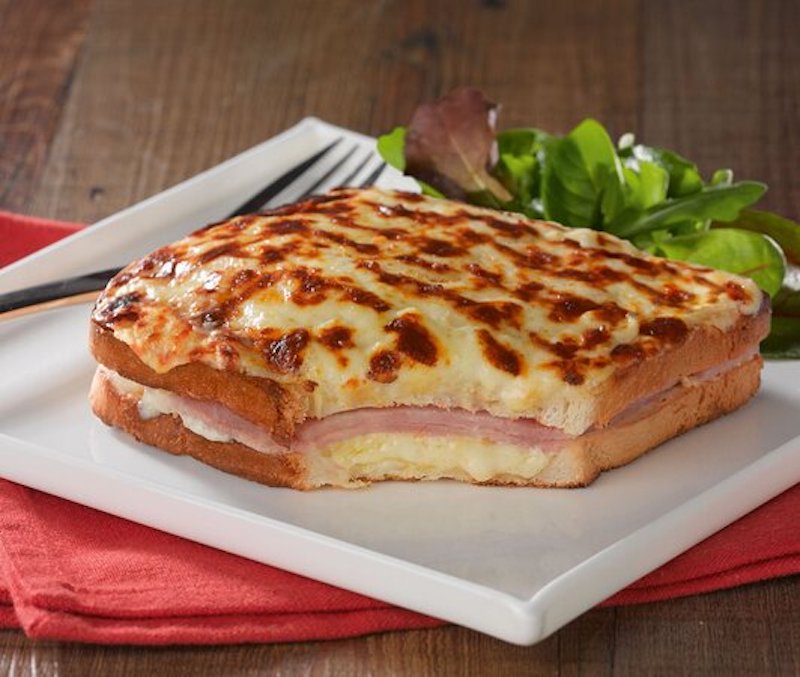 For a sophisticated approach to the classic, you'll need to head to Bistrot Marloe. This chic bistro invites guests in to taste their modern cuisine. Although their croques are still made with the typical ingredients, their sandwiches are quite elevated in their quality.
This popular bistrot serves the classic: shaved Prince de Paris ham, and creamy butter sandwiched through two layers of fresh French bread. Finished off with gooey, gruyere cheese of course. Bistrot Marloe is reputable in the neighborhood for their decadent dishes, even having high-rated reviews in the Michelin guide.
Address: 12 rue du Commandant-Rivière, Paris, 75008, France
See related: Gastronomic Restaurants
Vins de Pyrénées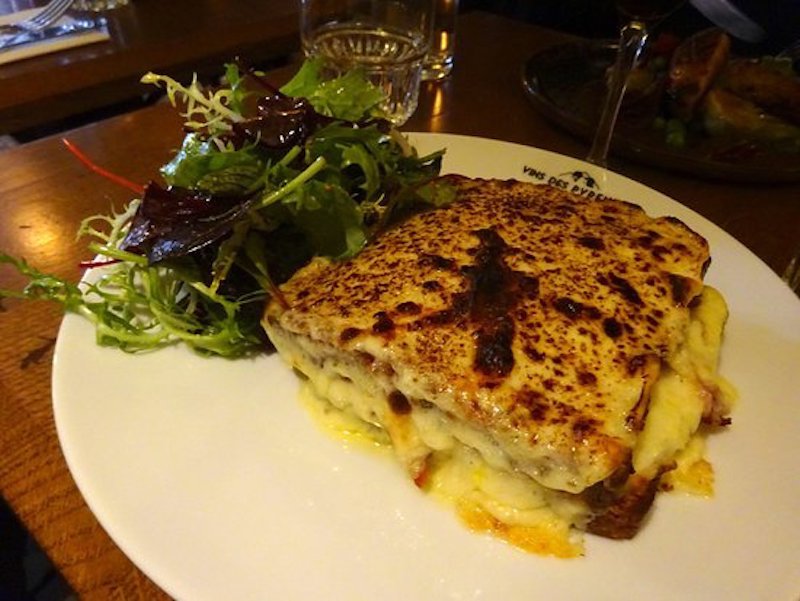 When in Paris, this is a can't-miss croque monsieur. Vins de Pyrénées, despite what the name suggests, is not just known for its wine, but their excellent cuisine. Though you can order the traditional ham and cheese, what sets them apart from others in the city is their infamous Truffle Croque Monsieur.
Vins de Pyrénées is known for their unique approaches to French favorites, and the croque monsieur is consistently delicious. Their hot take on the French classic includes truffle-infused gouda that will melt in your mouth. With the rest of their ingredients imported daily from local Parisian traders, the quality of their food will surely leave an impression.
Address: 25 Rue Beautreillis, 75004 Paris
See related:12 Best Desserts in Paris to Try
Buvette Gastrotheque
For an ambiance as good as their food, Buvette Gastrotheque is one of our top picks to discover the city's best croque monsieur. An American-English-French fusion, Buvette takes the best of all cuisines and serves arguably the best classic croque in the city. What makes them so special? The ambiance here is convivial and the staff are passionate about what they do, which reflects in the dishes they serve. Not to mention the quality, fresh ingredients they use daily.
If you want to ditch the meat, Buvette offers a "Croque Forestier"- all the creaminess of the classic sandwich, but with sauteed mushrooms instead of ham slices. All with gruyere on top. Buvette has some seriously great food on their menu, and the croque monsieur is no exception.
Address: 28 Rue Henry Monnier, 75009 Paris, France
See related:Top Ten Gastronomic Restaurants
Les Deux Magots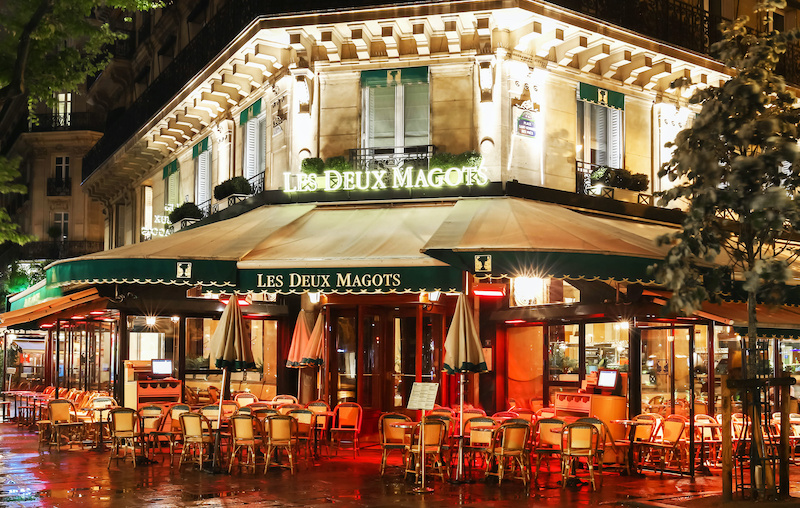 Located in the heart of Saint-Germain-de-Près, Les Deux Magots has become synonymous with the best cafes to visit in Paris. A popular hangout for Hemingway, Picasso, and more, this French brasserie is known far and wide as a can't-miss while visiting the city of lights. Though the prices here are more indulgent, the food meets its expectations.
Although Les Deux Magots is one of the most touristy cafes in town, they still know how to deliver when it comes to traditional French food. Most importantly, the croque monsieur and madames are top-tier. You can choose the classic or swap out the ham with chicken. The croque madame is served with a perfectly fried egg and the green salad served on the side.
We recommend visiting Les Deux Magots anyway, but the croques are the cherry on top. Just be prepared to wait in the queue- there's always a line out the door, but the wait deserves your time.
Address: 6 Pl. Saint-Germain des Prés, 75006 Paris, France
See Related: Best Farmers Markets in Paris: A Comprehensive Guide
TRAM Café and Librairie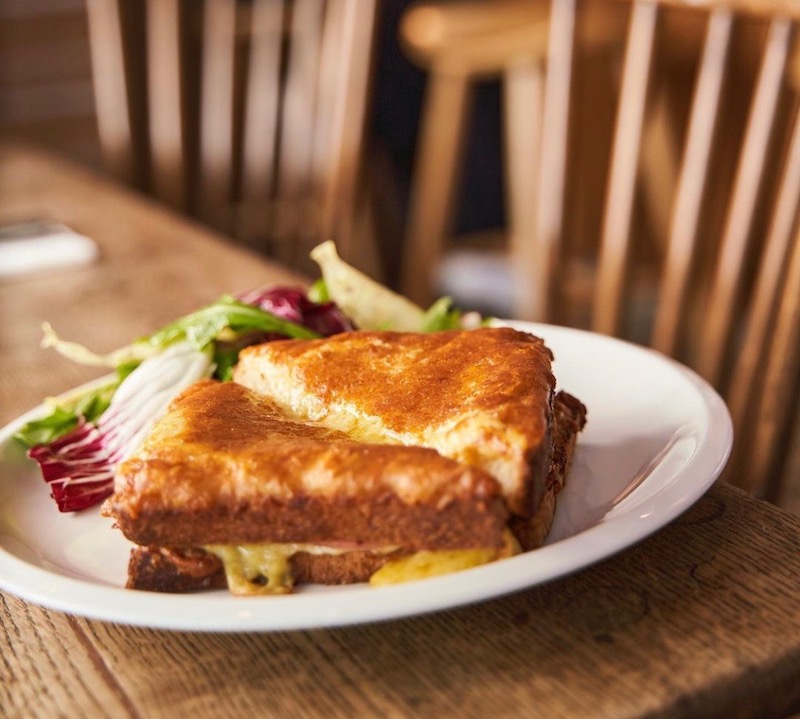 Yup, you heard that right. One of the best croque monsieurs in Paris is found in a library! While technically a bookshop, this hybrid cafe serves up one of the best ham and cheese sandwiches in town.
The cafe, connected to the bookshop, is open for lunch and dinner. The croque monsieur here is seriously good and the perfect option for a quick lunch. Their classic croque is served on fresh white bread, sliced ham, delicious comté cheese, and their (not-so) secret ingredient of truffle salt. The good service and smiling staff are more reasons to return.
Address: 47 rue de la montagne ste Geneviève, 75005, Paris