Rue Cler is a nice pedestrian market street, with a variety of shops, stalls, and terraces. if it's not too early (or Sunday) when you go there, don't miss the Rue Saint Dominique, a perpendicular street full of nice boutiques.
Location & Opening Hours
The location of the store is on rue Cler in the 7th arrondissement of Paris. It has been open since 10 am and will remain open until 6 pm every day, except Sunday. The store specializes in French cheese, baguettes, and camembert. On rue Cler, customers can also find other types of products such as fresh fruits and vegetables as well as some groceries.
Additionally, they can also find a selection of wines and other alcoholic beverages to go with their purchases. Located right next door to Rue de Grenelle, customers are welcome to visit the store for all their French needs – from cheese to baguettes and camembert!
Open Tuesday to Saturday from 10.00 a.m. to 6.00 p.m., and Sunday morning.
What You Will Find on Rue Cler – Left Side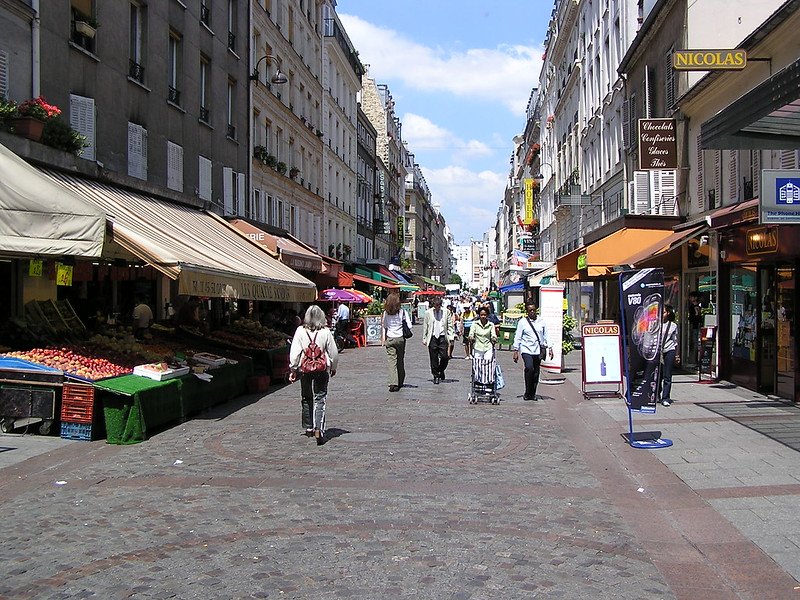 On the left side of Rur Cler, you will find some of the best cafes and restaurants in the city. The Cafe du Marché and Cafe du Champ are located here and offer a variety of options for those looking to grab a bite or order a cone. There is also a large greengrocer selling fresh produce, cheese, and other gourmet goods.
Just down the road is the Ecole Militaire Metro stop and nearby Rue de la Motte Piquet, as recommended by Rick Steves. Further down Rue Cler is a traditional butcher shop as well as several other cafes where you can enjoy coffee or tea with friends.
Finally, at the end of Rue Cler is an open-air covered area with tables and chairs, perfect for people-watching during any hour of the day. To experience some of Paris's best cuisine and attractions all in one place, visit Rue Cler!
See Related: Best Croissants in Paris
What You Will Find on Rue Cler – Right Side
Rue Cler is a famous street in Paris located near the Eiffel Tower. This Parisian paradise has something for everyone! From a small supermarket to a wine shop and specialty food store, you can find it all on Rue Cler. The best part of it is the local restaurant, De Mars, where you can enjoy delicious French cuisine and sample some of the finest Normandy cheeses.
Make sure to stop by the charcuterie and fromagerie to pick up some amazing fresh eggs, artisanal Camembert, and Bertillon ice cream. Don't forget to visit Rue de Grenelle as well for more specialty food stores with friendly salespeople who will help you find what you need.
Rue Cler is known for its excellent selection of cheese, fresh produce, and other specialties that make it one of the best places in Paris to visit!
Specialty Stores Near Rue Cler
Rue Cler, located in Paris and near the Champs de Mars, is a street full of specialty stores. Fromagerie de la Motte Piquet offers some of the best cheeses in town, while Le Grenelle Bakery has delicious pastries daily. For those looking for gourmet treats, Foie Gras de Rue du Champ is a must-visit for its foie gras delicacy.
The butcher on rue de Grenelle offers a daily special and is one of the most popular spots to get fresh meat. All these stores have something special to offer and make Rue Cler an ideal place to shop for food in Paris. Whether you are looking for cheese, pastries, or foie gras, Rue Cler has it all!
What to do and see near Rue Cler
Rue Cler is a beautiful street located near the Eiffel Tower in Paris. It is one of the most popular and lively areas in Paris, full of cafes and chic restaurants. If you want to explore this area, there are a few things you should definitely check out! Start off with a visit to Rue de Grenelle where you can find many Parisian cafes such as Cafe du Marche and Cafe du Mars.
You can also shop around in the market, or take the time to explore the nearby Invalides or Rodin Museum. For more ideas, be sure to consult your guidebook for all the best things to do near Rue Cler. From fine-dining restaurants to charming cafes, there's something for everyone here!
Related Resources