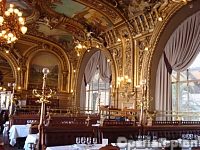 Here too, the decor is impressive, with its 41 paintings on the walls and ceilings! It was on the occasion of the Universal Exhibition of 1900 that the PLM train company built that place. It was inaugurated in 1901. In 1972, Malraux saved it from destruction by getting it added to the National Register of Historical Monuments."A la carte": Starters from 23 euros (foie gras, snails, etc), main dishes from 27 euros and desserts from 16 euros. Or different menus from 60 to 102 euros.The service …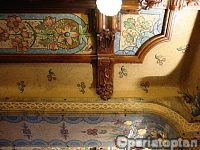 In 1865, M. and Mrs Mollard arrived from the region of Savoie with their horse and cart in this excentered area, and they opened a bistrot. Twenty years later, they made enough money to built the chic and classy establishment which is going to have a great success until today, apart from the 14-18 war period.The architect, E. Niermans, was also the designer of the Moulin Rouge cabaret, the hotel Negresco in Nice and the Hotel de Paris in Monte-Carlo. On the walls, you can admire great italian …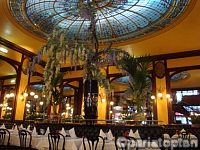 In 1864, the Alsacian Bofinger was the first one in Paris to serve the draught beers. In 1919 he was able to open the Bofinger brasserie, with its magnificient glass dome.Today, the specialities of the Chef Georges Belondrade are still, of course, the meat or seafood sauerkraut (choucroute), but also other french dishes like onion soup, snails, etc…It's worhth going for the beautiful surrounding, but the service and food are average. My choucroute had the smallest sausage I'd ever seen and …
This typical parisian "Bouillon", open since 1896 and listed in the Historical Monuments since 1989, offers a really noisy atmosphere. Since there is no reservation possible, you might have to queue and wait for a table. But don't worry, the army of waiters will quickly remind the lasy customers to clear the table when the plate is empty!The food (egg mayonnaise, saucisson, andouillette, and all sorts of typical french dishes) is good and cheap, between 15 and 30 euros for a complete meal …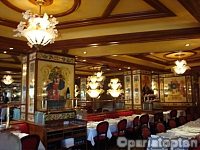 After the war, Clément, one of the Blanc brothers, bought this place (in the heart of the Halles, the biggest market of Paris) destined to be a butcher shop, and turned it into a brasserie. His sister, the famous Madame Ott, took good care of the restaurant for quite a long time.You can order the classic onion soup, and a seafood platter, but, as French say:"Dans le cochon, tout est bon!" (meaning "Everything is good in the pig!"), you can also choose the renowned pig's feet or any other pig's …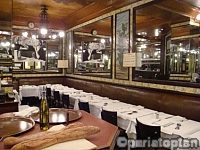 Opened by the Auvergnat Léonard Lipp in 1880, the brasserie was first called "Les Bords du Rhin". Later, it became the meeting point for politicians (Malraux) and writers (Emingway, Camus). Still today, you can see there a lot of artists and journalists.It's listed in the Historical Monuments for its wooden front, painted ceilings by Charly Garrey and ceramics walls by Léon Fargues.A meal will cost you between 50 and 90 euros, and you'll have the choice between sauerkraut and seafood of …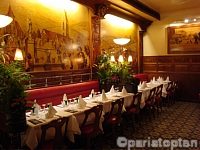 In 1932, Robert Jenny brought his know-how and regional specialities to the Parisians.
Today, this brasserie continues the grand tradition of Alsace's culture and generous gastronomy. The chef honours the sauerkraut in all its forms and offers a wide range of seafood in a warm and cosy atmosphere.
Open every day until 01.00 A.M.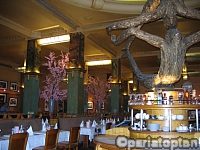 Built in 1927 by architects Barillet and Le Bouc, La Coupole was a privileged witness of the parisian "Années Folles". Today, it's a part of the Flo Brasseries Group, including Bofinger.
French food with speciality of fresh seafood.
Menus fro 29,90 euros (week menu) to 59 euros.
Open every day from 12.00 P.M. until 1.00 A.M. (Friday and saturday until 1.30 A.M.)
Breakfast served from 8.30 A.M. until 10.30 A.M.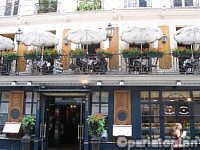 It doesn't look like a typical brasserie, but more like a classic restaurant. It was in fact the first "Café" of Paris, founded in 1686 by the Italian Francesco Procopio Dei Coltelli. Characters of the French Revolution like Danton and Robespierre met here. However, the place, decorated with portraits and fleur-de-lis (the royal emblem) is really nice and the food very good.Sea food platters from 29,90 euros. Snails, foie gras, pâté en croûte, onion soup, etc.Kids menu: 11 euros.Open from …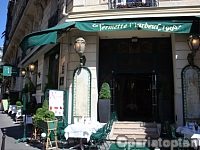 Five minutes from the Champs-Elysées, and listed for more than 20 years in the Historical Monuments Inventory, it offers one of the most beautiful Art Nouveau decor of the capital, and a good french food.The problem is that they are snobbish, and acted as if they were a gastronomic restaurant (which they're not, they just have the chance to work in a beautiful place), where all the others brasseries welcomed me very naturally and kindly! Well, I'm not going back, so you'll have to find out by …