Paris, the City of Lights, has captivated the hearts and minds of travelers for centuries. Its charm, beauty, and culture have inspired countless literary works that transport readers into this iconic city's bustling streets and romantic corners. Whether you're an armchair traveler or planning a trip to Paris, travel books about this enchanting destination are a must-have.
These books offer unique perspectives, uncovering hidden gems and delving into the Parisian history and the lives of its inhabitants. They go beyond the typical guidebook, providing inspirational stories, personal accounts, and captivating narratives about this revered city. Exploring Paris through the pages of a book can be a satisfying experience, giving you a sense of the city even if you've never set foot on its cobblestone streets.
🗼 Paris Insider's Top Picks! ✨
Dive into the heart of Paris with our handpicked partners. Trusted by thousands, they ensure you experience the best of Paris.
When selecting Paris guidebooks to learn more about the city, it's crucial to consider the author's credibility, writing style, and content that resonates with your interests. This might include in-depth historical accounts, personal anecdotes, or a focus on particular aspects of the city, such as its neighborhoods, museums, or food scene. Furthermore, please pay attention to the book's target audience and ensure it caters to your specific needs and preferences.
We've curated a list of the finest travel books about Paris that cater to diverse interests and showcase the city's exceptional allure. We invite you to join us on this literary journey as we explore these captivating books and uncover the magic of Paris.
Best Travel Books About Paris
We have curated a list of the best Paris guidebooks to help you explore and fall in love with the City of Lights.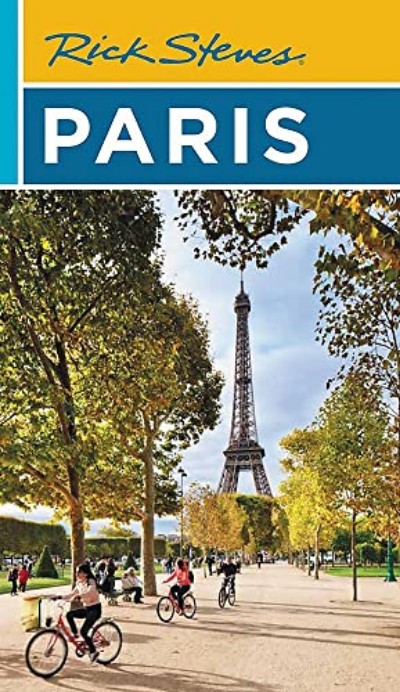 This comprehensive guide is perfect for travelers seeking must-visit spots and hidden gems in Paris.
Pros
Well-researched and informative
Includes many practical tips
Comes with a useful map
Cons
Map could be more detailed
Top attractions not prioritized
Lacks some lesser-known attractions
With "Rick Steves Paris (2023 Travel Guide)" in hand, we appreciate the wealth of information this book provides on Paris's landmarks, museums, and architecture. From fascinating historical backgrounds to practical tips for getting around the city, this guide lets us plan our trip easily.
While the included map is helpful, we find the detail level somewhat lacking. Nevertheless, the book's focus on essential Parisian experiences compensates for this shortcoming. The suggested walking tours are particularly intriguing, allowing us to explore Paris leisurely.
Finally, the language and etiquette tips offered in this guide are invaluable. A basic understanding of French and how to approach local interactions will significantly enhance our travel experience. Overall, "Rick Steves Paris (2023 Travel Guide)" is a valuable resource for anyone visiting the City of Light.
See Related: Things To in Paris on Bastille Day: A Comprehensive Guide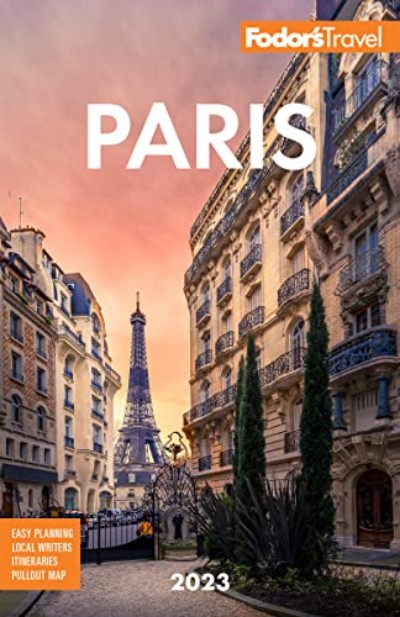 If you're planning a trip to the City of Lights, Fodor's Paris 2023 is a must-have guide to make your travel experience unforgettable.
Pros
Easy-to-read format and thorough coverage of top sights
Full-color photos and helpful maps
400 pages of insider tips and recommendations
Cons
Lacks detailed information about some smaller attractions
Visiting hours are not mentioned for most places
Some reviews mention information gaps
We appreciate the comprehensive content in this Fodor's guide, which provides essential information about famous landmarks like the Eiffel Tower, Notre Dame Cathedral, and Louvre Museum. Their insider tips make your visit more enjoyable by pointing out lesser-known sights and gems, which is excellent for those looking to stray from the popular tourist trail.
The included full-color photographs and clear maps will help you visualize the attractions you'll be visiting and ensure you find your way quickly. In addition, this 400-page guide also includes recommendations for accommodations, dining options, and shopping, enabling you to make informed choices during your stay.
However, some users have mentioned that certain attractions like the Musée d'Orsay and Petit Palais receive limited coverage. Likewise, visiting hours were not noted for most sites, which could inconvenience travelers. Despite these drawbacks, Fodor's Paris 2023 remains a valuable resource for anyone planning to explore this beautiful city.
See Related: Best Paris Food Tours in Paris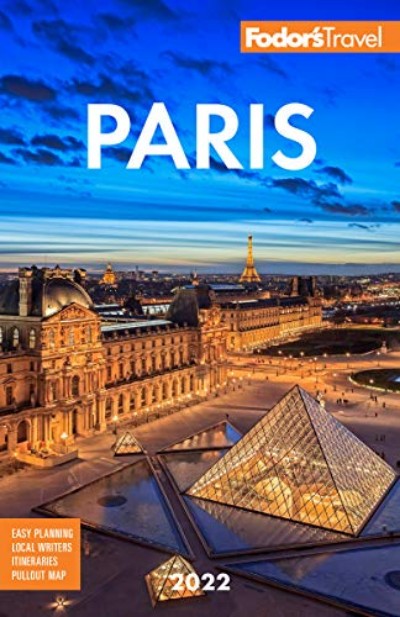 We find Fodor's Paris 2022 a helpful guide for exploring the City of Lights, though it has some minor drawbacks regarding readability and a variety of suggestions.
Pros
Comprehensive coverage of attractions
Organized by neighborhoods
Included removable map
Cons
Small font size
Limited restaurant recommendations
No walking tours included
Fodor's Paris 2022 (Full-color Travel Guide) offers a comprehensive look at the charms and excitement of Paris, making it an invaluable companion for any traveler. Its neighborhood-based organization makes it easy for users to plan their adventures and find their way around the city.
Moreover, including a removable map is an excellent bonus, providing a quick and convenient reference for visitors as they navigate through Paris. The guide also offers beautiful visuals, with full-color photographs that capture the essence of this iconic destination.
However, it's worth noting that some users may find the font size relatively small and challenging to read, and the variety of restaurant suggestions might fall short. Additionally, the lack of walking tours may be disappointing for some. Nevertheless, we believe that Fodor's Paris 2022 remains a beneficial resource for anyone planning a trip to this captivating city.
See Related: Paris Tips: Essential Guide for a Perfect Trip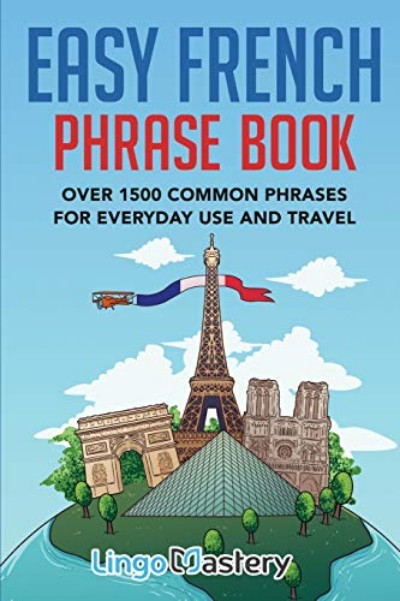 This Easy French Phrase Book is a fantastic choice for those wishing to learn essential phrases for travel and daily use in Paris.
Pros
Comprehensive pronunciation guide
Over 1500 useful phrases
It fits the needs of tourists
Cons
Some phraterms not be relevant to all
Lacks section dedicated to food items
Not focused on basiessentialds
The Easy French Phrase Book, published by Lingo Mastery, contains an impressive collection of 1500 common phrases, making it a valuable companion for travelers and language learners. Covering a broad range of topics, from primary conversational language to more specific travel necessities, this Paris guidebook provides a solid foundation for those interested in Parisian culture and language.
One of the standout features is its comprehensive pronunciation guide, which helps learners pronounce each phrase correctly, ensuring effective communication. Though the Paris guidebook covers many terms, some readers may find certain expressions less relevant, depending on their needs and situations. A minor drawback is that the book lacks a dedicated section for food items, which can be essential for travel.
Overall, the Easy French Phrase Book is a valuable resource for individuals planning to visit Paris or looking to dive into French language learning. Its extensive collection of common phrases, pronunciation guide, and focus on practical communication make it a helpful companion for tourists and language enthusiasts alike.
See Related: Best Bike Tours in Paris, France
If you're planning a trip to Paris, this insightful guide is worth considering as it covers essential information for an unforgettable experience in the City of Light.
Pros
Up-to-date publication (November 2020)
Covers unique Parisian experiences
Appropriate for first-time visitors and seasoned travelers
Cons
Specific to Paris (not usefvalid other French destinations)
Limited to 190 pages
Part of a single book series (Book 1 of 1)
An American in Paris: Everything You Need to Know to Have the Time of Your Life in the City of Light provides valuable insights and tips on navigating Paris, offering readers a comprehensive guide to making the most of their visit. This Paris guidebook could quickly become your go-to resource as you plan your Parisian adventure.
Complete with detailed sections on culture, food, and attractions; you won't miss out on any delightful experiences that await you. The book's language and presentation also cater to English-speaking tourists and anyone eager to learn more about what Paris has to offer.
Despite its limitations in scope and length, An American in Paris serves as an essential starting point for any traveler venturing into the City of Light. The information-packed guide will leave you eager to explore the many wonders awaiting you in the enchanting city of Paris.
See Related: Paris in July: Top Events and Attractions Guide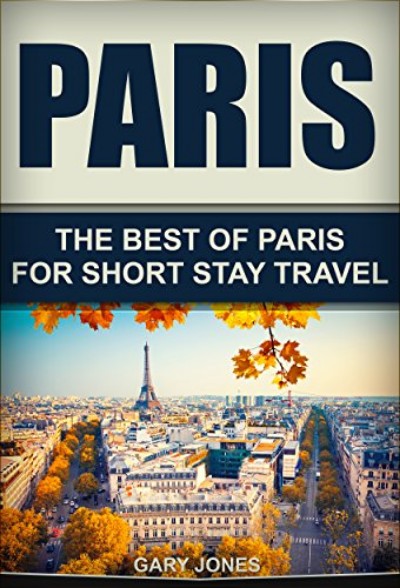 This book is worth considering if you're seeking a compact guide focused on the essentials for a brief Paris trip.
Pros
Efficiently covers key Paris locations
Includes useful transport information
Compatible with Kindle devices
Cons
Published in 2014, it might be outdated
Lacks depth and detail
Some user-reported writing quality issues
In "Paris: The Best Of Paris For Short Stay Travel," we find a guide specifically designed for those who wish to squeeze the most out of their limited time in the City of Lights. The book identifies must-see locations and helpful tips for navigating the city's transportation system. This guide is formatted for Kindle devices, making it a convenient choice for travelers who prefer digital access.
However, there are a few drawbacks that might discourage potential buyers. First, the publication date in 2014 raises concerns about outdated information. This is particularly important regarding details on accommodations, restaurants, and local businesses. Furthermore, the Paris guidebook may lack the depth and detail desired by some readers, especially those looking for a more comprehensive exploration of Paris.
Finally, some readers have reported issues with the writing quality, such as awkward translations that make the content difficult to understand. Despite these shortcomings, "Paris: The Best Of Paris For Short Stay Travel" offers valuable insights into critical sites and logistics. It may be just what you need for a short and sweet visit to the enchanting city of Paris.
See Related: Best Walking Tours in Paris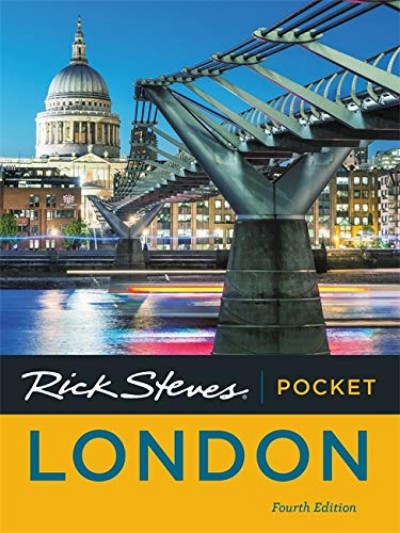 We highly recommend Rick Steves Pocket London for travelers looking to explore London with a handy and informative guide.
Pros
Compact and easy to carry
Includes helpful tips and shortcuts
Provides detailed maps for navigation
Cons
Small print that may be hard to read for some
It may cause headaches for those who struggle with small text
Not as comprehensive as full-size Paris guidebooks
Rick Steves Pocket London is a convenient travel companion designed to make exploring London a breeze. The guide's small size makes it ideal for carrying around during your trip without needing a backpack or large purse.
One of the guide's key features is its detailed maps and navigation tips, which will help travelers efficiently explore London's neighborhoods and attractions. Rick Steves is known for providing valuable information, shortcuts, and insider tips, making this pocket guide a must-have for your London travels.
However, the small print may be an issue for some readers, potentially causing headaches or difficulty reading the information. Though it doesn't offer the depth of information that a full-sized guidebook might, Rick Steves Pocket London is still an excellent choice for travelers seeking a compact and informative resource for their London adventure.
See Related: Best Farmers Markets in Paris: A Comprehensive Guide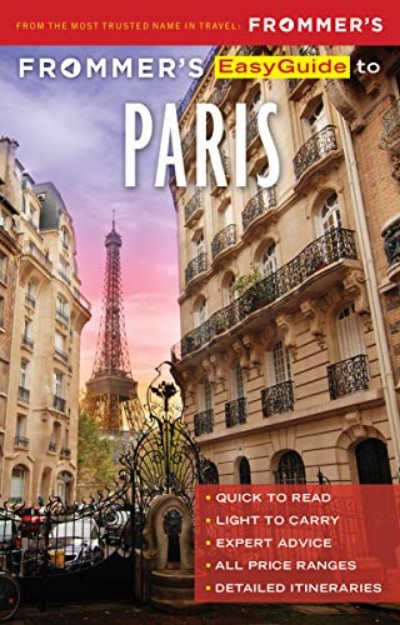 We highly recommend Frommer's EasyGuide to Paris for its highly informative and up-to-date content, especially for first-time visitors.
Pros
Up-to-date information and recommendations
The engaging and informative writing style
UsefValuableights on culture and history
Cons
Not suitable for those who prefer simpler guidebooks
Requires knowledge of English
It may not cover every single attraction
Frommer's EasyGuide to Paris is an excellent choice for travelers searching for the best travel books about Paris. As a well-written and comprehensive guide, it provides valuable insights into the city's attractions, culture, and history. Its engaging and informative style keeps readers interested and eager to discover more about the City of Lights.
The guide's up-to-date information and recommendations set it apart from other travel books. As a result, travelers can rely on the advice given and discover hidden gems they might not have found otherwise. Furthermore, the author's intimate knowledge of the city adds a personal touch to the guide, making it feel like a friend shares their favorite spots and recommendations.
As with any travel guide, there are a few potential downsides. Some readers might prefer a more basic or easy-to-follow guide, and the detailed information provided in Frommer's EasyGuide to Paris might overwhelm them.
Additionally, the focus is written in English, making it unsuitable for those who do not have a good command of the language. Finally, while the Paris guidebook covers a wide range of attractions, it may not feature every site travelers might want to visit to discover Paris in full.
See Related: Best Private Tours of Paris, France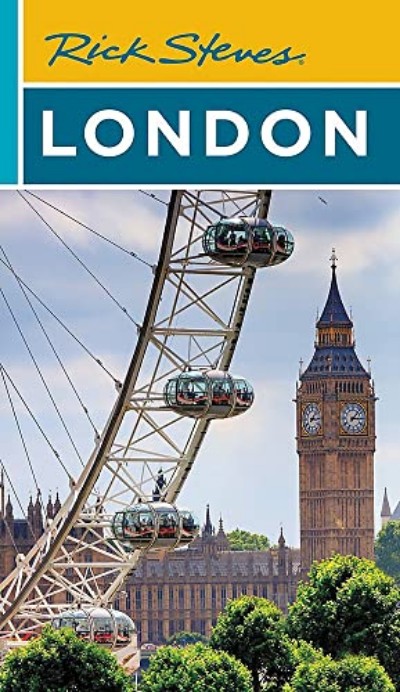 Embarking on a memorable journey to London is made easy with this comprehensive travel guide by Rick Steves.
Pros
Ideal for first-time and returning travelers
In-depth information without being overwhelming
Includes money-saving tips and travel hacks
Cons
Limited hotel listings in certspecificas
Large volume with thin pages
Not all popular attractions included
This 2023 edition of Rick Steves London Travel Guide helps readers plan their ideal sightseeing experience, offering invaluable insights into the city's culture, history, and attractions. The guide's 632 pages, packed with authentic recommendations and local knowledge, make it a reliable companion for any London vacation.
Despite its large volume and thin pages, the guide is easy to follow, and organized in a reader-friendly manner – enabling travelers to create the perfect itinerary. This guide covers everything from exploring historical landmarks to discovering hidden gems.
However, those seeking more extensive hotel listings in central London might find the options in this guide somewhat limited. Additionally, not every popular attraction in the city might be included. Despite these points, Rick Steves London (2023 Travel Guide) remains a trusted and valuable companion for exploring the charm and wonders of London.
See Related: Paris in 3 Days Itinerary: Your Guide to the City of Lights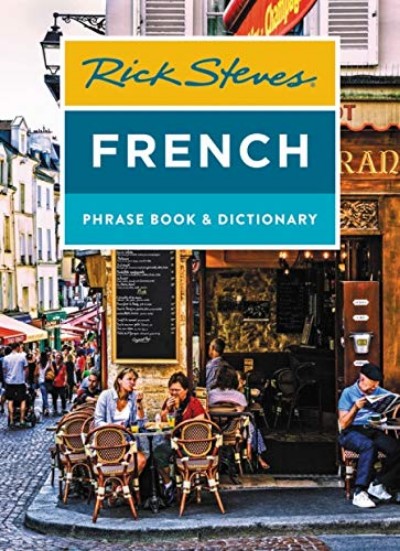 This handy phrasebook dictionary is perfect for travelers looking to navigate Paris with ease and confidence.
Pros
Well-organized content
Cultural insights
Compact size
Cons
Informal language use
Specific to French language
Limited advanced phrases
The Rick Steves French Phrase Book & Dictionary provides a well-organized resource for those traveling to Paris. The color-coded chapters ensure you can quickly find the phrases you need during your travels. The guide also offers valuable insight into the importance of politeness in French culture, setting you up for positive interactions with locals.
One thing to note is that the book occasionally uses informal language, which may not be suitable for every situation or audience. Additionally, while the guide is adequate for basic phrases, advanced or specialized vocabulary may be limited. Despite these caveats, the compact size makes it an excellent travel companion, fitting easily into bags or pockets.
In conclusion, the Rick Steves French Phrase Book & Dictionary is a practical and insightful resource for Paris travelers. The guide's organization, cultural tips, and compact size make it a great choice for those looking to enhance their trip and connect with locals on a deeper level.
See Related: When Does the Eiffel Tower Sparkle? A Guide to its Stunning Light Display
Buying Guide
When selecting the best Paris guidebooks, you should consider a few key factors to ensure you make the most of your reading experience before your trip to Paris. This guide will provide some insights and advice to help you make an informed choice.
Accuracy and Up-to-Date Information
The first and most important aspect to look for is the accuracy and currency of the information in the book. A book that offers outdated advice, such as closed attractions, can be frustrating and lead to disappointment. Check the publication date, and opt for the most recent edition to ensure the content is up-to-date.
Author's Expertise and Perspective
A travel book is only as valuable as the author's experience and perspective. Look for authors who have immersed themselves in Parisian culture and have an in-depth understanding of the city. Authors who have lived in or visited Paris extensively will be able to provide insider tips and recommendations that can significantly enhance your trip.
Depth and Scope
Consider the depth and scope of the information provided in the book. Some readers may prefer a comprehensive guide, covering everything from the city's history to detailed neighborhood breakdowns such as the Latin Quarter and Saint Germain. In contrast, others may be interested in one aspect, such as art or food. Choose a book that aligns with your personal interests and travel preferences.
Format and Ease of Use
The format and design of the book can greatly impact your experience. Look for Paris travel guidebooks with clear layouts, legible fonts, and easy navigation, such as a table of contents or an index. Additionally, consider whether you prefer a physical or digital version, depending on your travel style and accessibility preferences.
Visual Elements and Aesthetics
Visual elements, such as photographs, illustrations, and maps, can significantly enhance your understanding of Paris and its attractions. Seek out books with high-quality visuals that complement the text and provide additional context. The book's overall aesthetic should also appeal to your taste, making it enjoyable.
Related Resources