The City of Light has a timeless allure that attracts millions of travelers annually. With its romantic streets, world-class museums, and delectable cuisine, it's no wonder that this iconic destination tops many bucket lists. To make the most of your Parisian adventure, it's essential to know some insider tips to navigate the city like a seasoned voyager.
First-time visitors may be lured to the Eiffel Tower and Louvre, but the city offers much more beyond these well-trodden sites. From hidden gems in charming neighborhoods to the best places to catch a sunrise, we've got you covered with practical advice to help you immerse yourself in Parisian culture. Timing your trip also plays a crucial role, with the bustling atmosphere and warm sunshine in summer attracting tourism and peak pricing.
🗼 Paris Insider's Top Picks! ✨
Dive into the heart of Paris with our handpicked partners. Trusted by thousands, they ensure you experience the best of Paris.
As we delve into these travel tips, you'll soon be equipped to embrace the enchanting wonders of Paris like a true Parisian. Whether you're a romance-seeker, art enthusiast, or gastronomy fan, your tailor-made trip awaits as you uncover the unique facets that make Paris a quintessential traveler's dream.
Best Time to Visit Paris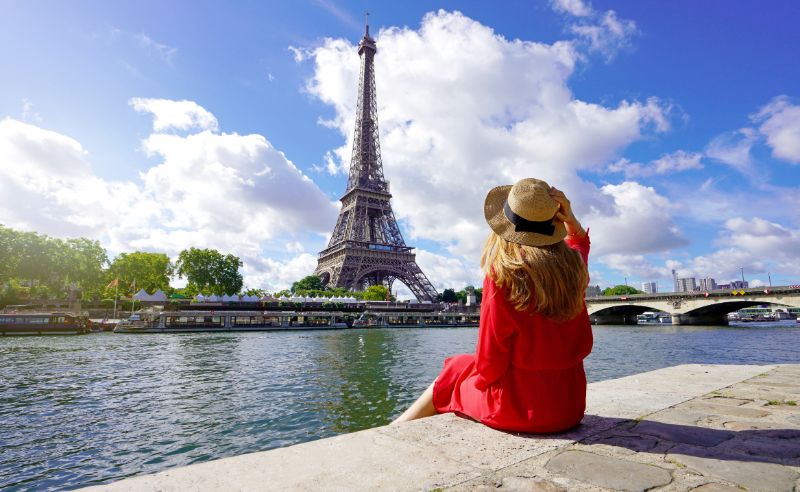 The best time to visit Paris is during the months from April to June, and from October to early November. This period offers pleasant weather, where a coat and scarf are enough to keep you comfortable, and the crowds are thin enough to enjoy the city's attractions. During these months, you can experience the best of Paris while avoiding the peak tourist season and scorching summer heat.
From June to August, Paris experiences warm and sunny weather. However, it is also the peak tourist season, so popular attractions and sites may be crowded. This travel tips Paris makes it important to plan your visits to popular landmarks such as the Eiffel Tower and Louvre Museum early in the day to avoid long queues.
For those interested in visiting museums, December through February is worth considering. During these colder months, queues for museums are much shorter, allowing you to escape the rain and cold while enjoying art from around the world. If you are a museum enthusiast, consider getting the Museum Pass, which can save you significant money, depending on your itinerary.
While the warmest temperatures can be found in October and April, visiting Paris during these months also allows you to avoid crowded attractions. Despite being a colder month, December is a charming time to visit Paris due to the festive holiday atmosphere throughout the city.
Getting Around Paris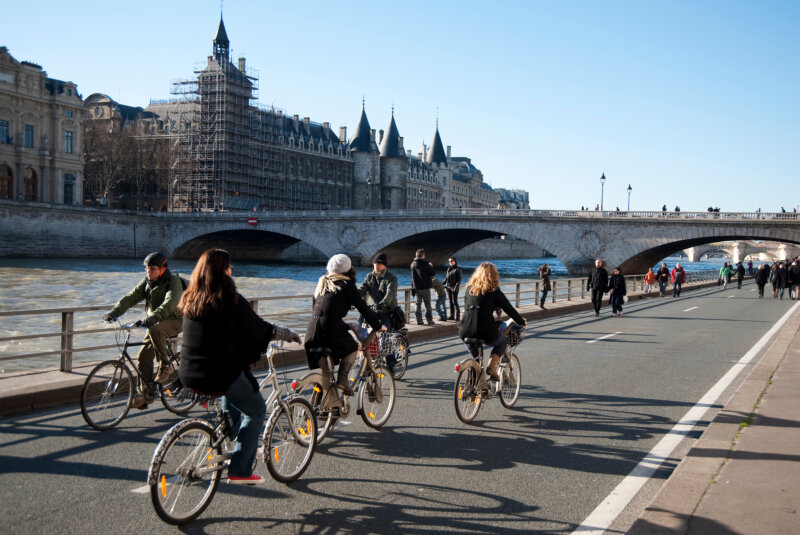 Public Transportation
In Paris, the most efficient and convenient way to travel is by using the Metro, a subway train system that covers most of the city. It is fast, reliable, and relatively inexpensive. There are 16 lines and 302 stations, primarily covering transport zones 1 and 2. For those staying in Paris for extended periods, consider purchasing a combined travel pass, which allows unlimited travel on the Metro, RER trains, and buses for a week, month, or year.
For short-term visitors, the Paris Visite Pass is an excellent option as it provides unlimited travel in Paris and the greater Paris region on the Metro, RER, bus, tramway, and regional SNCF trains for up to five days. Additionally, the pass offers special deals at select museums, attractions, and restaurants.
Taxis are available throughout Paris and can be hailed on the street, found at taxi stands, or ordered through smartphone apps. Licensed taxis have a sign on the roof, a meter, and accept major credit cards. Ridesharing services such as Uber, Bolt, and Kapten also operate in the city but may have limitations on where they can pick up and drop off passengers.
Biking and Walking
Paris is a walkable city with a well-developed network of pedestrian paths and sidewalks. Many top attractions in the city center are within walking distance of each other, making it easy and enjoyable to explore on foot.
Alternatively, consider using a bike to get around Paris. The city-wide bike-sharing program, Vélib', offers thousands of bicycles for rent at self-service stations throughout the city. These bikes can be rented on an hourly, daily, or weekly basis, depending on your travel needs. The city also has dedicated bike lanes, making it a safe and convenient option for transportation.
Remember when using these various means of transport in Paris to be aware of your surroundings, follow any posted regulations, and exercise caution to ensure a safe and enjoyable experience.
Top Attractions
Eiffel Tower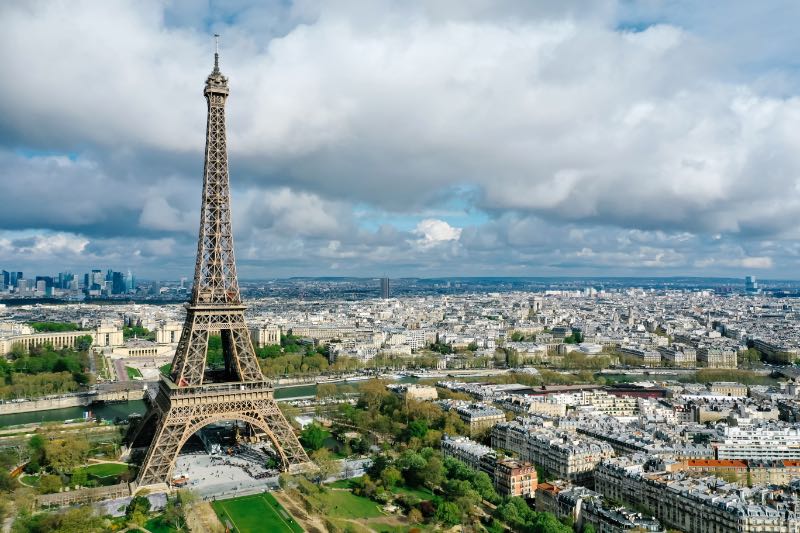 The Eiffel Tower is an iconic symbol of Paris and a must-see for any visitor. Constructed in 1889, this city landmark offers stunning panoramic views of the city from its various platforms. You can either take the elevator or climb the stairs to reach the top. At night, catch the breathtaking sight of the illuminated tower sparkling every hour on the hour for a truly magical experience.
See Related: Best Free Walking Tours in Paris, France
Louvre Museum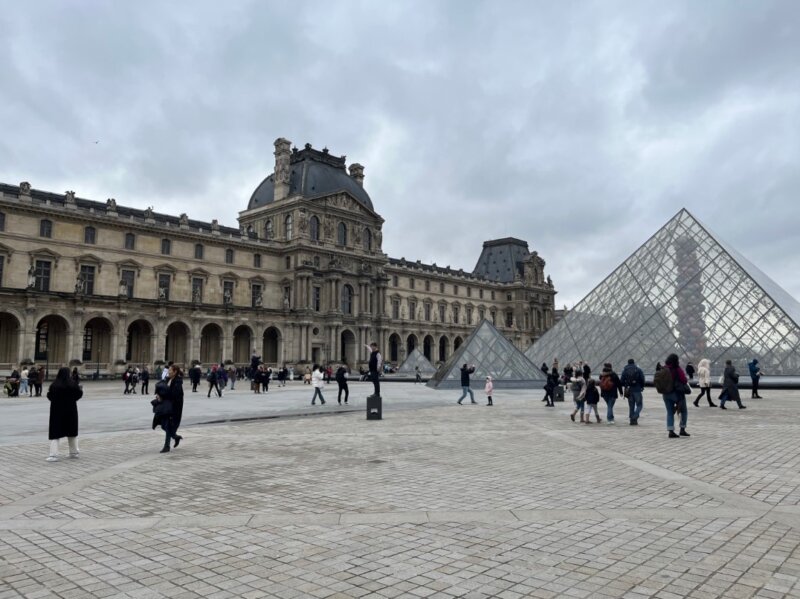 The Louvre Museum is the world's largest art museum and a historic monument in Paris. Housing more than 35,000 works of art, including Da Vinci's "Mona Lisa" and ancient Greek statues, the Louvre is a treasure trove for art lovers. Due to its size, it's best to plan your visit and focus on specific exhibitions to make the most of your time at the museum.
Notre Dame Cathedral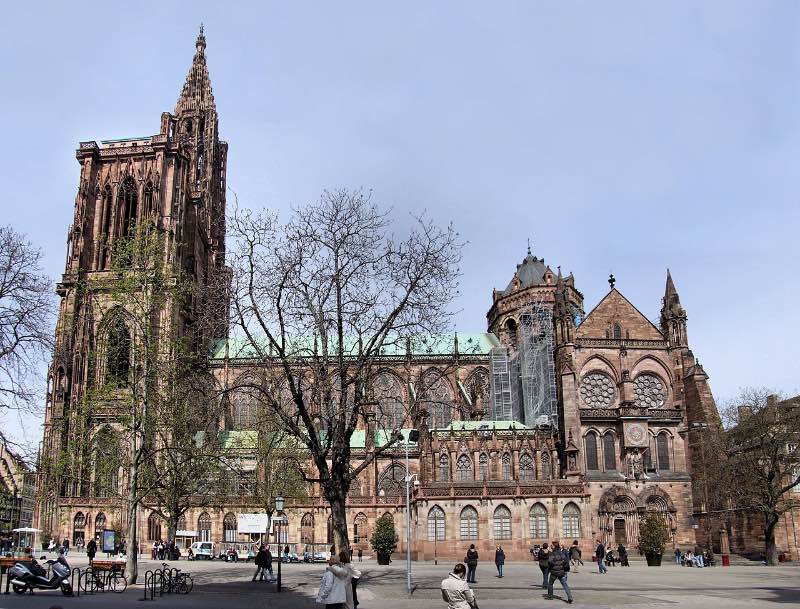 Notre Dame Cathedral, a medieval Catholic cathedral, is another must-visit attraction in Paris. Its stunning French Gothic architecture makes it a popular spot for photography lovers. Inside, you can admire intricate wood carvings, stained glass windows, and climb the towers for sweeping views of the city.
Sacré Coeur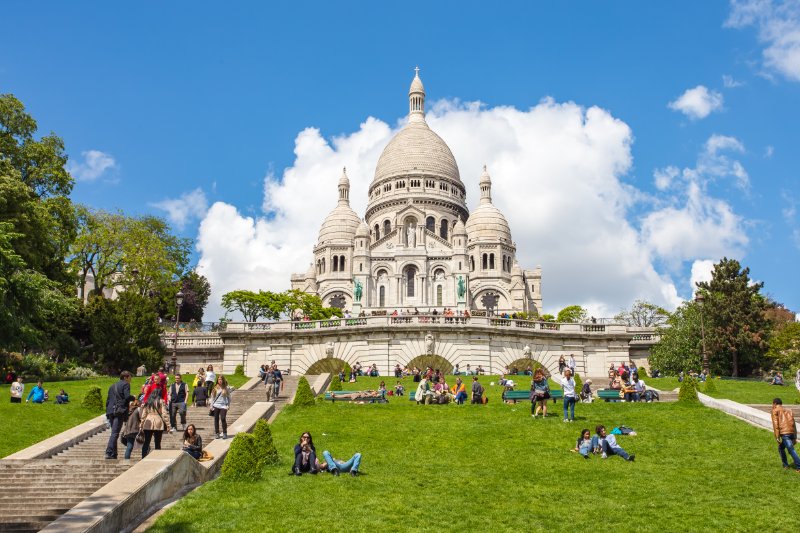 The Sacré Coeur, or Sacred Heart, is a beautiful Roman Catholic church perched on top of Montmartre. Its white exterior and unique architecture make it an unmissable sight. From the top, you can enjoy panoramic views of Paris. The surrounding area of Montmartre is also worth exploring, with its artistic atmosphere and charming cafes.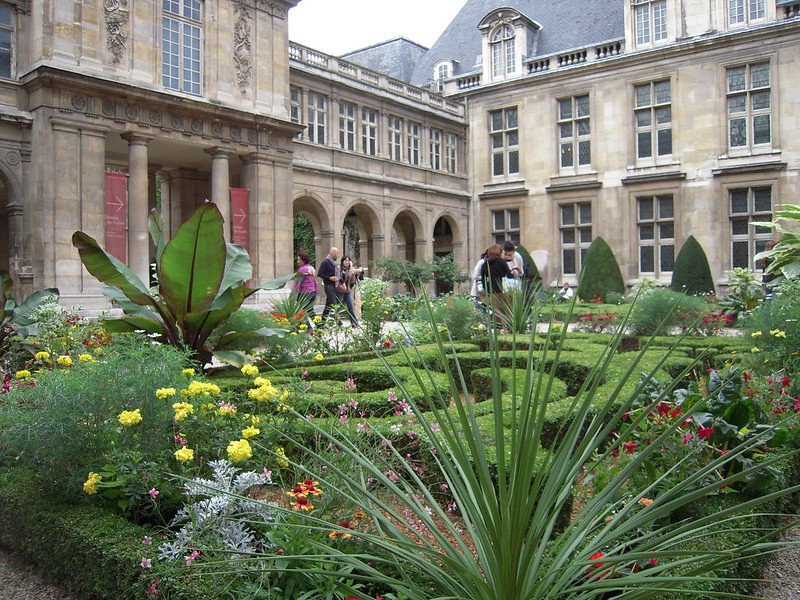 Musée Carnavalet is a hidden gem that showcases the history of Paris. Located in the Marais district, the museum houses collections of art, furniture, and other artifacts that tell the story of the city from its origins to the present day. Entrance to the museum is free, making it a budget-friendly option for travelers.
Arc de Triomphe
The Arc de Triomphe is another iconic Parisian monument that pays tribute to those who fought and died for France during the French Revolutionary and Napoleonic Wars. Visitors can climb to the top of the arch for panoramic city views or just admire the huge structure from below.
Covered Passages of Paris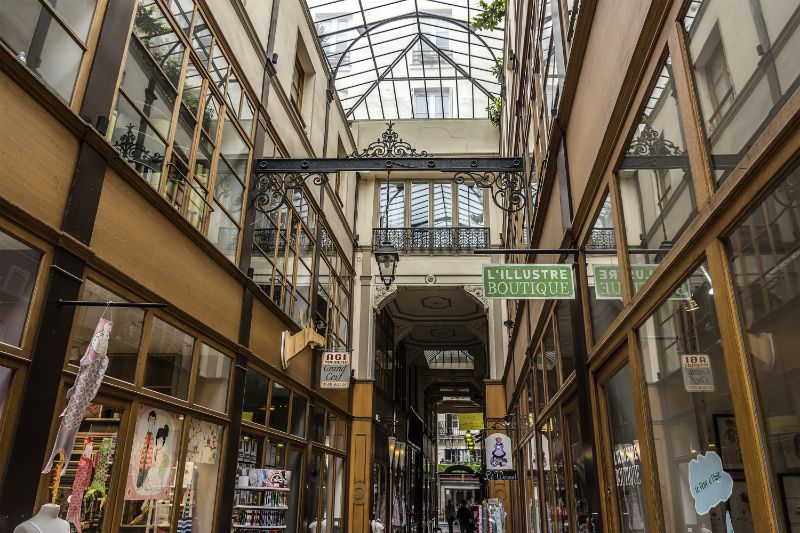 The covered passages of Paris are a series of historical pedestrian walkways, each with its unique charm. They are perfect for shopping, dining, or simply enjoying a leisurely stroll while admiring the exquisite 19th-century architecture. Some of the most famous passages include Passage des Panoramas, Passage Jouffroy, and Galerie Vivienne.
See Related: Best Things to Do in Paris With Kids in 2023
Paris Neighborhoods
Paris, a captivating city with rich history and culture, has numerous neighborhoods worth exploring. Each neighborhood has its own unique charm, attractions, and atmosphere. In this section, we will focus on two of the most popular neighborhoods: Le Marais and Montmartre.
Le Marais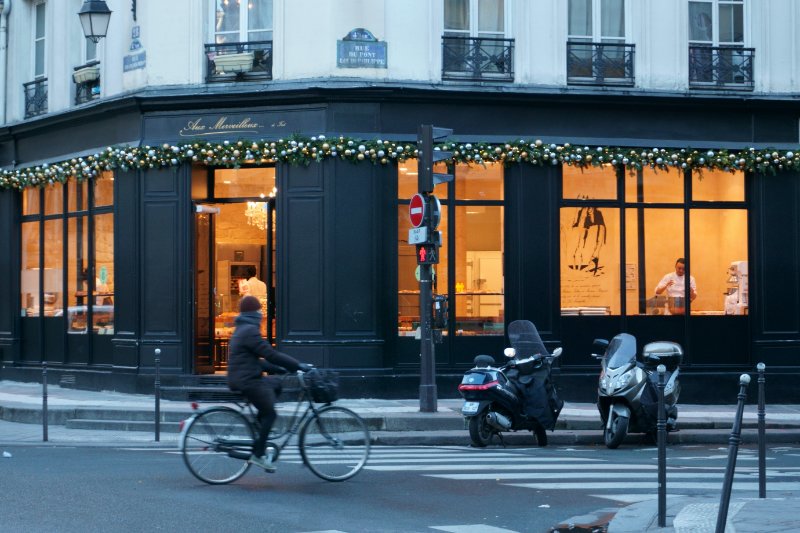 Located in the 4th arrondissement, Le Marais is known for its historic architecture, trendy boutiques, and vibrant atmosphere. Here are some highlights of this neighborhood:
Historic Sites: Le Marais boasts many well-preserved medieval buildings, such as the Hôtel de Ville and the Place des Vosges. Don't miss the Saint-Paul-Saint-Louis Church and the Musée National Picasso-Paris.
Art Galleries: This area is home to numerous art galleries, showcasing contemporary, modern, and classical art. Explore the galleries along Rue de Turenne and Rue de Thorigny.
Shopping: Le Marais is a shopping haven, featuring a mix of designer boutiques, vintage stores, and trendy shops. Wander the streets of Rue des Francs-Bourgeois and Rue de Rivoli for an unforgettable shopping experience.
Cafés and Restaurants: Enjoy the diverse culinary options available in this neighborhood, from traditional French cafés to international cuisine. Some popular spots include L'As du Fallafel, Chez Julien, and Café des Musées.
Montmartre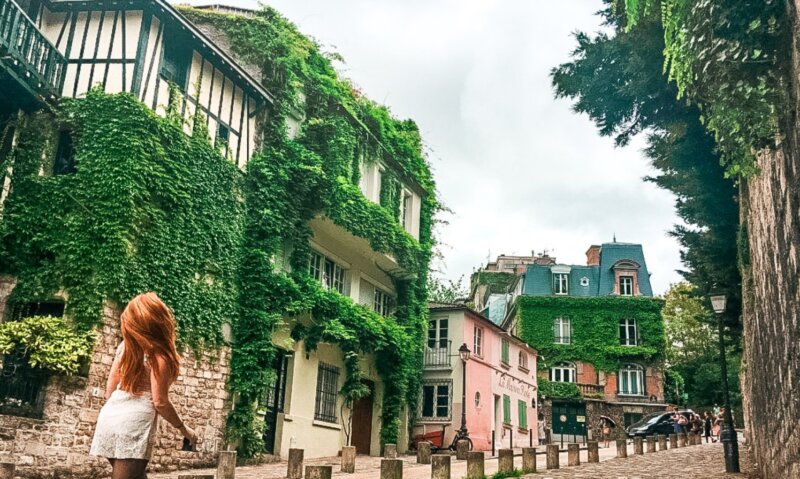 Perched on a hill in the 18th arrondissement, Montmartre is famous for its bohemian atmosphere, artist's square, and the stunning Basilique du Sacré-Cœur. Here's what you can expect from a visit to Montmartre:
Basilique du Sacré-Cœur: This iconic white church offers an amazing panoramic view of Paris from its steps. Make sure to visit the interior and admire the intricate mosaic work.
Place du Tertre: Known as the "Artist's Square," this picturesque area is filled with artists displaying and selling their work. It's the perfect spot to buy a unique souvenir or simply watch the artists at work.
Moulin Rouge: Immortalized in paintings, movies, and musicals, the Moulin Rouge is a must-see for a taste of Parisian nightlife. Book a show, or just pass by to admire the famous red windmill on the exterior.
Musée de Montmartre: Discover the history of Montmartre and its famous former residents, including artists like Pablo Picasso and Henri de Toulouse-Lautrec, in this charming museum.
Remember, when visiting these two neighborhoods, take the time to wander, soak in the atmosphere, and make your own discoveries. Each of these neighborhoods has its own unique charm that contributes to the magic of Paris.
Culinary Delights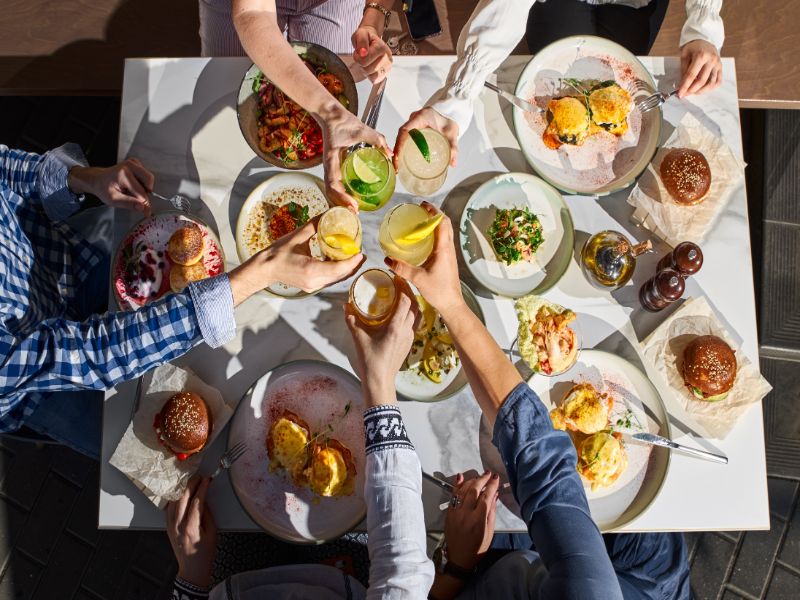 French Cuisine
Paris is a haven for food lovers, offering a wide variety of mouth-watering dishes. Indulge in classic French pastries, such as croissants and macarons, at well-known bakeries like Du Pain et des Idées. Freshly baked bread is also a staple in French cuisine, and you can find top-quality baguettes and loaves at bakeries throughout the city.
For a taste of traditional French cuisine, sample dishes such as coq au vin or escargot at local bistros. Remember to also explore the city's farmers' markets to experience the freshest ingredients and regional products.
Wine and Coffee
France is renowned for its wine, and Paris boasts numerous wine bars and cellars where you can sip on a glass or two from some of the best vineyards across the country. Don't miss the opportunity to visit Ô Chateau, a popular wine bar that offers a superb selection and wine-tasting experiences.
Coffee culture is another important aspect of Parisian life. Spend a leisurely afternoon sipping on an espresso or café au lait at one of the many charming cafés found throughout the city, such as La Caféothèque, where you can also learn about the art of coffee-making.
Bistros and Restaurants
In Paris, you'll find an incredible variety of dining options, from elegant Michelin-starred establishments to cozy neighborhood bistros. Some top dining spots include:
La Maison de l'Aubrac—famous for its late-night steaks and delectable meat dishes.
ParisCityVISION—where culinary tourism and cooking classes are held by renowned chefs, teaching the secrets of French cuisine.
La Cuisine Paris—a cooking school where you can take a hands-on approach to learning classic French recipes.
Remember to also venture into the unique food experiences offered by the city, such as food tours, where you can stroll through the charming streets of Paris while sampling local delicacies like macarons, cheese, baguettes, and croissants. By exploring the culinary delights of Paris, both classic and contemporary, you'll truly get a taste of the city's rich food culture.
Accommodation and Travel Tips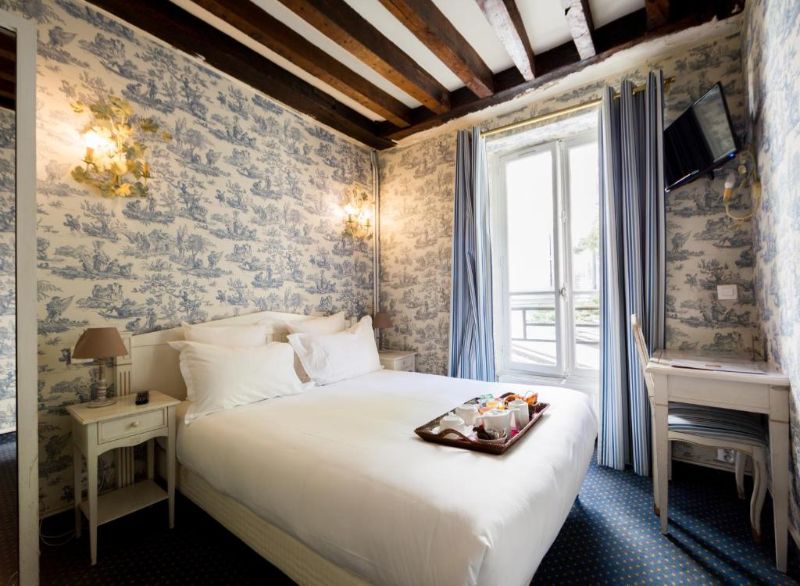 Choosing the Right Accommodation
When planning your Paris trip, accommodation will likely be a significant portion of your budget. It's essential to book your stay well in advance to secure the best deals. Paris' numerous neighborhoods each offer unique experiences and atmospheres. Consider your preferences, budget, and sightseeing priorities when selecting where to stay. Some popular options include:
Marais: a trendy, historical district with boutique hotels and chic shops
Montmartre: bohemian area with artistic roots, budget-friendly stays, and charming cafes
Saint-Germain-des-Prés: an upscale neighborhood with luxury hotels and high-end shopping
Travel Insurance
Obtaining travel insurance before your trip can provide valuable peace of mind and protection against unforeseen events. It is always a good idea to purchase a comprehensive travel insurance policy that covers medical expenses, trip cancellations, lost luggage, and other potential issues. Safety Wing is a reliable and popular travel insurance provider to consider.
Travel Adapter
France uses Type E electrical sockets, so you'll need a travel adapter if you're traveling from a country with different plugs. Ensure your adapter can handle the voltage (230V in France) and the frequency (50 Hz), especially for devices like laptops and phone chargers.
Paris Pass and Museum Pass
To make the most of your Paris visit, consider getting a Paris Pass or the Paris Museum Pass. These cards provide access to numerous attractions and public transportation benefits.
Paris Pass: Offers entry to over 60 attractions, including the Louvre, Versailles, and Notre Dame towers. It also features a hop-on-hop-off bus tour and includes access to public transportation.
Paris Museum Pass: Grants access to over 50 museums and monuments across Paris, including several that require separate admission fees.
Weigh the costs and benefits of each of these passes, considering the sites you plan on visiting and the duration of your stay in Paris.
Safety Tips
While Paris is generally a safe city, travelers should be mindful of their surroundings and take necessary precautions. Here are some safety tips:
Keep your personal belongings close, and don't leave them unattended in public places.
Be cautious of pickpockets, especially in crowded areas or tourist attractions.
Avoid walking alone at night in unfamiliar or poorly lit areas.
Carry a photocopy of your passport and other essential documents, in case of loss or theft.
Don't rely solely on your phone for navigation–consider having a physical map as a backup.
By carefully considering your accommodation, travel insurance, and other essential preparations, you can enjoy a well-planned and safe Paris adventure.
See Related: Best Hotels in Paris St. Germain
Language and Currency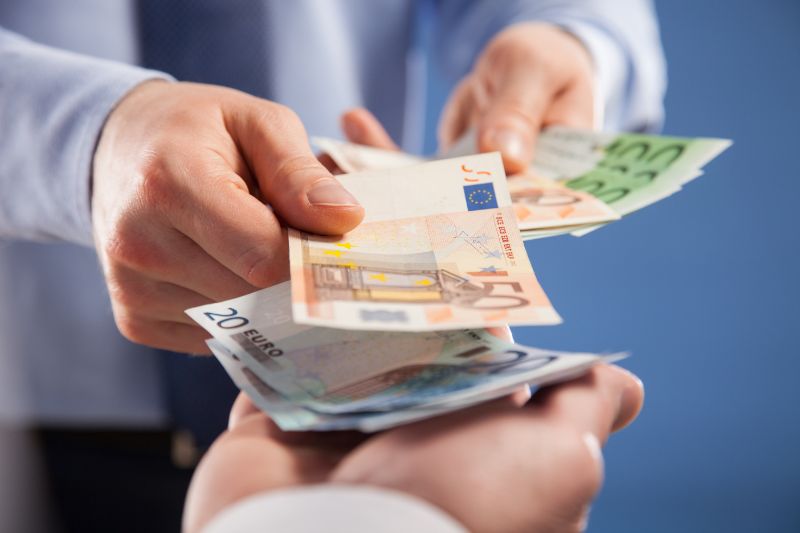 When visiting the French capital, it is helpful to have a basic understanding of the local language and currency. In Paris, the official language is French, with around 82.2% of its inhabitants speaking the language. While many locals can speak English, knowing some French phrases can enhance your travel experience and help you better connect with the Parisian culture.
The currency used in the city is the Euro (€). When traveling to Paris, it is essential to have some cash on hand for smaller transactions, such as purchasing a fresh baguette or using public restrooms. ATMs are widely found throughout the city, where you can easily withdraw Euros with your debit or credit card. Make sure to check with your bank for potential foreign transaction fees, as well as to notify them of your trip to avoid any card freeze.
When visiting popular attractions in Paris, buying skip-the-line tickets in advance is recommended as this can save you time and effort. Also, remember that public institutions, such as the Louvre Museum, often accept cards for payment.
In summary:
Official language: French
Currency: Euro (€)
ATMs are widely available for cash withdrawal
Skip-the-line tickets are recommended for popular attractions
Experiences and Insider Tips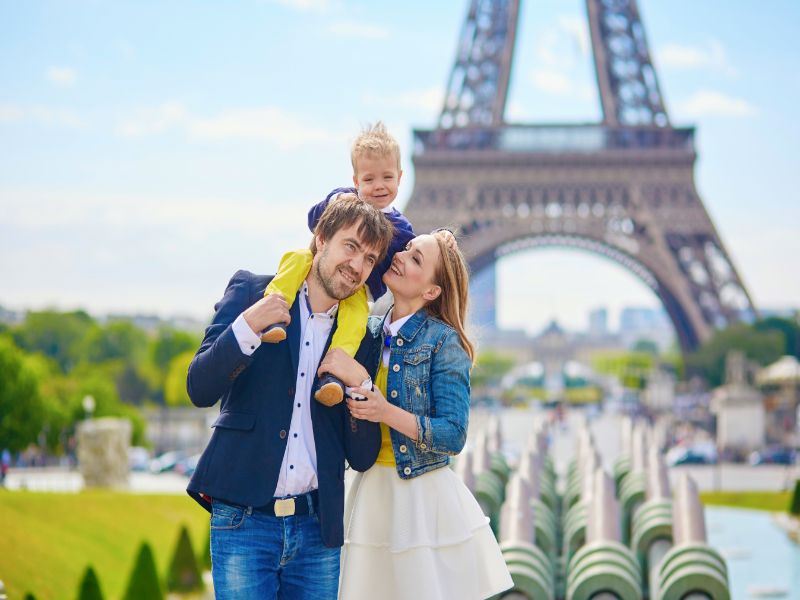 Connecting with Locals
Parisians are known for their rich culture and appreciation for art, history, and gastronomy. As a traveler, connecting with locals can provide an authentic Paris experience. Engage with locals at cafes, bistros, and public squares. The City of Light is known for its diverse neighborhoods, each offering a unique experience for visitors. So, take the time to explore and chat with locals to discover the hidden gems of each area.
Hidden Gems
While Paris has plenty of must-see attractions, it's also filled with lesser-known spots that are equally as mesmerizing. Some hidden gems include:
Canal Saint-Martin, a scenic and lively area perfect for a easygoing amble away from the busy city center
Rue Crémieux, a picturesque street boasting colorful, unique facades
Square du Vert-Galant, a small, tranquil island park in the Seine River, offering stunning views of Pont Neuf
Best Views of Paris
Capture unforgettable memories by visiting these locations that offer the best views of Paris:
Montmartre, where the iconic Sacré-Coeur Basilica provides a panoramic city view
The Eiffel Tower's observation decks, as well as the Le Jules Verne restaurant, located on the tower's second level
Tour Montparnasse, the highest skyscraper in Paris, with an observatory on the 56th floor
Parisian Terraces
One of the quintessential Parisian experiences is enjoying a meal or a glass of wine on a terrace. Some of the best terraces in Paris include:
Café de Flore, a historic literary café in Saint-Germain-des-Prés, perfect for people-watching
Le Perchoir Marais, a rooftop bar offering exceptional views of Paris and a laid-back atmosphere
Maison Sauvage, a lovely café with a plant-filled terrace, ideal for brunch or evening drinks
Related Resources: