Ah, Paris – the City of Light, where the magic truly comes alive once the sun sets. As day turns to night, Paris transforms into a shimmering wonderland, captivating both tourists and locals with its enchanting ambiance. In this article, we will explore the exciting world of Parisian nightlife, delving into some of the most enthralling activities and unforgettable experiences that the city has to offer after dark.
From breathtaking Seine river cruises at sunset to late-night strolls through iconic museums, Paris at night promises a plethora of delightful surprises. Whether you're an avid art lover, a history buff, or simply yearning for a romantic escapade, the city's nocturnal offerings cater to every taste and interest.
🗼 Paris Insider's Top Picks! ✨
Dive into the heart of Paris with our handpicked partners. Trusted by thousands, they ensure you experience the best of Paris.
So prepare to embark on a spellbinding nocturnal adventure as we discover the hidden gems and dazzling attractions that make Paris an irresistible destination for night owls. Bonne nuit!
Paris Night Overview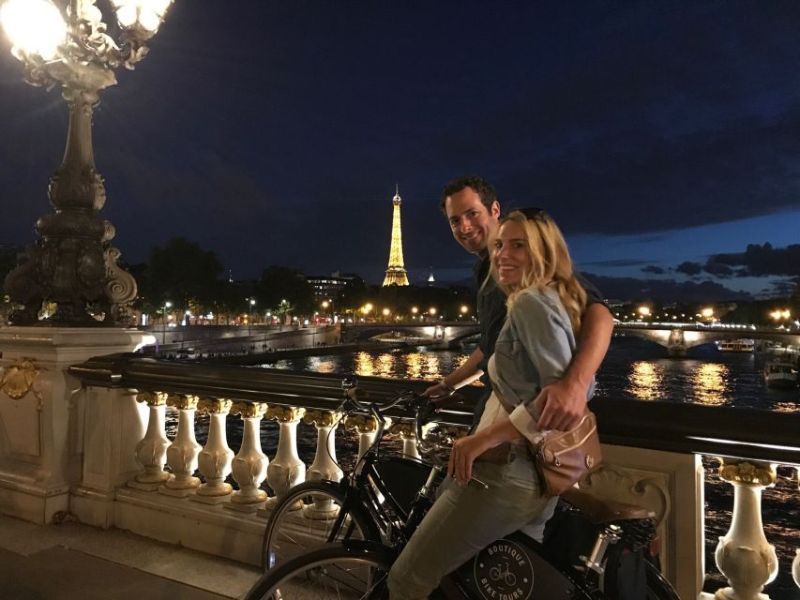 Paris, often referred to as the City of Lights, transforms into a magical wonderland when night falls. With its illuminated monuments, charming streets, and bustling nightlife, Paris at night is a must-see.
One of the most iconic sights to behold at night is the Eiffel Tower, which sparkles every hour, on the hour, offering a dazzling spectacle to anyone nearby. Another popular nighttime destination is Montparnasse Tower, known for its breathtaking views of the city. From the tower's roof terrace, you can witness Paris' skyline illuminated against the night sky.
The nightlife in Paris is also not to be missed. With a variety of nightclubs, cocktail bars, and late-night eateries spread across the city, the Parisian nightlife caters to a range of tastes and preferences. In neighborhoods such as Oberkampf and the Marais, streets come alive with bars, clubs, and music venues, attracting both tourists and locals.
Visitors looking for more relaxed activities can stroll along the banks of the Seine or take a romantic evening cruise. The Seine's iconic bridges, such as the Pont Alexandre III and the Pont Neuf, are another sight to behold, brightly lit at night and creating picturesque reflections on the water.
Finally, exploring the catacombs of Paris is a spine-tingling experience best enjoyed at night. This underground network of tunnels and ossuaries houses the remains of millions of Parisians, making it a spooky yet mesmerizing experience. With a late closing time of 8:30 PM, visiting the catacombs is a fitting way to start off your Parisian night adventures.
In summary, Paris at night is an enchanting combination of illuminated landmarks, vibrant nightlife, romantic activities, and unique experiences. Whether you're looking to party the night away or simply take in the mesmerizing sights, the City of Lights has something for everyone.
Iconic Landmarks
Eiffel Tower at Night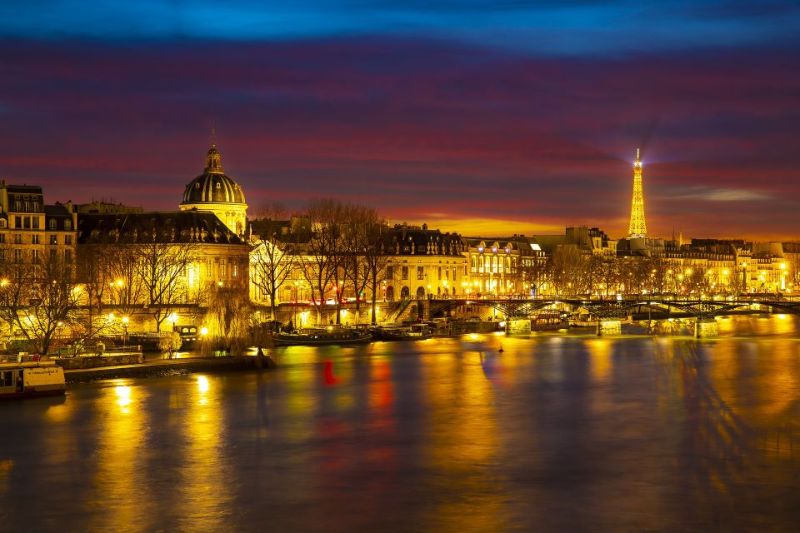 The Eiffel Tower is truly a sight to behold at night. As the sun sets, the tower is aglow with millions of lights, creating a breathtaking view that you must witness in person. Adding to the enchanting atmosphere, there is a dazzling light show at the top of every hour, where glittering lights dance across the tower's metal structure. This spectacle can be enjoyed from various spots in the city, making your Parisian night experience even more memorable.
See Related: When Does the Eiffel Tower Sparkle? A Guide to its Stunning Light Display
Louvre at Night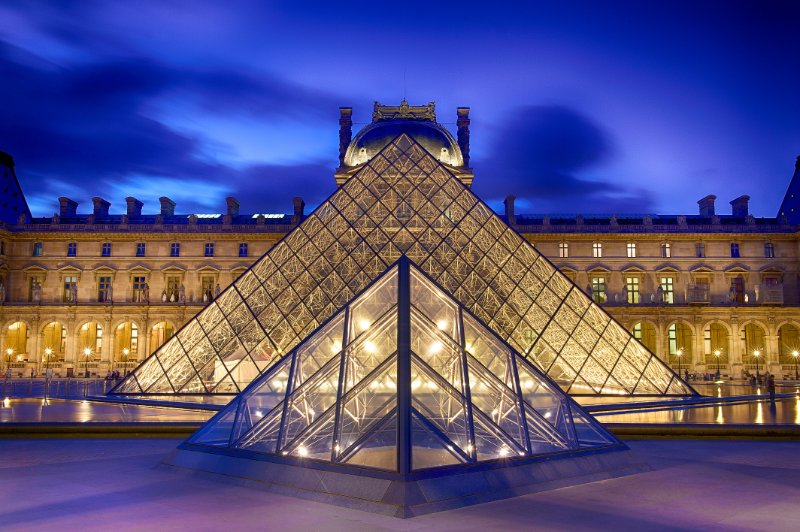 For a more serene experience, visit the Louvre Museum at night. The museum is open until 10 pm on Wednesdays and Fridays, allowing visitors to admire the world-famous artwork in a less crowded setting. The Louvre itself becomes a stunning nighttime display, with its historic façade beautifully illuminated. The famous glass pyramid also provides a striking contrast against the night sky, offering an entirely different perspective of the museum compared to daytime visits.
See Related: Best Travel Books About Paris: Must-Read Guides
Notre Dame at Night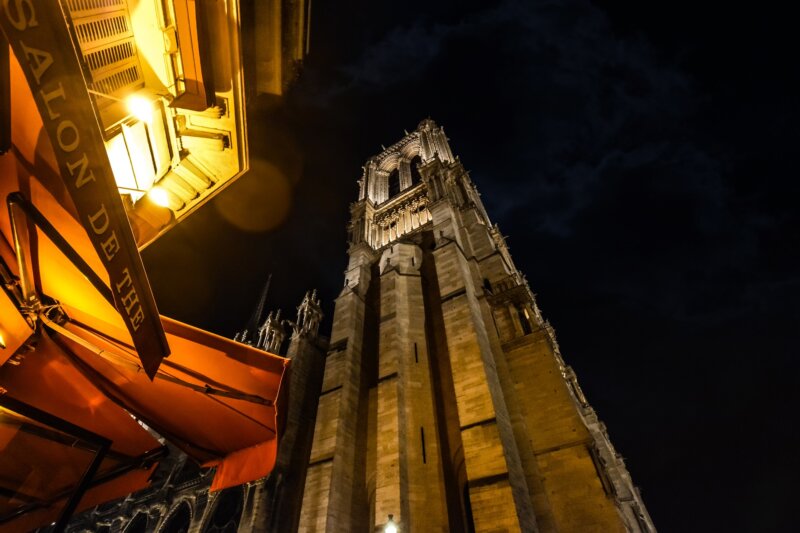 The Notre Dame Cathedral is another prominent Parisian landmark worth exploring at night. Though the cathedral is currently under restoration following a fire, the surrounding area still offers breathtaking views of its Gothic architecture. During nighttime hours, the intricate details and ornate windows of Notre Dame become even more captivating under the play of light and shadow. Strolling along the Seine River, you can marvel at the illuminated masterpiece while taking in the calm and romantic atmosphere.
See Related: Paris in July: Top Events and Attractions Guide
Parisian Nightlife
Bars and Clubs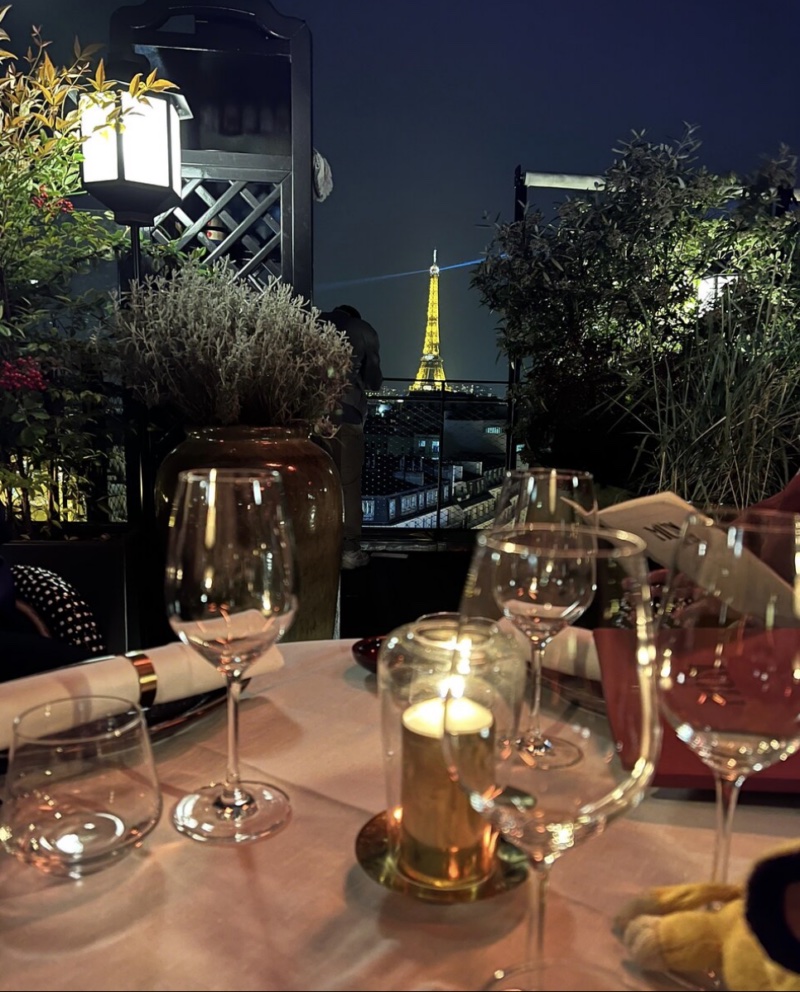 Paris offers a variety of bars and clubs for a memorable night out. Some popular districts for nightlife include Pigalle, Bastille, and Grands Boulevards. Here are a few noteworthy venues:
Bus Palladium (6 Rue Pierre Fontaine, Pigalle): A legendary music club established in 1965, where rock enthusiasts can enjoy live performances and DJs.
Le Motel (8 Passage Josset, Bastille): A hipster hangout spot, known for its indie music and cozy atmosphere.
La Mécanique Ondulatoire (8 Passage Thiere, Bastille): A three-level venue with eclectic DJs and live acts, primarily catering to the rock genre.
Additionally, rooftop bars provide a unique opportunity to appreciate the cityscape with your drinks:
Cabaret Shows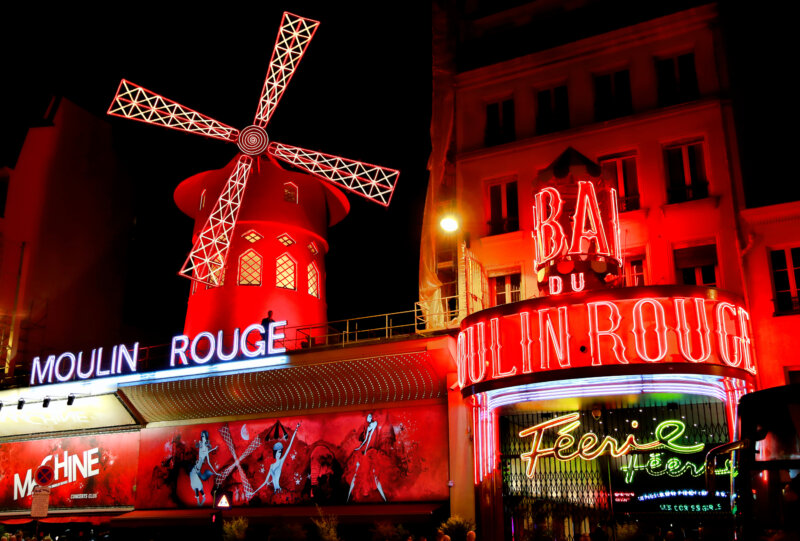 Paris is famous for its cabaret shows, where visitors can enjoy an evening filled with music, dance, and entertainment:
Moulin Rouge (82 Boulevard de Clichy, Pigalle): The iconic Parisian cabaret, known for its extravagant performances and the famous can-can dance.
Lido (116 Avenue des Champs-Élysées, 8th arrondissement): A glamorous cabaret that combines music, dance, and artistic performances with dinner.
Some other cabaret options in Paris include:
Le Crazy Horse (12 Avenue George V, 8th arrondissement): A renowned cabaret known for its artistic and sophisticated performances.
Le Balajo (9 Rue de Lappe, Bastille): A lively salsa night venue, offering music and dancing in a relaxed atmosphere.
Whether you enjoy bars, clubs, or cabaret shows, Parisian nightlife has something for everybody. To make the most of your night out, consider attending a show, exploring the vibrant streets or unwinding at a bar in the City of Lights.
See Related: Solo in Paris: Top Attractions for the Independent Explorer
Night Tours
Seine River Cruises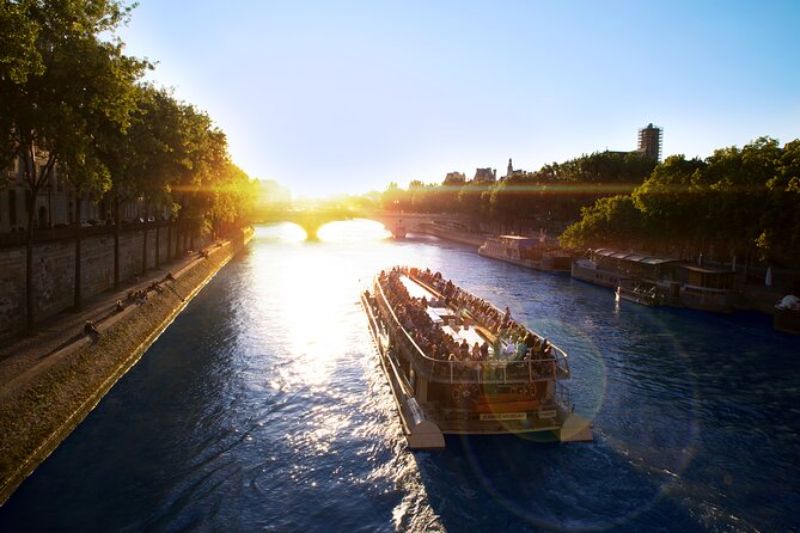 One of the most popular things to do in Paris at night is embarking on a Seine River cruise. A night cruise offers a unique perspective of the twinkling cityscape reflected in the water. There are various options, such as dinner cruises, where you can enjoy a gourmet meal on board while savoring the illuminated landmarks.
Most cruises pass iconic landmarks such as the Eiffel Tower, Notre Dame, and the Louvre.
Some options include live music or entertainment on board.
Cruises can last from 1 to 3 hours, depending on the chosen package.
Paris Catacombs Tours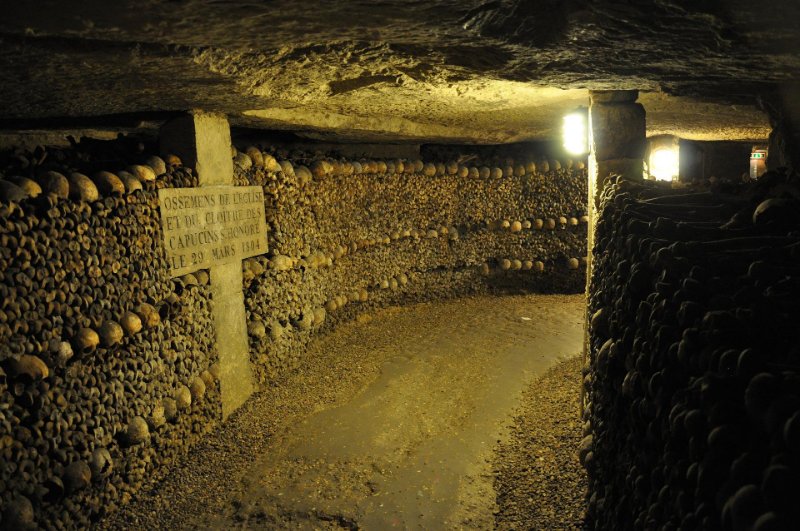 Discover the mysterious and intriguing world of the Paris Catacombs after dark. These underground ossuaries hold the remains of more than six million people and offer a fascinating glimpse into the city's history, dating back to the 18th century.
Guided tours provide expert insight into the catacombs' history and development.
Night tours are limited in number, offering an exclusive experience.
Access to the catacombs involves walking down and up several flights of stairs and through narrow passages.
Other Paris night tours worth considering include:
Paris Night Bus Tours: Non-stop tours lasting for around 2 hours, showcasing illuminated landmarks.
Private Segway Tours: A fun and adventurous way to explore Paris at night, with a knowledgeable guide.
Combination Tours: Packages that may include walking tours, cruises, and visits to landmarks like the Eiffel Tower at night.
See Related: Best Books About the Eiffel Tower in Paris
Cultural Experiences
Art and Museums
Paris is known for its rich art and culture scene. One of the most famous art districts in Paris is Montmartre, where you can find charming streets, art galleries, and studios, as well as the beautiful Sacré-Cœur Basilica. Visiting Montmartre at night offers a unique atmosphere with picturesque views of the city.
In addition to Montmartre, Paris is home to world-renowned museums that sometimes offer extended hours for visitors. For instance, the Louvre, which houses the famous Mona Lisa and countless other priceless artworks, closes at 10 pm every Wednesday and Friday. Similarly, the Orsay Museum, famous for its impressive collection of impressionist and post-impressionist art, closes at 9:45 pm every Thursday.
Opera and Performances
For those looking for more traditional cultural experiences at night, the Opera Garnier is an excellent choice. This stunning opera house, also known as Palais Garnier, hosts a variety of performances, including opera, ballet, and classical music. Designed by Charles Garnier in the 19th century, it is an architectural masterpiece worth visiting even if it's just for the grand staircase and exquisite interior decoration.
Apart from the Opera Garnier, the city is also known for its diverse range of live performances. Cabaret shows, such as the world-famous Moulin Rouge, exude Parisian glamour and showcase captivating dance numbers, including the can-can. Smaller theaters and performance spaces, especially around the Latin Quarter, offer intimate sessions with musicians, singers, and other performers.
A walk along the banks of the Seine at night is also a great way to discover a variety of street performers and musicians. The tranquil ambiance of the river and the magnificent backdrop of Parisian landmarks create a memorable experience for anyone exploring the city's cultural wealth.
While indulging in the city's artistic and performance scenes, don't forget to savor traditional Parisian cuisine at one of its many restaurants, bistros, or cafes. Paris is, after all, a city that celebrates the art of living, where culture extends from galleries and stages to the very food on your plate.
French Cuisine and Wine
Paris is well-known for its exquisite French cuisine and exceptional wine offerings. From authentic dining experiences in the cultural neighborhood of Le Marais to gourmet food tours on Montmartre Hill, the Parisian night scene is a haven for food enthusiasts.
Le Marais is not only famous for its historical significance and architectural beauty, but also for its eclectic dining scene. This neighborhood offers a variety of traditional French dishes, including delicious foie gras and sumptuous sea bream. Le Marais is a great place to immerse yourself in the authentic French atmosphere and relish the flavors of exceptional dishes paired with a delightful wine selection.
In addition to Le Marais, a wonderful way to explore Parisian cuisine is through food and wine tasting tours. The Montmartre Hill Sweet & Savory French Gourmet Food & Wine Tasting Tour is a popular option for those looking to indulge in a wide array of French culinary delights. Tour participants will have an opportunity to taste everything from pastries to cheese and charcuterie, complemented by a sampling of exquisite French wines.
When it comes to wines, France is known for its diverse and high-quality offerings. Paris boasts a multitude of wine restaurants, wine bars, and wine-tasting experiences where you can acquaint yourself with the most celebrated French wines. Participating in a wine tasting tour or attending a wine event in the city will allow you to learn about various wine regions, grape varietals, and the art of pairing food with the right wine.
Navigating the sprawling city of Paris to indulge in its culinary scene is both convenient and hassle-free, thanks to transportation services like Uber. Instead of trying to make your way around using public transportation or hailing a taxi, rely on a comfortable, affordable, and reliable Uber ride to help you explore the city's vast gastronomic landscape.
In conclusion, whether you're a wine connoisseur or a gourmand at heart, the Paris night scene has plenty to offer. Experience the exquisite French cuisine, discover unique wine options, and find your way through the city by taking advantage of Paris' state-of-the-art transportation services.
Night Attractions and Events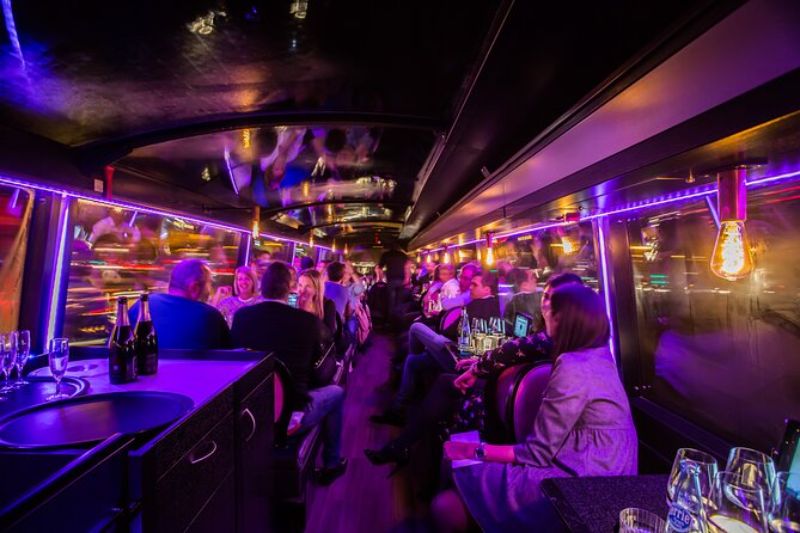 Paris comes alive at night with a range of attractions and events to cater to different tastes and interests. In this section, we will explore some of the most popular night attractions, including special events, pub crawl tours, and light shows.
Special Events
Many museums and cultural institutions offer special after-hour events, like concerts, exhibitions, and workshops. For instance, the Louvre Museum remains open late on specific days, providing a unique and less crowded nighttime experience.
Other unique events include:
Concerts at Sainte Chapelle
Wine tasting experiences
Nighttime river cruises along the Seine
Pub Crawl Tours
Exploring Paris' vibrant nightlife scene is a must and a guided pub crawl tour is an ideal way to experience the bars and clubs in the city. Pub crawl tours generally include:
Visits to several bars and clubs
Complimentary shots or drinks at each stop
Exclusive drink discounts
The opportunity to socialize with fellow travelers and locals
Some popular pub crawl tours include the Latin Quarter Pub Crawl and the Montmartre Pub Crawl.
Light Shows
Paris is known for its breathtaking light shows that showcase its iconic monuments and buildings. Some of the most famous light shows in Paris are:
The Eiffel Tower light show: The tower sparkles every hour on the hour for five minutes with 20,000 light bulbs.
Illuminated cruises along the Seine River: A romantic way to see Paris' landmarks lit up at night.
Christmas lights: Paris is famous for its dazzling Christmas light displays on streets like the Champs-Elysées.
Remember to check for opening hours, skip-the-line tickets, and other practical information before planning your nighttime activity so that you can enjoy the best of Paris' night attractions and events.
Related Resources: