There are so many things to do in Paris, and taking tours in Paris by bus is one method of getting a feel for the city of love. These bus tours are a fantastic way to discover and learn about Paris's finest neighborhoods. And it will take you to some of the most well-known Parisian attractions.
Are you in for a ride? Find out some of the best Paris bus tours and discover if you'd like to hop on one of these tours. So here are the best Paris bus tours you can hop on, on your next visit!
🗼 Paris Insider's Top Picks! ✨
Dive into the heart of Paris with our handpicked partners. Trusted by thousands, they ensure you experience the best of Paris.
Best Bus Tours in Paris, France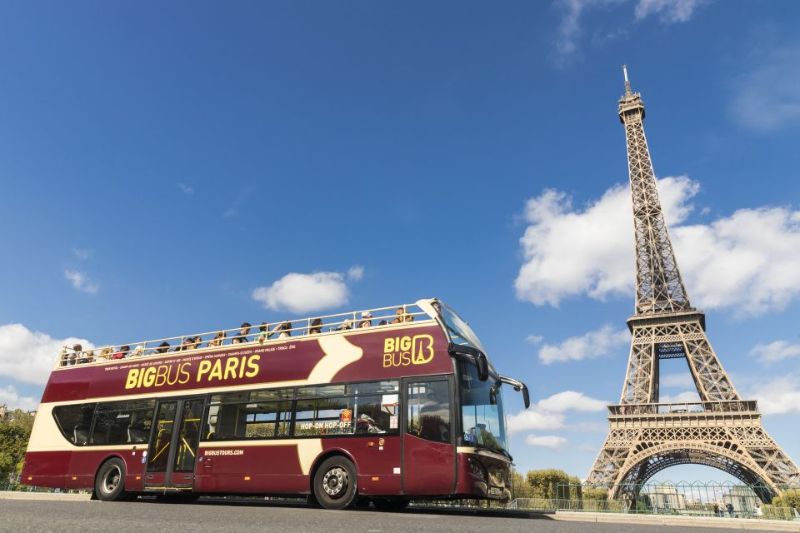 By hopping on this Big Bus Tour, you can enjoy breathtaking views and immerse in the wonderful ambiance of Paris on an open-top double-decker bus. You can choose between a 24 or 48-hour hop-on hop-off ticket or the 48-hour deluxe option, which includes a Seine River Cruise boat ticket.
You can drive by famous landmarks such as Notre Dame Cathedral and the Sacre Coeur. Visit the opulent Champs-Elysées, the historic Grand Palais, the Opera Garnier, and the Louvre Museum.
Discover Paris on a narrated trip that departs every day. You can join the tour at any of the following points along the route:
Eiffel Tower
Champ de Mars
Opéra Garnier
Louvre-Pyramide / Big Bus Information Centre
Louvre-Pont des Arts
Notre Dame
Musée d'Orsay
Champs-Elysées
Grand Palais
Trocadéro
Tour Inclusion:
Big Bus Paris 24 or 48-hour Hop-on Hop-off ticket (depending on the option selected)
Seine River boat cruise (if option selected)
Unique audio commentary in 11 languages
Free Big Bus App with live bus tracking
Onboard Wi-Fi
Free map of Paris
Headsets (use of your own headsets is available)
Poncho (in case of rain)
See Related: Louvre Museum: Things to See & Do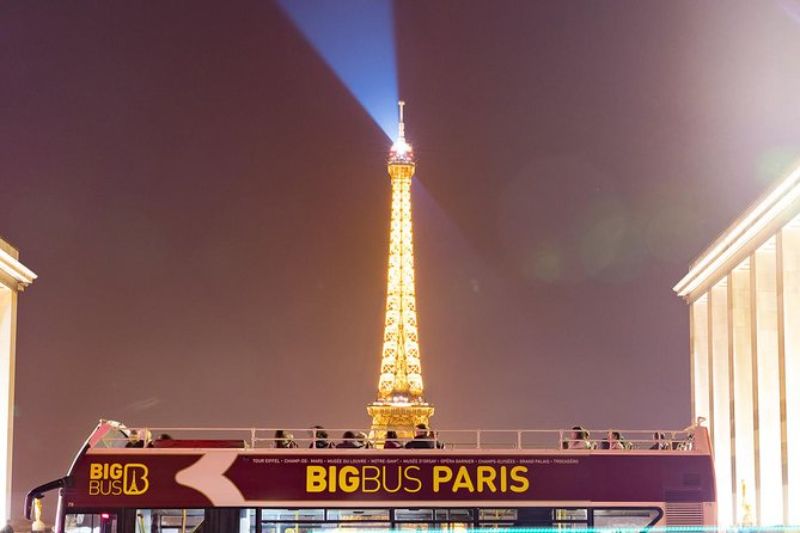 This excursion takes you on a city bus tour of the "City of Light" after dark. See the illumination of Paris' landmarks and monuments, such as the Palais Garnier, Moulin Rouge, Champs-Elysees, and Eiffel Tower. Listen to audio commentary in multiple languages to learn about the history of each site on this night tour.
In this tour bus, you must get to Big Bus stop number 8 at 156 Avenue des Champs-Elysées for an 8:15 pm departure and board your bus for the night city bus tour. Settle into your seat and gaze out the window at the illuminated lights of Paris.
Take pictures and be immersed in iconic sights such as the Moulin Rouge, the Avenue des Champs-Elysées, and the Eiffel Tower at night.
Tour Inclusion:
Choice of a 2-hour sightseeing tour of Paris at night
Recorded commentary in a choice of 11 digital languages
Free headphones
Free on-board Wi-Fi
Sparkling Lights of the Eiffel Tower
See Related: Top Paris Restaurants with a View of the Eiffel Tower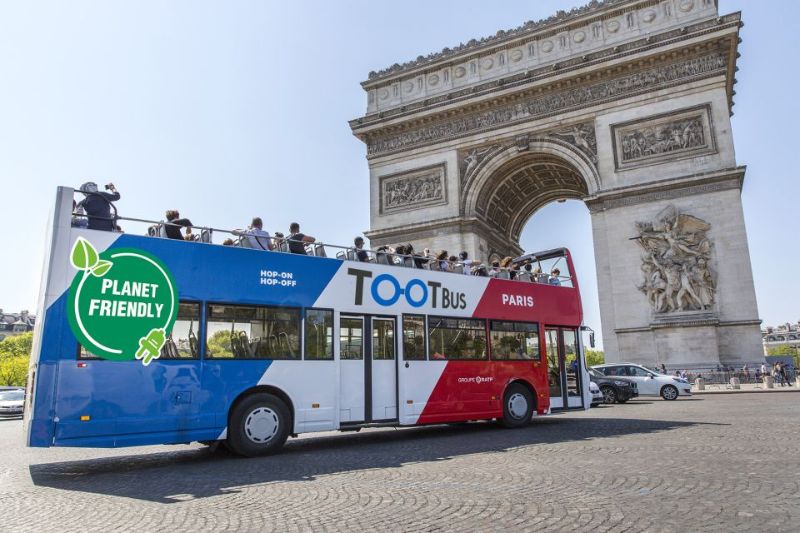 This hop-on, hop-off bus tour with an audio guide allows you to see the best of Paris. See the Paris Opera, Louvre Museum, Notre-Dame, Sainte-Chapelle, Orsay Museum, Champs-Elysées, Arc de Triomphe, Eiffel Tower, Grand Palais, and more from the comfort of an eco-friendly bus.
Take a hop-on, hop-off bus to enjoy a bird's-eye view of Paris. Learn about the city by listening to the audio guide commentary prepared specifically for the route. Choose the attractions you want to see in further depth and get out at the nearest stop to visit them at your own expense.
The Louvre Museum houses the world's greatest art masterpieces and artworks. Take a minute to observe Notre Dame's architecture from the left bank of the Seine. For the best city views, climb to the top of the Arc de Triomphe or the Eiffel Tower.
Don't pass up the chance to stroll through Paris' most lovely neighborhoods, such as the bohemian Montmartre, the busy Latin Quarter, the trendy Marais, or the calm Ile de Saint Louis.
If you are traveling with children, they will be entertained by the child-friendly channel, which is available in both French and English. The audio tour for children is intended to keep their interest during the ride.
Your ticket is valid within 24, 48, or 72 hours after the first validation, depending on the option selected. You can hop on and off as many times as you want throughout the valid period.
Tour Inclusion:
1, 2, or 3-day hop-on hop-off sightseeing tour
Audio commentary
Kids audio guide
Local partner's app (includes M-ticket wallet, real-time bus tracking, audio commentary, and self-guided walking tours)
Wi-Fi onboard
Clean-energy vehicle
See Related: Best Boat Tours in Paris, France
Explore Place de la Concorde, Place Vendôme, and Champs Elysées Avenue on a sustainable open-top double-decker bus, and appreciate attractions such as the Eiffel Tower, the Paris Opéra, the Louvre Museum, and the River Seine.
This TootBus tour will pass by the world's most famous cabaret – Moulin Rouge! Toulouse-Lautrec immortalized the Moulin Rouge as the origin of the music hall with the iconic Mistinguett. It has enthralled the world since it first opened in 1889. Edith Piaf, Liza Minnelli, Frank Sinatra, and Elton John – many French and worldwide celebrities have fallen in love with this iconic cabaret throughout the years!
Tour Inclusion:
Discover Paris in a new light and marvel at the splendor of the City of Light!
At night, enjoy magnificent vistas of Paris' most Instagrammable sites.
Learn important facts about Paris with the audio guide for adults and children. Tour the city in comfort and safety; your ride is environmentally friendly!
Tootbus app free access including stop location, audio commentary, and self-guided walking tours
Wi-Fi is available for free on the bus.
See Related: Things To in Paris on Bastille Day: A Comprehensive Guide
On this hop-on-hop-off sightseeing bus, you can explore Paris at your own pace. Hop off at the spot of your choice to experience the magnificent capital on an incredible self-guided walking tour on your smartphone!
With this self-guided tour, the tour operators advised customers to visit their website or download their app to know more about their latest updated service information.
When you board the bus, a Big Bus agent will give you your River Cruise tickets and advise you where to embark. After you purchase your self-audio guided walking tour, you will receive an email with your activation code and instructions on how to download the app and activate your self-guided tour. You are free to do it whenever you want!
Tour Inclusion:
Hop-on hop-off ticket valid for 24 or 48 hours (depending on the option selected)
River Cruising (depending on the option selected)
1 of 10 1-hour self-guided audio-guided walking tours from your smartphone's Rewind app
Wi-Fi, a free map of Paris, and the Big Bus App with live bus tracking
Headsets (usage of your own headsets is available)
Poncho (in case of rain)
Travelers and workers have access to hand sanitizer.
See Related: Best Religious Tours in France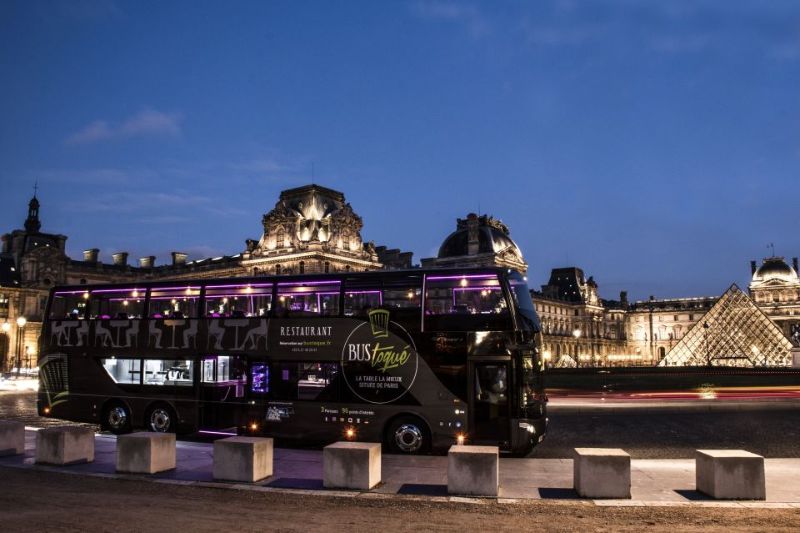 Experience Paris by night on an unforgettable city bus tour. Dine on the upper deck with a superb 5-course meal while taking in the stunning twilight views of Paris.
Board the double-decker and take a seat at the upstairs table. After you've settled in, explore the "City of Light" at night, stopping by notable Parisian landmarks along the route.
The chef will prepare a magnificent 5-course supper with highlights such as beef fondant with broccoli mousseline and summer vegetables while you cruise through the beautiful Parisian streets. Enjoy dinner while exploring one of the world's most beautiful cities.
Enjoy comments from the guide tablet on your table as you pass by city sights. Finish your journey with a stroll down the Champs-Elysées at night.
Tour Inclusion:
5-Course meal
Glass of champagne
Bus tour
Transportation from and to the meeting point
Exceptional views from a height of 4 meters
A chic and relaxed atmosphere with a French-inspired soundtrack
Audio and video guide with 96 points of interest in 6 languages
Bose sound system
Free WiFi
Cloakroom
See Related: Best Champagne Tours from Paris
This bus tour gives you a unique experience: exploring the capital by road and by the Seine aboard an amphibious vehicle.
Do you find audio guides to be tedious and monotonous? No worries because their tour guides are chosen for their humor, passion, and unwavering excitement – to ensure you have a truly enjoyable and unforgettable trip. Who says you can't learn and have fun at the same time?
Tour Inclusion:
A tour of Paris in an amphibious bus
See Related: Best Skip-the-Line Tours in Paris
Board the Bus Toqué for a one-of-a-kind culinary adventure in the center of Paris. Take a seat on the restaurant's upper level on the specially converted double-decker bus and enjoy a superb 5-course supper while cruising through Paris.
View the City of Lights at night, including the Eiffel Tower, Arc de Triomphe, and Champs-Élysées, and learn more from your audio-video guide.
Tour Inclusion:
All Fees and Taxes
Dinner
Toilet on board
Cloakroom on board
Bose sound system
A ride in a double-decker bus
Explanations of the visit via a tablet with headphones
See Related: Best Ghost Tours in Paris, France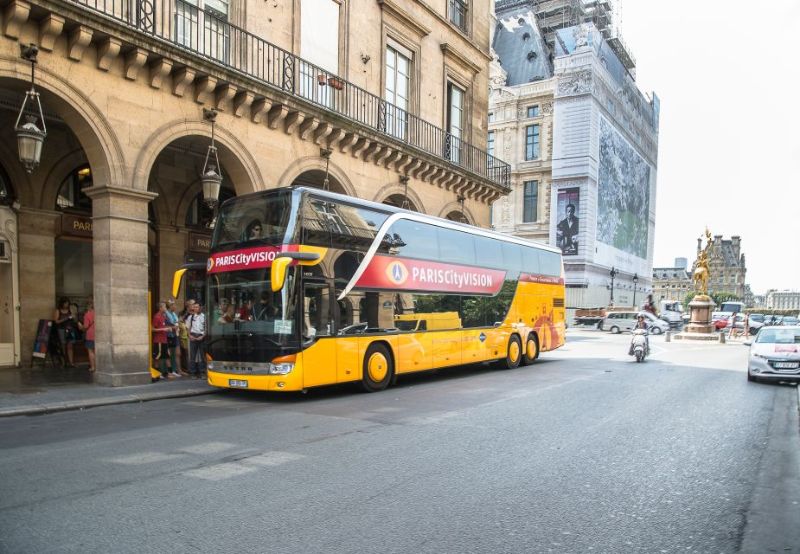 Discover the top sights of Paris with a trained guide on a panoramic 1.75-hour bus trip. The trip takes you on a quick tour of Paris while listening to expert commentary in different languages.
You can watch prominent sites pass by from the comfort of an air-conditioned, enclosed double-decker bus. You can admire the magnificent Opera Square and the Place de la Concorde Obelisk. See the Arc de Triomphe as you cruise down the Champs Elysees.
With your Histopad, explore the Paris of the Parisians and journey through time. This unique immersive city tour will help you comprehend the history of Paris and its architecture over the years, thanks to its interactive features. Visit the capital's most iconic neighborhoods and sites, from the Opera Garnier to the Eiffel Tower.
Tour Inclusion:
Transportation by air-conditioned, double-decker bus
Audio guide
Individual earphones with recorded commentary in 11 languages
Hostess
See Related: When Does the Eiffel Tower Sparkle? A Guide to its Stunning Light Display
This private tour includes the Eiffel Tower, an open bus tour, a city tour, private pick-up and drop-off, and a bottle of French wine. You've probably seen open-roof double-deck buses in Paris and want to ride them, but you're not sure how to buy tickets or where to board them. No worries because this tour will pick you up from your hotel in Paris and take you on a hop-on-hop-off bus tour of the greatest of Paris before providing you with a chauffeur-driven car to see the Eiffel Tower. Their personal host is here to make your life easy.
You meet your host at a predetermined location, where the host provides a brief explanation of this iconic Monument. Then you can explore the Paris Opera, Louvre Museum, Notre-Dame, Orsay Museum, Concorde, Champs-Elysées, Arc de Triomphe, Eiffel Tower, and other attractions.
Tour Inclusion:
Entrance ticket to the second story of the Eiffel Tower
Before climbing the Eiffel Tower, a host provides an introduction to Level 2 of the structure.
Parking Fees A one-hour hop-on, hop-off bus tour with an audio guide.
Hotel private air-conditioned vehicle
Pick-up and drop-off
A bottle of your choice of French wine or juice
See Related: Best Hotels in Paris with Pools
What is a Hop on Hop Off Bus Tour?
Many big cities in Paris provide hop-on, hop-off bus tours.
This bus tour allows you to explore famous sites while easily getting from one point to another. Every trip follows a set path and stops at numerous landmarks.
You can take the bus the entire route or get off at the stops that fascinate you. You can then hop back when the next bus arrives. You can explore the City of Lights at your own leisure because you can hop on and off as many times as you choose.
It's helpful because the most famous attractions are far out, and public transit in Paris can be costly and challenging to comprehend.
Tours frequently include pre-recorded commentary, allowing you to learn everything you can about the place you're visiting and the things you'll see. You won't have to worry if you don't speak the local language because these will be available in 11 different languages.
Buses frequently offer open rooftop seats, allowing you to enjoy the best city views as you travel through it.
FAQs
What is the best hop-on, hop-off bus companies in Paris?
There are several best bus tours in Paris, like Big Bus, Open Tour Paris, Foxity, and Bus Toque. But the most well-known is the Big Bus Tours, which provides some of the city's most popular hop on hop off bus excursions, which are a terrific way to experience Paris with the assistance of a live guide.
How do you get discounted hop-on-hop-off bus tickets in Paris?
When selecting a hop-on hop-off bus trip across Paris, there are options available, and it's worth taking the time to look into the special offers and specials available before you book. It's cheaper to book ahead of your trip dates than to buy a ticket on the day, plus you won't have to worry about waiting in line to pay. You can check discounted tickets on Viator, GetYourGuide, and other travel websites.
When are the tours available for Big Bus Tours?
As per the Big Bus website, their Paris bus tours operate daily!
How long does a Paris bus tour take?
Normally, full-circuit bus tours take around 2 hours and 15 minutes.
Is a bus tour in Paris worth it?
If you've never been to Paris before, a Hop on Hop off bus tours are a must. They're an excellent way to get a feel for the city and tick off significant landmarks in a single day.
Related Resources: