Paris, the city of love and lights, has long captured the hearts of travelers with its rich history, stunning architecture, and world-renowned cuisine. The bustling streets of Paris tell their own stories, weaving together intricate tapestries of diverse neighborhoods and cultural backgrounds. Each street brings a distinct essence to the French capital, adding to its vibrant charm and allure.
Among the most iconic streets Paris are the Champs Elysées, Rue Crémieux, and Rue de Rivoli. The Champs Elysées, admired for its majestic beauty, stretches from the Place de la Concorde to the Arc de Triomphe, housing luxury brands such as Dior, Chanel, and Cartier, making it an essential stop for those seeking high-end shopping experiences. Rue Crémieux, nestled in the 12th arrondissement, delights visitors with its pastel-painted facades, reminiscent of similarly enchanting destinations like Portobello Road in London, Burano in Venice, or Charleston's Rainbow Row. Meanwhile, Rue de Rivoli transverses the heart of the city, presenting a wealth of historic buildings and sightseeing opportunities across the 1st and 4th districts.
🗼 Paris Insider's Top Picks! ✨
Dive into the heart of Paris with our handpicked partners. Trusted by thousands, they ensure you experience the best of Paris.
Exploring these emblematic streets and many others, one cannot help but feel immersed in the enchanting atmosphere that has come to define the city of Paris for centuries. Each thoroughfare contributes a unique flavor to the overall experience, leaving travelers yearning for more. So, let's delve deeper into the remarkable and vibrant streets of Paris that have enthralled visitors and locals alike for generations.
Historical Streets of Paris
Le Marais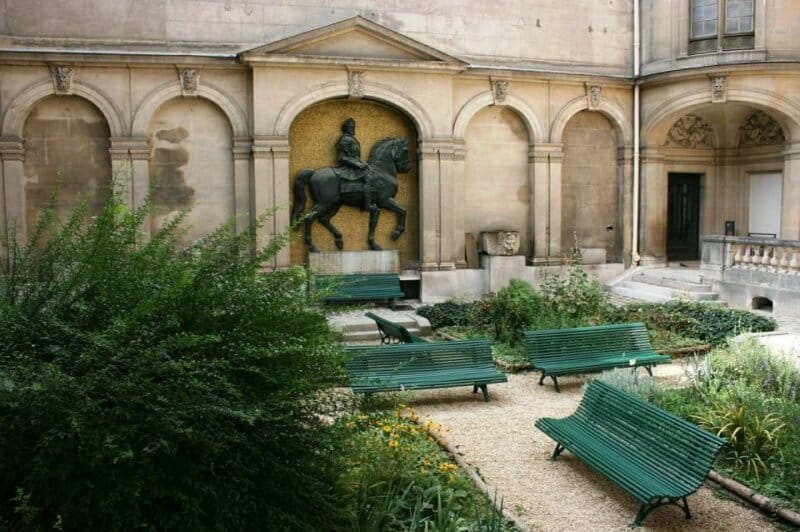 Le Marais is a historic district located in the heart of Paris, known for its charming and narrow streets. This neighborhood has a rich history that dates back to the medieval period, and it is home to many significant landmarks, such as the Hôtel de Ville and the picturesque Place de la Concorde. The area is also famous for its impressive museums, including the Louvre and the Musée National Picasso-Paris.
The Marais has a bustling atmosphere, with numerous cafes, boutiques, and art galleries lining the streets like the famous Rue de Rivoli and Rue Vieille du Temple. The Rue des Rosiers is particularly noteworthy, as it is the center of the Jewish Quarter and features many traditional bakeries and delis.
Jewish Quarter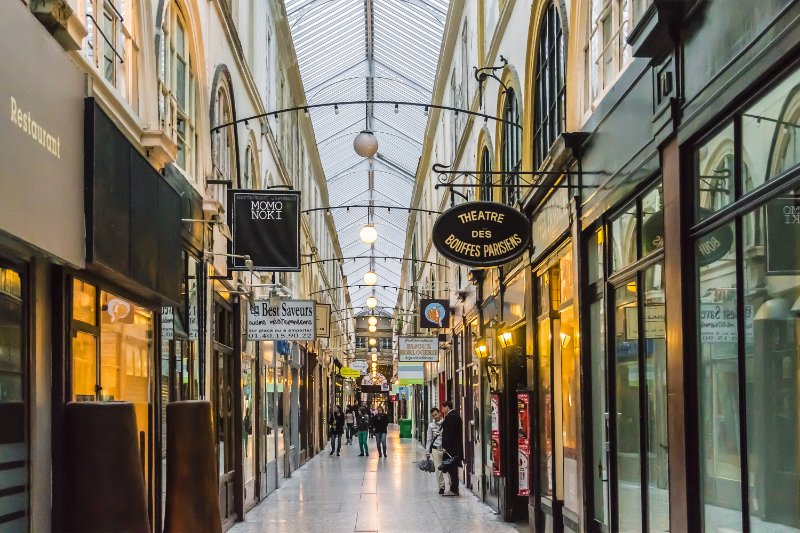 The Jewish Quarter, located predominantly in Le Marais, is an integral part of Parisian history. At its heart lies Rue des Rosiers, a street that has been home to a thriving Jewish community for centuries. This area is characterized by its lively atmosphere and multicultural influences, giving visitors a unique glimpse into Paris's past.
Visitors to the Jewish Quarter can expect to find a variety of kosher eateries, synagogues, and cultural institutions, reflecting the rich history and heritage of the community. The neighboring streets, such as Rue Vieille du Temple and Rue du Faubourg Saint-Honoré, add to the vibrant atmosphere, offering a multitude of fashionable boutiques and stylish cafes.
Latin Quarter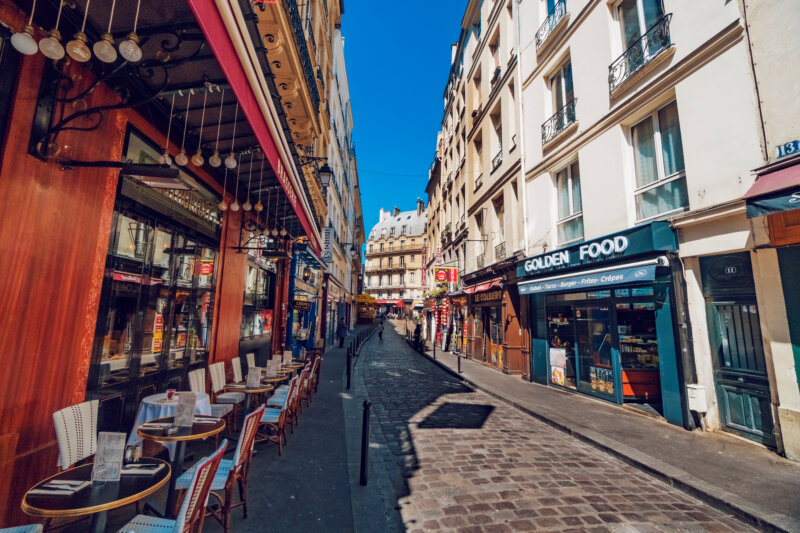 The Latin Quarter, located on the Left Bank of the Seine, is one of the city's oldest neighborhoods. It earned its name because Latin was widely spoken among the students and scholars who frequented its famous university institutions, such as the Sorbonne. With a history that dates back to the Roman era, this district boasts stunning architecture and historic landmarks.
Narrow streets, such as Rue de la Huchette and Rue Saint-Dominique, wind through the Latin Quarter, lined with traditional bistros and lively bars. One iconic establishment is Le Caveau de la Huchette, a historic jazz club that has been entertaining guests since the 1940s. The area is also home to some of the prettiest streets in Paris, such as Rue Cremieux and Rue de l'université, which offer picturesque and Instagram-worthy views.
The Latin Quarter's intellectual and artistic history, combined with its vibrant atmosphere, make it a must-visit destination in the City of Light. The district's charm is further enhanced by its proximity to prominent landmarks like the Louvre, the Musee d'Orsay, and the Notre Dame Cathedral.
Famous Shopping Streets
Avenue Montaigne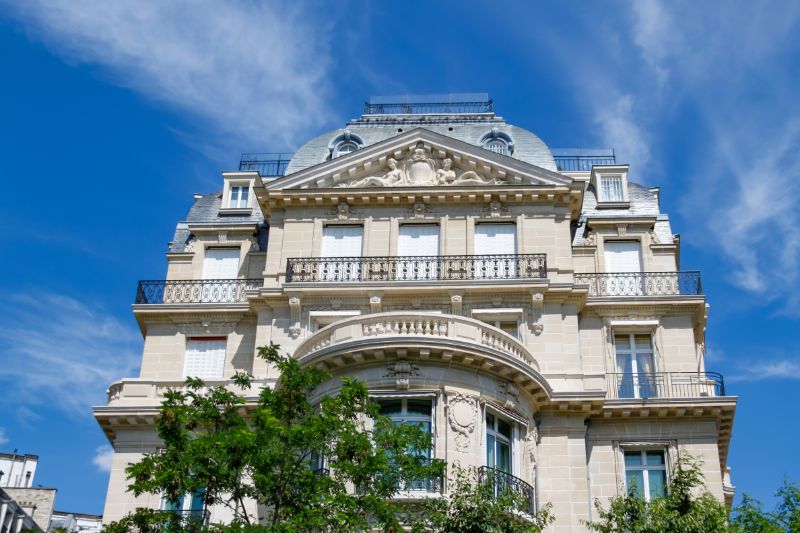 Avenue Montaigne is a renowned shopping street in Paris, often referred to as the "Golden Triangle." It is home to an array of upscale boutiques and prestigious fashion houses such as Louis Vuitton, Guerlain, and Céline. The street is famous for its luxurious atmosphere and unique style, attracting both local Parisians and international visitors.
While strolling down Avenue Montaigne, visitors can enjoy the charm of its quintessentially Parisian setting, complete with elegant Haussmannian architecture and picturesque greenery. Plentiful dining options, including chic cafes and traditional bakeries, make it a delightful experience for shoppers and those who enjoy the beauty of Paris streets.
Champs-Élysées
The Champs-Élysées is an iconic avenue that stretches from the Place de la Concorde to the Arc de Triomphe. This bustling shopping destination offers a mix of high-end labels, international brands, and souvenir shops. Some notable luxury boutiques along the avenue include Tiffany & Co, Cartier, and Louis Vuitton.
Aside from shopping, the Champs-Élysées is lined with museums, theaters, and the charming Ladurée, a famous tearoom celebrated for its macarons. Nestled near the Tuileries Garden, this shopping street is perfect for a leisurely stroll, enjoying both the fashion scene and the stunning green spaces.
| Shopping Highlights | Address |
| --- | --- |
| Tiffany & Co | 62 Av. des Champs-Élysées |
| Cartier | 154 Av. des Champs-Élysées |
| Louis Vuitton | 101 Av. des Champs-Élysées |
| Ladurée | 75 Av. des Champs-Élysées |
Rue du Faubourg Saint-Honoré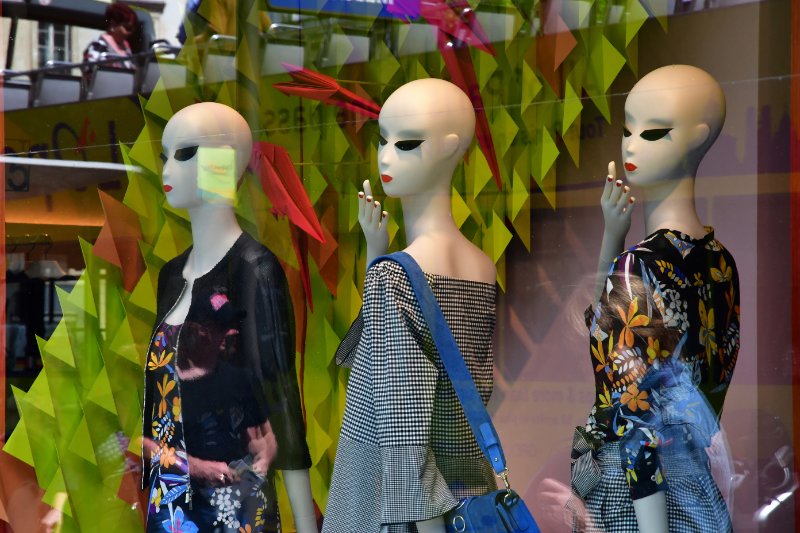 Rue du Faubourg Saint-Honoré is another fashionable shopping street in Paris known for its luxury boutiques and upmarket retailers. Running from Palais Royal to Place Vendôme, this avenue rivals Avenue Montaigne in its opulence.
Shopaholics can find prestigious stores such as Hermès, Chanel, and Dior, as well as trendy galleries and bespoke tailors. One notable landmark nearby is the Rue de la Paix, famous for its fine jewelry shops and historical architecture.
Rue du Faubourg Saint-Honoré is not only a center for high fashion but also offers an authentic Parisian experience. Surrounded by the magnificent Place Vendôme and the historic Hôtel Ritz, visitors can take in the rich history and culture that Paris has to offer.
See Related: Paris in September: Top Events and Travel Tips
Local Neighborhoods and Streets
Rue Montorgueil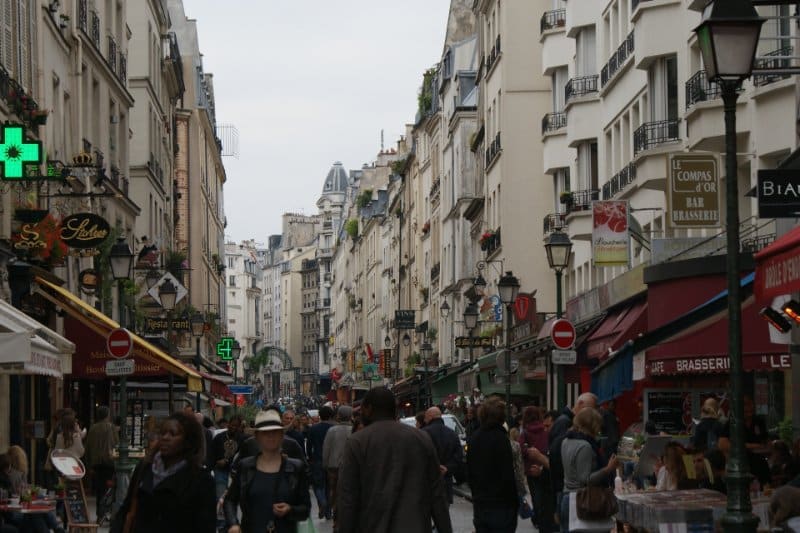 Rue Montorgueil is a bustling, historic street in the 1st and 2nd arrondissements of Paris. This pedestrian-friendly street is lined with lively cafes, bakeries, and shops, offering visitors a unique atmosphere and a glimpse into the everyday lives of locals. You'll find a wide range of delicious French pastries and freshly baked bread in the area's bakeries, as well as an assortment of fine foods at the local épicerie. The lively atmosphere and diverse selection of businesses make Rue Montorgueil a must-visit destination for anyone who wants to experience the charm of authentic Parisian life.
Rue de la Huchette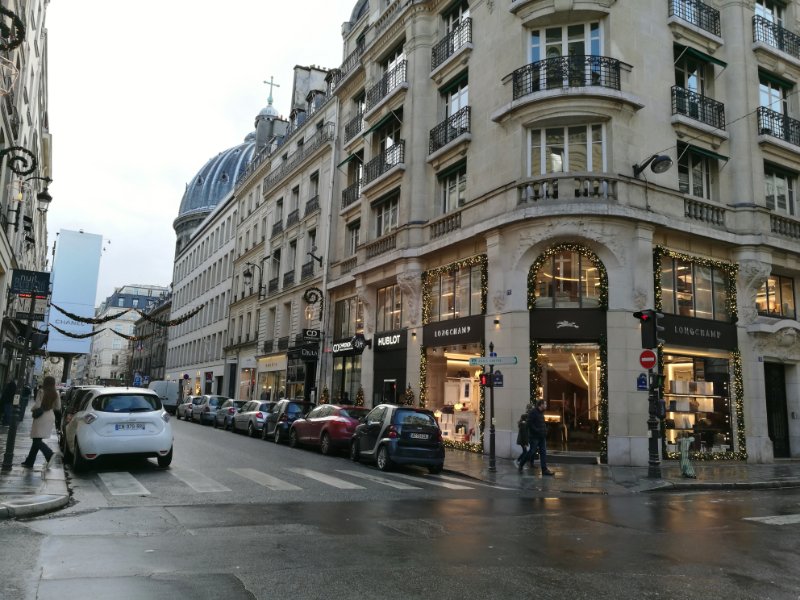 Located in the famed Latin Quarter in the 5th arrondissement, Rue de la Huchette is one of the oldest streets in Paris. Nestled between the Seine and the iconic Boulevard Saint-Michel, this narrow street boasts a rich history and a lively atmosphere, with a variety of cafes, restaurants, and bars. Offering an eclectic mix of local cuisine and international fare, Rue de la Huchette is an ideal destination for those seeking culinary exploration. Be sure to check out the nearby neighborhoods, including Le Marais and Rue Crémieux, for even more local charm.
Rue Saint Dominique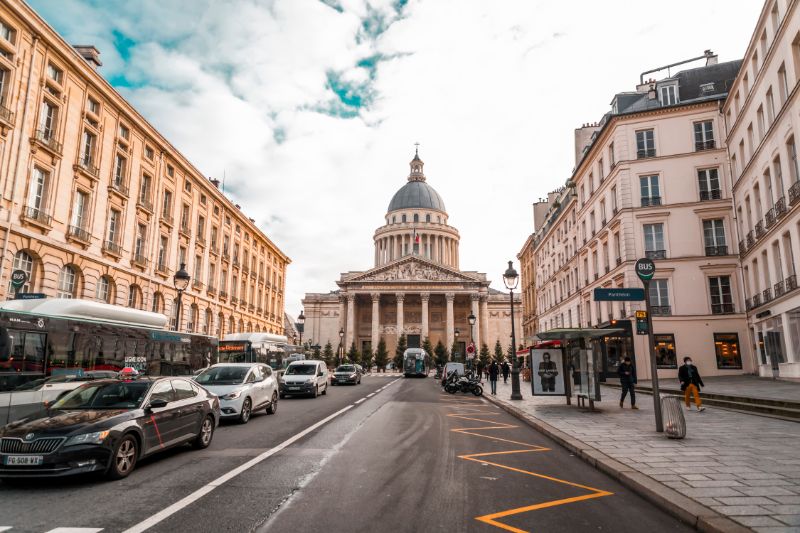 Rue Saint Dominique is a delightful street in the 7th arrondissement of Paris, famous for its charming local atmosphere and proximity to the Eiffel Tower. The street runs parallel to Rue de l'Université and is dotted with quaint boutiques, charming cafes, and contemporary art galleries.
You can stop by one of the many coffee shops to savor a cup of Parisian-style coffee, or browse the Champs-Élysées for high-end designer fashion just a stone's throw away from Rue Saint Dominique. This picturesque and friendly neighborhood is the perfect place to indulge in the quintessential Parisian experience.
Sightseeing Streets
Eiffel Tower Area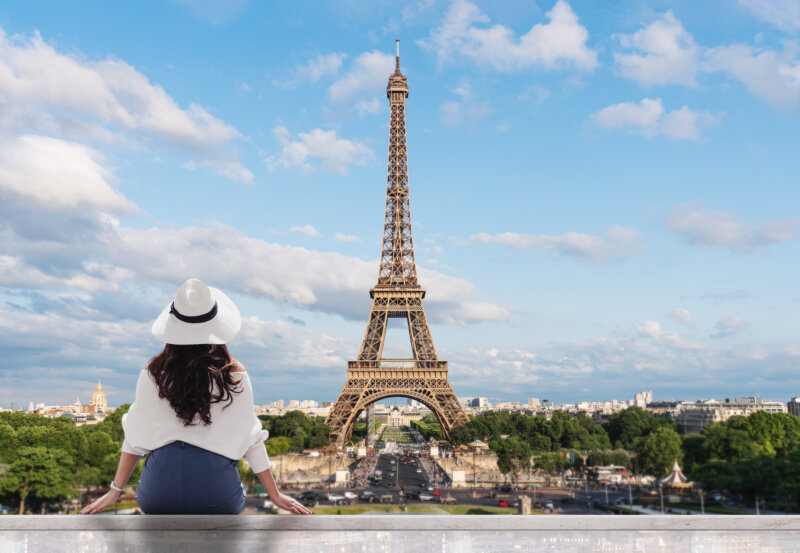 The Eiffel Tower, a symbol of Paris and the City of Light, is surrounded by picturesque streets that are perfect for exploring. One notable spot is the Rue Saint-Dominique, which offers a direct view of the Eiffel Tower while strolling down the street. Cafés, boutiques, and charming architecture line this avenue.
Another area worth visiting is the Avenue de la Bourdonnais. Lined with traditional Haussmann-style buildings, this street boasts spectacular views of the Eiffel Tower and leads directly to the Champ de Mars, a large green space perfect for picnics and relaxation.
Avenue des Champs-Élysées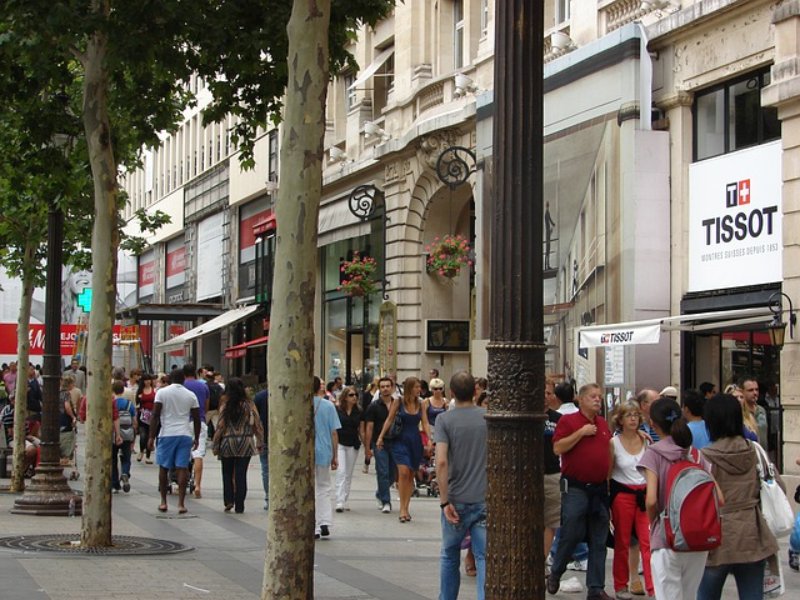 The Avenue des Champs-Élysées is arguably the most famous street in Paris. Connecting the Arc de Triomphe at the Place Charles de Gaulle to the Place de la Concorde, it is home to luxury stores like Dior and Chanel, as well as several theaters and cafés. The annual Bastille Day parade takes place on this iconic avenue, which attracts over 300,000 visitors per year.
Along the Champs-Élysées, you'll also find the famous Ladurée, a luxurious patisserie known for its delicious macarons. A visit to the nearby Tuileries Garden is also a must, offering a peaceful retreat with beautiful sculptures, fountains, and flowerbeds.
Place Charles de Gaulle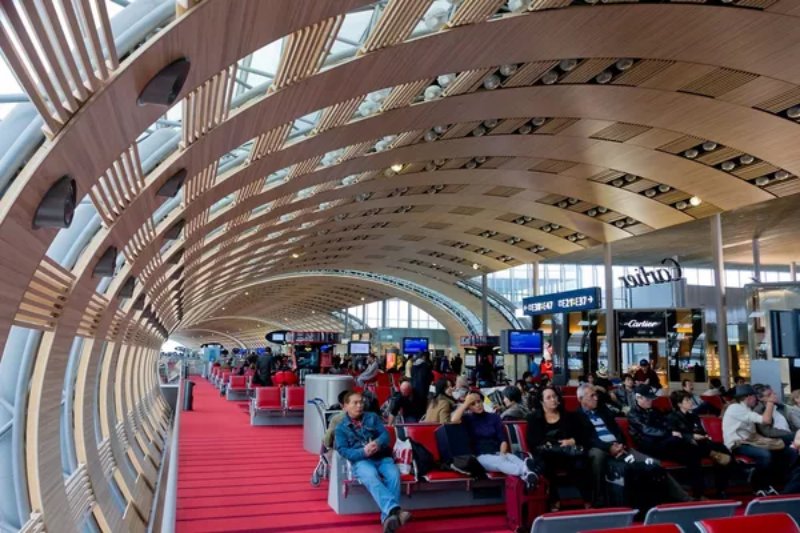 The Place Charles de Gaulle, formerly known as Place de l'Étoile, is a historic and bustling roundabout surrounding the impressive Arc de Triomphe. The 12 radiating avenues from the roundabout, including the Champs-Élysées, were designed by the architect Haussmann during the 19th-century renovation of Paris.
While exploring the area, you might come across the La Bonne Franquette, a classic Parisian restaurant nestled at the heart of the Montmartre district, offering traditional French cuisine in a cozy atmosphere.
Also worth visiting in this area is the Hôtel de Ville, Paris's City Hall, located near the Place Vendôme, a square known for its luxurious hotels and high-end boutiques. The diverse array of streets and attractions in the Eiffel Tower, Champs-Élysées, and Place Charles de Gaulle areas offers a taste of the charm and elegance that Paris is known for.
Related Resources: