Paris in May is without a doubt my favorite time of the year. Long gone is the cold winter, but the blazing summer heat has a few months to come.
May is, in my opinion, the best month to spend time in Paris. With so many events, great weather, and stunning attractions, Paris in May is guaranteed to capture your heart.
🗼 Paris Insider's Top Picks! ✨
Dive into the heart of Paris with our handpicked partners. Trusted by thousands, they ensure you experience the best of Paris.
Starting the month is La Fête du travail or the French Labor Day. Though some shops and restaurants close up for this holiday, there's still a parade taking place at Place de Bastille. Though this is only one day, it's important to plan your trip around this as you may as some activities might be closed.
With an endless array of festivals, to visiting some of the Parisian classics, there's something for everyone here during the month of May. From the French Open to the romantic Paris Jazz Festival, to spending time taking in the fresh air, there's so much to see and do in Paris in May.
So, if you're planning on visiting Paris in May, here are some of the top things to do:
Top 10 things to do in Paris in May
1. Attend the French Open – Roland Garros Tennis Tournament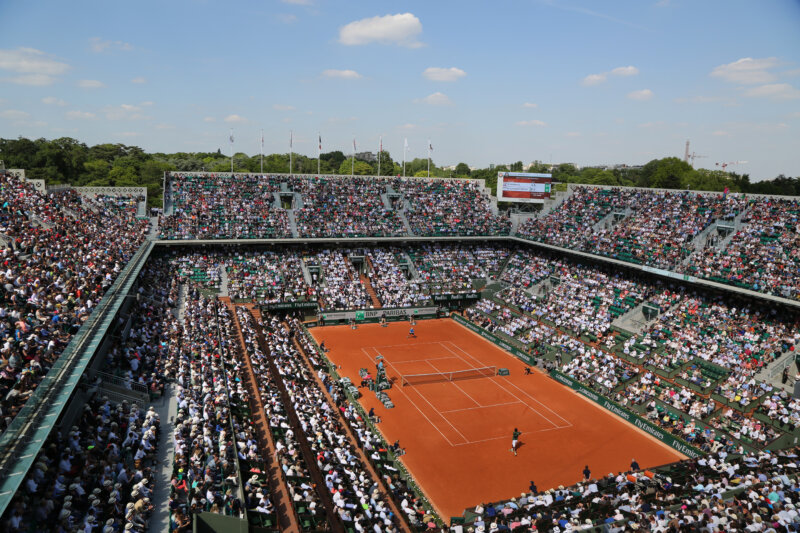 This is the ultimate grand slam tennis tournament. Held in Paris in late May, Roland Garros is the perfect opportunity to witness some of the best tennis players in the world compete against each other on one of the most prestigious courts, known as the French Open. With its vibrant and intense atmosphere, this tournament is a must-see for any tennis fan.
The grand slam tennis tournament takes place at the Stade Roland Garros in the 16th arrondissement of Paris over two weeks. Not only is the Roland Garros Tournament a great chance to watch some of the most impressive tennis matches from highly skilled players, but it is also a great way to experience French culture in a different setting. Even if you're not a huge tennis fan, the matches are definitely worth a watch!
See Related: Best Parks in Paris to Visit
2. Bois de Boulogne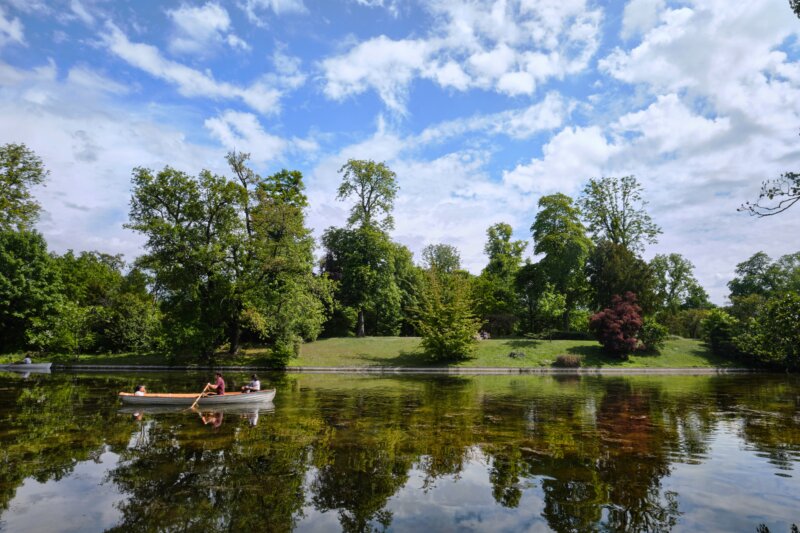 Nothing says Paris in May quite like spending a day in the sun at Bois de Boulogne. Located in the Eastern suburbs of Paris, Bois de Boulogne is the perfect place to relax and enjoy some fresh air.
The "woods", as translated, are a great place to go for a walk or go on a bike ride. There are a few paths that spread through the length of the area.
Another lovely option is to have a picnic here with friends. In the spring and summer months, you'll find plenty of people with their blankets, eating, drinking, and catching some sun with their packed baskets.
The Bois de Boulogne is also home to some attractions, such as the Jardin d'Acclimatation and Foundation Louis Vuitton. At the Jardin d'Acclimatation, you'll find a small amusement park with several activities and rides, perfect for the family. The Foundation Louis Vuitton is a contemporary art museum and special events center also located in the park that hosts a variety of expos year-round.
A final thing to do at the Bois is to visit the Hippodrome de Longchamp. This is the biggest horse racing track in the Parisian region and the perfect place to catch some exciting races near Paris in May.
See Related: Most Beautiful Places in France to Visit
3. Hang out at the Canal Saint Martin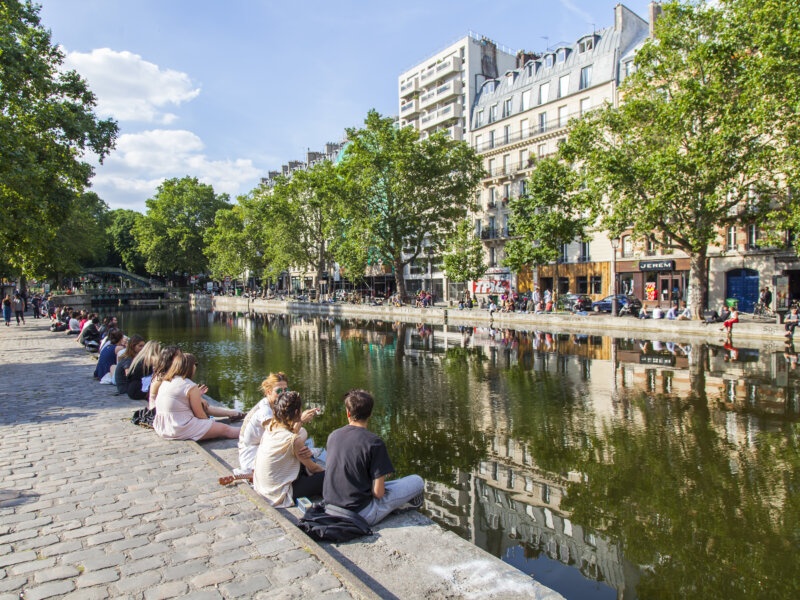 Another thing to do in Paris in May is to hang out along the Canal Saint Martin. Located in the 10th arrondissement, the canal is home to some of the coolest shops and eats in Paris.
After exploring the area, you can relax at a spot along the Quai and grab some drinks with friends. Some top spots to grab a takeway bite is Fric Frace for croque monsieurs, or Gros Bao for bao buns.
This area is considered the hipster area of Paris, and you'll find quirky boutiques, great coffee shops, and some of the coolest street art in Paris. The Rue de la Grange aux Belles is one of Canal Saint Martin's most known streets, and it has an array of bars and pubs that attract locals and tourists alike.
If you're in Paris in May and want to take in the nice weather in an area different than the Seine, we suggest opting for a canal cruise. It's a perfect way to spend the day outside, take in the cool neighborhood, and get a great view.
This area is quite youthful and vibrant, so if you want to stay close to all of the action then check out Generator Hostel. It's within walking distance of the canal and all of the other top spots in the area. Though this isn't the typical area to stay in when visiting Paris, it's truly a hidden gem.
See Related: Best Boat Tours in Paris, France
4. La Nuit des Musées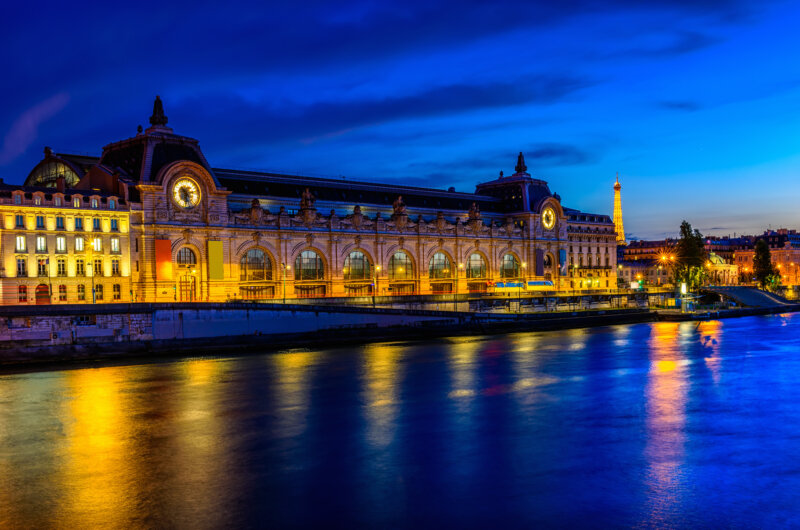 This is one of the most interesting events taking place in Paris in May. La Nuit des Musées (Museum Night) is a yearly event that takes place on a Saturday closest to May 18th and is a great opportunity to explore all kinds of museums in Paris. Museums across the city, like the famous Louvre, open their doors for free and stay open late into the night.
At each museum, there are lots of different activities and events happening. There are concerts, guided tours, workshops, talks, and more.
It's a great opportunity to explore some of the city's most historical museums and also to meet new people. It's not just Paris, either- museums across Europe are participating in this night, hence the name European Museums Night.
The European Museums Night is a great way to experience the rich culture of Paris, as well as the rest of the world, and it's definitely worth checking out. It's like your own version of the film Night at the Museum. So, if you happen to be in Paris in May, then try this truly unique experience.
See Related: Most Famous Historical Landmarks in Paris
5. Spend the day at Disneyland!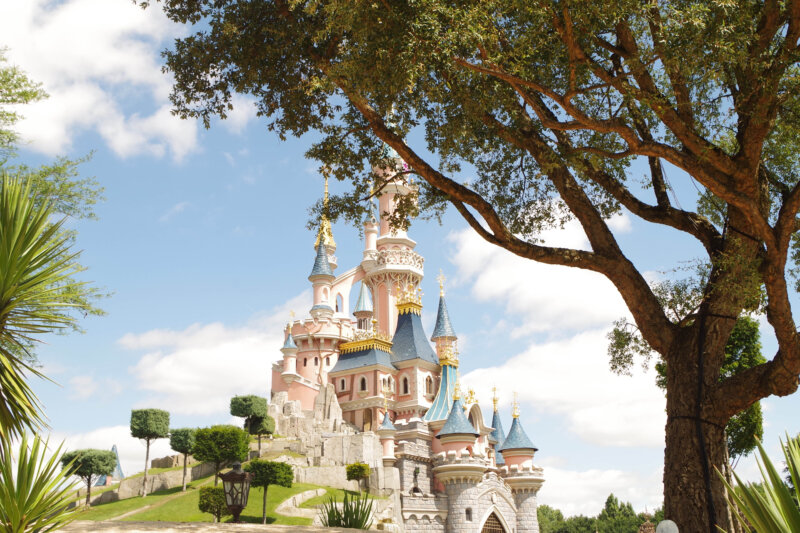 Though Disneyland is a great option any time of the year, it's especially enjoyable if you plan to visit Paris in May. With the sun shining and warmer temperatures, a day at Disneyland Paris is guaranteed to be a great memory. The park is massive and filled with all kinds of rides, parades, spectacles, and activities for both kids and adults alike.
There's something for everyone at Disneyland Paris, from thrill rides and family-friendly attractions to parades and live entertainment. It's the ideal place to spend a day of fun with friends and family.
This Disneyland isn't technically in Paris, but it is just a short ride away via the RER train. A visit to the happiest place on earth is truly an unforgettable experience, but it's something that you need to book in advance. If you want to stay right near the park, then consider staying at L'Élysée Val D'Europe, which offers a free shuttle to the park.
We recommend booking a ticket in advance for a skip the line access. This way, you won't have to waste your precious time waiting in line and can make the most of your day out.
See Related: One-Day in Paris Itinerary: How to Spend a Day
6. Bread Festival (fête du pain)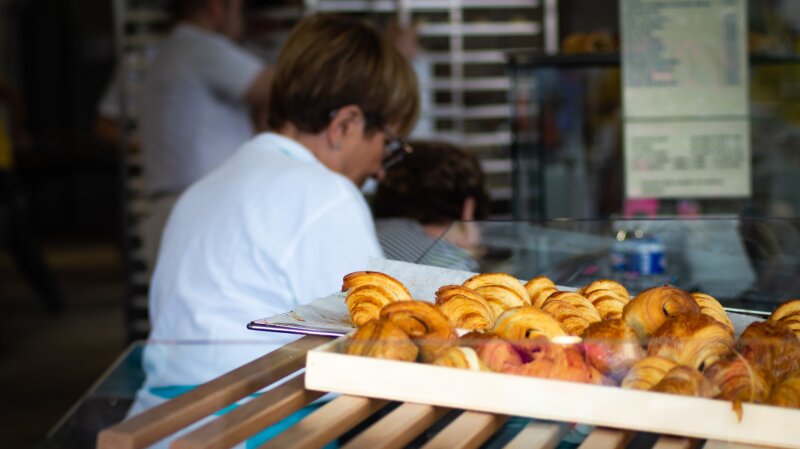 Nothing screams French more than a bread festival! If you happen to be in Paris in May, then this is one Paris festival you have to check out. The fête du pain takes place for about one week every mid-May.
The Bread Festival is held annually in Paris at the Parvis de Notre Dame, right in front of the famous Notre Dame Cathedral. The festival is open-air, and entry is completely free. All you have to pay for are the tasty treats that you pick up along the way.
Here, you'll find a variety of artisanal and traditional French breads, pastries, cakes, and more. Visitors can sample a variety of loaves, learn about the different types of French bread, and can take home some delicious treats. It's a great way to immerse yourself in the culture and get a taste of what it's like to eat like the French do- literally.
Why is it held in May? Well, May 16th in France is the day of Patron Saint-Honoré, who was the saint of bakers, pastry-makers, flour-sellers, and millers. It's only fitting that the day is celebrated with a big bread festival- and a week-long one at that!
See Related: When is the Best Time to Visit Paris?
7. Paris Beer Festival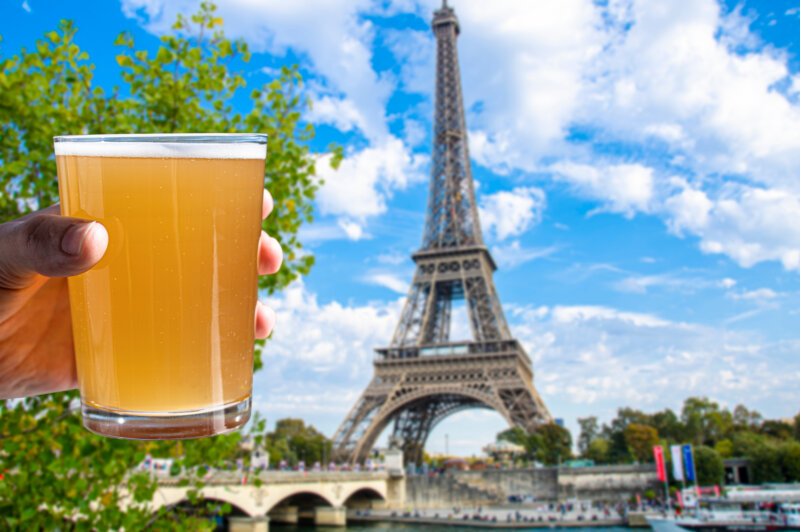 For the beer lovers out there, this is the event for you. The Paris Beer Festival is another event taking place every May, and it's the place to be for all beer enthusiasts. Initially called Paris Beer Week, the event has transformed into a week-long festival showcasing some of the best beers from breweries across Paris, as well as the rest of the country.
The annual Parisian festival is spread out across the city, with different venues serving up different drinks. There's a focus on craft beers, as well as ciders and other beverages.
There's also food from some of the city's best restaurants available for purchase. Visitors can enjoy live music, beer tastings, and much more.
The annual Festival is worth a visit if you happen to be in Paris during May. It's a great way to discover some new beers, as well as the best restaurants in town. Plus, it's completely free to attend!
See Related: Best Things to Do in Paris With Kids in 2023
8. Jazz Festival Saint Germain des Prés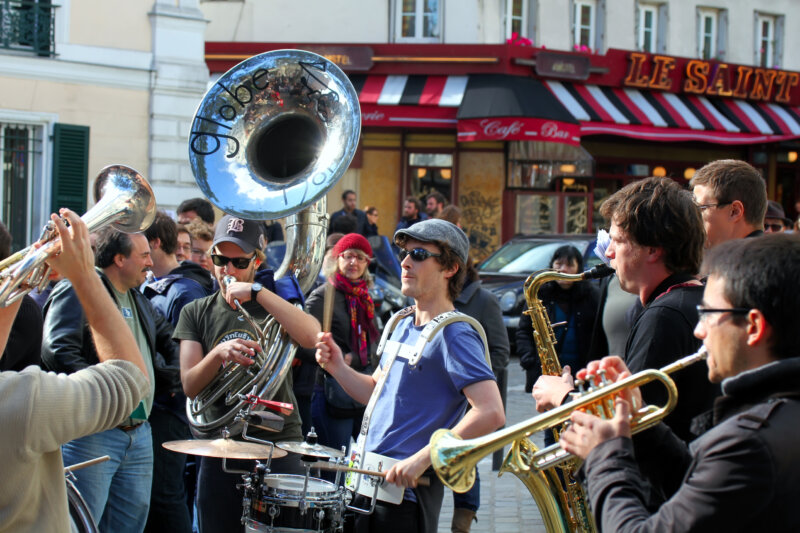 This is, without a doubt, one of the most special events to attend when in Paris in May. The Jazz Festival Saint Germain des Prés is a celebration of jazz music and culture, held in the legendary neighborhood that gave birth to the genre.
The event takes place over two days, usually at the beginning of or mid-May. During this time, some of the best jazz performers come together to put on spectacular performances. With multiple stages, there's something for everyone- from classic jazz to swing and blues.
The Saint Germain des Prés area of Paris is one of the most historic and culturally significant areas of the city. Home to some of the most famous jazz bars and literary cafes, it's a must-see for all art and music lovers. And what better way to experience the area than with some great live jazz?
Looking for somewhere to stay in the area? There are tons of accommodation options within Saint Germain des Prés and all of the festival venues. Hotel Fontaines de Luxembourg is a stunning hotel located near the main boulevard.
See Related: Best Free Walking Tours in Paris, France
9. Stroll down the Seine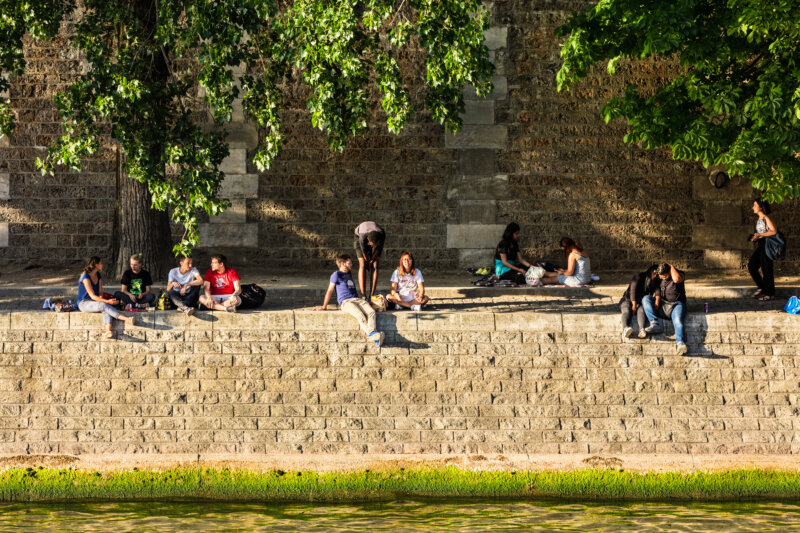 One of the highlights of my spring every year is simply strolling down the Seine. As simple as this is, there is something so special about spending an afternoon or evening here with some friends. So, when you're in Paris in May make sure you take some time to spend along the river.
If there's one thing the French know best, it's the art of apéro. This means grabbing some wine or beer, a baguette or two, some cheese and meats, and sharing it with your friends.
The Seine is one of the best places to do this. You'll find groups of friends spread out around the quais during sunset, chatting and listening to music.
It's truly a magical experience, especially if. you're there around sunset.
Another thing to do in Paris in May on the Seine is to take a cruise down the river. Though a river cruise can be a classic tourist activity, it's still a fun way to experience the city from the water. There are tons of different cruises offered where you can stop at attractions such as the Grand Palais, Hôtel de Ville, and many others.
On a river cruise you can have dinner, or even watch the sunset from afar. For most, you'll cruise along the river and stop at the Eiffel Tower which looks beautiful at night.
Bateaux Parisiens is one of the most popular cruise options and offers lunch and dinner cruises, as well as stops at the main sights. No matter what you choose, make sure to spend some time at the Seine this May.
See Related: Things To in Paris on Bastille Day: A Comprehensive Guide
10. Belleville Artists Open Studio
If you're looking for something a bit off-the-beaten-path in Paris in May, then check out the Belleville Artists Open Studios. Belleville is a neighborhood in the north-east area of Paris, known for its vibrant art scene and creative atmosphere
During the Open Studios event, which usually takes place for four days in May, artists open up their studios for visitors to explore. You can see firsthand what the artists are working on and chat with them about their craft. It's a great way to get an insight into the local art scene and get a feel for the city's creative side.
Plus, some of the artists offer workshops during this time. There are so many ateliers to visit, so you'll surely have your pick of art to enjoy.
So if you feel inspired, you can even get hands-on and create something of your own. Belleville is equally known for its incredible street art, so make sure to check out rue Denoyez while you're over there.
Belleville is one of my favorite areas in the city. There's so much to do in this area, which is why I recommend staying close, whether you're in Paris in May or any time of the year. The People Belleville is the top option for a social atmosphere and lots of activities around the area.
Related Resources