Winters in France offer a pleasant and diverse experience, with varying weather conditions and unique activities to explore throughout the country. From the picturesque snow-capped mountains to the charming coastal towns, the French winter season has something to cater to everyone's tastes.
Officially kicking off on December 21st and ending on March 20th, winter in France ranges from chilly coastal climates to colder weather in the northeastern plains. Coastal regions experience mild temperatures, sunshine and occasional snowfall, while the continental climate of the northeastern areas brings about colder temperatures and extended periods of snow cover.
During this season, visitors to France have the opportunity to indulge in a variety of winter activities, such as skiing or snowboarding in the French Alps, strolling through the romantic streets of Paris, or sampling delicious food and wine by a cozy fireplace. Regardless of where one chooses to spend their winter getaway, France offers a spectacular mix of beauty, culture, and unforgettable experiences during the sunny days of these colder months.
Overview of Winters in France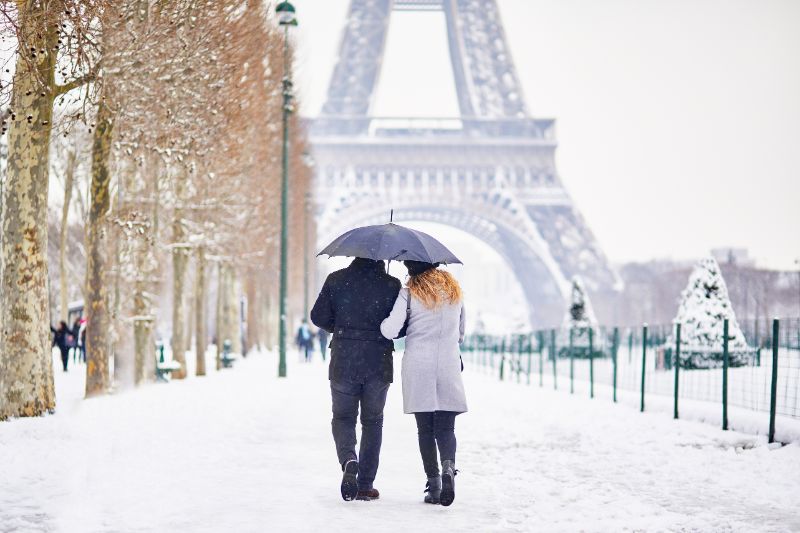 General Climate Characteristics
Winters in France typically experience milder temperatures in comparison to other European countries. Most parts of the country have cool winters and mild summers, with the exception of the Mediterranean regions that have mild winters and hot summers. Precipitation occurs throughout the summer and winter months, with rainfall being relatively frequent, especially in the north and west of France.
Temperature Averages Across Regions
During the winter months, temperatures vary across different regions of France. Here are some general temperature averages by region:
North and West: avg. temperatures range from 32°F to 45°F
East: continental climate with cold winters
Mediterranean: mild winters and hot summers, with occasional cold spells due to the mistral wind
Winter temperatures in warm areas such as the South of France and the Southeast (along the Mediterranean) are generally milder compared to other regions. However, occasional strong, cold, dry, north-to-northwesterly winds known as the mistral can cause sudden drops in temperature.
Month-by-Month Breakdown
Here is a brief month-by-month breakdown of winter climate in France:
December: While December is technically the last month of autumn, it is often considered part of winter due to cold temperatures and possible snowfall. Temperature differences are moderate, and it is the beginning of the coldest season.
January: This is typically the coldest month in France, with average temperatures ranging from 32°F to 45°F depending on the region. Frost is common during this month, and snowfall is more likely in mountainous regions such as the Alps and Pyrenees.
February: As the last month of winter, February sees similar temperatures to January, with average temperatures ranging from 32°F to 45°F. Precipitation in the form of rain or snow is still likely in many areas.
Spring: Meteorologists and many French people consider winter to run from December to the beginning of March. However, the transition from winter to spring can be gradual, with temperatures still cool and damp in some regions. Annual precipitation, including rainfall and snow, occurs throughout the country.
See Related: Most Beautiful Places in France to Visit
Popular Winter Destinations
Ski Resorts in the Alps and Pyrenees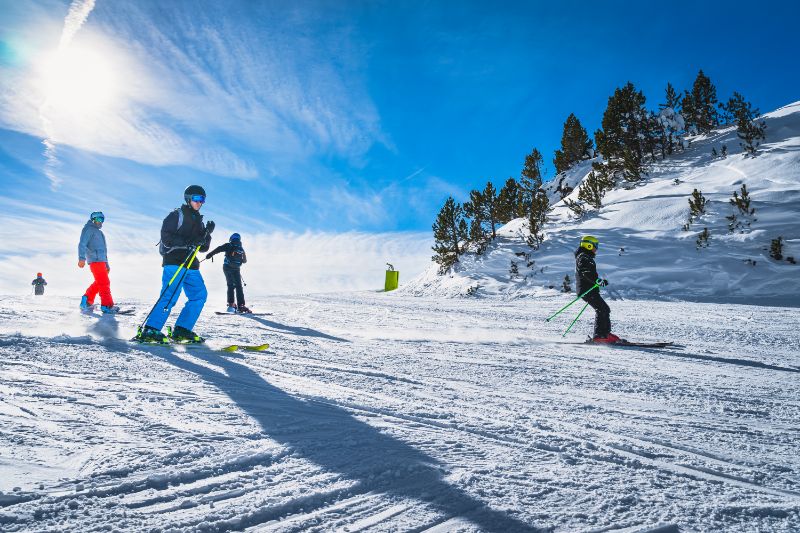 The French Alps and Pyrenees are home to some of the best ski resorts in Europe. Chamonix, located in the heart of the Alps, is a popular destination for skiing and snowboarding enthusiasts. This picturesque resort town, nestled at the foot of Mont Blanc, offers a range of winter activities and boasts excellent après-ski facilities.
In the Pyrenees, the Massif Central region offers a more laid-back skiing experience. With fewer crowds and a charming atmosphere on most days, this destination is ideal for those looking for a quieter winter retreat. Some notable ski resorts in the area include:
See Related: Does it Snow in Paris, France?
Christmas Market Cities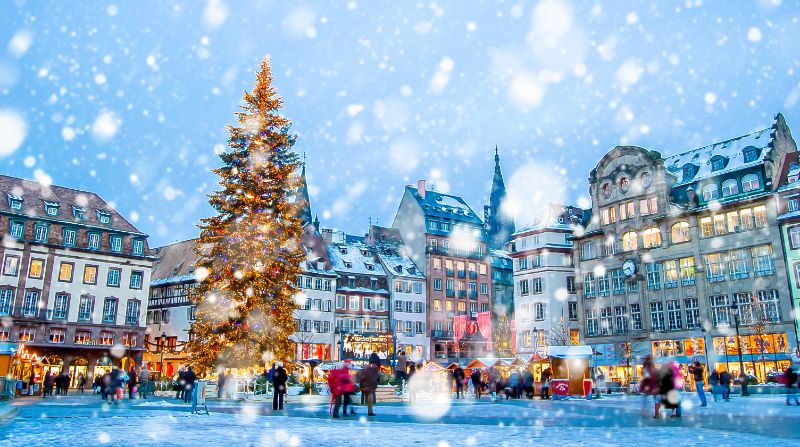 During the winter months, France comes alive with a festive spirit that is best experienced in cities known for their Christmas markets. Strasbourg, located in the eastern region of Alsace, is home to one of the oldest and largest Christmas markets in Europe. The city's historic center transforms into a magical winter wonderland, complete with twinkling lights, holiday decorations, and a towering Christmas tree.
Other Christmas market cities in France worth visiting include:
Visitors can enjoy browsing the market stalls for unique gifts, sampling traditional holiday treats, and soaking up the festive atmosphere.
See Related: Best Weekend Trips from Paris, France
Coastal Getaways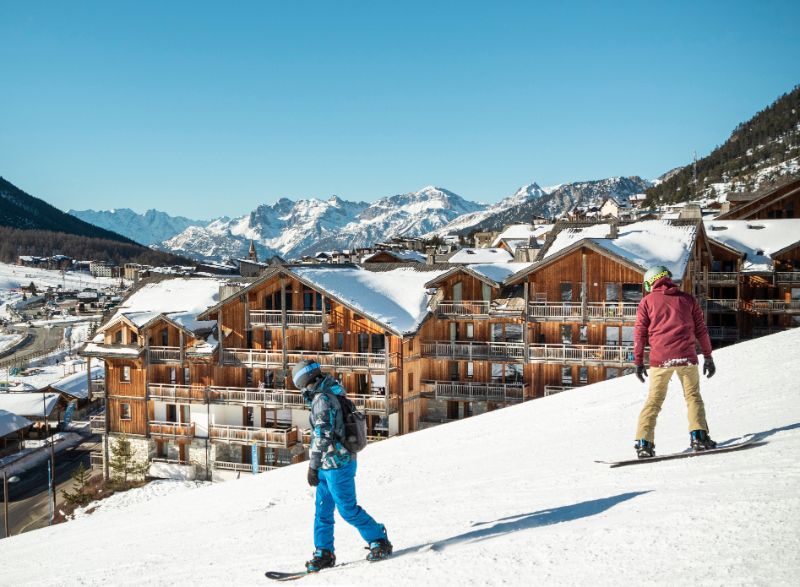 Even during the winter months, France's coastal cities offer a captivating allure. The French Riviera, or Côte d'Azur, is a popular winter destination for its mild Mediterranean climate and stunning scenery. Nice, Cannes, and Marseille are well-known cities along this stretch of coast that provide a perfect escape from the cold, rain and snow.
In Corsica, the Mediterranean island located southeast of the mainland, visitors can explore charming coastal villages, hike through the stunning landscapes, and even enjoy some winter sun on the island's beautiful beaches.
In summary, France offers a diverse range of winter destinations for travelers to enjoy, from ski resorts in the Alps and Pyrenees to festive Christmas market cities and charming coastal getaways.
See Related: Exploring Paris by Arrondissement: A Guide to the Districts
Weather Patterns and Climate Zones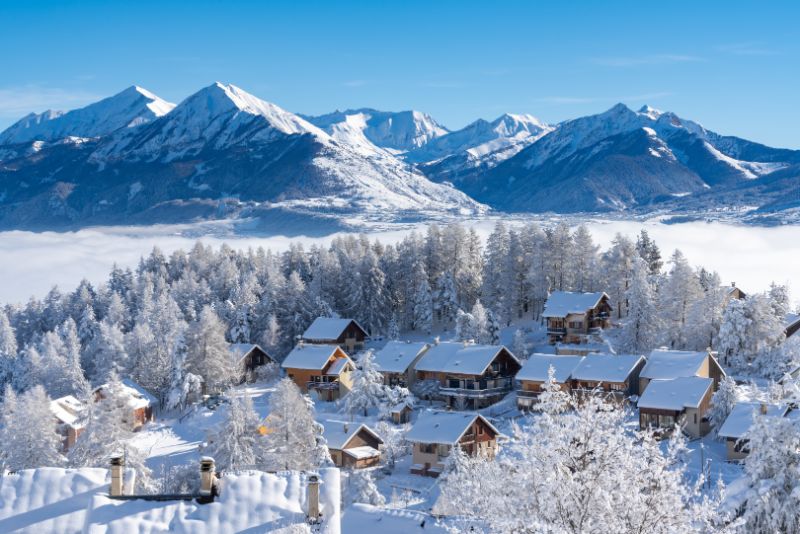 Mediterranean Climate in the South
Southern France experiences a Mediterranean climate, characterized by hot, dry summers and mild, wet winters. This region includes cities such as Marseille, Nice, and Toulouse. Temperatures during fall and winter months range from 42.8°F to 45°F, with precipitation averaging 55 mm (2.2 inches) per month.
Continental Climate in the East and Central Regions
Eastern and central regions south of France, such as Strasbourg and Lyon, experience a continental climate. Winters in these areas can be quite cold, with average temperatures ranging from 32°F to 45°F. Snowfall is rare outside of mountainous regions, but temperatures can fall below zero. January is the coldest month, with the average temperature in Lille being 39°F (4°C).
Oceanic Climate in Western and Northern Regions
Western and northern regions of France, including the coast along the English Channel, experience an oceanic climate. These areas are characterized by cool, wet weather, with rainfall and wind throughout the year. Winters can be particularly wet and windy, especially in the autumn and winter months. The average temperature in these regions ranges from 35.6°F to 42.8°F.
Mountain Climate in the Alps and Pyrenees
Mountainous regions such as the Alps and Pyrenees experience a unique mountain climate. Winters are significantly colder with heavy snowfall, providing optimal conditions for winter sports and activities. In the Alps, temperatures typically range from 14°F to 32°F and receive 200 to 400 inches of snow annually.
Overall, France offers a diverse range of weather patterns and climates throughout its various regions, making it an ideal destination for travelers seeking various experiences during the winter months.
Related Resources: