Nestled in the heart of historic Paris, Le Petit Beaumarchais Hotel & Spa offers a charming and inviting experience for travelers seeking comfort and relaxation. Just steps away from iconic landmarks such as Place des Vosges and Place de la Bastille, this hotel provides guests with an authentic Parisian experience in an effortlessly warm and welcoming atmosphere. With its excellent location, travelers can easily explore the vibrant culture for which the city is known.
The hotel boasts a rating of 4.5 stars out of 261 (of 1,902) hotels in Paris. With impressive scores in categories such as location (4.7), cleanliness (4.7), service (4.6), and value (4.3), it's evident that Le Petit Beaumarchais Hotel & Spa has not only captured the hearts of its guests but also maintained a consistent reputation for quality. This boutique hotel aims to provide every traveler with a memorable and enjoyable stay, complete with modern amenities like paid private parking nearby, free high-speed internet (WiFi), a pool, and a sauna.
Guests at Le Petit Beaumarchais Hotel & Spa will feel both pampered and at ease in this sought-after Parisian haven, as if they were spending the night with friends. With a dedication to exceptional service, sophisticated design, and personalized attention to detail, it's no wonder that travelers consistently gravitate to this gem in the city of lights.
Location and Accessibility
Le Petit Beaumarchais Hotel & Spa is nestled in the heart of historic Paris, offering its guests an excellent location for exploring the many wonders the City of Light has to offer. Situated between the picturesque Place des Vosges and bustling Place de la Bastille, this charming hotel perfectly balances tranquility and vibrant energy.
One of the hotel's greatest assets is its proximity to the trendy Le Marais district. Famed for its lively atmosphere, quaint boutiques, and diverse eateries, Le Marais is a haven for tourists and locals alike. Additionally, the hotel is located within walking distance from the architectural beauty of Cathédrale Notre-Dame de Paris and the historic Latin Quarter, making it an ideal choice for those who wish to experience Paris' rich heritage.
A short metro ride away, guests can also find themselves immersed in the opulent world of Palais Garnier, the home of Opéra National de Paris. This masterpiece of 19th-century architecture provides not only entertainment but also a glimpse into the city's artistic history.
Le Petit Beaumarchais Hotel & Spa offers easy access to public transportation, with a metro station nearby. This convenience allows guests to travel efficiently throughout the city, reaching famous landmarks and hidden gems with minimal effort.
In summary, Le Petit Beaumarchais Hotel & Spa boasts an exceptional location that allows visitors to experience the quintessential Parisian lifestyle. With its proximity to notable attractions, vibrant districts, and convenient transportation options, the hotel caters to the needs of every traveler, ensuring an unforgettable stay in the City of Love.
Rooms and Comfort
Le Petit Beaumarchais Hotel & Spa features comfortable and warm rooms that provide guests a serene retreat during their stay in Paris. The decoration balances modern elegance and a welcoming atmosphere, making each room a delightful relaxing haven.
From tastefully decorated walls to pretty and intricate design elements, Le Petit Beaumarchais Hotel & Spa has paid great attention to detail in every aspect of its rooms. The essential comforts are not overlooked, as each room has plush beds, soft linens, and well-appointed amenities to ensure a pleasant stay.
A talented team of decorators and painters have skillfully chosen a refined color palette for the rooms, enhancing the visual appeal and creating a harmonious environment for guests. The colors evoke a sense of sophistication while maintaining a warm atmosphere, contributing to the overall charm of the hotel.
While the primary focus of Le Petit Beaumarchais Hotel & Spa is on comfort, the artistic touches in the décor serve as a testament to the hotel's commitment to excellence. From the carefully curated artwork to the bespoke furniture pieces, the hotel's dedication to providing a memorable experience is evident in every corner of the room.
Ultimately, staying at Le Petit Beaumarchais Hotel & Spa promises a comfortable and visually pleasing experience for guests. The combination of soft furnishings, warm colors, and elegant decoration elevate the hotel rooms beyond mere functionality, offering a truly immersive Parisian experience.
Hotel Amenities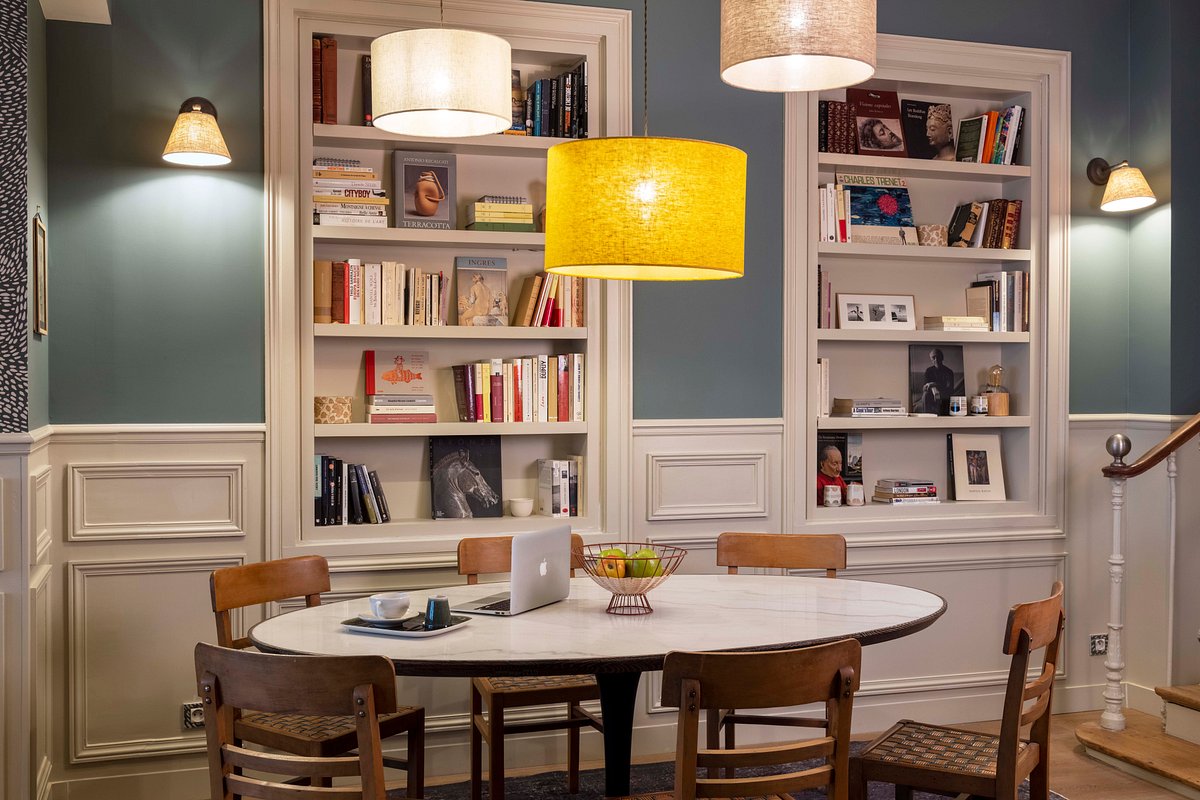 Le Petit Beaumarchais Hotel & Spa offers an array of amenities to provide guests with the perfect stay. The hotel's spa is a highlight, featuring a variety of treatments and facilities, including a flotarium, sauna, and a relaxation area. These amenities are ideal for guests looking to unwind and rejuvenate during their stay.
To further enhance the relaxing atmosphere, the hotel features a stylish bar where guests can enjoy creative cocktails and an extensive wine list. The unique bar island is a focal point of the space, providing a contemporary, sociable setting for both business and leisure travelers alike.
Business professionals will also benefit from the hotel's professional meeting facilities, which are well-equipped to accommodate a range of events and gatherings. Additionally, the hotel's elegant living rooms serve as comfortable spaces for informal gatherings or quiet moments of reflection.
Book lovers will appreciate the well-curated library within the hotel, housing an extensive selection of books and publications for guest perusal. This cozy, inviting space provides the perfect backdrop for guests to immerse themselves in a good book or engage in friendly conversation with fellow travelers.
Whether seeking relaxation in the spa, immersing oneself in literary exploration, or engaging in professional meetings, Le Petit Beaumarchais Hotel & Spa excels in providing an enjoyable and unforgettable experience to guests with varying needs and interests.
Dining Experience
At Le Petit Beaumarchais Hotel & Spa, guests can indulge in a delightful dining experience that caters to a variety of tastes. The hotel's breakfast buffet sets the tone for the day with an extensive selection of satisfying options. Visitors can start their mornings with freshly brewed coffee or fruit juice to awaken their senses, accompanied by a variety of cheeses and cold meats.
The hotel's commitment to providing a remarkable dining experience is evident in the delicious pastries available during breakfast. Guests are tempted by the scent of freshly baked croissants, pain au chocolat, and other traditional French pastries. Fresh breads served alongside an array of quality cheese and cold meats provide a delectable way to fuel up for a day of exploring Paris.
For those seeking lighter options, the buffet offers cereals, yogurts, and dried fruits to suit any preference. Tea aficionados are not left disappointed, as they can choose from a wide variety of flavors to accompany their meal.
Aside from the hotel's breakfast offerings, guests looking to explore Paris' vibrant dining scene will find an array of restaurants and cafes within walking distance. From small, intimate bistros to trendy eateries, visitors can enjoy the finest Parisian cuisines while immersing themselves in the city's rich culture.
In summary, the dining experience at Le Petit Beaumarchais Hotel & Spa showcases the essence of French gastronomy, providing guests with a memorable and delicious start to their day in the City of Love.
Spa and Wellness
At Le Petit Beaumarchais Hotel & Spa, guests can indulge in a luxurious spa and wellness experience, designed to rejuvenate both body and soul. The spa offers a variety of massage treatments, administered by skilled and approved practitioners. Visitors can enjoy calm and tranquility as they surrender to a deeply relaxing massage session tailored to their needs.
The hotel's massage treatments incorporate various techniques, including Swedish, deep tissue, and hot stone massages. These therapies are designed to melt away tension, eliminate tightness, and restore balance to the body. Each massage is performed by a professional therapist who takes the time to understand the specific needs and preferences of the guest. This ensures a personalized, high-quality massage experience.
The serene spa environment is beautifully designed to evoke a sense of relaxation and well-being. Soft lighting, soothing scents, and calming music contribute to the peaceful ambiance, allowing guests to unwind during their treatment fully.
In addition to massage treatments, Le Petit Beaumarchais Hotel & Spa offers other wellness services to complement the guest's experience in addition to massage treatments. Depending on the guest's preferences and wellness objectives, these may include traditional or more specialized treatments.
Le Petit Beaumarchais Hotel & Spa provides a comprehensive, expertly curated spa and wellness experience, catering to the discerning traveler seeking relaxation and rejuvenation amidst the bustling streets of Paris.
Nearby Attractions and Experiences
Le Petit Beaumarchais Hotel & Spa, a charming small hotel in the heart of historic Paris, offers more than just a comfortable place to stay. Its prime location provides guests easy access to some of the city's most iconic sites and experiences.
Just a few steps from the hotel lies Le Marais, one of the trendiest and most sought-after neighborhoods in Paris. This district is renowned for its picturesque cobblestone streets and stunning architecture, making it the perfect place for an afternoon stroll. Le Marais also offers a vibrant array of art galleries, boutiques, and authentic French cafes.
Guests will find themselves at the majestic Place des Vosges a short walk from Le Petit Beaumarchais. This historic square, known for its harmonious red brick facades and lush central garden, is an excellent spot for people-watching or enjoying an impromptu picnic.
In addition to being within walking distance of these local gems, Le Petit Beaumarchais is also conveniently situated near major attractions such as the world-famous Louvre Museum. Art lovers will undoubtedly appreciate the opportunity to explore the museum's vast collection, which features masterpieces such as the Mona Lisa.
For a taste of Parisian grandeur, venture to the nearby Palais Garnier – Opéra National de Paris. This opulent opera house, adorned with gold and intricate sculptures, is truly a sight to behold. Attend a performance, or simply take a guided tour to learn more about the building's rich history.
The overall experience of staying at Le Petit Beaumarchais Hotel & Spa is elevated by its proximity to these remarkable attractions. Visitors can effortlessly immerse themselves in the captivating beauty and culture of Paris, creating memories that will last a lifetime.
See Related: Hôtel Chopin
Local Dining Recommendations
Le Petit Beaumarchais Hotel & Spa is surrounded by diverse dining options that cater to various tastes, making it an excellent location for food lovers. From authentic French cuisine to international delights, guests will find an array of excellent choices close to the hotel.
Just a short walk away from the hotel, L'Arpège sets the bar high for fine dining in Paris, known for its remarkable flavors, innovative techniques, and an emphasis on fresh, seasonal ingredients. This Michelin-starred restaurant offers a memorable gastronomic experience that will surely delight refined palates.
If fusion cuisine piques your interest, then Ze Kitchen Galerie is definitely worth a visit. This restaurant combines French and Asian flavors in a contemporary and casual setting. The innovative menu and artful presentations attract food enthusiasts and art lovers alike.
Craving for Asian dumplings? Raviolis Chinois Nord Est is a must-try for those looking forward to indulging in tasty Chinese dumplings. Well-known for its consistency in quality, this eatery offers a variety of meat and vegetable dumplings to satisfy your appetite.
Remember to explore the array of dining experiences during your stay at Le Petit Beaumarchais Hotel & Spa. The hotel's prime location allows guests to discover and enjoy a remarkable range of culinary delights, catering to both local and international taste buds.
Bar and Cocktails
Le Petit Beaumarchais Hotel & Spa boasts a notable Bar A Cocktail Le Petit Beaumarchais. The bar's impeccable selection of carefully crafted cocktails has received several rave reviews on Tripadvisor. The atmosphere of the bar is cozy and inviting, perfect for a relaxing evening with friends or a pre-dinner drink.
The menu features an array of classic cocktails as well as a lineup of creative house cocktails. Expert mixologists ensure that each drink is thoughtfully prepared with the finest ingredients. The house cocktails, in particular, showcase innovative flavor pairings and artistic presentations, making each drink not only delicious but visually appealing.
Guests at Le Petit Beaumarchais Hotel & Spa can look forward to professional, friendly service from knowledgeable staff members well-versed in the art of mixology. The bar staff is always ready to assist with personalized recommendations or share fascinating stories regarding cocktail history and technique.
Located near the bustling Place de la Bastille, Bar A Cocktail Le Petit Beaumarchais is easily accessible for hotel guests, as well as visitors seeking a memorable cocktail experience. With its enticing menu, attentive service, and lively atmosphere, the bar offers a delightful experience for all who visit.
Frequently Asked Questions
What are the top amenities offered at Le Petit Beaumarchais Hotel & Spa?
Le Petit Beaumarchais Hotel & Spa offers a variety of amenities for a comfortable stay. These include a pool, spa, free WiFi, air conditioning, breakfast availability, and a bar.
Which room features can guests expect at Le Petit Beaumarchais Hotel & Spa?
Guests staying at Le Petit Beaumarchais Hotel & Spa can expect clean and comfortable rooms with a distinct Parisian feel. Some features include air conditioning, flat screen TVs, and private bathrooms. However, some rooms may show signs of wear and tear.
What is the price range for a stay at Le Petit Beaumarchais Hotel & Spa?
The price range at Le Petit Beaumarchais Hotel & Spa varies depending on factors such as season, availability, and room type. To get the best available rate, it is advised to check their official website or third-party booking sites. Keep in mind that special offers, such as the breakfast-included package or winter break offer, may also be available.
What type of neighborhood surrounds the hotel?
Le Petit Beaumarchais Hotel & Spa is located in the Marais district, known for its charming streets, open-air markets, and impressive cocktail bars. The hotel is set on a peaceful street, making it an ideal base for exploring the city.
How do guests rate their overall experience?
According to reviews, guests rate their overall experience at Le Petit Beaumarchais Hotel & Spa as wonderful, with an average rating of 9.0/10 on Expedia. The hotel's location, cleanliness, service, and value are highly praised.
Are there any notable attractions near Le Petit Beaumarchais Hotel & Spa?
Le Petit Beaumarchais Hotel & Spa is in close proximity to several popular attractions in Paris. The Place de la Bastille is just a 2-minute walk from the hotel, while the Centre Pompidou is only a 17-minute walk away.