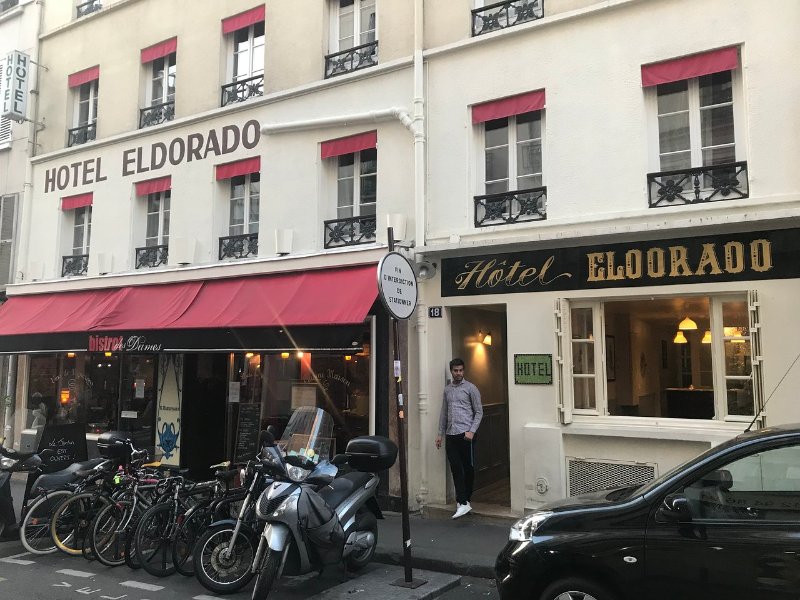 This hotel is located in a quiet little street a few minutes away from Place Clichy. The owner since 1995, Pascal Chardin, and his efficient manager, Anne Gratacos, are also taking care of the restaurant and wine bar on the ground floor, Le Bistrot des Dames, a very popular place, with fresh food and great dishes.
The hotel has 46 bedrooms, 4 floors and no elevator. 8 of those rooms are in an other building dominating the garden. They are all different, decorated by the owner in an kind of ethnic style, warm and colorful.
It can be a bit noisy in the evening on the first and second floor because of the busy restaurant, but it would be a shame not to experience it. You'll go back! Ask for the bedroom with a terrace, but if you plan to stay more than a night and want a specific room, you should make a reservation quite a few weeks in advance!
There is also a cosy lounge room for the hotel customers, where you can relax, read, and even play pool. Prices: Single room from 35 to 60 euros. Double room from 70 to 80 euros. Triple room from 80 to 90 euros. Continental breakfast: 8 euros in the commonroom. Pets not accepted.
Related Resources: