Finding a place to stay while in Paris? You can never go wrong with Hôtel Regyn's Montmartre. You might have heard of it from your friends who stayed there, or you might have found it while searching the web, and you're wondering if you should choose Hôtel Regyn's Paris on your next trip. We'll help you with this Hôtel Regyn's Montmartre review!
It is not difficult to find a hotel that meets your needs and is both convenient and charming in Paris. To guests like yourselves, Hotel Regyn's Montmartre is pleased to extend a warm welcome.
This hotel has a pleasant location, looking over the Place des Abbesses, facing a church on Montmartre hill. It's close to the Sacré Coeur Basilica, the Moulin Rouge cabaret, and in the middle of a "Bobo" village atmosphere, with a lot of fresh food, "cafés" and clothes shops! 22 rooms, five floors, the elevator stops at the fourth floor.
Entirely renewed with "Toile de Jouy" material on the walls. On the ground floor (reception and breakfast room), wall paintings with Parisian sceneries. All the windows on the street side are double-glazed. A beautiful view over Paris from the fourth and fifth floors.
Prices: "Standart," 1 pers. 79 euros; 2 pers. 91 euros. "Confort," 1 pers. 89 euros; 2 pers. 101 euros. "Privilège," 1 pers. 99 euros; 2 pers. 120 euros. Breakfast in the bedroom is 9 euros; in the breakfast room, 8 euros. Keep your eyes open; sometimes, they've got special offers on their website.
Hotel Regyn's Montmartre, Paris
In the heart of Montmartre, Hotel Regyn provides guests with easy access to all that Paris has to offer. On Montmartre's Place des Abbesses, within close walking distance from the Basilica of Saint-Jean, you'll find the Regyn's Hotel. Aside from its great location, the rooms at the Regyns Montmartre are furnished with flat-screen TVs, and visitors can stay in touch with the outside world with the hotel's free WiFi.
In the morning, guests of the Regyn's Montmartre can choose between a buffet breakfast in the hotel's dining room or in the luxury of their own room. If you're hungry, there are a number of great Italian restaurants in the area, including Pink Mamma, Pizzeria Popolare, and César Restaurant, all of which are highly regarded by both natives and visitors. In order to better serve the guests, they have implemented a quick check-out process.
The Regyn's Montmartre is conveniently located near the Sacre-Coeur Basilica and the charming streets that make up Montmartre. You can reach the heart of Paris quickly from the hotel, as the Abbesses Metro station is only 30 meters away. Regyn's Montmartre is ideally located for tourists because of its proximity to the Louvre Museum and the Champs-Elysees.
Services such as a concierge, room service, and a 24-hour front desk are available at all times at this hotel. Travelers to Paris like the hotel's convenient location and the included breakfast buffet. Visitors who bring their own cars can park in a neighboring lot for a fee.
Property Amenities
When we search for hotels, we want to know the comforts they offer. You don't need to sweat looking anymore. Here are the property amenities of Hotel Regyn's Montmartre, Paris.
You will stay connected in Hotel Regyn's Montmartre with free WiFi in all rooms and in some of its public areas. There is no onsite parking available, but public parking is possible at a nearby location where a reservation is not needed and costs € 35 per day.
You won't need to worry about food while you stay in Hotel Regyn's Montmartre. Hotel breakfast is available daily for EUR 10 for adults and EUR 10 for children. Room service is also available.
Noise is not a problem as Hotel Regyn's Montmartre has family-friendly, soundproof rooms. All children are warmly welcomed, too. In this establishment, children aged 4 and up are treated as adults. Not only that, but they also give guests elevator access and access to the front-desk safe.
Hotel Regyn's Montmartre has good guest reviews for its services. The hotel has a 24-hour front desk, daily housekeeping, luggage storage, multilingual staff, and tour/ticket assistance services. They have express check-in aside from the express check-out system! You can rest assured that there will always be somebody to help you anytime during your stay! Your room will be cleaned every day, with safety measures in place. You can talk to staff who speaks your native language, and you can get assistance if you want to go outside on trips!
To top it all, Hotel Regyn's Montmartre, Paris, is a smoke-free area. You won't smell any trace of cigarette smoke here!
See Related: Best Budget Hotels in Paris
Room Amenities
Bedroom and Entertainment
You will be entertained as each guest room has an LCD TV with satellite channels. The bedrooms have really comfy beds, too! Hotel Regyn's Montmartre offers guests premium bedding with Egyptian cotton sheets and pillow-top mattresses.
Bathroom
Start your day fresh and refresh after a trip using your room's bathroom. Hotel Regyn's Montmartre has bathrooms that offer either a bathtub or shower. You can also dry your hair inside each private bathroom with a hair dryer they provide.
More Amenities
There's more! Connecting rooms are available so you can stay close to your family or friends while staying in different rooms. Hotel Regyn's Montmartre also has a desk in each room. Not only that, you can request an iron and ironing board if you need them.
The rooms are comfortable, whatever the weather and temperature. They have heating and fans for guests to use.
You would also be assured of the safety of your possessions in Hotel Regyn's Montmartre. Each room has an in-room safe where you can keep your laptop and other valuables.
Available Rooms in Hotel Regyn's Montmartre
There are four types of rooms in Hotel Regyn's Montmartre. Each differs in features and price. Here are the details to help you choose the most suitable room for you.
Standard Single Rooms
Every room has a TV and is equipped with soundproofing. In addition to the comforts of home, they have a private bathroom. You will also find a toilet, a bathtub or shower, a hair dryer, toilet paper, shampoo, and body soap there.
Room amenities may include a single bed, a dresser, an alarm clock, a wardrobe or closet, hand sanitizer, a safety deposit box, electric blankets, heating, a fan, a laptop safe, a desk, flat-screen TV with satellite channels, telephone, an adapter, and a socket near the bed. They also have children's high chairs in their kitchen.
It's also possible to book adjoining rooms. The hotel has a wake-up call service, which you can use. Remember that this is a smoke-free place! There is a hand sanitizer, smoke detector, and fire extinguisher for safety measures.
Comfort Room
Every room is outfitted with a TV and features soundproofing technology. They have all the conveniences of home, even a bathroom, all to themselves. A bathroom with a toilet, a shower (or a bathtub), a hair dryer, toilet paper, shampoo, and body soap will also be provided.
In addition to the standard fare of a bed, a dresser, alarm clock, wardrobe or closet, hand sanitizer, safety deposit box, heater, fan, laptop safe, desk, flat-screen TV with satellite channels, telephone, adaptor, and outlet near the bed may be provided. Aside from the children's high chair, you can also enjoy a dining table in one of these rooms. Take note that this type of room has a double bed or two single beds.
Conjoining rooms can be reserved if needed. A wake-up call service is available at the hotel. Keep in mind that this is a no-smoking zone. Safeguards include a fire extinguisher, smoke detector, and hand sanitizer.
See Related: Best Hotels in Paris with Pools
Classic Double Room
A television and advanced soundproofing equipment are included in each room. They have all the comforts of home, including their own private bathroom. It will also have a bathroom with a toilet, a shower (or a bathtub), a hair dryer, toilet paper, shampoo, and body soap.
Along with the basics like a double bed, you might also find a dresser, alarm clock, wardrobe or closet, hand sanitizer, safety deposit box, heater, fan, laptop safe, desk, flat-screen TV with satellite channels, telephone, adapter, and outlet close by. A dining table and a high chair for the kids are both available in these spaces.
If you need more space, you can book two adjoining rooms. The hotel provides an alarm call service for its guests. Please be aware that smoking is prohibited here. Fire extinguishers, smoke detectors, and hand sanitizers are some of the safety equipment available.
Deluxe Double or Twin, View of Eiffel Tower or Sacré Coeur
Rooms are available in either double or twin beds, with a view of the Eiffel Tower.
These rooms either look out over Montmartre and the Sacré Coeur or out over the rooftops of Paris and towards the Eiffel Tower. Guests can also take advantage of the in-room desk, wardrobe, telephone, and flat-screen satellite TV.
The carpets in the rooms are really comfortable. In addition to the basic hotel amenities (alarm clock, fan, heating, safety deposit box, laptop safe, wardrobe/closet, electric blankets, dining table, high child chair, and trash cans), they also provide a few luxuries.
Private bathrooms in each room include a bathtub or shower, hair dryer, a toilet, toilet paper, shampoo, and body soap.
The view of the city from these suites is spectacular. Near the bed, you'll find a power outlet, an adapter, a smoke alarm, a fire extinguisher, and some hand sanitizer.
Among the provided services is a wake-up call service. There is also the option of connecting rooms.
Where to go Near Hotel Regyn's Montmartre
Hotel Regyn's Montmartre is centrally located in the heart of Paris. Its great location makes it an ideal place to stay if you intend to explore Paris as much as possible. Here are places you can go near Hotel Regyn's Montmartre.
Basilique du Sacre-Coeur de Montmartre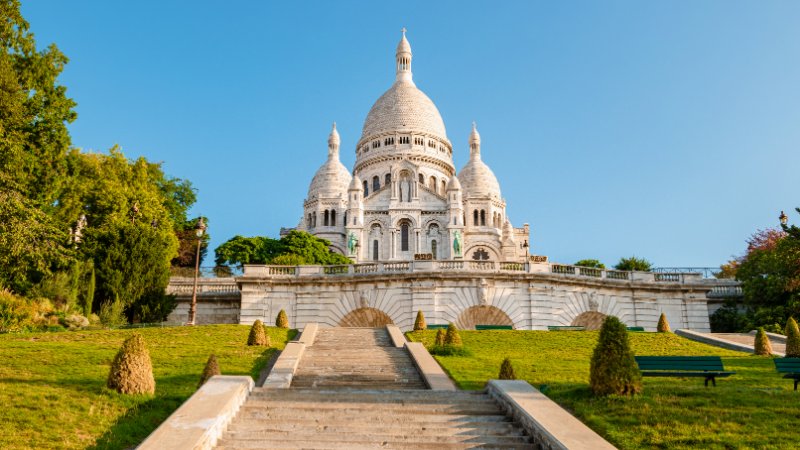 The Sacré-Coeur, one of Paris's most recognizable landmarks, is within a short walk from Hotel Regyn's Montmartre. Located above ground on the top of the Butte Montmartre, it offers one of the best sweeping views in the city.
The white exterior of the Sacré Coeur immediately gives it away as a Roman-Byzantine structure. The interior of the building features the largest mosaic in France, measuring over 480 m2, which covers the ceiling. It would be wise to check out the crypt while you're there. Even more impressive is the view from the dome, which encompasses 360 degrees and offers a breathtaking panorama of the city of Paris.
It's only a short stroll from the Sacré Coeur to the Place du Tertre, the quarter of Abbesses with its narrow, steep streets, and the famous Moulin Rouge cabaret at the foot of the hill.
See Related: Best Free Walking Tours in Paris, France
Place des Abbesses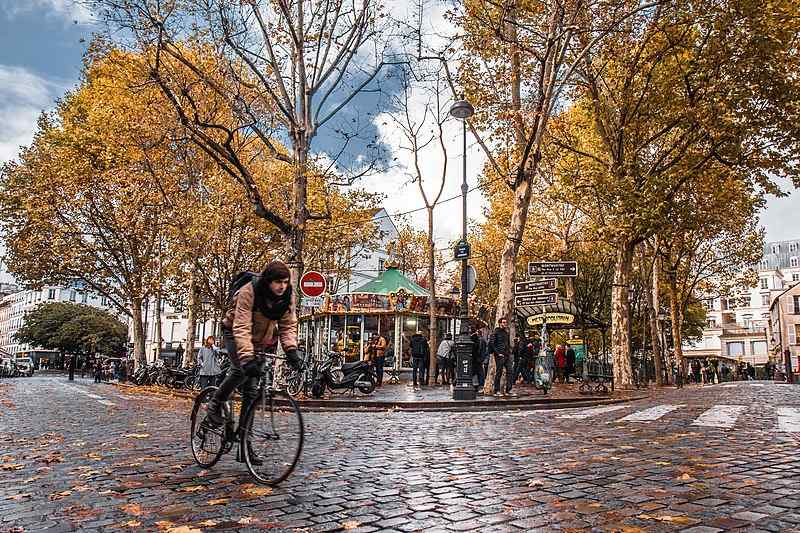 The Montmartre neighborhood of Paris features the original art nouveau Metro entrance at the Place des Abbesses, as well as the revolutionary style Paroisse Saint Jean church and the nearby Square Jehan-Rictus with the I Love You wall.
The Place des Abbesses is a classic square with a traditional atmosphere; it is now, however, a popular place to buy, with some ancient shops and chic boutiques nearby, as well as various restaurants for the essential experience of dining out in Paris. You might perhaps relax with a cup of coffee at one of the many cafes that surround this central Parisian area.
Montmartre is a popular destination, but this Parisian square is far less crowded than the surrounding Place du Tertre, and there is more to explore at the Place des Abbesses.
Louvre Museum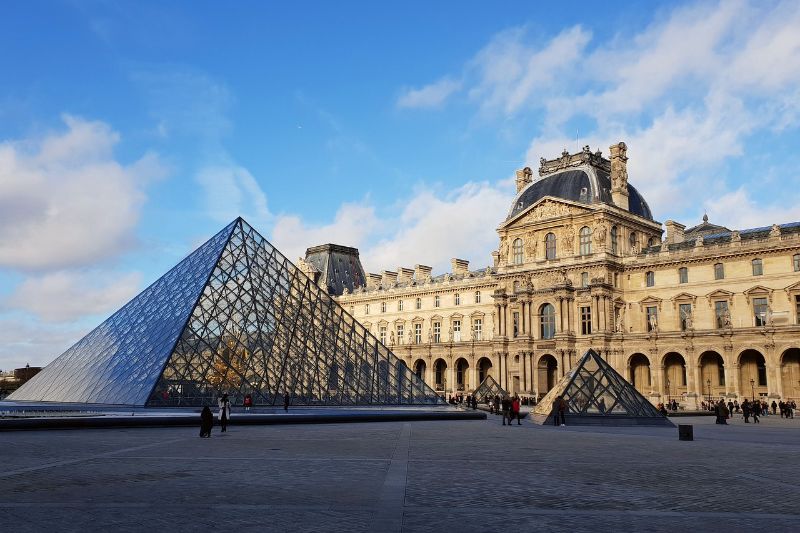 People often say that a trip to Paris isn't complete unless the Louvre is seen. It's true that the Louvre's opulence makes it difficult to ignore. The Louvre is the world's largest art museum and a world-famous landmark on the right bank of the River Seine.
The Louvre Museum is home not only to the world's most famous artworks, like Leonardo da Vinci's Mona Lisa but also to the rich history of France itself. This museum, housed in a building dating back centuries, is visited by millions of people from all over the world every year.
Champs-Elysees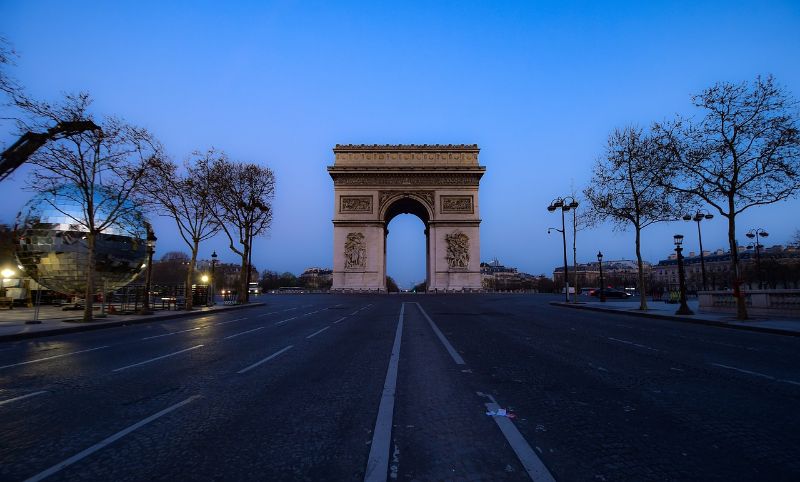 The Avenue des Champs-Élysées is a famous street in Paris, and many people consider it to be the most beautiful avenue in the world. The road is as much an icon of Paris as the Eiffel Tower. There are numerous restaurants, high-end retail businesses, and popular chain stores lining the street.
The Grand Palais, the Petit Palais, the Palais de la Découverte, and the Espace Culturel Louis Vuitton are just a few of the excellent museums that can be found on the Avenue des Champs-Elysées. Complete your trip to Paris by making the ascent to the top of the Arc de Triomphe.
Musee d'Orsay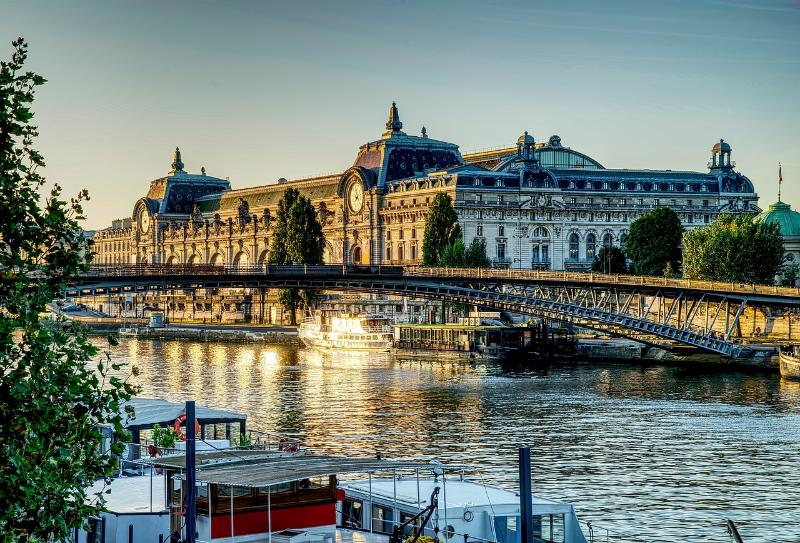 The Musée d'Orsay, most known for its extensive collection of Impressionist works, also features exhibitions of all Western art produced between 1848 and 1914. Its holdings span the gamut of artistic expression, from paintings and sculptures to photographs and architectural models. The train station, which was built to resemble a palace and opened for the 1900 World's Fair, is guaranteed to impress visitors with its stunning architecture.
Sainte-Chapelle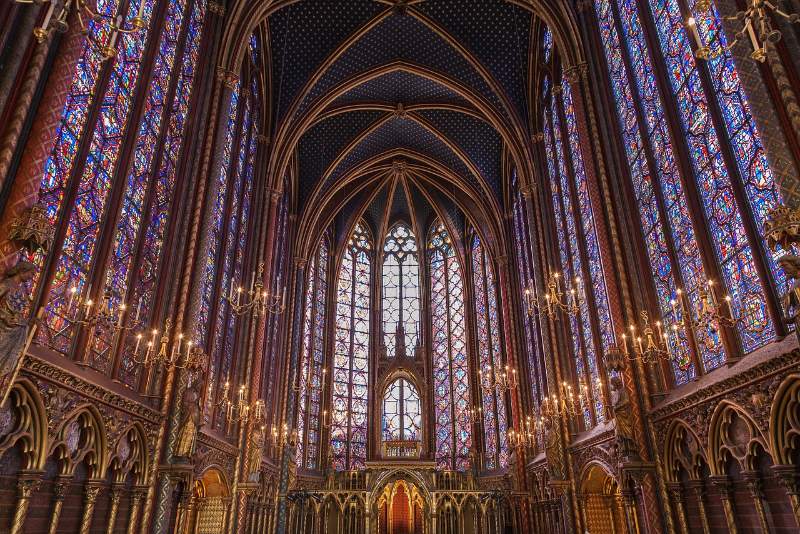 The royal chapel Sainte-Chapelle at Paris's Palais de la Cite is widely regarded as the pinnacle of French Gothic architecture. Sainte-Chapelle has the most impressive collection of stained glass windows of any French royal chapel. Louis IX commissioned its construction in the middle of the 13th century to store the relics of the Passion of Christ in the royal home, the Palais de la Cité. Sainte-Chapelle is the crown jewel of Rayonnant Gothic design, with its fifteen glass panels and rose window creating an incredible wall of light.
Arc de Triomphe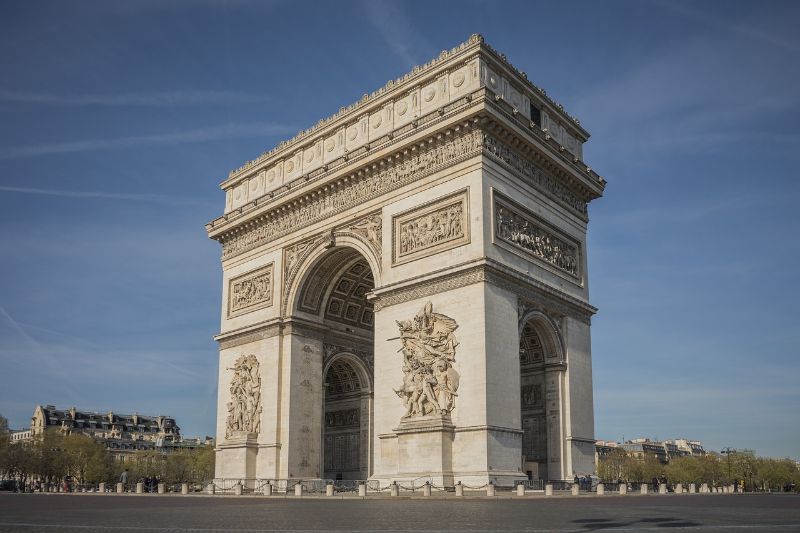 Arc de Triomphe is widely considered the most impressive triumphal arch ever constructed. The initial aim for the Arch was to be a strong, unified symbol for France, and despite many alterations from the original design, the Arch still preserves this core.
As the focal point of Place Charles de Gaulle, the Arc de Triomphe is a must-see for any visitor to Paris. It can be found toward the end of the Champs-Élysées to the west. The overall ornamental style of the arches is rooted in sculpture from the early nineteenth century.
This arch of victory was built to commemorate the French military. All of the names of the generals and the battles they fought are engraved inside and on top of the arch. The Arc de Triomphe in Paris is a treasured patriotic landmark because of the inscriptions in the earth underneath the vault of the arch, which include the Tomb of the Unknown Soldier from World War I, where the Memorial Flame burns.
The monument serves as the focal point of L'Axe historique, a string of landmarks and major thoroughfares that begins in the Louvre's courtyard and continues to the city's boundaries.
Jardin du Luxembourg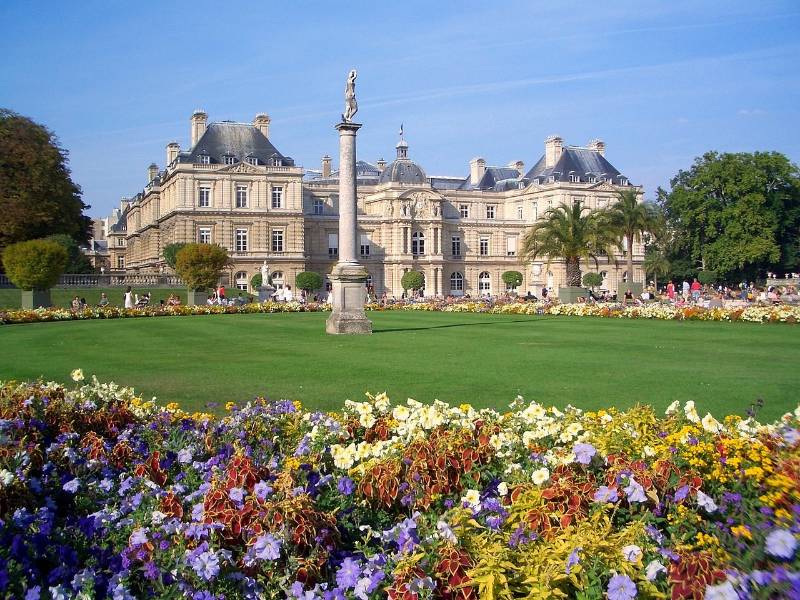 The Luxembourg Gardens sit between Saint-Germain-des-Prés and the Latin Quarter. All told, the gardens include both French and English styles.
There is a vast pond and a geometric forest in between them. There's also an apiary where you can learn about keeping bees, a greenhouse containing a stunning collection of orchids and a rose garden, and an orchard full of apples that have long since been forgotten.
The park's landmark Medici fountain, the Orangerie, and the Pavillon Davioud are just a few of the 106 statues dotted about the landscape. Puppet shows, rides, and slides are just a few of the kid-friendly amenities available.
Eiffel Tower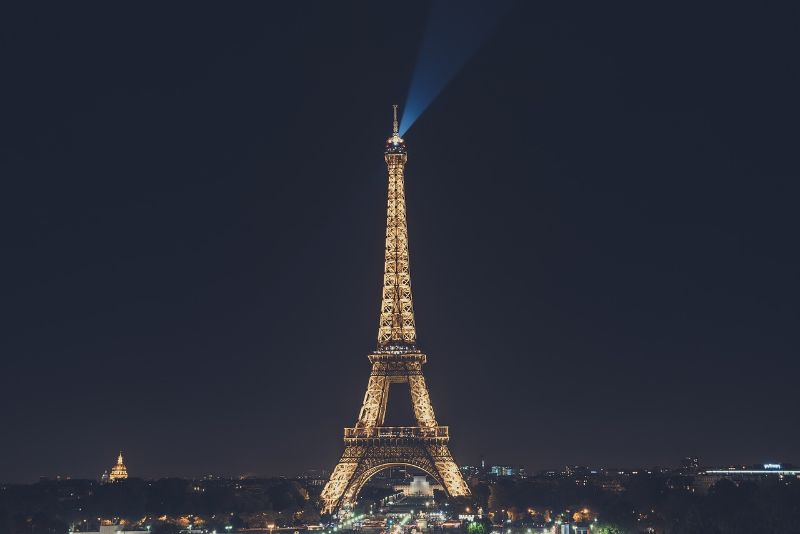 Whether you've been to Paris or have only seen it in pictures, you've probably heard of the Eiffel Tower, the city's most famous monument.
The Eiffel Tower, or La Tour Eiffel as it is known in French, was the most famous attraction during the 1889 World's Fair in Paris. It was built to celebrate the 100th anniversary of the French Revolution and to showcase France's technological superiority abroad.
Final Thoughts
Staying at Hotel Regyn's Montmartre is an overall good experience. Located in the city center, it is easily accessible to public transportation, shops, restaurants, landmarks, and tourist attractions. Hotel Regyn's Montmartre is managed by a professional host who will ensure you have a pleasant stay.
With breakfast offered, free WiFi, a good security system, comfortable rooms, and its location in central Paris, you couldn't ask for more! Book your stay with Hotel Regyn's Montmartre! It is definitely one of the best hotels in the center of Paris with reasonable prices!
Related Resources