Paris, the City of Lights, is known for its enchanting charm and rich history. However, there is an allure that lies outside the bustling city center – luxurious hotels and quaint getaways nestled in the French countryside. With their unique blend of French architecture and modern comforts, these hotels offer a serene escape from the city's hustle and bustle while still providing easy access to the best that France has to offer.
From old noble chateaus to idyllic bed and breakfasts, these hotels outside of Paris will undoubtedly captivate travelers seeking relaxation and tranquility away from the city's ubiquitous energy. Each hotel embodies its own charm and atmosphere, offering guests a distinctive experience they won't find in the city. Along with beautiful accommodations, visitors can also find art and history nearby, taking advantage of the opportunity to explore the French countryside and its plethora of picturesque towns.
Key Takeaways
Best hotels outside Paris offer a serene escape from the city's hustle and bustle
Unique accommodations range from historic chateaus to charming bed and breakfasts
Easy access to art, history, and picturesque towns in the French countryside.
Best Hotels Outside Paris
For travelers looking to explore beyond the boundaries of Paris, there are a variety of accommodations featuring charm and luxury without sacrificing convenience. Taking advantage of both car and train accessibility, these hotels offer a perfect opportunity to experience the allure of the French countryside.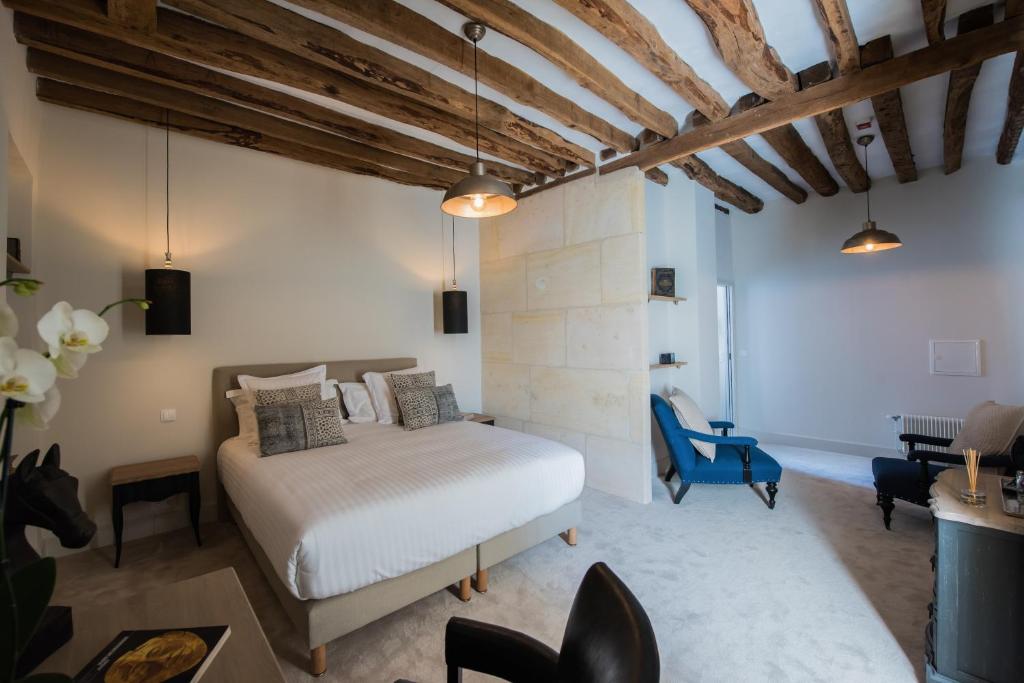 Hotel Le Chantilly, located in the picturesque town of Chantilly, offers a delightful escape from the bustling city of Paris. It's situated about 50 kilometers from the city center and is easily accessible by train or car.
This hotel outside Paris features elegantly decorated rooms that blend modern amenities with a classic touch. Guests will appreciate the comfortable beds, spacious bathrooms, and free Wi-Fi. Some rooms even boast views of the beautiful Chantilly Castle.
The surrounding area of Hotel Le Chantilly is rich in attractions, such as the famous Château de Chantilly and its mesmerizing gardens. Visitors can also explore the Musée Condé, which houses an impressive collection of paintings, alongside rare books and manuscripts. In addition, the Great Stables of Chantilly offer a unique equestrian experience, showcasing horse-themed exhibitions and live shows.
Gastronomy enthusiasts will be pleased to find a selection of fine restaurants in Chantilly, serving both local and international cuisine. Hotel Le Chantilly is particularly close to Auberge du Jeu and de la Paume, a renowned establishment offering sophisticated dining and an extensive wine list.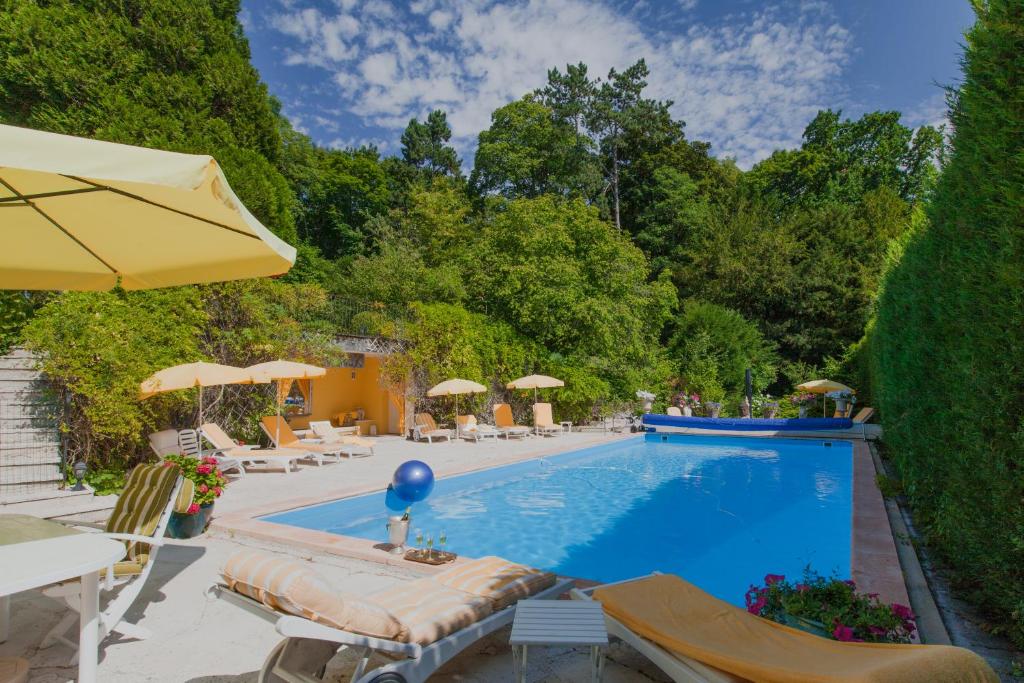 Manoir des Cavaliers, a highly-rated hotel outside of Paris, offers visitors an excellent lodging option with free parking and facilities. With a remarkable 9.5 out of 10 rating, this establishment ensures a comfortable and hassle-free stay for guests.
Located in Vineuil-Saint-Firmin, this charming bed and breakfast provides a peaceful setting for guests seeking respite from the bustling city. The beautifully restored building, dotted with elegant rooms, creates an inviting and cozy ambiance for a relaxing getaway.
One of the main advantages of staying at Manoir des Cavaliers is its close proximity to metro stations. This makes venturing into Paris and exploring its iconic landmarks an effortless experience, while still enjoying the tranquility of a suburban retreat.
In addition to free private parking, the hotel's convenient parking facility eliminates any worries about where to park your vehicle safely. Manoir des Cavaliers caters to guests who wish to have a seamless stay without compromising on accessibility or comfort. When visiting the outskirts of Paris, Manoir des Cavaliers guarantees a pleasant stay with the added convenience of private parking and easy access to public transportation.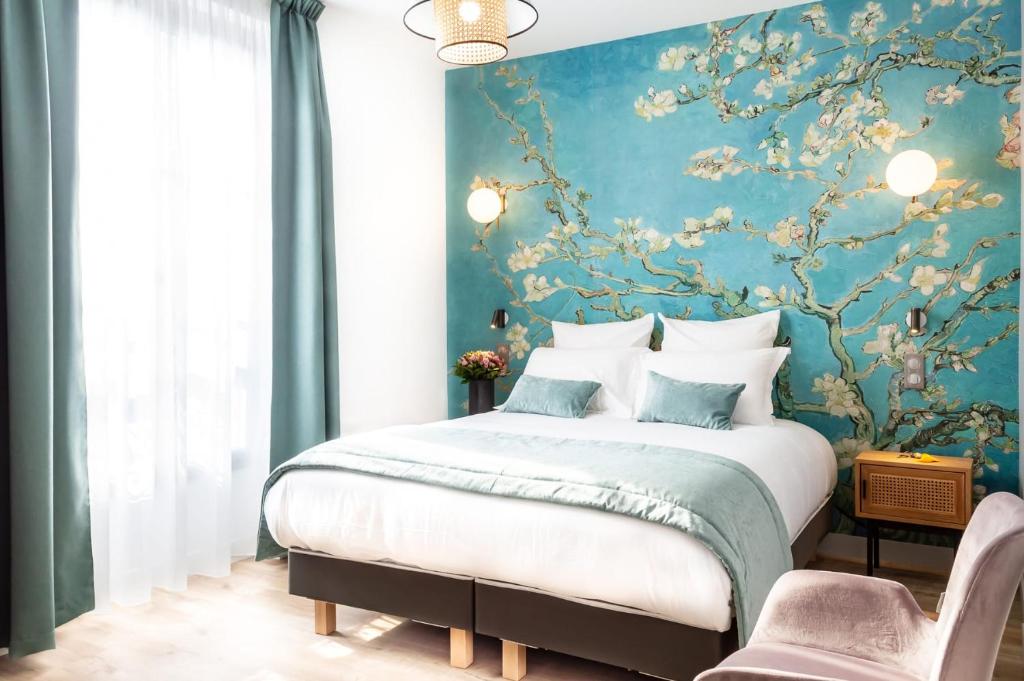 Hotel Des Iris is a charming and elegant accommodation option for those seeking a peaceful retreat outside of Paris. Located in the picturesque region of Auvers-sur-Oise, this hotel is an excellent choice for travelers who desire a serene environment while still enjoying proximity to the bustling city. The hotel is approximately 35 kilometers from Paris city center, which is less than an hour's drive.
The quiet village of Auvers-sur-Oise is famous for its rich history and beautiful landscapes that have inspired some of the most renowned impressionist painters, including Vincent Van Gogh. A stay at Hotel Des Iris allows guests to immerse themselves in this artistic atmosphere while enjoying the modern conveniences and exceptional service that the hotel offers.
Hotel Des Iris boasts elegantly designed rooms, each thoughtfully decorated to provide a cozy and comfortable experience. All rooms have essential amenities such as free Wi-Fi, a flat-screen TV, and a private bathroom. Some rooms even feature picturesque garden views, further enhancing the calming ambiance of the hotel.
Guests can also delight in the hotel's beautiful garden, a serene oasis that offers the perfect spot for relaxation and reflection. In the mornings, a delightful continental breakfast is served in the hotel's breakfast and dining room together, providing a tasty beginning to a day of exploration in the idyllic French countryside.
For those interested in exploring the surrounding area, Hotel Des Iris is within easy reach of various attractions, such as the famous Château d'Auvers and the Van Gogh House Museum. The nearby train station provides easy access to Paris for those wanting to enjoy the best of both worlds – the charm of rural France and the vibrant attractions of the City of Light.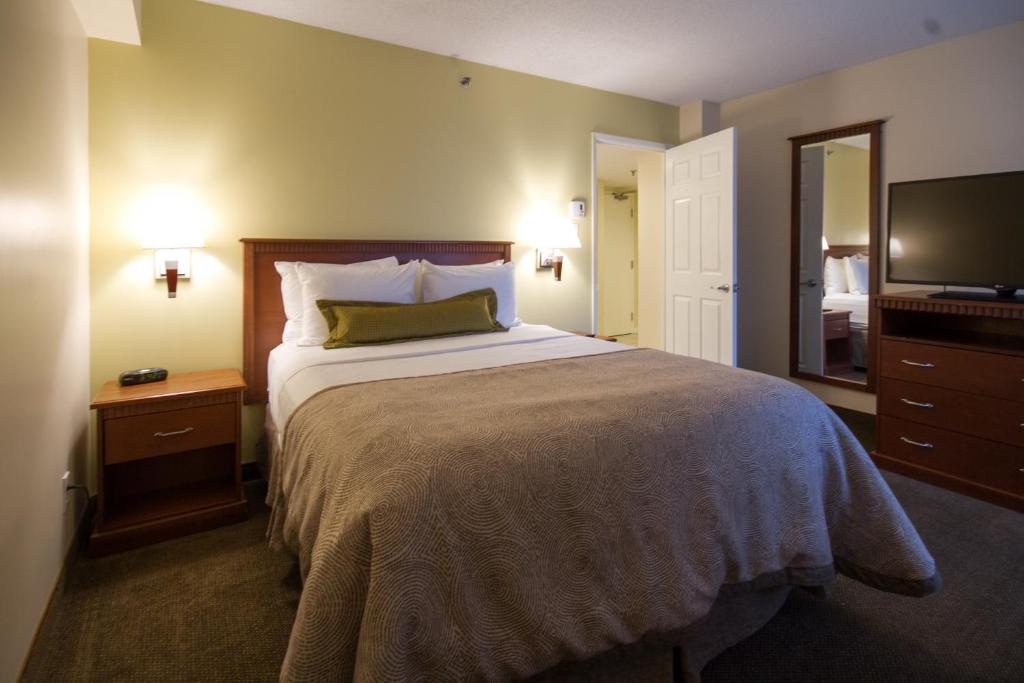 Located in Montfort l'Amaury, the Hotel Saint-Laurent is an ideal choice for travelers looking for a charming escape just 25 minutes from Versailles and outside of bustling Paris. This 3-star hotel nestles comfortably amidst lush greenery, offering modern amenities to guests.
The hotel features 15 well-appointed rooms with contemporary facilities for a comfortable stay. Each room is designed tastefully, considering the specific needs of discerning travelers. Additionally, Hotel Saint-Laurent is situated in a beautiful town that offers an authentic French experience with historical architecture and quaint cobblestone streets.
For those who wish to explore the surrounding areas, the hotel serves as an excellent base. Montfort l'Amaury has relaxing parks, local shops, and restaurants offering delightful French cuisine. The vast gardens and impressive castle of Rambouillet are reachable within a short drive, whereas the grandeur of Versailles is just 25 minutes away.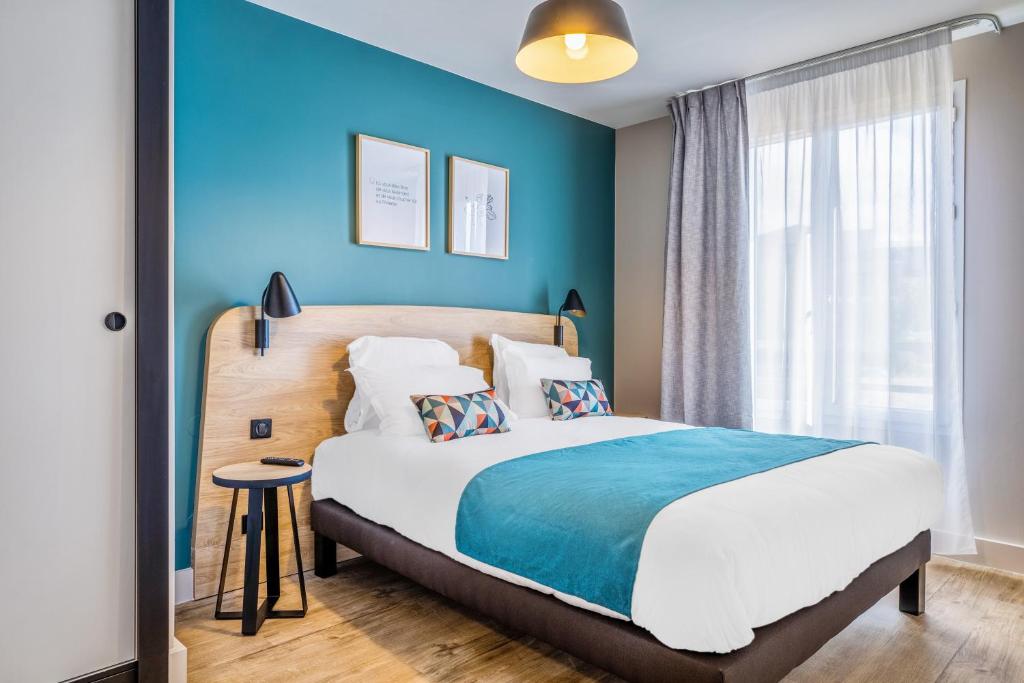 Appart'City Confort St Quentin en Yvelines in Bois-d'Arcy is a fantastic choice for those seeking a comfortable and convenient stay outside of Paris. Located in Yvelines, around 50 kilometers from the city center, this accommodation offers modern amenities and a relaxing atmosphere.
Guests can appreciate the spacious and well-designed apartments equipped with kitchens, making it an excellent option for both short and long stays. The 95 smoke-free apartments have available housekeeping, ensuring a clean and pleasant environment during the visit. In addition to that, the hotel offers free Wi-Fi and air conditioning in all rooms, catering to the needs of today's travelers.
Travelers can also enjoy the various facilities available at this property. There is a 24-hour fitness center for those who wish to stay active during their stay, as well as a sauna for relaxation after a busy day.
Additionally, the hotel is pet-friendly, making it a suitable choice for furry family members as well. Guests arriving by car will appreciate the availability of on-site parking.
At the Appart'City Confort St Quentin en Yvelines, guests can explore the nearby attractions and beautiful surroundings of Bois-d'Arcy and Yvelines. The hotel's great location offers easy access to popular spots such as Versailles, Monet's Gardens, and other picturesque areas in the Ile-de-France region.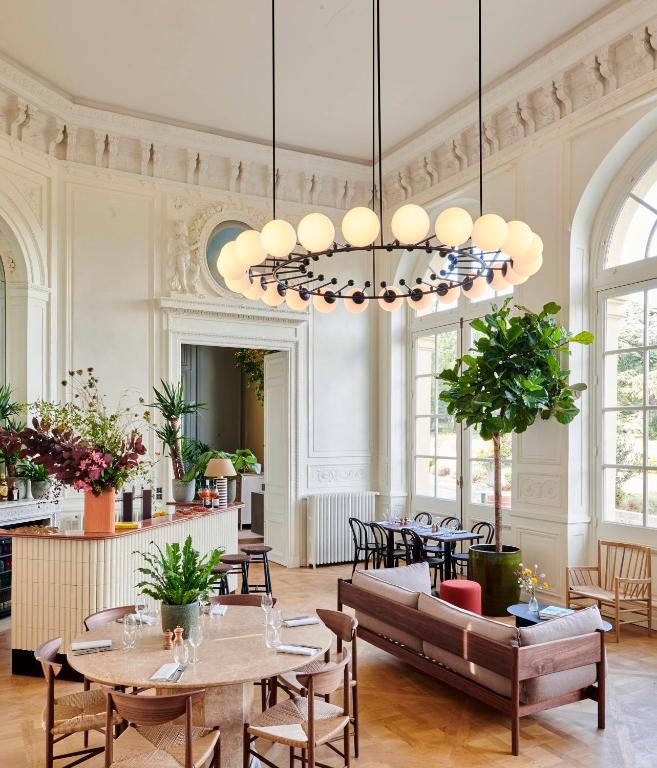 Nestled in the heart of the forest of Saint-Germain-en-Laye, Maison Du Val is a 4-star hotel that offers a serene and luxurious retreat just 40-minutes away from Paris. This charming hotel boasts 49 rooms with dreamy hues, providing a tranquil escape from the bustling city life.
The Maison Du Val is spread across a lavish 4-hectare property, surrounded by lush greenery and offering a truly relaxing atmosphere for its guests. Each room is tastefully decorated with a classic touch, featuring wooden furnishings and flat-screen TVs. Visitors can enjoy captivating views of the picturesque park or the enchanting forest from their room.
One of the key highlights of this hotel experience is the Nordic-inspired wellness area, where guests can indulge in hot and cold baths, aimed at providing the ultimate relaxation experience. Furthermore, Maison Du Val also offers several other facilities that add value to the guests' stay, such as a cinema room, billards, tea and coffee facilities and a magnificent library.
For food enthusiasts, the hotel features an onsite restaurant with a vibrant and elaborate decor that enhances the dining experience. Located in close proximity to the Saint-Germain-en-Laye Golf Club, golfers can easily access this prestigious course for a leisurely round while staying at the Maison Du Val. So, for those seeking a peaceful retreat just on the outskirts of Paris, the Maison Du Val – Les Maisons de Campagne is a delightful choice that blends the tranquility of nature and the luxury of modern amenities.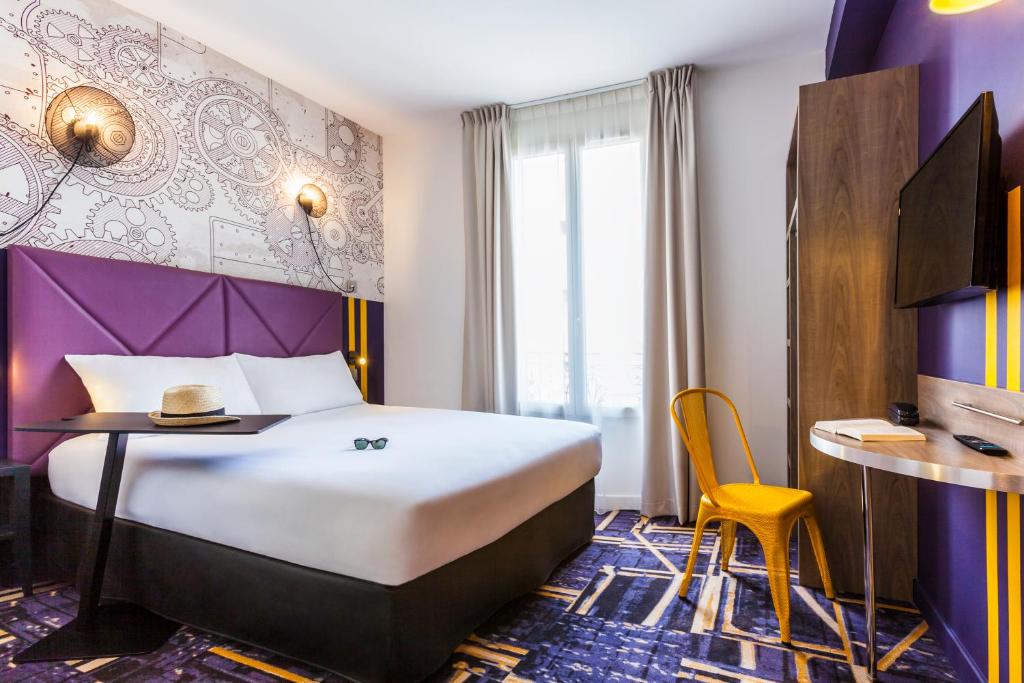 The Ibis Styles Paris Mairie De Clichy is a design economy hotel situated in Clichy, just 3 km away from the center of Paris. The hotel's prime location is next to the Mairie de Clichy Metro Station, making it convenient for guests to explore the city and its attractions.
The establishment offers its guests a comfortable and enjoyable stay with a variety of modern amenities. All rates at the hotel include breakfast and unlimited Wi-Fi access, ensuring that visitors have free access and a seamless experience.
The guest rooms at the Ibis Styles Paris Mairie De Clichy are designed with a contemporary touch and feature satellite TV and free Wi-Fi access. The hotel's staff is known to be attentive and helpful, adding to the overall satisfaction of its guests.
For those planning business trips, the hotel offers a convenient setting to accommodate professional needs. Additionally, the Ibis Styles Paris Mairie De Clichy provides an excellent base for travelers interested in experiencing the local culture and exploring Paris at their own pace.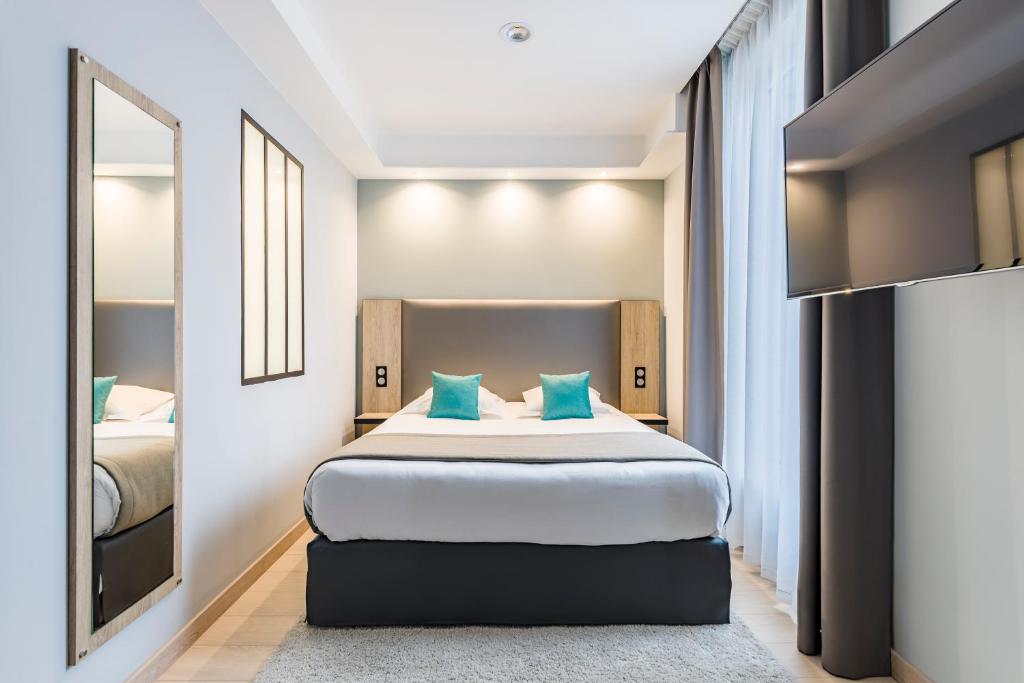 The Grand Hotel Clichy Paris is an excellent choice for travelers seeking a comfortable stay outside of Paris. Located in Clichy, the hotel offers a family-friendly environment with numerous amenities designed to help guests enjoy their stay.
The hotel has received positive reviews from guests, boasting a 4.5 out of 5 rating for cleanliness and service. With a great location at 36 Boulevard Jean Jaures, it is situated near the Mairie de Clichy Metro Station, making it convenient for guests to access the heart of Paris.
At the Grand Hotel Clichy Paris, guests can expect well-appointed rooms that cater to their needs. The attentive staff can communicate in multiple languages, including English, which adds to the overall comfort for international travelers.
Some of the amenities offered by the luxury hotel here include:
Free WiFi
Buffet breakfast included
Terrace and bar
While staying at the Grand Hotel Clichy Paris, guests can explore the surrounding area that has numerous attractions, such as restaurants, shops, and charming neighborhoods.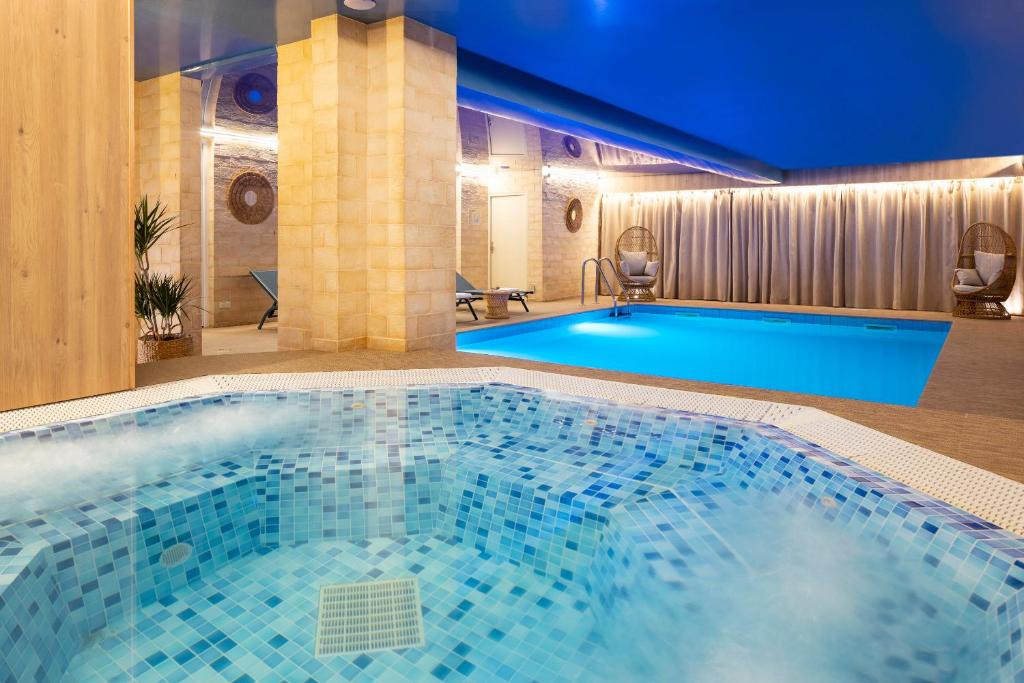 Located in Clichy, a suburb of Paris, Hotel Residence Europe & Spa offers a tranquil and luxurious experience for visitors who prefer staying outside the bustling city center. The hotel is situated near the Mairie de Clichy Metro Station, which ensures easy access to the heart of Paris.
The hotel provides a variety of amenities that cater to the needs of the guests. The heated indoor and outdoor swimming pool and hot tub offer relaxation, while the fitness center and sauna are perfect for those looking to maintain their exercise routine during their stay. With 82 rooms and 12 apartments, there are plenty of options to suit different preferences and budgets.
Guests rave about the warm, welcoming staff who provide excellent service to ensure a comfortable visit. Hotel Residence Europe & Spa is surrounded by numerous cafes, restaurants, pharmacies, and small grocery stores making it easy to access whatever services or goods the hotel restaurant their guests may require.
The elegant and contemporary design of the hotel creates an inviting atmosphere. The rooms are spacious and well-equipped; some even offer the added luxury of pool and gym access. Additionally, the hotel is close to the new Cité Judiciaire, which makes it an ideal choice for business travelers in that area.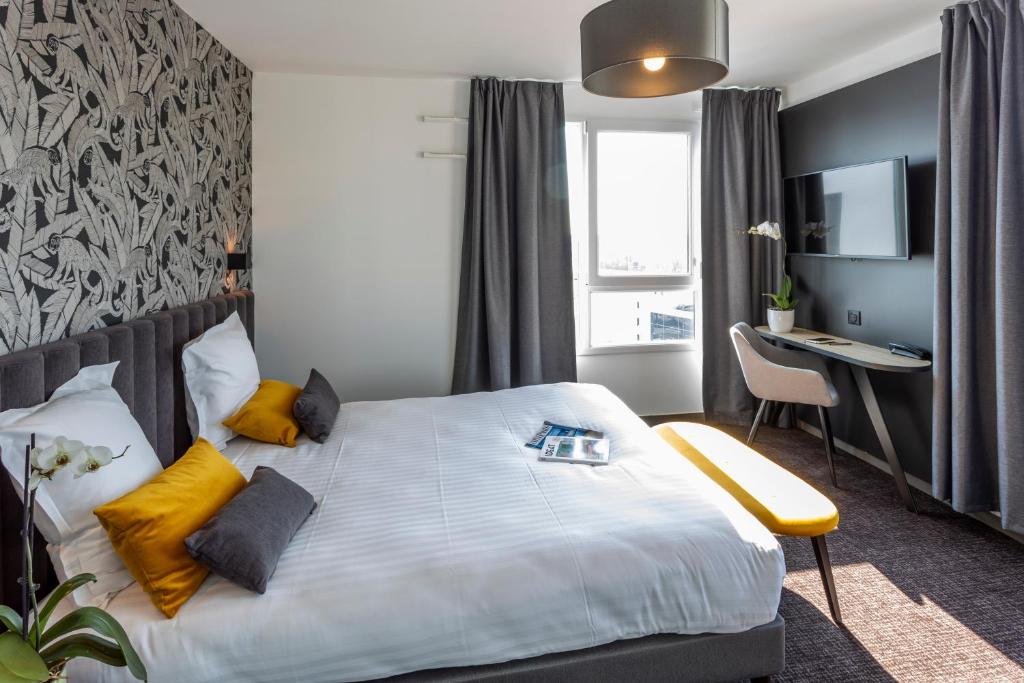 Nemea Appart'Hotel Velizy Europe, located in Velizy-Villacoublay, offers an ideal escape from the bustling Parisian life while maintaining close proximity to the city. The aparthotel features 119 smoke-free apartments that are a perfect fit for both short term and long term stays.
The comfortable, modern apartments come with a kitchenette, which includes two hobs, and a private bathroom. The property also boasts amenities like free WiFi access and laundry facilities, catering to the needs of its guests.
Travelers who value their fitness regime will appreciate the fitness center and heated indoor swimming pool, available on-site. Additionally, Nemea Appart'Hotel Velizy Europe offers a sauna for rejuvenation after a long day of exploration.
Located at 26 Avenue de l'Europe, the hotel is conveniently close to various restaurants and shopping centers, ensuring guests will have plenty of options for culinary delights and leisure activities. Furthermore, the aparthotel is both pet-friendly and offers parking facilities, making it an attractive choice for those traveling with their furry companions and personal vehicles.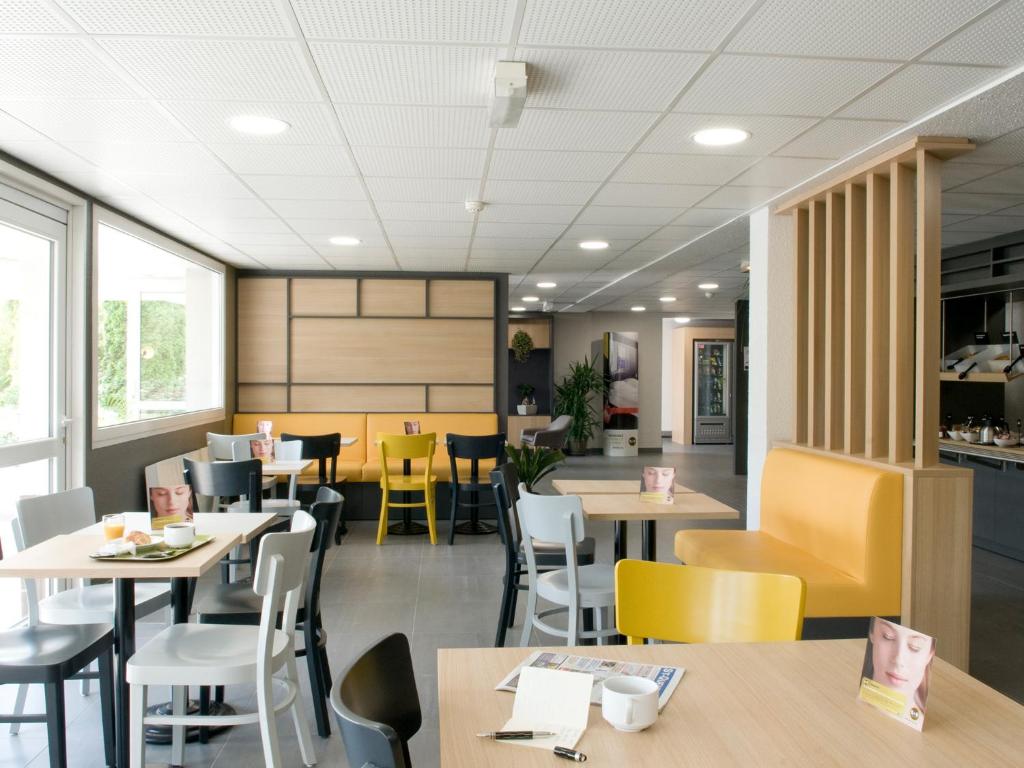 Located just 30 kilometers from Orly Airport and a mere 5-minute drive from the Saint-Quentin-en-Yvelines – Montigny-le-Bretonneux train station, the B&B Hotel Bois D'Arcy Saint Quentin En Yvelines offers a convenient escape from the bustling city center of Paris. Easily accessible through RER C and the N and U lines, this 3-star hotel provides great value for travelers seeking an affordable yet comfortable stay.
The B&B Hotel Bois D'Arcy features a variety of room options to suit different preferences. Guests can choose between rooms with 2 individual beds, suitable for solo travelers or friends, and rooms for 2 persons with a double bed. All rooms are non-smoking and come equipped with air conditioning and housekeeping services, ensuring a pleasant environment for all guests.
One of the hotel's main attractions is its close proximity to local attractions, such as the Vélodrome de Saint-Quentin-en-Yvelines, Airbus Defence and Space, and Thales LAS France, allowing visitors to explore the area with ease. In addition, the hotel is surrounded by local dining options, such as a crêperie and boulangerie, allowing guests to enjoy an authentic French culinary experience while staying at the hotel.
Being pet-friendly, the hotel also welcomes guests traveling with four-legged companions. The helpful and responsive staff are always ready to assist guests with any inquiries or requests they may have during their stay. With its combination of comfort, value, and convenience, the B&B Hotel Bois D'Arcy Saint Quentin En Yvelines is a great choice for travelers looking to explore the enchanting Ile-de-France region and indulge in the beauty of areas outside the Paris city center.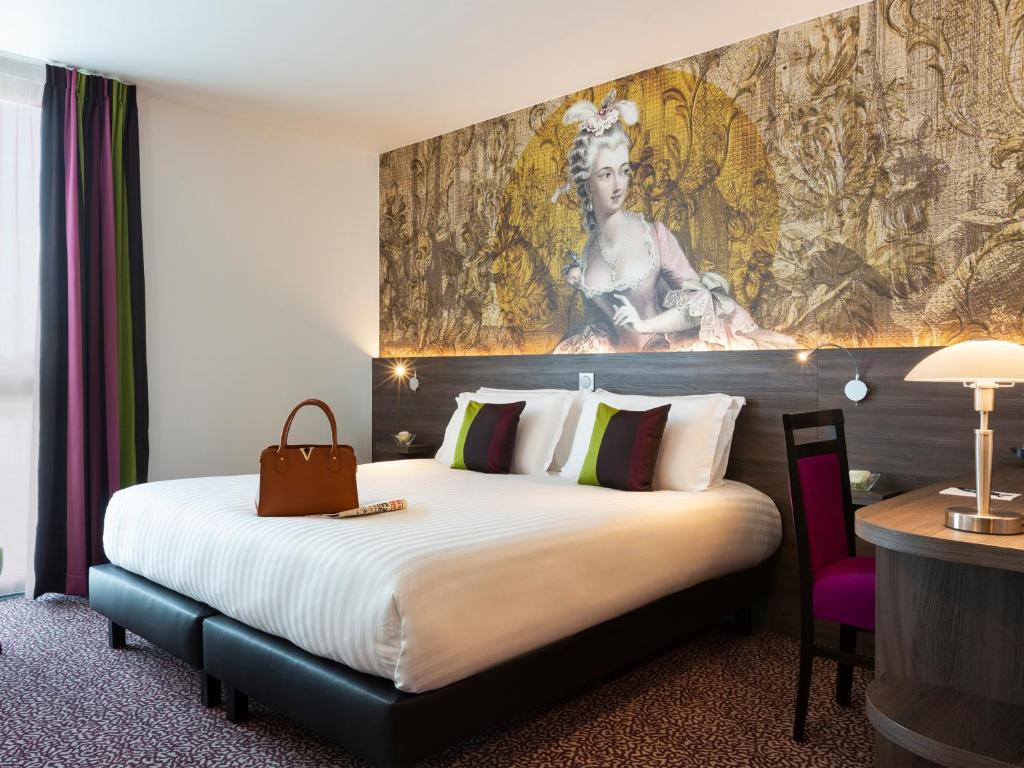 Hotel Roi Soleil Prestige Plaisir is a 4-star establishment located in the town of Plaisir, just 10 km from Saint-Quentin en Yvelines. This hotel opened its doors in April 2022 and has quickly gained a reputation for offering a comfortable and luxurious stay to its guests.
The hotel's rooms are air-conditioned and well-appointed with free WiFi and private bathrooms. With a bar on the premises, guests can enjoy a drink and relax after a day of exploring the surrounding areas. Its location makes it an excellent base for those who want to visit the beautiful Gardens of Versailles, which are only 8.8 miles away from the hotel.
In addition to its close proximity to the Gardens of Versailles, Hotel Roi Soleil Prestige Plaisir is also within 3.1 miles of France Miniature. This popular tourist attraction is a fun and educational experience for both children and adults, allowing visitors to explore miniature replicas of famous French landmarks and monuments.
As for dining options, the hotel is nearby various restaurants that cater to different tastes and cuisines, making it convenient for guests to explore the local culinary scene. Although the hotel is situated outside of Paris, it still provides easy access to the city, allowing guests to enjoy the best of both worlds: a tranquil stay and exciting urban adventures, when desired.
Art And History Near Hotels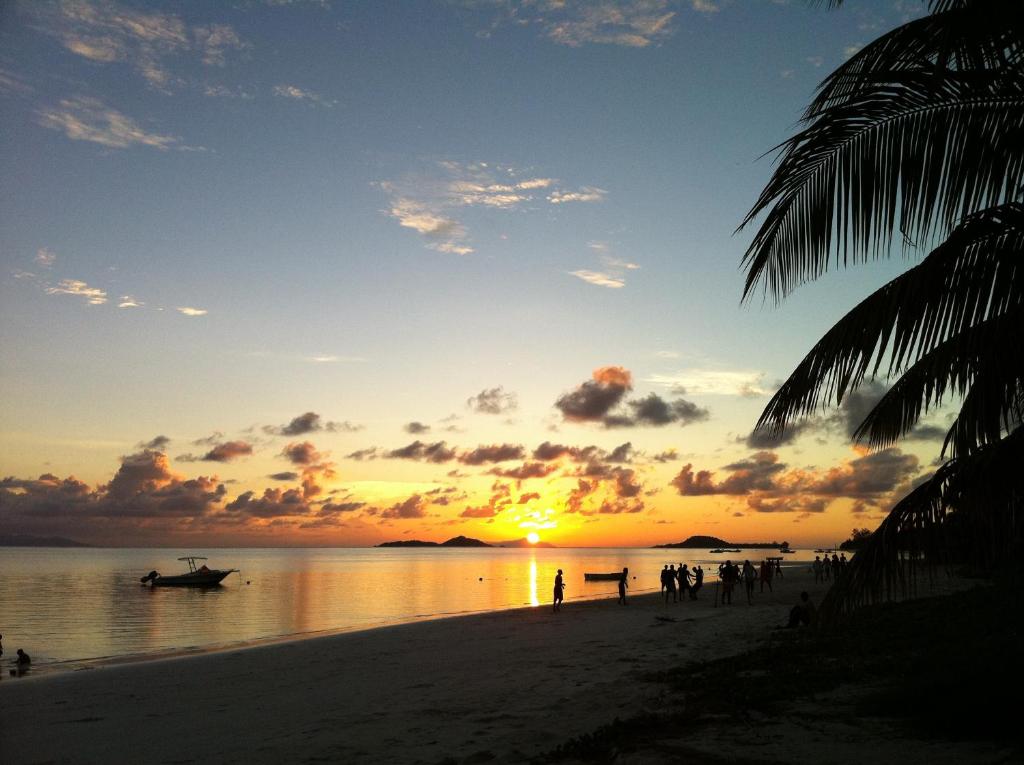 Located just a short distance from Paris, the Waldorf Astoria Versailles – Trianon Palace is an excellent option for travelers seeking art and history intertwined with luxurious accommodation. Nestled close to the Palace of Versailles, guests can easily explore the opulent history of Marie Antoinette and Napoleon while staying at this grand hotel.
Another fantastic option is La Colombe d'Or, a charming hotel on the Côte d'Azur in the South of France. La Colombe d'Or boasts a rich art history, not only with its own in-house art collection but also its proximity to the famous Maeght Foundation, which houses works by several modern artists, including Van Gogh and Chagall. Guests can immerse themselves in the artistic atmosphere while enjoying the stunning landscape of the Côte d'Azur.
For travelers seeking a blend of both art and history, the Byblos Art Hotel in Valpolicella offers a unique experience. Housed in a 17th-century baroque villa just outside Verona, the hotel boasts an extraordinary collection of contemporary art. Art enthusiasts can revel in this extensive collection while also enjoying the historic charm of the surrounding area.
Staying at these hotels will not only allow guests to indulge in luxurious accommodation but also immerse themselves in the rich art and history that France has to offer. From the tales of Marie Antoinette and Napoleon to the moving canvases of Van Gogh, visitors can expect a memorable and inspiring experience when choosing to stay at one of these remarkable hotels.
Traveling To And From Paris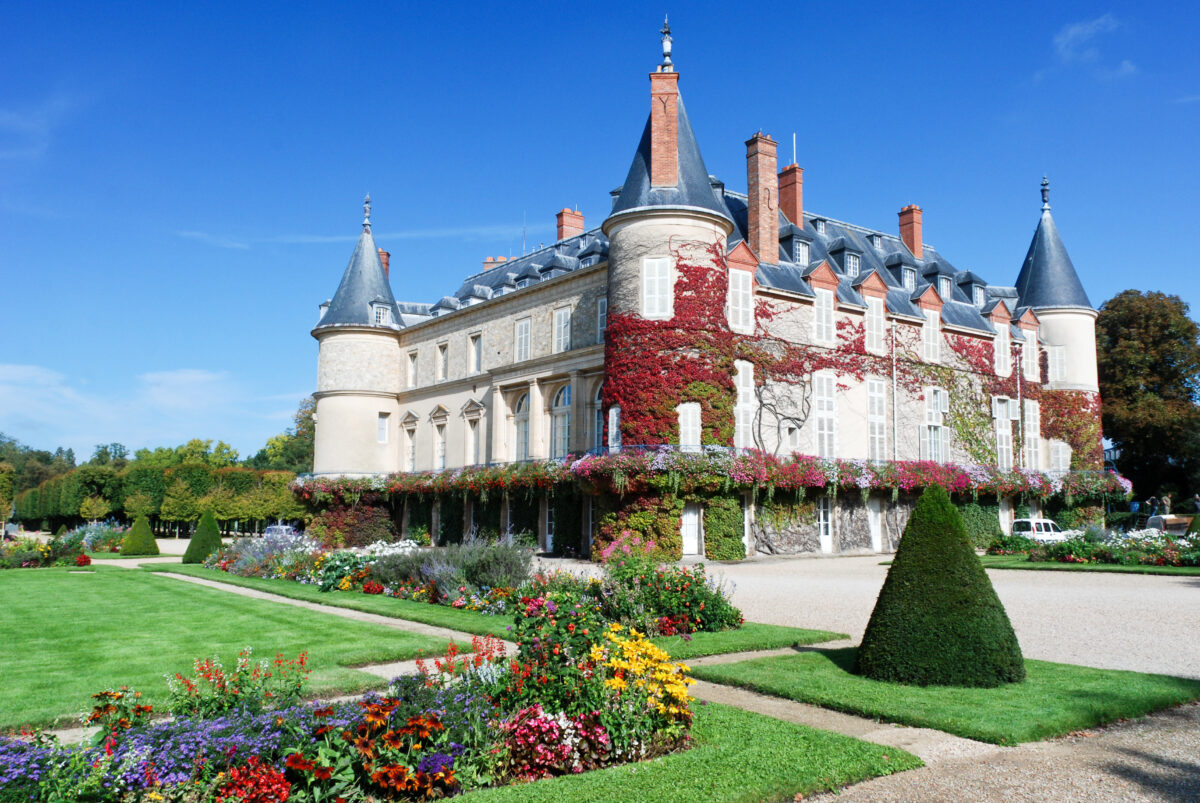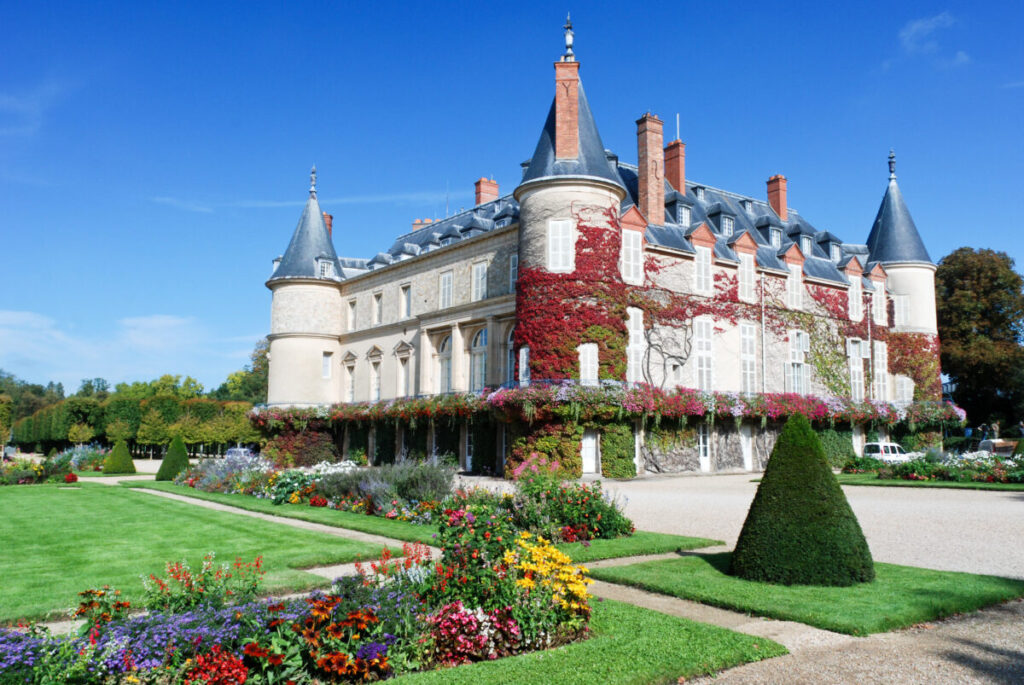 When staying in hotels outside of Paris, it's essential to consider the transportation options available to and from the city. Many locations situated just outside of Paris offer the convenience of easy access to transportation options that make getting in and out of the city a breeze.
One common choice to travel is the train system. Numerous towns and suburbs around Paris have train station connections, ensuring efficient travel times to the city center. For instance, the town of Rambouillet is an excellent option as it is well connected and offers travel times of 34 minutes to Paris, 19 minutes to Versailles, and 30 minutes to Chartres.
Another destination to consider is the suburban area southeast of Paris which includes Vincennes, Saint-Mande, Charenton, Fontenay-sous-Bois, Nogent-sur-Marne, and Bry. These charming suburbs are easily accessible through a mix of metro, RER, and suburban trains. Staying in these areas allows travelers to enjoy a more serene atmosphere while still having convenient access to Paris.
For international travelers, considering proximity to airports can also be significant. Atlanta, as a major transportation hub in the United States, offers direct flights to Paris. Visitors flying from Atlanta can easily reach hotels outside of Paris by utilizing transportation options such as trains, metro, or RER once they arrive.
In summary, staying in hotels outside of Paris can provide a unique and relaxing experience while still having easy access to the city's famous attractions and vibrant atmosphere. By carefully selecting a location well connected to the train system or airports like Atlanta, travelers can enjoy the best of both worlds during their visit.
Frequently Asked Questions
What are the top countryside hotels near Paris?
The Hotel Château du Grand-Lucé stands out as a luxurious retreat built in the 1760s and located approximately 55 minutes by train from Paris. Featuring only 17 rooms and suites, guests will have ample space to explore the 80 acres of Versailles-like gardens. Another charming countryside escape near Paris is the Manoir des Cavaliers, located in Chantilly, around 50 km from the city center. This four-star bed and breakfast offers a tranquil atmosphere with beautiful grounds and free on-street parking.
What are the best budget-friendly accommodations close to Paris?
For budget-conscious travelers, consider staying in suburban towns that are easily accessible by metro. It is important to research local accommodations with good reviews and convenient access to public transportation while taking advantage of the lower prices compared to central Paris. Choosing a budget-friendly hotel may require some flexibility and patience, but there are certainly many affordable hotels and options surrounding the city.
Which areas surrounding Paris offer great hotel options?
Several areas surrounding Paris provide excellent hotel options, such as Versailles with its famous palace and gardens. Another option is Fontainebleau, known for its picturesque chateau and forest. Additionally, towns like Saint-Germain-en-Laye, Marne-la-Vallée (home to Disneyland Paris), and Chantilly offer lovely accommodation choices with the added charm of nearby historical sites, local restaurants, and shops.
What cities near Paris have excellent hotel choices?
There are several medium-sized cities close to Paris with excellent hotel choices, providing a mix of shopping, restaurants, and accessibility to other cities. Some popular destinations include Fontainebleau, Versailles, and Saint-Germain-en-Laye, all offering both luxurious and budget-friendly options. When traveling with young children, consider the accommodation options in Marne-la-Vallée, home to Disneyland Paris, for a family-friendly atmosphere and convenient access to the theme park.
Related Resources