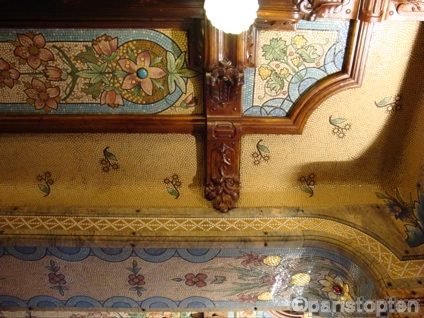 In 1865, M. and Mrs Mollard arrived from the region of Savoie with their horse and cart in this excentered area, and they opened a bistrot. Twenty years later, they made enough money to built the chic and classy establishment which is going to have a great success until today, apart from the 14-18 war period.
The architect, E. Niermans, was also the  designer of the Moulin Rouge cabaret, the hotel Negresco in Nice and the Hotel de Paris in Monte-Carlo. On the walls, you can admire great italian mosaics.
You can have a complete meal for around 40 euros, drink included, and there is a kid's menu for 12 euros. Open every day of the year from 11.00 a.m. until 12.30 a.m.
The service is typically french (hum…) and the food not great. You'll go there for the beautiful "decor" or because you're shopping in the area (Printemps; Galeries Lafayette, etc).
See Related: Passages and Galeries