In 1865, M. and Mrs. Mollard arrived from the region of Savoie with their horse and cart in this excentered area, and they opened a Bistrot. Twenty years later, they made enough money to build the chic and classy establishment which is going to have great success until today, apart from the 14-18 war period.
The architect, E. Niermans, was also the designer of the Moulin Rouge cabaret, the Hotel Negresco in Nice, and the Hotel de Paris in Monte-Carlo. On the walls, you can admire great Italian mosaics.
🗼 Paris Insider's Top Picks! ✨
Dive into the heart of Paris with our handpicked partners. Trusted by thousands, they ensure you experience the best of Paris.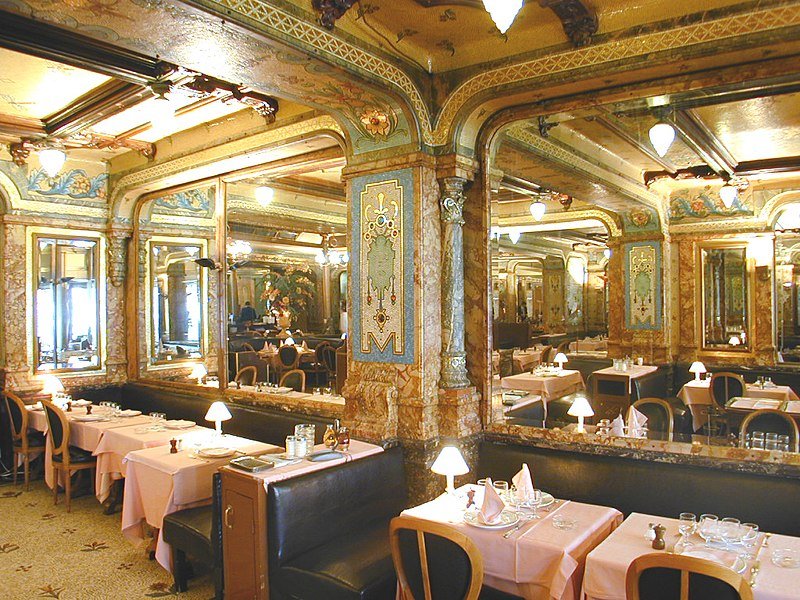 About Brasseri Mollard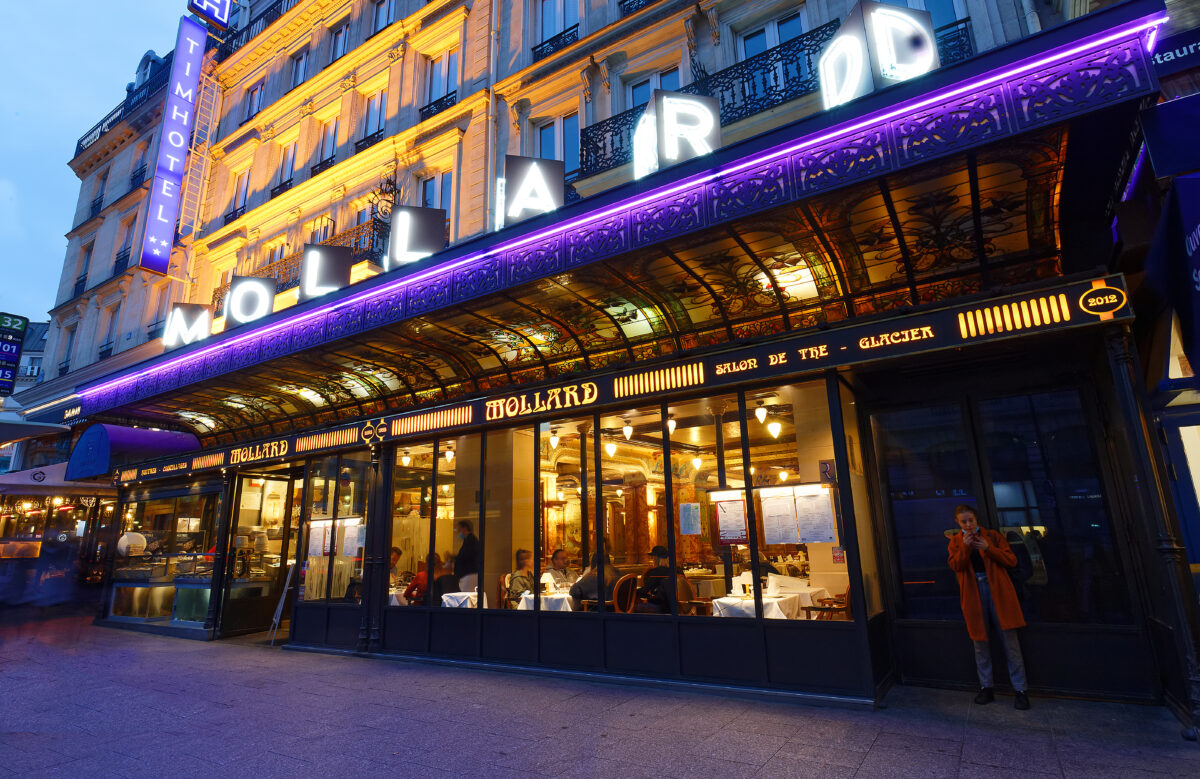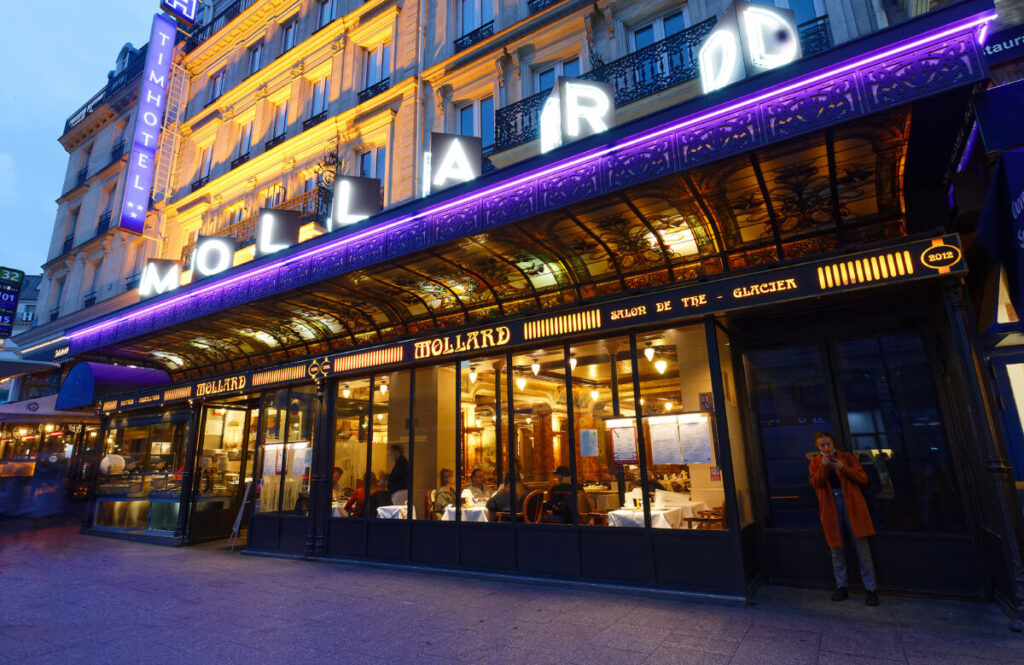 Mollard is a Paris brasserie located near the Saint-Lazare train station. Its specialty is its Art Nouveau décor, featuring mosaic maps of France on the walls. The restaurant was established in 1912 and has been an iconic part of the city ever since. Located on the Rue de Rome in the 8th arrondissement, Mollard is renowned for its warm atmosphere and traditional French cuisine.
From an early morning breakfast to a late night supper, Mollard serves up dishes that represent all the regions of France. The menu changes regularly to reflect seasonal ingredients or new recipes inspired by French culinary traditions. Whether you're looking for a casual meal or a romantic dinner, Mollard promises a memorable experience.
You can have a complete meal for around 40 euros, drink included, and there is a kid's menu for 12 euros. Open every day of the year from 11.00 a.m. until 12.30 a.m.
The service is typically french (hum…) and the food is not great. You'll go there for the beautiful "decor" or because you're shopping in the area (Printemps; Galeries Lafayette, etc).
Menu
For those looking to experience the best of French cuisine, Brasserie Mollard in Paris, France is a must-visit. The menu at this famed brasserie offers a variety of classic French dishes that are sure to please even the most discerning palate. From quiches and tarts to steak frites, every meal is made with fresh ingredients and prepared with expertise by experienced chefs.
There's something for everyone on the menu at Brasserie Mollard, whether you're in the mood for something light or hearty. No matter what dish you choose, you can expect top-notch service and delicious food that will have you dreaming of Paris long after your visit has ended.
Key Dishes
Brasserie Mollard is known for its delicious dishes, each one carefully crafted with the freshest ingredients. The restaurant offers a variety of dishes ranging from seafood to vegetarian options, all of which are sure to please any palate. One of the most popular dishes is their steak tartare, made with fresh beef and served with a side of fries.
Another popular dish is their roasted chicken, served with potatoes and vegetables. Customers rave about how tender and juicy the chicken is, providing an unforgettable experience that keeps them coming back for more. The menu also includes a selection of salads, soups, and sandwiches that customers continue to review as excellent choices. The key dishes at Brasserie Mollard clearly make this restaurant stand out as one of the best in town.
See Related: Passages and Galeries
Public Transit to Brasserie Mollard
Brasserie Mollard in Paris, France is a popular attraction that is located near the Saint-Lazare Station, visitors can easily check it out by taking public transit. A map of the nearby area will show where the brasserie is located, as well as other nearby attractions and accommodations like hotels.
Before you take public transit to Brasserie Mollard, be sure to check the fare price and look for any discounts or deals available.
La Brasseries near Brasserie Mollard also offer a great selection of food and drinks at reasonable prices. Whether you're visiting Paris for business or pleasure, make sure to add this iconic brasserie to your list of must-see destinations.
See Related: Brasserie Lipp Review
Ratings and Reviews
Ratings and reviews are very important when it comes to making decisions about where to eat or which restaurant to choose. For example, when I visited Paris, France I wanted to try traditional French cuisine so I chose the Brasserie Mollard.
The ratings and reviews of the restaurant were highly positive and gave me a good indication of what to expect. From the reviews, I learned that this restaurant had an amazing atmosphere with authentic French dishes prepared by experienced chefs.
The food was really delicious and I was glad that I had taken the time to read through the ratings and reviews before deciding on this particular restaurant. In my opinion, the Brasserie Mollard is one of the best restaurants in Paris for anyone looking for an authentic French experience.
Related Resources