Are you traveling to Paris? Is a swimming pool part of what you are looking for in a hotel? Here are some incredible hotels in Paris with pools you can consider.
Every traveler appreciates the vibe of a pool hotel. It offers the best place to relax and unwind after a long day. In fact, I doubt that there's anything as relaxing as water therapy after a long, eventful day.
Paris is a beautiful city with a lot of things to see and do. So, you can bet to be exhausted after visiting all the many attractions in the city. And, booking yourself a classy hotel with a pool can be ideal for that evening water therapy time before you sleep or go for dinner.
But where do you find these hotels in Paris with pools? How do you identify the best hotels in terms of proximity to top tourist attractions, comfort, and budget?
No need to worry at all! Check out this comprehensive guide;
How to Choose a Hotel in Paris
Location
Apart from ensuring that the hotel has a swimming pool, it is essential to consider the location. Choose a hotel that is located in close proximity to all the areas and landmarks that you would love to visit.
A hotel in a good location will save you a lot of time and money involved in transportation. If the hotel is located in the middle of the city, you will also be able to enjoy beautiful views of the city without leaving the hotel room.
Pampering Activities
A swimming pool is essential for pampering and relaxation. However, other amenities come alongside a swimming pool to enhance the experience. For instance, a hotel with a spa and sauna is best.
We also have modern hotels that have hydrotherapy. Research has shown that hydrotherapy can be an effective treatment procedure and can promote fast healing.
Amenities
When choosing a hotel in Paris, it is advisable to consider the amenities. Paris is a city of luxuries, so do not compromise on luxury. The size of rooms is an important factor and also the furnishings.
It is also advisable to consider the bathroom's size and its type of furnishing. And although most of the hotels in Paris have incredible interior décor and furnishing, your preference will determine what suits you.
Paris is a city of art and fashion so make sure that the hotel you choose meets all the standards.
Type of Hotel
We have hotels for all categories and groups in Paris. For example, there are hotels for families, and we also have hotels ideal for couples. Therefore, if you are traveling with kids, consider choosing a hotel that is ideal for families.
Family hotels have everything needed to keep children comfortable, such as babysitting and safety features to ensure that the kids are safe when in the hotel or in the rooms.
Best Hotels in Paris with Pools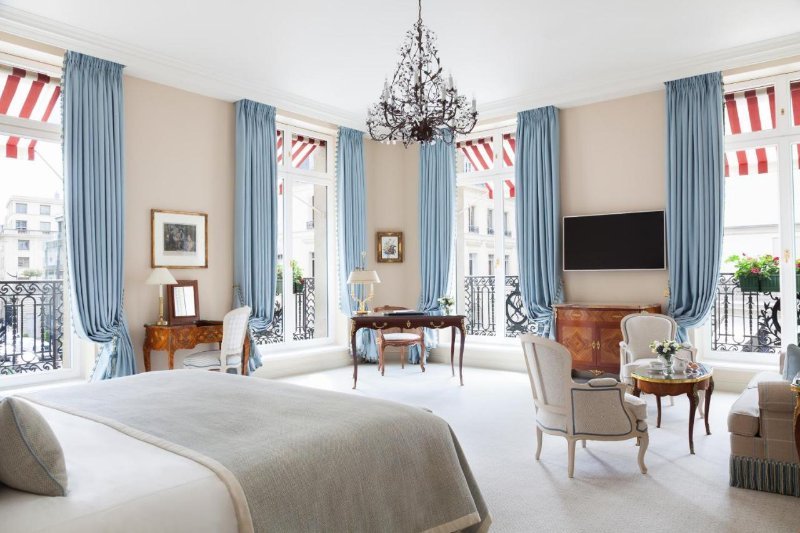 Le Bristol Paris is one of the best hotels with a rooftop swimming pool in Paris. This is a luxurious hotel with Louis XVI-style furniture and room furnishing. The rooms are large and come with a private bathroom with a separate shower and a double washbasin.
For added luxury, this Oetker collection hotel features a spa and wellness center. And in the spa, they do various treatments and massages for health. There is also a private garden and a sun terrace to promote relaxation when in the hotel.
The hotel's location makes it ideal for art lovers and fashion lovers. It is located in one of the areas that host art galleries. Also, you will find Gucci and Hermès shops in the same area for your fashion shopping experience.
See Related: Hôtel Résidence du Vert Galant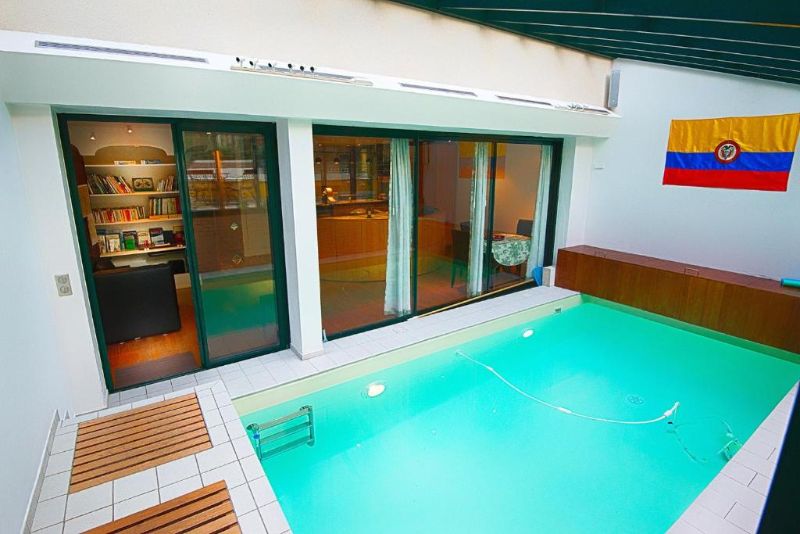 While other hotels pride themselves on outdoor swimming pools, Paris-Oasis is among the few hotels in Paris that boast of an indoor pool. Even better, the hotel is approximately 600m from La Cigale concert hall, and the airport is just 28km.
The hotel's location makes it an ideal place if you want to enjoy the city activities, restaurants, and the real Paris charm. And if you choose to live in the guest house, you will enjoy a garden view and a fountain from the terrace.
The property has a variety of options for singles, couples, and even families. If you prefer to cook, each unit has some cooking arrangements, making it easy for you to prepare meals. You can also decide to try out the many restaurants located on Montmartre Street.
The hotel also has all the essential furnishings, including televisions and high-speed internet for your comfort. However, you cannot smoke in the rooms, but there is a garden or courtyard. The hotel is located in a discrete location, and many guests consider it a hidden gem.
See Related: Hôtel Beaumarchais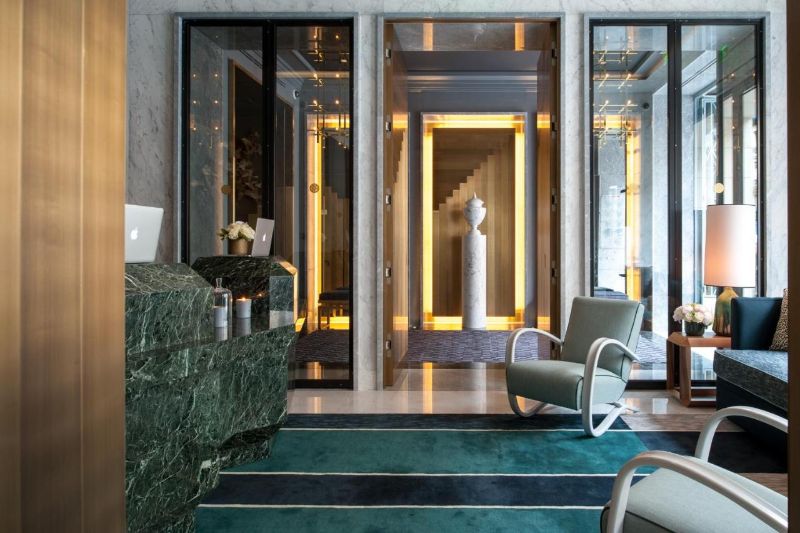 If you want to stay in the heart of Paris, Nolinski Paris is the best choice for you. It is located about 0.6km from Louvre Museum and 500 m from Tuileries Garden. The hotel offers you a combination of style and tranquility for the best vacation.
With incredible décor, this luxury hotel has everything that a five-star hotel offers. The hammam and massage rooms, spa, swimming pool, fine bedding, and plush carpets add to the luxurious feeling.
In the Nolinksi Le Restaurant, you will get an opportunity to sample delectable meals prepared by the hotel's executive chef. And if you want to go the Mediterranean way, you can enjoy their soothing teas as you relax in the Grand Salon.
The rooms are tastefully designed with big beds, bathroom robes, and fluffy rugs. From the windows or balcony of the hotel, you can see and experience the heart of Paris at night. This is a luxurious and romantic hotel, so it is ideal for couples or a two-person trip.
See Related: Hôtel du Nord-Le Pari-Vélo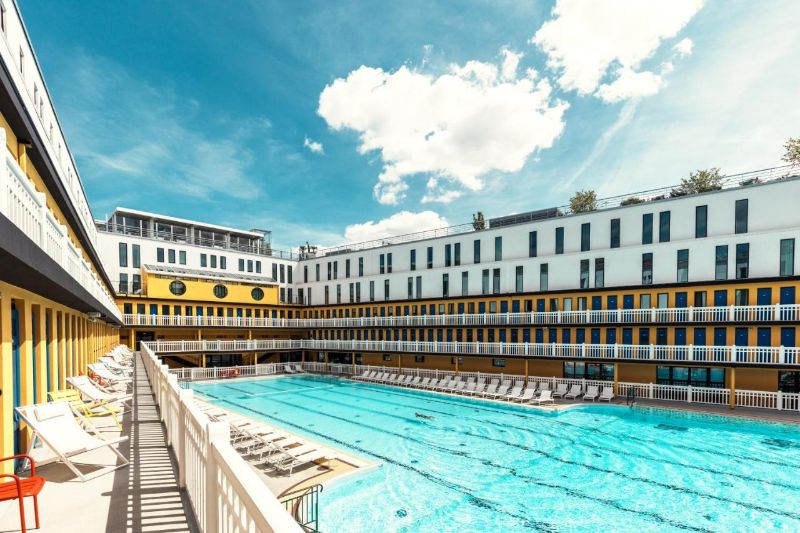 Molitor Paris – Mgallery is one of the best budget hotels in Paris for families. The hotel has both an outdoor and indoor swimming pool. All the guests visiting the hotel appreciate the large swimming pools with art deco styles.
It also has a heated spa to keep you warm during those cold nights. And as for the landmarks, the hotel is located just 0.61km from parc des princes stadium and around 1.9 miles from Eiffel Tower.
The rooms are spacious and tastefully furnished with all the comforts you need. These include items like bathrobes and a tea/coffee maker.
Since this is an art-themed hotel, those who love art will enjoy the graffiti here. In some months, the hotel hosts an art exhibition, so you might be lucky to visit when the hotel is hosting one.
Breakfast is served near the pool. Also, for a romantic dinner, the hotel has a rooftop restaurant where couples can enjoy dinner overlooking the city.
Children can also enjoy entertainment every Sunday morning and evening. It is a good hotel for couples, but it also has families good amenities.
See Related: Hôtel Eldorado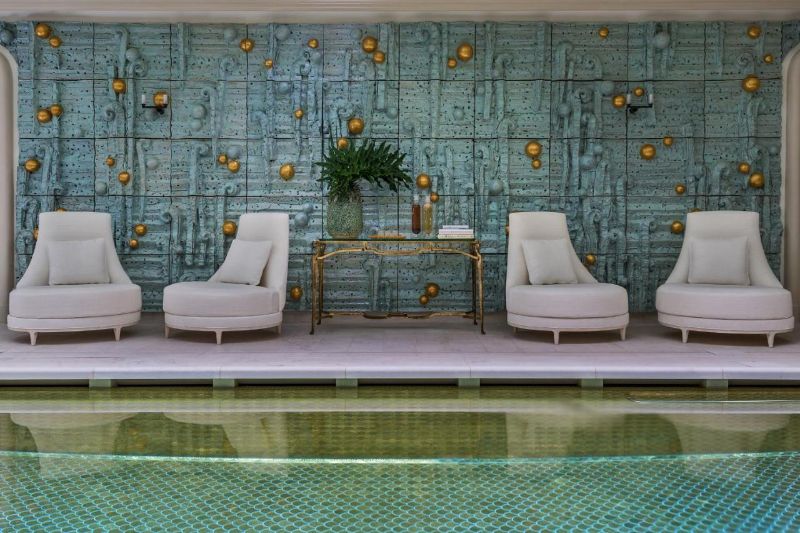 Hotel de Crillon is another incredible hotel in Paris with an indoor swimming pool and a spa. It is a favorite hotel for couples, although they also have decent family rooms.
The rooms are luxuriously furnished with Italian beddings, pillows, and duvets. You will also enjoy the marble furnished luxurious bathrooms with walk-in rain shower, bespoke toiletries, and underfloor heating.
At an extra cost, guests can take advantage of the spa, hairdresser, and fitness center inside the hotel. There are also massage services and other beauty treatments available for guests. The indoor swimming pool is appropriately decorated, and it comes with a fireplace.
Breakfast in the hotel is served buffet style, although there are two restaurants. The hotel's location allows you to shop and visit other tourist sites. For instance, it's quite close to the airport, Eiffel Tower, and the Place de la Concorde (the 18th-century plaza).
See Related: Best Macarons in Paris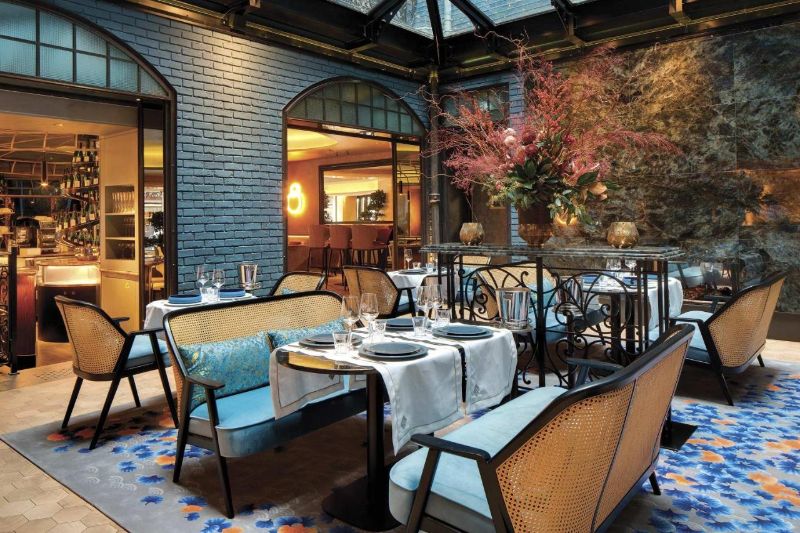 La Demeure Montaigne is one of the best hotels in Paris with breakfast. They have a variety of breakfast options such as Continental, American, and Buffet.
If you are looking for cheap accommodation in Paris for families, this hotel has everything to keep the kids comfortable. The beds are comfortable, and the staff is warm to the kids. Combined with an amazing swimming pool, the hotel is just what you need.
Additionally, it is located in one of the best places in Paris, just 1.2km from the Eiffel Tower and 16km from the nearest airport. You can shop in the Louis Vuitton Shop just 500 meters away or the Paris Christmas Market located 400m away.
There are also a variety of restaurants to dine at, such as the Le Speakeasy Restaurant Piano Club, which is 500m away. Guest love the all-inclusive amenities in this hotel, such as the restaurant, bar, lounge, and fitness center. So you can get everything you want without leaving the hotel.
See Related: Best Hotels in Paris St. Germain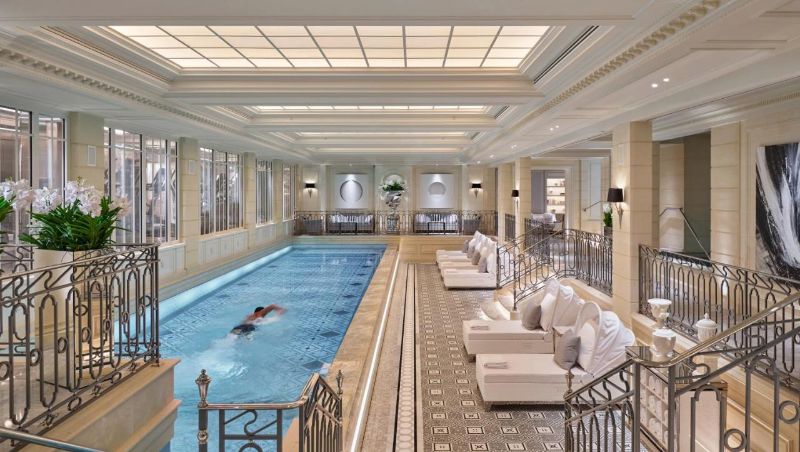 The hotel is known for luxury and art deco. It is also a great family hotel with all the necessary services to keep children comfortable such as babysitting, strollers, and baby safety gates.
You are also allowed to come with pets at no extra charge, but you have to make a request first. And they have a heated indoor pool free of charge with towels and beach chairs.
Four Seasons Hotel boasts a large variety of food options with four restaurants. Three of the restaurants serve French cuisine, and one serves Italian cuisine.
Since this is a luxury hotel, pampering is not compromised. It has a 16m swimming pool, spa, vitality pool, and hydro massage. They also offer room service and a hairdresser on-site in case you need the services.
The hotel is a favorite for artists, fashionistas, and families. It is located near all the tourist attractions such as the Louvre museum and Eiffel Tower.
See Related: Is Paris in France or Italy?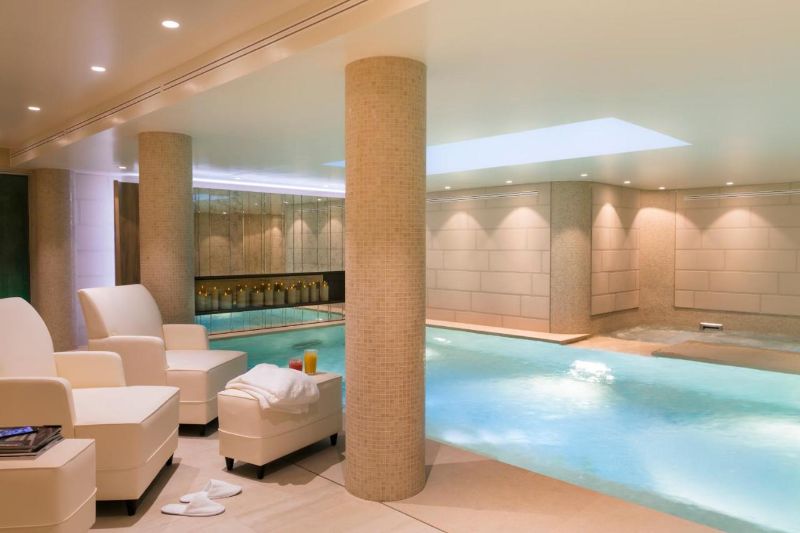 If you want to experience the authentic Paris flavors, this is the best place to stay. Located in the heart of Paris, this boutique hotel offers luxury and makes you feel at home, away from home.
The hotel is near everywhere you want to visit, such as the Louvre Museum, which is 0.5km away, or Notre-Dame-de-Paris, around 15 mins away. You can also access transport through the Pont Neuf Metro Station, which is only 300m away.
This hotel also boasts a swimming pool, Jacuzzi, steam room, and a hot tub for free for your comfort. The rooms also have the comfort basics such as air conditioning, cable, coffee machine, and television. In the private bathroom, you will also get a hairdryer and toiletries.
A standard continental breakfast of pastries, cheese, and salmon is served daily. However, guests can request extras such as juice and eggs at an additional cost. For all the meals, a restaurant is available where guests can order meals at a cost.
See Related: Best American Hotels In Paris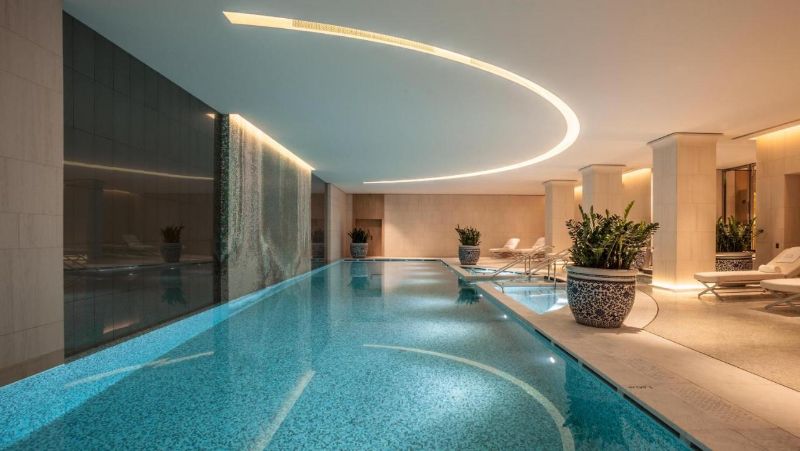 Hotel The Peninsula Paris is one of the Paris hotels with pools near the Eiffel tower. It is also near shopping areas like the Louis Vuitton shop and restaurants like the Le Speakeasy Restaurant Piano Club.
With 200 suites and rooms, the hotel is known for beautiful artwork and elegant furnishing. It has a large 22 m indoor pool for all guests to enjoy. The bathrooms are marble furnished with rain showers and luxurious soaking bathrooms.
Couples particularly love the rooftop restaurant that has a 360 view of the city. It has one of the largest terraces in Paris. The rooftop restaurant serves French cuisine, although the hotel also has a Chinese restaurant serving Cantonese cuisine.
The rooms are large and tastefully furnished with large beds for maximum comfort. The rooms are cleaned regularly by polite staff, and they have a nice coffee section where you can prepare your coffee without leaving the room.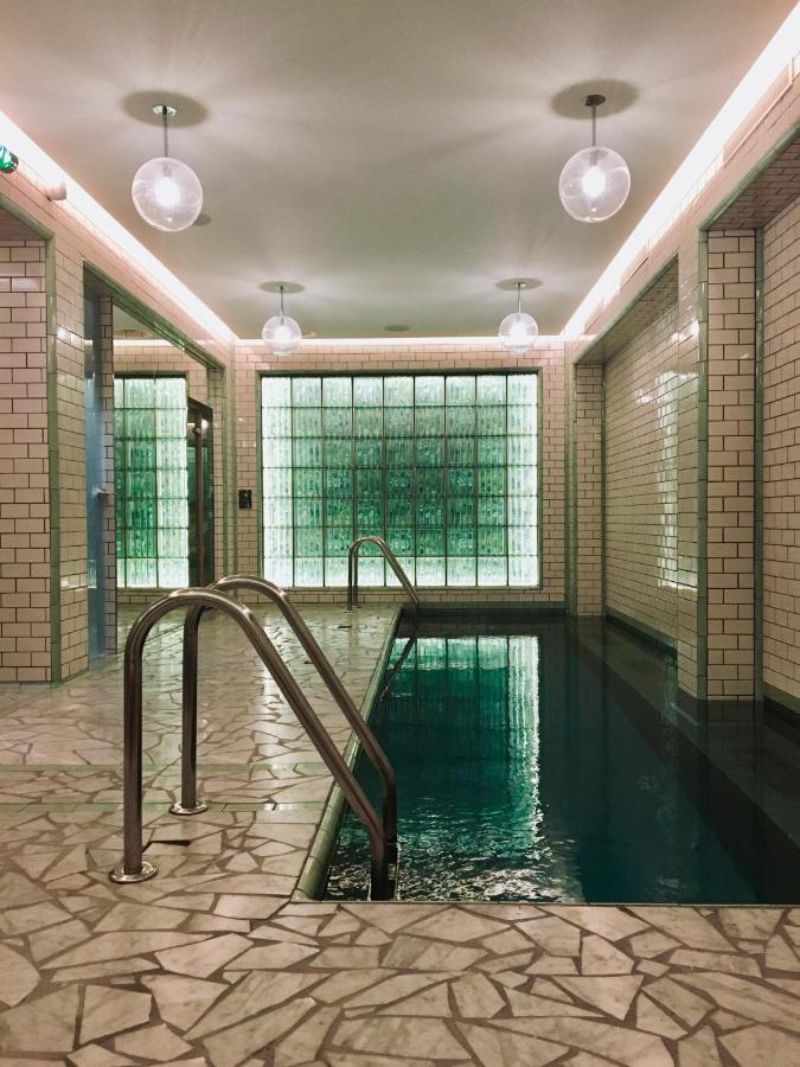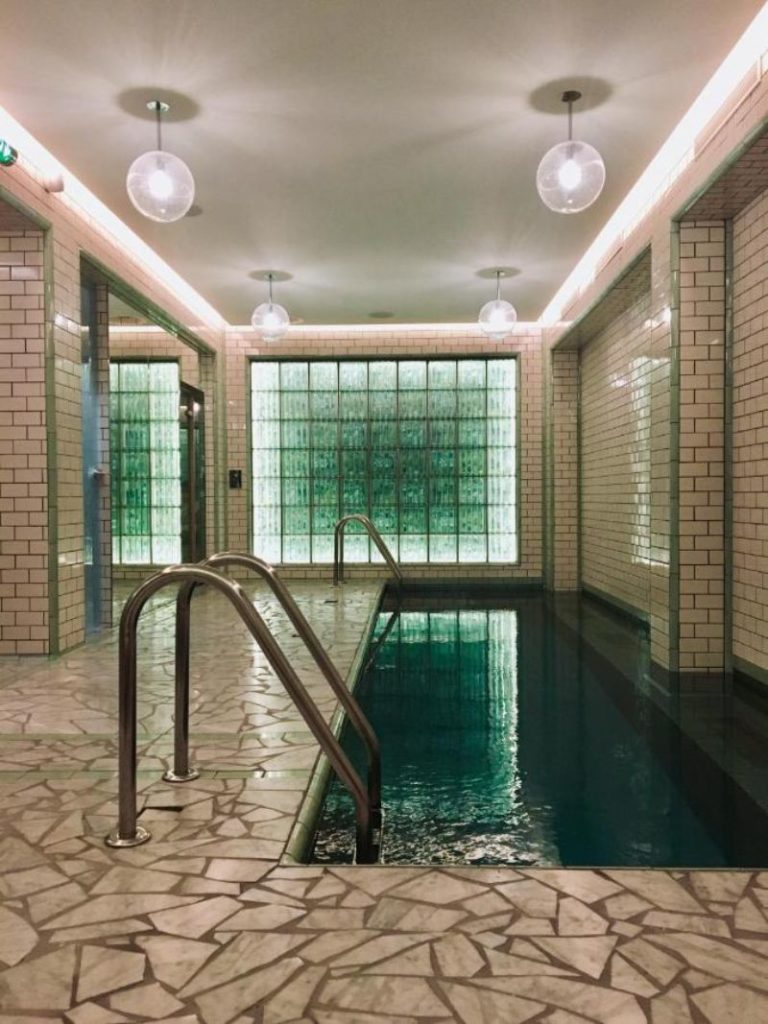 Hôtel Le Ballu is one of the best boutique hotels with pools in Paris. It has a retro design with rich fabrics, jewel tones, and an overall beautiful interior. It is a 4-star hotel, but it has beautiful amenities such as a sauna and a terrace.
The rooms are decent sized, and each of them has a private bathroom. They are clean, and you even get a small pantry with everything you need to make coffee or tea.
The showers are also big and luxurious for a good experience. And, it is a quiet place to relax after doing business or touring the city.
When staying in the hotel, you can visit Gare Saint-Lazare, which is 700 meters away, or La Cigale Concert Hall, which is 800 meters away.
You can also enjoy eating out in restaurants such as Le Pantruche and Bouillon. In addition, the hotel has a restaurant that serves French cuisines for breakfast, lunch, and dinner.
Related Resources