The heart of "The Latin quarter", the students' area, the Paris of the 1960s! This square is right next to the Place Saint Michel, quite famous as well with its nice fountain, the meeting point for a lot of people!
It's still the students' area because all the Parisian universities are concentrated in the 5th and 6th areas (La Sorbonne is divided into about ten different buildings, the historical ones in these areas, and the more modern ones in others), but it's also a very touristy area, very lively, in the day as much as in the night.
There are lots of shops, bookshops, cinemas, and restaurants. But be careful about the restaurants: a lot of them are just making money on tourists without giving any quality – Greek ones especially!
Nestled in the heart of Paris, Place Saint André des Arts is a lively and vibrant square with plenty of activities for visitors to enjoy. Located in the Latin Quarter, this lively square has been an important part of Paris since its founding.
Things to do near Place Saint-André des Arts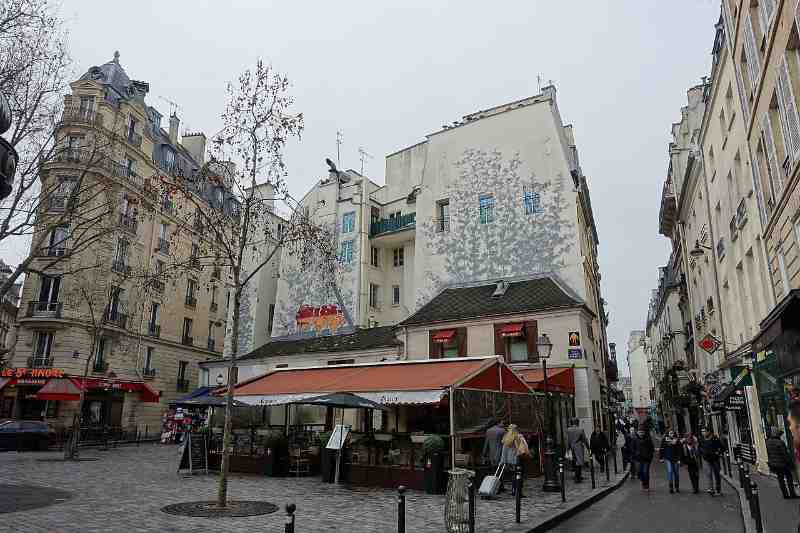 Take a leisurely stroll through the square and take in its beautiful architecture, including the Eglise St-André-des-Arts and Fontaine Saint André des Arts. Enjoy a delicious crepe from one of the many local creperies that line the square, or explore some of the local boutiques for unique souvenirs. There are also plenty of restaurants and cafes nearby for those looking to grab a bite to eat.
See Related: Place de Furstemberg
Places to stay near Place Saint-André des Arts
There are many hotels near Place Saint-André des Arts in Paris, perfect for those who want to be close to all the action. The Hotel du Jeu de Paume is just a few steps away and offers rooms with modern amenities at affordable prices. Another great option is Hotel du Vieux Marais, which provides comfortable rooms at an unbeatable value within walking distance of Place Saint André des Arts.
Hôtel Saint-André des Arts
Hôtel Saint-André des Arts is a hotel located in Paris, France. It is situated near the 6th arrondissement and the Rue Saint-André des Arts. The hotel has been reviewed positively by many people and it offers a great variety of amenities and services.
The hotel contains a restaurant, bar, and nearby shops for guests to enjoy during their stay. Moreover, there are plenty of nearby attractions such as metro stations, street markets, photo galleries, art shops, and more.
Hôtel Saint-André des Arts is the perfect place for travelers who want to explore the city of Paris in comfort and style.
What are the closest stations to Place Saint-André Des Arts?
Place Saint-André des Arts is a beautiful square located in the Latin Quarter of Paris. It is one of the oldest and most beloved squares in the city, with a rich history and culture that dates back to the Middle Ages.
The closest stations to Place Saint-André Des Arts are Saint-Germain, Saint-Michel, Odéon, and Notre Dame. All of these stations provide easy access to this wonderful area of Paris and make it easy for visitors to explore its many attractions.
From Place Saint-André des Arts, travelers can easily walk to nearby landmarks such as Notre Dame Cathedral, the Louvre Museum, and the Luxembourg Gardens. It's also just a short distance away from some of Paris' most popular shopping districts like Rue de Rivoli and Rue de la Seine.
With so much to offer in terms of culture and entertainment, Place Saint-André des Arts is an ideal spot for anyone looking to visit Paris and experience one of its most iconic locations.
Related Resources