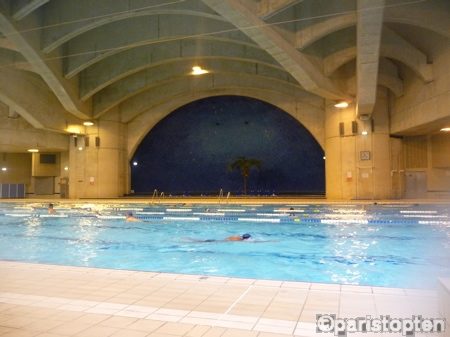 Closed from June 25th to July 15th 2012.
With a big bath (50X20 meters), this swimming-pool is central in Paris, and has got the widest opening times(no school time reserved):
Monday: 11.30 am. to 11.00 pm.
Tuesday, Thursday, Friday: 11.30 am. to 10.00 pm.
Wednesday: 7.00 to 8.15 am; 10.00 am. to 11.00 pm.
Saturday and Sunday: 9.00 am. to 7.00 pm.
Full prices: 4 euros one ticket, and 36 euros for ten tickets.
Swimming hat required; boxer-shorts forbidden. Front desk closes 45 mn before swimming pool closing time.