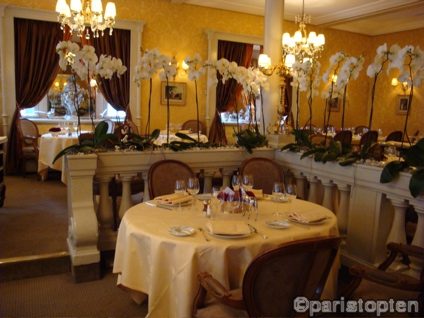 This establishment, renowned among other things for its "opening roof", was created by René Lasserre. The dining room at the first floor (elevator) is conceived in a Belle Epoque style, warm and flowery. A double room at the ground floor welcome groups only, from 8 until 55 persons. The chef, Jean-Louis Nomicos, offers a great traditional food rewarded by two stars in the Michelin guide.
This restaurant is mentioned numerous times in his books by the famous french writer Frédéric Dard, who was himself a faithful customer!
Prices from 75 (lunch time menu) to 185 euros (gastronomic menu. Except drinks). For lunchtime, open only on thursday and friday from 12.00 to 14.00 a.m., and for dinner from monday to saturday from 7.00 p.m. to 10.30 p.m.