Paris is a city that is known for its art, culture, and cuisine. One of the most popular foods in Paris is crêpes. There are many creperies in Paris with different types of crêpes that you can try.
Though most people will tell you it's simply a type of French pancake, the reality is that there are hundreds of variations on the crêpe theme throughout Paris. From sweet to savory, thin to thick, there is a crêpe for every taste and occasion.
🗼 Paris Insider's Top Picks! ✨
Dive into the heart of Paris with our handpicked partners. Trusted by thousands, they ensure you experience the best of Paris.
So, if you're visiting Paris, you should try at least one crepe. Here are some of the best crêpes in Paris to get your fill.
Ranking the Best Crepes in Paris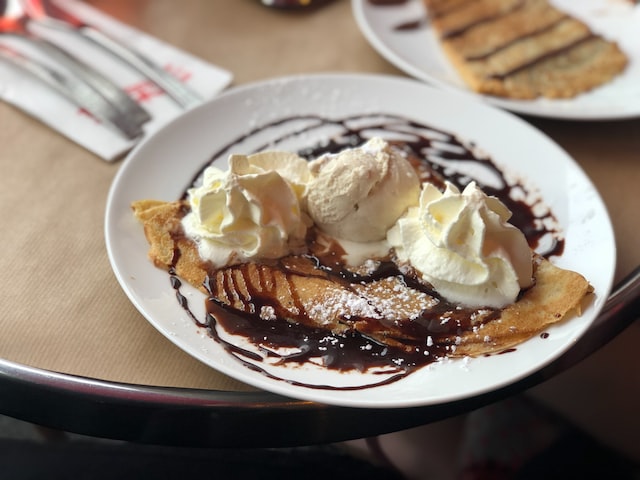 With so many crêpes to choose from in Paris, it can be difficult to know where to start. But we're here to help! Below, we've compiled a list of the best crêpes in Paris based on our own opinions and thousands of online reviews:
Address: 12 Rue Soufflot, 75005 Paris
If you're looking for a place that serves delicious crepes and coffee, look no further than the Crêperie. This bright, glass-fronted place has street tables, plus omelets and coffee. And the crepes are amazing—one of the best brownies you'll ever have!
The staff is friendly and responsive to English. They'll also make sure you get exactly what you want by asking questions about allergies or dietary restrictions. The food portions are well-balanced, and the location is easily accessible as well.
They also have a separate vegan section with many vegetarian options if you're looking for something different from your usual crêpe fix. All in all, this is an excellent brunch spot in Paris with great vibes and easy access to public transportation.
See Related: Best Croissants in Paris
Address: 7 Rue de la Harpe, 75005 Paris
Crêperie Genia is a small, cozy crêpe shop located in the heart of Paris. It's a great place to grab a bite and enjoy some great food, especially if you're in the mood for sweet crêpes!
The menu has a great variety of options: from classic crêpes to interesting flavors like Nutella and Nutella cheese & egg crêpes. They also have plenty of different kinds of drinks for you to choose from (including milkshakes, smoothies, and granitas). The price is very reasonable compared with other restaurants in Paris.
There are lots of tables inside, but if you want more room to spread out and relax after eating (or even before!), there's also seating upstairs.
But there's more to Crêperie Genia than just a delicious crepe. It's just a short walk from the world-famous Sainte-Chapelle. 
See Related: Top 10 Affordable Restaurants in Paris with a View
Address: 109 Rue Vieille-du-Temple, 75003 Paris
If you're looking for a quiet place to rest your tired feet and enjoy a crepe, look no further than Breizh Café. It's located in the heart of the city. But feels like it's miles away from the hustle and bustle of downtown Paris.
The atmosphere is charming and cozy, with plenty of seating options, such as tables or bar stools at the counter. The service is excellent. They'll take care of your every need from start to finish.
Breizh Café has an extensive menu filled with classic French crêpes like ham, egg, and mushroom, as well as a variety of other sweet and savory dishes like sandwiches and croissants.
The crepes themselves are thin and perfectly cooked. They contain generous amounts of ham and melted cheese which goes perfectly with their homemade chocolate hazelnut spread dessert crêpe (which is also a delicious crêpe!).
Overall, we'll rate Breizh Café five stars! If you're looking for somewhere quiet where you can grab some best crêpes in Paris or coffee while enjoying great conversation, the Breizh Café is definitely worth checking out!
See Related: Paris Restaurants with a View of the Eiffel Tower
Address: 15 Rue des Trois Frères, 75018 Paris
If you're in Montmartre, you've gotta visit Crêperie Brocéliande. It's the best place to get classic crêpes and café in the neighborhood!
There is a large selection of crêpe options on their menu, ranging from sweet to savory, vegetarian to meat-lovers. If you want a sweet crêpe, try their Mont-Blanc crêpe—one of the best crêpes in Paris you'll ever have!
The organic buckwheat crepes are absolutely delicious! They are very filling and have just the right amount of toppings, not too much or too little. The buckwheat batter used in making the crepes gives it a fantastic taste that you wouldn't find elsewhere.
And if you want something different than just crepes? They also offer salads that use seasonal produce and charcuterie boards that feature local meats and cheeses.
It's the perfect place to meet up with friends or enjoy some alone time while you sip your favorite drink and eat crêpes.
Address: 6 Rue des Canettes, 75006 Paris
If you're looking for a little warm and nice place to eat in Paris, we've got just the thing, La Crêperie du Clown. It's a cozy little crêperie tucked away in the side streets of Paris. But once you find it, you'll know you've found something special.
It's not too small or too big, and it has outdoor seating—a good mix of both! You'll find just enough room to eat and enjoy your crêpe without feeling like you need to elbow your way through the crowd. The owner is friendly and welcoming and treats each customer like family.
The crêpes themselves are incredible! They're light and fluffy, with just enough filling to keep things interesting. This little spot has all the best crêpes in Paris with a wide variety of toppings.
So if you're ever in Paris and want to eat some top-quality crêpes that are out-of-this-world delicious, La Crêperie du Clown is the place to be!
See Related: Top 1o Vintage Shops in Paris
Address: 3 Rue des Ecouffes, 75004 Paris
Located in the heart of Paris, Princess Crepe is a stop you can't miss if you're looking for the best crêpes in Paris that are as cute as they are delicious. The inside of this crepe shop screams "cute," with pink decor and Japanese anime figures everywhere.
The crêpes are delicious, and they have a good selection of flavors. They make their crêpes with a variety of sweet fillings, including fruit, vanilla ice cream, whipped cream, and savory ingredients such as salmon.
In fact, the crêpes here are just like those you'd find in Harajuku: delicious, sweet treats inspired by Japan's unique culture. If you don't know what to order, we recommend trying their signature pancake, Princess Crêpe, which is absolutely delicious!
The staff is super friendly and can speak English, French, and Japanese.
However, this is a small shop that's not really meant for sitting down and having your food. But it's an adorable stop with a look and feels that's straight from Harajuku—with a French twist.
And if all that isn't enough to convince you that this is the place for your next delicious crepe experience, then consider this. Princess Crêpe is only a couple of minutes' walk from Hôtel de Ville (one of the most famous city halls of Paris), Place des Vosges (the oldest planned square in Paris), and Pont Marie (the famous 17th-century stone bridge of Paris.
Address: 11 Rue Grégoire de Tours, 75006 Paris
Crêperie Little Breizh is located in the heart of Paris. It's just walking distance from the Latin Quarter, so it's easy to get to and find.
Crêperie Little Breizh is known for its wide array of galettes and crêpes with savory or sweet toppings. The crêpes are delicious, and the prices are reasonable. The interior is rustic and charming, with wood beams and raw stone walls.
The staff is friendly and welcoming, despite being busy. If you're looking for a truly French experience, this is it!
We highly recommend their goat's cheese & spinach crêpe, ham & cheese crepe, and apple salted butter caramel crêpe. If you're looking for something on the affordable side, try their "traditional set," which comes with a savory galette and a sweet option—plus a drink!
They don't take reservations, so you might sometimes need to wait for a table. But trust us. It's 100% worth it! You should definitely stop by if you're ever in the area!
See Related: Top 10 Most Beautiful Squares in Paris
Address: 59 Rue St Charles, 75015 Paris
If you're looking for delicious crepes in Paris with a chic setting at reasonable prices, Crêperie Contemporaine 142 is the perfect place. This amazing creperie has an extensive menu with sweet and savory crêpes and galettes, plus cider and desserts.
Their sweet crêpes are incredible, with an extensive range of options, including the Leopoldine sweet crepe. Their savory galettes are also delicious. They have a strong selection of both simple and complex flavors that are sure to please your palate.
The service is fast, friendly, and English-friendly. The ambiance is chic but laid-back—perfect for unwinding after work or a long day out in town.
The space is spacious enough to accommodate large groups as well as smaller parties of two or three people. There's even a terrace if you want to enjoy your meal outdoors without being rushed inside by rain or snowfall!
It's worth noting that Crêperie Contemporaine 142 only opens twice a day. So it's best to arrive early if you want any chance of getting a seat during peak hours.
And did we mention it's a few minutes walk away from the world-famous Eiffel Tower?
Address: 18 Rue des Haies, 75020 Paris
If you're looking for a casual place where you can enjoy delicious crepes with a side of infused rums, Marche Ou Crêpe is the place for you. This place is a little off the beaten path, but it's worth the trek.
The decor is quirky and fun! There are random items everywhere, from old memorabilia to shoes used as pots (seriously!). The crêpes are served in this same style. They're fun, they're different, and they're delicious.
We highly recommend the l'originale. It's one of those things that you'll want to eat all day long. If you like white chocolate sauce and strawberries, this is your dream come true. If you're not into either of those things, get the praline with a banana. It's just as good.
The service was quick and friendly. The owner was so sweet. She made us feel like she'd known us for years! The server can also speak English if you need help deciding which crêpe to get.
Overall, if you're looking for something new to try in Paris or just want to hang out with friends over something delicious, definitely check this place out!
See Related: How to Eat a Croissant in Paris
Address: 4 Rue de Milan, 75009 Paris
If you're looking for a crêpe with a little extra something, head to Lucette Fait Des Crêpes. This creperie is conveniently located near some of Paris's most famous landmarks: Parc Monceau, Palais Garnier, and Place de la Concorde. It's also near the Wall of Love and Place du Tertre.
The menu offers a wide range of mouthwatering crêpes, galettes, and omelets with various toppings and fillings. You can add whatever toppings or sauces you would like! It's really fun to go here and customize your meal.
We highly recommend trying their goat's cheese crepe with walnuts and honey. It's absolutely heavenly! And if you're feeling adventurous, try their lemon crepe after that. It's equally lovely!
The atmosphere is cozy and cute, with pretty decorations and neat indoor seating. But the place is a bit loud. So, if you prefer quieter places, this may not be best for you.
The staff is also friendly and helpful. If you're looking for something simple and light but delicious, this is the place to go!
Address: 24 Rue la Vieuville, 75018 Paris
If you're looking for a cozy, intimate experience that doesn't lack in quality or taste, Crêperie Rozell Café is the place for you. It's a great place to stop for a snack or light dinner if you're visiting Montmartre—or even just walking around the neighborhood.
The cafe is small, but it's not lacking in charm. You'll find exposed-stone walls and a trendy vibe here. The staff is friendly and speaks English, which is always nice when traveling in France!
They specialize in sweet and savory crêpes, and they have both a menu of sweet crepes and hearty galettes. Their menu includes some organic buckwheat galettes and gluten-free options as well.
This is a great place to grab something to eat before visiting one of the nearby museums or attractions or just as something different while you're sightseeing. We definitely recommend giving this spot a try!
Related Resources: