France – a country full of excellent cuisine, romance, culture, and champagne! Irrespective of your search for an educational introduction to the bubbly world or a guided tour of the vineyards while not straying too far from Paris, you're in luck. Going to Champagne, France, from Paris- within a day is possible!
So, what is champagne, exactly? What differentiates it from the other types of wine? Essentially, champagne is the only sparkling wine that can only be named so if made in France's Champagne region. There is a specific process that the wine must adhere to to be considered champagne, such as adding exact amounts of sugar, yeast, or grapes.
The beauty of taking a champagne tour from Paris is that it allows excursionists to taste some of the best champagne in the world, all while learning about the history and production of this delightful sparkling wine. You don't have to sacrifice too much time away from the capital to indulge in this French experience. There are so many day tours to the Champagne region that still manages to offer a rich and informative experience for those who are short on time.
Best Champagne Tours from Paris, France
That said, here we have compiled a list of our favorite Champagne region tours from Paris.
1. Champagne Day Trip with six tastings, Reims Cathedral & Family Winery from Paris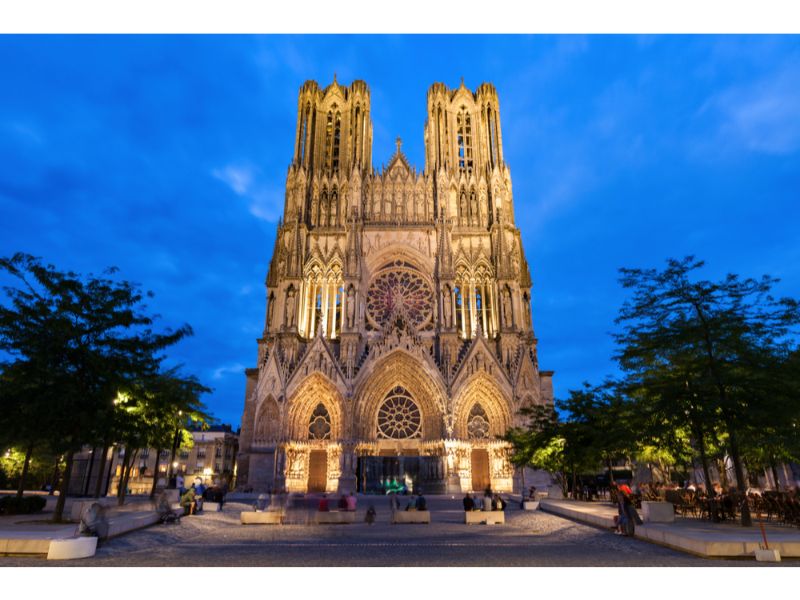 Starting in Paris, this tour will offer a comprehensive journey through one of the main champagne-producing areas within the region. You'll set off with your group and guide in the early morning in an air-conditioned minivan as you make your way through the French countryside. Upon arrival, you'll have a guided walk through the rolling vineyards as you learn about Chardonnay and Pinot Noir grapes and their importance to the region.
Later in the day, you'll learn more about wine techniques and different processes for creating bottles of bubbles. Next, the tour will take you to the family-run Champagne house of Nicolas Feuillatte. Here, you'll be introduced to the local producers who make the champagne and receive a factory tour. You'll also be able to sample a few different types of champagnes produced here.
The champagne tour continues with a guided visit to Hautvillers Abbey, an ancient abbey on the region's outskirts. Your guide will talk you through the history and old stories that make this building impressive and worth visiting. You'll then see the grave of the influential Dom Perignon, the French monk considered the founder of champagne. The history lesson continues as you explore the famous Reims Cathedral and the secrets surrounding it.
Finishing off the day, you'll head to the nearby town of Épernay, where you'll have the opportunity to wander about the city before returning to Paris.
2. Champagne VIP Day Trip from Paris With Local Private Wine Expert Guide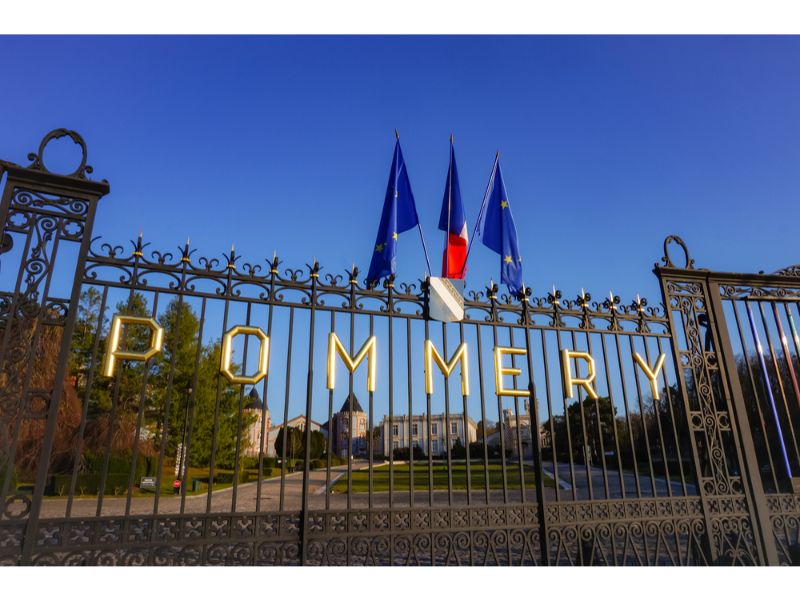 The name in this one says it all! On this private tour, you'll be joined by a local wine expert who will provide all the insight and tips you need to appreciate and experience the finest French culture.
Departing from Gare de l'Est in Paris in the early morning, you and your small group will be transported to the Champagne region of France in a comfortable and air-conditioned minivan. Once there, you'll start the day by learning about the wine-making process and get to share a glass (or two) in the fresh morning air.
You'll then visit an artisan winery in Montagne de Reims, where you'll learn about the different types of bottles and how champagne production. After that, it's time to have a champagne tasting before continuing your private tour of Reims. Once in Reims, your tour guide will take you through a brief history of the champagne-making capital and give you some free time to explore the Reims Cathedral.
You'll finish the day at Maison Pommery- an iconic Champagne house in France and a haven for the best in the country. Here, you'll get to sample an array of bubbles and even have a chance to purchase some bottles to take back to Paris with you. This one is unbeatable if you desire a private day trip.
See Related: Best Wine Tours in Paris, France
3. From Paris: Day Trip to Champagne with 8 Tastings & Lunch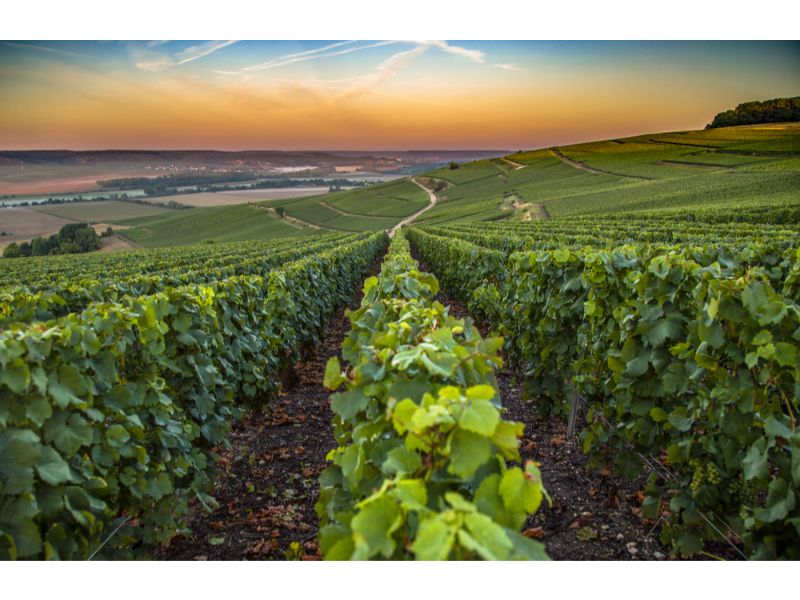 This small-group champagne tour is perfect for those looking to experience the full beauty of the champagne region in just one day. Starting in Paris, you'll embark on this 10-hour journey to the champagne region in an air-conditioned minivan, complete with some classic French pastries to fuel your day.
Once you arrive at the vineyards, your expert guide will take you to one of France's most prestigious champagne houses. You'll explore the estate and galleries here, finishing the visit with a champagne tasting. After learning about the basics of champagne production, you and your group will learn about the art of wine pairing and experience a food and champagne tasting session composed of fresh, local delicacies.
The next part of this Champagne day trip includes a walk through the gorgeous vineyards as you learn about the different characteristics of both red and white grapes. By the end, you'll be able to distinguish a Pinot Noir from a Pinot Meunier!
The end of this champagne tour from Paris takes you to a family-run winery where you'll learn the ultimate art of how to open a champagne bottle- otherwise known as sabrage. Continue your tastings until dusk, when you'll be carried back to the capital.
4. Champagne Tour Paris: Small-Group Tour with 3-Course Lunch
Unlike the others on the list, this Champagne day trip emphasizes visiting the town of Epernay rather than Reims. Depart from Paris and go to the city of Epernay, where you'll have the chance to explore this small yet charming village.
You'll start by visiting a well-known Champagne house, complete with a behind-the-scenes tour and tasting in the caves of the estate. The exact domain changes, but expect to see Moet Chandon, Veuve Clicquot, Taittinger, or others. As you can guess, this wine tasting will occur at one of the best houses in the Champagne wine region.
Your local guide will take you on a walking tour of the main sights, including the Avenue de Champagne, where some of the world's most famous champagne houses are located. After exploring the town, you'll have free time to enjoy a delicious three-course lunch at one of Epernay's finest restaurants. Here, you'll be spoiled with some of the best cuisines in the Champagne region, complete with a pairing of delicious wines.
5. Reims and Champagne Tasting Full-Day Tour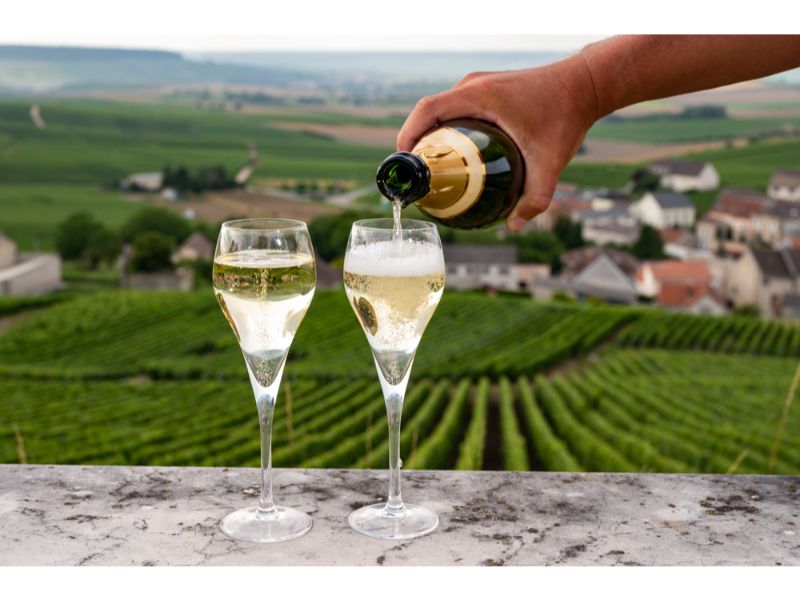 This Champagne tour is organized by Gogo Tours Paris and is one of the most famous champagne day trips from the capital. You'll start with a pick-up in central Paris and make your way to Reims, one of the most iconic cities in France. Here, you'll first get an extensive overview of the capital of the Champagne capital.
Your knowledgeable guide will walk you through sights like Notre Dame de Reims. After you tour the city, you'll finally be ready to enter some champagne cellars and experience the art of champagne tasting. But first- lunch! Head to a local restaurant to learn about the importance of gastronomy in France. Indulge in a three-course meal before carrying on your journey.
In the afternoon, you'll visit one of the most prestigious champagne houses in the country. Here, you'll learn about the history and the art of sparkling wine production, followed by a tasting session. Explore the caves of the estate as you spend time in the ancient cellars of Reims. End the day with an overview of the French Champagne region and a drop-off back in Paris.
See Related: Best Private Tours of Paris, France
6. Champagne Tour: Moët & Chandon, vineyards and tastings from Paris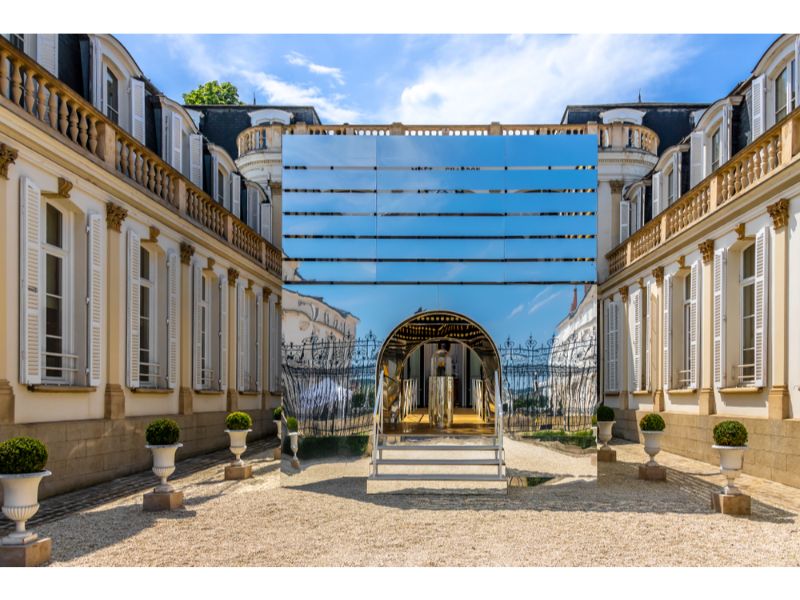 As the name suggests, this Champagne day trip from Paris focuses on the famous Moët & Chandon Champagne house. Start with a meeting point in the 12th arrondissement of Paris, and make your way to Epernay – the capital of Champagne. Here, you'll explore the Moet & Chandon estate for a guided tour and tasting before visiting the Avenue de Champagne, where some of the world's most famous sparkling wines are produced.
Continue your journey by checking out Champagne's vineyards, and you'll have some free time to explore the local sights. Afterward, enjoy lunch at a local restaurant with traditional cuisine and wine. In the afternoon, you'll head to the small commune of Mutigny, where you'll visit a local winemaker's atelier. There, you'll attend a quick masterclass on how to disgorge champagne. End your day trip with a drop-off back in Paris.
7. Champagne Area Small Group Day Trip with Cellar Visits & Tastings from Paris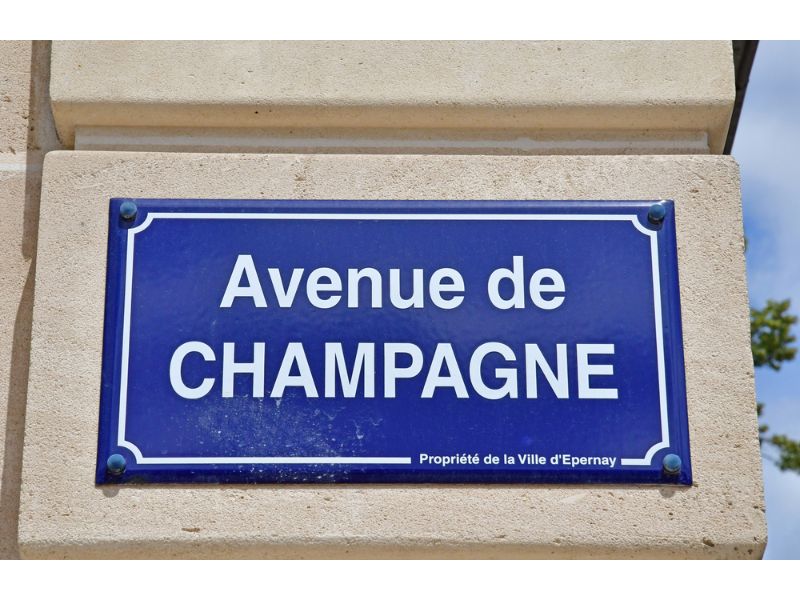 This champagne tour from Paris takes you on a journey to the heart of the Champagne region. Explore some of the most prestigious champagne houses in the country, most notably Moet & Chandon. With this small group tour, your helpful guide will be able to tailor your experience to your needs while ensuring you're having a great day out.
Start your day with a pick-up in central Paris, and go to Epernay – an influential spot in the Champagne region. Here, you'll be able to explore some of the most famous wineries and cellars as you learn about how champagne is made and stored. You'll visit the estate of Moet Chandon and indulge in tastings of the infamous Dom Perignon.
After your tasting, you'll have the chance to explore the Avenue de Champagne and the surrounding vineyards. Have lunch at a local restaurant, where you can sample some of the region's culinary specialties, working your way through your 3-course lunch.
In the afternoon, you'll move on to Hautvillers, a small commune outside Epernay. Your guide will explain the significance and importance of monk Dom Perignon in the region's history. Finally, you'll return to Paris with a drop-off at your original meeting point. At the end of this day trip, you'll have a new appreciation for sparkling wine and an understanding of what makes the Champagne region unique.
8. Champagne Region Private Day Trip from Paris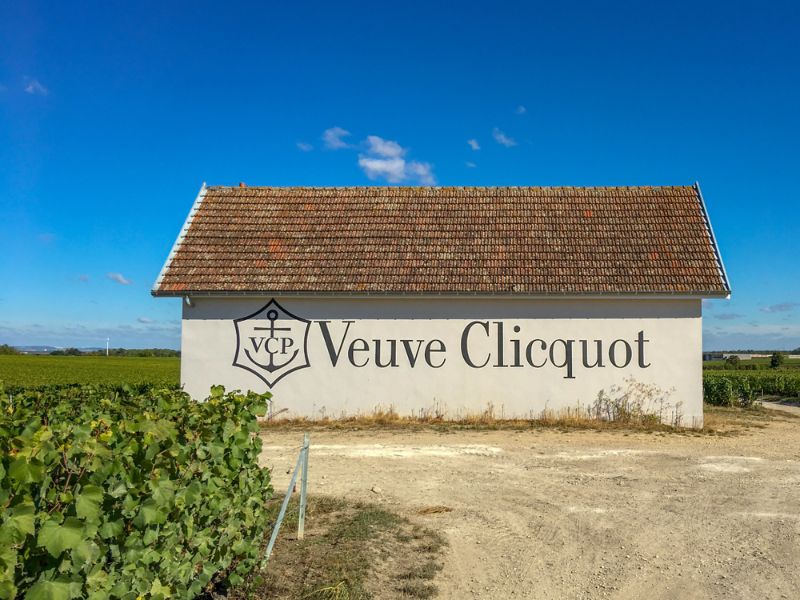 This day trip from Paris emphasizes visiting the towns of Reims and Epernay. Start your early morning in Paris before being picked up at your hotel or accommodation. You'll then go to Reims, a crucial city in the region and a haven for the best champagne wines.
Participate in cellar tours at two of the most notable champagne houses in the region. The first visit will be to the Veuve Clicquot domain, where you will learn about the Champagne wine production process and samplings in the cellar—then, had to a smaller estate, where you'll have an exclusive visit and tasting.
Depending on your time, you'll get a chance to visit Reims Cathedral – an ancient building with a long history and significant cultural importance where French kings are buried. On this private tour, you'll have so much time to enjoy the French countryside, with the picturesque vineyards of Champagne Ardenne as you go. Towards the end of your day, visit a local restaurant (sometimes Michelin-starred!) for lunch before continuing.
See Related: Best Paris Food Tours in Paris
9. Champagne Luxury Private Day Tour from Paris, including eight tastings & Michelin Star lunch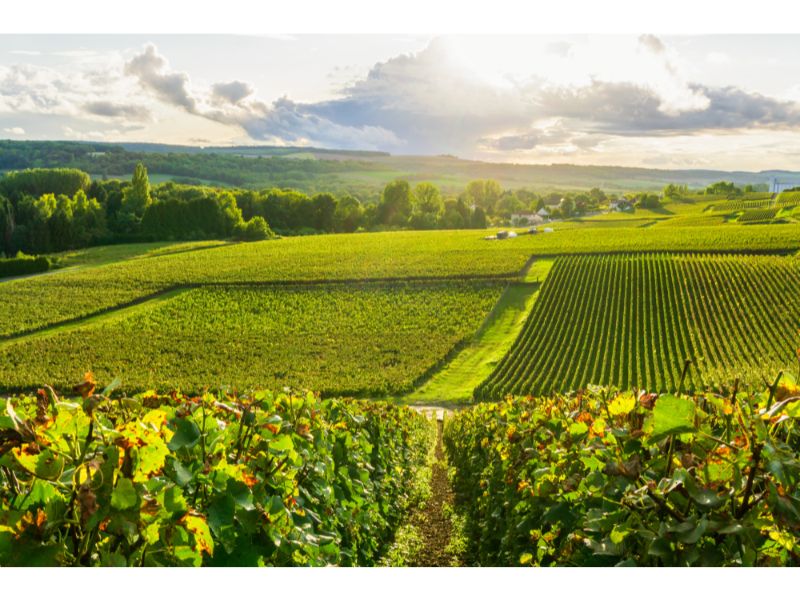 For those looking for some luxurious Champagne tours, this one's for you! From the moment you're picked up in your private chauffeur-driven car, you'll enjoy the most deluxe experience in the Champagne region. Here, you'll visit some of the area's most prestigious estates and wineries.
You'll start the day by sampling some glasses of bubbles at some of the most luxurious-producing estates in the region. The in-house sommelier will walk you through the production steps and offer you a couple of samples to recap what you learned!
For lunch, rest assured that you'll be given nothing but quality as you eat in a luxurious chateau overlooking the idyllic Champagne region. Spoiled with your 3 Michelin-starred courses, you can indulge in some of the best cuisines from the area.
You won't miss out on tastings here either- with eight samplings throughout the day, you're guaranteed to enjoy some of the best bubblies you've ever had- straight from the source. As the day approaches, you'll make one last final stop at a boutique winery before you head back to Paris.
10. Paris to Champagne Tours by bike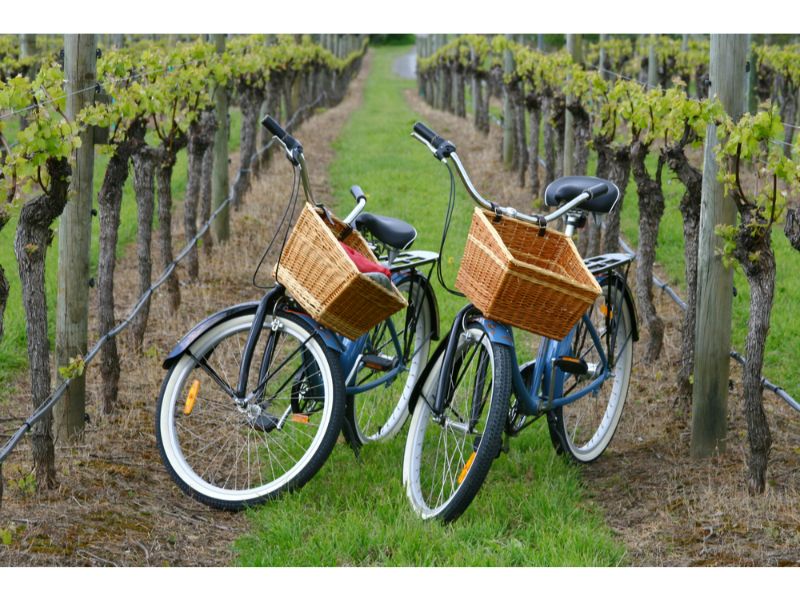 This is one of the more unique champagne tours you'll experience! Meet your guide at the train station in Paris and take the train to Epernay together. Rather than being driven to the wine estates, on this bike tour to the Champagne country, you'll get around by cycling!
Upon arrival, pick up your bike and cruise through Epernay, stopping for lunch and treats. Continuing, you'll ride your e-bike through the beautiful vineyards of the French countryside. Visit a quaint, small family-run estate where they'll educate you about champagne-making. Tastings aren't lacking here, where you'll be offered a few glasses of champagne wine.
Continue the day with a ride to the village of Hautvillers before returning to your final champagne tastings. As the tour ends, you'll drop off your bikes before taking the train back to Paris together.
Related Resources: