Paris, a city known for its rich history, art, and cuisine, also boasts numerous budget-friendly breakfast spots for those seeking a delicious start to their day without breaking the bank. Exploring these affordable cafes and eateries allows travelers to indulge in authentic French flavors while enjoying the city's mesmerizing local atmosphere. From hearty croissants to savory omelets, these cheap breakfast spots cater to a diverse array of tastes, offering an excellent way to start your mornings during your Parisian adventure.
Key Takeaways
Paris offers a variety of budget-friendly breakfast spots for travelers to enjoy authentic French flavors
Some noteworthy affordable venues include Baguett's Café, Anticafé, and Matamata Coffee Bar
During your Paris trip, indulge in local breakfast foods such as croissants, omelets, and coffee while keeping costs low.
You can explore more food options during your stay from the best restaurants in Paris. For more tips, check out The Ultimate Guide to Planning a Trip to Paris to make the most of your Parisian adventure.
Best Cheap Breakfast in Paris
Baguett's Café
Baguett's Café, located at 33 Rue de Richelieu in Paris, is a hidden gem for those looking to enjoy an affordable yet authentic French breakfast. This cozy establishment offers a warm and welcoming ambiance, perfect for starting your day on the right foot. The charming interior consists of dining room full of small tables and comfortable seating, setting the stage for a delightful dining experience in the heart of the city.
The menu at Baguett's Café is a testament to its French roots, featuring traditional items such as croissants and baguettes. As you bite into a crispy, buttery croissant, you can almost feel the essence of Parisian life. Their baguettes, equally as delightful, pair well with various accompaniments like cheeses, jams, and pâté.
Coffee lovers won't be disappointed either, as Baguett's Café serves an excellent selection of coffee drinks made by skilled baristas. From classic espressos to creamy lattes, there's a caffeinated beverage to satisfy every palate.
In addition to their baked goods orange juice and coffee, Baguett's Café also offers a range of wholesome breakfast options, ensuring a balanced and nutritious start to this important meal of your day. With prices being reasonable and comparable to other dining spots in the area, Baguett's Café is an ideal choice for an inexpensive breakfast in Paris.
Anticafé
Anticafé is a unique spot for breakfast in Paris, which offers a cozy and warm atmosphere perfect for starting your morning. The café is situated in the Beaubourg area, making it a convenient location for both tourists and locals. Customers are attracted to Anticafé's diverse menu options, making it an ideal place for everyone, including both Americans and Parisians alike.
The breakfast menu at Anticafé boasts a wide range of options, from classic French pastry favorites to modern dishes. Guests can savor the traditional croissants that compete with the best in Paris or try their delicious toast and granola bowls. Pair your chosen dish with a cup of freshly brewed coffee or a variety of tea options to complete your morning meal.
Apart from a scrumptious food selection, Anticafé offers a unique billing concept. Instead of paying for individual food items, customers pay for the time spent in the café. This approach encourages guests to enjoy a leisurely breakfast while engaging in conversation or working on their laptops, making Anticafé a popular destination for both socializing and productivity.
Matamata Coffee Bar
Located in the heart of Paris, Matamata Coffee Bar is a popular spot for an affordable and delicious breakfast. Known for its specialty coffee, gourmet sandwiches, and homemade cakes, Matamata attracts both locals and tourists alike.
The menu features a variety of options, such as breakfast sandwiches, avocado toast, and fried egg and sandwiches. Each dish is carefully crafted to satisfy your taste buds and fuel your day in the bustling city. Pancakes, eggs, and bacon can also be found on their menu, offering a cozy and comforting meal.
Being close to the Montmartre district, Matamata Coffee Bar serves as a convenient breakfast stop before exploring the iconic area and its landmarks. After enjoying a tasty meal, one can easily venture out to the nearby attractions, such as the Sacré-Cœur Basilica and the Moulin Rouge.
For those interested in trying a classic French cheese sandwich here, the Croque Monsieur or Croque Madame are great options. To learn more about the difference between these two delightful sandwiches, check out this comparison.
Kozy Bosquet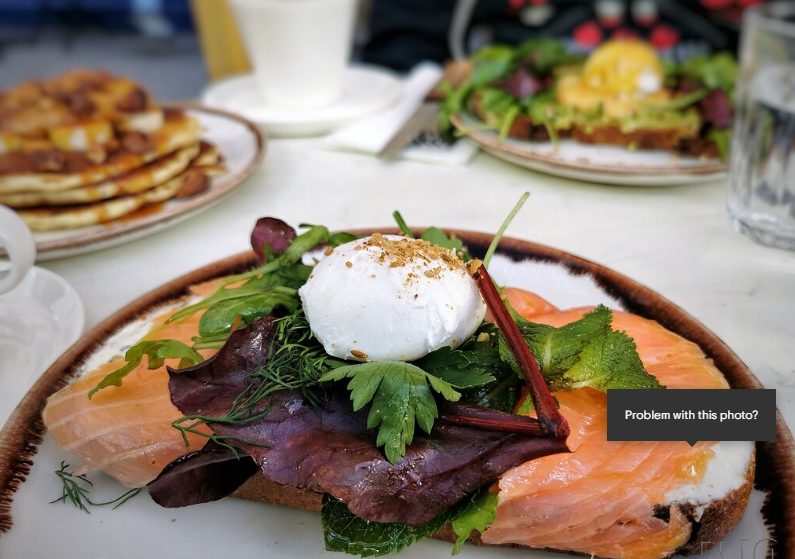 Kozy Bosquet is a popular spot for a budget-friendly breakfast in Paris, conveniently located near the iconic Eiffel Tower. With a cozy atmosphere and a delightful selection of breakfast options, it caters to various dietary preferences, including vegetarian, vegan, and gluten-free options.
Start your day with a classic French croissant or opt for a delicious toast. If you're in the mood for something sweet, their menu boasts an array of pastries.
The 10 Best Croque Monsieur and Madame in Paris is an excellent dish to try during your visit to Kozy Bosquet. Visitors can also enjoy their wide selection of coffees and drinks, such as a flat white, café latte, and café mocha, expertly made by their skilled baristas.
Aside from its charming Gros-Caillou location, Kozy Bosquet offers an inviting atmosphere for a delightful and affordable breakfast experience. With its warm and cozy ambiance, coupled with its delicious menu and fair prices good breakfast everywhere, this little gem is indeed a noteworthy spot to uncover when exploring the streets of Paris.
Eggs & Co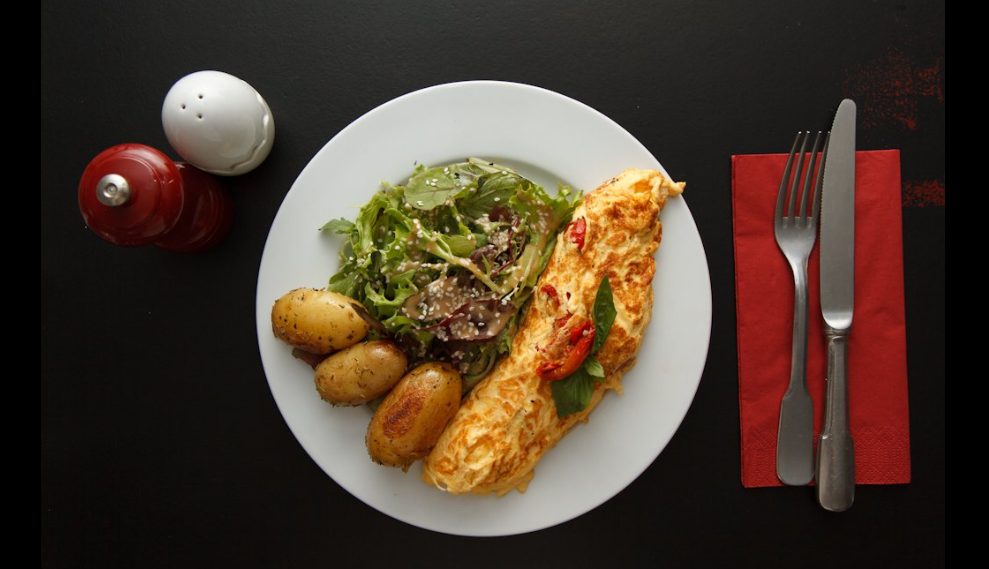 One of the affordable and best breakfast at spots in Paris is Eggs & Co. Located at 11 rue Bernard Palissy in the 6th Arrondissement, this quaint French eatery offers a cozy atmosphere and delicious food for breakfast lovers. Eggs & Co. restaurant has a Traveler's Choice 2023 rating, which speaks to the quality of its food and service.
Eggs & Co specializes in egg dishes, including classic favorites like Eggs Benedict and Eggs Norwegian. Their menu caters to various dietary preferences, with vegetarian, vegan, and gluten-free options available. Some of their signature dishes include cocottes, granola, and the ever-popular shakshuka.
Happy Caffé
Located at 214 rue de Rivoli, in the heart of Paris, Happy Caffé provides a delightful and affordable breakfast experience. The café offers a wide range of options to suit various dietary preferences, including gluten-free, vegetarian, and vegan choices.
Early risers can start their day with the classic French pain au chocolat, or opt for a more filling tartine, topped with freshly made spreads. For a healthier option, the avocado toast is a crowd-pleaser, featuring ripe avocado atop a slice of freshly baked bread. Paired with a hot cup of coffee or tea, this breakfast treat will kick-start your morning.
In addition to the classics, Happy Caffé also offers a selection of baked goods for those with a sweet tooth. The moist and flavorful banana bread is a popular choice among patrons, providing a burst of energy for your day ahead. Gluten-free options ensure everyone can enjoy a delicious breakfast without concern.
For those seeking plant-based alternatives, Happy Caffé proudly serves a variety of creative vegan dishes. From hearty smoothie bowls to scrumptious seasonal fruit salads, the café is committed to serving nutritious and environmentally friendly meals to all its customers.
See Related: Best Food Tours in Paris, France
Republique of Coffee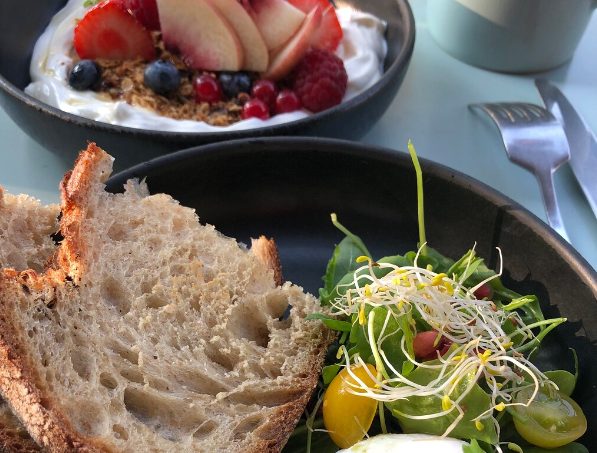 Republique of Coffee is a popular spot in the 10th arrondissement of Paris, located at 2 boulevard Saint-Martin. Catering to both locals and tourists, this café provides a refreshing change from the typical French breakfasts of tartines and croissants.
The menu at Republique of Coffee offers a diverse array of breakfast options. One standout dish to consider is their delicious French toast.
Made from fried brioche, this sweet breakfast treat is a must-try for those looking to indulge in a classic French dish with a twist. In addition to French toast, the café serves a variety of European-inspired dishes such as ceviche, burgers and tartines, satisfying all palates.
This trendy café is open every day, from 8:00 am to 7:00 pm on weekdays, and from 9:00 am to 7:00 pm on weekends. Its central location makes it easily accessible on foot from numerous hotels in the surrounding area, and it is just a short 0.2 miles from Canal Saint-Martin. As a result, it makes the perfect addition to any Paris travel guide.
Blé Sucré
At Blé Sucré, located in the Bercy/Nation area near Place de la Bastille, you can find an affordable and delicious breakfast experience. This charming French bakery specializes in a variety of breakfast treats, including mouthwatering viennoiserie, pastries, and breads, making it an excellent choice for any breakfast lover in Paris.
The cozy ambiance of the bakery invites customers to indulge in popular breakfast options such as scrambled eggs, petit déj, and granola bowls. While items like eggs benedict might not be the bakery's forte, Blé Sucré serves up traditional French pastries that are sure to satisfy your breakfast cravings.
An added bonus, this breakfast spot emphasizes the use of organic ingredients in its recipes. Whether you're a local or just passing through, make sure to treat yourself with their delicious pain au chocolat or a maple syrup–drenched short stack.
In addition to its delightful menu offerings, Blé Sucré also has a strong commitment to quality and customer satisfaction. With two locations and a high rating on various review sites, this Parisian gem has been recognized for its excellence in both flavor and presentation.
La Couleur des Blés
Located at 6 rue Jean Jacques Rousseau, La Couleur des Blés is a charming breakfast spot in Paris. Open from 7 am to 8 pm on weekdays and Saturdays, this quaint eatery is perfect for grabbing a cheap yet delicious breakfast or lunch. With a small space that exudes a cozy atmosphere, it offers a fantastic meal experience for budget-conscious travelers.
Moving on to the other notable breakfast spots in Paris, 5 Pailles is a must-visit for its delightful coffee and fresh pastries. Another option is Chambelland, which has gained popularity for its scrumptious gluten-free baked goods and cheese. Bo&Mie, known for its freshly baked bread and viennoiseries, will win your heart with their tasty croissants.
If you're looking for a variety of seasonal dishes, Season is the place to go. Their changing menu items, made from fresh, high-quality ingredients, ensure that every visit offers a unique culinary experience. For those craving something sweet, Cookies is a delightful bakery that offers various cookies alongside their assortment of breakfast options.
Hardware Société Paris provides a perfect combination of excellent coffee paired with a diverse menu that caters to breakfast and brunch enthusiasts. Lastly, don't miss out on Baguett's Café, a quaint spot in Palais Royal/Musée du Louvre, which offers a fantastic breakfast and brunch experience with their mouthwatering selection of baguettes and other delicious fare.
Strada Café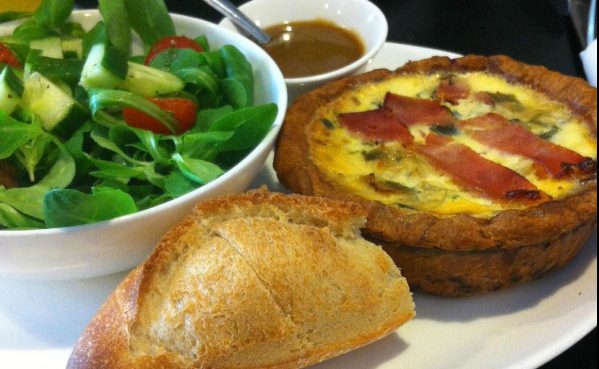 Located in the lively Marais district, Strada Café offers an affordable and delicious breakfast experience to locals and international visitors alike. Just a short walk away from the iconic Eiffel Tower, this popular destination provides a cozy atmosphere for travelers seeking a satisfying meal before exploring Paris.
Strada Café specializes in French, European, and even Japanese-inspired breakfast dishes. With a wide range of options, guests can appreciate a touch of international cuisine as they start their day. From traditional French croissants to savory scrambled eggs with salsa marinara sauce, the diverse menu caters to all tastes.
The casual spot inviting Parisian café stands out not only for its flavorsome offerings but also for its affordable prices. With a cost range of $7 to $21, Strada Café proves that quality food doesn't have to break the bank. Moreover, it ranks as one of the top 10 best cheap brunch spots in Paris according to Yelp reviews.
To sample the range of options, guests may opt for a simple hot beverage or indulge in their more substantial dishes. The coffee that customers rave about is sourced from local roasters, ensuring each cup is a well-balanced and satisfying accompaniment to your meal.
Accessibility is essential when visiting the bustling city of Paris. Strada Café at 94 rue du Temple, 75003 Paris, France, is ideally located near popular attractions, restaurants and luxury hotels. It's conveniently situated in the heart of the artistic and trendy Arts & Métiers/Rambuteau neighborhood, making it a perfect stop for those interested in exploring the city's vibrant cultural scene.
Frequently Asked Questions
What are some budget-friendly breakfast places in Paris?
There are several budget-friendly breakfast spots in Paris that offer delicious meals at affordable prices. One popular choice is Baguett's Café, known for its tasty breakfast and brunch options near Palais Royal/Musée du Louvre. Another is Ob-La-Di, a café located in the Marais district that draws inspiration from the famous Beatles song, offering a cozy atmosphere and scrumptious breakfast dishes such as pain au chocolat. If you're looking for more affordable dining options in Paris, you can find a list of cheap eats in the city at Time Out.
Which cafes offer early morning breakfast in Paris?
You can find several cafes offering early morning breakfast in Paris. One such option is the renowned selection of 12 Best Places for Breakfast in Paris, which offers details on various cafes that cater to early risers. Additionally, consider exploring food-focused experiences such as Paris food tours to discover more of the city's culinary delights.
What is the average cost of a petit déjeuner in Paris?
The average cost of a petit déjeuner (meaning "small breakfast" in French) in Paris can vary depending on the establishment you visit. Typically, you can expect to pay around €5-€10 for a basic breakfast that includes a hot beverage, a croissant or pain au chocolat, and a fresh baguette with butter and jam. Some venues might offer additional options, such as yogurt or granola, at an added cost. Always remember to check the menu and ask about prices before ordering to avoid surprises.
Related Resources