Experience the French lifestyle in the heart of Paris at Cluny-La-Sorbonne! This secluded corner of the City of Lights is teeming with activity and culture. Home to two renowned universities, Université Paris-Sorbonne and Sorbonne Nouvelle – Université Paris 3, it's a hub for academics and intellectual curiosity.
During your visit, be sure to take a stroll around the Latin Quarter, where you'll find many historical landmarks, including the original student dwellings of Cluny College!
🗼 Paris Insider's Top Picks! ✨
Dive into the heart of Paris with our handpicked partners. Trusted by thousands, they ensure you experience the best of Paris.
The area is surrounded by inviting cafés, art galleries, an abundance of chic boutiques, stunning parks, and so much more. Take a day or two out of your holiday to explore what makes this neighborhood truly unique – don't miss out on this one-of-a-kind experience!
Cluny-La-Sorbonne Paris is one of the most remarkable stations on the Paris Metro—it truly oozes charm, particularly upon entry. The vault has magnificent mosaics done by Jean Bazaine, known as "Les Oiseaux." On either side, there are mosaics crafted to resemble the signatures of French artists, scientists, and politicians—a visual delight!
Moreover, even the typography used in this station name is an interesting reminder of a different era. Those passing through can't help but be captivated by the effect these mosaics have when viewed all together—all coming to life with their bright colors, making it an unforgettable experience.
Are you planning your next trip to Paris, France? Then you may have heard of the Cluny-La-Sorbonne Paris Metro station. Located between the Latin Quarter and Saint-Germain-des-Prés in the 5th arrondissement, it is one of the most convenient stops for visitors and travelers alike.
This article will provide an overview of what to expect from the station, including its attractions, services, and other important information. We'll also cover some of its histories, so you can learn why it has been such a popular destination for so long. So let's get started!
History of Cluny-La-Sorbonne Paris Metro Station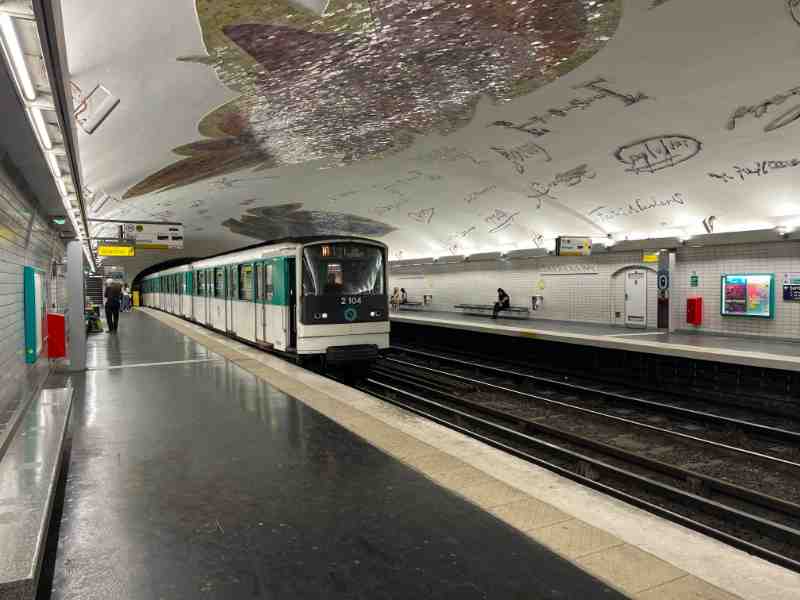 Cluny–La Sorbonne is a metro station originally opened in 1910 as part of Line 10 (now M10). It was constructed by the Societe du Chemin de Fer Metropolitain de Paris (SCFMP) and named after two nearby landmarks: La Sorbonne University and The National Museum of Middle Ages. The station was renovated in 1982 with new tile work and platforms but still retains much of its original look.
Attractions near Cluny-La-Sorbonne Metro Station
The Latin Quarter is one of the oldest parts of Paris and home to some wonderful attractions that are just a stone's throw away from the station. Head to Place St Michel for some delicious crepes or to explore Notre Dame Cathedral before heading over to Rue Mouffetard for some great shopping opportunities. As you wander around this vibrant neighborhood, don't forget to stop by Place de la Contrescarpe or Jardin des Plantes for a picturesque break.
Another must-see when visiting this area is the Pantheon – a grandiose neoclassical building built in 1790 as a church dedicated to St Genevieve – patron saint of Paris – but since then has been transformed into a mausoleum for famous French figures such as Voltaire and Victor Hugo.
For any book lovers out there, head over to Shakespeare & Co, located right across from The Pantheon – they offer an amazing selection at very reasonable prices!
For something more relaxing after all that walking around, take a stroll through Luxembourg Gardens or have a picnic along Seine banks – both just minutes away from Cluny–La Sorbonne Metro Station!
For travelers who love a mix of sightseeing, culture, and luxury, Paris' Hôtel de Cluny is an ideal hotel. Located in Latin Quarter, the hotel is near notable places such as Notre Dame Cathedral and Luxembourg Gardens, as well as many local gems.
Inside the hotel itself lies a secret mosaics museum which creates an extra-special effect with its minimalist interior and iconic view. Each room comes equipped with unique mosaic installations, making a stay at this boutique hotel truly unforgettable. The mosaics reflect different aspects of life in Paris and even have subtle details that have to be viewed up close to be noticed.
This magical place in Paris provides the perfect getaway for any traveler.
Services Available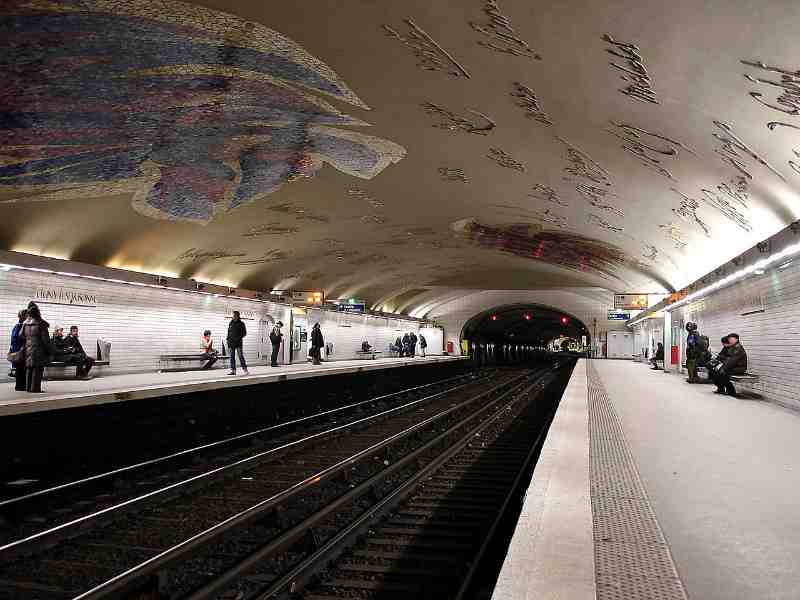 If you're looking for convenience while traveling through Paris, then you should be covered here! There are plenty of food vendors located onsite selling fresh snacks like crepes, sandwiches, and pastries, plus an ATM machine if you need cash quickly or want to buy tickets for another metro line without going outside.
There's also free wi-fi available throughout the station – perfect if you want to stay connected while waiting for your train! Finally, there are ticket machines at every entrance, which make it easy to purchase tickets quickly – no need to worry about standing in long lines anymore!
Conclusion
All in all, Cluny–La Sorbonne Metro Station offers visitors an easy way to explore all that Paris has to offer without wasting time trying to figure out directions or find transportation options. Whether it's exploring famous landmarks like The Pantheon or simply strolling along Seine banks – this stop truly has something for everyone!
Plus, with its array of services such as food vendors, ATMs, and free Wi-Fi – this makes it even more appealing for anyone looking for a hassle-free travel experience while in Paris!