Details
Address: 5 Avenue Duquesne, Paris, 75007
District: 7th arr.
Check-in: 3:00pm
Check-out: 12:00pm
Room Count: 2
Starting Price: $348.00
Hôtel Derby Eiffel Description
Hovering over the spirited heart of Paris, the Hôtel Derby Eiffel unfurls like a well-aged parchment of unforgettable tales. Imagine stepping through the time-etched stone façade into a realm of warm, old-world charm, kissed by the Parisian elegance.
Think Hemingway sipping cafés crèmes and jotting down narratives, the briskness of culture curling around him. That's the essence of Hôtel Derby Eiffel.
At your first glance, this Parisian centerpiece may seem understated – don't let that fool you. Its beauty lies not in grandiosity, but in an unpretentious allure that mesmerizes you with its simplicity.
Locating it, you descend upon the bustling 7eme arrondissement, a district known for its art, cuisine, and vivacious joie de vivre. You will find yourself a mere stone's throw away from the Eiffel Tower – quintessential Paris right at your fingertips.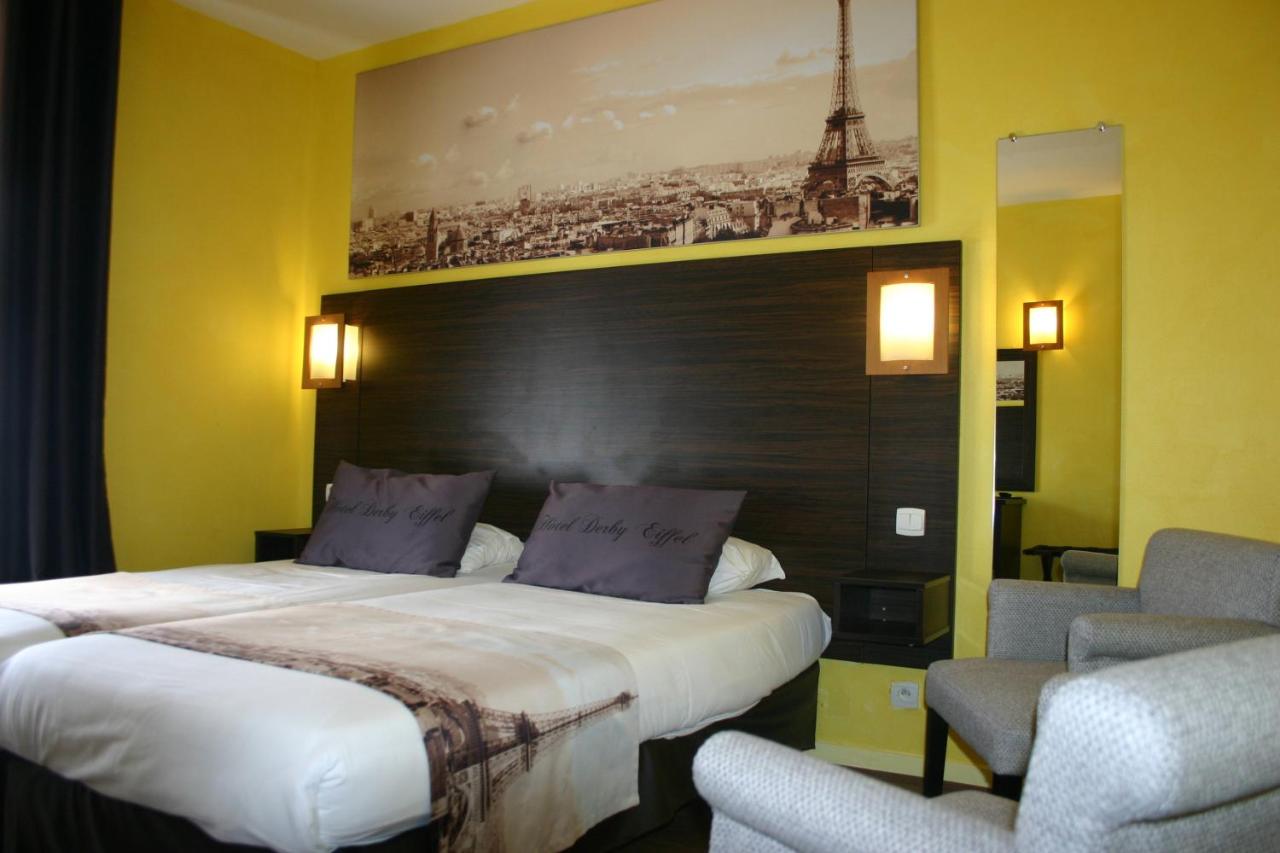 In your expertly appointed room, the essence of French sophistication is tethered to comfort. Crisp, clean lines merged with the cherishing embrace of plush, soft fabrics, crafted to coax you into leisurely surrender. Whether it's sipping a steaming café au lait on your balcony while Paris unfurls beneath you or soaking in the decadence of a monsoon shower, expect the unexpected every moment of your stay.
Exploring the maze-like corridors of Hôtel Derby Eiffel, you collide head-on with Paris' eclectic, cultured spirit in a decorous ballet of past and present. The property's homage to vintage French character paired with the inclusiveness of modern amenities forms a delightful juxtaposition – a symphony of sensations designed to keep you intrigued.
Of course, your Parisian foray wouldn't be complete without the gastronomic delights that Hôtel Derby Eiffel so scrumptiously parades. Delve into the delicacies of French cuisine, from bubbling coq au vin to the fragile, flaky wonders of a freshly baked croissant. Let the culinary narrative take you to the cobblestone streets of Montmartre, the shimmering Seine, and the alluring Parisian markets.
In essence, a stay at the Hôtel Derby Eiffel isn't merely a visit – it's an odyssey. It's plunging into the lore-ridden depths of this sprawling metropolis, breaking the surface to bask in the effervescent glow of French hospitality. It transforms you from a wide-eyed tourist to a world-worn traveller, one whose steps echo with stories etched in cobblestones and heartbeats.
And in our "Hôtel Derby Eiffel Review," dear reader, you've been privy to just a taste. The real feast lives under the Parisian skyline, waiting for your arrival.
Location Description
The 7th arrondissement of Paris is a place where the past and present meet in perfect harmony. It's a neighborhood that's steeped in history, with iconic landmarks like the Eiffel Tower and the Musée d'Orsay just a stone's throw away from the Hôtel Derby Eiffel.
But there's more to this area than just the tourist hotspots. Take a stroll down Avenue Duquesne, and you'll find yourself surrounded by charming bistros and patisseries, where you can indulge in some of the best croissants and coffee in the city.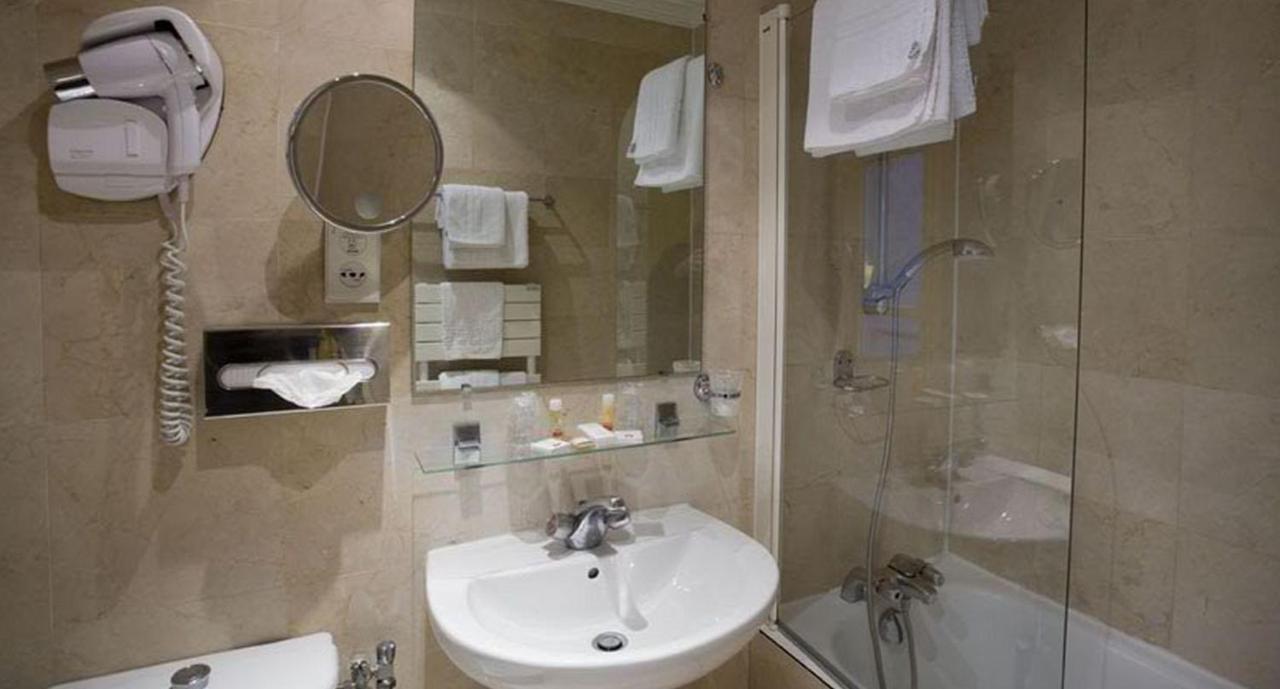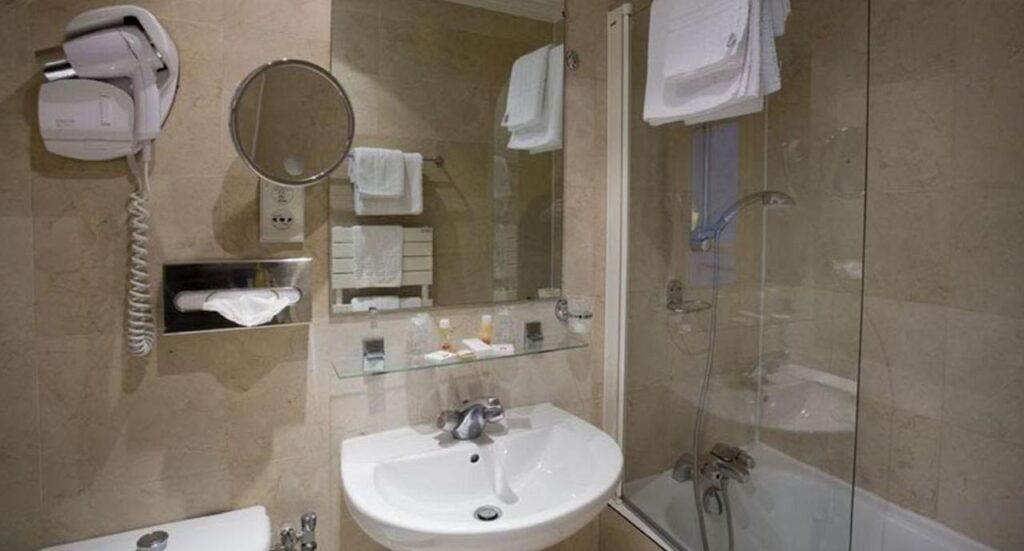 If you're feeling adventurous, head over to the Rue Cler market, where you can pick up fresh produce and artisanal cheeses to enjoy back at the hotel. And when the sun goes down, the 7th arrondissement comes alive with a vibrant nightlife scene. From trendy rooftop bars to cozy wine bars, there's no shortage of places to unwind after a long day of sightseeing.
Whether you're a history buff, a foodie, or just looking for a good time, the 7th arrondissement has something for everyone. And with the Hôtel Derby Eiffel as your home base, you'll be perfectly situated to explore all that this magical neighborhood has to offer.
Related Resources